The sports footwear industry is growing at shocking rates. One might even say it's booming – flourishing both day and night. Shoe store sales continue to rise, and revenues collected by the top footwear producers has concurrently increased over the last few years. As a result, business models are being rebuilt with a focus on selling footwear online, thus enabling entrepreneurs to be closer to the end consumers. To get a better understanding of this trend, we're going to dive deep into the secrets of the athletic footwear industry giants.
Do you know how to keep your website up and running 24/7? Learn every step you need to take to successfully maintain your website and make use of our
Website Maintenance Checklist
!
What is the Footwear Market Driven by?
Today, people's enjoyment of athletic footwear goes well beyond gyms and stadiums. In fact, it's absolutely ok to go to work in cycling boots, attend a party in sneakers, or go on a first date wearing gym trainers. As our shoe options become wider, people are becoming more fashion conscious and demanding! Today they want not only comfort in their stride, but their shoes should also match their outfit and particular occasion dujour to create a curated look. The right pair of shoes can work to give you an air of class, respectability, and status.
In line with choosier consumerism, more and more women are casting their heels aside in exchange for a night free of tortured feet, by way of a pair of perfectly matched, flirty and stylish sneakers at the helm. Indeed, the desire for comfort is one of the most powerful drivers in this industry. In an effort to catch all, shoe manufacturers listen to the market as driven by those who merely seek the right sneakers to complement a relaxed lifestyle, to those whose lifestyles trend towards fitness and health. Regardless of the intended use, by wearing a pair of branded sneakers, people feel like they are taking on the essence of successful, well-known athletes and sports stars.
What are the Leading Footwear Brands On the Market?
Despite the wide variety of brands on the market, there are some "stars" among them that stand out when it comes to quality, performance, design, and popularity.
1. Nike
The "Just Do It" company was incorporated in the US in 1969 by Bill Bowerman and Phil Knight. Though the company's modern assortment includes apparel, footwear, equipment, and accessories, Nike is particularly famous for its stylish and attractive shoes. As for 2018, the shoe brand is listed among the most valuable and recognizable.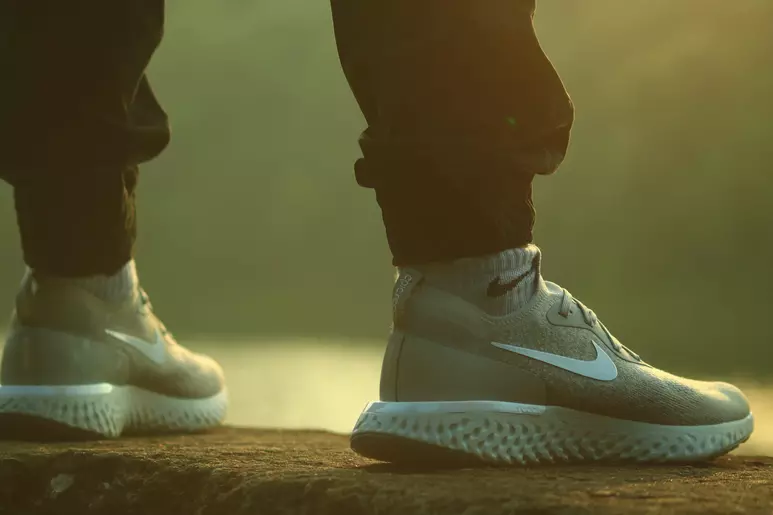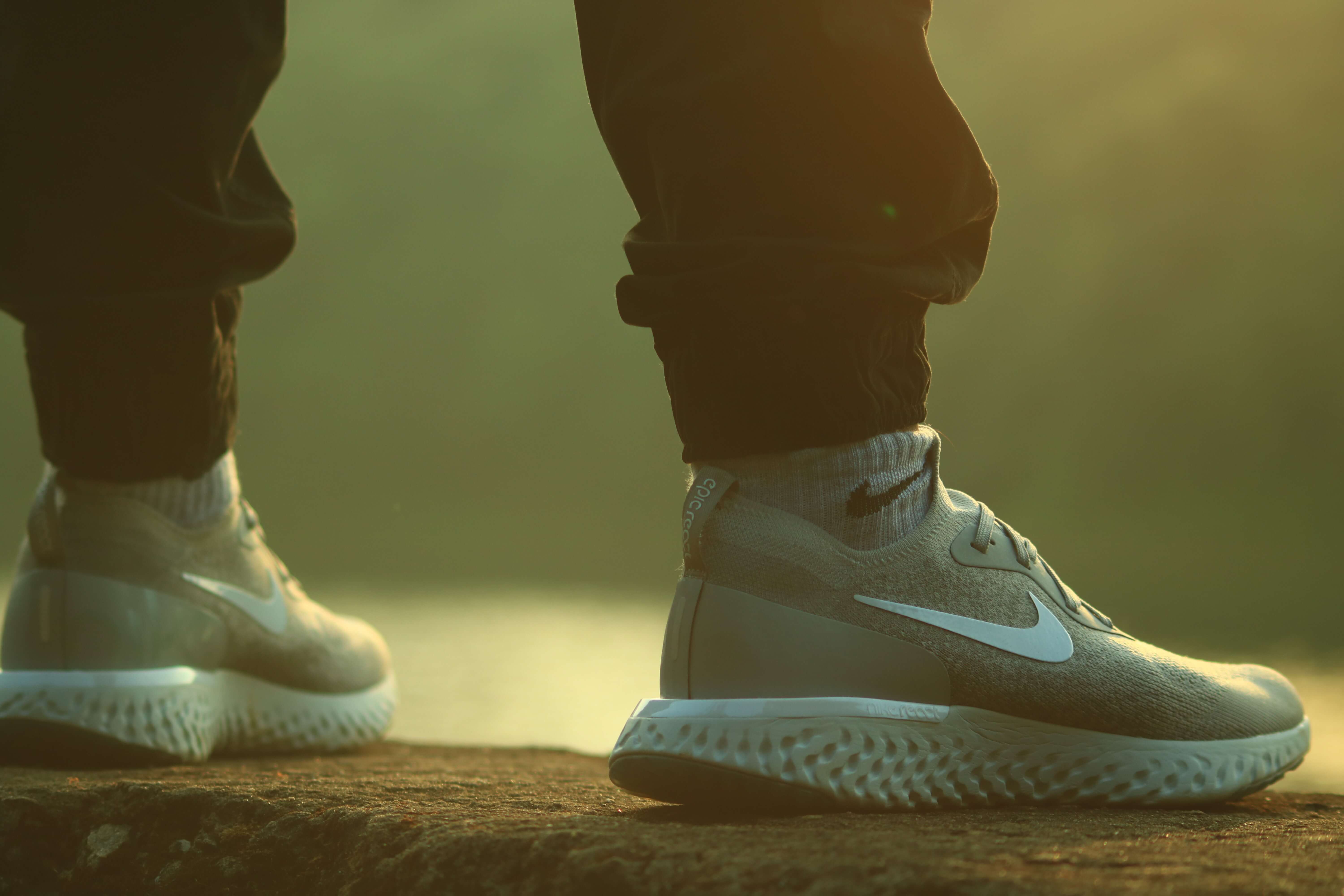 As a firm believer of celebrity endorsement, Nike collaborates with such sport-stars as Neymar, Tiger Woods, Ronaldo, Ronaldinho, and Rory McIlroy.
"Nike" should be pronounced like "ny-kee" in homage to the Greek goddess of victory.
The famous Nike logo, a swoosh meant to portray the stylized wing of the goddess, Nike, was designed for just $35 by student Carolyn Davidson in 1971.
The slogan "Just Do It" was inspired by Gary Gilmore's last words. The serial killer said "Let's do it" before he was executed.
2. Adidas
The #2 world producer of athletic products was founded in 1924 by Adolf Dassler in Germany. Starting with the creation of shoes and other products for sports, the Adidas of today is no longer only about sport. It has become a symbol of the street, pop-culture, music, and more, forging its existence through its remarkable communication strategies.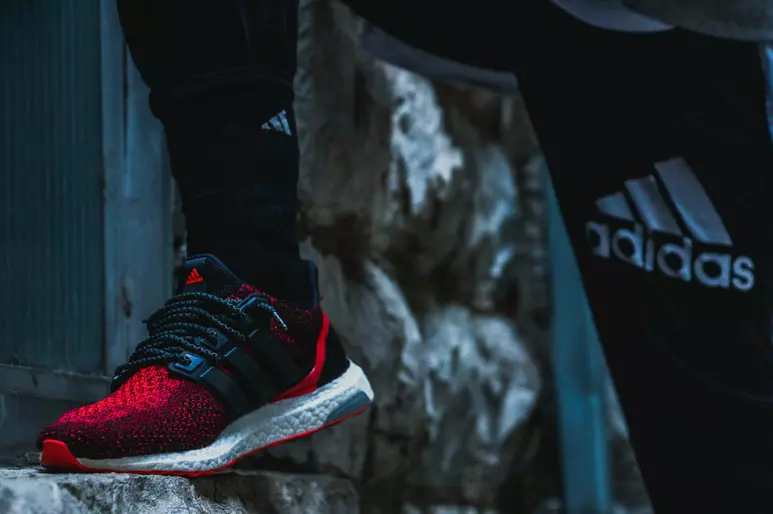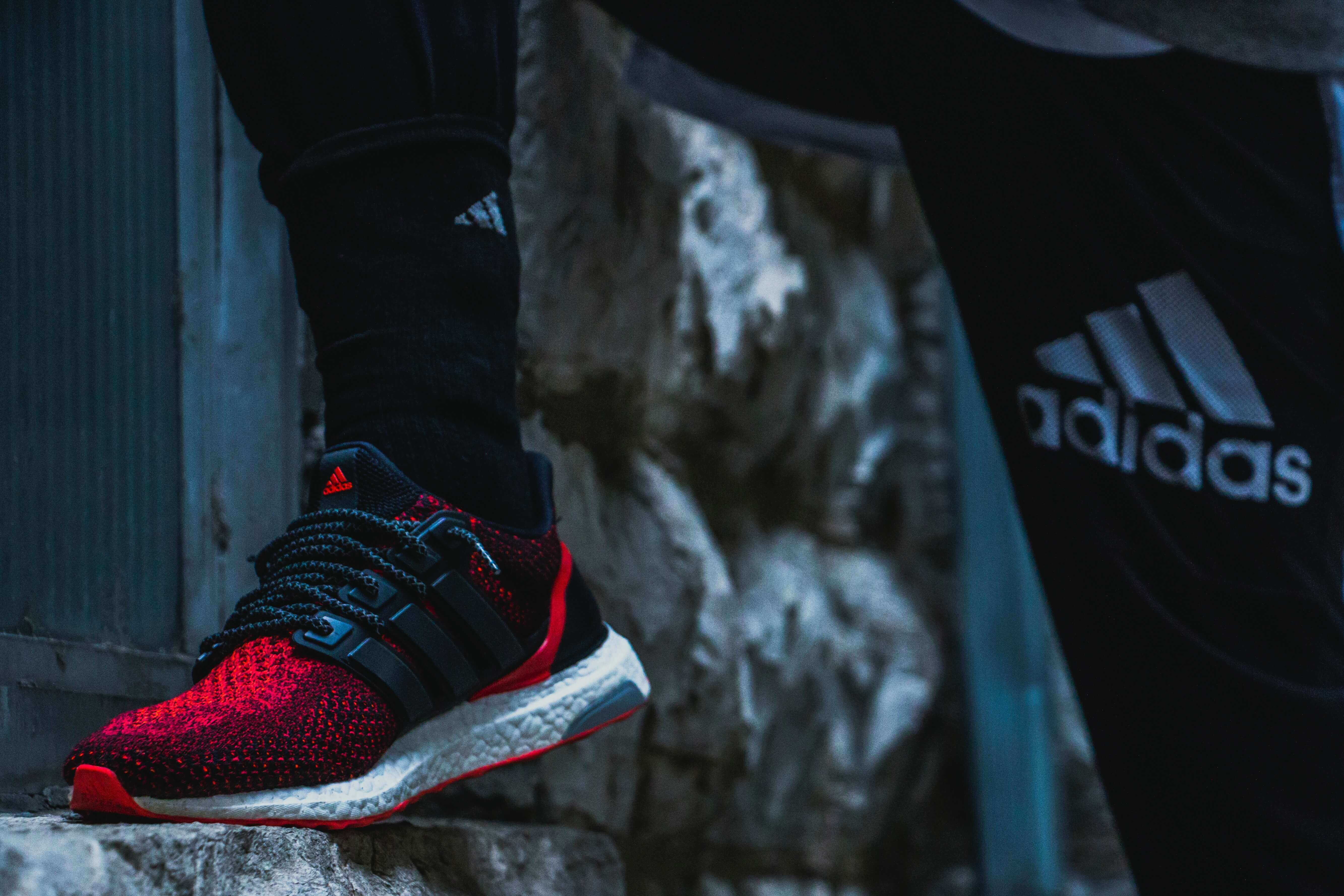 In 1924, Adolf and his brother Rudolf Dassler established the Dassler Brothers Shoe Factory. They split in 1948, forming two separate entities: Adidas and Puma. Both companies are currently based in Herzogenaurach, Germany.
American nu-metal band KoЯn released a song titled "A.D.I.D.A.S". Since that time, their music is often classified as "Adidas-rock". Frontman Jonathan Davis also often performed in Adidas clothes.
Such legends as Mohammed Ali, Steffi Graf, David Beckham, Valeriy Borzov, Lionel Messi, and Lev Yashin wore Adidas shoes and won in them.
3. New Balance
US company New Balance was founded in 1906 by William J Riley. Today, New Balance is a premium shoe brand offering easily-recognizable forms and functional design. Already successful on the US market, the company now competes for a place in the sun beyond the United States. (And they're doing quite well, we might add!)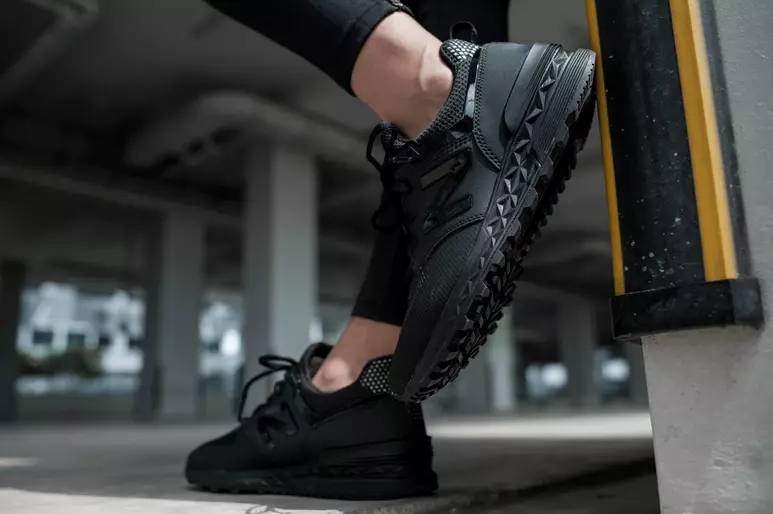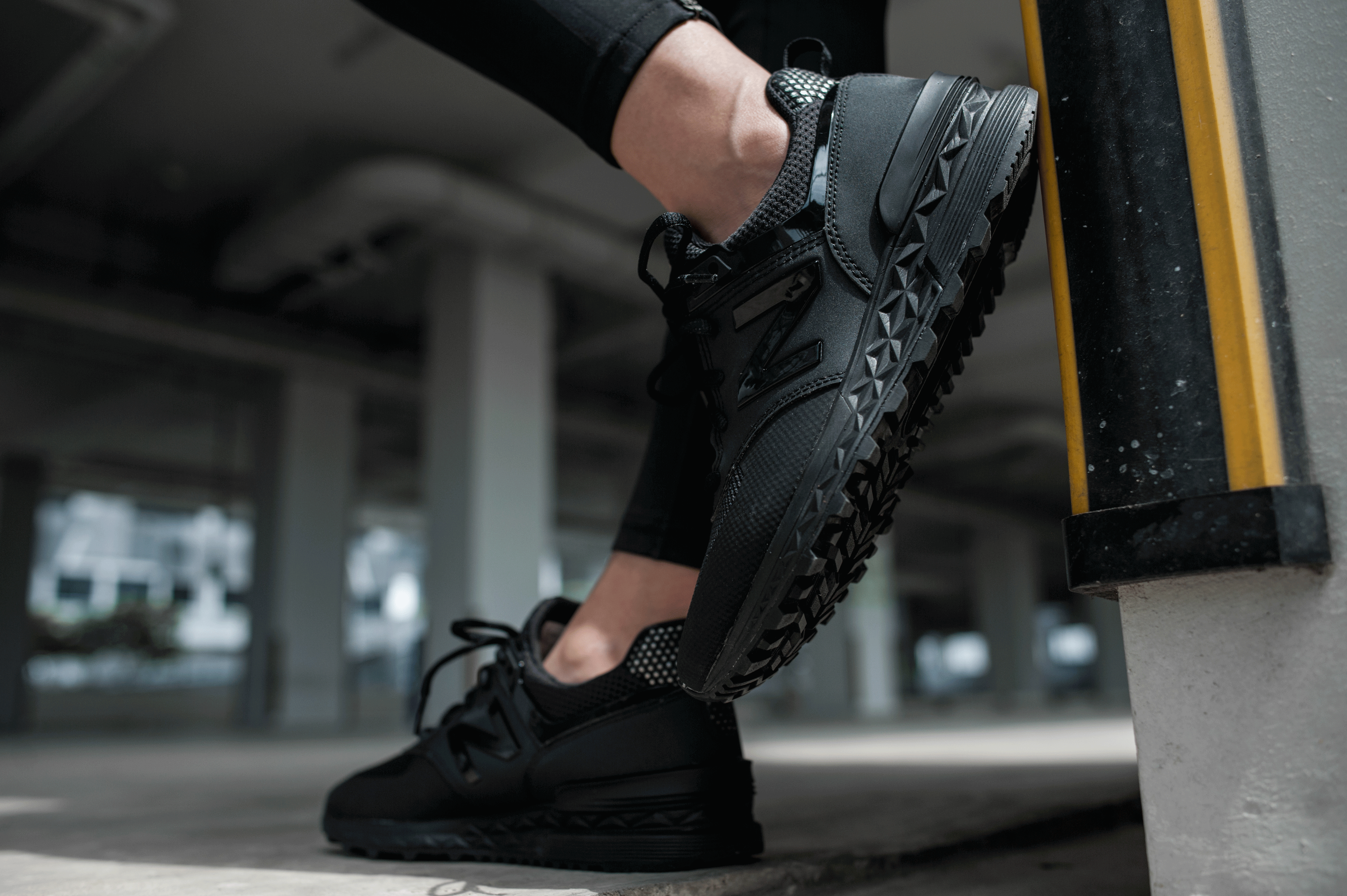 Unlike its closest rivals, New Balance avoids celebrity endorsement. Instead, they collaborate with lesser-known athletes, highlighting substance, not style.
This company is the only US brand that copes with manufacturing over 4 million pairs of sports footwear every year.
New Balance still prefers to concentrate its production capacity in the US and the UK, unlike other famous brands that have moved manufacturing overseas to countries like Vietnam, Indonesia, China, and Mexico.
4. Under Armour
American company, Under Armour, was established by Kevin Plank in 1996. This company is proud of its eco-friendly approach to manufacturing, innovative use of fabric technologies, and high brand recognition from local communities and high-class athletes alike. Under Armour is particularly known for its unique styles and attractive designs.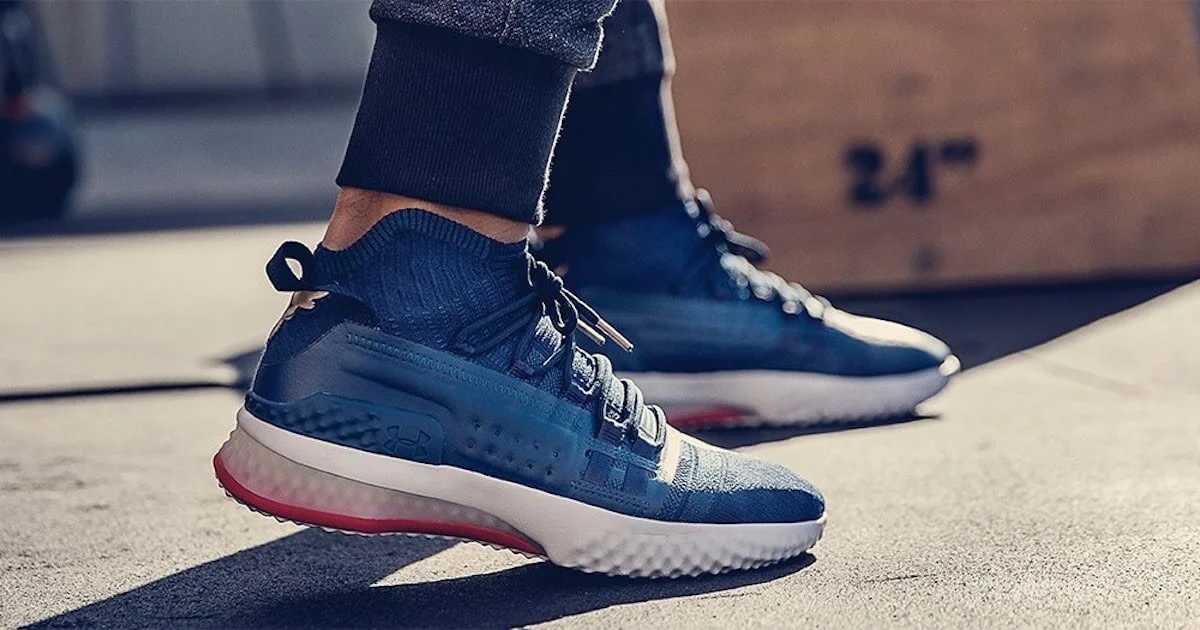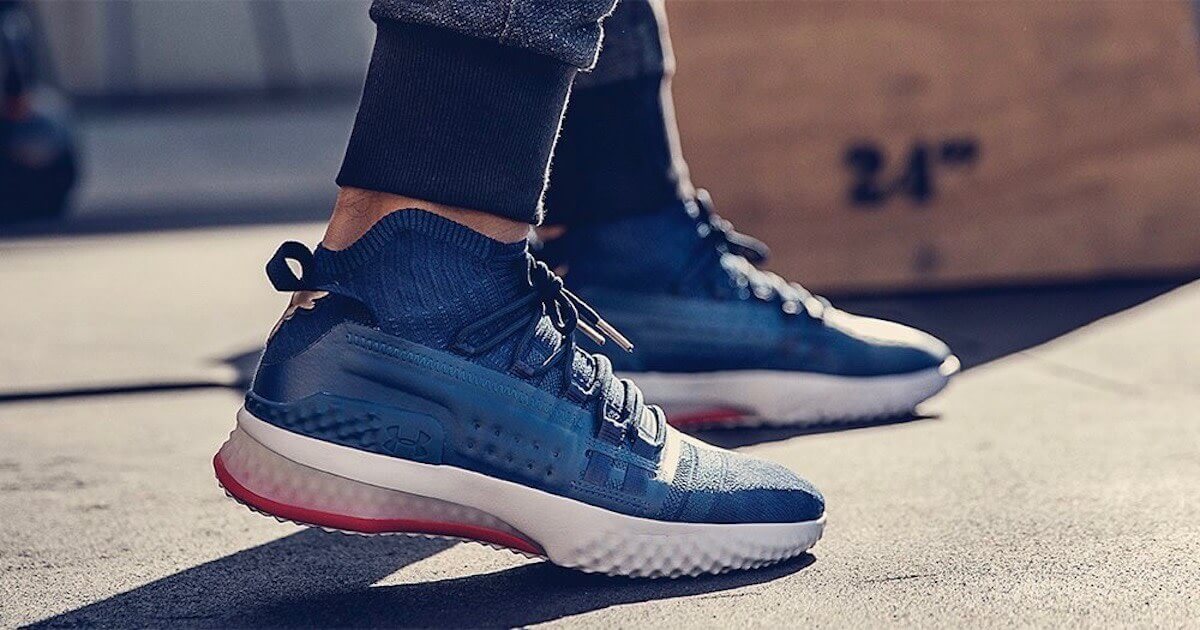 The brand is also well-known for its participation in various philanthropic activities.
Plank originally wanted to call the company "Heart" (as in wearing your heart on your sleeve), but his trademark application was denied. He had no luck trademarking "Body Armor" either. His brother asked him: "How's that company you're working on, uhh… Under Armor?" Plank said he didn't know whether his brother was messing with him, but the name clicked.
5. Reebok
Founded in 1958 in Bolton, England by Jeff and Joe Foster, brothers whose family had roots in sport shoe manufacturing, the company eventually sold licensing and distribution rights for the US in 1979. In the year 2005, Reebok became a subsidiary brand of the Adidas parent company.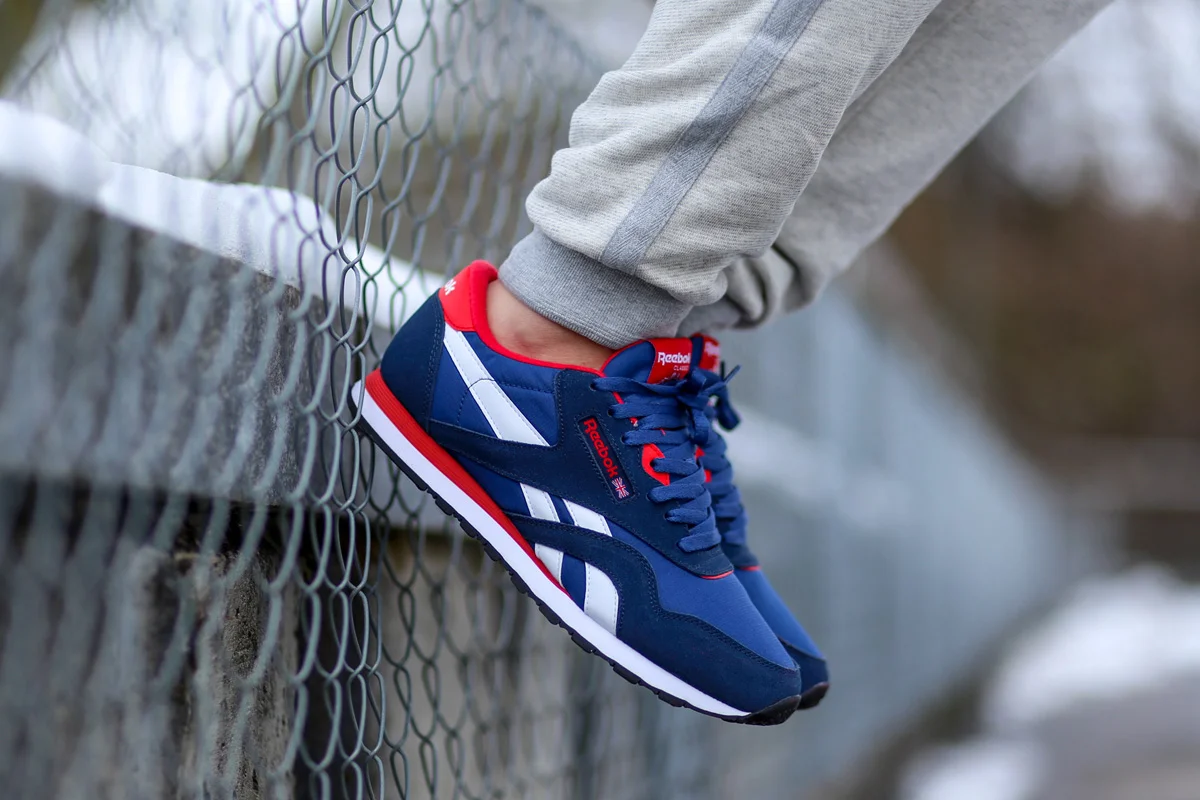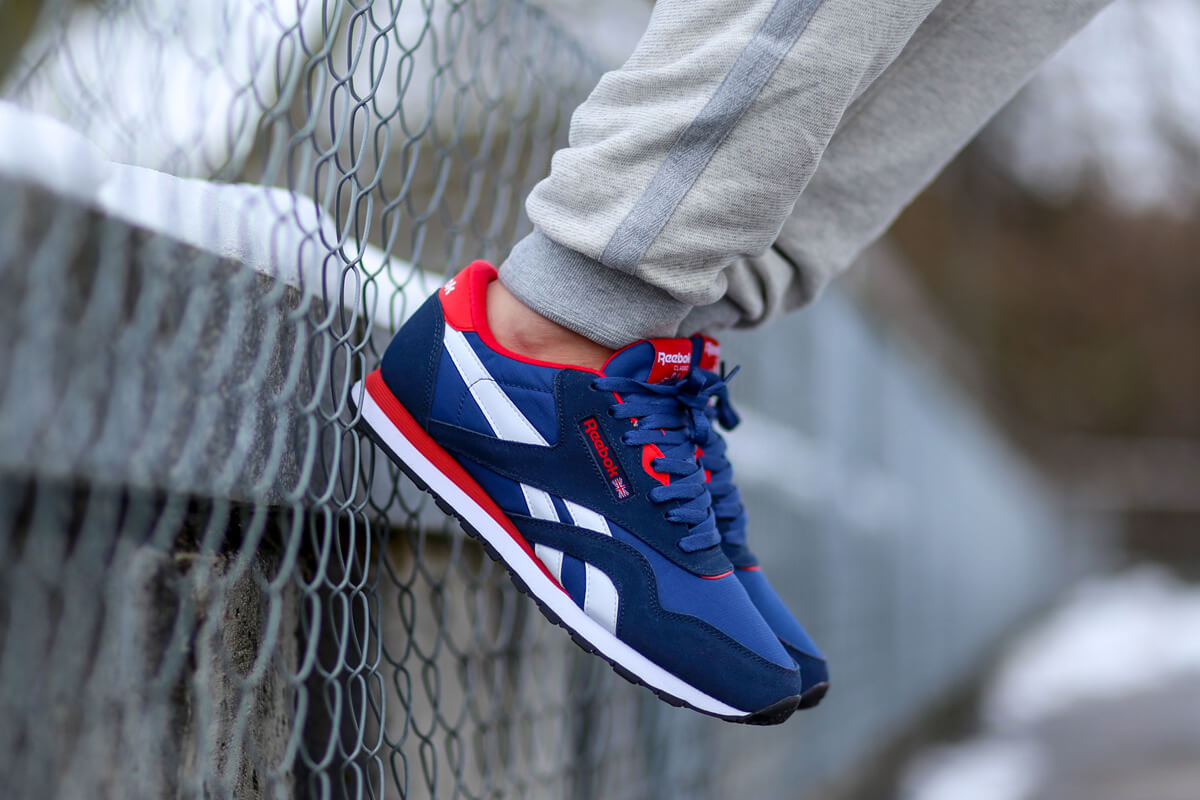 Gigi Hadid, 50 Cent and P!nk have all been tagged to endorse Reebok products.
Jeff and Joe Foster wanted a company name that meant nothing, inspired by the name of the Kodak company. They are said to have grabbed a Webster Dictionary and flicked through it for some time until they met the word "reebok", which references a light grey South African gazelle.
A pair of black Reebok shoes were spotted on one of the nuns at Westminster Abbey during the wedding of Prince William and Kate Middleton.
Top-Brands Target Audience
Everything we do starts with the consumer. It's our obsession with serving the consumer that sharpens our focus and drives our growth.Mark Parker, CEO of Nike
Sports footwear is popular among all age groups, though the main market evangelists remain millennials and Generation Z. Today, the top footwear brands focus their marketing campaigns most on the following three consumers groups:
Women
– Women are no longer afraid of being viewed as strong and muscular, shirking the traditional views that physical strength is reserved for men. And so, it's no wonder they want high-quality, stylish clothing to train effectively! With this in mind, companies enjoy giving women what they want. Driven by the "athleisure trend", women are wearing fancy leggings to the gym, errands, and brunch, which is why top sports clothing brands expect continuing growth in revenue in this sector in the coming years.
Young athletes
– Kids are an easy target for large brands: young and perceptive to everything new, they enthusiastically follow the latest trends. The best way to attract the youth is showing them popular athletes. In such a way, youngsters associate themselves with the personality shown in ads, and are more likely to purchase the items being promoted.
Runner
– Runners have always been a chief percentage of sportswear industry customers, which is why companies pay great attention to this group. Currently, runners are encouraged to use the newest models of shoes and high-tech apparel, they are handed apps with a multiplicity of features to track their workout activity, and they see a host of many other things used to bolster existing fans and attract rookies to running.
E-Commerce Strategies of Top-Brands
With selling shoes online, business growth has increased dramatically, and has made many manufacturers rethink their business strategy. Since e-commerce allows many brands the ability to sell their products directly to the customer, it would be a sin to avoid such a window of opportunity. This new sales model is called 'direct to consumer' (DTC) – an emerging trend that continues to gain popularity among manufacturers. The first companies that grabbed all the benefits of such an approach were Nike and Adidas.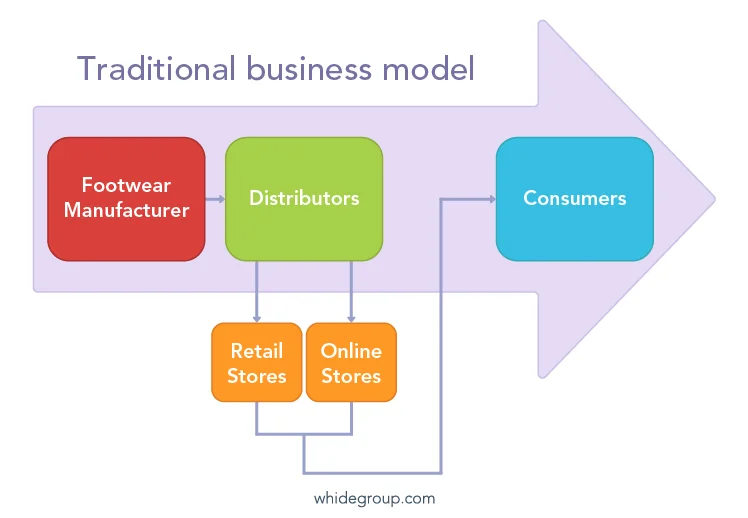 Since October 2017, Nike has worked to rebuild their business model. According to their new approach, how Nike sell shoes has changed dramatically since they began concentrating on online sales. In such a way, the company is striving to avoid third-party retailers and become closer to the end user. As for the figures, Nike plans to decrease the number of retail partners from 30,000 to 40.
Adidas made the same announcement in April of 2018. What's new about how Adidas sell sneakers? Adidas plans to double its online sales by 2020 and close over 50% of its stores in the US.
The advantages of the DTC model are clear. Manufacturers can connect directly with customers, gather their data, and build a more trustworthy relationship with them as well as creating a personalized shopping experience. In the long term, this strategy is extremely beneficial. Companies can now avoid middlemen on their journey to the customer, and thus the price will be lower.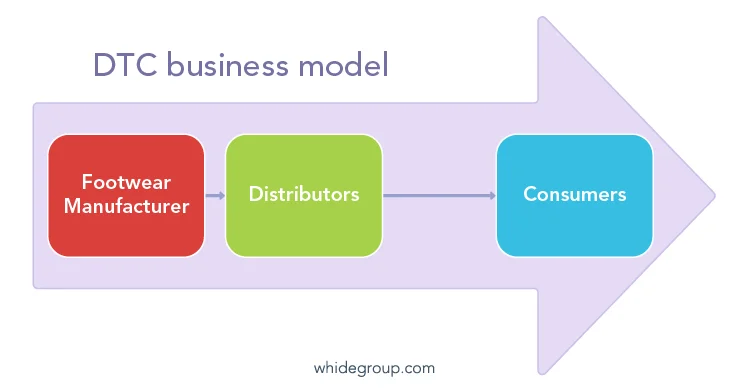 As for the results: Nike has noticed a dramatic growth rate of 5.25% between the 4th quarter of 2016 and the 4th quarter of 2017. Also, it should be mentioned that shares of Nike were driven to their highest price during the last two years after the company began to sell shoes online directly to the customer. With regard to Adidas, it continues to invest in the DTC business model, and has already noted a 21% annualized growth rate in the first quarter of 2018. Such results clearly demonstrate the effectiveness of the DTC strategy and its impact on the rapidly-changing market.
Branding Strategies: What Makes Nike and Adidas So Special?
It's natural to suggest that the two biggest footwear brands have something special in their marketing strategies. If you look thoroughly, you'll see that both companies strive to create a hero through their advertising campaigns. These campaigns then often become objects of close attention by bloggers and the everyday consumer. Building customer trust and loyalty is not an empty idea for these brands, and they are extremely good at it! Here are the things you should know about the digital marketing strategy of Nike and Adidas brands:
There's more to learn about

Adidas Branding Strategy Peculiarities
Sustainability
– Consumers want to have a positive impact on the environment, and they don't hesitate to reward brands that do. Adidas collaborates with Parley for the Oceans – an organization that combats ocean pollution. Currently, the company uses ocean plastic to produce 95% of its shoes, avoiding the use of virgin plastic.
Pricing Strategy and Product Range
– Everyone can purchase a pair of kicks from Adidas with its high/low price strategy. However, the brand doesn't abuse this approach, since low prices can give rise to a perception of inferior quality. Hence, Adidas tends to maintain high prices to stoke the perception that it is a luxury manufacturer.
Deal with Social Media
– To build a relationship of trust with their customers, Adidas actively implements social media strategy. To date, it has a strong army of followers on YouTube, Facebook and Twitter. In such a way, the company stays connected with the audience and focuses its marketing efforts towards bringing new energy to sports.
Open-Minded
– Adidas opens its doors for every creative mind to shape and share the sports culture of the future. The brand collaborates with internationally recognized athletes and pop stars in the production of "Calling All Creators" – a promotional video boasting participation of such celebrities like Lionel Messi, Pharrell Williams, and David Beckham.
Knowing the Audience
– In order to curate the buyers' portrait, Adidas focuses on the cities that contribute to the largest part of the world's GDP (gross domestic product). Such cities are London, Los Angeles, New York, Paris, Shanghai and Tokyo – all chosen to survey consumers' perception, trends, and buying decisions.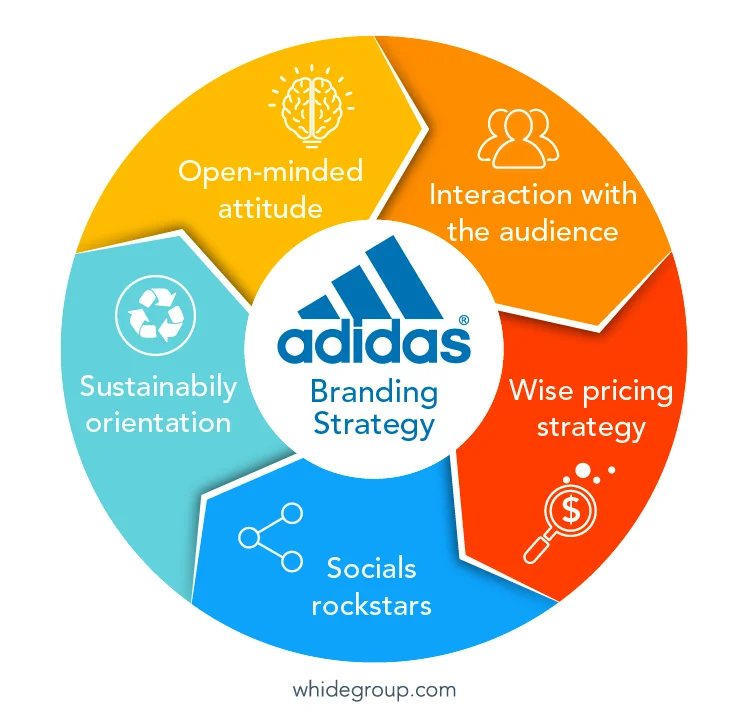 Nike Brand Strategy Peculiarities
T(s)elling a Meaningful Story
– Nike's not selling a product, but an aspiration! You can rewatch its ads – virtually none are focused on the product. Instead, Nike evokes emotions using so-called "emotional branding". Ads are intended to trigger the feeling that Nike products are the only ones that can meet the needs of the customer.
Non-Stop Innovations
– Everyone needs to move forward to stay on top. Nike experienced this notion firsthand in the 1980s when it lost the aerobics market to Reebok. Now, Nike works hard to ensure that never happens again. In 2006, Nike revealed a "Nike+iPod" activity tracker that recorded data via a sensor built into sneakers, and today Nike continues to co-create "Nike + technology" duos.
Compelling Motto
– The legendary "Just Do It" slogan will celebrate its 30th birthday this year. It's a notable challenge to find anyone who has never heard it! It is universally recognized, and the phrase has taken on a whole new identity. It is not just a motto, but a self-motivating personal mantra for whatever life throws your way.
Social Media is Power
– With a team of extremely savvy marketers, Nike has built an awesome content strategy, always keeping posts short, smart, and motivating. It's no wonder that audiences enjoy sharing them so much! Such loyal customers are more likely to repurchase from Nike in the future.
Straightforward and Aggressive Approach
– In short, Nike just wants you to get off your sofa and move your butt. Developing their content strategy with this in mind, Nike is creating a magic mirror, which shows you a healthier, sportier version of yourself. This approach strongly distinguishes Nike from its closest competitors.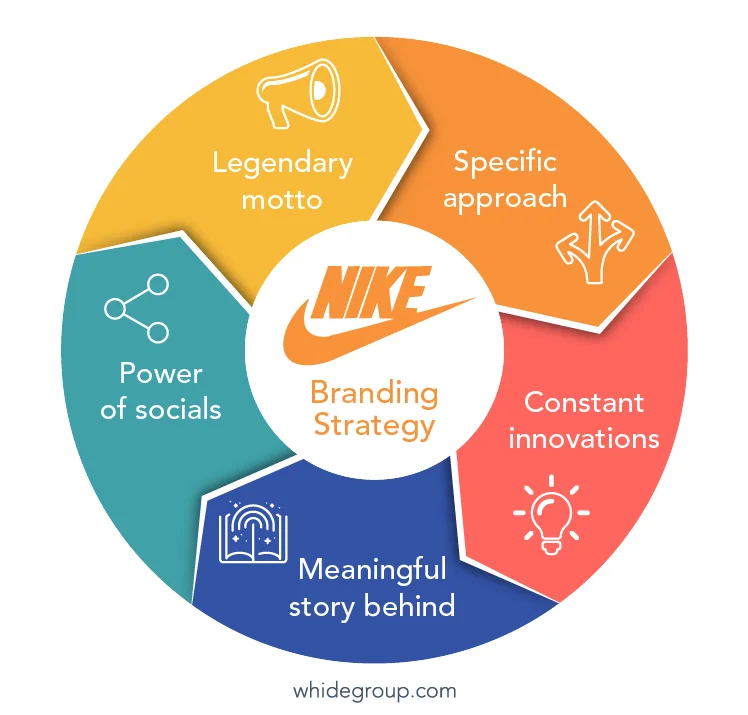 How to Distinguish Original Products by Quality?
It's quite reasonable to suggest that top footwear brands offer their customers shoes of unprecedented quality. So, what are their distinguishing features? Let's go deeper.
The first thing worth mentioning is an attention to detail. Top-companies always pay a lot of attention to every little aspect, such as the stitching, logos, and neatness of every part. Each detail must be just perfect.
The next thing to pay attention to is the serial number – top companies are extremely deliberate about marking their items, and most of them prefer to situate the number in several places. The most popular places are on the box and on the flip side on the shoes' tongues.
All top-branded shoes, without exception, are durable and lightweight, providing extraordinary comfort, cushioning, and flexibility. In such a way, buyers are able to feel confident that they will be reaping the benefits of a high-quality product for a long time.
How do Nike and Adidas Deal with Customization?
Nike
In 2012, Nike launched a NIKEiD service, intended to allow users customizable clothing purchased from Nike. The service is accessible online from the official homepage, or offline – in physical locations called NIKEiD studios. To date, there are 102 studios situated in Canada, France, China, Italy, Germany, Spain, Australia, and the US.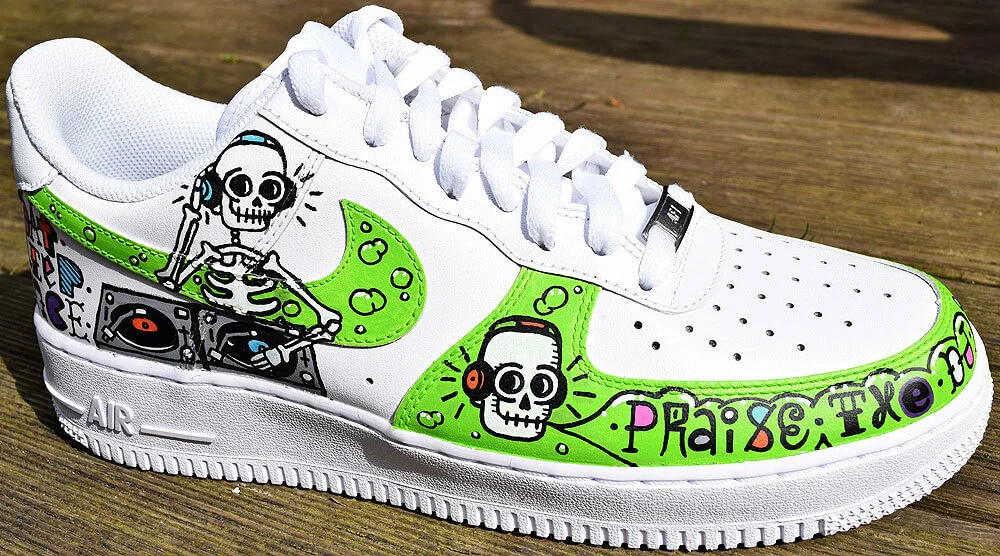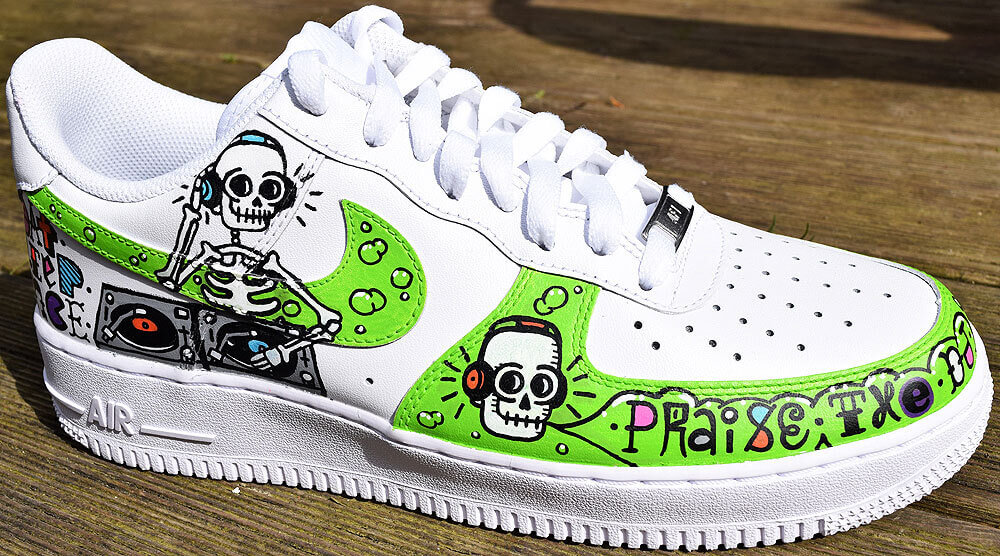 In should be noted that not every pair can be personalized. However, Nike's professionals continue to work to expand the range of shoes available for modification. There are 31 different parameters available for modifying, including the base, overlay, accent, lining, stitching, outsole, laces, and deubré (the Nike-coined term for the shoelace tag). The customer can choose an area to be personalized, deciding on color and fabric.
App for iPhone
– Since October 2012, iPhone and iPod users have been welcome to download an app that is used to purchase items from the online store and search NIKEiD products. The app has since been replaced by a Mobile Builder that can run across any mobile platform.
Events and campaigns
– Nike launched a campaign in Times Square, where passersby were offered the opportunity to customize a pair of shoes with their smartphones. Immediately after they did so, they received a text with a wallpaper of the shoe and were given the option to then purchase their custom-designed shoes.
Adidas
This company is an undoubted pioneer in creating custom shoes. The first step in this direction was made in 1995 when the German soccer team beat the Hungarian team while struggling for the World Cup. The German team wore Adidas boots with removable studs, and when it started to rain, they just screwed the studs onto their boots and won the match.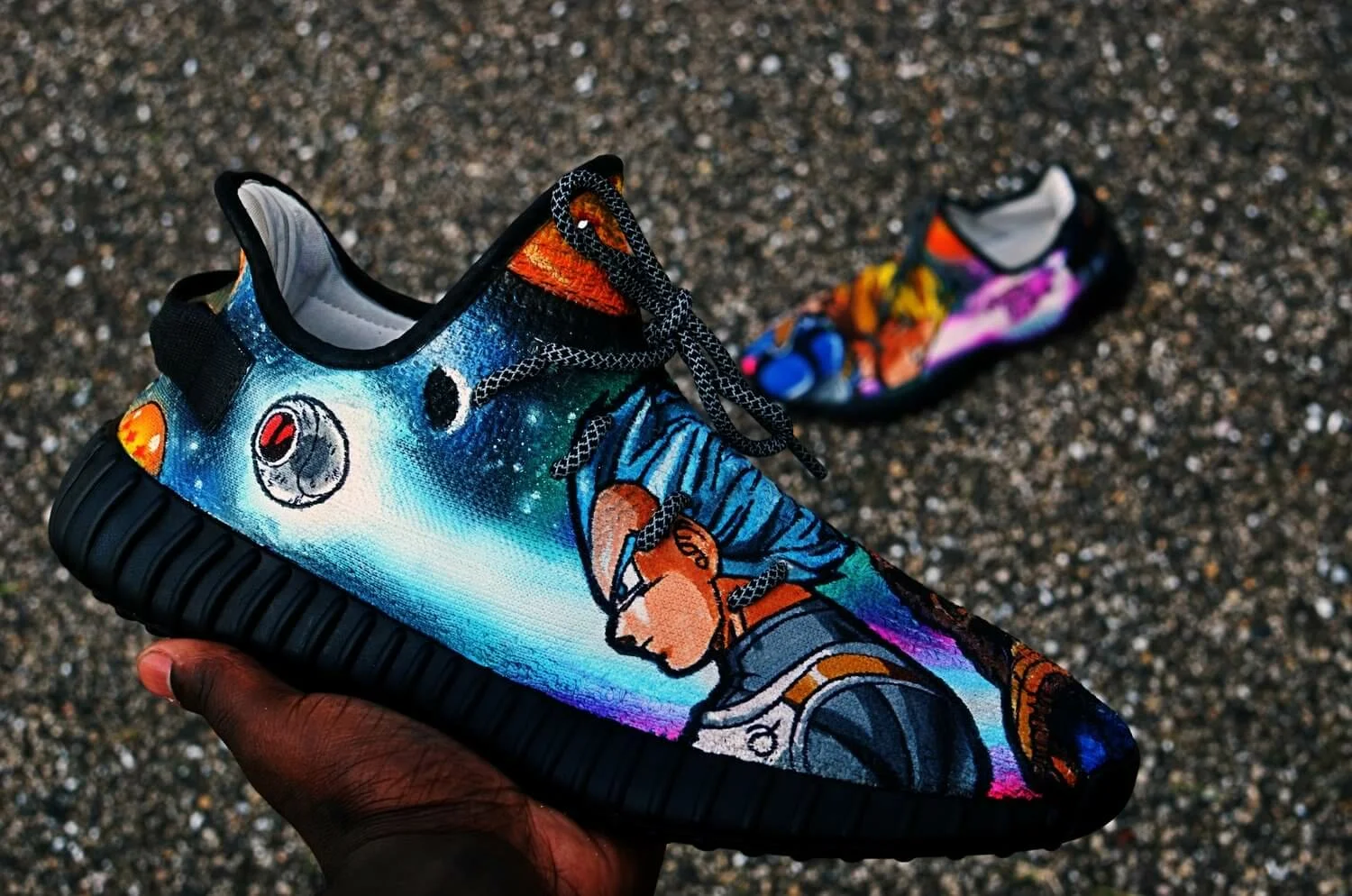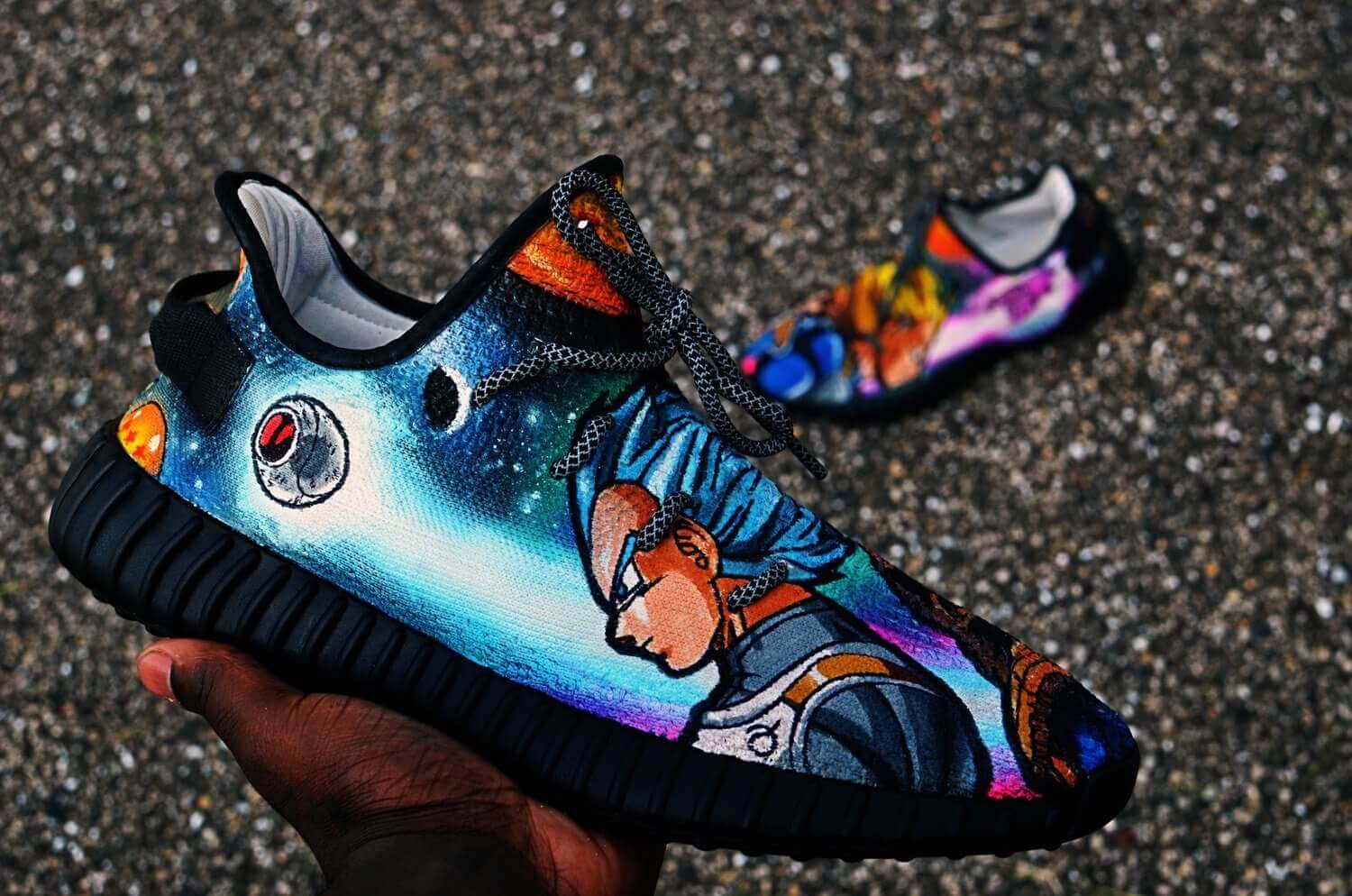 Over the years Adidas never stopped refining the technologies to allow customers to create custom design performance shoes. In 2006, the brand opened an Innovation Centre in Paris which includes the latest technology advances where customers and trained associates can have a fitting, and select and customize the shoe designs.
Because Adidas customers are so trend focused, the company piloted a new in-store design experience in 2008. Interestingly, the workspace for the designers was inspired by Tattoo parlors. The designer sits in a tattoo chair, surrounded by numerous examples of artwork, flashes, and shoe designs. However, it is intriguing to note that Adidas, although first in shoe personalization, was one of the last to enable customers to do so online.
As for the other top brands, none of them sit back either: Converse and Reebok enable customer personalization and ordering of athletic shoes via Your Reebok and Converse Create services. Vans also offers users the chance to customize shoes, as well as bags, and more.
Footwear Fitting Technologies
Benefitting from the development of technology, top footwear manufacturers certainly make it work in their favor. One of the most prospective directions of technologies application is in shoe customization.
The last word was said by Nike, which released the Nike Adapt BB performance basketball shoe. This shoe is a perfect combination of the power-lacing system and an application to create a custom fit. Eric Avar, Nike VP and Creative Director of innovation, claimed basketball was intentionally picked as the first for Nike since basketball players are particularly demanding of the shoes they wear during gameplay.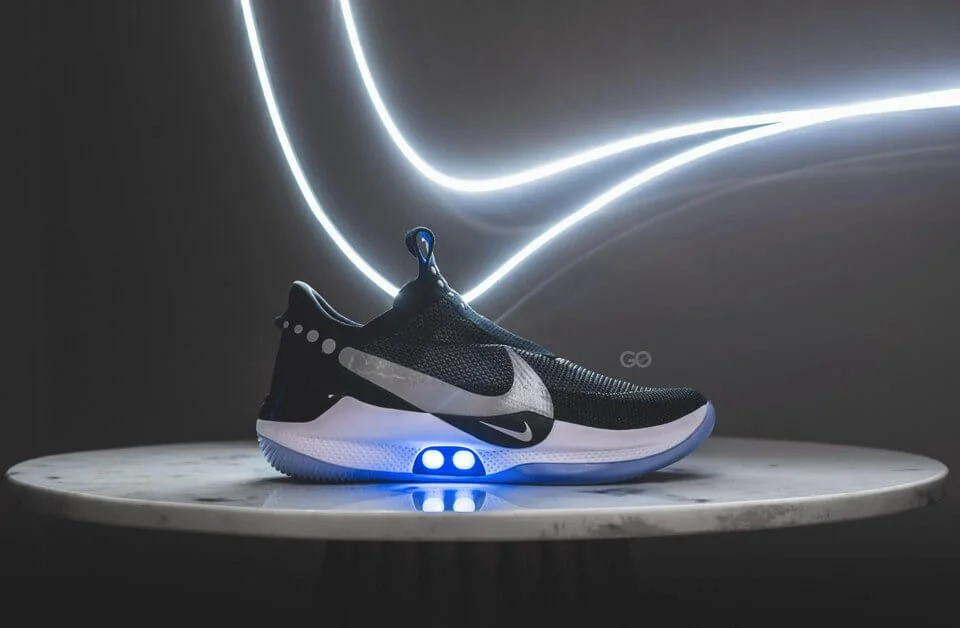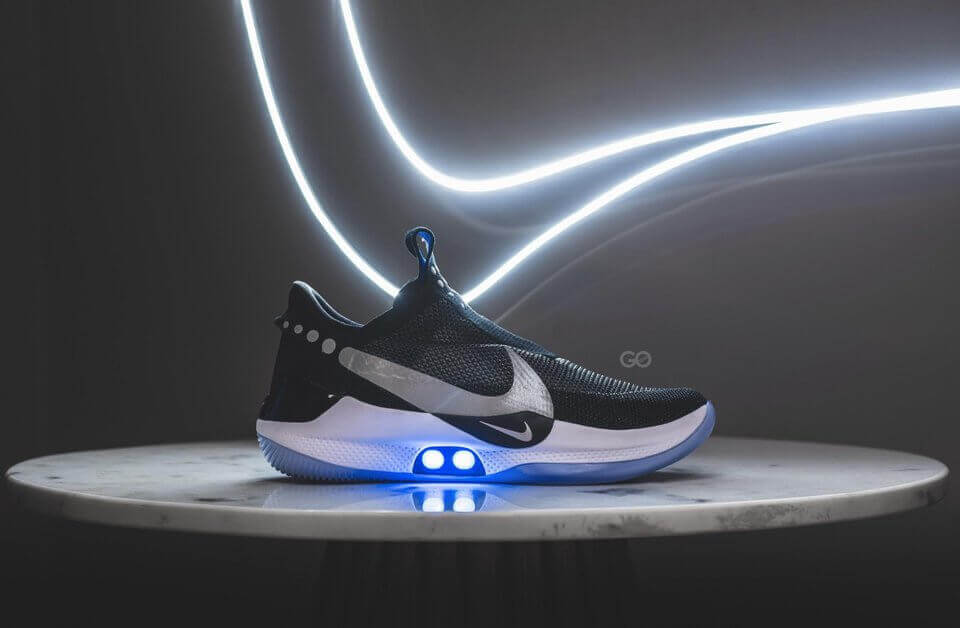 Through collaboration with some of the stars of basketball, Nike's specialists understood that during a normal basketball game, the foot changes dramatically. Therefore, the ability to change a fit quickly by loosening a shoe in order to increase blood flow and tightening to gain performance is critical to the athlete's experience. All control can be performed by a smartphone application or manually, and thus players can input different fit settings according to their individual needs.
The model is still subjected to extensive testing to be improved. New sneakers will be available for $350, and are intended to help athletes find their individual fit and get an unprecedented level of comfort and cushioning throughout the game.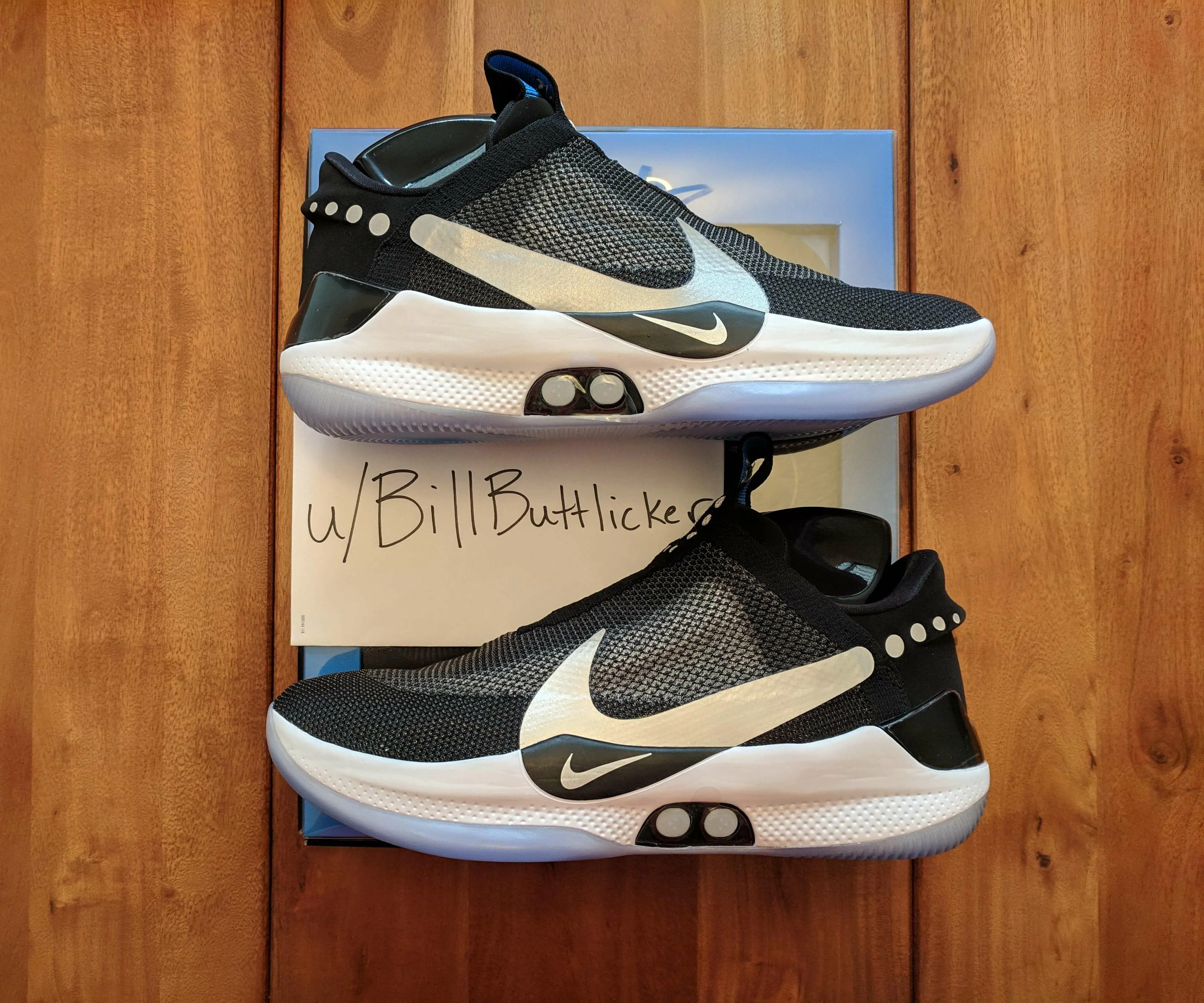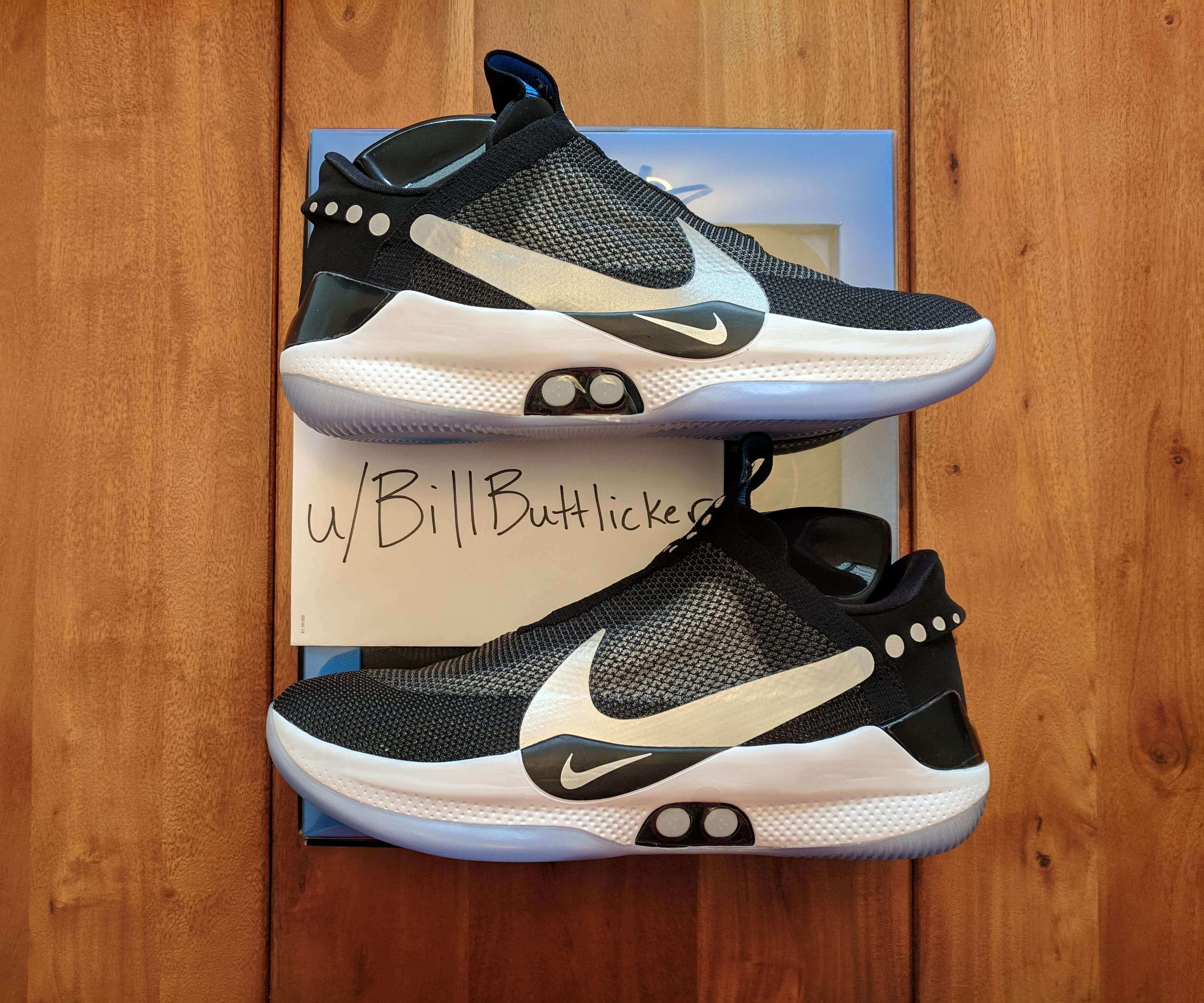 However, it's too early to talk about spreading Adapt BB beyond the basketball court. Most customers consider buying a pair of sneakers as the end of the buyer's journey, and in the case with Adapt BB, it is just the beginning. The customer still has a long way to go in order to personalize a pair to be purchased.
Looking to the future, Nike plans to expand the range of industries to be served by its footwear. The long-term vision for innovation at Nike is a world in which intelligent products adapt at the speed of sport to improve an athlete's performance.
How are Nike and Adidas Doing on 3D Printing Space?
The evolution of the fashion industry sometimes evokes highly unexpected creations. Indeed, the last few Couture Fashion Weeks in Paris demonstrate how designers' imaginations can find an application for 3D printing in fashion. This trend has spread to the footwear industry too! To date, brands are focused on various applications of the technology. From printing midsoles, to textile uppers, these trends show now is the right time for us to look closely at the brands' efforts in this arena!
Nike
On April 17, 2018, Nike announced Flyprint – the first performance textile produced through 3D printing technology. It replaces the previously used textile on the uppers of the sneakers.
The idea to create printed textile came after the particularly wet Berlin marathon in 2017. The participants' shoes were absorbing all the water and thus became saturated, uncomfortable, and heavy. The challenge was to employ a fabric that wouldn't absorb the moisture, and Flyprint was born. This sort of foot cage with plenty of room for water to escape, means that any water that collects in shoes or socks will easily dissipate.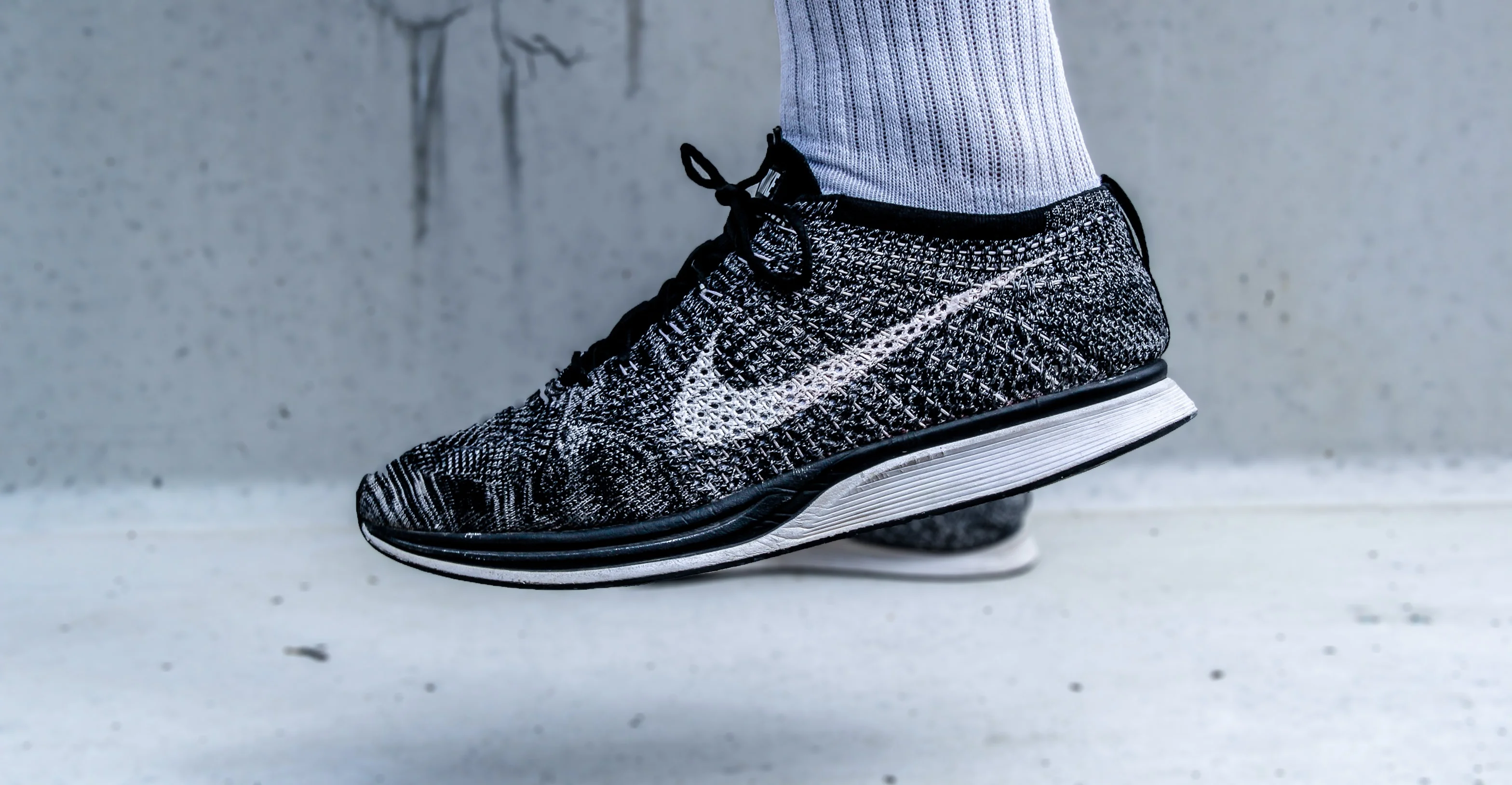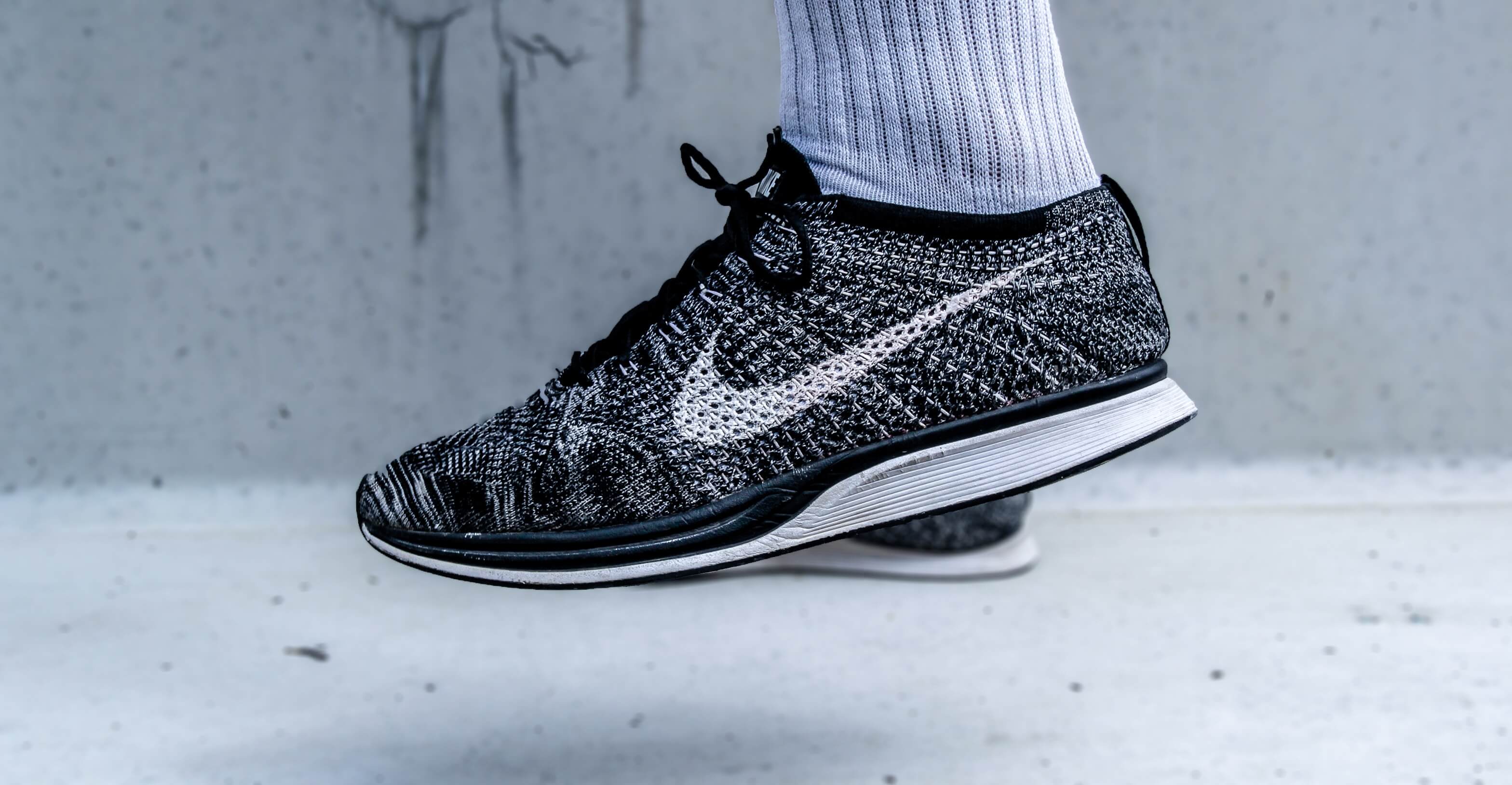 The process to manufacture Flyprint uppers starts with gathering the athlete's data (fit, use, etc.). The collected data is then analyzed by special software which creates new textile geometry. And finally, a fully unique output customized to the athlete is ready. This prototyping operation is very fast – through high-performance 3D-printing, the uppers manufacturing procedure is 16-times quicker than any previous manufacturing method.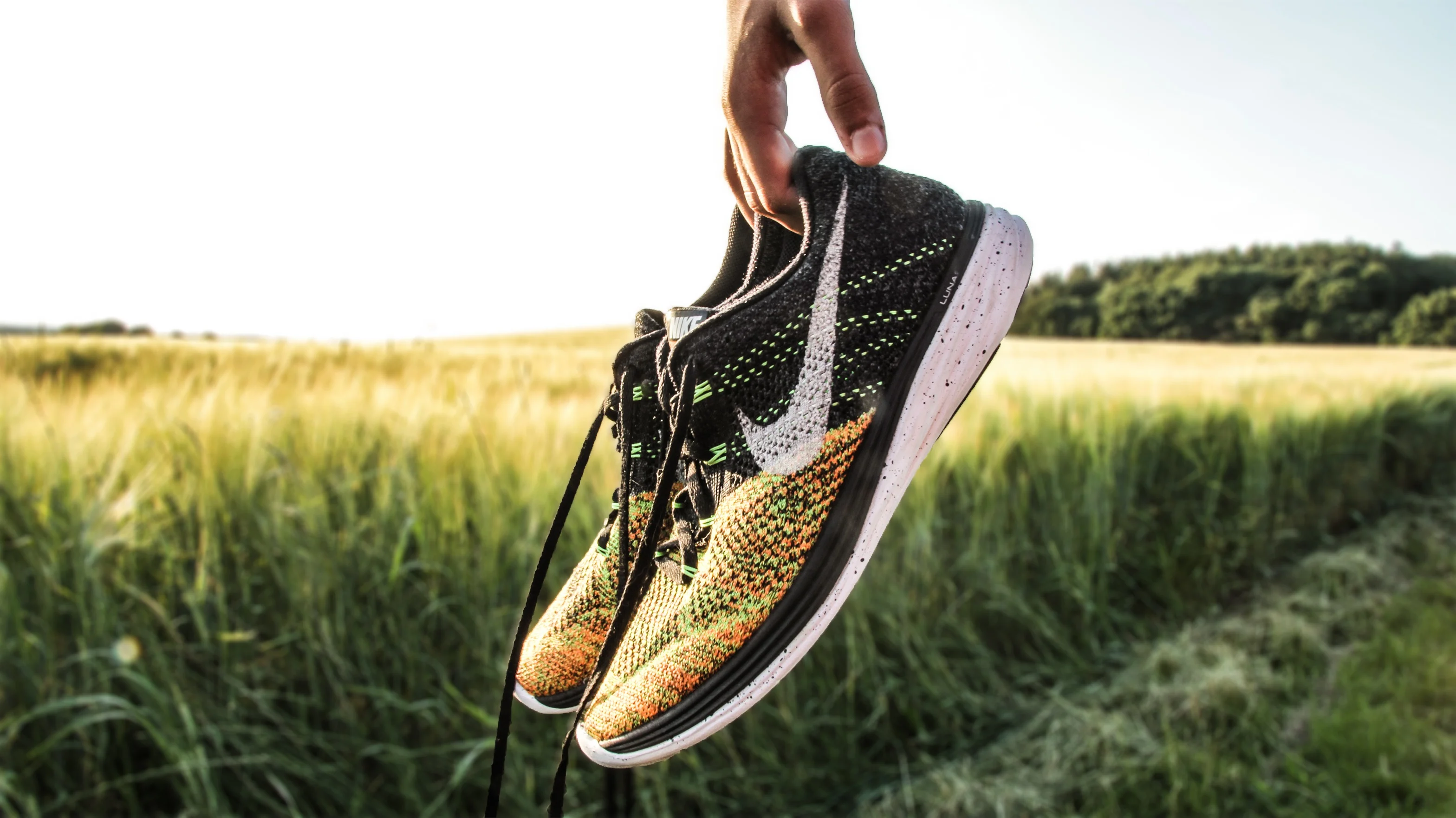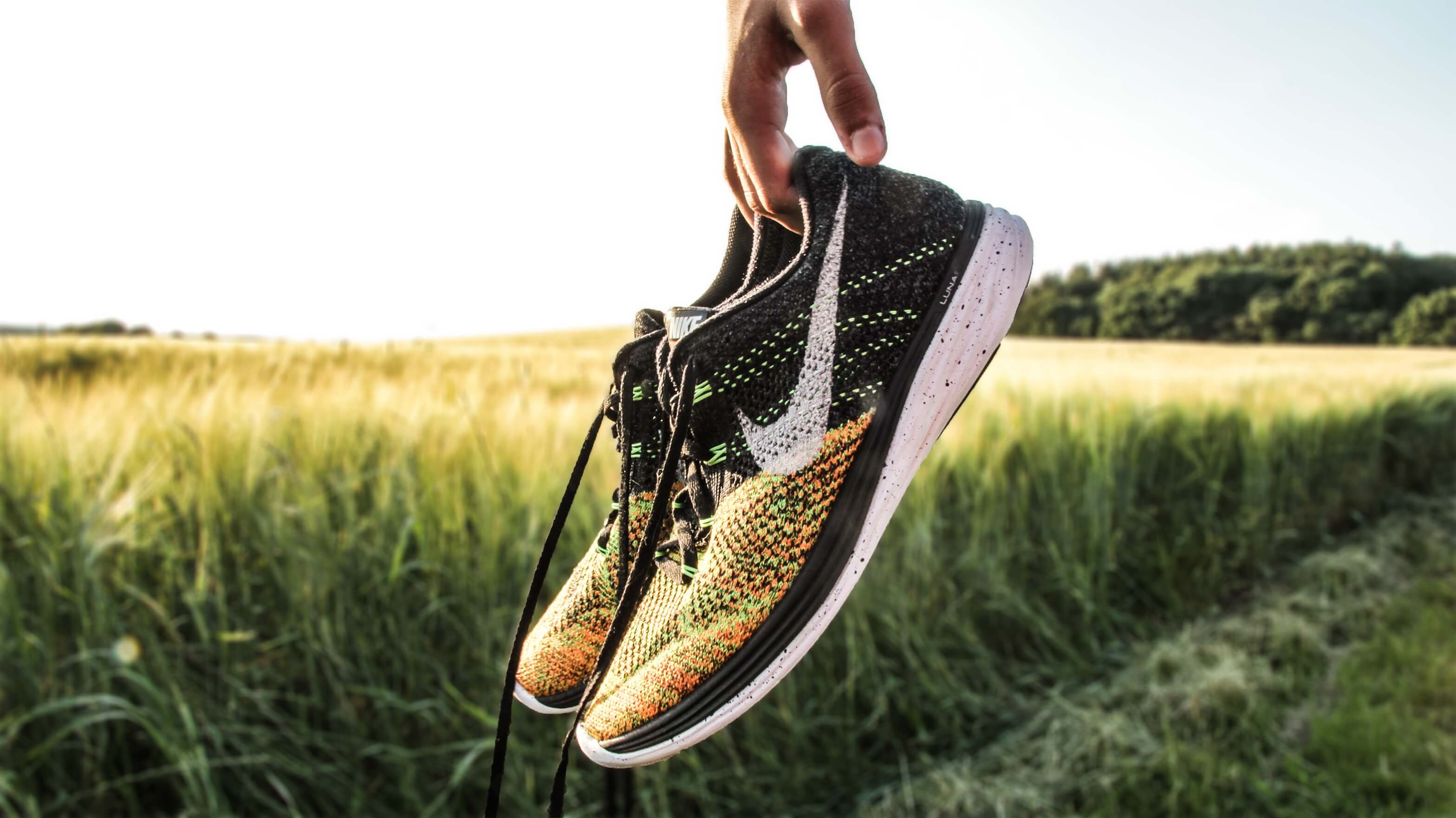 The first test for the Flyprint came during the London Marathon in 2018. Marathoner Eliud Kipchoge wore a pair of Nike trainers with printed uppers. The results? Kipchoge clocked in at 2:00:25, down from his previous best of 2:03:05. In this way, Nike triumphantly premiered the first shoes in the world with 3D-printed uppers.
Currently, it's hard to say whether Nike has plans to provide casual runners with high-tech shoes. Flyprint won't come easy, or cheap – in April 2018 Nike released 100 pairs of shoes with a price tag of $600, which is well above the average spend. Regardless, we can consider this as Nike's stepping stone to total custom sneakers through rapid manufacturing.
Adidas
As for Adidas, it has opted for printing a sole. By taking this route, the company takes care of the delicate bones in feet and provides you with flexible materials for the cause. To do this, Adidas started a collaboration with a Carbon 3D startup. The result of their cooperation was the release of the Futurecraft 4D sneaker. The first commercial release saw $300 a pop in select stores in New York and was sold out in January 2019.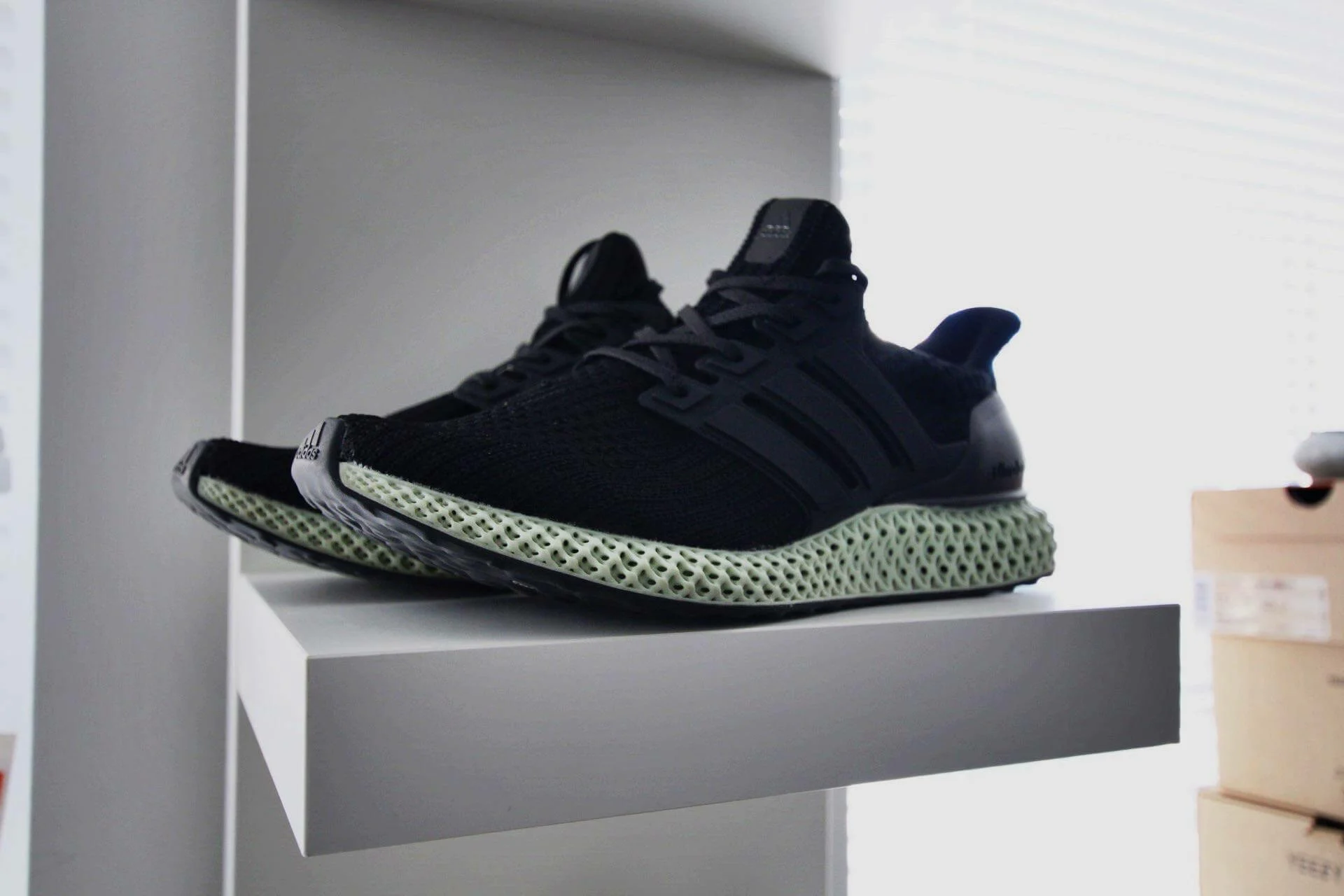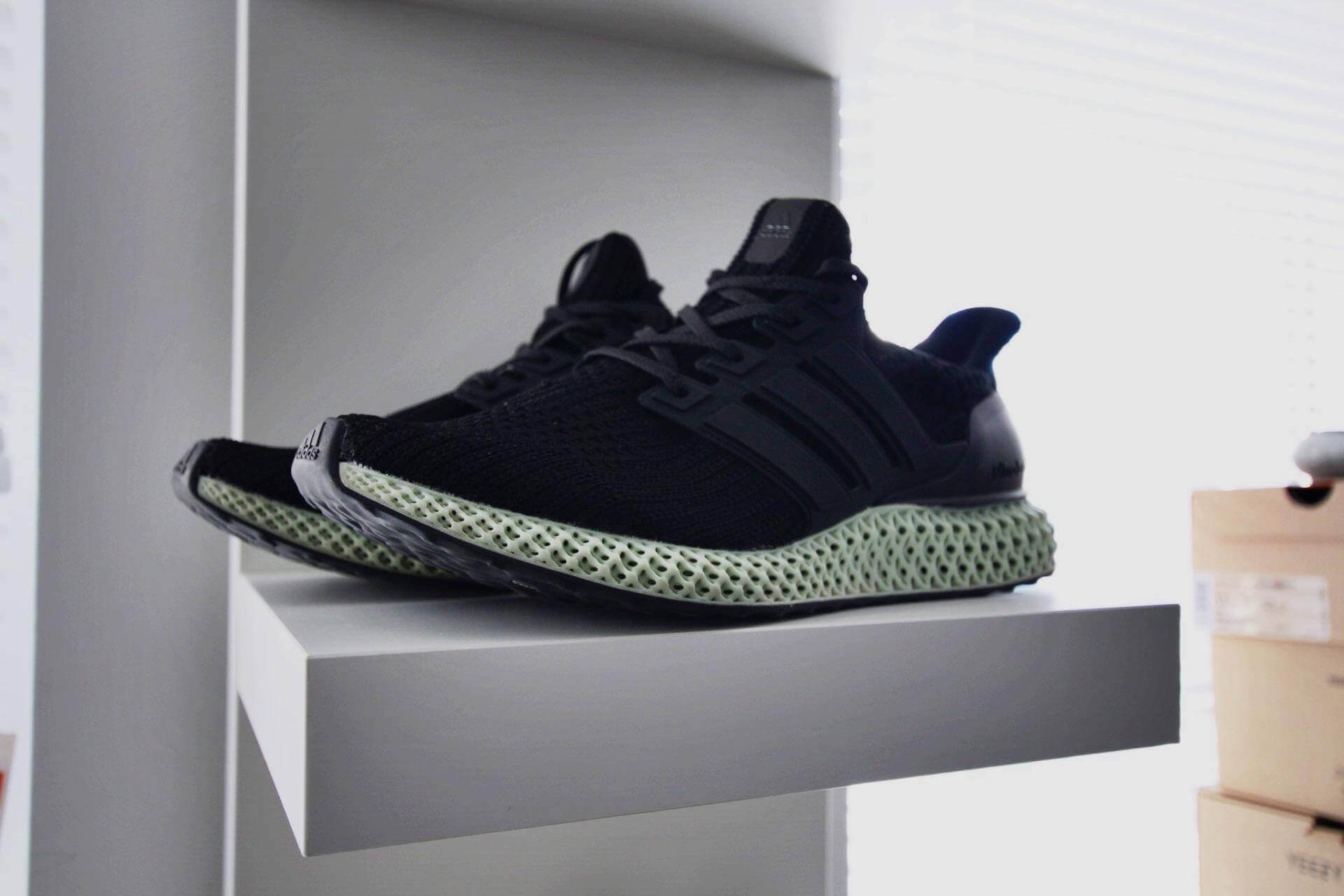 The soles of these sneakers are printed using Digital Light Synthesis (DLS) technology of liquid resin. This technology uses light to set the shape, and heat to bind the mechanical properties. This method is also an answer to one of the biggest weaknesses of 3D printing – mass production. The issue is that 3D printers are commonly very slow and require a lot of resources. The parts they produce also tend to be brittle and weak.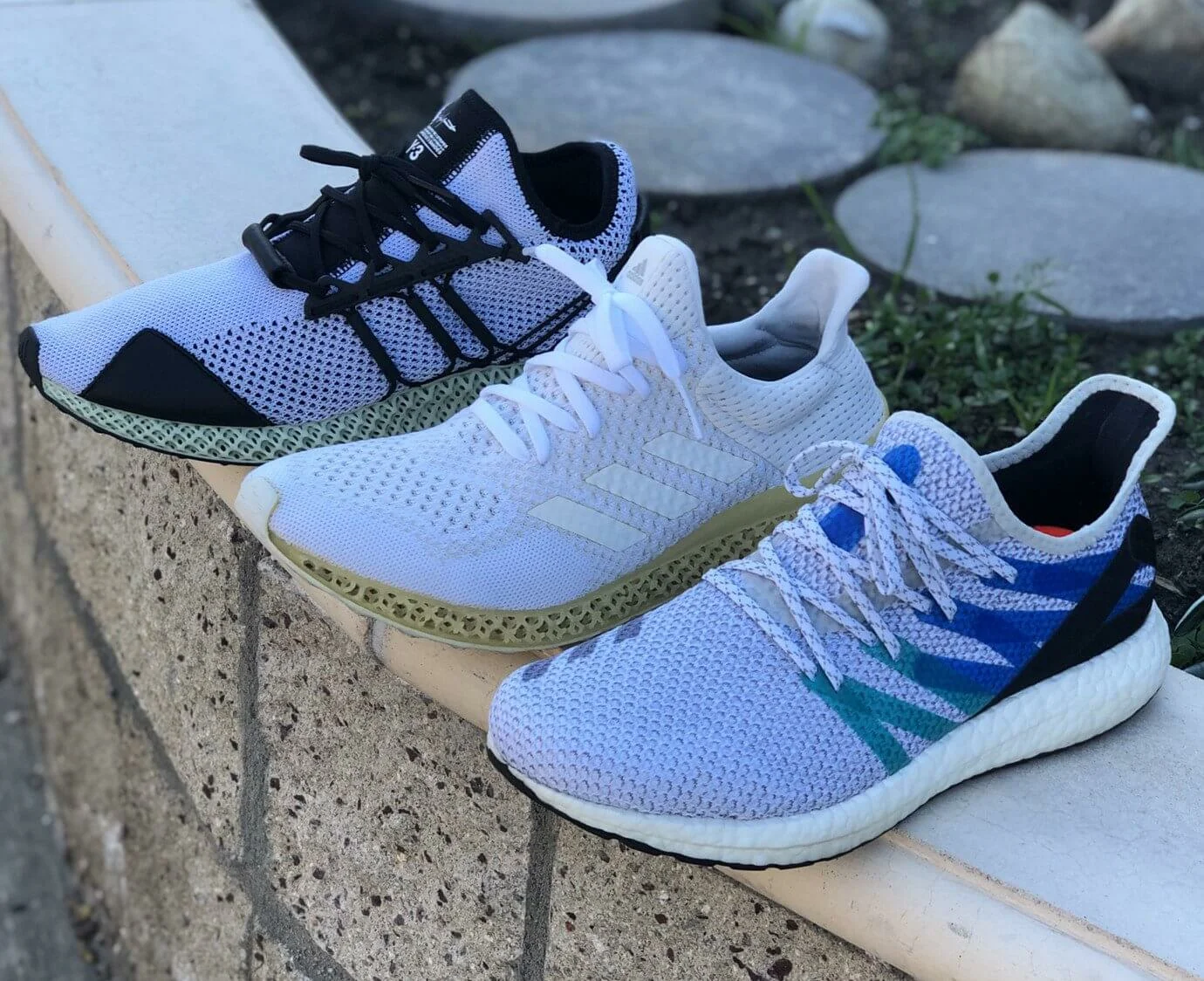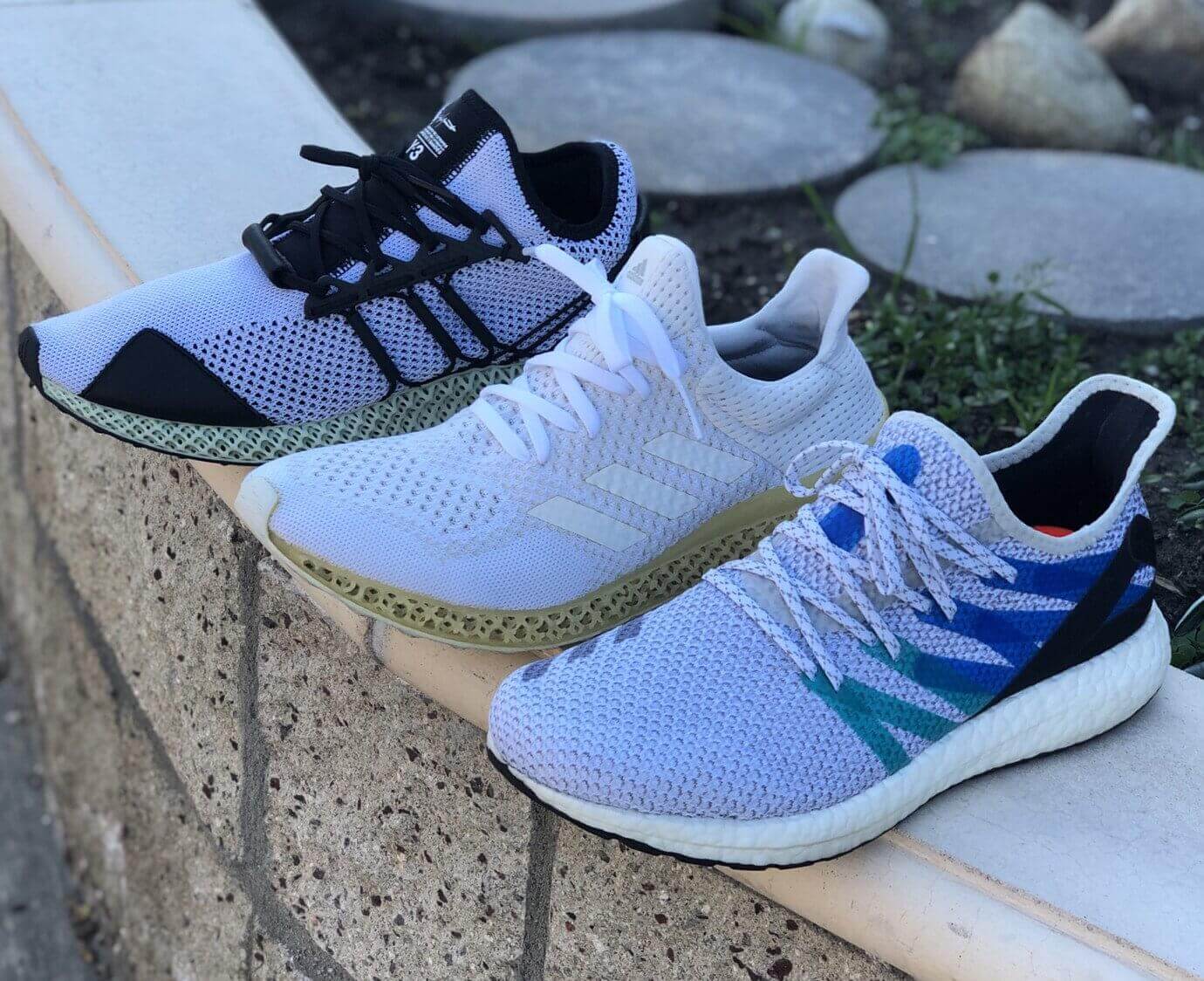 However, Adidas can confidently say that the shoes gained serious popularity – some pairs have even been resold for several times their original price at various auctions and shops. The Adidas + Carbon collaboration has demonstrated the true power of 3D-manufacturing and the scale of the infinite possibilities ahead.
Final Thoughts
What is the secret that large footwear brands are hoarding? It's hard to answer unequivocally. However, we think the secret lies in their non-stop, persistent desire to offer the best solutions to their beloved customers.
https://whidegroup.com/wp-content/uploads/footwear-market-small.webp
300
772
Olha Fedchenko
https://whidegroup.com/wp-content/uploads/whidegroup_logo.png
Olha Fedchenko
2019-04-14 10:40:57
2023-02-24 15:23:01
E-commerce Strategies of the Largest Brands on the Athletic Footwear Market
E-commerce Strategies of the Largest Brands on the Athletic Footwear Market