Success is completely measured by data. You can set goals, milestones, and benchmarks, but without data, you'll never know whether you're hitting your KPIs, or killing it in sales. In this article, we'll discuss the best e-commerce analytics tools, both separate and embedded. Let's take a look at them and find the most beneficial for your web store.
The Best Analytics Tools for E-commerce
You have probably thought about ways to improve your website. We're sure you've even heard about all the various metrics that can help you measure how your e-store is doing. However, knowing how to choose the most appropriate analytical tool for your e-commerce may not always be instinctive. At Whidegroup, we've become closely familiar with the most popular and commonly used tools for tracking web metrics. Below, we offer a list of the ones we think are the best. Take a look, and perhaps you'll find the answer to the online store analytics tool you've been wanting that will perfectly meet your current business needs!
1. Google Analytics
Google Analytics is one of the most popular e-commerce analytics software solutions today, and is reportedly used by over 80% of all online marketers around the world. The freemium model of this web analytics service enables you to get highly-detailed reports and meaningful insights about your website and its visitors. With its convenient visualization feature, it makes it easier to digest all the data provided and make a sensible decision based on that information.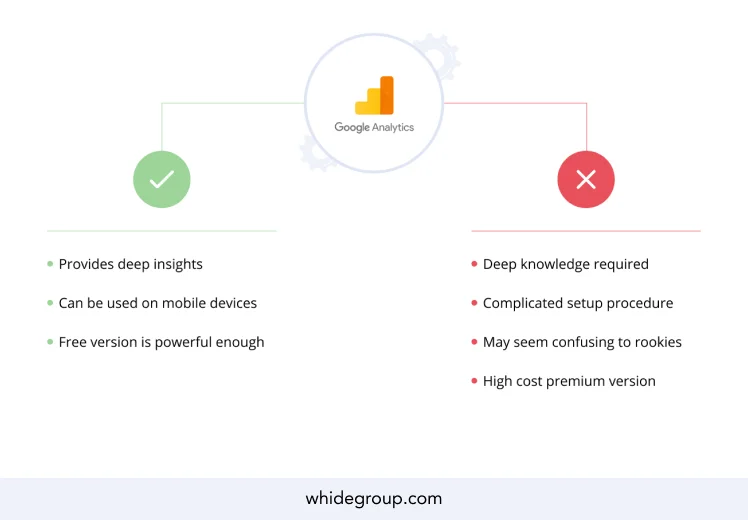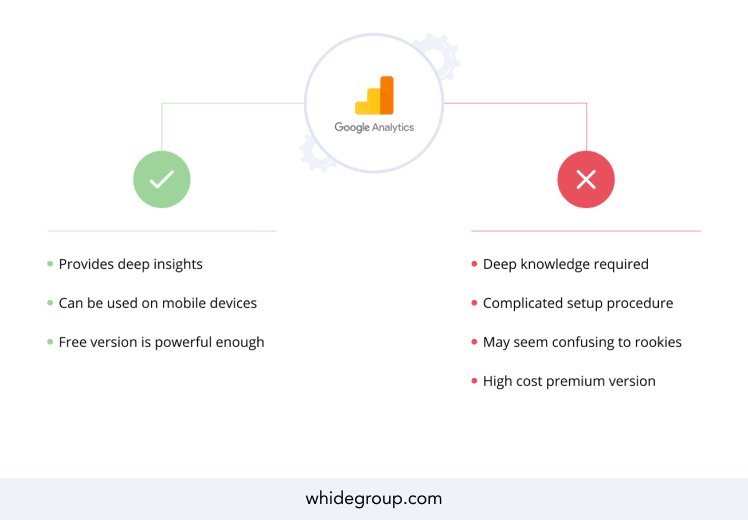 Highlights:
Eminent clients. Among the clients of this e-commerce performance analytics solution are Twitter, European Bank, UNICEF, and NASA.
Basic reports option. Before diving deep into building complex reports, you can start with the very basic data, and then work your way through, preparing yourself for more detailed and informative reports.
E-commerce oriented. Google Analytics was specifically created for e-commerce analysis, so by opting for GA, you get the data that gives the most meaningful insights about what's going on with your store and how you can best improve it.
2. Clicky
Clicky is often considered as the closest competitor of Google Analytics in terms of delivering a rich set of insights within a user-friendly interface. However, it should be noted that Clicky possesses fewer features than Google Analytics. On the one hand, this e-commerce analytics software is easily mastered by its users. On the other hand, fewer features leads to limitation in terms of all-around analysis, which makes Clicky less than suitable for advanced e-commerce analytics.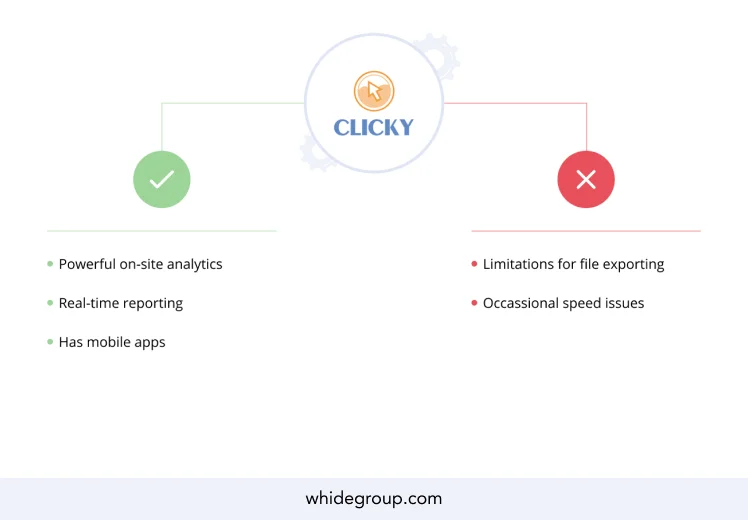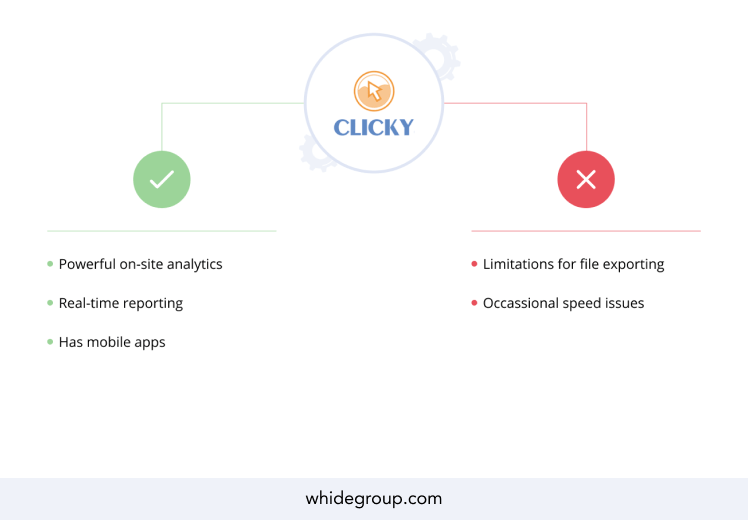 Highlights:
Heatmap. A pioneer in providing heatmaps, Clicky furnishes them for each individual visitor, not just for a collection of visitors. This enables the business owner to get a visual representation of how customers interact with each web page.
Not an all-in-one solution. So far, Clicky remains unable to provide its users with all the necessary data about every little aspect of running an e-commerce store. We find that Clicky is pretty good for traffic analysis, but not the best when it comes to measuring funnels.
User-friendly. Clicky users claim the tool has a pretty simple interface, which makes interaction smooth and seamless from Day One, even for inexperienced business owners.
3. Crazy Egg
Crazy Egg is the best e-commerce analytics tool thanks to its simplicity and ease of installation. After installation, users discover a rich set of visualization features, such as the exclusive Crazy Egg signature tool – heatmap, scrollmap, and many more. As a result, business owners get access to all the needed data, enabling them to create their own exclusive data-driven approach and grow their business to reach new heights.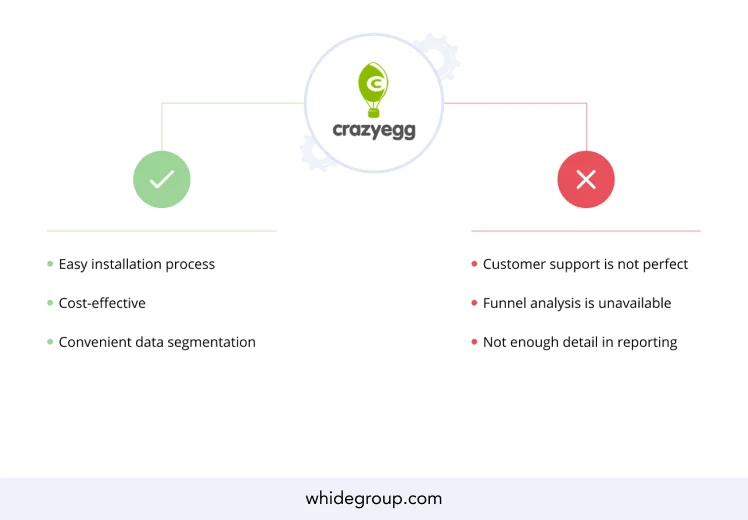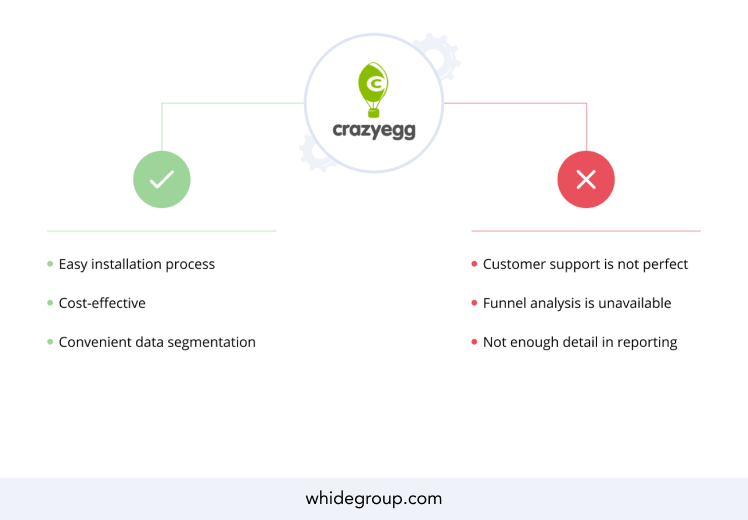 Highlights:
Snapshots. This e-commerce reporting tool enables you to execute a step-by-step comparison of different reports for more convenience.
Real-time tracking. One of the most valuable features of Crazy Egg enables you to monitor user interaction with the website in real-time.
Heatmaps. Heatmaps is a visualization tool that gives you an illustrative impression of how users interact with your website.
4. KISSmetrics
Another online store analytics tool on this list that was developed specifically for the e-commerce sphere is KISSmetrics. This tool is perfect when it comes to tracking events and e-commerce funnel analysis. In comparison with other popular e-commerce analytics tools, KISSmetrics provides the business owner with easier and faster ways to edit and tune funnels. Additionally, thanks to intuitive interface, this analytics tool for e-commerce is a real find for non-tech-savvy users taking their very first steps in e-commerce.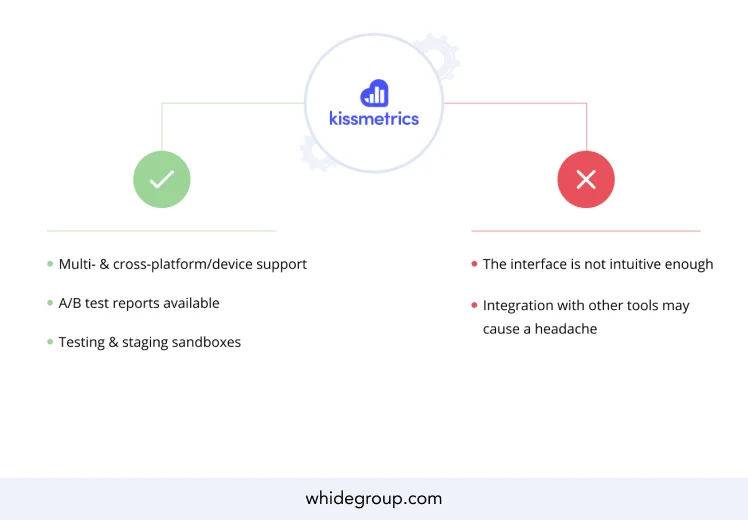 Highlights:
Accurate and comprehensive reports. KISSmetrics's top priority is providing their customers with the most accurate data possible. Users can rest assured they have precise information about any aspect of their business with this e-commerce reporting tool.
A/B tests. The tool enables users to test the more controversial elements of their website and find out which work best by using the A/B testing feature.
Audience segmentation. KISSmetrics makes it easy to define and track key customer behavior via segmentation. Thanks to this, you can rest assured that you hit targets accurately.
5. Adobe Experience Cloud
A list of the best website analytics tools isn't complete without mentioning Adobe Experience Cloud (AEC). In fact, AEC is not a single analytical tool for e-commerce, but a collection of integrated online marketing, e-commerce reporting tools, and web analytics products created by Adobe Systems. This extremely complex digital marketing solution was developed with an intention to give really deep insights about marketing campaigns for gaining optimal marketing performance.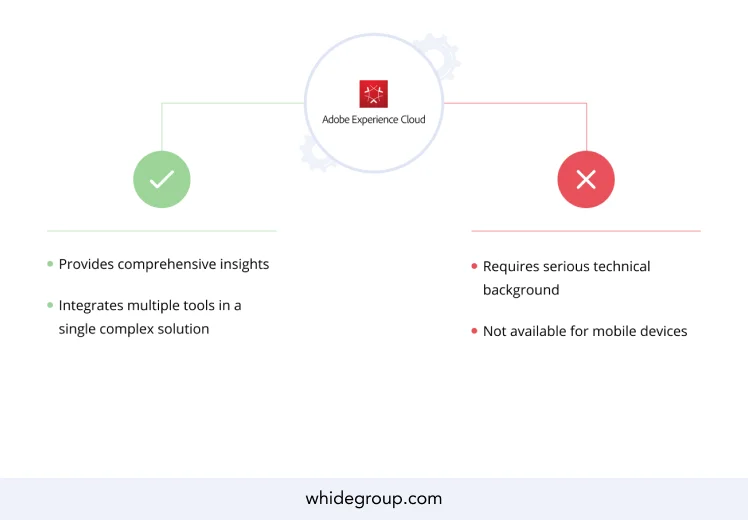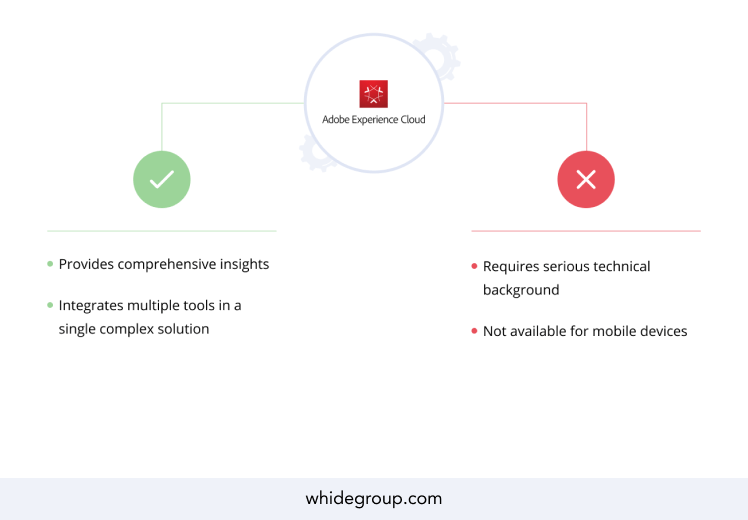 Highlights:
Fully-fledged. Adobe Experience Cloud's functionality allows collecting data far beyond traditional clicks and visitor measurements.
Mobile and web analytics. You can easily track visitor activity no matter what device your customers prefer to surf your online store.
Personalized experience. Adobe Experience Cloud provides broad opportunities for personalizing user experience according to customer preference. This is achieved by enhancing attribution and cross-channel customer journey insights.
6. Hotjar
When compiling a list of the best website analytics tools, it's impossible to pass by Hotjar. The top priority for this e-commerce analytics software is providing users with a fast and illustrative way to gain a comprehensive understanding of how to make changes to the online store in the most efficient manner possible. In addition to traditional features of online analytics tools, Hotjar provides visitor sessions recordings in video format, behavior logic prediction, and a conversion funnel.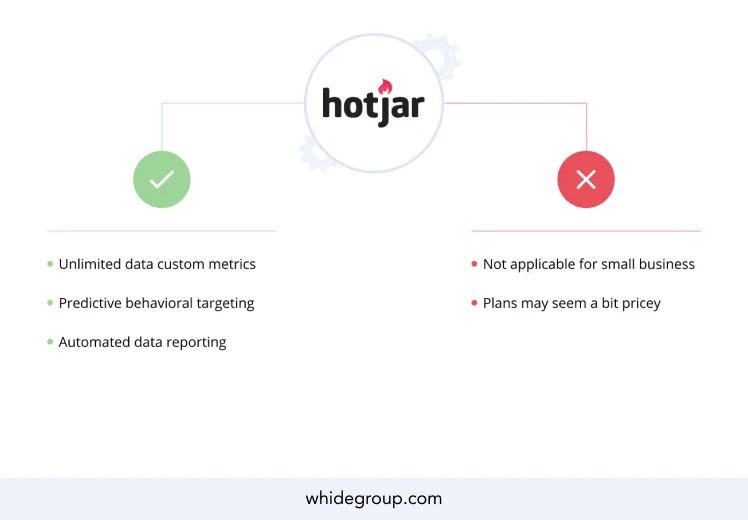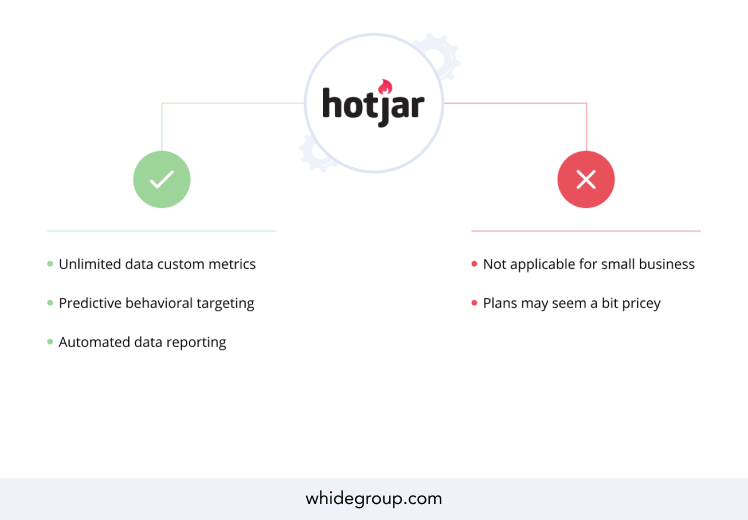 Highlights:
Ability to track user's voice. So far, Hotjar is the only free website analytics tool that offers such a feature to its users.
Widget for incoming feedback. With this widget, visitors can rate your service with an emoticon and add a message in just two clicks. Similar to stars, the emoticons vary from "totally satisfied" to "totally unsatisfied," each depicting a different expression.
7. Woopra
Once developed as a general analytics tool, Woopra was then enriched with many features. Currently, this solution is positioned as the best customer-centric analytics for e-commerce. Also widely used in data analysis in e-commerce, Woopra is particularly popular for usage among sales, service and marketing team members. The secret of its popularity is Woopra's ability to aggregate leads and site visitor data from all consumer touchpoints – from website to live chat and email.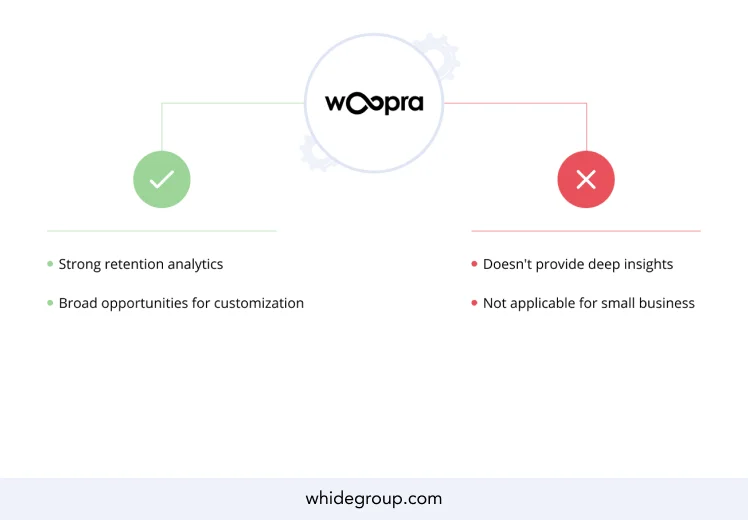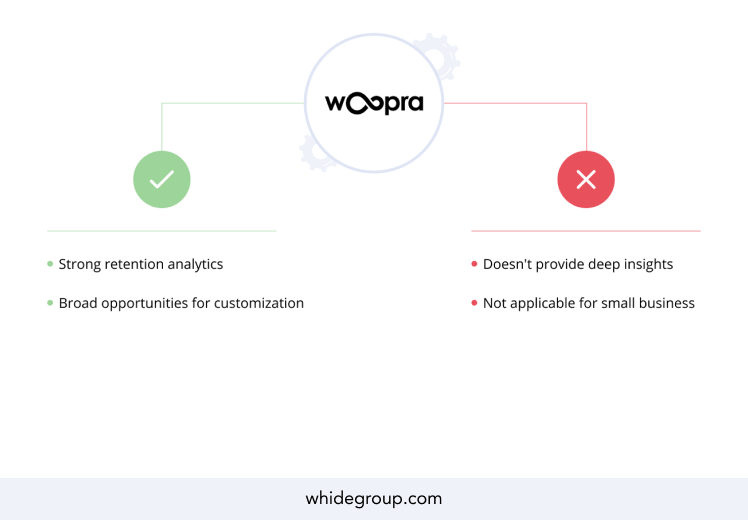 Highlights:
Interaction triggers. The built-in automation triggers personalized interaction to engage with your customers from the right channel at the right time.
One-click integration. Woopra gives you a single, central source to pull data from by unifying data across various teams, tools, and touchpoints through seamless one-click integrations.
8. Webtrends
One of the top e-commerce analytics tools when it comes to customer experience enhancement, Webtrends is the best analytics for e-commerce if your priorities are custom and calculated metrics tracking, convenient data export, and reporting analytics customization. Webtrends is also good at providing insights about your customer's activities – which pages and content they're navigating, and how they interact, among others.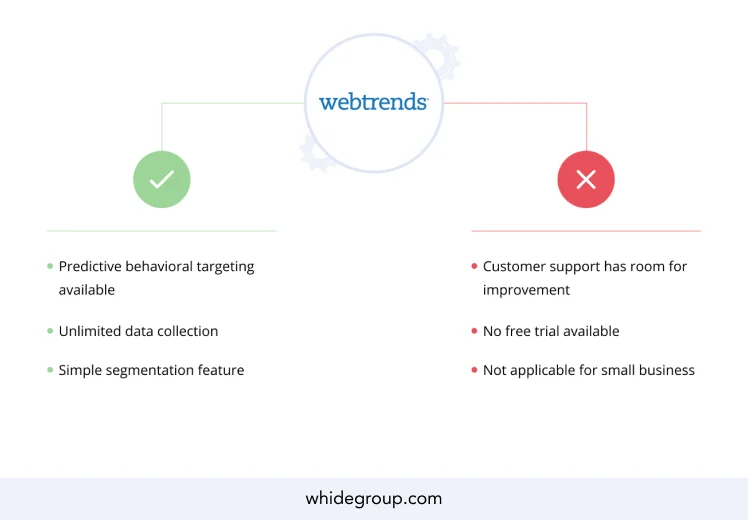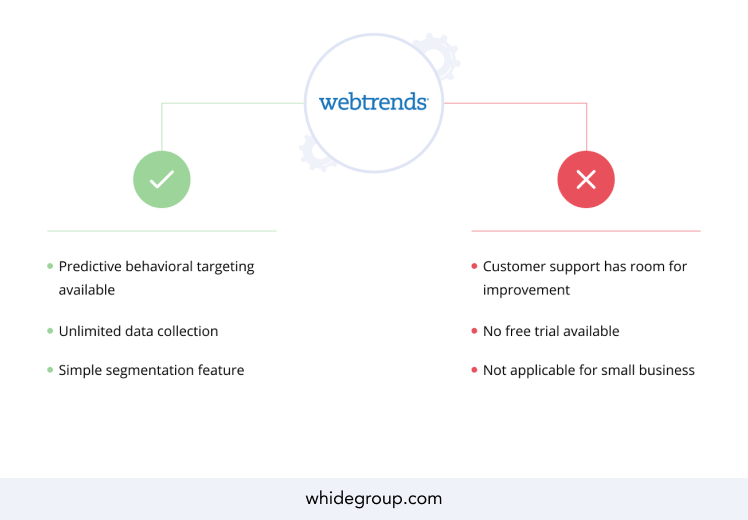 Highlights:
Customizable dashboard. You have unlimited opportunities in terms of web analytics dashboard customization to gain maximum clarity with maximum convenience.
Standard and custom reports. Specifically designed for SharePoint environments, Webtrends is a great e-commerce reporting tool which offers unlimited custom reporting options for SharePoint-specific reports.
9. Mixpanel
In our mind, one of the best analytics tools for e-commerce when it comes to product and user analytics for web and mobile, is Mixpanel. It's also good enough to give a clear impression on each separate customer's journey by optimizing actionable user analytics in how you acquire, engage, and retain customers. In this way, you get comprehensive data on each stage of the buyer's journey.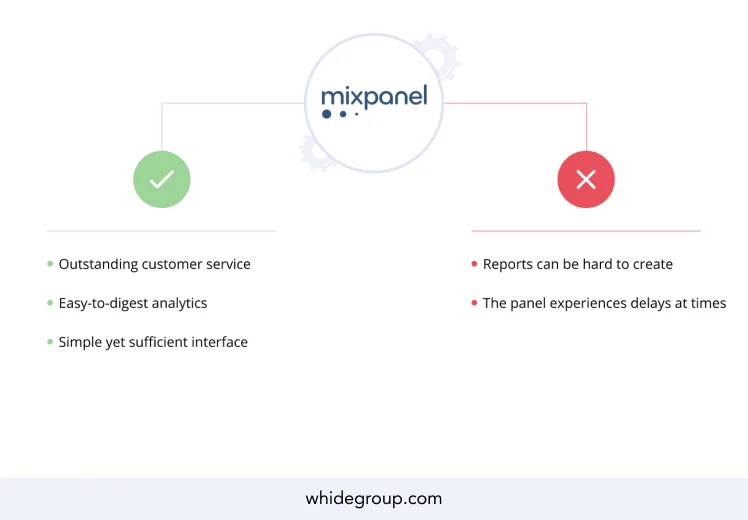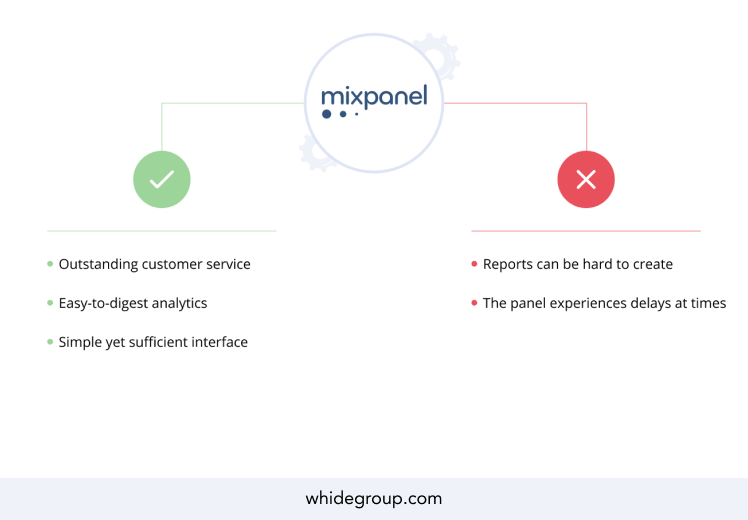 Highlights:
User-analytics oriented. This e-commerce analytics tool enables you to see explicitly how each separate user interacts with your campaigns and products.
Industry-specific solution for e-commerce. Mixpanel provides clear insights on how to improve your e-commerce store's conversion.
Machine learning. Mixpanel performs complex behavior analysis by using machine learning. In such a way, it optimizes anomaly flagging, and spots upselling opportunities and trends.
Instant answers. This website analysis tool provides an opportunity to get fast answers via the customizable reports feature.
Analytic Tools of E-commerce Platforms
In addition to separate analytics tools for e-commerce, there are also analytics solutions that are provided within e-commerce platforms. Below we consider the analytics solutions of the most popular e-commerce platforms to date – Magento, Shopify and BigCommerce.
Magento Business Intelligence (BI)
The Magento e-commerce platform provides its own business analytics tool, called Magento Business Intelligence. The product is available in two options: Magento BI Essential for basic needs and Magento BI Pro for enterprise e-commerce. Both options include 75 kinds of predefined reports, Magento and Google Analytics data source integration, SQL reports builder, and many other features essential to run an e-commerce business successfully.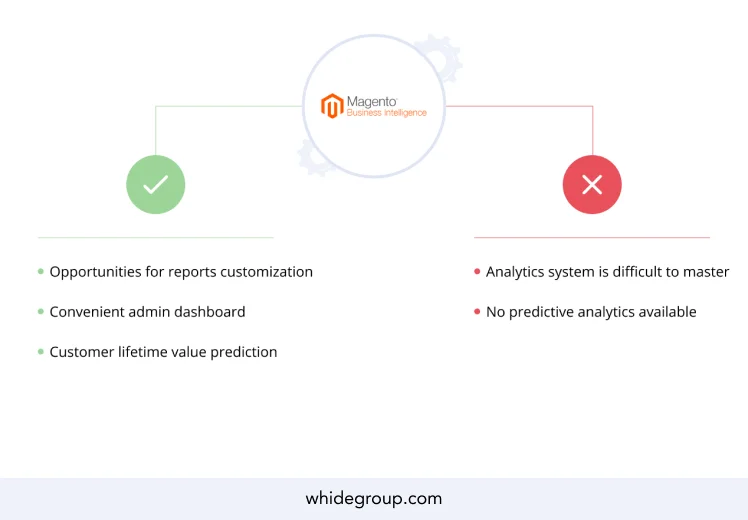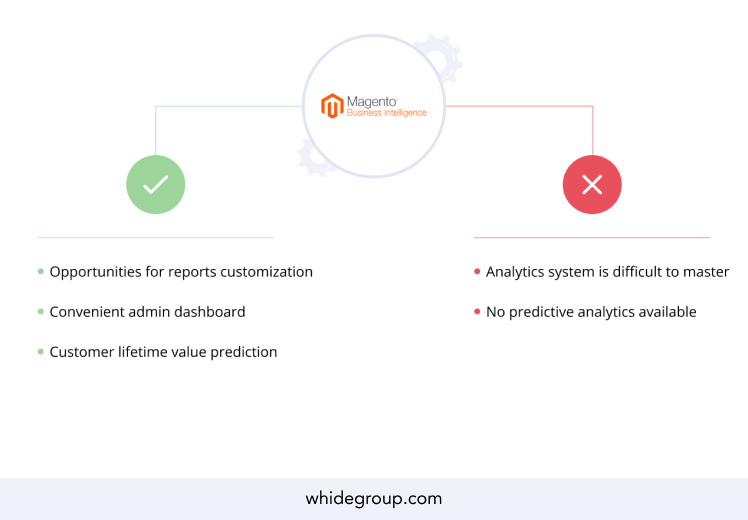 Highlights:
Email summaries. Receive regular updates about your store's activity right to your inbox.
Multiple user accounts. Magento Business Intelligence provides 10 separate user profiles with advanced user permission for an efficient analytics process.
Raw data export. You can choose to import raw analytics data to CSV or Excel documents for further processing.
Shopify Analytics
As for the Shopify analytics tool – this SaaS platform provides its customers with an opportunity to get insights from an in-built analytics and reports option. Depending on the plan you select to run your store, you get access to the creation of various types of default reports. Additionally, Shopify website analytics enables you to tailor reports to show the data that you want, filter the data in the reports, and export your reports for analysis in spreadsheet programs.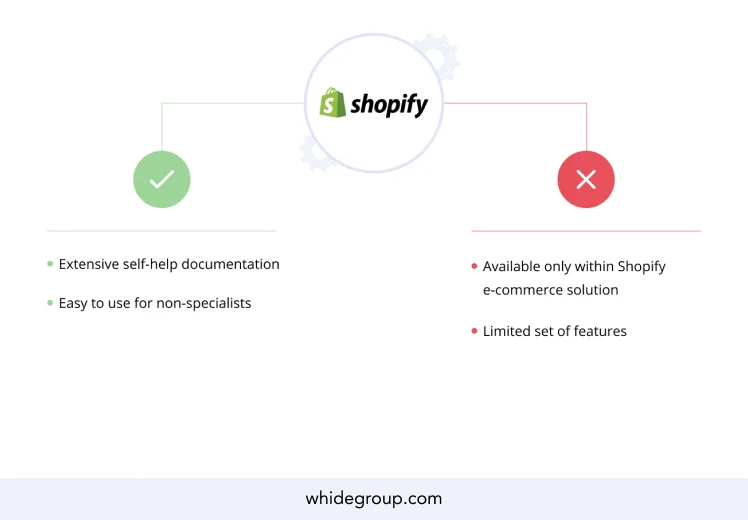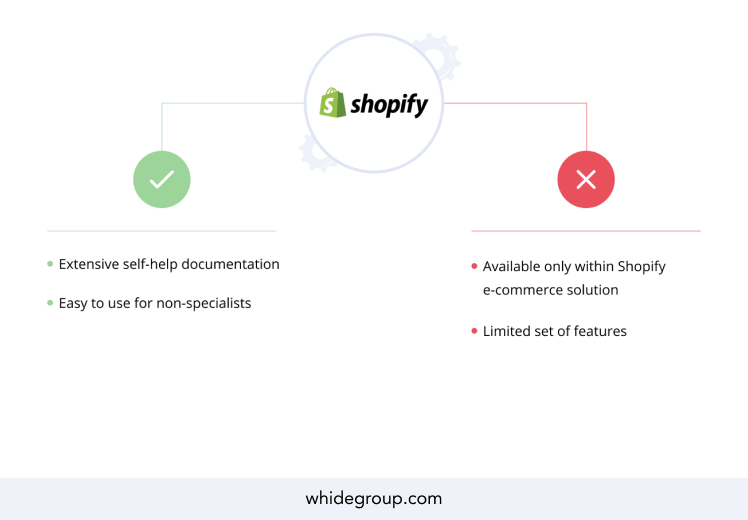 Highlights:
Convenient dashboard. You can check at a glance how your store is performing – across all of your sales channels, and for any date range.
Live view. This feature gives you a real-time view of the activity on your store. It includes a world map to show where the activity on your store is coming from and some key metrics to let you know what's happening right now.
Various types of reports. Shopify provides plenty of reports, among which are financial, sales, customers, marketing and many others.
BigCommerce Analytics
Like the previously mentioned e-commerce platforms, BigCommerce also provides in-built online store analytics. It is represented as a set of tools for reporting visitor metrics, identifying order trends, shaping merchandising strategies, and helping maximize the efficacy of your marketing campaigns. All these can provide a comprehensive, end-to-end view of a complete picture of customer engagement and revenue across all the channels from one place.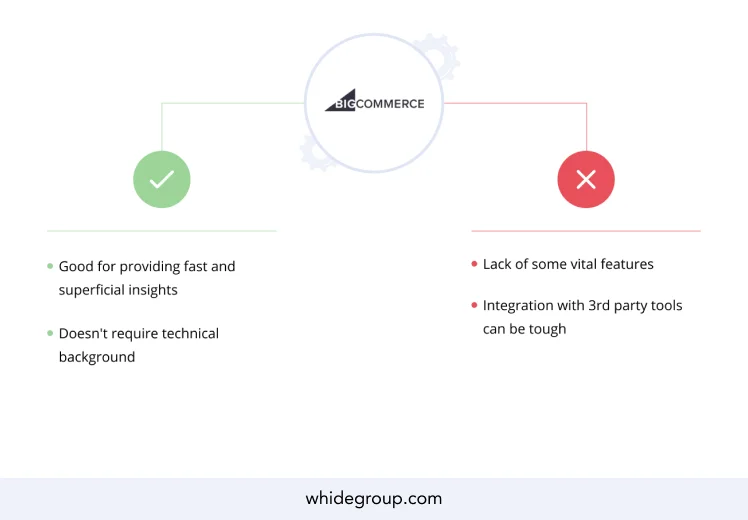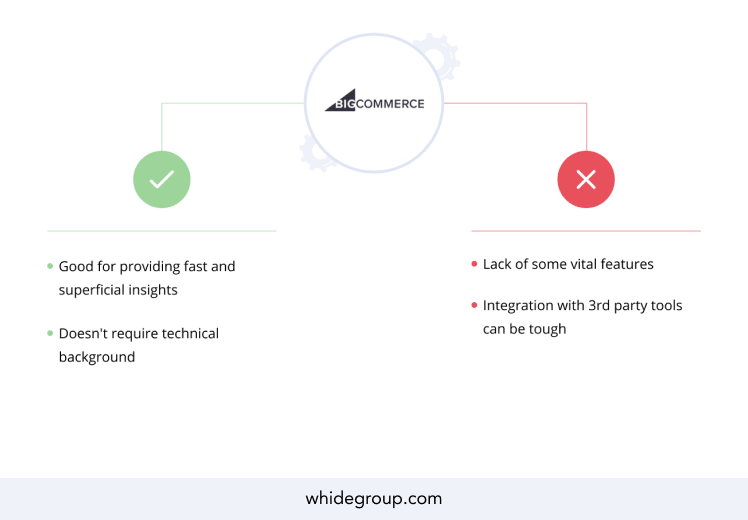 Highlights:
A wide range of reports are available. Get store overview reports, real time reports, merchandising and marketing reports.
Focused metrics. BigCommerce e-commerce analytics and insights reports can provide particularly thorough customer data. In this way, you'll be able to target, segment, and drive your sales more efficiently.
Features the Perfect Analytics Tool Should Posses
In case you haven't found an appropriate analytics tools for e-commerce among those mentioned above, you can consider the option to develop your own from scratch! Here are the features that a good analytics tool should posses:
Intuitive interface. The interface of the chosen e-commerce analytics tool should enable users to perform analytical operations through an intuitive interface without needing to have a technical background or use of coding or programming.
Data blending capabilities. Since business owners tend to get data from various sources, the analytics tool should possess advanced data blending and enrichment capabilities.
Ready-to-consume insights. The chosen tool should be able to deliver ready to consume business insights. This feature is particularly crucial in the context of a fast-paced business environment, when a delay of seconds can dispel your customers.
Easy to share. An analytics platform should has easy sharing capabilities in order to deliver insights across working networks in a multiuser environment.
Scalable. The analytics tool should be scalable, enabling customized analytics and new module development for fast-changing business needs.
Integration support. It should support integration to other major business intelligence, analytics or data visualization tools so as to enable seamless transportability and compatibility of data.
Final Thoughts
As a whole, it should be noted that there is no dramatic difference between analytic tools as all of them provide the business owner with approximately the same data and reports. In choosing between the top e-commerce analytics tools for your website, you'll want to consider pricing strategy, technical support models, and the special features of the particular tools.
Having a variety of tools can arm you with easy-to-understand reports that illustrate your store's successes and weaknesses, thereby showing you what fixes can be made. Just choose the tools exclusively for your business needs and take your website to the next level!
https://whidegroup.com/wp-content/uploads/ecommerce-analytics-tools-small.webp
300
772
Olha Fedchenko
https://whidegroup.com/wp-content/uploads/whidegroup_logo.png
Olha Fedchenko
2020-03-17 10:48:37
2022-12-23 11:29:18
E-commerce Analytics Tools: Product Owner's Guide for 2023
E-commerce Analytics Tools: Product Owner's Guide for 2023