We took a close look at the best stores that sell musical instruments online and determined exactly what makes them the best. Want to know how to sell guitars online and how to develop an e-commerce store? Check out this article to learn how the best stores work, what technologies they use, and how much it might cost to develop an online store.
The global musical instruments market is expected to grow during the next three years and was predicted to reach more than $17 billion in revenue by 2020. There are more than 600 music instrument manufacturers all over the world, so the market is highly competitive. Some of the key producers on today's music instrument market are Fender, Gibson, Kawai, Roland, Steinway & Sons, and Yamaha.
What are the Trends that Stimulate Consumers to Buy Musical Instruments Today?
The availability of educational material online that encourage people to learn to play music.
Music and singing are among the world's most popular hobbies. According to the "Musical Instruments Market: Global Industry Analysis and Opportunity Assessment 2016-2026" report, the number of people who play music as a hobby, or a full time career, is growing worldwide.
Increasing popularity of live music concerts: in 2012 the worldwide revenue from live music concerts amounted to $23 billion. This number is expected to reach $28 billion in 2021. These events inspire young musicians to create music using high-quality sound which translates into increased sales of expensive musical instruments.
The Best E-commerce Stores That Sell Musical Instruments
Buying a musical instrument today is as easy as pie. Some people will visit a brick-and-mortar music store nearby to have an opportunity to try an instrument, while others will prefer simple and convenient online purchasing without any fuss. It's now possible to buy anything with one click and without any worries. And it's a great time for musical instrument manufacturers and vendors to start their e-commerce activity.
E-stores that sell musical instruments offer diverse products. The price of the product depends on the client budget, purposes and musical skills. From discount guitars and rarity pianos to power amplifiers and mics – online stores offer lots of options to choose from, at a price that suits every pocket. Let's look at some examples of e-shops:
Multi-product e-stores.They offer a variety of choices. Samash.com for example, sells guitars, drums, lightning, headphones, microphones, accessories and many other related products. Thomann.de and Sweetwater.com are also multi-product stores that focus on keys and professional software. On Musiciansfriend.com you can find unique ukuleles, mandolins, banjos.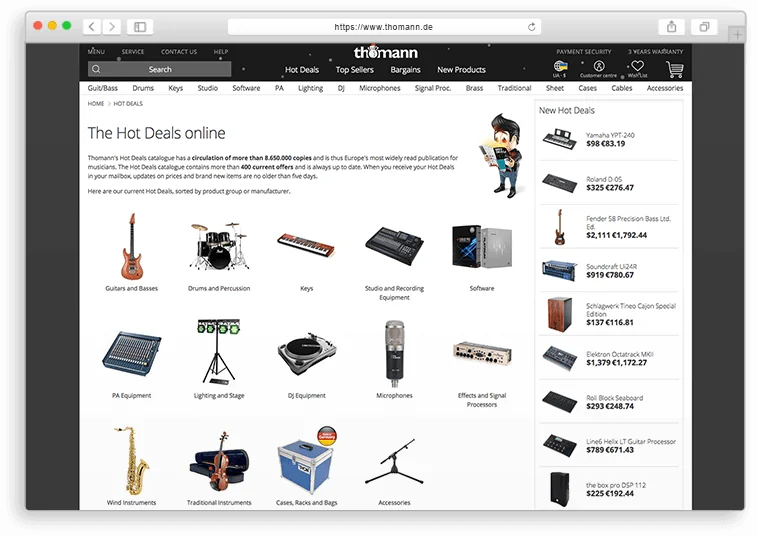 E-stores that sell electronic equipment (audio, video, equipment for live sound, DJ setup). Examples of these stores include Axemusic.com and Musicredone.com.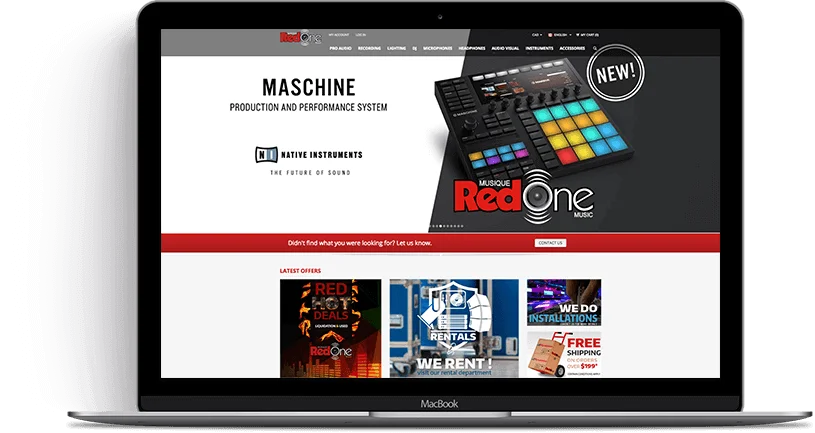 Multi-product e-stores with an emphasis on guitars.The assortment of Guitarcenter.com, Gibson.com and Gear4music.com is presented with a vast number of different brands of electric, acoustic, bass guitars, and the equipment that goes along with all of them. These stores have a large community, publish the latest news in the music industry, and offer 24/7 support.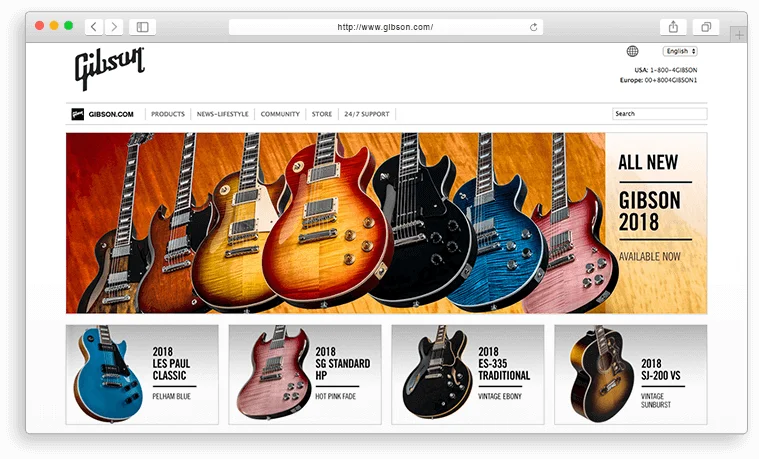 What Makes These Online Stores the Best on the E-commerce Market?
Design. The best e-commerce music instrument websites have bright, catchy designs with colors that correlate with musical brands. They display clear images, slideshows, and videos in the background. The navigation is easy, everything is well-structured. The navigation is easy, and everything is well-structured. They offer the possibility to search by brand or by type of instrument. Also, customers can check out reviews and ratings to make a more informed buying decision.
A variety of payment and shipping methods. To sell musical instruments, websites offer different valid and secure payment and shipping methods. The payment methods include credit card payments (Visa, MasterCard), online payments (PayPal, Amazon Payment, Bill Me Later) and gift cards and vouchers. They also allow for one-step checkout process. For shipping, e-commerce websites use FedEX, USPS and other providers. These stores also tend to offer free or discounted shipping.
A large variety of products. E-commerce websites offer a large product assortment. From rare and unusual instruments to modern and highly innovative ones, you can find everything you need online.
Customer service. In most stores, customer service is well-developed, and the websites offer order tracking, wishlists, returns, and gift certificates.
Technology Stack for Your Guitar Online Store Development
To build an online store, you can use a content management system (CMS). This system should be modern, responsive, and deeply customizable. Let's take a look at the most popular and suitable CMSs for a guitar online stores:
1. Magento. Magento is the industry standard. It allows for installing various themes and modules, and is extremely customizable, secure, responsive, and SEO friendly. It is the best choice for medium and large merchants.
2. Woocommerce. Even though Woocommerce isn't an independent CMS like Magento, it's the second most popular tool for building online stores. Woocommerce is an open source e-commerce plugin for WordPress. You can install it on your Wordpress website within a day and adjust it according to your needs and wishes.
3. Shopify. Shopify closes the top three. It includes a lot of pre-built options so you don't need to think about third-party integrations in the early beginning. Shopify has a simple interface, support, good-looking templates, and a beautiful storefront. However, it requires you to pay a subscription each month, as well as payment for each additional tool.

To build a guitar online store, the following technologies can be used:

Apache and Nginx as web-servers;
PHP, Python, JavaScript (Node JS) for backend programming languages;
jQuery, Modernizr and Bootstrap as libraries for front-end.

Once you have chosen the proper e-commerce tool and technologies, you can consider some useful integrations for your e-store that will allow you to expand your website's capability.
Third-party Integrations for Your E-commerce Music Store
Payment and shipping. You should provide your customers with secure payment, and fast and convenient shipping APIs. Secure shipping and payment naturally has many advantages, including establishing and building customer trust. You can focus on Stripe and Paypal payment systems, and FedEX and USPS shipping providers.
CRM. It is essential to automate and manage the data related to your business (information about customers, orders', products), thus, CRM integration is the key. Take a look at HubSpot, Zoho or Salesforce CRM for your e-commerce business.
ERP. Enterprise management system is the best way to handle everything from accounting to inventory management and fulfilment of orders. Integrating your website with ERP will help you improve your business processes, enhance operational efficiency and refine customer service. SAP, Oracle, Sage are the most popular variants for e-commerce purposes.
Marketing automation. It would also be useful to integrate marketing automation. Such technologies automate emails, provide lead generation, up-sell and cross-sell, as well as providing many other website functions. You can try such Magento modules as Newsletter Booster to send newsletter campaigns to target groups of customers, Product Review Incentive to stimulate your customers to write reviews after purchasing products or Customer Analytic Pro to have an ability to react in real time to customer actions.
How Much Does it Cost to Build an Online Guitar Store?
When building a guitar e-store, remember to consider your target audience; they're musicians. The website's design must appeal to them. We made a rough estimate of how much it might cost to develop an online store for selling music instruments on Magento.
1. Requirements Analysis and Design
Stage
Specification preparation
2. Back-end development
Stage
Set up musical instruments attribute sets
Stage
Set up rules for related/up-sell/cross-sell products
Stage
Add-to-cart related customizations for configurable and bundle products
Stage
Payment method setup
Stage
Shipping method for oversized and non-standard sized items
Stage
Additional extensions for musical instruments store setup and configuration
Stage
Back-end development project management and quality assurance
3. Front-end development
Stage
Design implementation
Stage
Responsive finalization
4. Live server environment setup and deployment
Stage
Magento architecture setup (depends on the number of server instances and complexity)
Stage
Live deployment and check
Additional features that you may like to add to your e-store can be implemented by purchasing paid modules (extensions). As an example, for an online guitar store it's nice to have Magento modules such as Social Share, Newsletter, Slideshow, Mega Menu, Ajax Cart, Live Chat etc. If you're not familiar with these tools, we're always glad to help and provide advice on a cost-effective approach.
As we can see, professional end-to-end Magento development may take anywhere between 162 to 549 hours. The cost may depend on the complexity of the website's functionality, availability of additional modules, number of items, etc. Costs vary from region to region, with the highest rates found in the USA, Canada, and Western Europe. However, offshore development in Eastern Europe, such as Ukraine or Moldova, can cost 35%-55% less than prices found in North America, or Western Europe, without a loss in quality.
Best Woocommerce and Magento Themes for Starting Your Guitar Selling Business
As you probably know, 'you never get a second chance to create a first impression'. So, to make your design attract more customers, it is necessary to perform:
Conversion-oriented user experience (the design should be ergonomic, aesthetic, accessible, usable, helpful)
Clear data presentation via menus, catalogs, etc.
Easy navigation
Compatibility with all devices and screen sizes
Quality content (clear, beautiful images and high-resolution videos) and colors appealing to your brand
The ability for users to leave feedback about purchased items or services
Your website design should match the conventions of the music industry
You can create a custom design for your online store. Or you can purchase a ready-made theme. If you'd rather go with a theme, this theme should fit the music industry style and match your company's vision. Let's take a look at some good-looking examples:
SoundBizarre
SoundBizarre is a stylish Magento 2 theme aimed to attract music lovers and artists to your website. You can change your store's logo, menu, and numerous widgets to create a custom design. SoundBizzare offers a photo slider and video background to demonstrate your best products and offers, that will help clients to make a purchase. SoundBizzare provides a photo slider and video background to demonstrate your best products and offers that will encourage your customers to make a purchase. You can bundle your template with different modules, such as Social Sharing and Newsletter.
CM Moza
Another theme both for Magento 1 and 2 is CM Moza. The theme is available in five colors, has laconic typography, a well-structured layout, and easy navigation. You can easily customize CM Moza for various types of products. This Magento theme is bundled with many indispensable Magento extensions such as Mega Menu, Slideshow, Ajax Сart, and more than nine customizable static blocks. Furthermore, there is an understandable user-guide and a powerful admin panel to manage your e-commerce store.
Melody
For a Wordpress/Woocommerce website, you can choose Melody. It has a clean and elegant design and can be customized according to your needs. As we said before, compatibility with all devices and screen sizes is essential, and Melody greatly emphasizes this. When talking about functionality, this theme has a mega menu, multiple homepages, powerful search tool, quick view product, filter, product details, grid & list view, and many other features. Melody also has plugins to improve your e-store's capability, such as powerful page builders King Composer and Slider Revolution, that allow you to create responsive sliders with various animation effects, add images, text, and videos.
Here are a few more templates for your guitar e-commerce store:
Templatemonster.com
Template.net
Themeforest.net
Final Thoughts
Building an online guitar store requires a lot of work. You should know your audience's tastes, preferences, and habits. You should also do some research to know what technologies to use, and what kind of design your customers will want to see. Another essential step is to find web developers who will create an e-commerce website that fits your needs.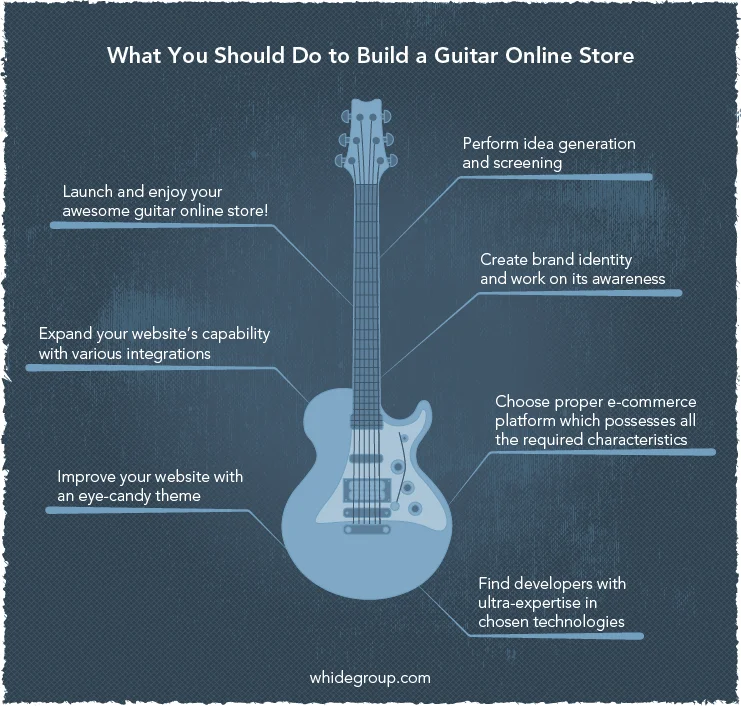 https://whidegroup.com/wp-content/uploads/guitar-shop-small-2.webp
300
772
Olha Fedchenko
https://whidegroup.com/wp-content/uploads/whidegroup_logo.png
Olha Fedchenko
2018-01-05 18:10:44
2023-02-24 10:41:27
Everything You Need to Know About How to Sell a Guitar Online
Everything You Need to Know About How to Sell a Guitar Online