Have you ever considered how important your web performance is? According to the latest studies, 40% of customers will abandon a website that takes more than 3 seconds to load, and 79% of customers who are dissatisfied with website performance are less likely to make a repeat purchase.
Moreover, Google won't even let websites with slow performance show up on top search results. Sounds like performance is really important, doesn't it?
If your website performance leaves much to be desired, you're more likely to experience problems such as low conversions, reduced average daily attendance rate, and, eventually, a lack of sales. So, let's identify the most frequent weaknesses you should know to improve a Magento site's performance.
How to Identify Major Performance Issues for Faster Magento 2 Speed Optimization?
The easiest way to get an idea of your website performance is to test it in one or several of the most popular analytics tools. Such tools are made specifically for website owners to keep track of their websites and for up-to-date Magento 2 performance optimization.
Here are the tools we constantly use to monitor the performance of both our clients' online stores and the Whidegroup website.
A tool that grades results on a scale from 1 to 100 points – the higher your mark, the more optimized your website is. Any mark above 85 points means your site performance is doing really well. You can even test both mobile and desktop versions of the webpage.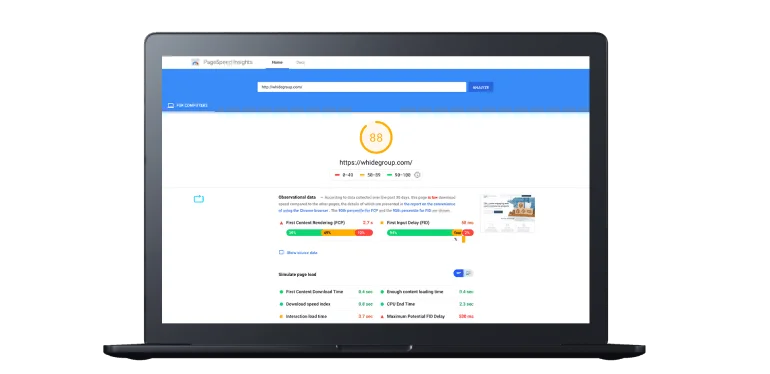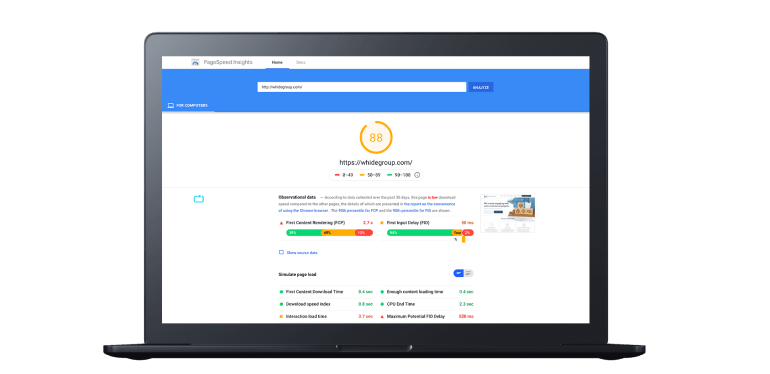 This tool assigns page results in grades from A to F. Its reports are subdivided into 5 sections that include PageSpeed results, YSlow results, waterfall breakdown, video, and history. Seven various locations are available for testing.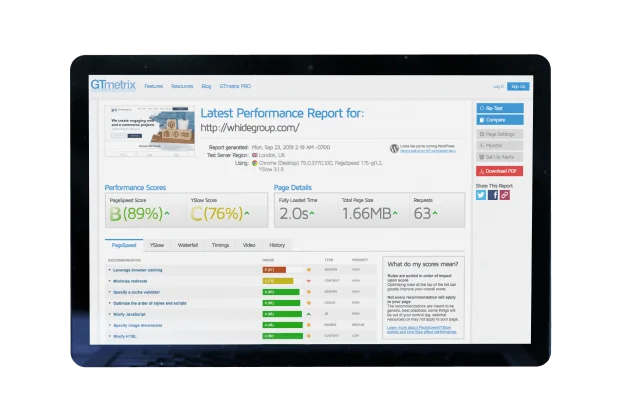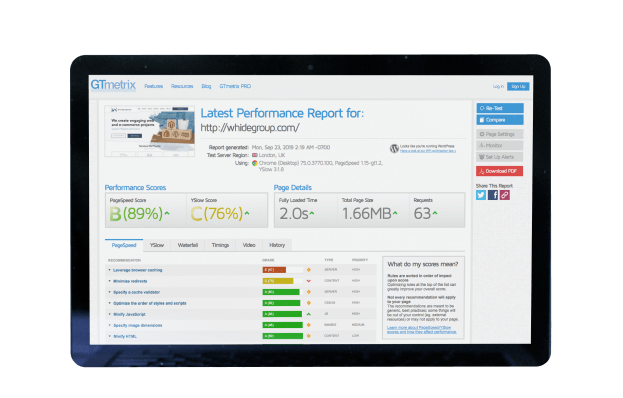 Of course, there are other tools like WebPageTest, Yellow Lab Tools, KeyCDN, and others, that can check any website and provide you with the performance summary. However, none of these services gives as much useful information about the site's performance, and such detailed recommendations on Magento site performance optimization, as PageSpeed Insights and GTMetrix give.
Magento Performance Optimization Tips: What Influences Your Website Speed?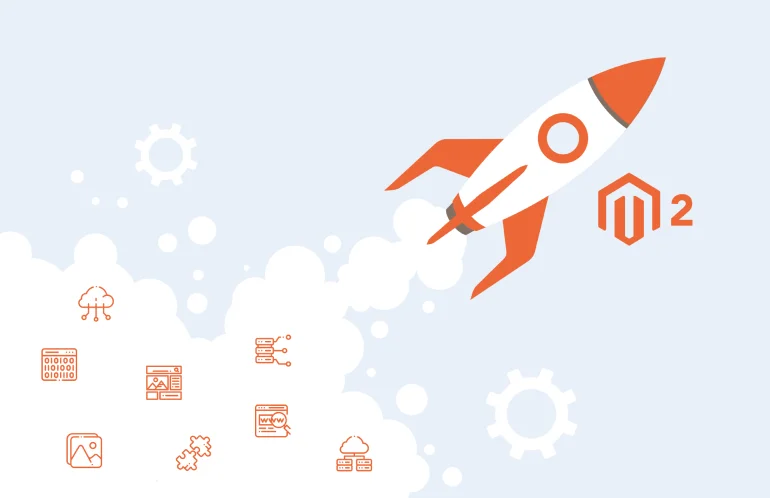 Like we mentioned above, if your website performance leaves its users waiting, you can look forward to low conversions, low traffic, and of course, low sales. Since the main point of your e-commerce venture is to get those sales, you'll want to nip this issue in the bud!
Website load speed affects almost every metric a business-owner should care about: bounce rate, search ranking, conversion, page views, and above all – revenue. Thus, retailers swiftly come to a common conclusion: The faster the website, the higher the conversion.
You need to implement performance tuning for your store. Not sure where to start and how to speed up a Magento 2 website? Now that you know how to check the performance of your online store, let's see what parts of your site should be tuned for Magento performance optimization.
First, look at the GTMetrix or Google PageSpeed Insights results of your website performance analysis. The bigger part of Magento 2 performance pain points are already listed there. Let's look closer at each of the most burning performance problems e-commerce business owners face every day.
#1 Hosting
Hosting affects the website performance on the server-side. The page generation time directly depends on the density of the websites on the physical servers and how loaded the servers are. The lack of hosting resources always results in a website performance degradation and slower load time. Sometimes, issues with a hosting result in the long downtimes, which irreversibly leads to the loss of both regular and potential customers.
Magento 2-based online stores always need a more powerful and reliable hosting ready for high loads, especially during periods of high customer activity, such as the holiday seasons. So, if you face any problem with your hosting, there are two possible solutions:
1. Upgrade your current hosting to an improved plan.
2. Switch to a Magento oriented hosting provider that will provide your online store with a dedicated server, as well as decent support and guarantees.
#2 Server requests
The number of HTTP requests and the server response time are other factors that slow down your online store. The more requests, the longer the server response time is, and the longer it will take a page to be fully loaded. The number of server requests depends on the amount and type of content on the page that is expected to load. Every picture, every JS and CSS file, and every other separate element of the page create a separate HTTP request.
Obviously, to speed up a Magento 2 website you want to reduce the number of these requests and help the server process them faster. To minimize server requests you can use CSS sprites, optimize code, use fewer fonts, merge JS and CSS files, or apply other optimization techniques.
#3 Third-party extensions
In addition to the functionality available out-of-the-box, Magento provides ample opportunities for adding custom features. You can almost endlessly expand the functionality of your online store with the help of third-party extensions. However, each new feature adds new HTTP requests to the server. Consequently, it takes more time for the server to process all requests, which affects the website load speed.
In addition, poor quality or unverified extensions can conflict with each other or with other useful modules. This, in turn, can not only degrade the performance, but also make the Magento optimization process more complicated in the future.
#4 CDN
CDN is a network of connected servers that are used to help in faster delivery of the content. Copies of the website are stored at multiple data centers that are geographically distributed all over the world in order to provide users with faster and more reliable access to the website.
Using CDN is a good way to improve web performance in case your store audience extends worldwide. CDN is especially life-saving for e-commerce websites during Black Friday, Cyber Monday, Christmas, and other busy retail days. Beyond better site performance, CDN can also offer you a more secure global network.
We're Whidegroup
We develop optimized
e-commerce stores.
#5 Unoptimized code
Code optimization means thoroughly reviewing the existing code and its further refactoring. Some code may contain redundant lines, strange variables, spaghetti code, etc. A code review will fix all those issues.
Buggy code can be found in many places throughout the website. However, most often this issue arises after the integration of poor quality third-party extensions or custom features added by inexperienced Magento developers.
Places in the code that should be optimized can be defined manually by a developer, or with specific automatic tools that are part of a specialized software or a built-in compiler.
#6 Unoptimized images
Scaled images and image optimization are incredibly important to represent your products well on the e-commerce website. Images hold a great significance as you can't sell your products without including high-quality product photos.
On the other hand, heavy images can also slow your website down. Thus, it is necessary to optimize images so that you can deliver a faster website with quality visuals.
#7 Caching
For now, caching is probably the most well-known and essential feature for performance optimization. Cache is small and temporary memory storage, designed to speed up the transfer of data and instructions. It is intended to remove performance bottlenecks that cause slow access to data. Caching improves performance by retaining frequently used information (stylesheets, images, JavaScript files etc) so when the visitor comes back, their browser doesn't have to reload the entire page every time.
#8 URL redirects
Sometimes redirects are essential, especially when you need to tell the server that the page address has been changed. In such cases, 301 redirects help to avoid 404 errors. However, no matter how useful 301 redirects can be, when it comes to conversions, they are nothing but serious performance killers. The reason being that redirects increase your round trip time (RTT) and thus the time for loading the HTML increases too, even before the browser starts to load other assets.
Although it is almost impossible to completely avoid redirects, to speed up Magento 2 you should follow Google's recommendations and minimize them.
Final Thoughts
Unfortunately, for the not-so-tech-savvy merchant, it is usually hard to define what exactly needs to be fixed. All the more so, not everyone knows how to optimize Magento 2 for better performance and speed. In fact, most people don't know. There are so many possible elements that can cause bottlenecks and if you face any issues with online store performance, it is better to look for Magento optimization services. Don't hesitate to turn to web development specialists. Whidegroup has solid expertise in Magento website development and optimization. More than that, we value our clients and love to see them succeed. If you're ready to see marked improvement on your Magento-based site, drop us a line. We will find the most apt solution to exclusively suit your situation!
https://whidegroup.com/wp-content/uploads/fast-sm-bg.png
1188
3840
mary
https://whidegroup.com/wp-content/uploads/whidegroup_logo.png
mary
2019-09-30 15:32:15
2020-06-26 16:05:02
Improve Magento Site Performance: Top 8 Weaknesses Affecting a Website's Speed
Improve Magento Site Performance: Top 8 Weaknesses Affecting a Website's Speed