Regardless of the platforms, the process of an online shop transfer is no walk in the park. For a long period of time, e-commerce store migration and stresses have been inextricably and intimately bound with each other in the minds of a majority business-owners. Is it for good reason? The answer is here.
Reasons to Migrate From Shopify to WooCommerce
WooCommerce is currently among the most popular platforms to move an online store to. However, business owners still ponder over the question why migrate from Shopify to WooCommerce. Below, you will find a list of just some of the reasons to opt for WooCommerce while selecting a platform to migrate to. Let's take a look:
1. It's free
When choosing a platform to migrate to, price is likely to be a major factor. E-commerce applications range from free to thousands of dollars per year, but WooCommerce is free to download. This is great news for people running online stores with little capital.
2. Versatility
Incredibly flexible, WooCommerce is the one-size-fits-all solution to handle various products. With it you can sell anything – from physical products and digital downloads, to content and subscriptions. It's truly the Swiss Army Knife of e-commerce platforms.
3. It is fast
A hassle-free shopping experience is vital when it comes to e-commerce. Since WooCommerce is WordPress-based, it can provide you with unprecedented speed and ensure a fast and responsive experience for an online store of any size.
4. Powerful content management
Content is vital for e-commerce marketing and SEO. Well aware of this fact, WooCommerce offers a wide variety of content management options, and WooCommerce-compatible SEO plugins make it easy for retailers to optimize content for the search.
5. Scalability
It's good to think about the future when choosing an e-commerce application: your business may be small now, but after some time and dedication, it can enjoy significant growth. WooCommerce can scale from a few products to several thousands, and from a handful of shoppers daily to hundreds of shoppers per second.
6. Rich analytics functionality
It's hard to imagine a successful e-commerce website without analytics. That's why WooCommerce provides an extensive set of analytics, right out of the box. WooCommerce also offers smooth integration with popular services like Google Analytics, Adobe Marketing Cloud, MixPanel, etc.
7. Security
Since WooCommerce is regularly updated, you do not have to worry about security issues. Moreover – it will be always compatible with the newest version of WordPress. With a one-click update system, getting bug fixes and security updates on WooCommerce is fast and easy.
8. Strong developer community
If you need to make any changes to your store, it won't be a challenge to find a high-skilled developer since WooCommerce developers come from all over the world.
9. WordPress based
WooCommerce inherits all of the benefits of WordPress such as flexibility, functionality, security, and speed – all of which is uses to build a world-class e-commerce experience for retailers and their customers.
Preparations Before Migration Process
We've covered the main reasons to opt for WooCommerce when choosing an e-commerce application to which to transfer your online store, so now let's talk about the prep work.
Before you make up your mind to export Shopify to WooCommerce, you need to install your WooCommerce plugin and make sure it is accessible online. You will most likely also need to purchase Wordpress hosting, but it is reasonable to consider an inexpensive shared hosting option, so don't panic about potential hosting costs.
After you've installed the WooCommerce store plugin, you'll naturally want to choose a WooCommerce theme. We recommend one of two scenarios. Either choose a theme that is most structurally like your current store theme so as to resemble your existing site, or go with a vastly different look, as if you are doing a rebrand. There is no need to get overly concerned with little details as, such as color scheme, because that can be easily changed – theme customization can easily address issues of that nature.
It's extremely important to notify your customers and suppliers in advance that the website will be unavailable for a time. This extra step will help to instill confidence in your site. Otherwise, visitors may feel apprehensive about the overall dependability of your shop, just by unexpectedly seeing the site down. You should select a time when you typically have the lowest amount of traffic. We also recommend that you backup all of your store data prior to migration.
Once you have installed the WooCommerce store plugin, verified it for accessibility, and taken care of the backups, you're completely ready to migrate from Shopify to WooCommerce!
Migrating From Shopify to WooCommerce: A Guide
Now that we've covered all the pre-migration details, it's time to learn how to migrate a Shopify store to WooCommerce
Step 1 – Choose the Tool for the Migration
There are plenty of automated solutions to move an e-commerce website, and you're welcome to choose from a variety of tools with rich functionality, high performance, and straightforward interface. Moreover – they allow you to save a priceless resource – time, and you can avoid the necessity of hiring qualified specialists. Currently the most popular tools are Cart2Cart and LitExtension. You may also like the WordPress All Import plugin, which takes a CSV file and leads you through the import process
Regardless of which tool you choose to move your store, the core principles of the process are virtually the same for every automated tool. Let's take a look at some more of the details.
Step 2 – Demo Migration
You really cannot overestimate the importance of making sure you are able to easily and cleanly migrate the data from your existing e-commerce site to WooCommerce. In order to do so, you first need to decide what data you want imported. The data that's essential to transfer contains your products, orders, and customers. In addition to the fundamental list above, you can also migrate plenty of other data, such as coupons, blogs, blog posts, product categories, CMS pages, manufacturers, and many other components, depending on the chosen tool for migration.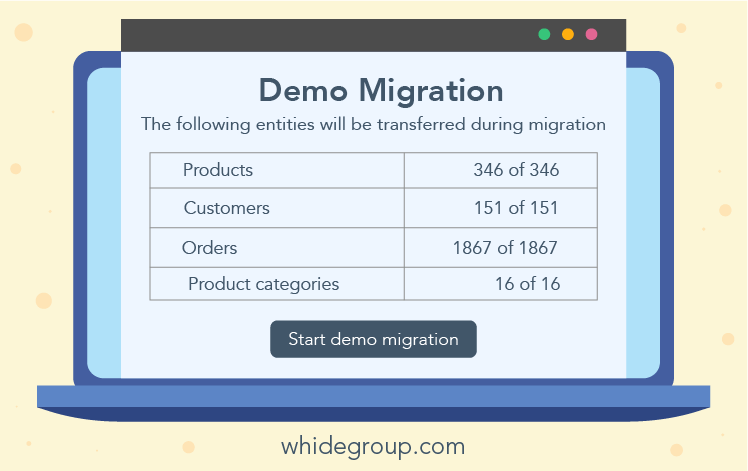 Once you have successfully completed the demo migration process, you can safely import your data from your existing Shopify store (or your "source" store) to your new WooCommerce store (i.e. your "target" store).
Step 3 – Registering for the Cart2Cart Service
Let's start with registering for the service you've selected to help with migration. The bonus? You can easily sign up for it with your Facebook profile credentials. Identify Shopify as your source store and get an API password for your Shopify store. To do this, go to the administration panel of your Shopify store.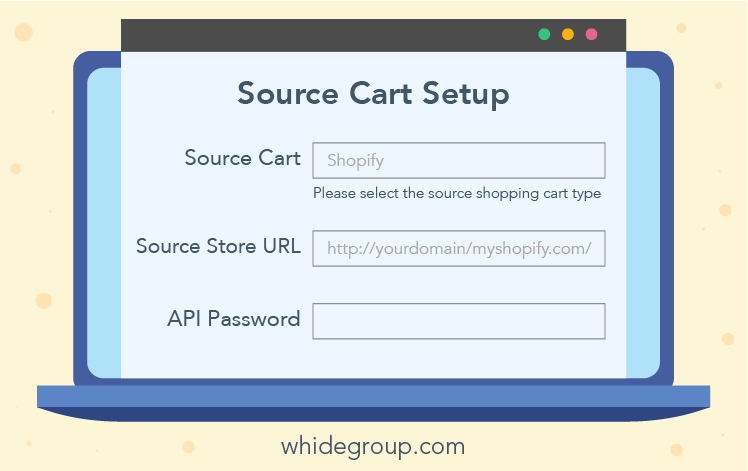 Then you'll be asked to select your WooCommerce target store and specify your WooCommerce target store URL that you've created previously. With this, the preparatory stage is finished.
Step 4 – Transfer Bridge
Next, you should download Transfer Bridge – a software that you'll need to unpack and upload to the root directory of your WooCommerce store. Here you will need to note the data to be transferred from the old store on the Shopify platform to the new one on WooCommerce (usually all the categories are selected, as well as customers and orders).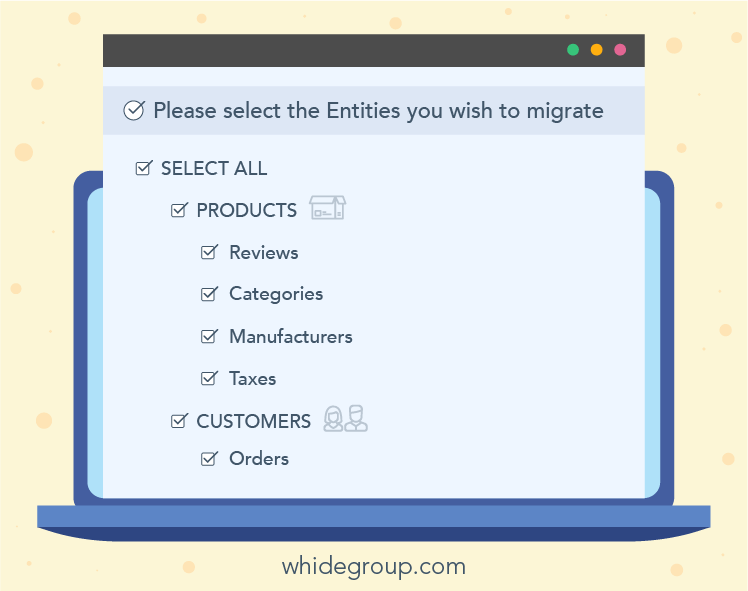 You can also set the number of desired additional options.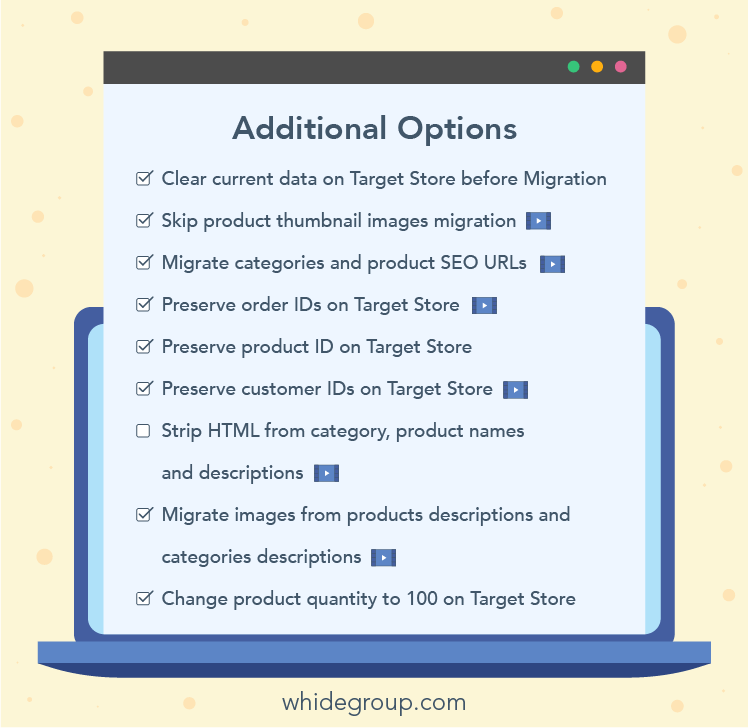 Click the start migration button and go for your cup of coffee. After a few minutes, you'll be the owner of a WooCommerce-based online store.
Step 5 – Final Verifying
Congratulations! You've succeeded in your bid to migrate from Shopify to WooCommerce. But don't relax and stretch your legs just yet! Take the last opportunity to check that everything went well, and fix anything that may have gone wrong during the migration process. After you've completed this step, the migration from Shopify to WooCommerce is over.
Post-migration
Once you have successfully migrated from Shopify to WooCommerce, you should begin customization and branding your store design, search engine optimization (SEO), and finally, fully test your new WooCommerce online storefront.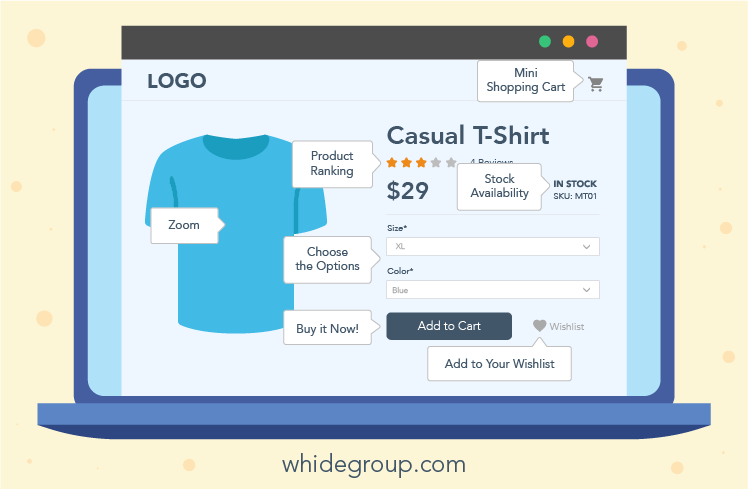 Don't forget to carefully check your product pages – especially if they are deeply customized. You'll likely need to make some improvements as automated tools are often unable to manage complex product pages, and thus they can potentially be migrated with some issues.
Conclusion
So, as you can see, Shopify to WooCommerce migration is not some sort of rocket science, though we realize it may seem complicated for those who lack experience with WordPress-based products. We hope this article has clearly demonstrated the benefits of choosing WooCommerce as an e-commerce solution, and perhaps even given you ideas and inspiration on how to perform the migration process from A to Z.
At Whidegroup, we specialize in e-commerce solutions for businesses of any scale. We are well aware of the nuances of working with Shopify and WooCommerce, and we've successfully moved an abundant amount of e-commerce stores for our clients. These reasons and more are what allow us to guarantee a splendid result. If you are in need of qualified assistance – don't hesitate to contact us and rest assured – your migration will be easy, stress-free and efficient.
https://whidegroup.com/wp-content/uploads/migrate-bg.png
292
746
mary
https://whidegroup.com/wp-content/uploads/whidegroup_logo.png
mary
2019-02-11 09:17:57
2020-08-20 09:17:50
Shopify to WooCommerce Migration in 5 Steps
Shopify to WooCommerce Migration in 5 Steps