Team
1 full-stack developer
1 UX designer
Technologies
PHP, Magento, MySQL, CSS, HTML, Synoptive
Background
Gilded Lab is a creative project providing a brand-new concept in fine jewellery that allows buyers to create custom designs for jewellery using a set of predefined styles and elements. This is a multi-currency ecommerce project developed on a Magento 1.7 platform, integrated with Wordpress and a Synoptive configurator application.
Our Goal
To offer customers the ability to create their own jewellery designs. This website also provides an easy route to buy a ready-made product.
Challenge
To successfully offer customers various options like:
an opportunity to create their own jewellery designs;
buying a gift card;
getting fine jewellery at a reasonable price without overpaying;
providing buyers with all the relative information (delivery time, size, finish, style, metal, gem shape, colour of jewellery, etc).
Solution
For proper website function, the following solutions were implemented:
easy management of the homepage thanks to the use of Wordpress;
Synoptive extension functionality that allows the customer to designer a product;
order confirmation email service that provides clients with detailed information about delivery time and jewellery characteristics;
built-in interface capability helps customers choose a gift card and write a personal greeting.
Overview
Gilded Lab was born to renovate the jewellery industry. Founded by Juliet Sutton-Gee, her idea was to create a new type of jewellery on the market - design minded, high-quality, and reasonably priced. Her team placed a great emphasis on making the customized process more widely available, and providing of unique collection with prices more in touch with reality.
The website's use was made purposefully simple and convenient. It even contains a tutorial video aimed at demonstrating all the options available to the customer. If you appreciate the advantages of Gilded Lab, you can share a link with your friends via social networks, which are integrated into the website.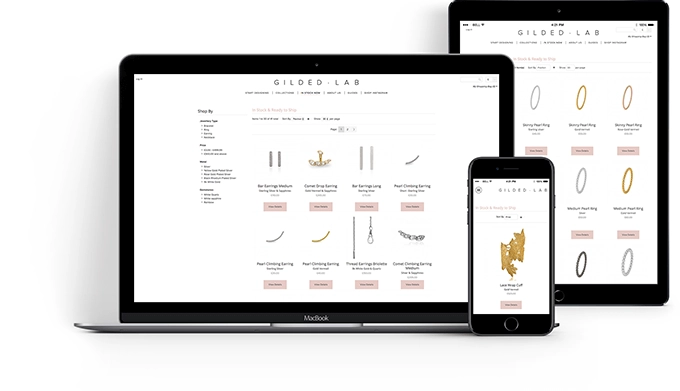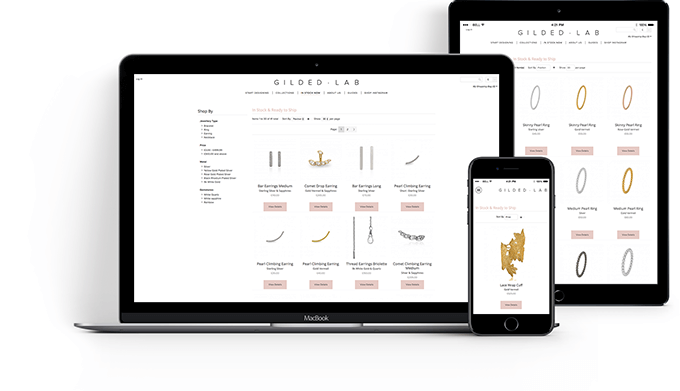 Highlights
Gilded Lab provides you the possibility to create an excellent gift for your family and
friends because you can present them with a custom piece of jewellery that includes
a beautiful card and your personal greeting.
The website is integrated with Wordpress and Synoptive, which delivers an excellent
opportunity to create and manage visual product configurations. It allows custom
building more efficiently and cost-effectively than competitors. Each newly created
product is then automatically saved in the Magento admin panel and becomes
available for other buyers.
Purchasing via mobile devices is ever popular, and Gilded Lab doesn't fall short in the
mobile e-commerce trend. The website runs perfectly on most known smart devices.
The website allows you to create your own design, with customization easily created in a few simple steps:
selection of a jewellery type;
selection of a base design;
detailed customization which allows you to choose a type of metal, finish, size, and even add an engraving.
The website contains information relevant to your order. Moreover, it has an understandable interface which allows you to create in with convenience.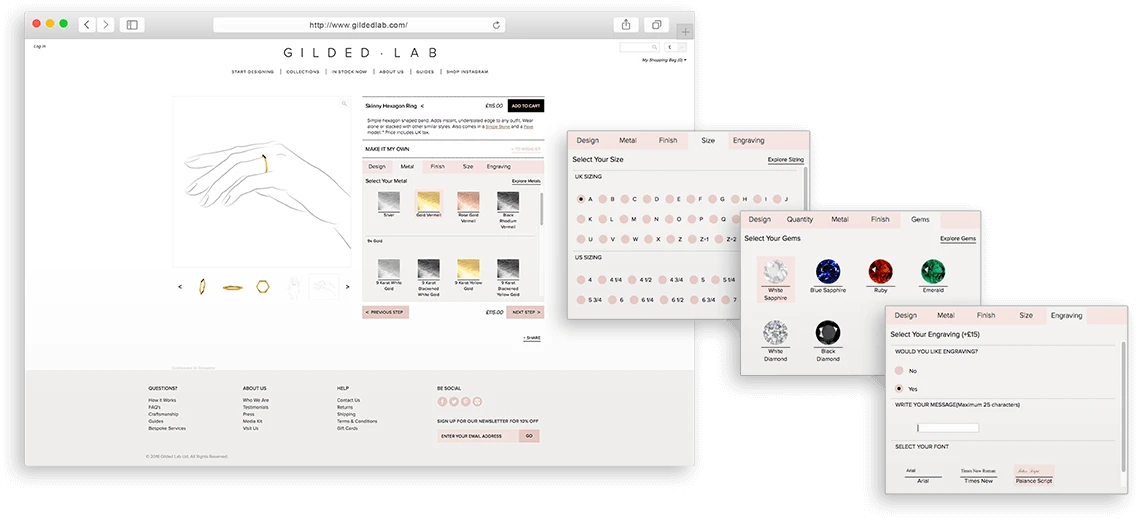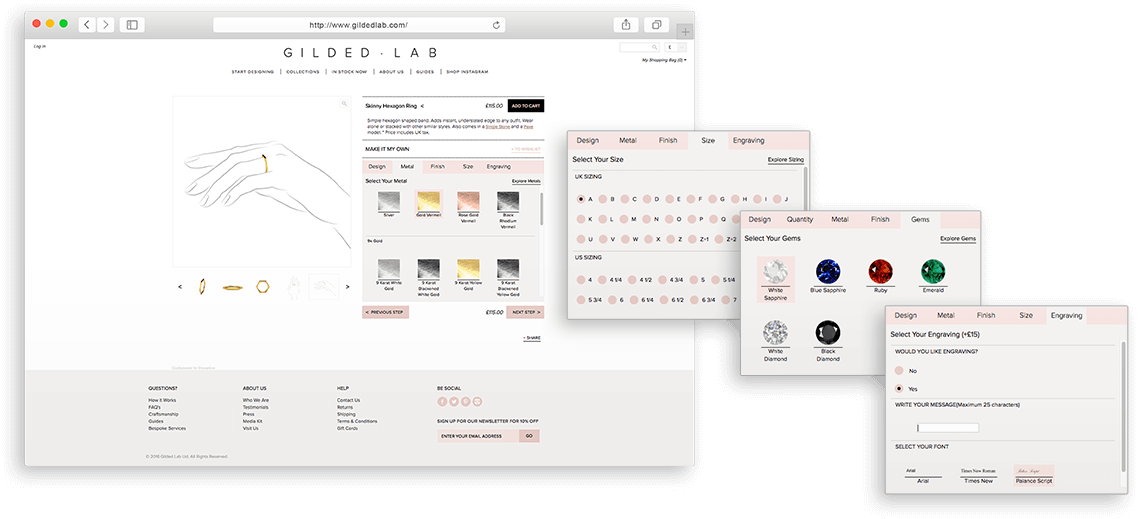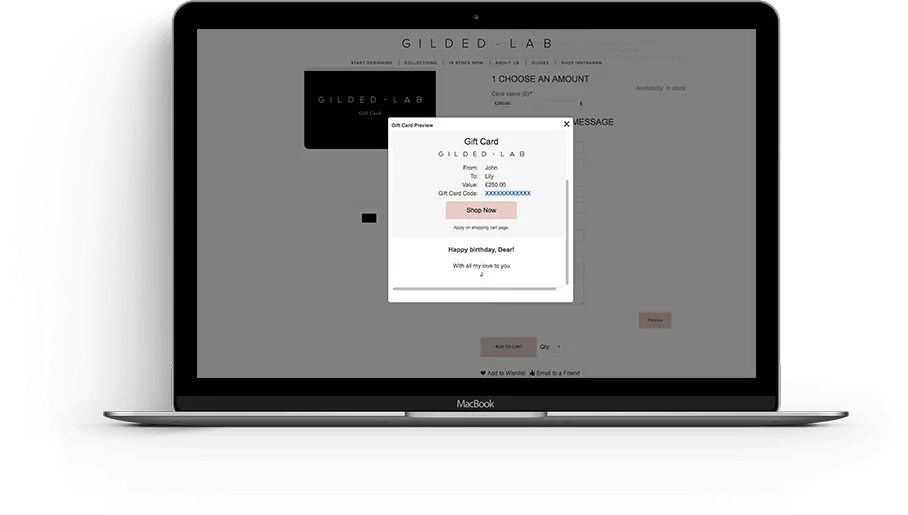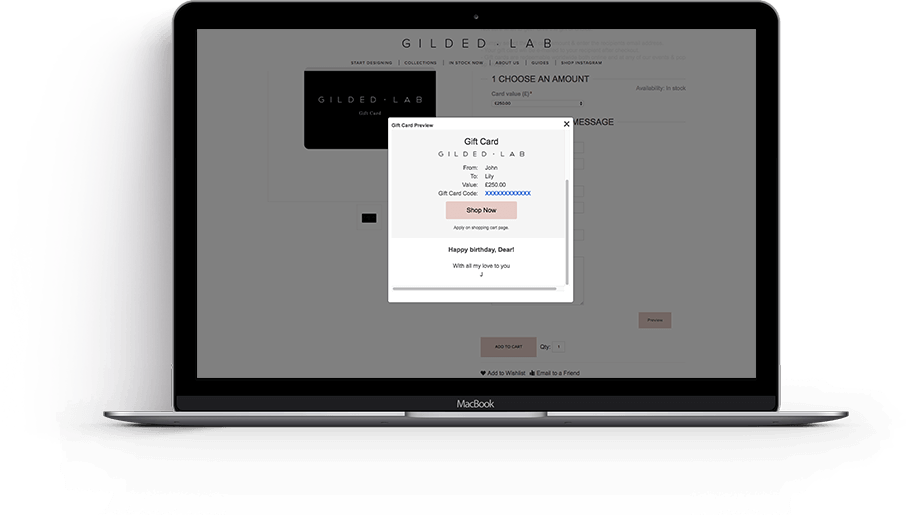 Customers have the option to purchase gift cards.
You can set the price of the intended gift, and include
a gift message. The preview option demonstrates how
the gift card and gift notification will appear before you
click to purchase. Gift cards are available in Gilded Lab's
brick-and-mortar stores as well as online.
All you need to do is to choose the gift card amount
and enter the recipient's email address. The gift card
is then conveniently sent by email after verification.
Gilded Lab can also ease your stress if you want a creative and unique design but find yourself low on ideas. The site offers the opportunity to review orders made by previous customers, and they are openly available. Who knows? They might even help stimulate your imagination.
The scope of Gilded Lab's activity is truly amazing. Delivery is available all over the globe, and the delivery service is fast. Just 5-6 short weeks are enough to produce a jewellery of unique design, and allow it to land on your doorstep.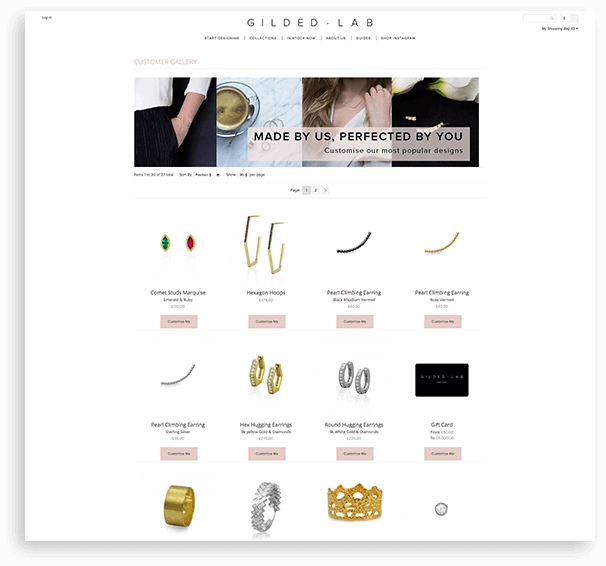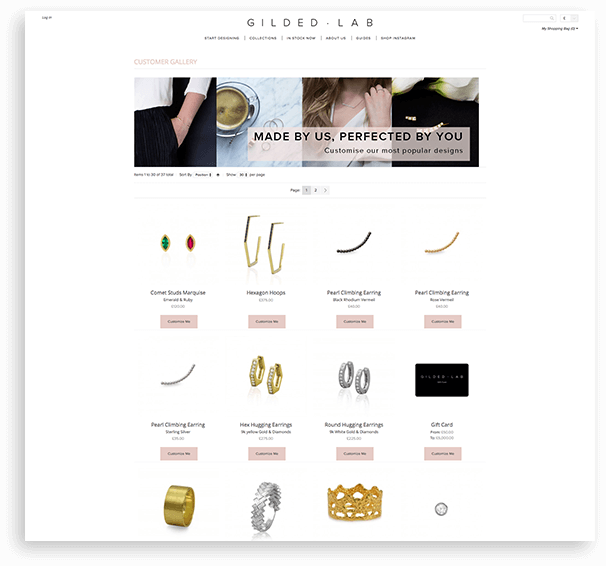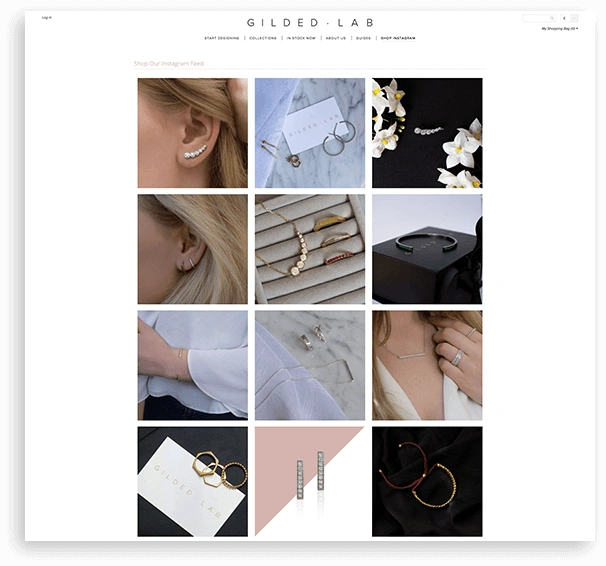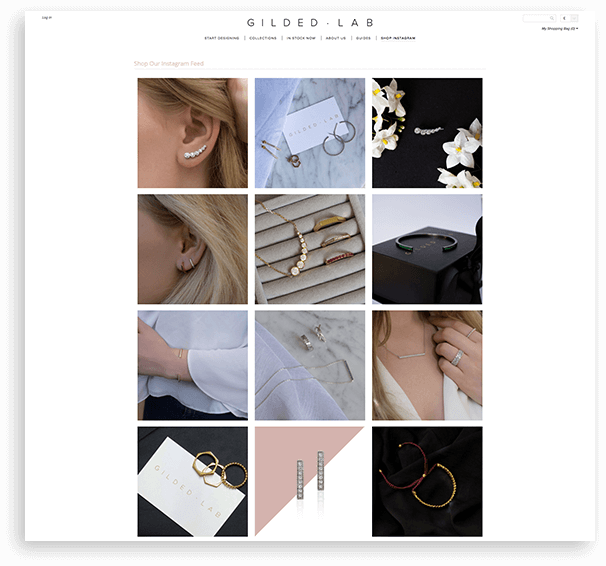 Flawless service beyond expectations. Highly recommended and very easy to work with. Thank you! Phoebe Mok, MadeBeautiful
Impressed?
Let's create great things together.
Fonejoy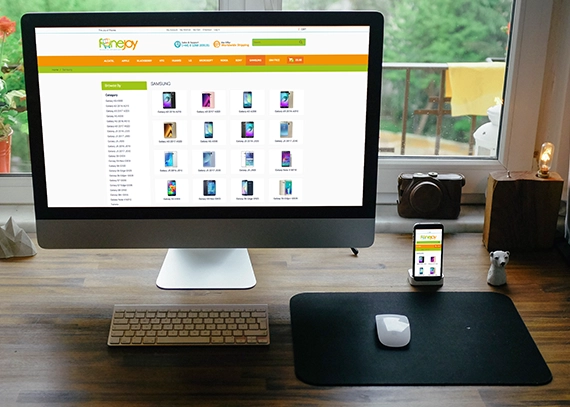 TeachingMe