Remote Web Developers
Remote Employees From Ukraine
The popularity of remote work is facilitated by development of new technologies, increasing role of Internet and telecommunications. Many companies begin to hire remote developers. When you manage a remote team, it brings mutual benefits both to employer and staff.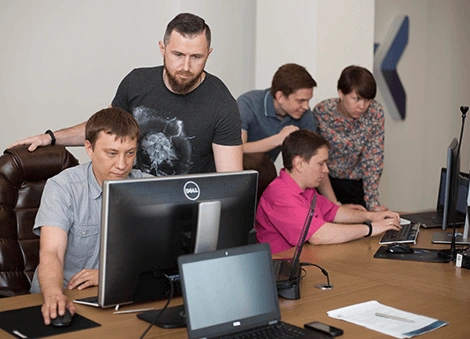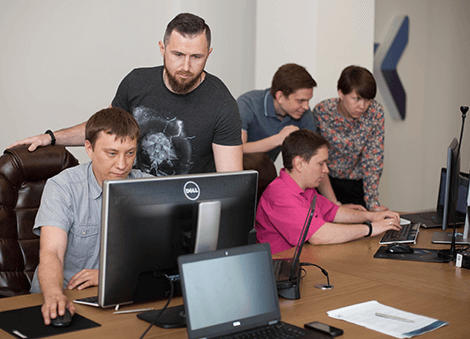 It will be particularly useful for you to have remote developers for hire
if you want to:
decrease labour costs and optimize taxes;
save office space;
simplify labour relations (the possibility of hiring employees under a simpler contract agreement);
increase the involvement of employees in the work process and their productivity;
be able to hire remote web developers in different geographical regions
to perform a particular project;
reduce the costs of staff recruitment and training.
It can seem rather difficult to find a remote development team with skills that perfectly match your company's goals and needs. If you're looking for a professional team to work with, Whidegroup's qualified Ukrainian IT-company is exactly what you need. We offer our best remote web development team for hire. Whidegroup is open to building professional relationships with companies from the EU, USA, Canada, Australia, UK, and all over the world. Our agency is known for our high-quality services at the most competitive price.
To get specialists with exceptional knowledge and skills on the labour market, which enables us to make our work as productive as possible, our remote development agency uses anadvanced recruitment process.
Ukraine is the most attractive market in Europe and one of the key regions in which to search for IT talents and hiring remote developers. Currently, Ukrainian remote employees account for almost 7% of the total number of office workers. Most of them work in IT, particularly in web and mobile applications development. And their number is constantly growing.
Ukrainians are famous for their quality of work, reliability, and ambition. The Ukraine economy has a developed industrial and service sector, which presents it as highly competitive in the international market.
Ukraine has a lot things to be proud of. National scientists and designers contributed
to the exploration of outer space and development of world space science. There are
130 enterprises in the rocket and space industry (design bureaus, research institutes,
production associations, test centres, and more) in the country's territory. Rockets
like "Zenith", "Cyclone", "Dnepr", satellites "Sich", and "MS-1" all represent Ukraine
on the world market. Even Elon Musk, the founder of SpaceX, PayPal, and head of Tesla
Motors, has recognized that the Ukrainian "Zenith" rockets are the best in the world
after rockets of their own construction. Today Ukraine is a member of many international
organizations on space regulation.
Another example is aircraft industry. Ukraine has a few enterprises that
implement the full cycle of modern aircraft creation - from preliminary
research to the construction, testing, certification, mass production
and after-sales service. For instance, the serial plant "Antonov"
produced about a dozen passenger aircrafts during the years
of Ukraine's independence. However, the most incredible project
of the plant is the creation of the plane "Mriya", the largest and most
load-lifting aircraft in the world.
Ukraine is also famous for powerful Zaporizhian plants, such
as "Motor Sich", "Iskra" and machine-building design bureau
"Ivchenko-Progress". "Motor Sich" is one of the world's leading
enterprises, engaged in the development, production, repair, and
maintenance of aircraft gas turbine engines for aircrafts, helicopters,
and industrial gas turbine plants. The "Iskra" Plant is a research and
production complex, and a leading developer and manufacturer of
ground-based radar equipment for the state's defence complex.
"Iskra" is included in the list of Ukrainian enterprises which have the
highest strategic importance for national economy and security.
Moreover, Ukraine is presented on the international arena by
automated radio engineering intelligence stations ("Kolchuga").
Machine-building design bureau "Ivchenko-Progress" is engaged in
designing, manufacturing, certification, testing and setting for serial
production, and repairing gas turbine engines for aircraft industrial
applications. The high level of aircraft engine design development is
validated by certificates from the State Aviation Service of Ukraine,
the aviation register of the Interstate Aviation Committee, and the
International Certification Bureau Veritas.
More than 30 qualified technical universities prepare future programmers, developers and other specialists. In 2016, almost 30,000 skilled IT-specialists graduated from such institutions.
Aside from its excellent technical education, the Ukrainian mindset resembles the European one. This allows us to reach an understanding with customers from different countries almost effortlessly. Another advantage of choosing a remote staff located in the Ukraine is its designation in the UTC+2 time zone. Such an insignificant difference between the Ukrainian and European time zones simplifies cooperation since the regular working hours of remote employees coincide better in comparison to Eastern countries, and it takes less effort to get in touch.
Ukrainian dedicated employees and virtual teams the best choice when the follow are essential for your company:
professionalism and efficiency without daily supervision;
reduction of the cost of rent, organization of workplace, travel spending, etc.;
expanded employment opportunities;
improvement on the quality of customer service due to a more flexible approach in the creation of a work schedule.
Ukraine is a producer of numerous products that are competitive on the global market, coinciding with a significant set of unique technologies and scientific developments. Implementation of such technologies will open new opportunities for the country itself and for greater world progress. Ukraine's launching of the Earth satellite "Sich" introduced it as a nation member in the space powers club. Plane model "Mriya" and other products of the serial plant "Antonov", electron microscopes, ships of various types and classes, the world's most powerful presses, as well as locomotives, turbines and diesel engines are all produced in Ukraine.
Kyiv, Kharkiv, Donetsk, Lviv, Dnipro, Odesa and Zaporizhia have all been recognized as world
scientific centres. Ukraine excels at genetic engineering and biotechnology, monocrystals and
artificial diamonds, research in the field of material science (including radiation) as well as in
branches of superhard materials and welding technology, including the cosmic industry
fundamental analysis of mathematics, theoretical physics, biology and chemistry. All these
mentioned spheres put Ukraine in advanced placement amongst highly developed countries
with significant scientific and technical potential.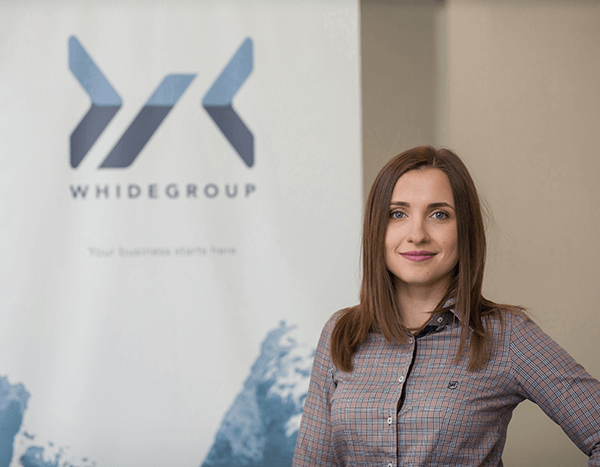 Hiring a remote development team
from Whidegroup is a good opportunity
to develop your business. Make the
smart choice and work with qualified
Ukrainian IT-professionals.
Stay innovative with Ukraine,
be advanced with Whidegroup!
Explore the power of Ukrainian quality.
Get started today.