Exquisite Design for Your Jewelry Store
Jewelry acts as an extension of who we are. Whether it's the carefully chosen statement necklace that perfectly accentuates an evening gown, or the ring from your grandmother passed down for generations, our jewelry speaks for us. For your online jewelry store, you'll want a beautiful design with clear images that allows your shoppers to visualize themselves wearing the pieces you offer.
When you work with Whidegroup, you get professional web design by a company that shares your passion. Our goal is always to help you present your best when it comes to your online store. We want to help you procure more business with an attractive site that communicates to your customers the value they'll receive when they select items from your online jewelry store. Our web design services are tailored to fit your store's needs, with capabilities covering design optimized for mobile device viewing, UI/UX design, blogs and more.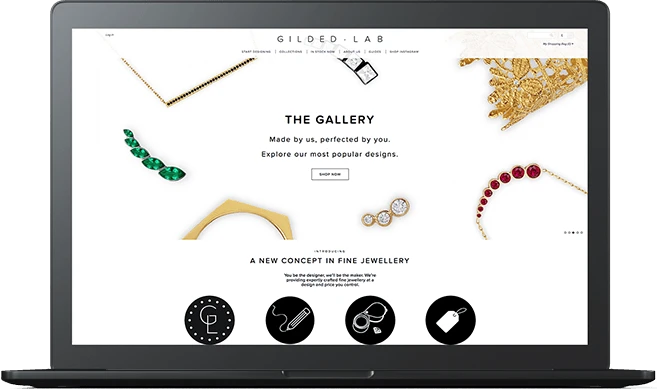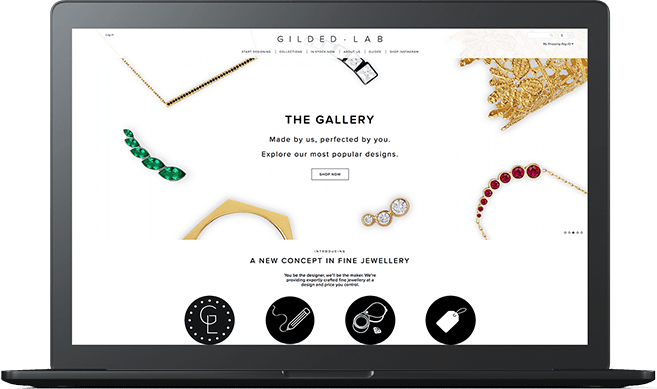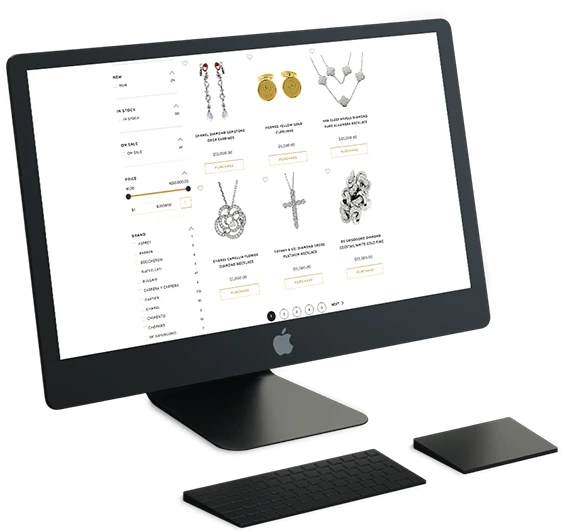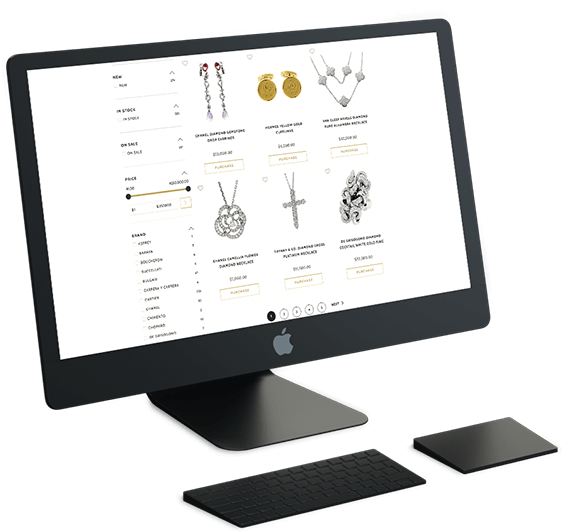 Development Services for Your Online Jewelry Store
Undoubtedly, you want your online jewelry store to shine, and we will make it do so. To provide our clients with optimal services that specifically meet their requirements, we offer an array of development features. Just a sample of our development services includes front-end and back-end development, a selection of e-commerce platforms such as Magento and Shopify, and project management and consulting. With our web design services, you are sure to get the perfect e-store set up, tailored to your specifications. We can provide many different options such as scalable business services designed to grow as your store grows, secure PCI, and GDPR compliance, SEO and other marketing services, expert support services, and more. At
Whidegroup, we work with you to understand everything your shop site needs, combined with what your business goals are, which enables us to deliver the perfect result.
Website Features for Your Jewelry Store
Intuitive Navigation
To draw and maintain customers to your e-store, we make the navigation simple and straightforward. A clear website makes online shoppers feel comfortable and more likely to spend time on the site, which leads to conversions and repeat customers.
Customized Promotions
Customers that know they're getting a special deal are more apt to spend time browsing the site and buy from you! We have an extension that can analyze your customers' shopping habits, etc. to create custom promotions that entice them to shop with you.
Fully Mobile Friendly
We create websites that adapt to the device on which they are being viewed to deliver the best user-friendly experience. Producing mobile-friendly websites is a key e-commerce business decision because many shoppers browse from their smartphones.
Across-the-board Shipping
Shipping is often a make or break aspect of online shopping. We recognize the importance of providing easy shipping solutions for your customers and include many options to simplify the process, including rate calculations based on customer location.
Visual Product Constructor
Offer customizable jewelry options? We can include a tool that allows your shoppers to customize items easily and see the process every step of the way. The ability to choose and visualize their options gives customers confidence in the product choice!
Discount & Promotion Management
We've developed an extension for our e-commerce clients to enable them to manage discounts for their products. From setting quantity requirements to code use limitations and more, it's an uncomplicated way to keep your promotions organized.
360 Degree Product Viewer
This extension allows your customers to get a detailed look at your products, thus building confidence in their buying decisions. As the customer can manipulate the items and view them at every angle, it delivers an in-person shopping experience.
Gift Finder
Choosing the right gift may feel overwhelming for the buyer. We simplify this for your customers with a special search function that helps narrow down the options based on a simple set of questions asked to the gift buyer, such as budget and occasion.
How Much Does It Cost to Build an Online Jewelry Store?
When you have decided to build your online jewelry store, you know it's just the beginning of your journey to e-commerce success. At Whidegroup, we are eager to help you see that success. We take each project personally because when you do well, it means we have done well. The process of creating your perfect online jewelry store begins with gaining an understanding of your company's needs and goals. We tailor each project to fit our client rather than forcing clients to operate within our parameters. Your website complexity, business requirements, included modules, and various other factors impact the time it takes to develop your site, and thus the costs involved. Pricing for WooCommerce and Magento development are also region-dependent. Clients can expect higher prices in North America or Western Europe. Whidegroup offers our clients the same professionalism and quality at a lower price. If you're ready for your new business to take off and would like a free quote, connect with us, today!
TELL US ABOUT YOUR PROJECT - WE'LL RESPOND WITHOUT DELAY!