Music, Movies & Videos
E-commerce
Exquisite Design for Your Music, Movies,
and Videos Store
Whether you love a cult classic, relish in the latest tunes to hit the airwaves, or prefer to scoop everything about music and film up in equal doses, it's time to take that passion and turn it into an online shop. So, where do you begin? Begin with Whidegroup. We're the company to deliver a stunning website that will attract your customers and help your business thrive. When it comes to creating the best websites for our clients, our services focus on must-haves like responsive web design, graphics to please, and an e-shop platform that best fits it all. We perform a needs assessment for each client, define the project scope, and pay attention to all the important
aspects like enhanced user experience, proper branding, and more. Our designs will complement current industry trends that correlate with the media type you're selling, creating an end-result that will have you excited to begin your new business venture.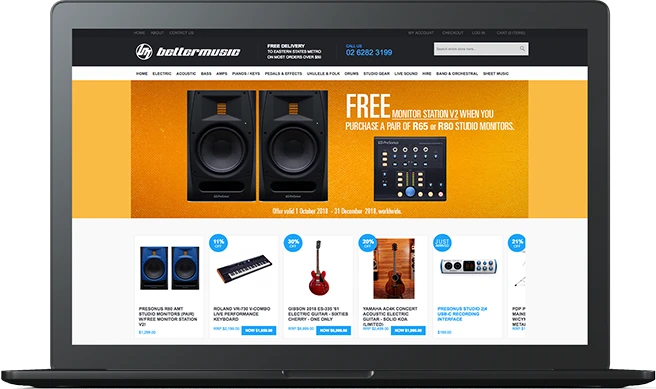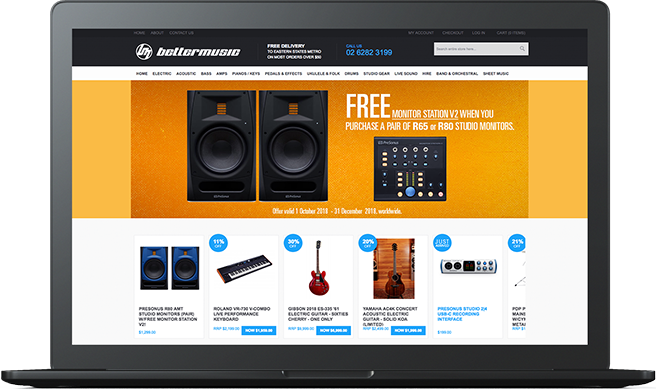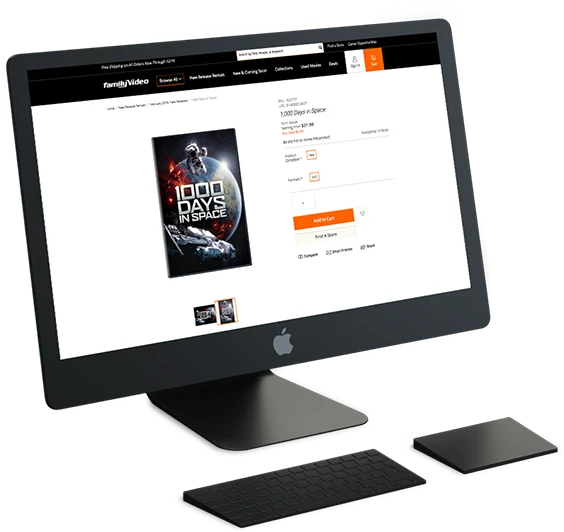 Development Services to Sell Music, Movies, and Videos Online
Our development services for your online store include everything you need, from the early beginning to the very end. We will complete the front and back-end development, on a choice of e-store development platforms, with any necessary extensions to match. We offer server tuning, consulting, custom development, and more. Why choose Whidegroup to fulfill your e-commerce website dreams? Because we deliver a product that makes our clients happy. You'll get the peace of mind knowing your website will function to meet the most demanding requirements, be scalable so as to grow as your business grows, be secure, meeting all PCI and GDPR regulations, and your site will be built according to the industry's latest standards. The best part is? All of the things we do allow you to focus on other important aspects of your business, without worrying about how your website is coming along.
Website Features for Your Music, Movies, and Videos Store
Email Management
Communication with your customers is important in the world of
e-commerce. An email management feature gives you helpful options like set messaging for order details or status updates, and thanks-yous for product reviews or blog comment submissions.
Referral Programs
Referral programs are a great option to validate your shop through your satisfied customers. Their friends are more likely to listen to their take on your store over yours and such a program rewards your current customers while recruiting new ones.
Smart Checkout Flow
Part of the draw of online shopping is simply its convenience. A smart checkout flow ensures continued ease after your customers have made their shopping decisions. We take out all the unnecessary steps that otherwise clutter up the checkout process.
Abandoned Cart Recovery
This feature is designed to help convert those abandoned carts into sales. This extension can recover 30% or more of otherwise lost sales with well-timed email reminders to convince those shoppers they should come back and complete the sale.
Payment Method Tailored for Your E-store
Targeting your customers' desired payment options is an essential building block for your online store's success. Whether your audience prefers Paypal or cryptocurrencies, Stripe or SagePay, we'll include the payment methods that best fit your shop.
Social Media Integration
Online retail can be a social experience, so we place importance on the integration of social media within an e-store's function because people like to talk about purchases they've made, and products they love. Create a following and loyal customers!
Discount & Promotion Management
People love a good deal and like to be rewarded. We provide clients with an easy way to create discounts and promotions designed to attract new customers and maintain current ones. You can fix quantity requirements, create discount codes, and more.
SEO
Search Engine Optimization helps put your store and its products to the top of search engine results pages. Most people don't tend to click past the first results page shown to them, so you'll want your products to be right up front, merely a click away.
How Much Does It Cost to Build a Music, Movies,
and Videos Online Store?
Delivering a complete website can take professional developers anywhere from 150 to 550 hours, depending on several aspects of the site. For example, a site that is a bit more complex, and requires a lot of extra extensions and plugins, will take significantly longer to complete than a site with basic requirements. The hours that go into a website will naturally affect cost. Another cost variant comes, surprisingly, from the location of the actual website developer. Indeed, developers located in places like the US, Canada, or Western Europe, tend to charge higher rates. However, you can find budgetary alleviation by enlisting the services of a website developer located in Eastern Europe, such as Ukraine or Moldova. Such a move can end up saving you up to 55% less than what it would typically cost to get your website sorted. Sound interesting? Give us a shout! We'd love to connect with you and provide you with a complimentary quote for the website you've been dreaming of with your new business.
TELL US ABOUT YOUR PROJECT - WE'LL RESPOND WITHOUT DELAY!