Exquisite Design for Your Toys and Hobbies Store
We all love our toys and hobbies. Whether it's the wide-eyed
7-year-old marveling at their first model plane, or the 97-year-old that has been crafting them their whole life and is excited to pass it down, it's our interests and passions that move us. Your toys and hobbies shop will make your customers nostalgic and happy, but you want to make sure to start off on the right foot! At Whidegroup, we love your passions and want to set your e-store apart. We'll give you a successful website you can be proud of that has features like responsive web design, UI/UX focus, exemplary aesthetics, and more. Our design will be joyful, meant to inspire your customers to "play" with the toys.
We'll give you the tools to promote with social media with appealing blog/post layouts. Your success is ours and we will get you there by starting with a needs assessment, focusing on your brand, implementing intuitive navigation and more.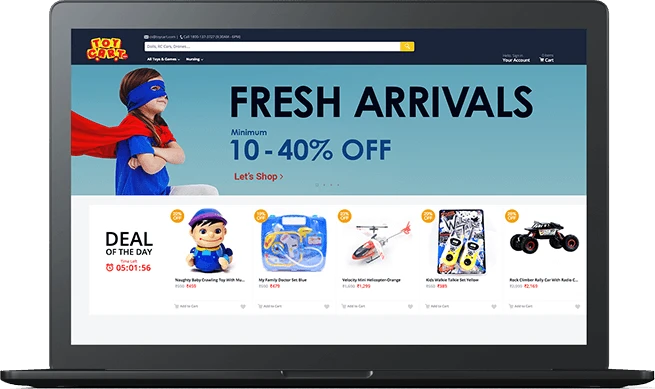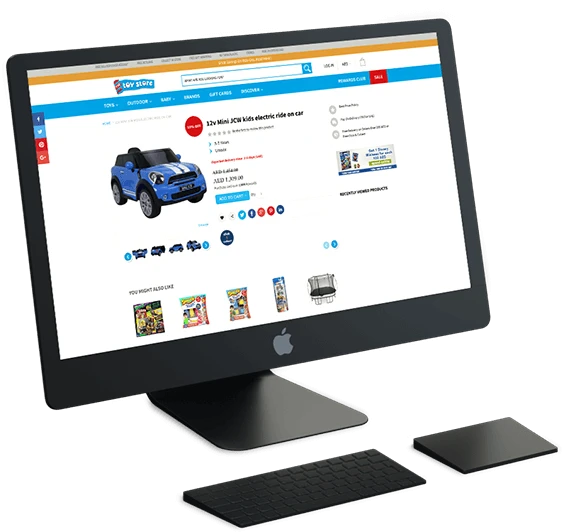 Development Services to Sell Toys and Hobbies Online
Our development services cover an extensive compass. We are responsible for the front-end and back-end development, and can provide an array of platform choices, with Magento and WooCommerce being the most prevalent. We can help you with
the customization of existing templates or give you a design from scratch. We will also provide third-party app integration and server tuning. Further, our project management skills come with quality assurance, and continued consulting. Your website will be secure and have PCI and GDPR compliance. We can also give you a sales-boost thanks to an analytics software implementation, and SEO and other marketing features. With our development services, you get more than just development. We also provide extra support services, and the best part is that you get to relax because your website is in good hands. You can take this energy and refocus on other aspect of your business demands!
Website Features for Your Toys & Hobbies Store
360-degree View of the Product
Part of the fun of shopping for toys or crafts is simply examining the products, turning them over in your hands to look at every angle. This tool gives your shoppers the best equivalent to that experience, with the convenience of shopping from home.
Integration with CRM System
The Customer Relationship Management system is key to organizing your relationship with your customers and potential customers. This system is designed to help you stay connected to them, create streamlined processing, and boost profitability.
Thought-out Shipping
Shipping can make or break an e-store. We can include a variety of shipping solutions to make the process more convenient for you and your customers, like automation (label printing, drop shipment notification, etc.) to local shipping provider plugins.
Extra-accurate Search
This tool is designed to make finding products a cinch for customers. It contains a phonetic algorithm that indexes words by pronunciation, an auto-suggest feature and filters to simplify the search, with the option to view products in a desired order.
Customized Promotions
Good deals motivate shoppers to buy. We developed an extension that assembles data taken from customers (like their proximity to brick-and-mortar shops) and produces special offers based on that information, sure to nudge them into completing the sale.
Multilingual Website
Give your customers the convenience and comfort of shopping in their chosen language! For e-commerce stores that have multiple versions for various regions, you can include language options, so your customers can decide which language they want to use.
CDN Implementation
The Content Distribution Network is a group of world distributed data-servers and servers providing broad availability and high performance to deliver content swiftly to your users. We'll give you the one that's most sensible for your business needs.
Order Management System (OMS) Integration
Having a well-organized business operation is part of a successful venture. This integration helps do just that, with its data management related to the customers that records information such as order and payment history, or if they buy in bulk, etc.
How Much Does It Cost to Build a Toys & Hobbies Online Store?
The price of a finished web product depends on many factors. One factor relates to the amount of time a website takes from start to finish.
If we were to breakdown the process, the requirements analysis and design step tends to run between 48-144 hours. The back-end development takes on average between 58-178 hours, while the front-end development is between 52-200 hours. The final step involving the live server environment setup and deployment can run between 9-27 hours. Though the amount of time varies greatly, it's not without good reason. Each website is unique and will have requirements specific to it. The level of complication on each project will affect the time. The longer a project takes, the more expensive it will be. The good news is that e-commerce entrepreneurs can save between 35-55% off the market price of projects by developers in the US, Canada or Western Europe by using the expertise of developers in Eastern Europe without losing quality. Interested? Connect with us today!
TELL US ABOUT YOUR PROJECT - WE'LL RESPOND WITHOUT DELAY!