Free Guide
MAGENTO VS SHOPIFY: THE
COMPARISON GUIDE NOBODY
HAS DONE BEFORE
Choose the most suitable platform for the needs of your
e-commerce business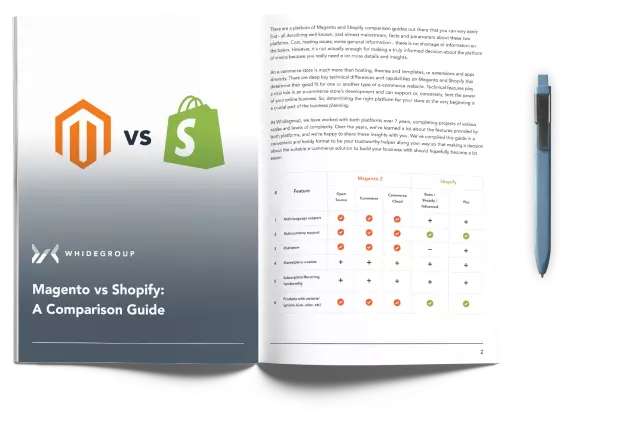 DOWNLOAD AND USE OUR MAGENTO
VS SHOPIFY COMPARISON GUIDE TO:
Discover high-level features and powers of Magento and Shopify

Get an impression of the fundamental difference between these two most popular e-commerce solutions

Learn about how you can extend their out-of-the-box functionality

Make a considered and a well-balanced decision about which platform suits your business needs perfectly
Magento and Shopify are the two recognized leaders among e-commerce platforms being represented on the market. Each of them has its own advantages and disadvantages for the particular e-commerce business and its goals. To draw up this comparison guide, we dived deep into the high-level technical features and peculiarities of both platforms so that you can foster your own view and make a non-biased decision about the most suitable e-commerce platform for your business. This guide is free and can be used right away.