Over 69% of online shopping carts were abandoned in 2019, following a growth in this trend over the last few years. There are plenty of reasons for it, but the main one is linked to something as simple as a dubious looking shopping cart. This further results in customer frustration, lack of trust, and eventually leads to cart abandonment. Obviously, this is not what you need for business success. So, the question here is how do you choose the best shopping cart software aligned with your business goals?
To answer this question, we need to consider shopping carts from a technical point of view. First, let's look at how e-commerce shopping carts work and why it is so crucial to one's e-commerce business. Acting as the bridge between the buyer and seller, online shopping carts affect the store's conversion rate, which, of course, reflects in your revenues and sales. Thus, selecting a good shopping cart must be one of your top priorities when working on your online store development. In this article, we share meaningful insights about shopping carts, which include:
The working principle
Steps to choosing the best one for your business
Choosing the best CMS for e-commerce 2023
What is a Shopping Cart in E-commerce and How Do E-commerce Shopping Carts Work?
The first thing to learn here is that the software we used to call a shopping cart is nothing other than a content management system. This piece of the software is intended to act as a facilitator in providing a smooth and efficient interaction between the shopper and seller during the purchasing process.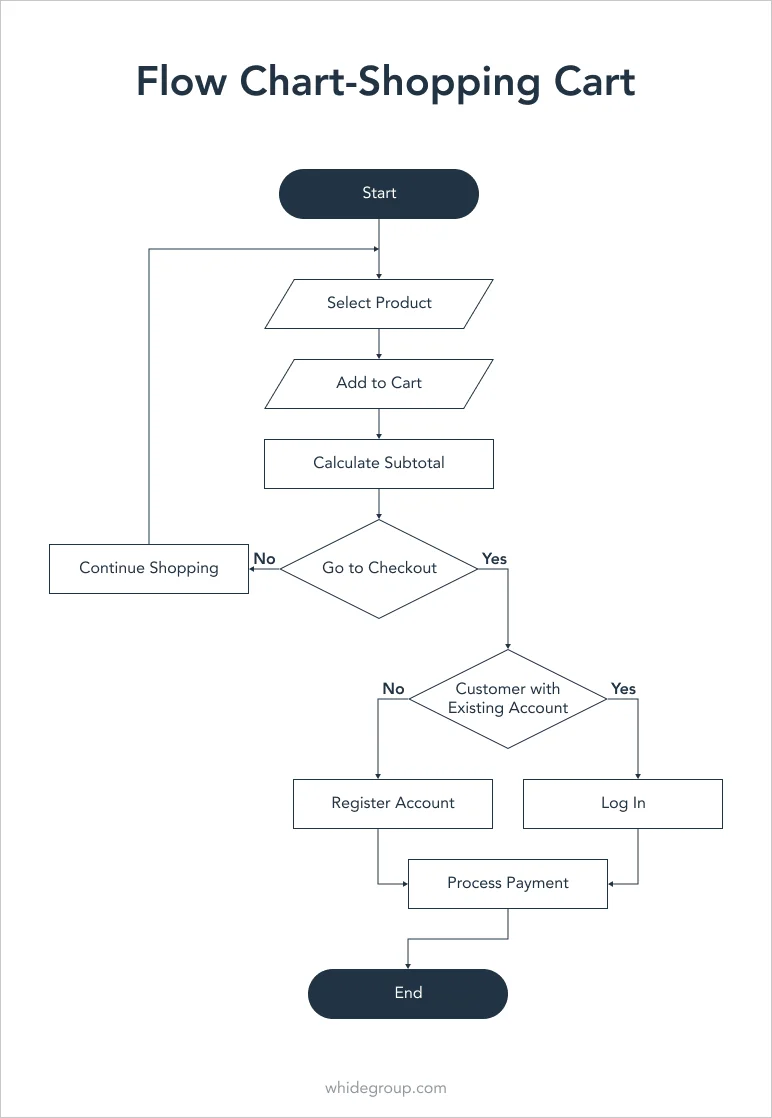 Upon checkout, the shopping cart software can also calculate the order's total, including shipping and handling, taxes and other parameters that the owner of the site has previously set. The shopping cart typically provides a means of collecting the shopper's payment information. Shopping cart software consists of two main components:
The storefront – which depicts the area of the website that is accessed by the visitor
The administration – the area of the website that is accessed by the merchant to manage the online shop
What is the Best E-commerce Shopping Cart: How to Choose the Right One for Your Business
Each e-commerce business is unique, and thus requires individual treatment. That's why it's so impossible to confidently answer the question on which is the best CMS for an e-commerce website. However, keeping in mind the characteristics that are crucial for your business and aligning them with the capabilities of the various available shopping cart CMSs, it won't be a challenge to find the appropriate solution that will work perfectly for your e-commerce business.
Culminating from years of our close collaboration with e-commerce entrepreneurs of various scales, our technical team has completed a list of the requirements that are the most critical for shopping cart software. Check them out below. From there, you can proceed with the selection process itself.
#1 Security
E-commerce industry and security are closely connected with each other. It's no surprise that the shopping cart for a website is a crucial e-commerce element, which must be secure as well. This is why we advise you to take care of this aspect. You should use every opportunity to increase the level of trust between your customers and your business. For starters, it would be good if you draw your attention to obvious security methods. These are SSL certificate implementation, adding advanced verification methods, creating robust site policies, and PCI DSS compliance verification. Additionally, it's always a good idea to keep your shopping cart design clean. People just naturally feel more confident about a website when its design looks good. Security means a lot in the successful running of an e-commerce business, so do not overlook this parameter.
#2 Reliability
Readability is in charge of providing stable and fail-free functioning of website shopping cart software. It is gifting users with an opportunity to shop 24/7 without any interruption. However, you should take into account that every shopping cart, just like any software, regularly requires some maintenance work. Therefore, strive to choose the one that can be easily integrated with monitoring systems that will warn about any downtimes. This helps to avoid disappointing your customers with an inability to complete a purchase. Trust us, it's hard to get those customers back.
#3 Ease of use
Currently, you can find a shopping cart system of any level of complexity. Some have a very intuitive and user-friendly interface enabling you to manage the website easily. Others can be too complex for a person without technical background. Probably the best approach here would be choosing the one with a moderate level of complexity. This will enable you not to spend too much time and effort managing common business operations. Instead, you'll be able to dedicate yourself to your business directly, and gain a broader opportunity to grow your business.
#4 Customization options
At any point of your business development, you may need to adapt the shopping cart to meet new requirements. There are two possible options here:
1. You can consider implementing new shopping cart software
2. Customize the one you already use
The last option tends to be more advantageous from many points of view. It's faster, more cost-efficient, and less stressful for both entrepreneurs and shoppers. Thus, when selecting a shopping cart, we recommend you keep in mind its ability for customization.
#5 Clear navigation
Make sure that the shopping cart you use for your e-commerce business can provide clean and clear navigation for your customers across all stages of the buyer's journey. Ensure that customers can get relevant information at every page they're on, and what's awaiting them at each stage of the shopping process.
#6 Checkout optimization
Checkout is the final moment of any purchase process and must be very straightforward and clear to your customers. Remember that clients always look for the shortest line and want to complete the final steps as fast as possible. To do that, you need to ensure that your shopping cart provider doesn't limit your options for checkout optimization. It implies that the checkout form has minimum required fields and options for customization. For example, adding a notification message or removing extra fields or steps. In a perfect world, the checkout would be located on a single page. This promotes the user-friendliness of the website and allows for better conversion rates.
#7 Optimization for mobile devices
Experts predict that by the end of 2021, mobile commerce will account for 53.9% of e-commerce sales. Thus, it makes a lot of sense to not leave out the mobile optimization aspect when selecting a shopping cart. In such a way, you'll improve the customer journey and ensure a superior user experience. That said, keep an eye on the shopping carts that are adapted for mobile device usage.
#8 Scalability
Answering the question about which CMS is best for e-commerce site, it's crucial to not overlook the scalability parameter. Strive to pick a feature-rich solution that considers the long-term prospect. Even if you don't need a lot of features now, you may need them along with your business development. Make sure that the shopping cart you choose will be able to support your growth in the future. If you do, you will not likely need to consider migration or looking for third-party integrations when only minor additions to your shopping cart are required.
#9 Customer support model
We're all familiar with Murphy's Law – "Anything that can go wrong will go wrong". You can experience problems of various scales when dealing with the shopping cart. So far there is no way to completely avoid that. However, you can take care of it in advance by choosing a shopping cart with reliable customer support. This choice will allow you to rest assured that you will get fast and qualified feedback about any issue occurring.
#10 Pricing policy
Here, it's all about finding the middle ground. The best shopping cart software for your business doesn't necessarily mean the most expensive one. You can easily find a cart that falls into the category of best free shopping cart for e-commerce websites. However, at the same time don't make the mistake of blindly falling for an extremely cheap solution. Choose your perfect shopping cart solution according to your business requirements, not the price tag on the software.
So, as you must have certainly realized, there are so many various parameters to consider when trying to define what is the best e-commerce shopping cart exclusively for your case. With all the choices involved and all the decisions that you need to think about, it is certainly fair to feel a bit lost and confused. However, the factors listed above are what we consider as necessary and sufficient for choosing a reliable shopping cart solution that will serve you faithfully. Don't let yourself feel too lost in the weeds.
The Best E-commerce Shopping Carts Review
After you have properly reviewed the main requirements, your next thought will most likely be to wonder "what is the best shopping cart for e-commerce?" Well, the good news is that currently you can find plenty of different stats about top shopping cart e-commerce solutions. Every online business is unique and exclusive, and thus it requires a unique approach and treatment. That's why the most popular shopping cart e-commerce solutions aren't necessarily the obvious best in your particular case.
Due to our direct engagement with e-commerce development, we're often asked what is the best e-commerce CMS from a technical perspective. As we have already said in a previous section, there is currently no undeniable leader on the market. However, there are some solutions that are considered the most popular. Our technical specialists have thoroughly explored them to find the best of the best. From that, we have composed the e-commerce shopping cart review below. Keep reading to learn more and find the creme de la creme of shopping cart solutions for your business.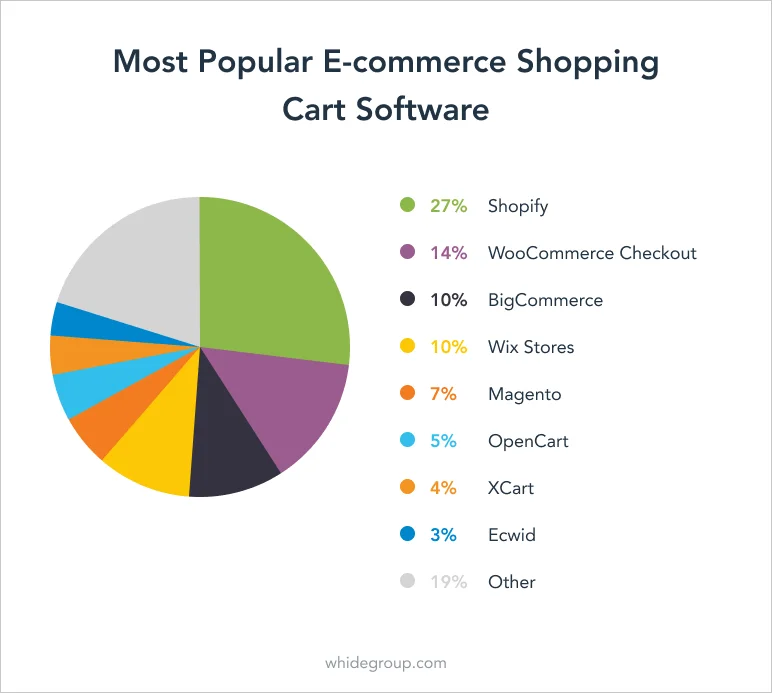 #1 Shopify
The list of the best CMS for e-commerce is opened by Shopify. Shopify's shopping cart is a good choice for those who sell digital and tangible products. You can select from a variety of customizable templates, which can be configured to suit branding requirements. The platform is easy to use for users with little tech skills. So if you can cope with HTML and CSS, you can edit the external look of a theme fully, but you'll need to have more technical expertise to edit Shopify's default functionality. The company offers a free 14-day trial, so you can try the software before purchasing. The price is among the lowest on the market, making Shopify an attractive option for businesses who run on a tight budget.
Would You like to learn more about the platform?

Shopify offers the following features:
Automatic carrier shipping rates
Sleek mobile optimization
Customer profiles
Accounts and groups
More than 100 professional themes
Hundreds of apps to choose from
Built-in marketing tools and more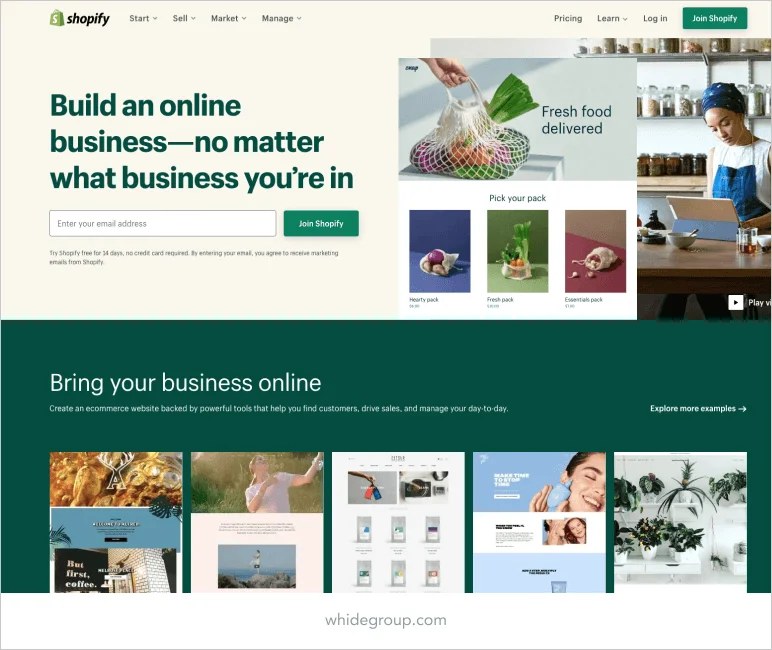 Highlights
Shopify is very easy to set up. It has one of the most user-friendly structures, which you'll appreciate irrespective of your background
This shopping cart solution is a favorable combination of flexibility and robustness
Advanced features are available, yet quite pricey
#2 WIX
By opting for this website shopping cart, you can get your hands on its all-in-one management features. With its affordable pricing plans, Wix is a perfect choice for creating your very first shopping cart from scratch. Wix is also attractive due to the availability of the hundreds of templates that can be changed. You can customize them to create a unique look and feel for your check-out. The best part? It doesn't require development skills.
WIX offers the following features to e-commerce entrepreneurs: shipping, tax, and inventory management, a custom & branded checkout page builder, drag-and-drop editing, and point-of-sale (POS) support.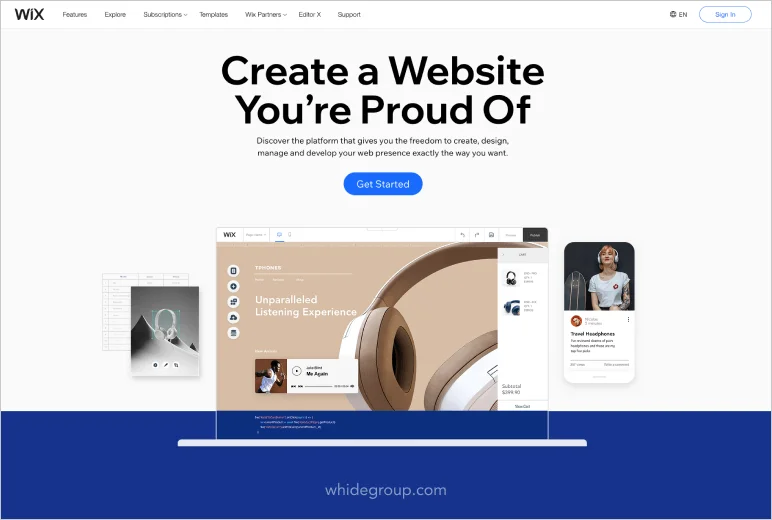 Highlights
This free e-commerce shopping cart charges no fees for transactions and payment processing
Real-time shipping calculator is available, making the shopping experience more convenient and joyful
Some elements of this simple e-commerce shopping cart can't be customized
#3 BigCommerce
BigCommerce is a paid SaaS solution like Shopify which means you have to pay for it monthly without needing to host it. However, in comparison with Shopify, BigCommerce is a more pricey solution. It also has a more complicated structure, requiring some background and experience. The solution comes with several customizable templates that enable you to design every page from A to Z. Offering a plethora of features, BigCommerce is one of most intricate solutions for e-commerce shopping cart implementation on the market. This aspect makes BigCommerce more appropriate for seasoned business owners with some experience dealing with programming.
Among BigCommerce features are payment & inventory management, unlimited product storage, seamless eBay and Amazon integration, POS support, and single-page checkout.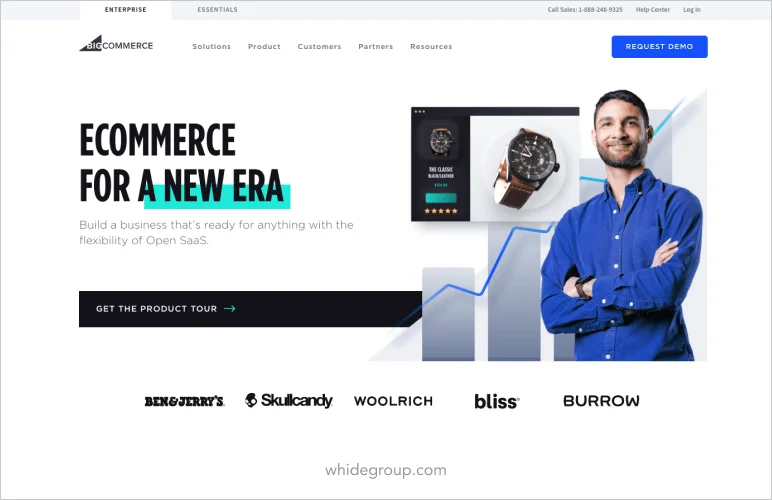 Highlights
BigCommerce is good for selling any type of product
Marketing tool kit at your service to facilitate your efforts in this sphere
This solution has one of the best ratios of scalability. This guarantees that in case of necessity, it won't be a challenge to adapt the shopping cart for a larger volume of sales
#4 Magento
Out of all the most popular shopping cart solutions analyzed, our team found Magento to be one of the most reliable systems currently available on the market. Offering a flexible, feature-rich solution that serves a wide range of business sizes, Magento is fairly considered as one of the best open source e-commerce CMS options for virtually any online entrepreneur.
Would You like to learn more about the platform?

Thanks to the open-source structure of Magento shopping carts, you can deploy it easily straight out of the boxYou can also make reconfigurations with any changes, or completely build it from scratch to fit your requirements. The tool's extreme flexibility allows you to scale the software and change it along with your business. However, in the event you don't have any kind of technical background, there will be a need to hire an e-commerce developer. Magento's storefront can be presented in different languages based on its localization settings. Basically, you can add as many languages as you want to your Magento store. It's really easy – just search for the needed language pack on Magento Marketplace, install it, and you're ready to go!
Most prominent features of Magento as a complete online store solution encompass:
A one-page checkout
A shopping cart that saves added items
Tax and shipping calculation
Shipping to multiple addresses in one order
Detailed abandoned cart reports
A rich set of promotional features and more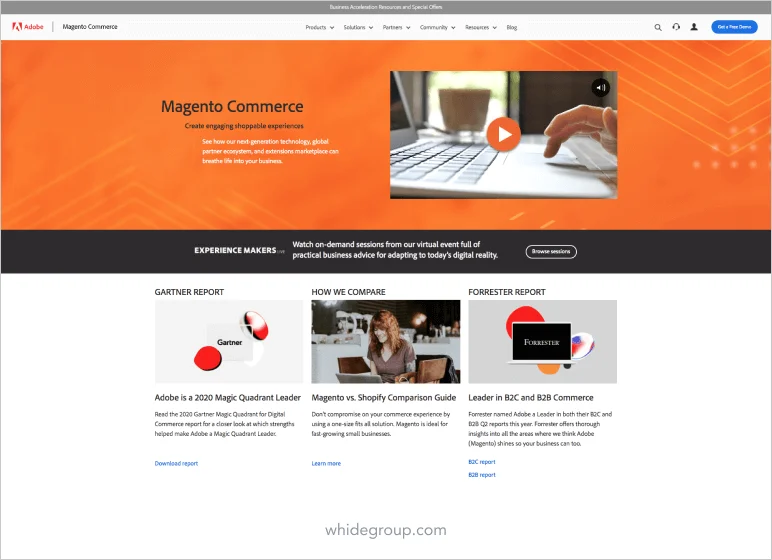 Highlights
Magento offers endless opportunities for customization of any scale. This reflects in the overall complexity of the software, making it more complicated when it comes to understanding for non-developers and non-tech savvy persons
This high-end e-commerce shopping cart solution supports the most popular payment gateways, which lets shoppers use the option they trust the most
Magento provides a plethora of features to develop a multi-vendor marketplace making it a beneficial choice for e-commerce business from the perspective of positive user experience and customer retention
By being specifically developed as an e-commerce platform, Magento offers totally unprecedented architecture analogues that truly cannot be found anywhere else
When choosing the best shopping cart

#5 Shift4Shop (formerly 3DCart)
Demonstrating a successful combination of robust shopping cart features and strong marketing capabilities, Shift4Shop is a great choice for almost any e-commerce business. Its most prominent characteristics are plug-and-play usability interface for both admins and customers, and theme variations. It also includes an intuitive checkout for a smooth customer experience. Shift4Shop is a simple and minimalistic shopping cart with affordable plans. This solution also offers a free trial that allows you to try out all the key features and see which provided services fit your requirements.
Key features of Shift4Shop are:
24/7/365 technical support
PCI DSS compliance
compatibility with practically any business model
unlimited product variations
two-factor authentication and more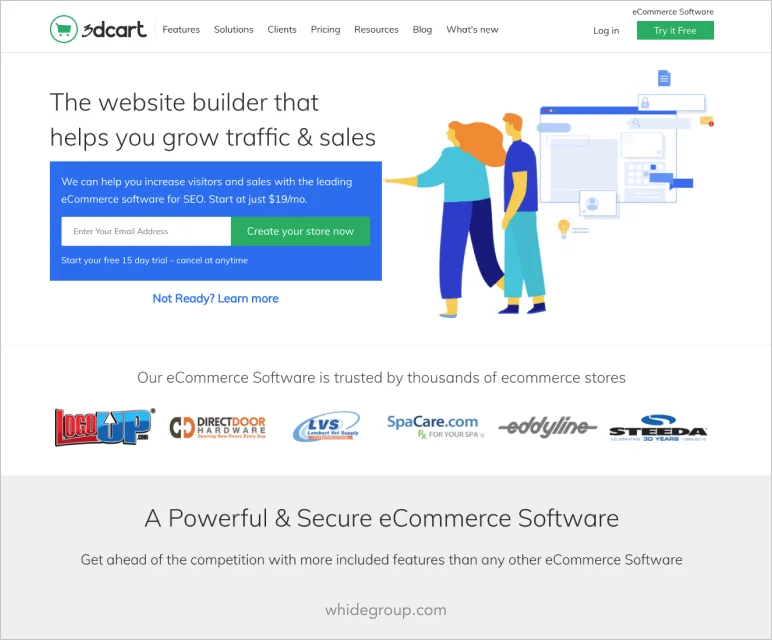 Highlights
You can count on outstanding customer support 24/7 – support engineers are prompt and helpful when it comes to finding a solution for any tech issues you face
The Buy Now button implementation enables you to sell across any website and/or social media platform, enlarging your audience and growing your profits
#6 Ecwid
At this moment, Ecwid is the most global shopping cart platform, serving 2 billion stores in 175 countries. When choosing an Ecwid shopping cart for an e-commerce website and making integrations, you can sell via Facebook and Instagram, run one shopping cart for multiple stores like in Magento and dramatically expand your online presence and audience. The bonus? Managing this shopping cart doesn't require any kind of special skills.
Features of Ecwid include a DIY shopping cart, drag-and-drop shopping functionality, a shipping calculator and seamless integration with the major payment gateways.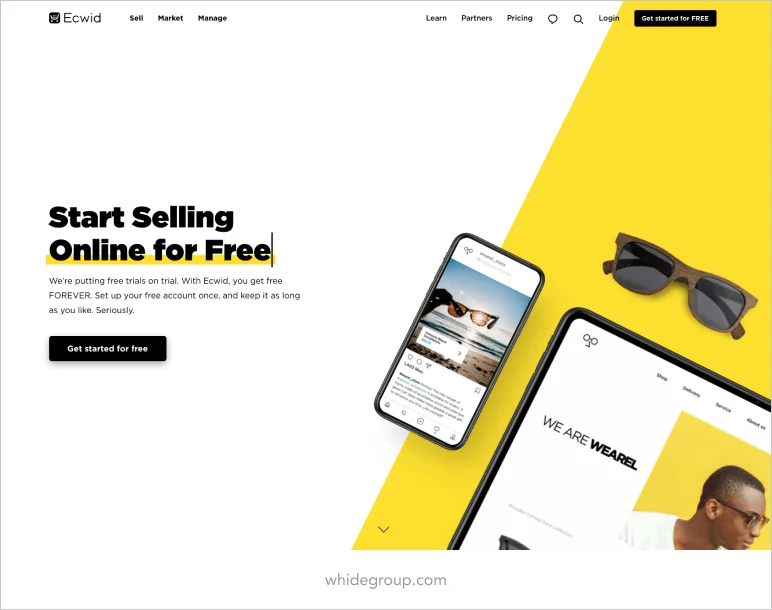 Highlights
The installation process is fast and hassle-free, which enables just about anybody to deal with the software
Ecwid offers lots of options while keeping the interaction process clear and very well organized
SEO-friendliness: SEO-optimized URLs, and a feature for adding page titles and description
#7 WooCommerce
WooCommerce attracts entrepreneurs with broad opportunities for customization, a multiplicity of themes and integrations, and an optimal user-experience. To run the WooCommerce shopping cart efficiently and grab maximum benefits from that, it would be useful to learn some of the basics of WordPress and to make sense of the platform's main features. This may sound like a lot of ground to cover, but if you have the patience for some upfront work, you'll reap the rewards over the long term.
The main features of WooCommerce are modular structure, pre-installed popular payment gateways, an advanced reports builder and convenient product import options.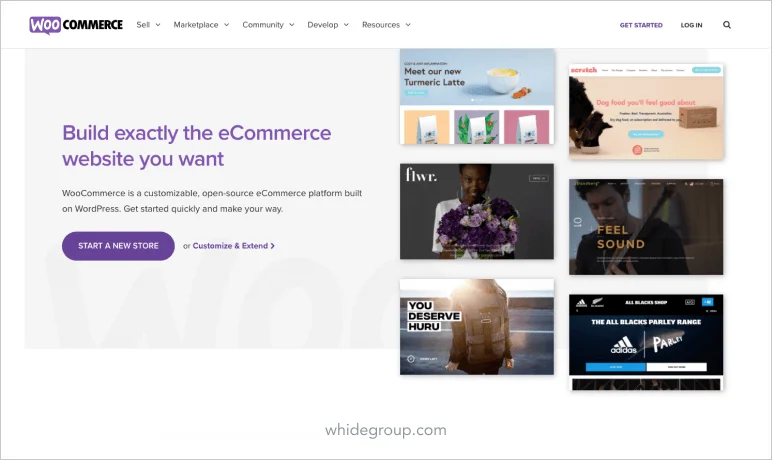 Highlights
The plugin is free for usage. You don't need to pay for anything to run a fully-fledged shopping cart
For advanced features, merchants need premium third-party integrations implementation
An advanced level of security is available by utilizing premium themes
#8 PrestaShop
One more decent solution worth mentioning when selecting the best e-commerce CMS platform is PrestaShop. It should be noted here that the PrestaShop shopping cart solution is not for beginners, and for the best results, you should consider engaging with professional developers. If you go this route, you'll be able to take advantage of numerous features provided by the platform out of the box. If it becomes necessary, you can enrich your store functionality with third-party integrations, which you can find on the official addons store.
Features of PrestaShop are the one-page checkout, quick product creation, shipping method configuration, and the ability to set a minimum quantity for particular items to purchase.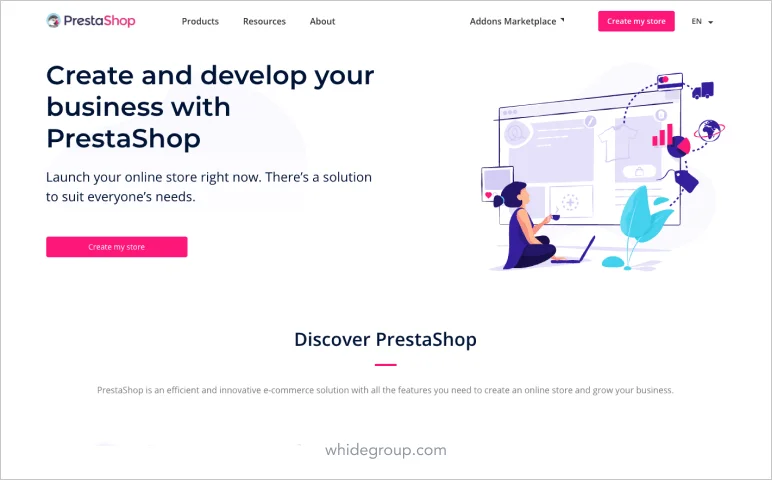 Highlights
Over 3,000 mobile-responsive templates at your service to create a unique look and feel of your PrestaShop store
An opportunity for creating Google-rich snippets will enable you to have a powerful SEO boost
Addons for expanding functionality may seem a bit too pricey
#9 X-Cart
Initially designed with its focus on mature business owners, developers made the X-Cart shopping cart flexible for any kind of customizations. Fairly considered among one of the most reliable e-commerce solutions, X-Cart also caters plenty of features to satisfy both business owners and shoppers. Self-hosted and open-source, X-Cart is a perfect choice for the entrepreneur with some coding experience and aspiration to do most of the work on their own.
X-Cart's features consist of a dedicated mobile application, high-end security features, plenty of options for scalability, a great marketing toolkit, and convenient order management system.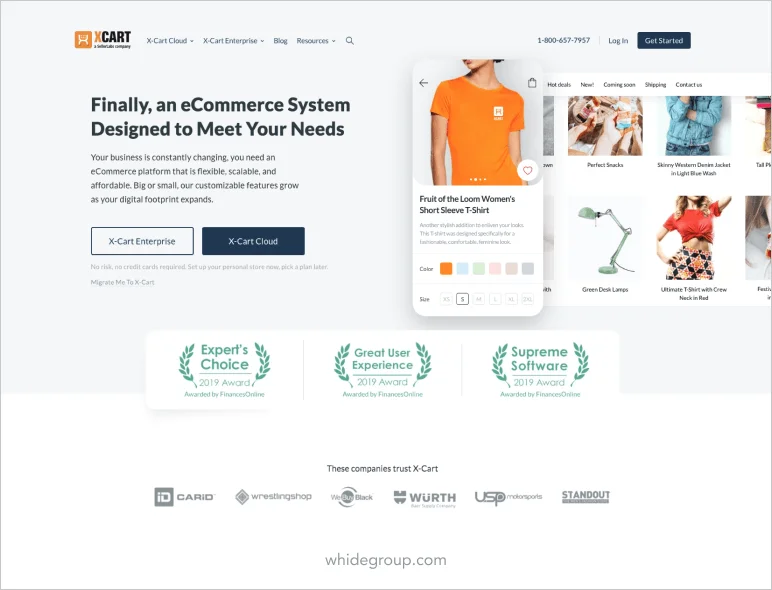 Highlights
Enhanced SEO: X-Cart can be fairly considered the best e-commerce shopping cart for SEO offering a lot of exclusive features to make the website's ranking better
Plenty of third-party apps are available to enrich and extend already existing functionality
#10 Volusion
This fully cloud-hosted software has one of the highest customer satisfaction rates among e-commerce shopping cart solutions represented in the current article. Regularly listed amid the best e-commerce shopping cart solutions, Volusion offers a wide range of built-in marketing tools that have no analogues. Handy and well-structured plans provide you with necessary resources without any need for paying for unnecessary tools and features. Additionally, Volusion offers web hosting, a website building functionality, customer, order and inventory management, and many more various tools and functionalities.
The features of Volusion include dropshipping functionality, CRM, recurring pricing, and a custom & branded checkout page.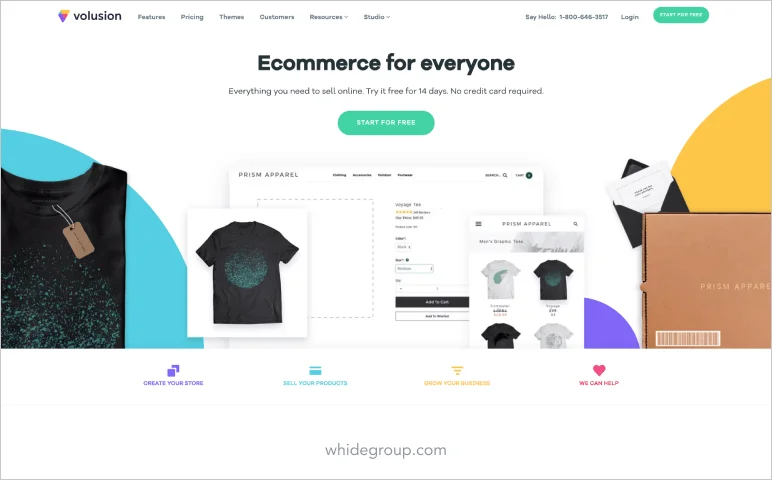 Highlights
This e-commerce solution shopping cart software provides an outstanding customer support model: be sure to get qualified assistance 24/7
Volusion's shopping cart security level is among the most impressive
You're welcome to enjoy a plethora of features for deep storefront customization and consequently, the chance to create a unique look and feel for your shopping cart
And that concludes our list! We've described the best e-commerce cart solutions available on the market today from our point of view. You can also visit Ecommerceplatforms.io website to deepen your understanding about the variety of offers available on the market. Please, let us know if you find a solution that works well for you and we didn't already mention it here.
How to Choose the Best E-commerce Shopping Cart Software: A Step-by-Step Guide
Whidegroup business analysts have developed this detailed step-by-step guide to make the choice of the best shopping cart platform for your business easier and more balanced. Clear and simple, it highlights the crucial steps without giving excessive and confusing information. Keep reading to prepare yourself for your process of finding the best shopping cart online!
#1 Compile the list of requirements to the shopping cart
The very first step on your way to answer the question 'which CMS is the best for e-commerce' is the process of gathering all your business requirements. What are your top priorities? What is important for you, and what are the factors that don't impact you much?? For you, this is the best time to sit down with a cup of coffee and a piece of paper. Jot down a list of features you'd like to see in a shopping cart solution. Below, you'll find two lists completed by our specialists which you can use as a draft: the first one consists of features that are considered obligatory, and the second includes features that are nice to have, but not required. Get inspired with the basic features from both lists and feel free to complete them with the features you find useful to your business:
Obligatory features: SEO friendliness, security (PCI DSS compatibility, SSL), straightforward checkout, product options, guest checkout, advanced product search, filtration
Nice-to-have features: HTML editor, unlimited number of products, product options, sales reports, tiered pricing, real-time order tracking, chat support and abandoned cart email, multiple ship-to addresses, customer address book, guest checkout, URL rewriting
The final list of requirements set may vary dramatically, depending on such factors as the scale of the business, e-commerce business model, number of items, and many more. Gathering these requirements is a crucial step in the whole shopping cart selection process, and it requires deep understanding and competency.
#2 Make a shortlist of selected shopping cart solutions
At this step, we recommend that you select from 3 to 5 solutions that meet your requirements most comprehensively. The reason we recommend this amount is because we believe it's the sweet spot in giving you enough freedom of choice, while keeping the focus of your attention.
#3 Learn the pricing politics
Price is usually the cornerstone when it comes to choosing anything, and it's no exception with the shopping cart. However, it's also all about finding a balance. It's rarely optimal to blindly choose the cheapest solution on the market. However, it's also not necessarily the most business savvy option to pick the most expensive shopping cart software. The shrewdest approach here is keeping in mind that the best shopping cart platform will be different for each e-commerce business depending on its requirements.
When reviewing the pricing details of each particular shopping cart software, you can find many nuances that are not initially obvious. This is why it is so important to dedicate maximum attention to this step – you want to be sure you got all the information and didn't miss any hidden costs (like a fee for creating an account, making a subscription, transaction processing and many others).
#4 Learn the rating & reviews
At this stage you should carefully learn all the reviews you can find about shopping cart e-commerce solutions. We recommend that you not limit yourself by reading the reviews on the official site only. The reason is that some providers opt for showing positive reviews only, depriving you from getting a full impression of the shopping cart you're looking at.
#5 Try to run a demo or a free trial
If the shopping cart provider grants an opportunity to run a demo, take this chance to get to know the shopping cart software better and see how it works in practice. By running the software you can gain a much better understanding than reading numerous comparisons and guides, since it will give you a more comprehensive picture of what it's like to use this particular piece of software.
In time, it may happen that you need support from the shopping cart software provider, perhaps to clarify technical possibilities or troubleshoot some issues. Fortunately, there are plenty of ways to provide merchants with sufficient technical support – phone support, support via email, and various help-desk ticketing systems – search for the combination that works the best for you and proceed with the following step!
#6 Create a comparison table
We have found that the most convenient way to define which CMS is the best for the e-commerce website is making a comparison table to review all the characteristics in one place. Let's do it below.
#7 Make a conclusion
After reviewing all the critical parameters and comparing them, you're ready to make some conclusions about the best shopping cart for your website according to all the information collected and collated on previous steps. Seeing the strong and weak points together of each option you're considering will make it a lot easier for you to process all the details you need to know and make a decision from there.
Final Thoughts
Answering the question of what is the best shopping cart platform may seem to be a tough and time-consuming process. But once you understand what is really important for the shopping cart software to support the development and growth of your e-commerce business, it's not so challenging anymore. Have any questions about the importance of a particular functionality of a shopping cart? Find yourself unable to make a final decision with confidence? Then, consider using an e-commerce consulting service from reputable experts.
https://whidegroup.com/wp-content/uploads/the-best-shopping-cart-small.webp
300
772
Anton Zhuk
https://whidegroup.com/wp-content/uploads/whidegroup_logo.png
Anton Zhuk
2020-10-06 16:00:48
2022-12-23 11:16:20
The Best Shopping Cart Software for E-commerce Business: How to Choose the Best CMS in 2023
The Best Shopping Cart Software for E-commerce Business: How to Choose the Best CMS in 2023