The fall season brings many opportunities to sell DIY crafts at autumn fairs and festivals. You will also be able to reach a whole other niche of potential customers. Which is why any handicraftsman and maker must have a full inventory of exciting fall crafts to sell. And we're here to help you with that!
In this article, we will go over 15 trendy ideas for DIY crafts in 2023, so you can choose which fall crafts to make and sell this year. We will also discuss the levels of difficulty and the average pricing for each craft, based on Etsy listings. To make navigating this article easier, we separated fall craft ideas into three categories: fall crafts from fabric, fall wood crafts, and miscellaneous crafts. Let's get into it!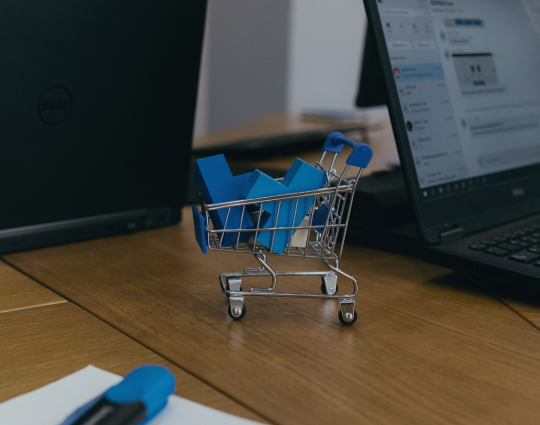 Tired of Selling on Etsy?
We Can Help You Build Your Own Crafts Website!
Fall Crafts from Fabric
Fall crafts that are made with fabric are a timeless classic during cold seasons. Nothing says "cozy" more than crochet and sewn crafts that warm you up. Here are five fabric fall crafts you can create and sell to melt your customers' hearts!
Fall-themed throw pillows
Throw pillows are a great part of decor that is present regardless of the season. It also has plenty of room for creative freedom. You can create intricate designs and patterns to make the pillow fall-themed. All you need is a pillow cover (re-used or made from scratch) and some stuffing. Throw pillows are an easy fall craft to sell and don't require loads of time to make.
The retail price for handmade throw pillows ranges from $7 to $25 per item. You can also sell sets of pillows, which can be sold for up to $300.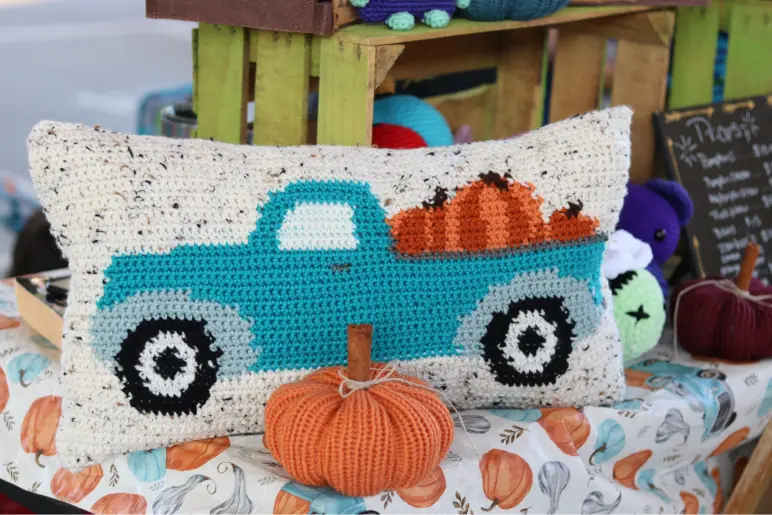 Crochet pumpkins
What is more adorable in the fall season than crochet pumpkins? Not to mention, it's a cheap fall craft for adults and kids alike, since the materials are just crochet yarn, a tapestry needle, and stuffing. While this fall craft is less expensive to make, it can be a pretty long working process. Especially, if you've never crocheted a pumpkin pattern before.
Average pricing for one crochet pumpkin is between $5 and $50. Additionally, you can sell crochet patterns as a digital product in a form of PDF. They don't usually cost more than $5 per pattern, but it's still a solid way to make profit, as you don't need to make any crafts.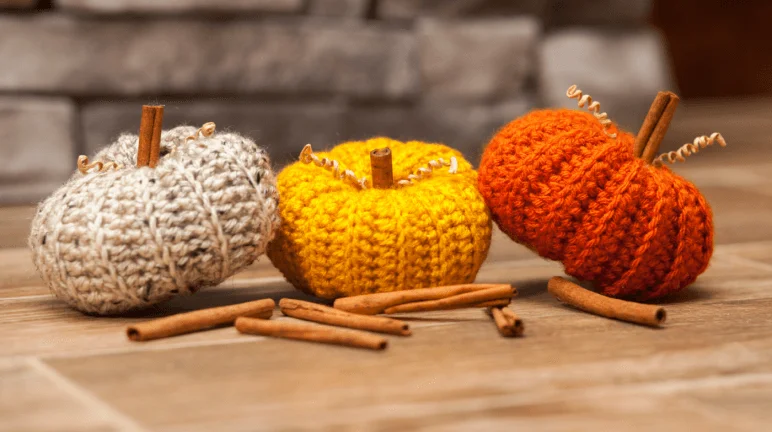 Fall cup sleeves
Fall cup sleeves, also sometimes known as cup cozies, are easy little fall crafts to make and sell. Knitting or crocheting one cup sleeve can take less than an hour. Which means you'll get to play around with different fall designs and possibly even finish a cup sleeve set in one day.
With that being said, knitted cup sleeves are generally a low margin product. Meaning both the materials and the retail price is quite low. The retail price for knitted cup sleeves ranges between $7 to $15.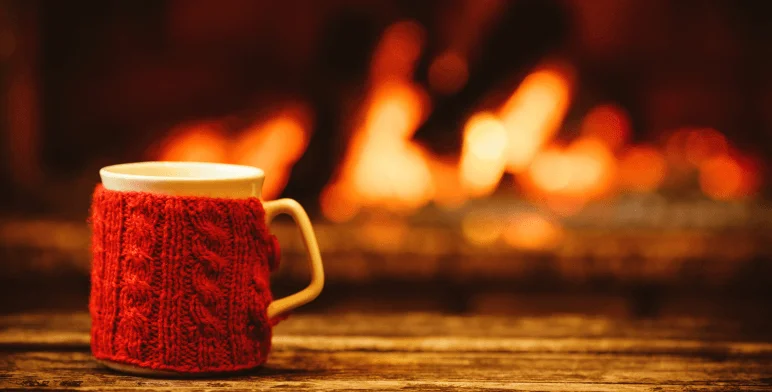 No sew gnome decor
No sew gnome essentially means the materials used to create the craft are glued together instead of sewn. It's a bit more complicated fall craft to make, as it involves multiple steps. But after a few tries, we're sure you can get the hang of it and start making them faster!
Decorative no sew gnomes are one of the trendy crafts in 2023 and show to be quite popular with customers. The price for such a gnome will depend on the complexity of the craft. On average, no sew gnomes retail for around $20-$30 per item.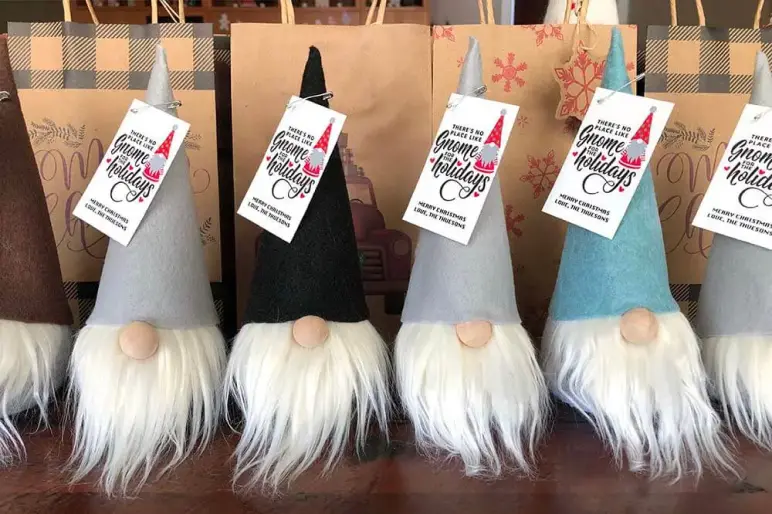 Source: Partieswithacause
Fall doormat
Most makers use a blank coir mat to start creating their welcome doormat designs. It's one of the best fall DIY crafts to sell during the holidays. Handmade doormats are made with stencils and paints, which means you can create almost any pattern and style imaginable.
The materials for DIY doormats are a little more expensive and the process of creating can be time-consuming. Which means the retail price is also higher, ranging between $12 and $60 for regular doormats. Notably, the price for some custom-made fall doormats can reach up to $125!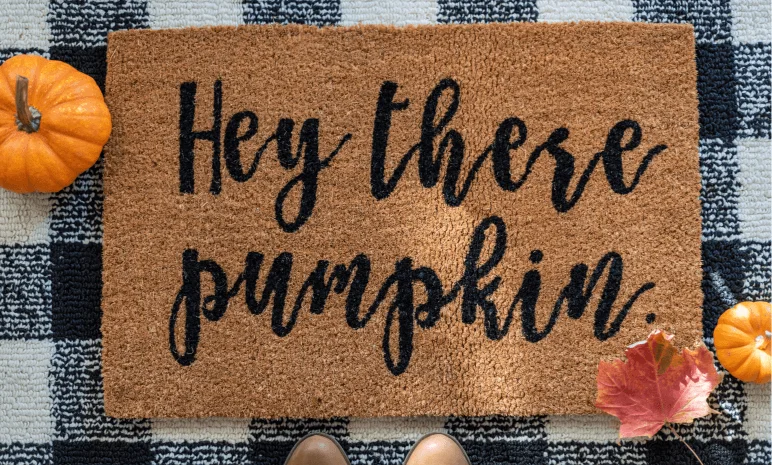 Fall Wood Crafts
Handmade crafts made out of wood are generally more expensive than fabric crafts. Wood allows the creation of more intricate and unique-looking art crafts, which tends to draw more customers in. Below, we compiled the best fall wood crafts ideas to sell during the holiday season.
We Broke Down Every Aspect of

Wooden fall signs
Wooden fall signs can be a great part of both exterior and interior decor. During the autumn holiday season, outdoor signs with customized writing, like the family's last name, are often popular. Materials for wooden signs are quite cheap and the complexity of the project depends on your woodworking skills, which means it's one of the easiest fall crafts to make and sell.
The price for small and less complex fall wooden signs starts at $10 and can reach up to $650 for big, intricate projects.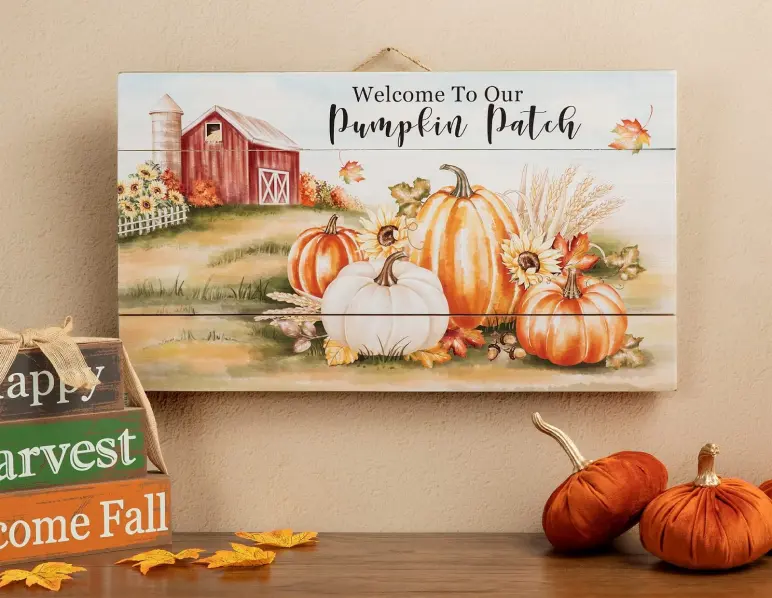 Source: Homedepot
Wooden fall coasters
Coasters made out of wood are a popular decor and lifestyle item all year round. It's an easy fall wood craft to make and customize, which means you can create customized sets. Coasters with personalized writing and fall design retail for higher prices than regular ones.
The cost of custom wooden fall coaster sets ranges between $7 and $75 for more complex work.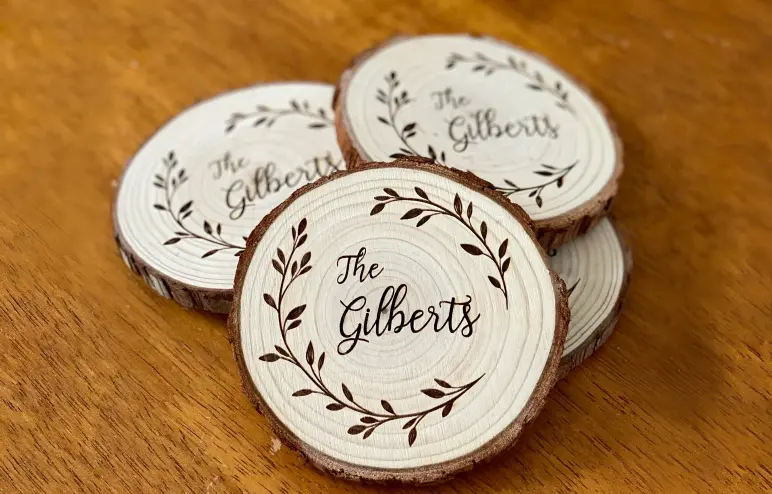 Source: Etsy
Wood slice decor
Wood slice decor refers to decorative items made out of sliced down wood pieces. You can make them yourself or purchase ready-to-craft slices from the store. The creative freedom and range of items you can create are endless! Shelves, key holders, desks, house signs, even art can be created with wood.
Sets of ready-to-craft wood slices retail for about $30-$40, so it all depends on your woodworking skills. Customized projects out of wood are one of the most lucrative rustic crafts to sell this season. For example, a set of two coffee tables in the image below retails for $748.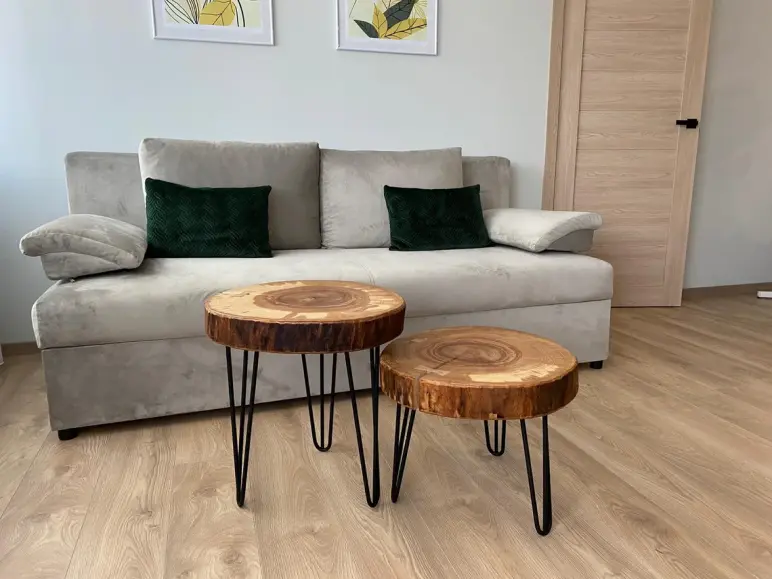 Source: Etsy
Fall twig lights
DIY fall twig lights and chandelier decorations are part of the trendy crafts of 2023. Decorating branches in twig lights and forming them into exciting fall shapes gives the decor a more rustic feeling. They look great and don't take much money or effort to create.
The retail price for fall twig light decorations ranges between $25 and $99, depending on the size and difficulty of the item.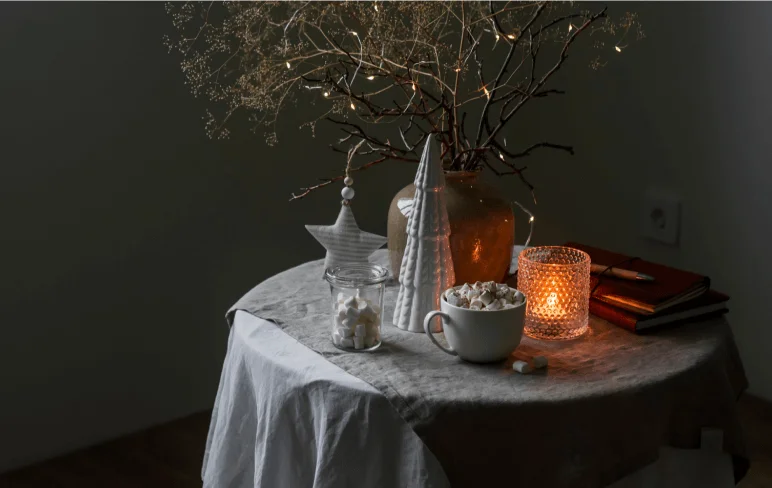 Other Fall DIY Crafts to Sell
Beside fabric and wooden fall crafts there are many more miscellaneous craft ideas to harness this year. Some are more difficult to create, requiring specific knowledge, while others need just a few trials before getting them right. Nonetheless, all of the craft ideas below are beautiful and deserve to be a part of any house's fall decor.
For Your Inspiration

Fall wreath
Of course, how could we go without a fall wreath this holiday season! It's a staple among fall DIY crafts that sell like hotcakes. But that also means increased competition, as everyone tries to make the most standout fall wreath. The complexity and materials are entirely up to you, which means the cost of goods varies.
Etsy carries many beautiful fall wreath composites, with prices starting at $35 and reaching staggering $1,500 for luxury designs! Certainly, it's something to keep in mind.
Source: Pinterest
Resin leaf coasters
Unlike wooden coasters, resin leaf coasters are harder to make. Albeit, they do look more stunning and will be an irresistible piece of decor. If you've never worked with resin before, you will definitely require some practice before you can make something sellable. The supplies for resin leaf coasters will also be a little pricier.
With that being said, since resin fall crafts are a harder handcraft to make, the retail price is higher as well. You won't find resin coasters for less than $10. Complex resin coaster sets can go up to $150.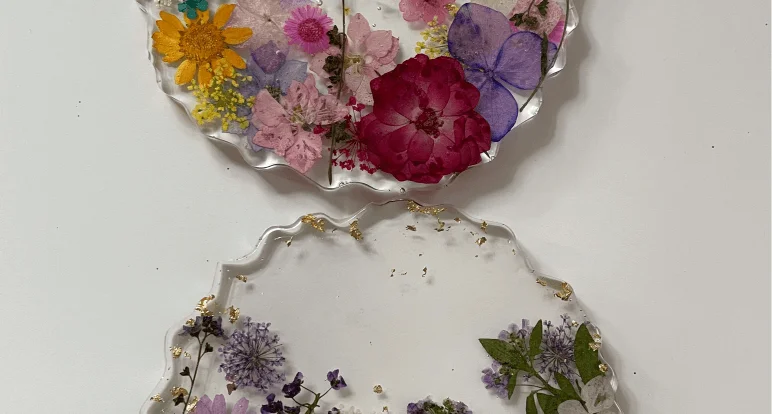 Wine bottle vase
We also want to talk about cheap fall crafts for adults. Who would've thought repurposed and redecorated wine bottles can make for some great flower vases! You have the options to cut down the bottleneck or leave it narrow, add clay to the bottle and give it some shapes, or simply paint an exciting design over it. The choice is yours and the materials are… Well, fun to work with.
Of course, since the supplies for a wine bottle vase are cheap, the retail price is generally lower, too. Simple, painted vases cost around $10, while more complex designs cost around $40.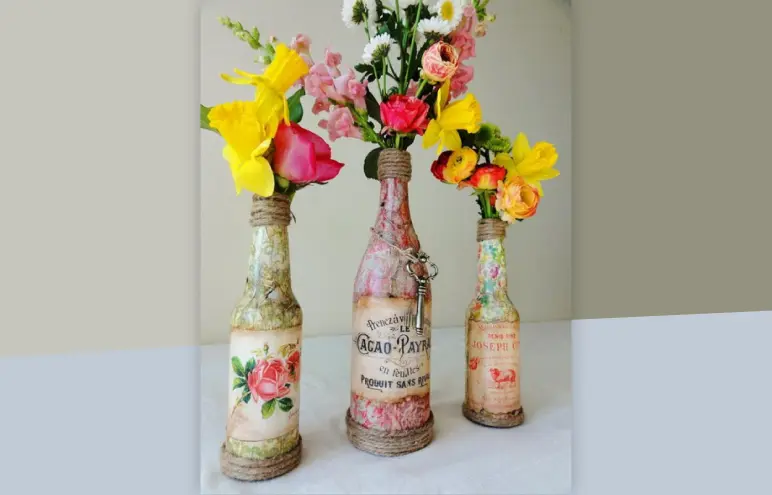 Handmade fall scented candles
Pumpkin spice is in the air! Fall is the perfect season to whip out wax and essential oils to make some irresistible candles. It's an old-time classic that can be easily made, which means candles are an essential fall craft to make and sell during holidays. You can get creative with your packaging and presentation to mark up a generally lower price item.
Scented candles start selling at a price tag of $9 and can reach $400 for custom orders.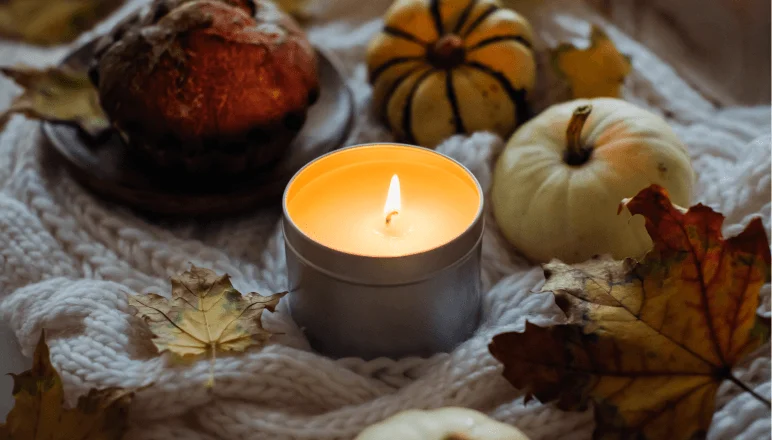 Fall string art
Fall string art is all about the skill. The supplies for this easy fall craft include a wooden backdrop, some nails, and strings. Once you've got that, you can create almost any design you can think of. String art is also a great DIY craft for custom orders.
The price for easier fall string art designs starts at $5 and can go up to $1,000 for professional, custom design.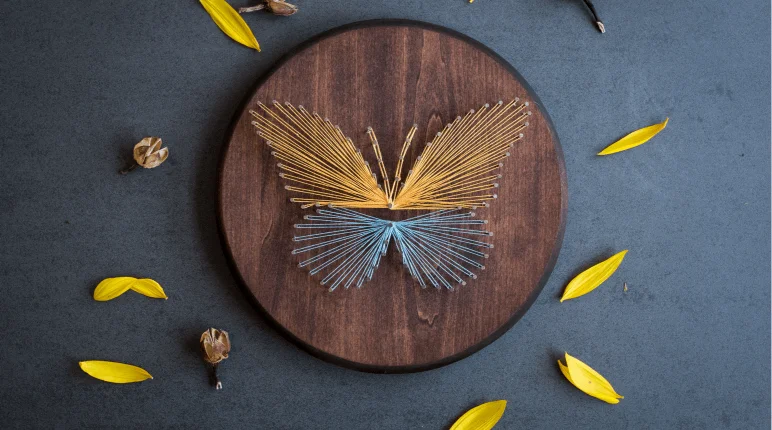 Mason jar lid pumpkins
The last, but certainly not least fall craft idea is pumpkins made out of mason jar lids. They make for a quirky and fun decor piece during autumn. It's also super easy to make as all you need to do is paint and assemble them into a pumpkin shape!
Such decorations are usually sold in sets, with a single mason jar lid pumpkin costing around $10, while sets can retail for around $35-$50.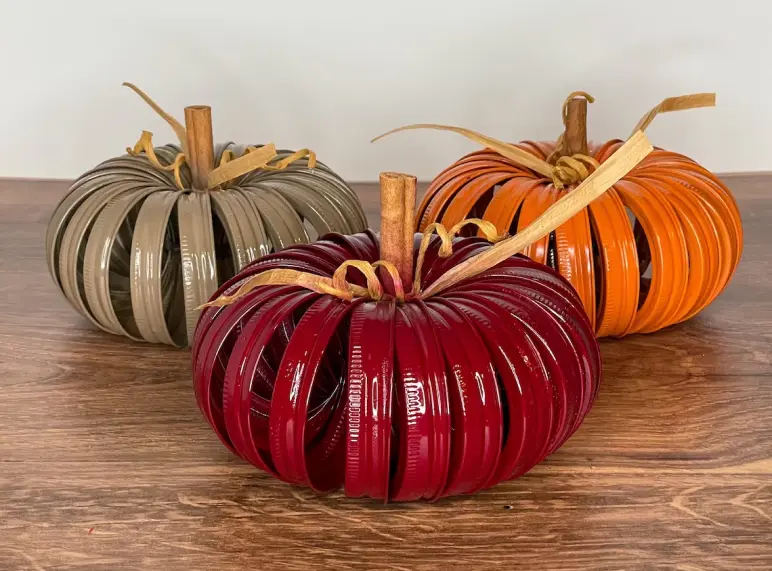 Source: Etsy
Final Thoughts
The world of DIY handcraft is full of original and thrilling decor pieces. They're especially popular during the holiday seasons, as they bring a sense of familiarity and coziness to the customers' homes. Today, we discussed trendy fall crafts and gave you some ideas on which fall crafts to make and sell in 2023.
To maximize your appeal in the eyes of customer's, consider building your dedicated website to sell crafts. With a mindful approach, creating your personal store can be the first step to elevating your business and reaching broader audiences. If you have any questions regarding website development, feel free to drop us a line!
https://whidegroup.com/wp-content/uploads/small-cover-fall-crafts.webp
300
772
Kristina Bardusova
https://whidegroup.com/wp-content/uploads/whidegroup_logo.png
Kristina Bardusova
2022-11-14 21:00:25
2023-02-27 16:00:53
Fall Crafts to Make and Sell: 15 Trendy Ideas for Handicrafts
Fall Crafts to Make and Sell: 15 Trendy Ideas for Handicrafts