Success is completely driven by data: you can set goals, milestones, and benchmarks. But, without data, you'll never know whether you're hitting your KPIs, or killing it in sales. In this article, we'll discuss the best analytics tools for e-commerce, both separate and embedded. Let's take a look at them and maybe you'll find the most sensible for your web store.
Best E-commerce Analytics Tools
Google Analytics
It is a freemium web analytics service offered by Google that tracks and records website traffic. It is used on around 67% of the 10,000 most popular websites. Integrated with Google AdWords, the page owner can review online campaigns by tracking landing page quality, and conversions such as sales, lead generation, viewing a specific page, or downloading a particular file.
Google Analytics' aim is to show high-level, dashboard-represented data for casual users, as well as provide more detailed data in an extended report set. This service can perform analysis of pages with poor performance by means of funnel visualization. It shows where your visitors came from, how long they stayed on your website, and their geographical position.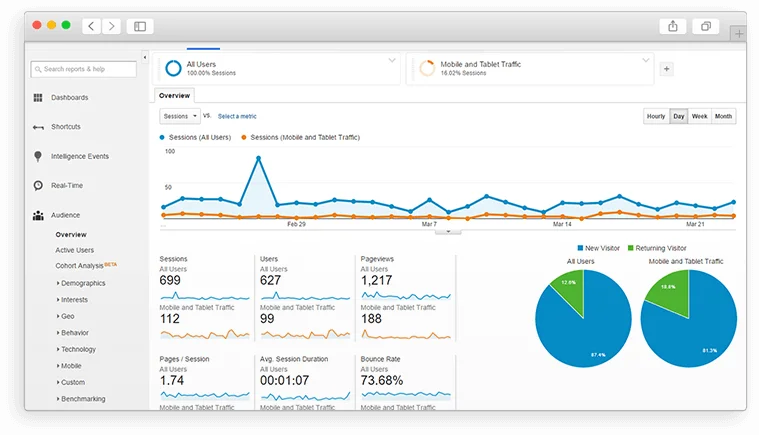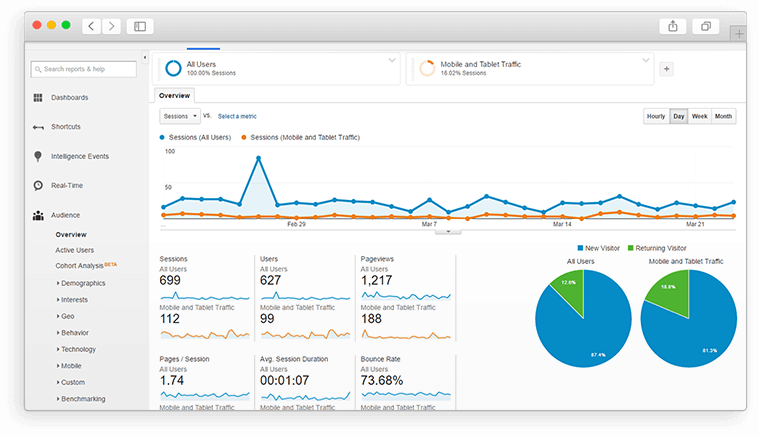 Piwik
Piwik is a free and open-source web-analytics application that runs on PHP/MySQL stack. It tracks online visits to one or more websites and displays reports on these visits for analysis. As of July 2017, Piwik was used by over 1 million resources or 1.3% of all websites.
Piwik displays reports regarding the geographic location of visits, the source of visits (i.e. whether they came from another website, directly, or through other channels), the technical capabilities of visitors (browser, screen size, operating system, etc.), visitor activity (pages they viewed, actions they took, how they left), the time of visits, and more. The Piwik community has also created several plugins that can be used to augment Piwik. There are currently 58 third-party plugins.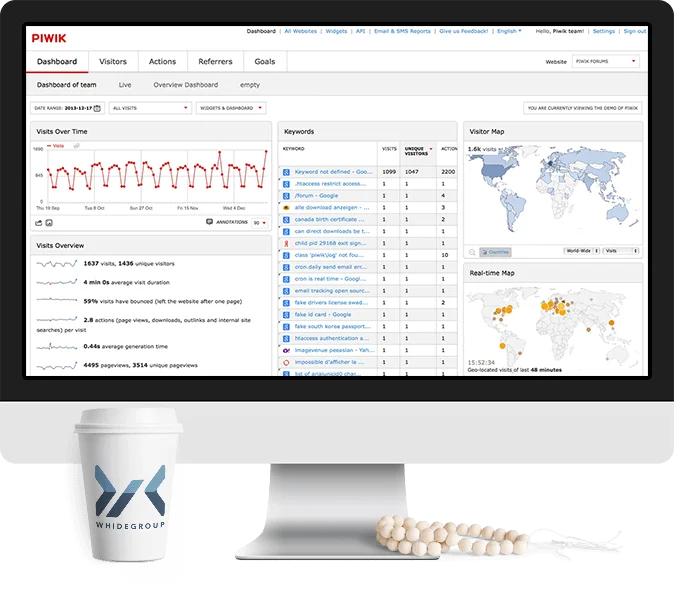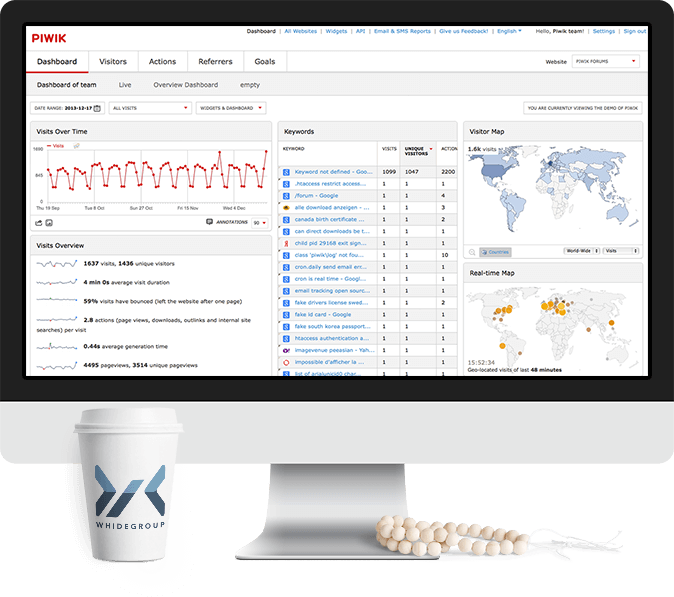 Kissmetrics
Kissmetrics is known for being particularly good with building funnels that are easy to interpret. One of the unique features of Kissmetrics is the Path Report, which is able to single out the most common steps between the first visit and conversion, showing you a funnel you may not have known about. This tool provides valuable insight into customer behaviour over time with Cohorts, which reveals user trends and tendencies.
Kissmetrics does a great job finding leaks in the funnels, so if your visitors don't convert into buyers, this tool may help uncover the reason. Kissmetrics makes it is easy to create path reports, and integrate it with 3rd party tools (e.g. Shopify, Magento, WooCommerce, etc.)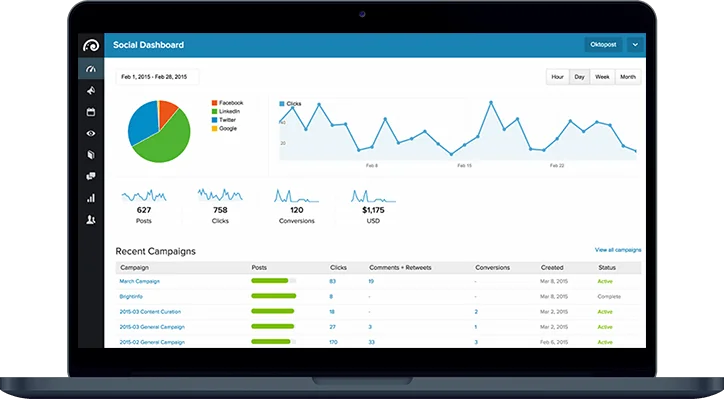 MixPanel
MixPanel service tracks user interactions with web and mobile applications and provides tools for targeted communication with them. Its kit contains in-app A/B tests and user survey forms. Collected data is used to build custom reports that measure user engagement and retention. Mixpanel works with web applications, in particular SaaS, but also supports mobile apps.
MixPanel lets you, the business owner, create sales funnels, and do so quickly, allowing you to learn how users move through your site. For example, you could have a funnel that look like this: views blog > goes to product page > checkout > purchase. Having such funnels helps you understand and sculpt the customer journey, and increase conversion.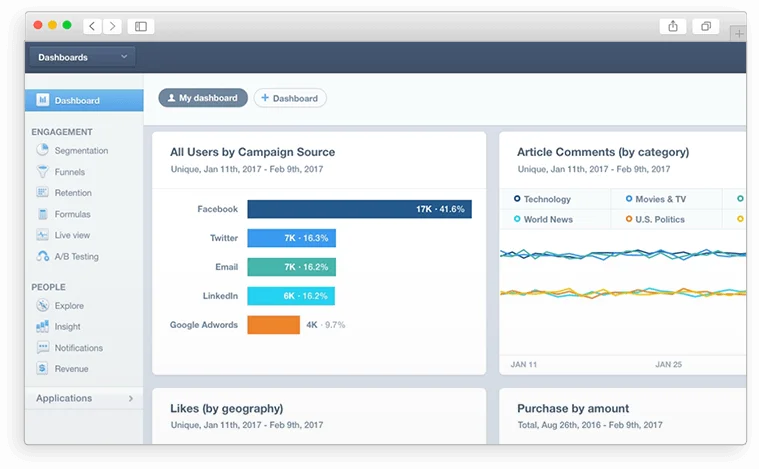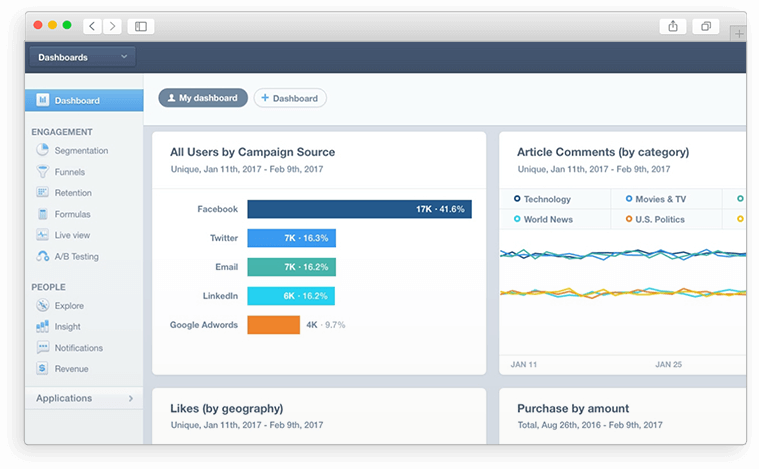 Adobe Marketing Cloud (AMC)
AMC is a collection of integrated online marketing and Web analytics products created by Adobe Systems. It is a comprehensive solution which enables specialists to measure, personalize, and optimize their campaigns and digital experience for optimal marketing performance. Being a fully integrated one-stop marketing suite, AMC allows you to handle mobile, search, campaign, content, social, and email marketing.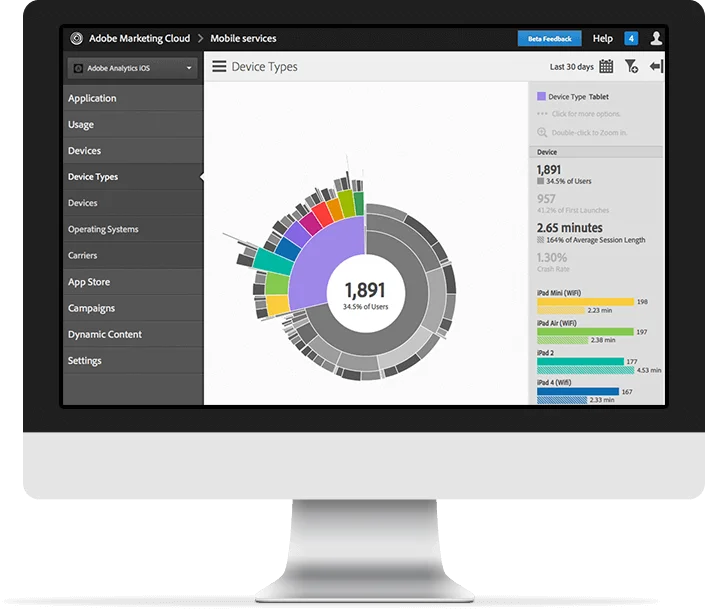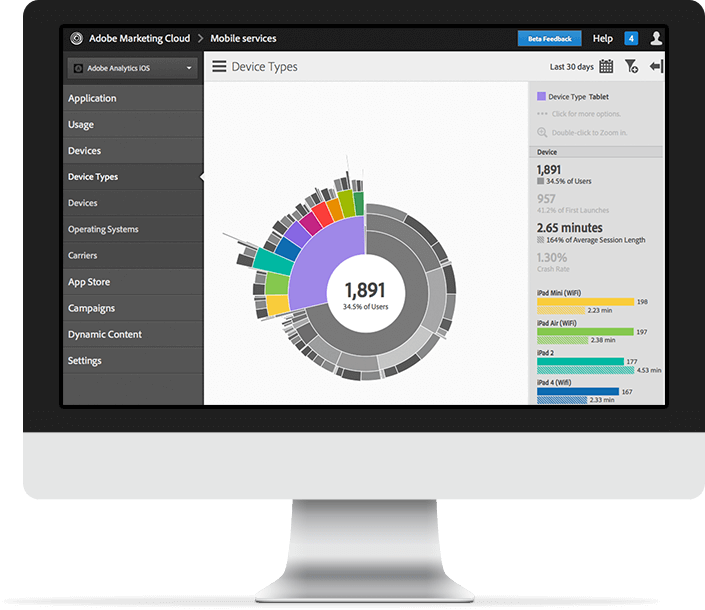 Woopra
Woopra is a real-time customer analytics mainly used by sales, service, and marketing teams. Woopra was once a straight analytics tool but was enriched with many features that positioned it as a customer analytics system. The goal is to aggregate leads and site visitors data that syncs information from all consumer touch points, from website to live chat, and email.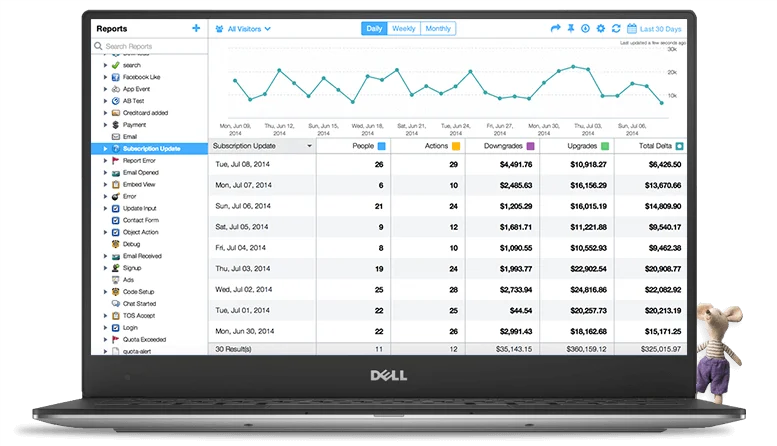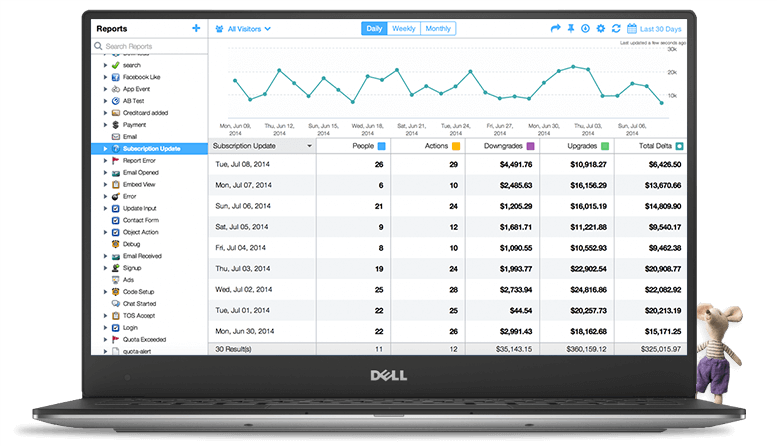 Comparison
Analytic tool
Real-time data
Exact metrics or Data sampling
Support
Pricing
Analytic tool
Google Analytics
Real-time data
No (lag time is about 24h)
Exact metrics or Data sampling
Exact metrics
Support
Google Analytics Support forum or dedicated account manager 24/7
Pricing
Free or $150,000 per year
Exact metrics or Data sampling
Exact metrics
Support
Forum, knowledge base, email support
Exact metrics or Data sampling
Exact metrics
Support
Support knowledge base, email and phone support
Pricing
$49, $99 or $199 or $499 per month
Exact metrics or Data sampling
Data sampling
Support
Online knowledge base and email support
Pricing
Free (25,000 data points); $150/mo (500,000 actions); $350/mo (2 million actions); $1000/mo (8 million actions); $2000/mo (20 million actions) or Custom price quoting for for high volumes
Analytic tool
Adobe Marketing Cloud
Exact metrics or Data sampling
Exact metrics
Support
Documentation, forum, email & phone support
Pricing
Pricing is available only on quote basis
Exact metrics or Data sampling
Exact metrics
Support
Online help desk, email
Pricing
Free (30,000 actions); $11.95/mo (200,000 actions); $39.95/mo (1 million actions); $349.95/mo (15 million actions)
As you can see, there is a wide range of tools in the world of analytics. Choosing the right e-commerce analytics software may be a challenge, perhaps giving you the feeling that you're walking through a minefield. However, awareness of the strengths and weaknesses of each tool will make your decision much smoother.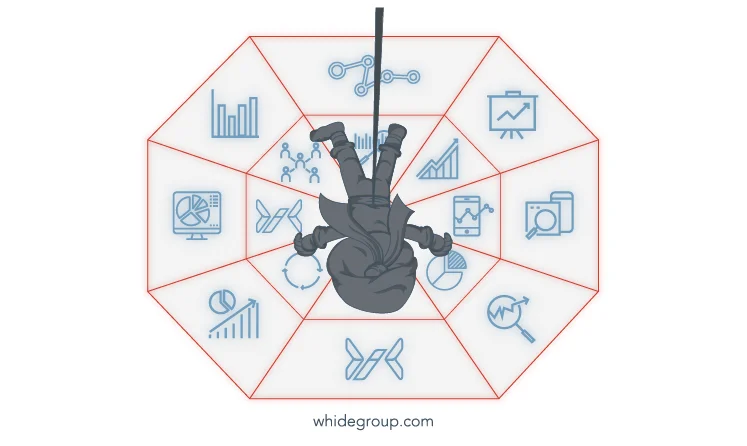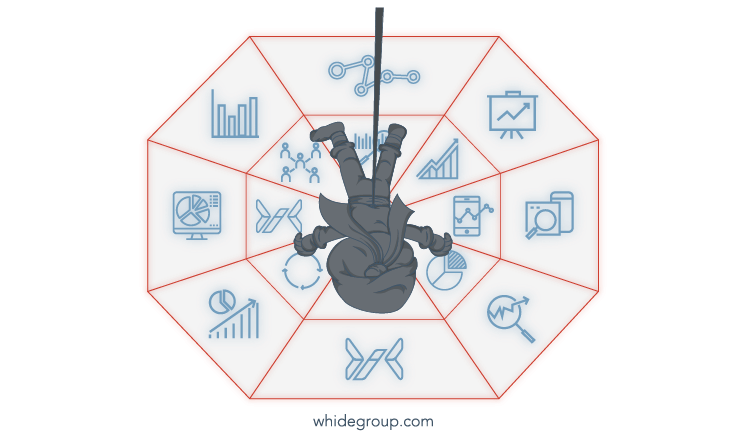 Analytic Tools of E-commerce Platforms
In addition to the third-party tools that need to be integrated into your website, some e-commerce platforms offer their own analytics tools for e-commerce.
Magento
Magento provides its own separate business analytics for e-commerce called Magento Business Intelligence (BI).
Magento offers:
Magento BI Essential;
Magento BI Pro – for enterprise e-commerce.
The platform offers a free 7-day trial Magento BI Essential. It doesn't require extension installation or alteration of any lines in your code. All you need to run it is to sign up (and that takes less than a minute).
Both options include the following:
– Reporting tools that allows to create 75 kinds of predefined reports;
– Magento and Google Analytics data source integration;
– 10 user accounts with advanced user permissions;
– SQL reports builder;
– Raw data export to CSV and Excel documents;
– Email summaries.
Upgrading from Magento BI Essentials to Pro will enable you to deeply customize your baseline offering, access the data warehouse manager, receive additional support, and add unlimited data sources beyond Google Analytics.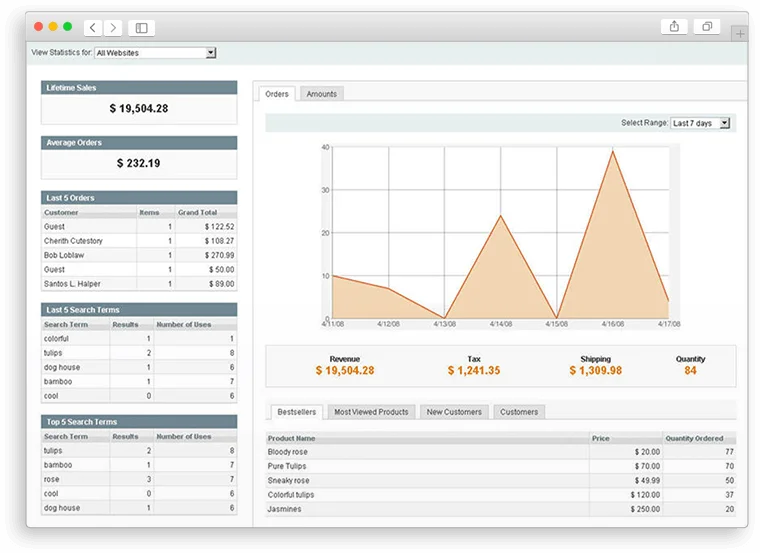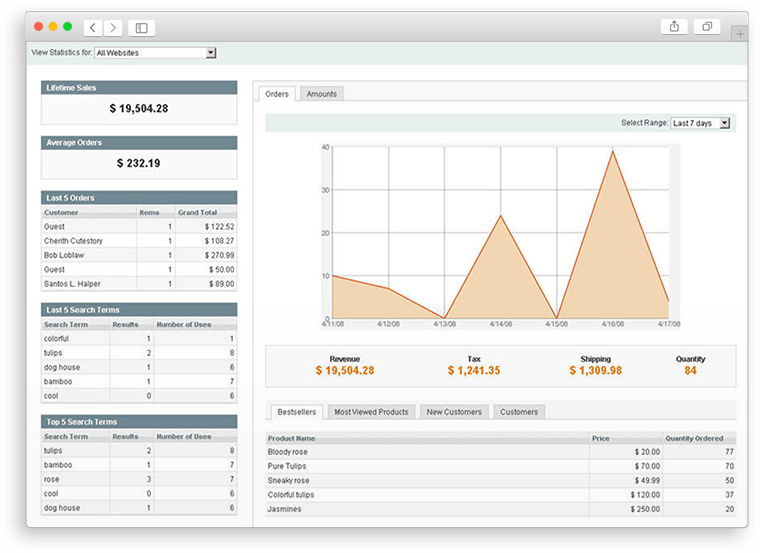 Shopify Analytics
This e-commerce platform allows you to create various reports (availability depends on the selected pricing plan for your store). List of the most demanded reports can be seen below:
Overview dashboard

displays sales, orders, and online store visitor data. You can check at a glance how your store is performing – across all of your sales channels, and for any date range.

Live View

gives you a real-time view of the activity on your store. It includes a world map to show where the activity on your store is coming from and some key metrics to let you know what's happening right now.

Finance reports

provide key financial information such as average, minimum and maximum total sums, payments, and gift card sales.

Acquisition reports

include such metrics as visits over time, visitors by referrer, and visitors by location.

Behaviour reports

can provide insights to your business about how to market your products better online and offline, upsell to your best target audience, create promotional pricing and product bundles, and increase your average bill value (ABV).

Marketing reports

are used to see how effective your marketing campaigns are and to learn about your conversions. The marketing reports can help you understand what leads shoppers to your online store and converts them into paying customers.

Sales reports

are used to see information about your customers' orders based on criteria such as sales by month, by channel, or by staff.

Customers reports

help you gain useful insights about your customers, including their average order count and totals, and expected purchase value.

Custom reports

let you modify default reports and create custom reports using Shopify's filtering and editing features. Custom reports look similar to other Shopify reports, but you can use filters to see the exact data that you need:
We're Whidegroup
We develop optimized
e-commerce stores.
Comparison
Analytics and reports
Shopify Lite
Basic Shopify
Shopify
Advanced Shopify
Shopify Plus
Analytics and reports
Overview dashboard
Analytics and reports
Live View
Analytics and reports
Finance reports
Analytics and reports
Acquisition reports
Analytics and reports
Behaviour reports
Basic Shopify
Partly (4/5)
Analytics and reports
Marketing reports
Basic Shopify
Partly (4/5)
Analytics and reports
Sales reports
Analytics and reports
Customers reports
Analytics and reports
Custom reports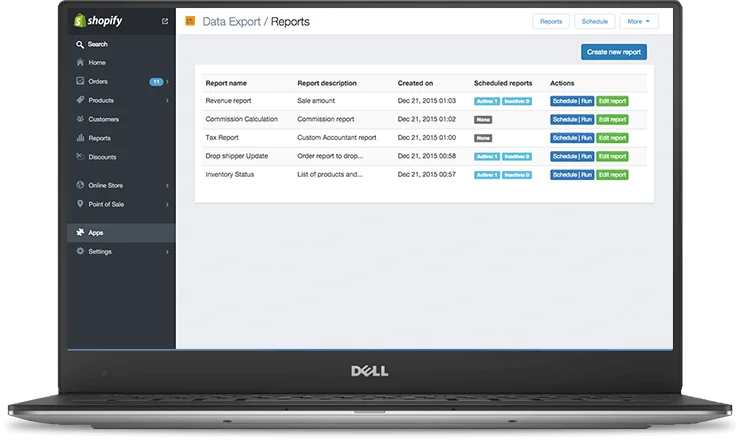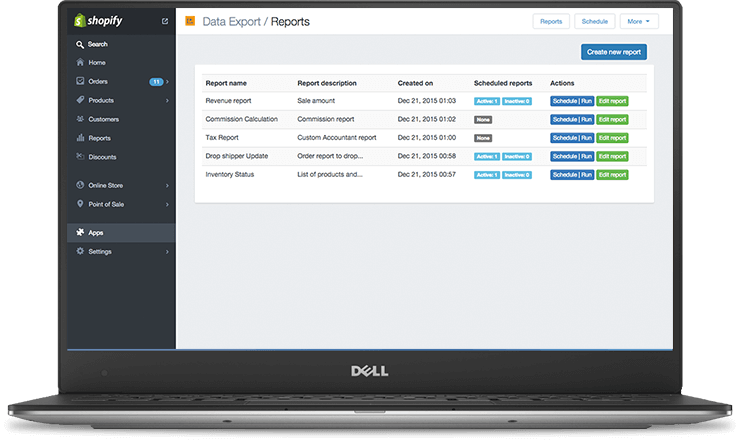 BigCommerce
BigCommerce offers wide range of reports, among which are:
Store overview reports give a comprehensive view of the entire business across all key metrics, as well as a view of your purchase funnel, abandoned carts, top products and sales by marketing channels.
Real time reports display tracks of revenue, orders, and on-site visitors second-by-second. Real-time monitoring effects, email campaigns, or new offers launched across social media channels.
Merchandising reports keep track of sales by product, all the way down to the stock keeping unit (SKU) level.
Marketing reports collect all marketing activity in one place, detailed down to each email campaign orchestrate(subject of emails, addresses, quantity, etc.).
Orders reports allow you to view all orders in detail with one-click access to the various aspects of each one.
Customers reports display the progress of bringing new customers to your business versus repeat customers. With customer reports, you can view all the purchase behavior of any customer across their lifetime with your web store.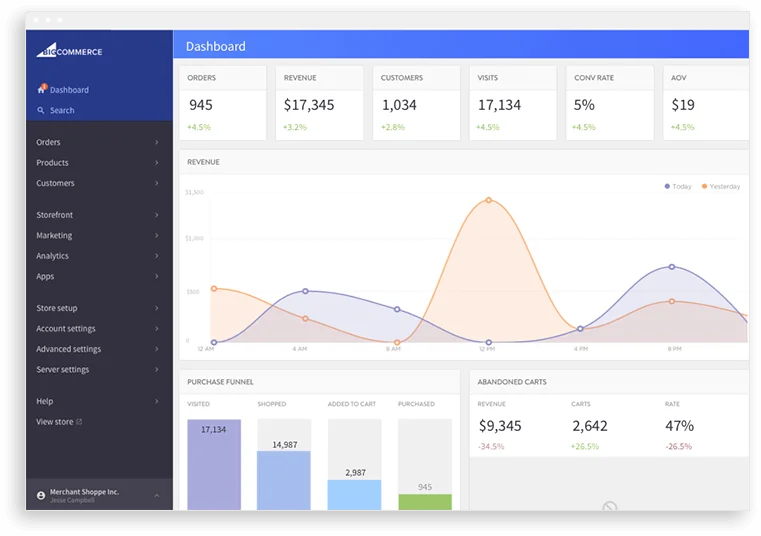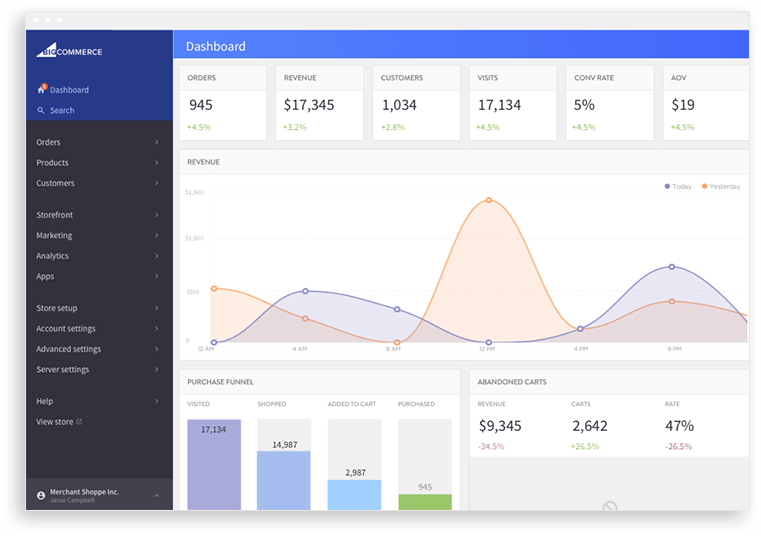 Our Experience in Analytics Tools Implementation
Turning to our experience in the field of analytics tools implementation – we've worked with all the analytics tools listed above, as well as some additional ones. We can implement any of your chosen analytics, and in an overwhelming majority of cases, all we need to do is simply place a line of analytics tracking code on the webpage.
Most customers prefer to use Google Analytics for data analytics on their websites due to its ease of use, the great Google community, and the option to use the free standard version. One of the main reasons for its popularity is based on the fact that users can see where their traffic is coming from and compare its performance to other marketing channels.
As a whole, it should be noted that there is no dramatic difference between analytic tools as all of them provide the business owner with approximately the same data and reports. In choosing top e-commerce analytics tools for your website, you'll want to consider pricing strategy, technical support models, and the special features of particular tools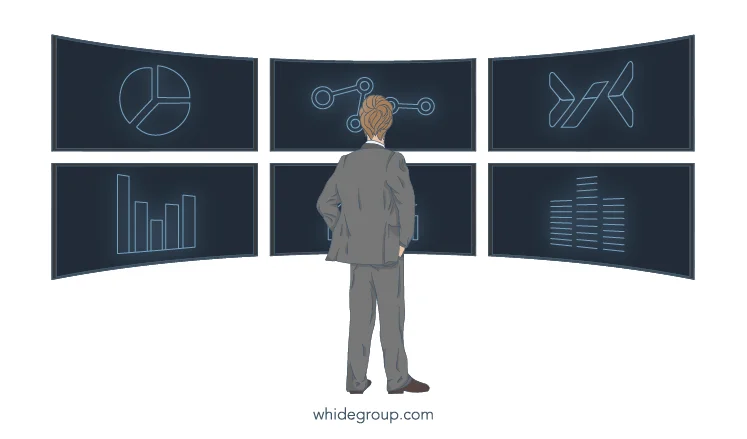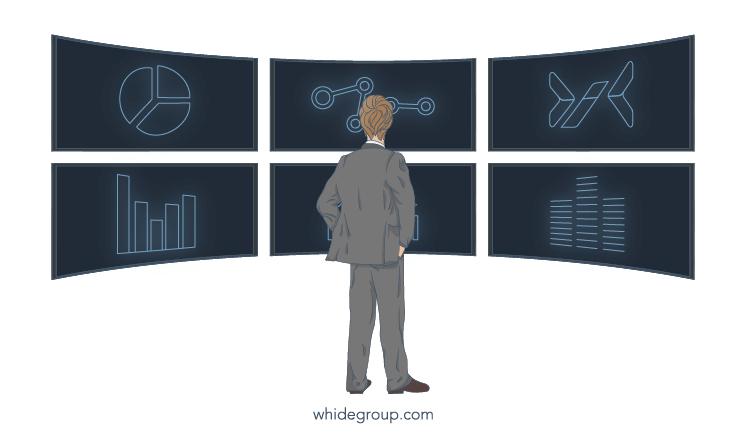 https://whidegroup.com/wp-content/uploads/analytics-blog-list-1.png
292
746
mary
https://whidegroup.com/wp-content/uploads/whidegroup_logo.png
mary
2018-02-02 18:48:37
2020-01-14 16:56:32
9 Best E-commerce Analytics Tools: a Product Owner's Guide
9 Best E-commerce Analytics Tools: a Product Owner's Guide