One of the top questions on e-commerce and development forums tends to be regarding the best platform for running an online business. Particularly passionate discussions are about Magento and Shopify – the leaders of the e-commerce market.
Some business owners love Shopify for its ease of use but dislike its poor flexibility. Others opt for Magento due to the business opportunities it provides, but complain about its high pricing. Magento vs Shopify is a topic that needs a detailed explanation!
Based on official documentation and our own five-year experience building stores on both platforms, we've gathered some of the more pressing advantages and disadvantages of Magento and Shopify. Continue reading to determine which of these two e-commerce platform aces works best for your situation.
Magento vs Shopify: A Comparison
In this article, we consider the most critical aspects of running an e-commerce business, and how Magento and Shopify address them.
#1 A bird's eye view of the Magento and Shopify platforms
To date, there are over 250,000 Magento based stores around the world. Among the Magento clients are Ford, Coca-Cola, Christian Louboutin, Nike, Jaguar, and Olympus. In 2018 alone, Magento earned around $1.7 billion.
Shopify so far counts over 400,000 stores amongst its stockpile and is the choice of such brands as Nescafe, Budweiser, The Economist, and KKW Beauty. Shopify's total revenue during 2018 was $1.073 billion.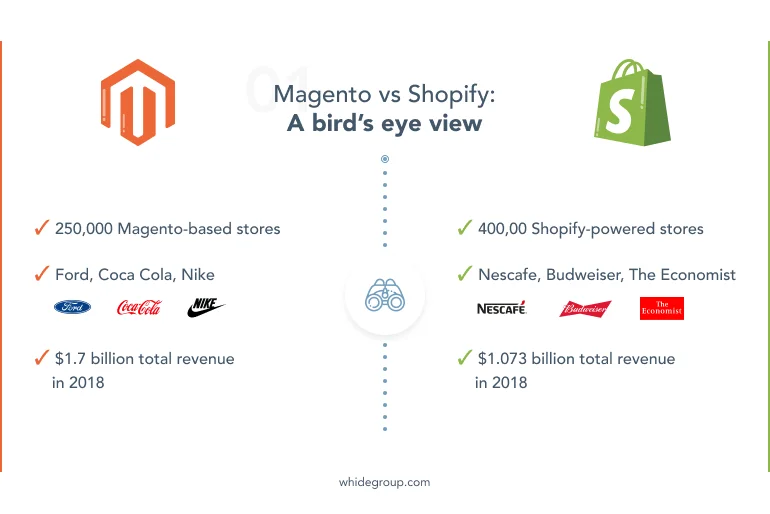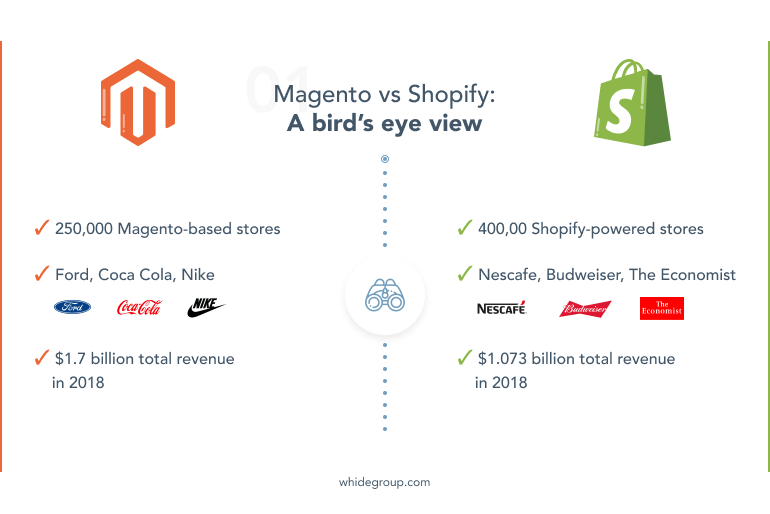 #2 Cost Issue
The cost of the Magento 2 website depends on the edition, the hosting provider, and the development effort you need to build it. The Magento 2 Community Edition (CE) continues to be open-source and free, while the Magento 2 Enterprise Edition (EE) charges in the range of $22,000.00 to $125,000.00 per year based on expected annual gross sales revenue.
Magento 2 offers an AWS-based cloud hosted option. The Enterprise Cloud Edition (ECE) costs from $40,000.00 to $190,000.00 per year, based on expected annual gross sales revenue.
As for Shopify, it has a bit of a different pricing model – it offers three plans: Basic Shopify, Shopify, and Advanced Shopify.
Basic Shopify costs $29 monthly (and 2.9% + 30¢ per transaction). It includes:
Unlimited products
2 staff accounts
24/7 support
Abandoned cart recovery
SSL certificate
The middle Shopify plan is $79 monthly (and 2.6% + 30¢ per transaction). In addition to the points listed above it also covers:
5 staff accounts
Gift cards
24/7 support
Professional reports
Advanced Shopify charges $299 monthly (and 2.4% + 30¢ per transaction) and it includes the following:
15 staff accounts
Advanced report builder
Third-party calculated shipping rates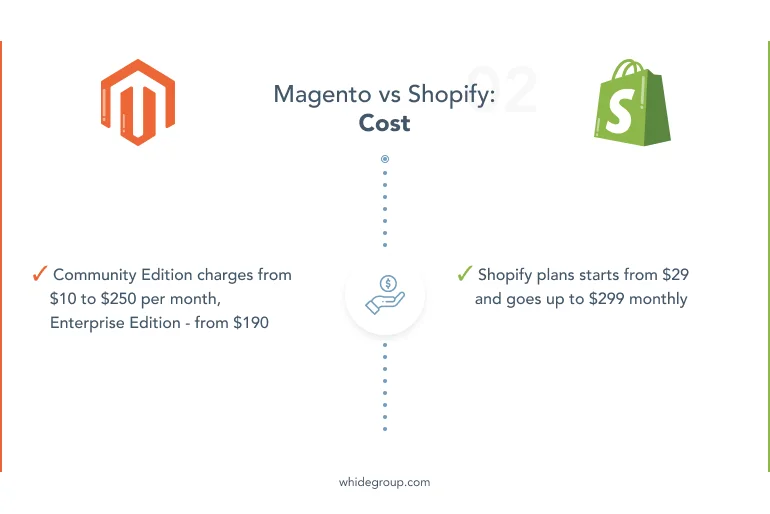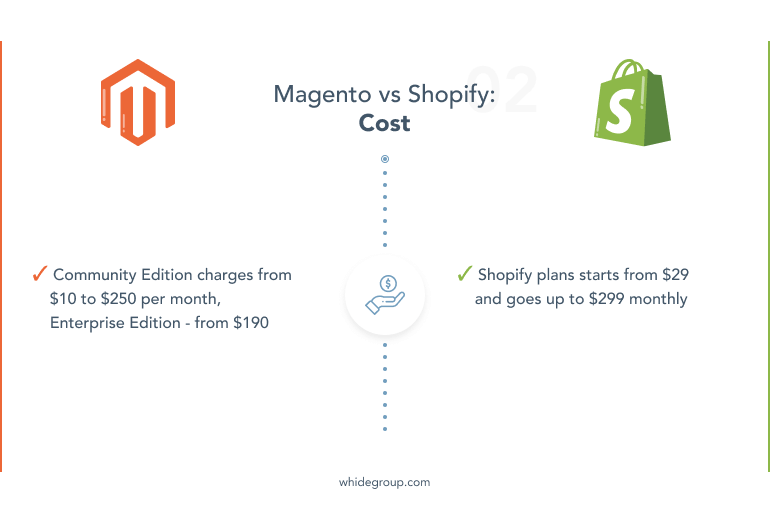 In general, it's safe to say that Shopify is a cheaper option to run your business. However, don't jump to conclusions based solely on the price factor – keep reading because we have more to share about the platforms in detail, which means more for you to consider.
#3 Hosting options
Being complex and arguably a bit more cumbersome, Magento can be pretty moody when it comes to a hosting provider selection. The perfect hosting should be a LAMP-stack, with a fast server, SSL certificate, content delivery network, and dedicated IP-address. However, your efforts on hosting selection may be rewarded handsomely, since serious hosting providers offer server configuration services intended to maximize Magento performance.
When opting for Shopіfy, you're absolutely free from thinking about hosting – every Shopify plan includes hosting services by default, and all you need to do here is setup your existing domain name or buy one.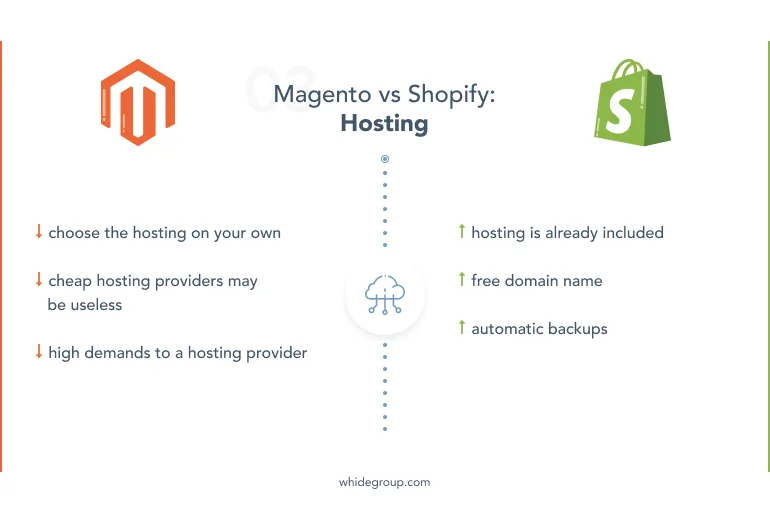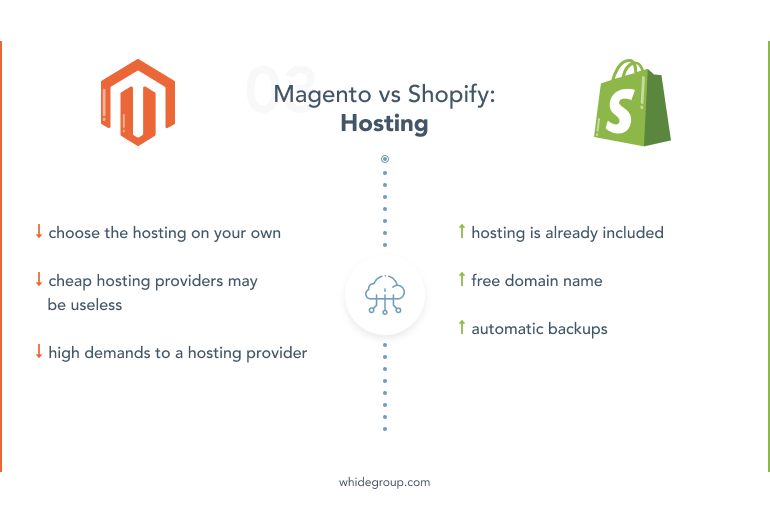 When our client from Denmark, who lacked experience in running an e-commerce store, came to us, we recommended that he build a store on Shopify. Such a decision was beneficial since the owner didn't have to worry about solving any technical issues, including hosting, and it fit his small store perfectly.
#4 Ease of use
Magento requires developers with profound technical competences. First of all, this platform uses an intricate Prototype framework as a foundation. It doesn't use a Model-View-Controller (MVC) class diagram. Instead, it employs a set of Controller, Model, Block and View elements, which is challenging even for seasoned Magento developers.
However, Magento rewards you with unlimited flexibility, which makes learning the platform's secrets more than judicious. Unique features, deeply-customized design, and an attractive buyer's journey – are all just a little piece of the cake you can get if you know Magento well.
Shopify offers developers a much friendlier interface that is easy to understand and operate with. With its drag-and-drop nature, Shopify allows even non-tech savvy people to take part in the store development process. Nevertheless, its developer-friendliness is offset by comparatively poor flexibility and the lack of customization features.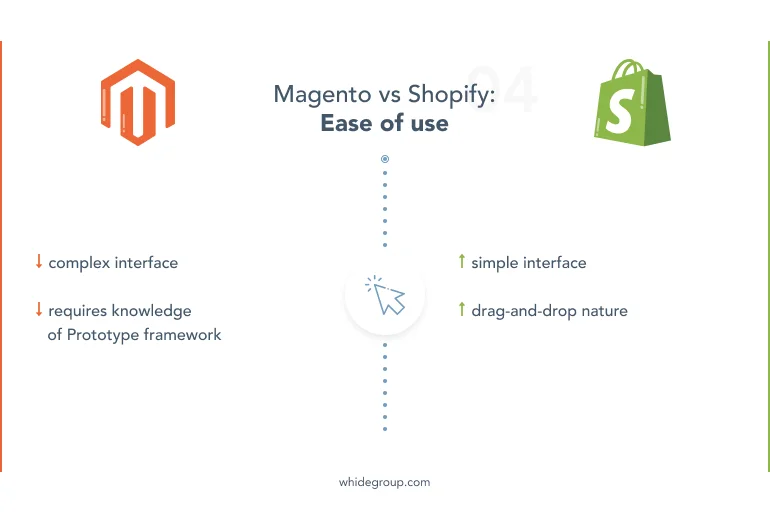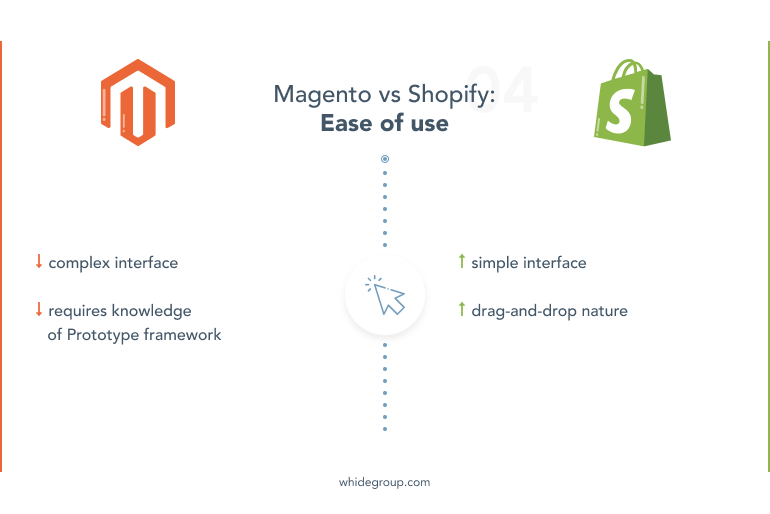 From the administrator's point of view – the Magento admin panel is also more complex in comparison with Shopify's. You can see it with your own eyes in the screenshots below.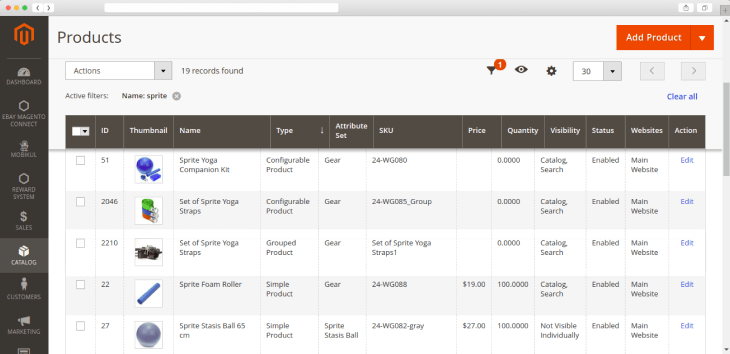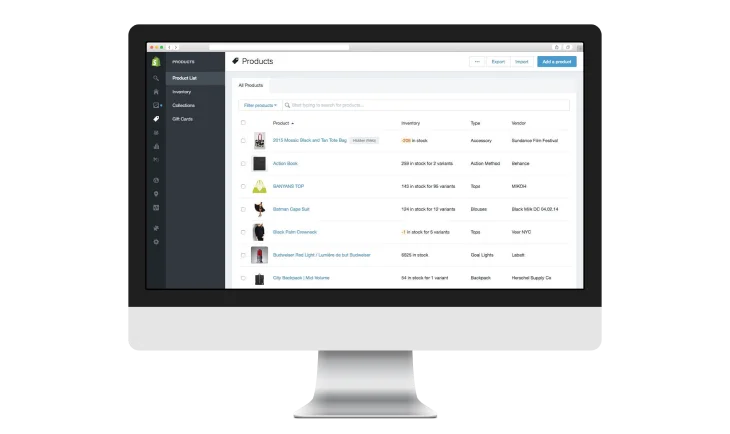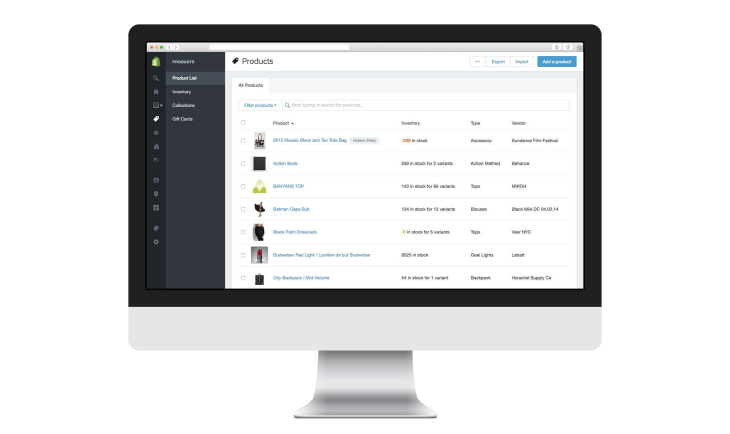 Many of our customers are business owners who prefer to run an admin panel themselves. They admit that Magento admin is a hard nut to crack at the first glance, but after a while, they appreciate its all-in-one interface with abundant features. As for the adjustment period, they say it is fast and hassle-free.
#5 Integrations and third-party modules
Magento has an impressive collection of free and premium extensions, plugins and modules. However, the installation process is rough and a bit stressful because it requires a strong knowledge of the Magento structure, which is very complex and intricate.
Shopify, in its turn, has a poor assortment of applications and plugins, but the installation process is smooth and can be successfully completed by a non-tech-savvy person.
Let's review some integrations that are most vital to an e-commerce store:
Marketplaces

Both Magento and Shopify have add-ons which enable a basic multi-vendor marketplace creation. Though, when it comes to additional features – Magento confidently defeats Shopify thanks to numerous traits like promotional pricing, flexible coupons, a customizable reporting system and so on.

Multi-language support

You can add as many languages as you want to your Magento store. To do this, you should visit Magento Marketplace, search for the needed language pack, install it, and you're ready to go!
As for Shopify, it doesn't support a multi-language option natively. However, the problem can be easily solved by implementing various language apps such as langify, Weglot, LangShop, Multi Lingo and so on.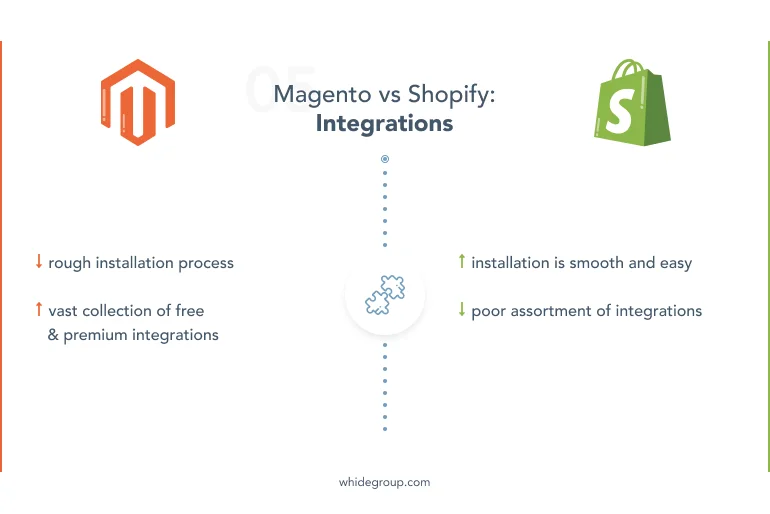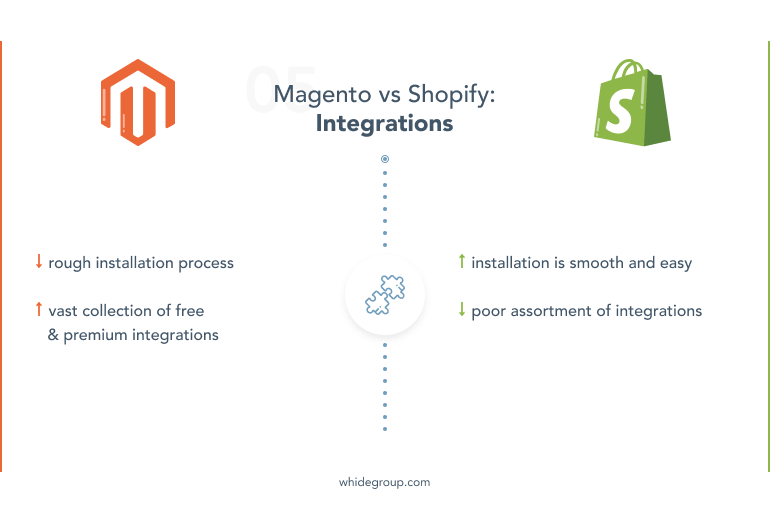 Some business owners consider integration as an undeniable part of website development, since certain functionality is not provided natively by the platforms. Our client from Norway needed to integrate CRM, ERP, and a logistics solution with his office furniture website, which additionally had to be multilingual. After analyzing his requirements and platform capabilities, we decided to focus on the Magento platform. While we can't say that Shopify isn't capable of carrying all the integrations he needed, we surmised that all those features might have negatively affected Shopify's performance. Thus, Magento was considered as the perfect solution for this particular case.
#6 Design and ready-made themes
Both platforms offer online stores themes and templates to create a unique look and feel. Free and paid, these themes can fulfill the needs of the most demanding e-commerce owners. However, it should be noted that you won't be able to tweak Shopify themes a lot – you can't do much other than alter the basic colors and fonts in the already-established Shopify themes. On the flip side, Magento is a fully flexible and extensible platform, which allows you to customize your store in any way and shape.
One more design aspect that should be covered: Magento has plenty of free themes to choose from, while Shopify offers very few. On the upside, Shopify's themes are more contemporary-looking in comparison to Magento's.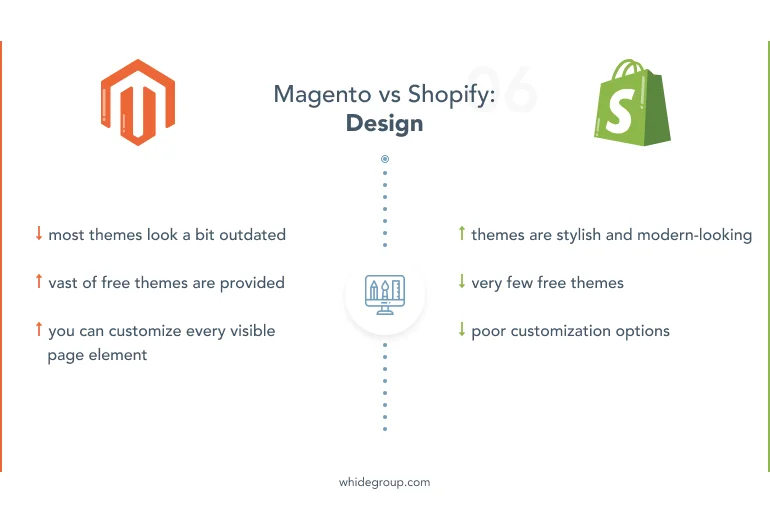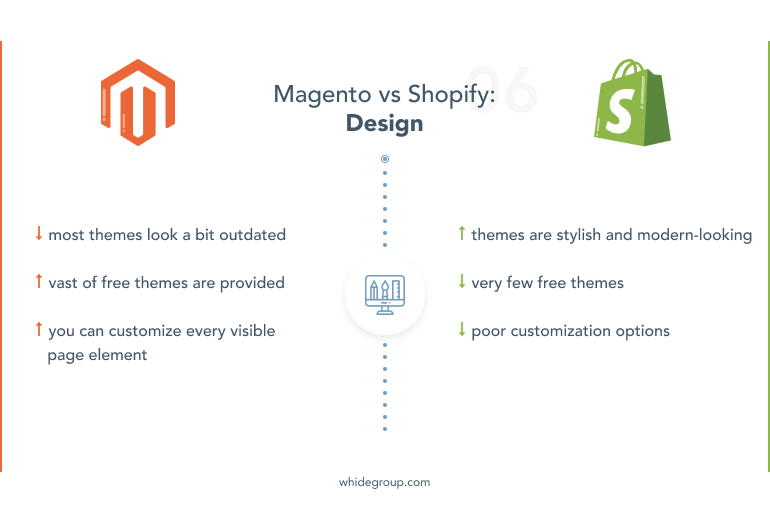 Design has always been a turning point for business owners. Once, we had a client with a desire to develop a Shopify-based store. However, he also had very specific design requirements. Since Shopify is not flexible in terms of design, we advised our client to consider Magento. After thinking on it for a bit, he agreed. To date he's successfully run his Magento-based store with fully custom design for almost a year.
#7 SEO
As for search engine optimization capabilities – both e-commerce platforms have plenty of powerful SEO features which work with the goal of bringing your store a vast amount of organic traffic. So, when it comes to the SEO aspect – there is no difference between the two platforms. They're truly neck-and-neck.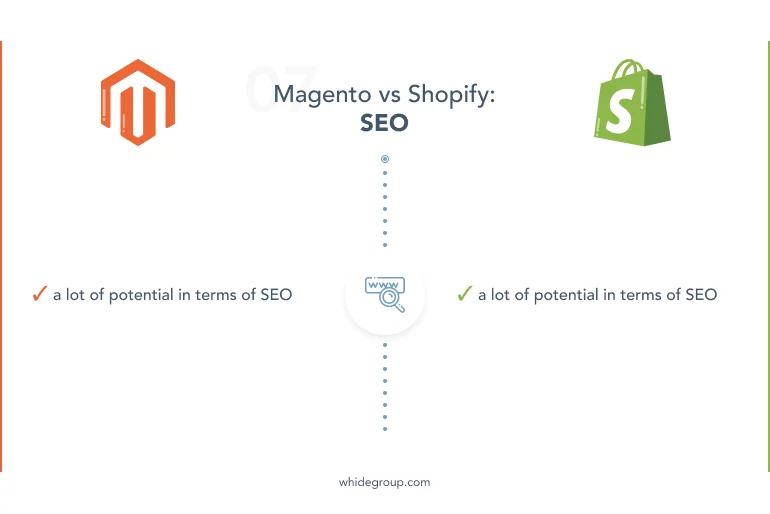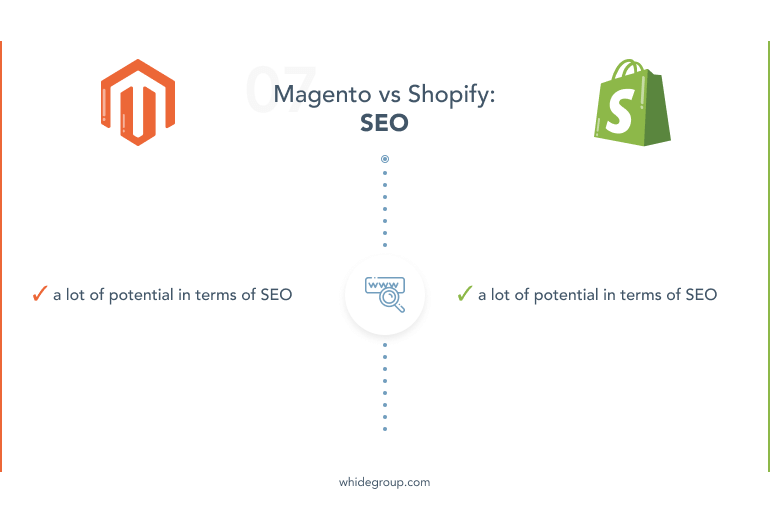 #8 Performance and scalability
First, it should be said that both platforms can impress with their performance when they are in the right hands. Nevertheless, every website may need some performance optimization at any stage of running. And here is the difference between the platforms in terms of page load speed.
For Magento 2-based websites the aspect which affects performance the most is the hosting service selection. Therefore, if you choose a reliable hosting provider, and combine it with an optimized website (you can read more about that here), you can be sure that your store's performance will be stable. In addition, you can make necessary server tweaks and adjustments in order to bring your store's performance to a new level.
Because it's a hosted solution, Shopify is in charge for providing clients with decent performance. However, the platform doesn't give customers a lot of options to enhance the performance.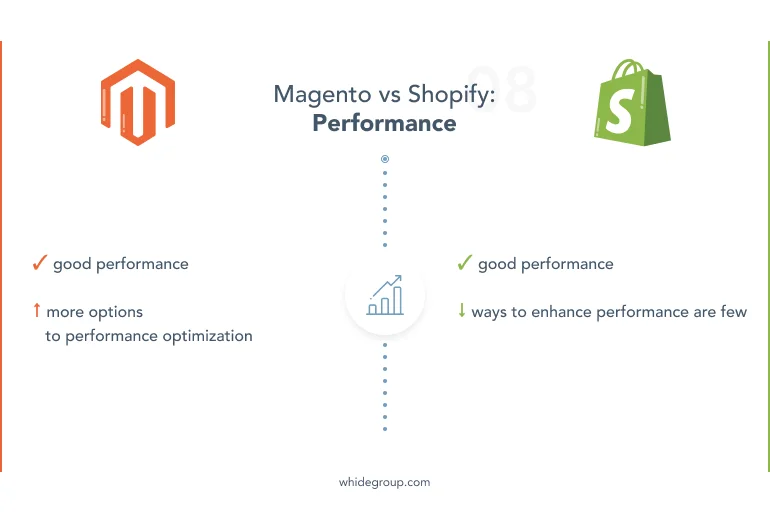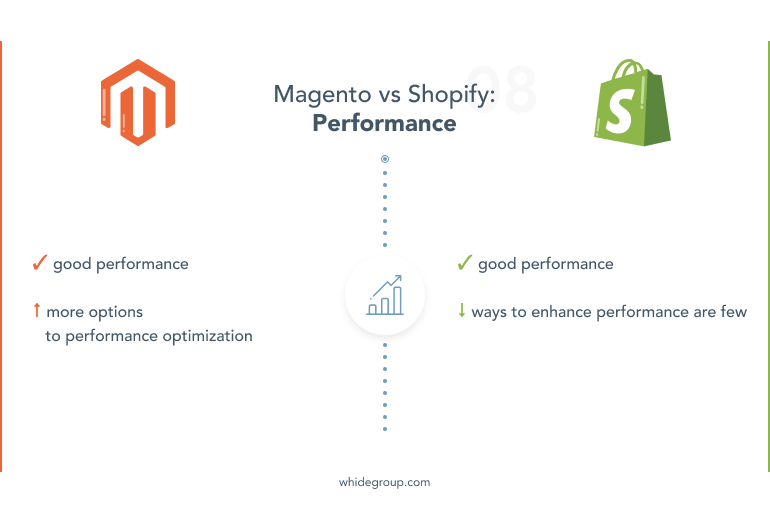 E-commerce performance optimization is one of our main bargaining chips. From a developer's perspective, we can say that Magento's options for performance optimization bring incomparably more benefits than Shopify's.
In addition to common image optimization, code minification, and reducing the number of requests, Magento gives you direct access to the server and hosting, which are complementary ways to gain decent performance.
So, after all is said and done, and optimization efforts are brought to the two pages (Magento and Shopify accordingly) with the same page load speed before optimization, we'll enjoy amazing page speed from Magento and not-bad speed from Shopify. Thus, there's the difference between the platforms in terms of performance.
We're Whidegroup
We develop optimized
e-commerce stores.
#9 Max store capacity
If you open the official documentation of both platforms, you won't find any information about the store's stock keeping units (SKUs) limitations, as we didn't.
However, after years of dealing with both Magento and Shopify stores we can confidently say the following: out of the box, Magento can safely handle around 200,000 products. With some additional efforts, such as competent optimization, server tuning, and wise scaling, Magento can manage up to 500,000 products.
As for Shopify – we've noticed that it works fine with no more than 100,000 SKUs. Here we are referring to the maximum number of products which guarantees safe and stable working of the website, not the maximum e-commerce platform capacity.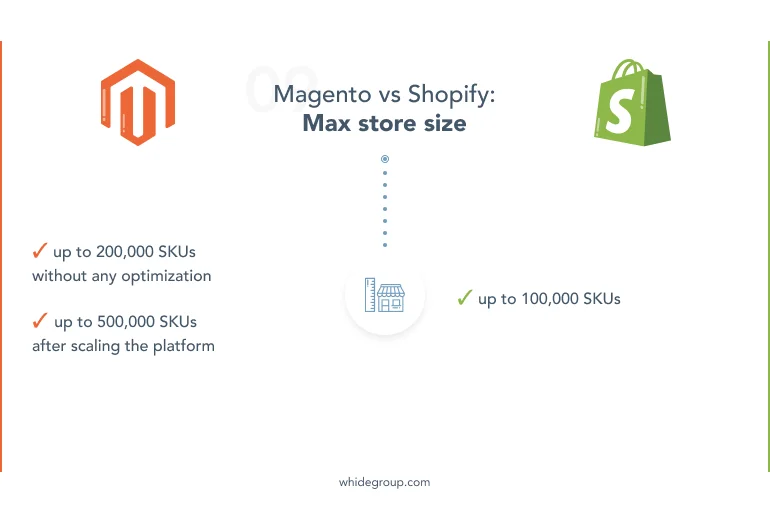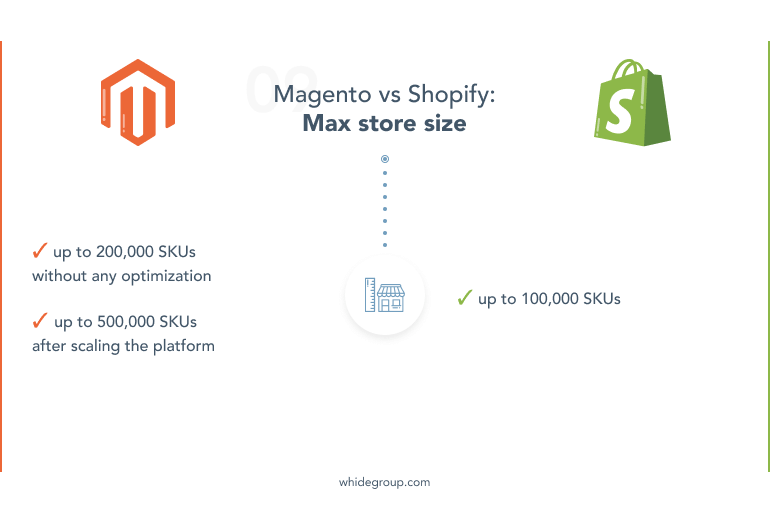 When our long-term customer scaled her business, she faced the problem of e-commerce platform capacity. She extended her product catalogue from around 90,000 SKUs to over 120,000, and her Shopify store wasn't able to carry the new load. We advised her to migrate the store to the Magento platform, which she did. To date, she added even more SKUs to the store, but the store's performance stays optimal, as you can see from the Google PageSpeed Insights screenshot below.
So, Who's the Winner?
As you probably realize, there is no clear winner in this competition. Some aspects are perfectly covered by Magento, while others are better handled by Shopify. If you want to create an online presence, you should make a balanced decision when selecting an e-commerce platform.
After reading the above Magento vs Shopify comparison, you can see that Shopify mostly attracts small and medium businesses, while Magento focuses on large enterprises that are interested in customization and flexibility.
Magento vs Shopify
Comparison guide
Final Thoughts
Are you interested in developing your own Magento or Shopify project? Or, perhaps, you still have concerns about choosing the right e-commerce platform for your business? Well, in either case, don't hesitate to drop us a line. You'll be sure to get prompt and qualified e-commerce assistance designed to bring success to your store.
https://whidegroup.com/wp-content/uploads/m-sh-bg_2.png
695
1926
mary
https://whidegroup.com/wp-content/uploads/whidegroup_logo.png
mary
2019-09-13 17:06:49
2020-06-01 11:36:17
Magento vs Shopify: Which One Suits You Better and Why
Magento vs Shopify: Which One Suits You Better and Why