According to the latest information provided by BuiltWith, at the time this article was published there were more than 4 million live online stores built with Shopify. It takes 2nd place with 2,6% of the market share among the top 1 million of all e-commerce stores. For comparison, the WooCommerce checkout wins the competition with about 2,85% of the market share. About 0,85% of the top 1 million stores are running on Magento, which takes the 3rd place. This Shopify tutorial is made for you to get acquainted with the platform and learn how it works.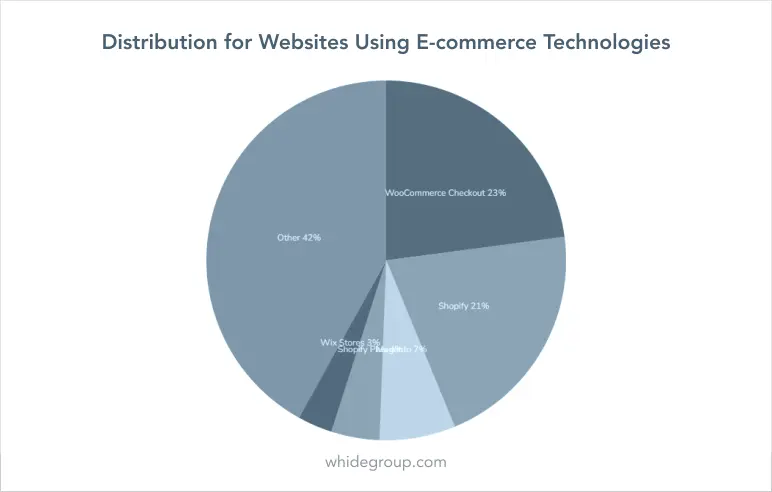 Source: Builtwith
We're confident that every platform fits different needs and requirements. In this Shopify tutorial we'll:
Make Shopify clear for every merchant
Highlight its main features
Compare it with other popular CMSs
Review prices
And tell you about everything else you need to know to decide whether the Shopify platform is the right choice for you.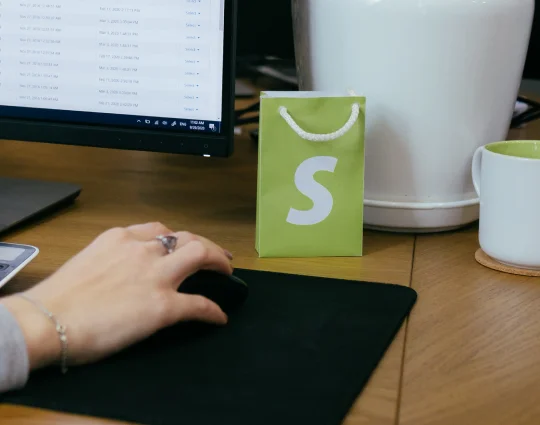 Need help with shopify?
Look at What We Can Offer
What is Shopify?
Shopify is the most popular e-commerce platform. It is created in such a way that every merchant can create their own online store and start selling products or services in a matter of days. Additionally, Shopify is a cloud-based (SaaS) platform, which means merchants do not need to worry about the hosting since it is already included and maintained by the service provider.
This Shopify tutorial is made to prove that, with a few exceptions, the platform is a perfect fit for any business type and size. Its subscription based pricing model gives merchants the opportunity to choose a plan according to their business needs.
Here are several examples of the best Shopify websites:
Explore more

Shopify Tutorial: How Does Shopify Work?
If you're looking for a user-friendly and easily-manageable platform to launch your online store, consider reviewing this Shopify guide. Every platform has different characteristics, features, operational specifics, etc. In order to form an objective opinion about the product, it is imperative to familiarize yourself with all these features in detail. When it comes to Shopify, there are a number of specific features that set this platform apart. So, let's dive into our Shopify tutorial starting with the platform's features.
Domain
Shopify's interface is intuitive so you can quickly learn how to use the platform. Before launching а Shopify store, you need to choose a domain name and buy it. It is important to note that you can create your store on the Shopify subdomain. In this case, you get a free domain, however your website URL will look something like this – "your-domainname.myshopify.com". Of course, if you're ok with that, you can just go with the subdomain. However, we tend to think that it is better to pay $15-50/year and own a unique domain name.
By the way, if you already have a domain name, you can transfer it to Shopify without a hassle.
Shopify hosting
As for the hosting, it's already included and configured to serve your business and your customers' localization. Moreover, its price is already included in your subscription plan. This feature is not available in open-source platforms like Magento or WooCommerce.
For businesses that provide their services around the world, Shopify also provides a CDN (Content Delivery Network), thanks to which your site loading speed will be equally fast anywhere in the world.
What's even more fantastic with Shopify is that while you are promoting your services or advertising products, the platform provider responds to the website uptime and scales the platform proportionally to your business growth.
Shopify guide: settings
So, after you have created a Shopify merchant account, you can start adding products to the catalog and adapt the store design to your tastes and needs. The simple interface of the admin panel usually does not cause any difficulties, even for beginners.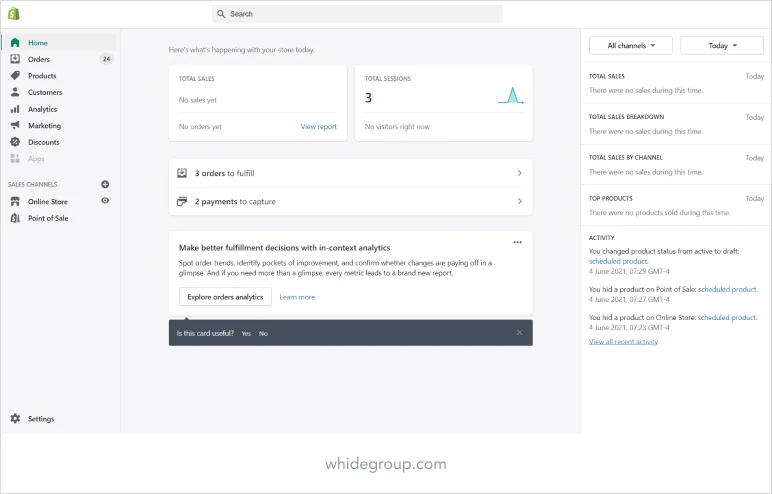 If you want, you can download a free theme or choose one of the paid ones.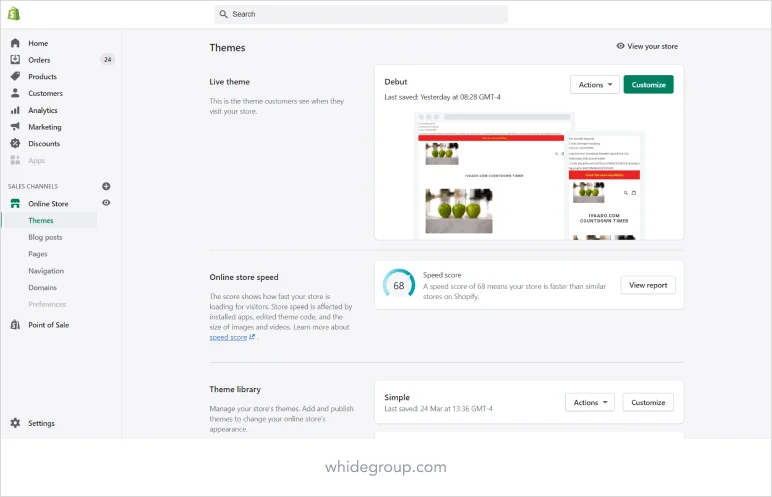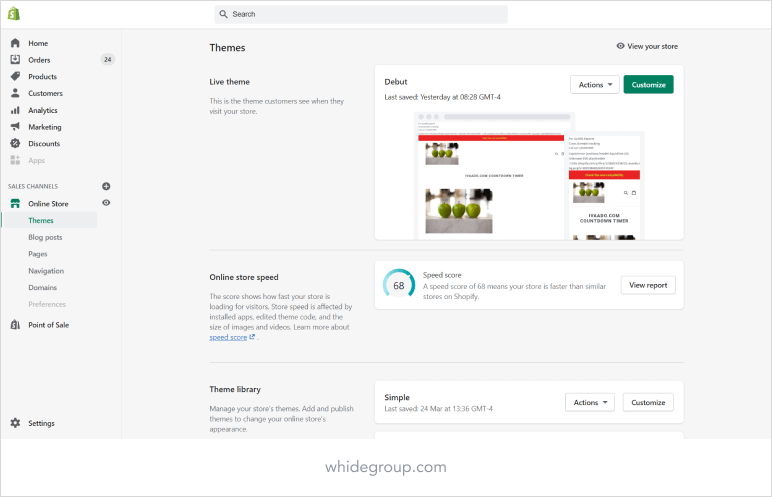 After all the settings are complete and the needed payment gateways are connected, you can start selling.
The easiest way to find out how Shopify works is to try it yourself. For this, you need to subscribe to a 14-day free trial. During these two weeks, you'll gain some experience in setting up, managing, and tuning a store according to your needs. To continue selling after the trial is over, you'll have to choose one of the Shopify subscription plans.
Shopify guide: How Much Does a Shopify Store Cost?
Starter
Basic Shopify
Shopify
Advanced Shopify
Shopify Plus
Starter
Sell in person or add a Buy Now Button
Basic Shopify
All the basics for starting a new business
Shopify
Everything you need for a growing business
Advanced Shopify
Advanced features for selling your business
Shopify Plus
All the Enterprise power you need to manage your business
Basic Shopify
$32 / month
Advanced Shopify
$399 / month
Shopify Plus
$2000+ / month
Shopify is one of the cheapest ways to sell products online. The Starter Shopify plan costs $5 per month and lets you sell products unlimitedly.
However, it is important to note that the Starter plan does not give you the opportunity to create a standalone, fully functional online store. Instead, this plan gives you the ability to:
Sell through your Facebook page
Use the CMS to sell products or manage shipments from your physical store
Get access to a Shopify's "Buy Button", which allows you to sell products on an existing website or blog
Moving higher up the price scale, you come across Basic Shopify plans for $32/month, $92/month, and the Advanced Shopify plan for $399/month. Unlike the "Starter" tariff, these plans make it possible to create fully functional online stores.
Finally, there is an Enterprise-level plan, called Shopify Plus. It is designed with a focus on enterprise needs, and offers advanced security, API and merchandise implementation features.
So what are the key differences between these rates?
How do Shopify plans differ?
You should pay maximum attention to the feature set applied to every single Shopify plan, because you don't want to pick a plan that won't suit your business needs. The main differences are:
1. Reporting. The professional reporting feature is only available in Shopify plans starting from $92/month. At the same time, advanced reporting tools (ones that allow the creation of custom reports) are provided only with the Advanced and Shopify Plus plans.
2. Gift Cards feature is not available with Shopify Starter and Basic plans.
3. Staff accounts. Different Shopify plans allow you to add a different number of accounts for your staff (content manager, admin, etc.). For example, with the Basic Shopify plan you can add only two staff member accounts to the store. If you go with "Advanced", you'll get the ability to create 15 accounts.
4. Point of sale (POS). You can use all the functionality of a point of sale only if you sign up for Shopify plans starting from $92/month.
Shopify Plus plan includes all the main features, but provides even more functionality designed for the bigger companies that have more functional requirements and need more streamlined business processes. Some of these features are:
Guaranteed server uptime
API support
"White glove" support
Dedicated SSL
Advanced security features and more
It is worth noting that you are not obliged to pay the Shopify subscription fee every month. A yearly subscription is available and it saves you about 10%. But if you decide to subscribe to a two-year plan you'll save up to 20%.
Shopify Tutorial: What Can't You Sell On Shopify?
When we say "selling online" in our Shopify guide, everyone imagines online stores selling something like toys, food, apparel, any kind of home appliances, and so on. But in fact, Shopify allows far more types of goods to be sold through the platform. Besides physical products, here's the list of products you can sell on Shopify?
Services
Memberships
Consultations
Digital products
Experiences
Online classes and workshops
Event tickets
Digital gift cards, etc.
Along with the huge selection of products that you can sell in Shopify stores, there are also products that are prohibited from sale. This list mainly includes different types of firearms and certain related parts. You can find a specific list of such products on the official page.
In addition to the above, there is a much broader list that includes activities and products that are limited not by the platform itself, but by the Shopify Payments terms of service. The list includes:
Adult content and services (pornography, escorts, adult live chat features, etc.)
Gambling (lotteries, sports forecasting, internet gaming, etc.)
Regulated or illegal products or services (cannabis dispensaries, sale of tobacco, online pharmacies, fake IDs, fireworks and related goods, products with varying legal status, etc.)
High-risk businesses (bankruptcy lawyers, medical benefit packages, travel reservation services, etc.)
Multi-level marketing (pyramid schemes)
Social media activity (sale of Twitter or Instagram followers, Youtube views, etc.)
Of course, some of these restrictions can be bypassed by using a different payment gateway. But! It is important to understand that every payment service has its own restrictions and terms of use, which you need to familiarize yourself with in detail.
Shopify Guide: Popular business models to work on Shopify
Apart from common B2B and B2C business models, every Shopify merchant has at least six more options to choose from. So let's continue the Shopify tutorial with the list of the most popular business models to work on Shopify with:
1. Dropshipping
2. Print-on-demand
3. Subscription-based e-commerce
4. Wholesale
5. Marketplace
6. Digital products
Dropshipping
Dropshipping is a Shopify business model in which you do not store the products you sell. Basically, you take the order, send it to the supplier, who in turn packs and sends the product to the customer. Throughout this process, your store acts as an intermediary.
Overall, it's fair to say that Shopify leads the market of dropshipping software providers. The platform offers a large selection of dropshipping apps that make it easy to find and sell products from various vendors.
Print-on-demand
This is another extremely popular business model among the Shopify merchants. Its main idea is that you give your customers the possibility to customize the products on their own (to a greater or lesser extent). The most popular products in this area are clothing items (T-shirts, etc.) or dishes (cups, plates, etc.). Clients have the opportunity to choose the product and upload a photo of the required print. You fulfill the order and send the finished product to the customer.
This business model does not require large investment at the start and, more often than not, pays off rather quickly. Your main task will be to thoroughly plan a promotion plan and think over how your business will fight the competition in the niche.
Subscription-based e-commerce
Today, many large companies have transferred or are still moving their business to a subscription-based model. It is especially relevant and popular with "software as a service" providers (Spotify, Netflix, etc.). Along with that, numerous companies in the B2C sector gain hundreds of loyal customers by selling subscription boxes.
The essence of the option is that customers choose one of the service packages (box of products), pay monthly or once a year and use the service without any limitations. In the case of the subscription boxes, the client receives them once a month or at another frequency (discussed or offered).
We broke down every detail of

Wholesale
Yes, Shopify also provides an opportunity to try a wholesale e-commerce model. By implementing one of the available wholesale apps you get an opportunity to create customer groups and implement a flexible pricing policy for every group.
Marketplace
Another great opportunity to start an e-commerce business is to create your marketplace. The main advantage of this model is that the merchant does not need to sell any products, search for suppliers, take care of the warehouse to store goods, organize the logistics or be responsible for most other processes implied in a traditional e-commerce business management.
Launching a marketplace, you provide hundreds of other merchants with the platform where they can upload and sell their own products. In this situation, you are responsible for the marketplace uptime, marketing and promotion of the platform.
Is it possible to build a functional marketplace on Shopify?

Digital products
Recently, selling digital goods on Shopify has become even more popular. The main reasons for this are:
High profit margins (no recurring costs)
Low overhead costs (no inventory or shipping charges)
Instant delivery of the products (great potential to automate), etc.
Along with those advantages, merchants will have to face several specific challenges that always come with the digital products sale. These are:
Huge amount of free content. Hundreds of other resources may provide the same content, or the one that is very similar to yours, for free. So you'll have to find ways to compete with those resources.
Piracy. Digital products can be purchased once and then duplicated and sold again without your permission. To protect copyright, or at least reduce the risks of theft, you need to take precautions.
Restrictions. Before you start, you should thoroughly study the policies for selling digital goods in order not to violate copyright yourself.
In Shopify you can change the default settings and implement any business model with the help of specific Shopify apps that are available on the Shopify App store.
Consider Selling Digital Goods?

Features of Shopify
We couldn't leave our Shopify tutorial without an in-depth overview of the platform's features. All important features of Shopify are designed with an emphasis on the convenient sale of goods and services. Shopify offers a comprehensive catalog management, comes with built-in payment methods, and provides numerous other benefits which are necessary for effective online sales.
Templates and design
Shopify themes store provides 12 free templates – each comes in two or three different variations, which actually means a pretty good selection of design options.
If you won't find any of the free themes attractive you can use one of 117 paid premium themes (as already mentioned, each of them is presented in several styles). These themes range in price from $180 to $350, and as well as free themes, they are completely customizable.
To provide your customers with the best shopping experience

The theme store is user-friendly and you can easily browse free and paid templates using a variety of filters, namely, by:
Type of homepage
Layout style
Navigation
Industry, etc.
That is, finding a suitable template for your store won't cost you much time and effort.
In terms of aesthetics, all templates look professional, simple, and pleasant. All in all, Shopify themes store offers some of the highest quality templates that are available on the market.
Apart from the Shopify store, you can find hundreds of custom made templates on different resources like Templatemonster, where prices start from $39.
And, of course, if you are not satisfied with the ready made templates and you want to create something truly unique to better showcase your business and help build a stronger brand identity, then you are given the opportunity to create your own theme from scratch.
Shopify e-commerce features
Now, let's make a short overview of the most vital e-commerce features that Shopify offers merchants right away.
#1 Managing Shopify products and categories
Shopify offers a user-friendly and easily manageable product catalog structure, allowing both manual and bulk product uploads. The store administrator can specify product names, descriptions, characteristics, and upload files.
Another key feature is easy creation and filling the product catalogs. You can create up to 100 variations of the same product. This helps to form seasonal collections, special offers, personalized selections, and more. These collections can be sorted in different ways, like by vendor or tags, but not limited to this.
#2 Payment and shipping
Shopify platform has its own built-in payment system – Shopify Payments. Its main advantage is that you can manage all of your store's transactions on the Shopify platform. The system is easy to set up because it is fully integrated with the platform.
However, it does not work in all countries. If your country is not on this list, then you can integrate your store with the third-party payment gateways, like PayPal, Stripe, Apple Pay, Google Pay, Amazon Pay, and so on.
Shopify allows you to set the shipping rate for each region. If your store audience is localized, you can set up internal rates. If you sell and ship worldwide, then you can set rates for each country.
#3 Huge amount of apps
Today, the Shopify App Store lists a huge amount of third-party apps that help to significantly improve the out-of-the-box functionality of Shopify. Thousands of available apps are divided into six categories:
Finding products
Selling products
Orders and shipping
Store design
Marketing and conversion
Store management
Shopify marketing features
Shopify admin panel includes a marketing section out-of-the-box. Here, you can:
Create mailing lists and beautiful templates for newsletters and abandoned cart recovery programs
Track visitors through Facebook Pixel
Manage Google ads
Add products to the Google marketplace, etc.
You can create many advertising campaigns in four different areas: contextual advertising, email activity, social media services, and SMS.
You can also analyze statistics, automate different activities (newsletters sorted by groups, events and dates, update ads for selected promotion channels, optimize Shopify bounce rate, etc.). Most of these PRO-features are available after installing specialized Shopify apps.
Selling face-to-face – POS
One of the most important features of Shopify, which we want to highlight in our Shopify tutorial and which sets it apart from most of its competitors is the complex Point of Sale (POS) option and its hardware.
Shopify POS allows you to use Shopify to sell not only online, but also in physical stores through the POS terminal. Also, a wide range of equipment is available to assist you (barcode readers, receipt printers, etc.
Shopify POS toolkit can be used for a variety of purposes, for example, selling goods in pop-up stores, at market stalls, at various events, or even at retail outlets. At the same time, an automatic synchronization of inventory and product availability is available.
However, it's important to note that getting the most out of your POS functionality is only possible with the plan "Shopify" or the more expensive one.
SEO
Shopify offers a great SEO functionality that favorably compares with other hosted e-commerce platforms.
Managing on-page SEO in Shopify is very simple. Changing page titles and meta descriptions, as well as adding titles and alt texts – are easy and straightforward processes. Adding 301 redirects is also straightforward. Basically, Shopify automatically prompts you to do this when you change the page URL.
However, there are a couple of things about SEO that should be also noted in this Shopify tutorial for beginners. Although you can customize URLs, the platform adds prefixes to the collection, products and blog pages' URLs by default. For example, a prefix "/products/" in the product page URLs.
In an ideal world there should be no such prefixes at all, since Google search algorithms prefer a simpler URL structure.
Keep in mind that when we're talking about boosting the search engine rankings of your Shopify store, built-in SEO features are just the beginning. In any case you will have to work hard to optimize your store for key queries as well as work on external optimization.
Reporting
Shopify provides a wide range of different reports, including:
Customer reports (where your customers come from, percentage of new and returning customers, their total costs and when they last made an order)
Marketing reports (how you acquired your customers)
Search data reports (what products your customers were searching for)
Financial reports (sales, tax reports, etc.)
Abandoned shopping carts reports
It should be noted that the most useful reports are only available in the "Shopify", "Advanced", and "Shopify Plus" plans.
Blog
Blogging is one of the main ways to drive traffic to your site and run a successful inbound marketing campaign. Shopify provides built-in blogging tools that will allow you to create content that will help your site get higher on SERPs (search engine results pages).
Shopify's built-in blogging tools frequently match the preferences of most merchants.
Pros and cons of Shopify
Obviously, today you can hardly find any product or service that has only positive feedback. Shopify platform is not an exception. Let's clarify the most evident pros and cons you should be aware of, and which will probably help you to decide whether the Shopify platform is a good choice for you.
Shopify store pros guide
First, we'd like to underline the main advantages of the Shopify platform, since these are the most important highlights influencing the final decision.
Quick installation and ease of use
Shopify offers an easy way to quickly launch an online store without the hassle and extra development costs that usually come with most open-source platforms. The admin panel interface is very user-friendly, intuitive, and well-structured. If you don't have any experience with Shopify, you can easily find numerous articles and how-tos, as well as video tutorials to help you jumpstart.
Shopify is pretty easy to use. It has a clean and modern interface which allows you to customize and manage various sales channels (selling through Facebook, "Buy Button", Instagram, Amazon, eBay, etc.)
No technical knowledge needed to launch a store
It's true. You don't need any technical knowledge to launch and run a Shopify store. All software, hosting and SSL certificates are provided and managed by the service provider. Shopify hosting is significantly faster and safer than with other CMSs, and easily adapts to the traffic spikes. Thus you can concentrate all your efforts on the product promotion and selling instead of taking care of and fixing technical issues.
Safety and reliability
Having an online store means dealing with sensitive customer information, including credit card details. This means your site needs to be fast and secure. Shopify takes care of maintaining and updating the server, which means your store is always available to customers and also ensures fast page loading.
SSL certificates are integrated into your Shopify store to encrypt data and transfer it over a secure connection. Additionally, Shopify takes care of PCI compliance which is essential for websites dealing with credit cards.
24/7 customer support
Shopify puts a lot of efforts into customer support. Their team is available 24 hours a day, 7 days a week, almost instantly responding to requests. This means that when you face any problem, you'll never be left alone with your question and always get feedback. You can reach the support team by phone, email, or live chat. Besides, you can always find thematic forums where Shopify merchants and developers discuss the intricacies of working with the platform.
Adaptive design
Since the mobile traffic now several times exceeds the desktop one, it is not desirable but necessary (!) to optimize the website for different screen resolutions. All Shopify themes are mobile friendly. This means your store will look great on all devices and your customers will be able to buy from you wherever they are. More of that, Shopify has free Android and iOS apps that allow merchants to manage stores from their mobile devices.
Easy migration
Shopify is a platform that is easy to be migrated to. If you already run an online store on any other platform, migrating to Shopify might be a good option. Recently, after the Magento 1 end of life, we received numerous requests for the Magento to Shopify migration followed by questions about the expediency of such a decision. In this regard we've compiled a detailed Magento to Shopify migration guide, in which we've described all the stages of migration and answered the most frequently asked questions.
In general we'd like to state that it is possible to migrate to Shopify from nearly any platform. However, first of all, it is necessary to adequately assess all the risks, weigh the pros and cons, and only then make a final decision.
Shopify cons guide
Here is our bump – the challenges you'll have to face when working with Shopify.
Learning curve
At the moment when you need to customize your store (sooner or later, every successful e-commerce business faces such a moment), you'll need more technical knowledge. Sometimes, your efforts become insufficient and you either have to dive into the technical aspects of development or hire a Shopify development company that can quickly and efficiently implement all the changes you have conceived.
Limited customization opportunity
Still on the subject of customization, it is worth noting that not all functionality and capabilities of the platform can be customized. Yes, you can customize the current theme or develop a new design from scratch, expand functionality by installing third party apps or develop and implement your own modules from scratch. However, as for changing the platform source code or customizing the functionality of third-party apps – this is not available.
Costly apps
The number of apps on the Shopify app store is one of the strongest arguments both in favor of Shopify and against the platform.
On the plus side, you have a huge choice in terms of adding functionality to your store as well as in terms of integrating it with other tools and platforms. The downside is that if Shopify's native feature set doesn't fulfill your requirements, then you'll be charged every month for almost every extra app installed on your store. Accordingly, the more features you want to add, the more it will cost you.
To have an idea about the app's pricing visit the Shopify app store and read the article that tells about custom Shopify apps development process and pricing:
Shopify Tutorial: Performance Highlights
Out-of-the-box Shopify stores are known for their good performance. No doubt, the platform is made to be secure and well-performing. Shopify provides a high-quality hosting, which means your store is already guaranteed to show a good "time to first byte" indicator.
However, there are a number of ways you can slow down even the fastest Shopify store. These are:
Adding excessive number of third-party apps
Using non-optimized product images
Too many redirects and broken links
Choosing unoptimized theme
Numerous custom changes made on the front-end
If you do not regularly monitor your store performance, all these problems, one by one, can gradually and imperceptibly appear on your site. As a result, it leads to numerous problems and undoubtedly affects the website ranking in search results on Google.
To prevent such consequences, it is necessary to regularly monitor the site load speed and implement customization carefully. If today the performance of your Shopify store is already much to be desired, we recommend that you dive deeper into the reasons and find out possible solutions by reading our article:
Getting Started With Shopify: What do I Need to Start Selling on Shopify?
To set up a Shopify store and start selling, except for this Shopify guide, you don't need to gain any special skills like programming or web design.
The platform has gained such a popularity due to the fact that almost everyone can start their own online business without any difficulties or decent investment in the store design and development.
1. The store's appearance can be easily changed using one of hundreds of themes.
2. The lack of any feature out-of-the-box is easily compensated by the purchase and quick installation of the third-party apps.
3. If you need custom logic to be developed and implemented, you can always hire professional Shopify developers to help.
4. Running a Shopify store, adding products and managing stocks is easy, and a couple hours will be enough for any person to figure it out.
The Alternatives: Shopify Comparison With Other Platforms
Before our Shopify tutorial comes to its end, and you opt for one of the Shopify plans it is ok to weigh all the pros and cons of the platform and compare Shopify with other CMSs that are popular and widely used at the moment.
Today, Shopify is competing with numerous platforms. For now, Shopify is leading the market thanks to its distinctive features and provided capabilities, like:
Ease of use
Competitive pricing policy
Safety and security
Worldwide availability
Number of successful live stores
However, there are plenty of Shopify alternatives to choose among, although, not all of them deserve your attention. That's why we'd like to highlight the ones that we consider the best alternatives to Shopify. These are BigCommerce, Ecwid, and WIX.
BigCommerce
By its features, BigCommerce is very similar to Shopify and most often this platform is considered Shopify's main competitor. It is also a SaaS solution, but unlike Shopify, BigCommerce is a more pricey solution with a more complex structure and a greater set of features out-of-the-box.
Ecwid
Ecwid serves about 2 billion stores. It allows selling through Facebook and Instagram as well as creating multiple store views within one shopping cart. You don't need to have any skills or experience to run and manage the Ecwid based store.
WIX
WIX is far more affordable than BigCommerce and several times cheaper than Shopify. The VIP WIX plan costs $24/month, which is cheaper than the Basic Shopify plan. This platform is a good choice for creating your first online store for small to mid-sized businesses.
The working principles of these platforms are pretty the same, and for most people it might appear too difficult to figure out how to make the right choice. In our article we've already carried out a comparative analysis of the most popular e-commerce platforms (Saas as well as open source ones), and complemented it with a guide on what steps you should take to choose the right option for your business.
Final Thoughts
Summing up this Shopify tutorial for beginners, we'd like to highlight that Shopify is an excellent option that suits even the beginners and has:
Simple interface
Fast registration and launch
Adaptive design
A bunch of features
24/7 customer support
Affordable subscription cost
The best way to experience all the benefits of Shopify is to create your own account yourself. Use the two-week free access to understand whether the platform can become the ideal solution for your specific business, whether the declared features meet all your needs and plans for the further business growth and scaling.
Don't want to spend two weeks on research? Contact us and get the answer within a couple of days. Knowing the niche and size of your business we can save your time and assist you in making an informed decision.
https://whidegroup.com/wp-content/uploads/shopify-tutorial-for-beginners-small.webp
300
772
Olha Fedchenko
https://whidegroup.com/wp-content/uploads/whidegroup_logo.png
Olha Fedchenko
2023-04-19 12:11:05
2023-05-29 13:32:44
Shopify Tutorial for Beginners in 2023: Everything You Need to Know About Shopify Before the Launch
Shopify Tutorial for Beginners in 2023: Everything You Need to Know About Shopify Before the Launch