Over the last decade, online shopping has become a regular part of our lives. It's clear why many customers prefer online marketplaces over standard e-commerce stores. Customers' shopping preferences shift towards a more comfortable buying experience, where they can get everything they need in one place. To capitalize on this tendency, many merchants are turning to tried-and-true platforms like Shopify to build a marketplace of their own. But is building a Shopify multi-vendor marketplace really a good idea?
In this article, we will dissect the structure of a standard multi-vendor marketplace, uncover the hidden pitfalls of building a Shopify marketplace, and guide you on how to create a marketplace on Shopify that will actually work. Keep reading to find out what it takes to create a truly competitive multi-vendor marketplace on Shopify!
What is a Multi-Vendor Marketplace?
A multi-vendor marketplace is a type of e-commerce store where multiple sellers provide products on a single website. To give you a better understanding of how the marketplace structure works, take a look at the image below.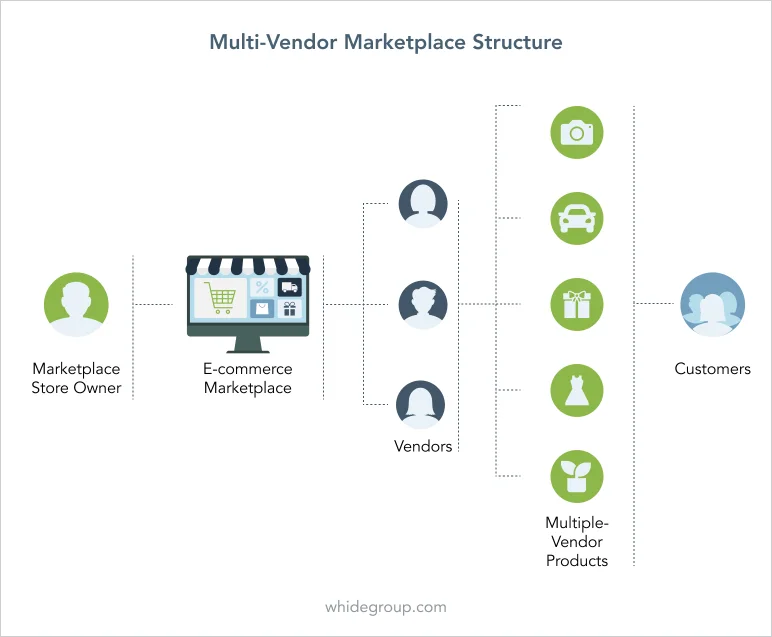 The marketplace owner's job is to connect vendors to the platform where they can sell their goods. In most marketplaces, vendors manage their stores through a separate dashboard and have a dedicated webpage for their store within the marketplace.
Generally, multi-vendor marketplaces have two types of revenue options:
Subscription-based. In this model, the marketplace owner charges vendors a regular fee for access to the platform.
Commission-based. This model is characterized by the owner charging vendors a fixed fee or a percentage as commission when they make a sale.
Marketplaces attract customers with their simplicity: shoppers can find, compare, and buy multiple products all from one place. It's also a more simplistic business model for the owner. From an outside perspective, managing a marketplace where vendors provide their own products seems easier than managing a regular e-commerce store. After all, why waste energy on finding the right suppliers, stocking the warehouse, and managing sales when you can create a marketplace of your own?
Well, not everything is as easy as it seems. Just like with any business, managing a multi-vendor marketplace is a full-time job that requires a lot of effort and a powerful platform you will build your marketplace on. As a marketplace owner, you need to be a savvy marketer and create favorable terms and conditions to attract vendors and customers to your store. You will also be responsible for handling various legal aspects, so lawyering up is always a good call.
Without further ado, let's begin our investigation into why building a multi-vendor marketplace on Shopify is not a great idea by highlighting the key features of a modern marketplace.
Key Features of a Multi-Vendor Marketplace
We have analyzed the most popular marketplaces like Amazon, eBay, and AliExpress to create a list of must-have marketplace features. It's important to implement all of these features in order to build a modern, competitive Shopify multi-vendor marketplace. Let's break down seven crucial marketplace features:
Vendor dashboards. To create a marketplace, your store must provide each vendor with their own dashboard where they can manage their store. Generally, vendor dashboards follow the structure of a regular e-commerce store dashboard. Meaning, vendors are able to upload and edit their inventory, manage orders, and view store analytics.
Flexible product catalogs. The customers must be able to see the entire product catalog of a vendor, search for specific products from their catalog, and filter items based on certain criteria, like size or color.
Combined search results. One of the rarer features of a marketplace that makes the shopping experience easier for the customers is combined search results. For example, a customer is looking for a specific set of headphones. Instead of showing them a list with dozens of identical headphones, the search results page returns one product page with a list of vendors that sell this item. That way, the customer can quickly compare the prices of each vendor and pick their favorite.
Payment Distribution System. Every marketplace has its own automated way of distributing payments to the owner and the vendors. In most marketplaces, the owner receives subscription or commission fees, while the money from a sale goes directly to the vendor. However, in instances where all of the money from a purchase goes to the owner's account, marketplaces usually have a payment distribution system that allocates the payments to the vendors.
One-package shipping. Nowadays, when customers order multiple products from different vendors, they expect that the order will be shipped in one package. After all, marketplaces would not have become so popular if the customers had to pay multiple shipping fees. A modern marketplace needs to have a system for collecting products from different vendors and putting them together in a one-package shipment.
Unified checkout. Just like with shipping, customers expect a unified checkout when they order products from different vendors. This is why it's so important to set up a clear and practical payment system for the vendors if you want to attract sellers to your marketplace.
Return Merchandise Authorization (RMA). In simple terms, RMA is a return and refund system that exists in every e-commerce business. However, for marketplaces, this system can be trickier. The marketplace must allow each vendor to set their own RMA and have an automated way to refund the customer if the return is authorized. Usually, the refund process is managed from the vendor's dashboard.
These features are a foundation for every online marketplace. As we move forward, they will serve as a basis for our analysis of why creating a Shopify multi-vendor marketplace is not the best idea.
Is Shopify a Marketplace Platform?
The very first question you must ask yourself: "Is Shopify even a marketplace platform?". The short answer is "No." By design, Shopify is not a marketplace platform. It's a platform designed to help merchants create, manage, and grow a standard e-commerce store.
The second question is: "Can you turn Shopify into a marketplace platform." Technically, yes. But a crucial moment you have to keep in mind is that marketplace features do not come out-of-the-box. You will need some kind of third-party integration to create a Shopify store marketplace.
However, it wouldn't be fair if we only discussed the negative aspects. For those who are truly determined to bring a Shopify multi-vendor marketplace to life, we want to highlight some of the benefits as well.
What Are the Benefits of Creating a Shopify Multi-Vendor Marketplace?
We have mentioned before that a lot of merchants are looking into creating their own online marketplace. But what are the actual reasons behind this increase in interest? Here's why we think a multi-vendor marketplace on Shopify is so attractive to e-commerce merchants.
#1 Lower start-up costs
The start-up costs for creating a Shopify multi-vendor marketplace will be lower than for a regular e-commerce store. After all, you don't even have to have a single product in your inventory to open up the shop. Most of your start-up budget will go towards marketplace website development and advertisement.
Another side of this benefit is that in case your start-up fails, you won't lose huge amounts of money. It's a silver lining, considering that up to 90% of e-commerce businesses close within a year.
#2 Faster income for the owner
Depending on the revenue model you choose, you will start seeing profit from your marketplace quite soon. For a subscription-based model, your first income will appear once you get some vendors to join your platform. If you choose a commission-based model, the profit will gradually increase as your vendors start producing sales. Considering that most vendors have already amassed some audience, making a profit from a marketplace will be faster than from a regular e-commerce store.
#3 Simpler marketing
Marketing a specialized e-commerce store is almost an art form that takes a lot of knowledge and time. Marketing a multi-vendor marketplace is much more straightforward. While regular e-commerce stores have to showcase the uniqueness of their product and build their brand around it, marketplaces have to attract only two audiences: vendors and buyers. Your marketing will mainly revolve around affordable programs for the vendors and user-friendliness for the customers.
With that being said, you will be competing with e-commerce giants like Amazon and eBay, which have immense customer trust. For this reason, it's vital that your Shopify multi-vendor marketplace stands out with cutting-edge functionality and properly automated features. Unfortunately, this is where Shopify as a platform suffers the most when it comes to building an online marketplace.
Why Creating a Shopify Multi-Vendor Marketplace is a Bad Idea
As we mentioned before, there are ways to turn Shopify into a marketplace platform. You can either install an app that provides marketplace functionality or hire a Shopify development team to build custom marketplace features from scratch. However, both of these options are not ideal, and the process of building a functioning marketplace on Shopify will be tedious and unnecessarily complicated. Let's stop and break down each of these issues individually.
#1 Third-party integration
Apps can be a fantastic way to expand the functionality of your store. For this reason, you can find dozens of Shopify marketplace apps on the Shopify App Store. There are several subscription plans for these apps, ranging from free plans to $1,500 per month.
While the idea of marketplace apps sounds appealing, they are inconvenient in this situation. The reality is that no apps on the Shopify App Store provide all of the necessary marketplace features needed to create a competitive multi-vendor Shopify store.
Another major issue with third-party integrations is how they affect your store's performance. Each application you install adds weight to your website, which can cause decreased page load speed.
On top of that, apps change your website's code, so if you lack coding expertise, you can unknowingly cause bugs and errors to appear across your store. Considering how much functionality expansion is needed to turn Shopify into a marketplace, you risk putting your store at a disadvantage from the very beginning.
#2 Vendor dashboards
Vendor dashboards are a basic feature present in every multi-vendor Shopify app. However, the extent of management possibilities is quite limited in most of these apps. One of the many reasons merchants choose Shopify is its comprehensive and intuitive dashboard. Vendor dashboards in these apps, on the other hand, lack the same ease of use and certain features necessary to manage and market the store.
It's also hard to predict how these dashboards will start to perform once the marketplace gets more sellers on the website. If hundreds of vendors will be actively selling each day, there is a possibility that the app can cause bugs and errors on the marketplace. Realistically, developing a custom Shopify multi-vendor marketplace is the only way to ensure stable performance in the long run.
#3 Product catalogs
Having a user-friendly yet comprehensive catalog is a must for a modern multi-vendor marketplace. Most apps provide a solid product catalog, allowing customers to search and filter for specific items, view a specific vendor's catalog, etc. You will also find that most multi-vendor Shopify apps provide an automated way to import inventory in bulk through a CSV file for the sellers. This feature also allows sellers to update the stock levels and pricing of the products automatically.
However, an in-demand feature like combined search results is missing from all Shopify apps. This means that if you want your Shopify marketplace to stand out for its user-friendliness, then modern features like this one must be custom developed.
#4 Payment distribution system
One significant issue we found about Shopify marketplace apps is the lack of a clear payment system. While some apps claim to have automated payment gateways for vendors through popular services like PayPal, others simply lack any descriptions of payment systems.
It's also hard to specify what kind of revenue model is available for the owner. Some apps allow merchants to set individual or general commissions from the sales. However, the option for a subscription model is largely missing from these apps, with only a few offering this option. Otherwise, this feature has to be custom developed.
#5 Shipping origins
Nowadays, it's a standard for marketplaces to charge only one shipping fee, even if a customer ends up buying products from different vendors. To save on the shipping, marketplace owners generally have deals with shipping providers and manage to deliver a multi-vendor purchase in one package.
However, when looking at the website possibilities, the option to combine multi-vendor orders is absent in all of the Shopify marketplace apps. Some apps offer to combine the shipping costs of different vendors into one checkout. But something tells us the customers won't be happy to pay multiple shipping fees or see a higher than expected combined total for shipping cost.
#6 Unified checkout
Just like with shipping fees, customers with orders from multiple vendors expect to go through one checkout. The option for a unified checkout exists in some apps with monthly subscription payments. Other apps lack this functionality, so the customers would have to pay for orders through separate checkouts, which may also raise security concerns.
This seemingly simple feature can play a big role in customer satisfaction and may deter them from purchasing from you in the future. You may need to invest in custom development of this feature if you want your Shopify multi-vendor marketplace to stay afloat.
#7 RMA
The RMA system might be the most prominent issue with Shopify marketplace apps. Almost no application offers an automated way to manage returns and refunds. Some apps feature a system where you can withhold vendor payment until a certain return period has passed.
While this system protects the owner from losing a commission on sales, it's not the kind of system that would attract vendors. Your other option is to develop your own system, which would dictate the management of RMAs in your marketplace.
Are There Any Alternatives?
Looking at all of these issues, it's natural to start wondering if there are any alternatives to building a marketplace on Shopify. Of course, if you're really determined to launch your own marketplace, you've got endless opportunities. Truthfully speaking, Shopify was never a good option to begin with. A better platform to create a multi-vendor marketplace would be Magento — an open-source e-commerce platform.
Unlike Shopify, Magento allows merchants to edit their store's code creating a favorable customization environment. You will have a better chance of succeeding if you drop the idea of building a Shopify multi-vendor marketplace and choose a more suitable platform.
Why is Magento a better choice?

With that being said, if you're still convinced that your marketplace should be built on Shopify, we want to guide you in the right direction.
How to Create a Marketplace on Shopify?
Now that you're aware of the drawbacks and benefits of creating a Shopify multi-vendor marketplace, let's discuss how you can turn Shopify into a marketplace. As we brought up before, you have two options to choose from:
Installing third-party integrations to your Shopify store
Investing in custom Shopify marketplace development
While the second option is obviously better, we still want to give you solid options when it comes to marketplace apps. But first, if you haven't already, you need to create your Shopify store. You can follow this tutorial to get started.
Apps to transform Shopify into a multi-vendor marketplace
Shopify App Store is filled with dozens of Shopify multi-vendor marketplace apps. Nonetheless, most of them don't offer a full-package solution and require you to install additional apps to create a functional marketplace. With that being said, we managed to find three Shopify marketplace apps that offer all of the standard and necessary marketplace features to launch your store. Let's take a look at each of them:
Onport. One of the most recommended Shopify multi-vendor marketplace apps, Onport offers a basic set of marketplace features. Its winning point is automation on everything. Meaning you won't have to do any managing manually. They also have great customer support in case any issues arise. The subscription plans range from $1000 to $3,500 per month.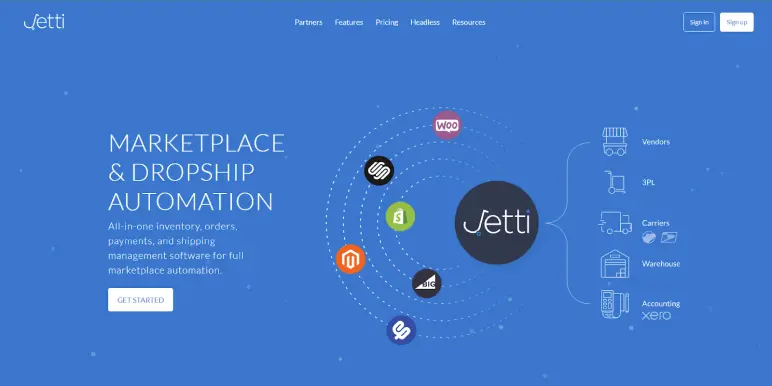 ShipTurtle. This newer Shopify marketplace app has gained popularity among users for its inclusivity of features. A unique offer of ShipTurtle is its partnership with popular shipping providers, which allows merchants to ship orders at a discounted price. Their subscription plans range from free to $69 per month.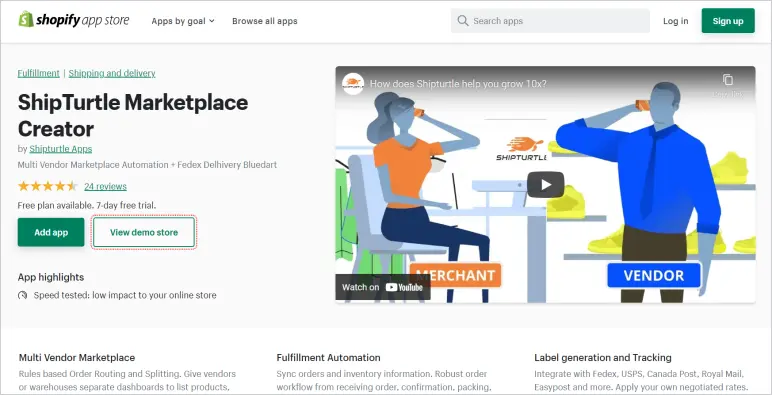 Multi Vendor Marketplace. A standard multi-vendor marketplace app for Shopify with basic features. This app is known for its comprehensive vendor dashboards that let sellers control almost every aspect of their store. The price for a monthly subscription ranges between $10 to $45.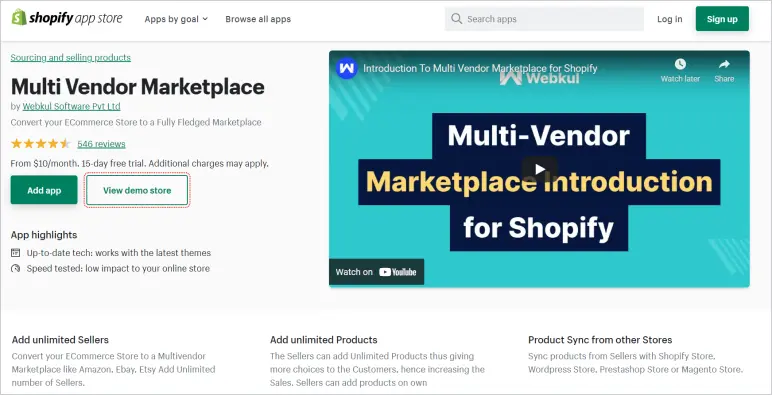 Keep in mind that while these apps stand out with their functionality, there is no guarantee they will work properly to sustain a multi-vendor marketplace. You also have to consider that apps can be discontinued at any point, leaving your marketplace with no base to function.
Custom Shopify multi-vendor marketplace development
If you're really determined to create a truly competitive marketplace on Shopify, hiring a Shopify development company will be your best course of action. Working with a professional team is the only way you can ensure your Shopify marketplace works properly and doesn't cause issues for you, your vendors, or your customers.
The price of developing a custom marketplace will depend on many factors, such as:
The set of features needed
The specialization of the company (general web development, e-commerce development, etc.)
Developers' hourly rate
Generally, you can expect the cost to be anywhere between $20,000 to $70,000 for a custom Shopify multi-vendor marketplace.
How much does it cost to develop a custom Shopify app?

With custom development the cost justifies the extent of work. An experienced development team can give you priceless advice on which features will be in-demand and which aspects you should avoid. After all, marketplace giants like Amazon or eBay work with professional teams to maintain their competitiveness. Remember that great businesses were never built by simply installing a couple of plugins.
Everything you need to know about

Final Thoughts
Multi-vendor marketplaces are on top of their popularity right now. In an attempt to be on-trend, merchants are looking for ways to start their own marketplace business. However, some methods of achieving the goal are worse than others. If the idea of creating a Shopify multi-vendor marketplace sounds good to you, then we hope you'll rethink your decision after reading this article.
Unfortunately, after carefully analyzing Shopify and its possibilities as a marketplace platform, we can confidently say that it's not a great option. You have much more suitable solutions out there to help create and sustain a multi-vendor marketplace from Magento to custom development. If you have any questions about marketplace development and want a professional team to handle the project, feel free to contact us for a consultation!
https://whidegroup.com/wp-content/uploads/small-cover-shopify-multi-vendor-marketplace-1.webp
300
772
Kristina Bardusova
https://whidegroup.com/wp-content/uploads/whidegroup_logo.png
Kristina Bardusova
2022-08-02 16:44:05
2023-05-18 15:45:07
Shopify Multi-Vendor Marketplace: The Brutal Truth No One Will Tell You
Shopify Multi-Vendor Marketplace: The Brutal Truth No One Will Tell You