When launching e-commerce businesses, most Shopify merchants dream about expanding their brand and owning multiple stores. But once you're at the stage where you're able to open up multiple stores, you start questioning how to make this approach work.
Learning how to avoid common pitfalls and how to get the most out of the opportunities is crucial to a successful business expansion. In this article, we will explore what it takes to create multiple Shopify stores, as well as give you tips on how to manage them more efficiently.
By definition, multiple stores are a network of retail shops under the same ownership and management. Running multiple Shopify stores is a great way for merchants to reach a broader net of buyers or try something new to spice up the brand. Let's take a closer look at some of the reasons why merchants choose to open up several Shopify stores and what benefits you can get from the expansion!
What Are the Reasons and Benefits of Creating Multiple Shopify Stores?
It's natural for e-commerce businesses to branch out as they grow bigger. Some of them choose to open multiple Shopify stores simply for the reason of selling internationally, while others want to try out a new niche. All of these reasons are valid and have the power to scale your business when handled properly. So, why should you create a second Shopify store?
#1 Enter international markets
The most common reason why merchants decide to open up multiple shops on Shopify is the desire to sell internationally. Getting your products on a foreign market is usually the first step of any business expansion. It's not surprising, since the more people can find and purchase your items, the bigger your profits will be.
However, shopping habits and consumer needs differ for each country. What may be a best-seller in your region may not be in-demand in another. To find commercial success in a foreign region, you must conduct substantial market research. It will help you discover what type of products and aesthetics are popular in a certain country.
With that being said, going global is something every merchant should consider once the opportunity to open multiple Shopify stores arrives. Having a separate Shopify store for each country is a great way to ensure that your shop sells localized products in their native currency and is tailored to a specific audience. After all, breaking into international markets is how you get your brand known worldwide.
#2 Targeting different audiences
For businesses that sell multiple types of products it is a great idea to separate items and target each customer segment individually. Let's say you sell handcrafted items and are interested in separating your products into different categories, like accessories and decor. This approach would allow you to focus on marketing each of your multiple shops on Shopify individually, which will ultimately introduce more people to your brand.
Another reason why merchants open multiple Shopify stores is having more than one distinct type of customer. For example, if you sell products at multiple price points, like luxury items, mid-range, and affordable, having a separate store for each price range makes the buying experience more enjoyable. Essentially, this approach minimizes the amount of products customers have to sift through in order to find the right segment, which can also result in a better conversion rate.
#3 Expanding your brand
Expanding your brand is a natural progression for a business that has been on the market for years. Sometimes, when merchants get successful selling a specific type of product, they want to try selling something else entirely. In that case, expanding your brand to include other products or creating a sub-brand is a better option than creating an entirely new store.
Running multiple Shopify stores under the same brand also raises your brand awareness. Establishing a name for yourself in different niches is undoubtedly a way to be remembered for years to come. It also makes your marketing more consistent and raises the chances that your loyal customers would be interested in purchasing something new from you.
What Kind of Challenges to Expect When Managing Multiple Shopify Stores?
Setting up multiple Shopify stores is only half the battle. Managing one store is not an easy task to begin with, let alone having to take care of two or more shops. With separate stores, merchants have separate orders, items, and inventory data to manage.
Consequently, you have to face a range of issues:
Order management. Managing and fulfilling orders accurately is your first and foremost job. However, when you have orders incoming from multiple stores, it becomes extremely difficult to keep track of all of the order details. This may lead to orders being fulfilled incorrectly, which is the last thing your reputation needs. We will cover this issue in more detail below.
Shipping. This issue becomes prominent when you have multiple shipping options in all of your stores. Ensuring that the right product is shipped to the right person using the right provider can become an overwhelming task with multiple Shopify stores.
Warehouse management. If you have separate warehouses for each of your stores, managing your inventory won't be a huge headache. But in most cases, merchants end up using the same warehouse for all stores. Consequently, managing your SKUs becomes a tedious job that leaves no room for error.
Developing custom extensions is not a challenge for us!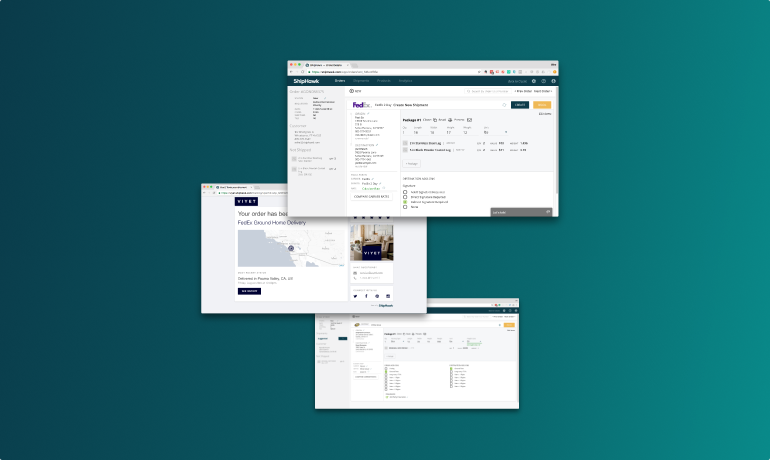 Third-party integrations. You can build and manage a Shopify store without any third-party integrations, which is practical, but, you will no doubt end up installing at least a couple apps. Considering that most Shopify apps which deserve your attention are not free (some are even quite expensive), purchasing apps for each store is going to cost you a pretty penny.
We know exactly which Shopify apps you should be using in your store

Not to mention, you'll also need to track analytics for each store in order to stay afloat, which can become confusing and frustrating. Realistically, you have to be prepared to expand your staff and hire admins to manage each store individually. This can save you from making reputation-ending mistakes in the long run.
Can You Have Multiple Shopify Stores Under One Account?
Now that you have weighed the pros and cons of making multiple Shopify stores, the next question you must ask is how many stores can you have on one Shopify account. Well, the answer is rather nuanced.
Technically, the three regular Shopify plans — Basic Shopify, Shopify, and Advanced Shopify — do not permit multiple stores under one account. However, Shopify allows owning multiple accounts to run separate Shopify stores. That means you have to create an individual account for every store. Luckily, you have the option to use the same email address to make multiple Shopify stores.
With that being said, you have another option — Shopify Plus. This is an enterprise-level subscription plan that allows for bigger flexibility to scale the business. Shopify Plus comes with the ability to create sub-stores under one account. These sub-stores make a good fit for global expansion or experimenting with different niches. However, Shopify Plus still lacks a proper multi-store architecture and a centralized way to manage all of the stores.
Let's stop and discuss the ways you can create multiple Shopify stores and the features you will have in more detail.
How to Have Multiple Shopify Stores?
As we mentioned above, you have two routes for choosing how to create multiple Shopify stores: through purchasing separate plans or through upgrading to Shopify Plus. Both of these options are solid and can sustain multiple stores in the long run. However, the features and disadvantages that come with each option won't fit everyone. Luckily, we're here to help you choose the right course of action!
#1 Multiple Shopify stores with separate plans
The simplest way to create multiple Shopify stores is to buy another plan. The good news is that you can choose whichever plan you want for each store. That means you can have stores that are on Basic Shopify, Shopify, or Advanced Shopify. This can save you a lot of money, especially if you only plan to expand internationally. Shopify also recognizes the need for multiple stores, which is why you can use the same login credentials for all of your stores.
Unfortunately, this is where the benefits end.
The first major downfall of creating multiple Shopify stores on separate plans is the need to install applications on each store individually. Unfortunately, you can't buy and install an app once and have it be functional across several accounts. Depending on which apps you use in your stores, you may end up buying the same app multiple times.
The second issue is the fact that you can't switch between accounts without logging out. Having to log in and out of accounts to access your multiple stores can become quite frustrating, even if your login credentials are identical.
In summary: this option is a good fit if you plan to create multiple Shopify stores for selling internationally or for separating items. That way you can simply import the inventory to another store and copy the general look and structure of your main store.
#2 Multiple Shopify stores on Shopify Plus
Your other option is to upgrade your existing plan to Shopify Plus. After purchasing this plan, you will own one main store and nine additional sub-stores. In case nine sub-stores is not enough, this plan also allows you to purchase more sub-stores for $250 each.
Technically, all of these stores will be under your main account, which means you can switch between them and view analytics for each store from your main dashboard. Another great feature of Shopify Plus is the access to Script Editor. This feature allows you to write your own scripts and create personalized customer experiences. Which can be of huge help if you want to build new stores with an entirely different direction.
With that being said, even on Shopify Plus you're unable to manage multiple Shopify stores from one centralized dashboard. On top of that, you have to keep in mind the cost of Shopify Plus, which starts at $2,000 per month. Considering how limited the functionality for managing multiple stores is, this option is not ideal.
To summarize: upgrading to Shopify Plus will fit only large-scale businesses that need considerable functionality expansions and can pay a hefty sum every month for multiple Shopify stores under one account. Still, there are better e-commerce solutions out there that would be much more convenient in this case.
Advice on How to Manage Multiple Shopify Stores More Efficiently
Whichever route you choose, managing multiple Shopify stores will become a major headache if you don't know how to optimize your resources. Whatever option you choose, you will need additional software and third-party integrations to make your multiple stores work. Below, we put together five useful tips on how to manage multiple Shopify stores more efficiently.
#1 Implement a Warehouse Management System (WMS)
WMS is a software designed to organize the work of a warehouse or a distribution center. Running multiple Shopify stores means keeping track of all of the different SKUs. Not only may it become confusing as to which products are in which store, you also risk losing or delivering the order incorrectly.
Such WMS integrations monitor that inventory is received, stored, packed, shipped, and replenished all in real-time! For that reason, installing a WMS is how you avoid messing up your inventory, especially if you keep all of your products in one warehouse.
#2 Install a Product Information Management (PIM) system
If you want to run multiple Shopify stores, you will need to install a PIM system. Such a system allows you to centralize all of your order data in one place, meaning you'll be able to fulfill orders, see shipping information, manage returns and refunds from multiple stores all from one dashboard.
For example, this is how a centralized product management dashboard with items across multiple Shopify stores looks like in Jasper PIM app: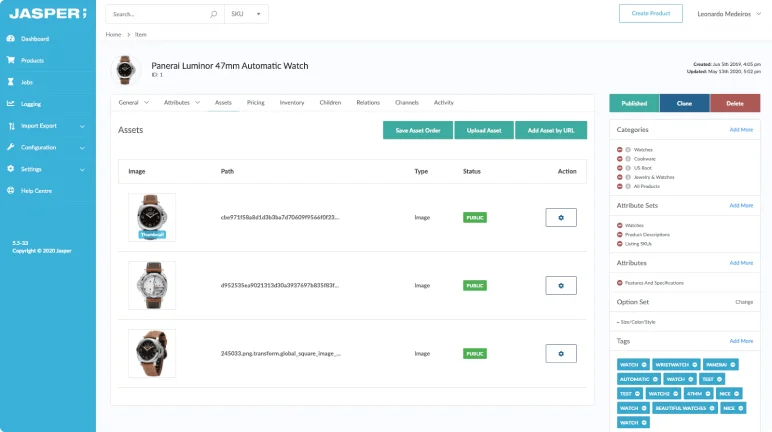 This type of system is necessary in this scenario, since managing multiple stores separately is just unrealistic. A good PIM system always includes real-time inventory synchronization and options to automatically push and fulfill orders from multiple stores.
#3 Centralize your customer support
Ensuring that your customer support is efficient in all stores is also a crucial moment. Since you will be overwhelmed with orders and, subsequently, occasional customer support queries, you will need a third-party integration to make your customer support more productive.
Consolidating your customer support system means installing an application that pulls all support queries to one dashboard. This will allow you and your team to access queries from one place and make sure that all support tickets are answered.
#4 Take care of each store's SEO
If you want to open an international store, you have to keep in mind that those regions won't always be using the same keyword to find certain products. You have to conduct keyword research for each regional store individually to make sure your store is actually visible to foreign customers.
Keyword research is also necessary if you plan to open multiple Shopify stores which will sell different products altogether. Analyzing consumer trends through Google Analytics will help you understand what keywords you should use on the site.
#5 Keep your branding cohesive
Unless you want to open up an entirely different store under a new brand, you have to maintain a cohesive theme across all of your stores. Branding is like a lifeline for e-commerce businesses. If you fail to establish your distinct identity on the market, you will be quickly forgotten.
Even if you plan to target a different audience, keep your color palette and brand voice the same. This will build a stronger recognition around your brand, which can eventually raise consumer trust and bring more new customers to your stores. After all, if you put enough work into your brand, sooner or later the brand will start working for you.
Top Apps for Managing Multiple Shopify Stores
Managing multiple Shopify stores would be highly frustrating without some basic apps to help you out. Lucky for you, we dug through Shopify App Store to bring you a list of the best apps that make running multiple Shopify stores much easier. Let's see what these apps have to offer!
Matrixify. This is an app that helps you manage your entire Shopify store data, as well as migrate data between stores. Matrixify lets you import entire catalogs between your stores with a single Excel or CSV template, which saves you countless hours of transferring data manually. It's also a great app in case you need to backup your whole shop. Matrixify offers four subscription plans, starting from free to $200 per month.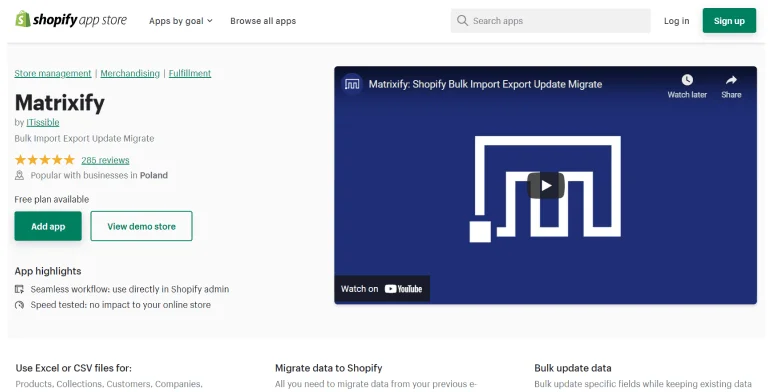 Syncio. This app lets you connect your stores with real-time inventory and order synchronization across multiple Shopify stores. In a nutshell, Syncio is a fantastic PIM app for centralizing your order management in one dashboard. It also connects products from all your stores in real-time, so any updates will take effect immediately, reducing your chances of selling sold out items. The price for a monthly subscription ranges between $19 to $69.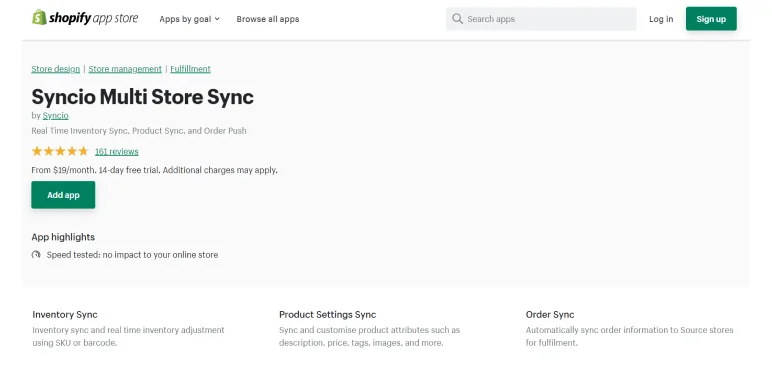 ShipHero. It's a great WMS app for businesses with large inventory, especially for those who store their products in one warehouse. ShipHero helps you monitor order shipment in real-time, even from multiple warehouses. You will also receive accurate information about what's in stock, what's sold out and what needs to be replenished. ShipHero is a more costly app, with a subscription plan for regular brands sitting at $1,850 per month.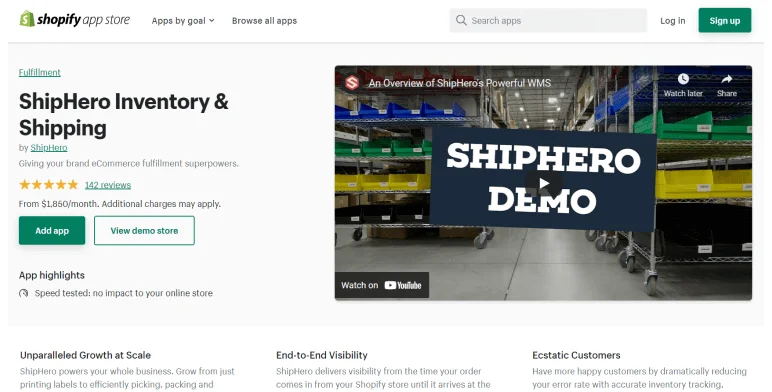 Gorgias. This is a help desk app that allows your customer service team to manage all of your support in one place. Gorgias lets you gather customer messages from email, live chat, social media, Contact Us page, etc. from a single dashboard. Messages come with a full message history, as well as customer's order information. Gorgias offers three subscription plans, with prices between $60 to $900 per month.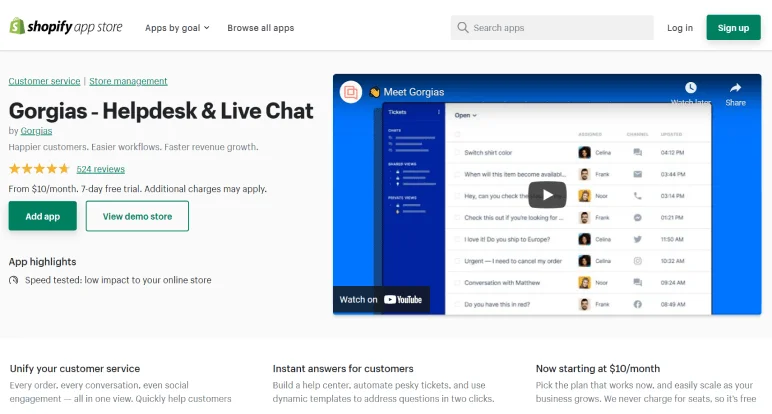 langify. It's a great translation app for international multiple Shopify stores. langify automatically translates your store into any language when a user lands on your website. Users can also manually translate the store into any language they want. The price for a monthly subscription is $17.50, with a seven day free trial period.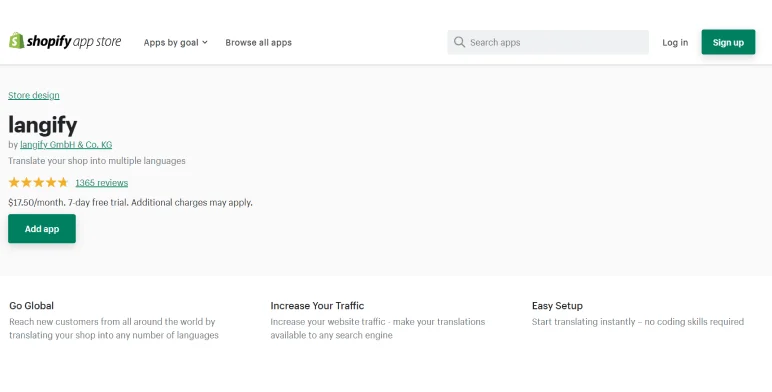 We highly recommend installing these apps to increase your efficiency when managing multiple shops on Shopify.
Final Thoughts
The decision to open up multiple Shopify stores may come from various reasons. But the point is always about expanding your business and creating a long-lasting name for your brand. Undoubtedly, it can be a scary step to take, since setting up multiple Shopify stores and efficiently managing them is a challenging task even for experienced merchants. However, with an educated approach and a lot of determination, you can achieve major success. This will make this nerve-wracking experience worth it in the long run.
In this article, we explored the challenges and benefits of running multiple Shopify stores, what options Shopify offers for creating multiple stores, how to make management more efficient, and which apps will make the expansion more trouble-free. If you have any questions about growing your business on Shopify, feel free to drop us a line for a consultation with our experienced team of e-commerce developers. We look forward to hearing your ideas!
https://whidegroup.com/wp-content/uploads/small-cover-multiple-shopify-stores.webp
300
772
Kristina Bardusova
https://whidegroup.com/wp-content/uploads/whidegroup_logo.png
Kristina Bardusova
2022-08-16 16:54:55
2023-05-17 11:30:53
What to Expect When Creating Multiple Shopify Stores: Challenges and Benefits Explored
What to Expect When Creating Multiple Shopify Stores: Challenges and Benefits Explored