Running an e-commerce store is a pretty tricky endeavor. If you have one, then you already know that well. In addition to requiring extensive focus on technical aspects, it also requires a lot of inspiration, perceptive insights, and keeping a sharp eye on your competitors – the best Shopify stores are great for motivating other e-commerce entrepreneurs to be even better.
To learn more information about Shopify, its distinctive features, disadvantages and everything else you might want to know about the platform go on reading our
Shopify tutorial for beginners
.
However, the following questions arise – what factors make a Shopify store great and what stores are worthy of our interest? Let's explore this together in the article below!
What Turns a Regular Shopify Store Into a True Star?
As a successful Shopify development company with a proven track record, at Whidegroup, we recommend that you draw your attention to the following aspects:
Design

– a book is often judged by its cover, and the same goes for a website. Taking care of your website's design is well worth every effort.

Performance optimization

– don't make visitors wait years for page loads – that's a death knell for the business. Turn to Google PageSpeed Insights in order to check your performance score on their points system, as you'll see we did with our site reviews below.

Social networks

– socials are an undeniable part of contemporary life, increasing your outreach far beyond the official website. Thus, it's short-sighted to not include them in your strategy.

Caring for the customer

– providing the customer w/ a variety of payment options, like showcasing the products from all angles, writing attractive and inclusive product descriptions – these are all important pieces of the puzzle when it comes to providing for the customer!

Combining all the above-mentioned wisely

– at the end of the day, building a website is kind of like cooking – follow the instructions and recommendations written on the food-stained pages, but don't be scared to be creative and try a few new ingredients. We're pretty sure you'll be thrilled with the result!
In order to show you the good stuff when it comes to existing Shopify stores, we've researched a vast amount of e-commerce websites. While it wasn't an easy task to undertake, we have succeeded in delivering to you a complete list of the 10 best stores on Shopify.
The Best Existing Shopify Stores
Keeping in mind that a brand's reputation and authority are not sufficient to be considered successful, we decided to concentrate on the success factors listed in the previous section. So, here's our top Shopify stores:
So, What Should We Take Stock In?
Despite being so different, all the stores more or less have the same strengths and weaknesses. Let's look closer at them with some conclusions:
Virtually every one of the reviewed stores has a decent desktop performance score.
At the same time many websites suffer from poor mobile performance. This means that the customers who shop through their mobile devices are more likely to abandon the website. Something for improvement for sure.
Website navigation has often been sacrificed in the design, resulting in difficulties in finding products (You can see this particularly clearly on the site for SIR the label – try to find the Shop button on its homepage).
As for the social platforms – we've reviewed over 300 various Shopify stores, and 282 of them have an Instagram and Facebook presence. For you, this means you definitely shouldn't limit yourself to the website only – go ahead and show how great you are via social networks. We recommend that you concentrate on Instagram primarily, the runner-up should be Facebook, and the third place is equally distributed between Pinterest, Twitter, and Tumblr.
Whidegroup Experience in Shopify Stores Development
We've recently finished working on a large Shopify e-commerce development project. It was the website for a flourishing brand of baby carriers, slings, and wraps.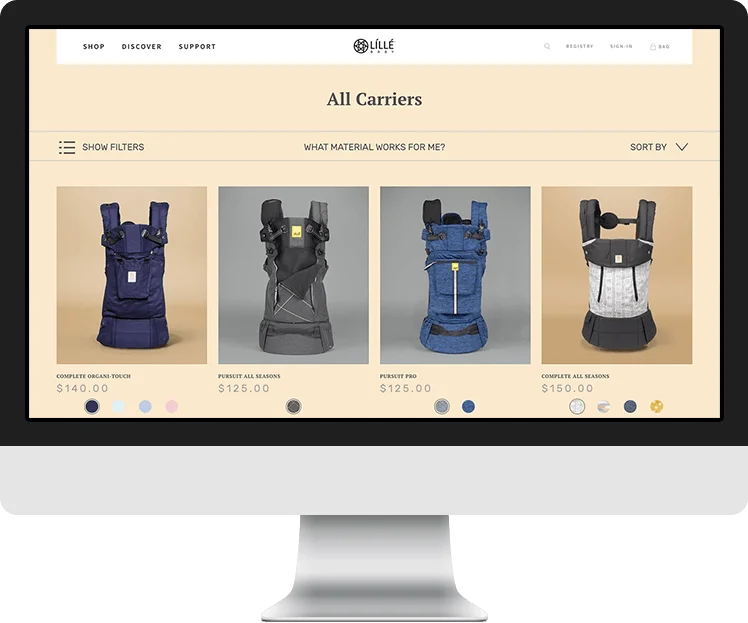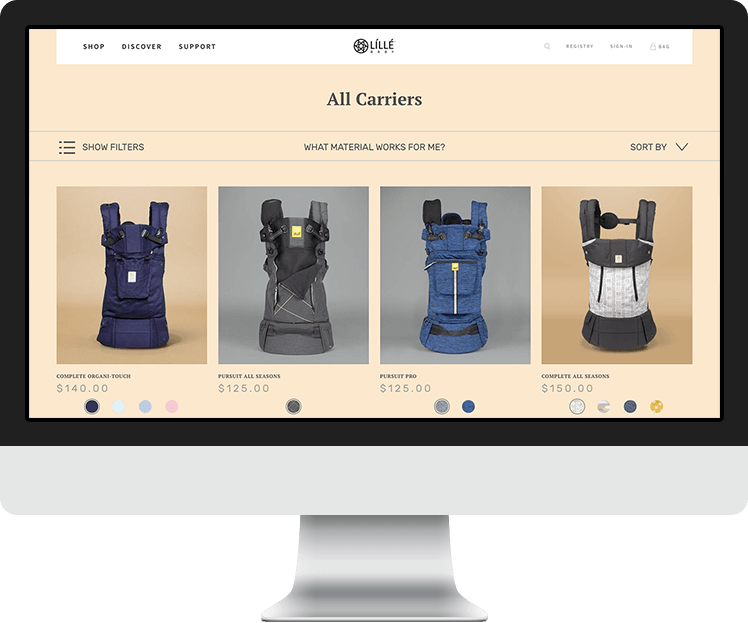 The process to develop the website was challenging and even a bit overwhelming, albeit fascinating at the same time. Here are the steps we took to help the owner and eventually bring the brand to success:
1. Gathering requirements

– we consider this stage to be the most crucial one since this is the foundation which defines the main direction of all further actions. Our priority is to determine the primary constraints: scope, time, and budget. The owner of the project already had examples he shared with us. We also asked the client to provide us with references to similar resources he liked.

2. Analysis stage

– once the requirements are gathered, it's time for analysis estimations. We turned the business requirements into technical language in order to formulate precise tasks. We then estimated them, and coordinated milestones and timeframes with the owner.

3. Design

– during the mockup development, the owner expressed a desire to see the website in light and pastel shades. The ready design turned out highly appealing, and was appreciated not only by the owner, but by the customers as well.

4. Frontend & Backend

– in order to speed up the development process and bring the launch closer, we decided to do frontend alongside the backend. This allowed us to save approximately 2 months. That saved time was critical for our client.

5. Performance optimization

– we know how important page load speed is. That's why we worked hard over speeding up the ready website. For this particular project we concentrated our efforts on lazy load implementation, content delivery network application, and reworking the numerous product images.
Building a successful Shopify store is not a quick sprint, but a marathon which can be exhausting and stressful at times. Nonetheless, this is an exciting adventure you should take on, and you can look forward to being rewarded by having your store included in the top Shopify stores list.
Final Thoughts
As you can see from reviewing the most successful Shopify stores above, creating a lucrative Shopify based store is not exactly a piece of cake. However, you can count on success with the right assistance. After years of developing prosperous Shopify stores, Whidegroup can be such an assistant for you. Start telling your own Shopify story now and let us be your editor!
https://whidegroup.com/wp-content/uploads/best-shopify-stores-small.webp
300
772
Olha Fedchenko
https://whidegroup.com/wp-content/uploads/whidegroup_logo.png
Olha Fedchenko
2019-08-23 07:12:19
2023-05-18 15:58:56
The Best Shopify Stores: Their Strengths, Weaknesses, and What You Can Learn from Them
The Best Shopify Stores: Their Strengths, Weaknesses, and What You Can Learn from Them