The success of the e-commerce marketplace really taunts some business owners. It's no wonder, since the incomes of eBay, Alibaba and Amazon demonstrate a tendency towards growth. It's quite natural that their popularity has resulted in many people and businesses wanting to mimic this marketplace, and create a multi-vendor marketplace like eBay by growing similar e-commerce platforms within a variety of niches.
In this article, we discover how to develop a multi-vendor e-commerce website. You'll see that the process is not overly complicated, and once the website goes live, you can concentrate on marketing activities to grow your business.
Reasons to Build a Magento Marketplace Store Like eBay
The e-commerce sphere moves forward every second, changing and mutating into various intricate forms. Undoubtedly, you've dealt with both simple e-commerce stores, which represent a single seller, as well as marketplaces, or, websites where you can find products from multiple vendors, whether they are companies, enterprises or people, in the same platform.
However, the most profitable form of e-commerce today is considered to be the multi-vendor marketplace. The multi vendor marketplace is an e-commerce website with a structure that is strictly-organized in a logical and intuitive way – a list of multiple vendors with the intention of bringing more sales to the platform. Not convinced? In case you're still a bit hesitant to make your own multi-vendor Magento store like eBay, below you can see the list of the benefits of running a multi-vendor marketplace.
Attract More Customers
You can invite various merchants and sellers to cooperate with you and sell their products on your marketplace. Therefore, your multi-vendor marketplace can offer a wider range of the products, due to the multiplicity of the distributors, and this way you can attract a bigger audience to your marketplace. A while after launching a multi-vendor marketplace, you'll get an impressive customer database, because generally marketplaces get more traffic than traditional e-commerce websites. Further, you can use the gathered customer data for, let's say, building your new marketing strategy or advertising campaign.
Chance to Turn Your Marketplace into a Community
One of the major features of a multi-vendor marketplace is that it brings together offers from a wide range of suppliers and service providers. It's quite natural that customers are more apt to use a platform with a broad range of options so they can choose their desired items without having to limit their choice to a single provider. This convenience also means they are more likely to come back to an impressive marketplace. Hence, your marketplace will have a chance to turn into a sort of community – an online platform where customers and suppliers promote their goods and services and can communicate to each other. Consequently, for your purposes, it means more attention from a greater number of visitors, who may be interested in purchasing advertising space from you.
Commission Fee
As a marketplace owner, you'll get a commission for every product sold via your website, and the profit will increase exponentially as the number of vendors and products increases. You're free to set various commission schemes on different products, categories and vendors. Also if you're engaged in online payment processing, you can charge a fee for this procedure as well. The same thing with shipping – if you're offering logistics services to your vendors, yourself or use 3rd party provider partnership, your business can profit from this.
Benefits for Vendors and Customers
However, it's not only you who's about to get benefits from the marketplace business model – vendors can also grab advantages from such cooperation! Let's look at their benefits in detail:
– Vendors can leverage traffic to get more customers, which is an excellent opportunity for small businesses with modest budgets to build marketing strategy for direct customer outreach.
– Since multichannel sales is a popular strategy currently, selling on a marketplace will lead to more impressive sales. Also, selling at multiple channels will undoubtedly boost sales and revenue.
As for the customers, their benefit is accessing the wide range of the vendors and the products they can purchase. They can choose an item for a competitive price among a diverse inventory. They can also save a good amount of time while shopping with various vendors, and decide on them on the basis of price, rating, and location. Other benefits can include customer support, warranty, and delivery time.
We're Whidegroup
We develop optimized
e-commerce stores.
How Much Does It Cost to Build a Magento Website like eBay
As a business owner, you know well that cost is an extremely vital issue to consider while making any business decision. When it comes to building a multi-vendor marketplace, the cost isn't readily obvious and you have to do a little research to get there. To do this, we suggest you review the steps of development for a marketplace and estimate the cost of implementing them. Don't worry, we're here to help! Let's dig deep to find out how much it costs to build a multi-vendor marketplace like eBay.
Hosting Issue
Every web-based project starts with the hosting. So, what hosting provider is right for you? To answer this question, first we recommend that you review the current most popular hosting services providers.
Platform Selection
After you have become acquainted with the details of your hosting choice, it's the right time to choose the platform to build your store on. You're welcome to choose from a wide variety of platforms, but let's be honest with each other: choosing the perfect platform is an extremely daunting task. So, you should find something that will simplify the process of the store management, such as: managing the vendors, inventory, transactions, money management, etc., for a reasonable price.
With light of our extensive experience in e-commerce development, we recommend you draw your attention to Magento 2. This platform is very robust, reliable and scalable. It also supports many essential features, such as order management, invoices, shipments, shipping methods, payment methods, and customer information management. In this way, Magento meets the needs of the vendor, while simultaneously providing customers with a comfortable environment in which to make purchases. Magento marketplace can easily be labelled customer-centric, which is extremely vital in the age of e-commerce competition. After all, this platform supports all six product types: simple, virtual, downloadable, configurable, bundled, and grouped. In addition to the benefits listed above, Magento offers variety of multi-vendor extensions, which allow you to turn an e-commerce website into a marketplace, hassle-free.
Features of Magento 2 are abundant and include but are not limited to:
Complete order management, including order tracking
Rich inventory management features, which include product approval, returns and exchanges.
Communication management features: customer emails, order and delivery notes
Comprehensive invoicing
A plethora of payment and shipping methods
Customer information management
Design of the Magento Multi Vendor Marketplace
A common situation is that design and UX are overlooked when an entrepreneur wants to create a marketplace like eBay with Magento. However, the ease of exploring and navigating a website is important in serving its main purpose: selling. The design is vital for everyone engaged in the marketplace. After all, a website's design is the first thing a user sees, and a simple, slick, clean design helps the vendor manage their store without difficulty.
Through the design, we intuitively feel trust, or a lack thereof, in a website's purposes. Through the design, we intuitively feel trust, or a lack thereof, in a website's purposes, and one major impactor on trust is simply whether the site has been professionally executed or not. What do we mean? For example, a template that has been downloaded by a thousand users before may seem like a dependable choice but not for the multi-vendor online website marketplace. With regard to the costs: to create a successful design for your website, you'll need a professional designer's engagement. In most cases, such a project will take anywhere from 48 to 144 hours, depending on the level of customization you desire. The hourly rate also varies dramatically, from $25 and up to infinity. Look for a happy medium, tailored for your business needs and you'll be fine!
Must-Have Features for the Magento Multi-Vendor Marketplace
As an extremely complex structure, a multi-vendor marketplace has to offer features that make everybody's interaction with it smooth and simple. So, let's learn what aspects should be taken into account for the creation a successful marketplace with a multiplicity of vendors:
Vendors will mostly appreciate the features intended for convenient and clean order management, invoices, shipments, credit memos and transactions. On the image below, you can review the most in-demand features from last year.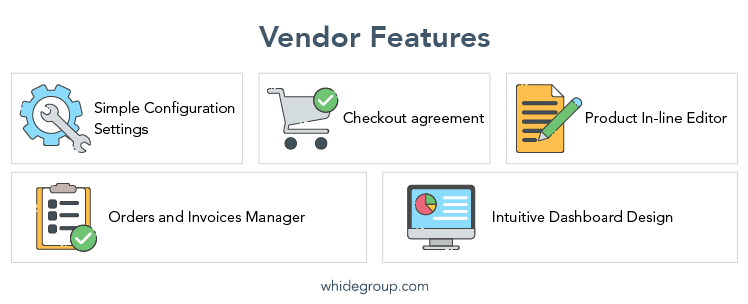 As for the marketplace administrator, they will just be happy to have a simple and easy-to-use interface that helps them deal with multiple vendors, a statistics dashboard and settings manager.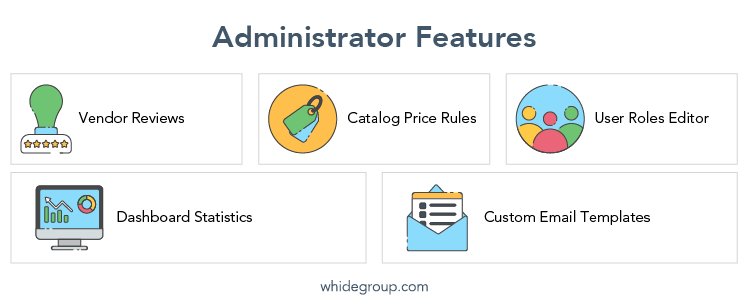 In turn,customers will appreciate features that simplify the buyer's journey and straightforward contact information.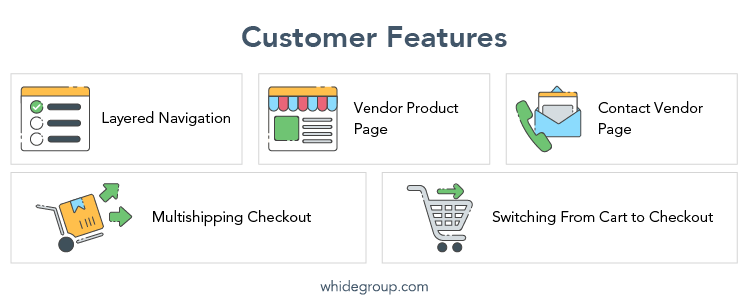 Choose an Extension for Your Multi Vendor Marketplace
The most reasonable way to create a marketplace on a Magento platform is to leverage one of the numerous Magento multi-vendor extensions. However, it can be a bit of a challenge to find the one most suitable for you and your business as some extensions are simple enough, while others require qualified specialist involvement to do custom development. The latter option is more likely, since in most cases extensions need serious professional assistance. Below, you can find the most widespread extensions used to create a marketplace like eBay with Magento.
Name of the extension
Features highlights
Price
Final Thoughts
Building a multi-vendor marketplace platform can be quite challenging, but it certainly justifies the expenditure of effort. With many modern solutions like extensions and plugins, the process continues to become smoother and easier. Undoubtedly, now is the right moment for you to grab the chance and implement this profitable e-commerce model in your business. If you've made up your mind, or perhaps are still hesitating – drop us a line!
P.S.: We thought you might be interested in knowing some facts about marketplaces:
– Altimeter claims that 67% of marketplaces generate more than $50M annually and 32% generate more than $100M annually with the majority of marketplaces reporting a Gross Merchandise Volume (GMV) between $500M to $999M.
– 59% of marketing executives say that new product/service launching is their most important marketplace objective for 2019.
– 39% of marketing big cheeses say that differentiating from competitors is their greatest challenge, followed by buyer retention (32%), buyer acquisition (29%) and effective social media campaigns (29%).
– A lack of sellers who meet their needs (53%) is currently the biggest reason buyers leave marketplaces.
https://whidegroup.com/wp-content/uploads/bg_blog2.png
292
746
mary
https://whidegroup.com/wp-content/uploads/whidegroup_logo.png
mary
2019-03-21 11:22:33
2020-03-18 12:50:15
Building a Magento Multi-Vendor Marketplace like eBay
Building a Magento Multi-Vendor Marketplace like eBay