Running an e-commerce business successfully without being up-to-date is simply not possible. If you're running a business, you should be constantly aware of every little innovation in the world of e-commerce. Inventory management, new trends in development and design, the latest novelties of software – each of these aspects needs to be covered, and getting regular updates from e-commerce blogs is a perfect option for doing this.
To actively support and maintain your online business in 2023 and beyond, use the maximum number of tools and resources. Learn every step you need to take to successfully maintain your website and make use of our
Website Maintenance Checklist
!
The Best E-Commerce Blogs For You To Follow
We've compiled a list of the blogs that we found the most useful and informative for online retailers. You're welcome to check them out below and score some insights from them for your online business.
#1 of the E-commerce Blogs: Whidegroup
Yes, we at Whidegroup are fairly proud of our blog and would like to recommend it for your consideration as a source of inspiration and meaningful insights. Providing on average 3 or 4 unique and high-quality articles monthly, Whidegroup keeps a steady pace for bringing the latest updates on everything regarding the e-commerce industry. In such a way, the readers always  stay informed about all the challenges and opportunities of online business.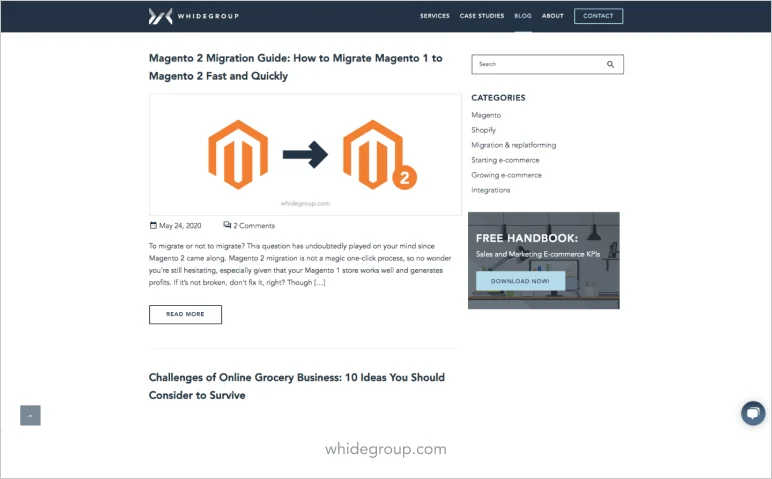 We recommend our blog because:
We provide insights based only on our own hands-on experience. So that means you'll find solutions with proven efficacy reading the blog.
With the narrow focus on the e-commerce sphere, we know everything that's going on in the world of e-commerce development. Our blog tells about the latest technologies, trends, approaches and many more – check it out and see for yourself!
#2: Get Elastic
The Wall Street Journal named Get Elastic as one of 15 blogs recommended for entrepreneurs. Readers of this blog will certainly understand why. Get Elastic includes hundreds of articles from both esteemed writers and established business owners around the world. Get Elastic is one of the blogs with the most valuable and meaningful insights. It is helping so many of its readers to reach a success.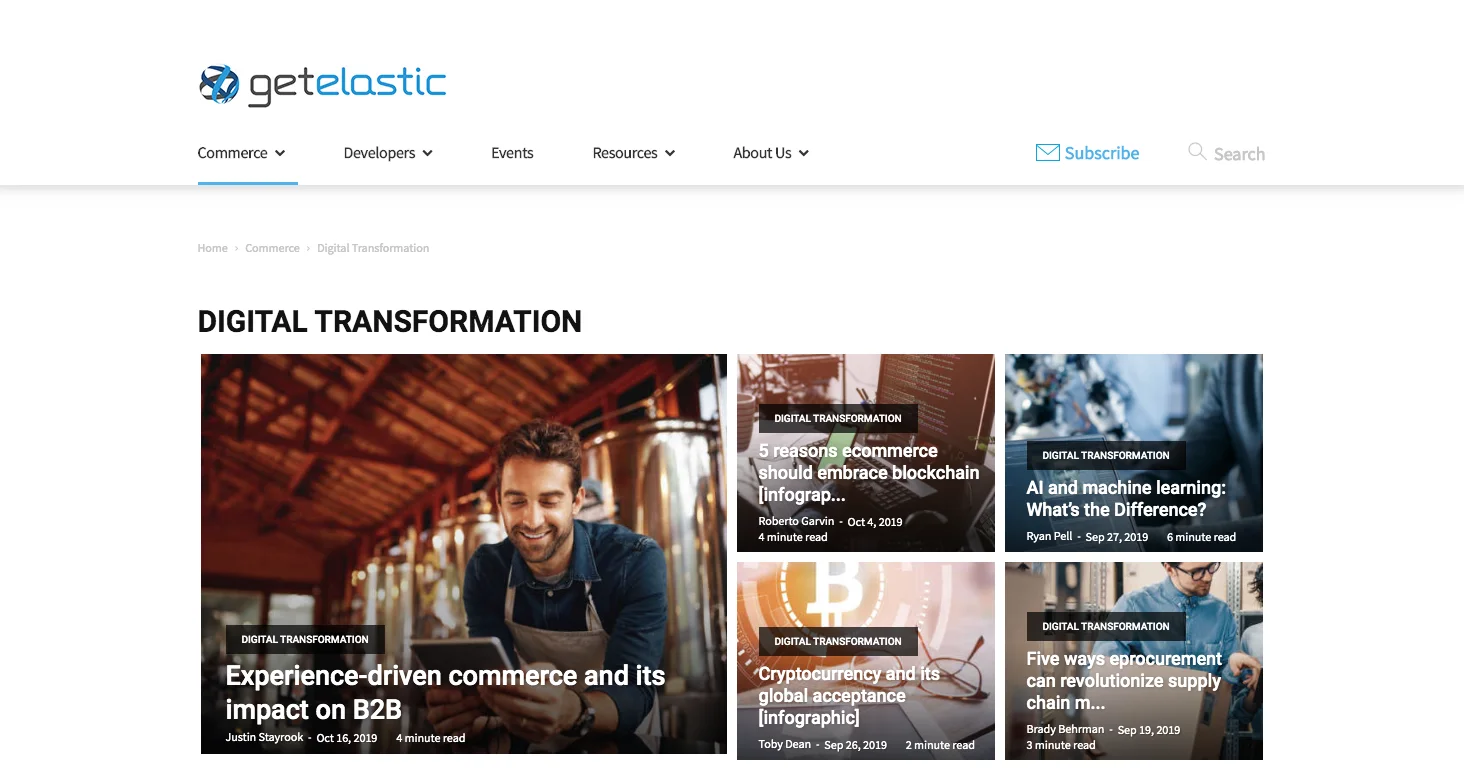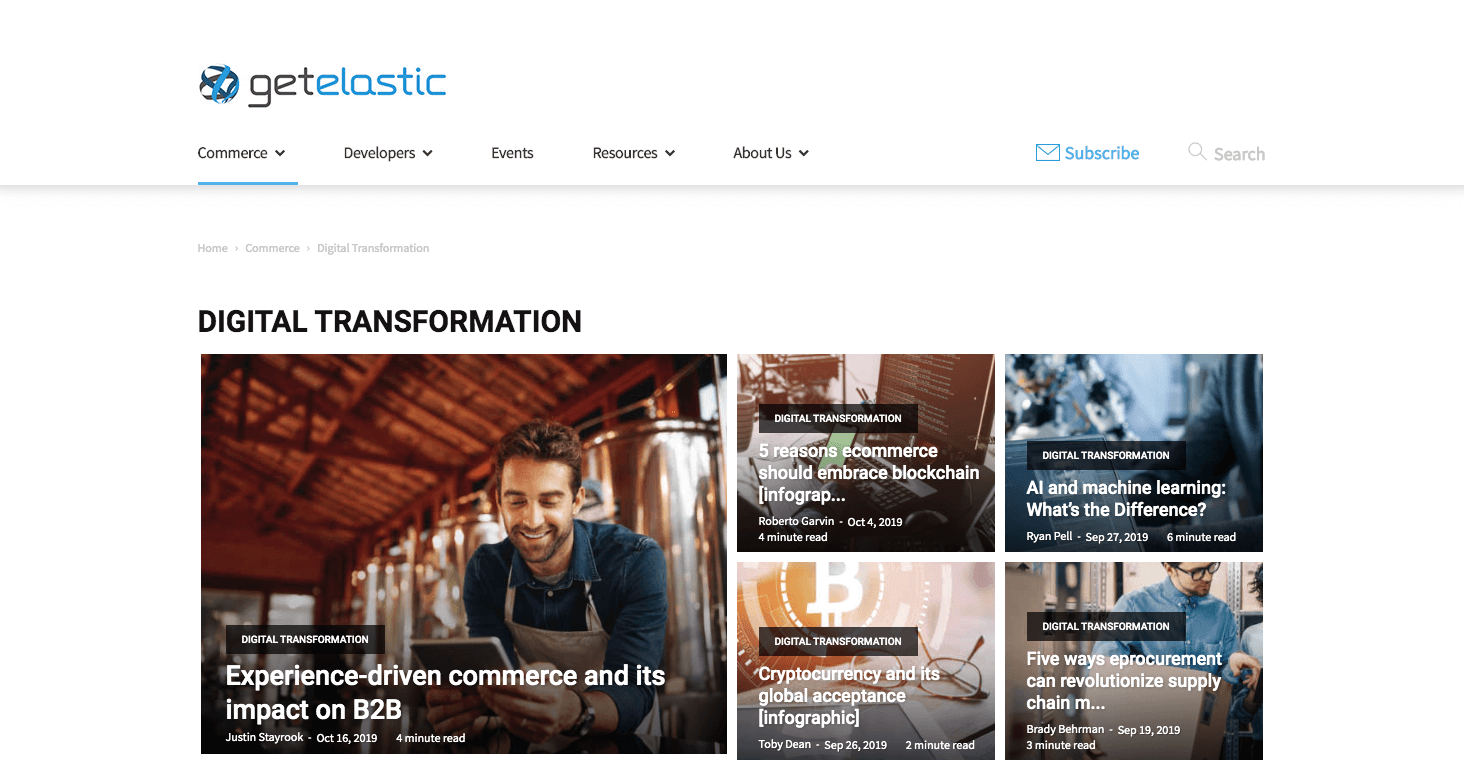 Why we recommend Get Elastic:
Every article has a read meter, showing how long it takes to read the particular text. This feature reduces bounce rate and serves to inform the reader in advance.
The blog has clear navigation by topic, so readers have no chance to get lost in the wide variety of articles.
#3: PracticalEcommerce
Since 2005 PracticalEcommerce has provided a compilation of practical business strategies and e-commerce marketing tips that are intended to help readers to succeed online. This resource is not only about e-commerce website development. The blog is also full of recommendations on how you can improve your conversion rate, SEO, social media presence, and many more metrics that are considered to be vital for an e-commerce business.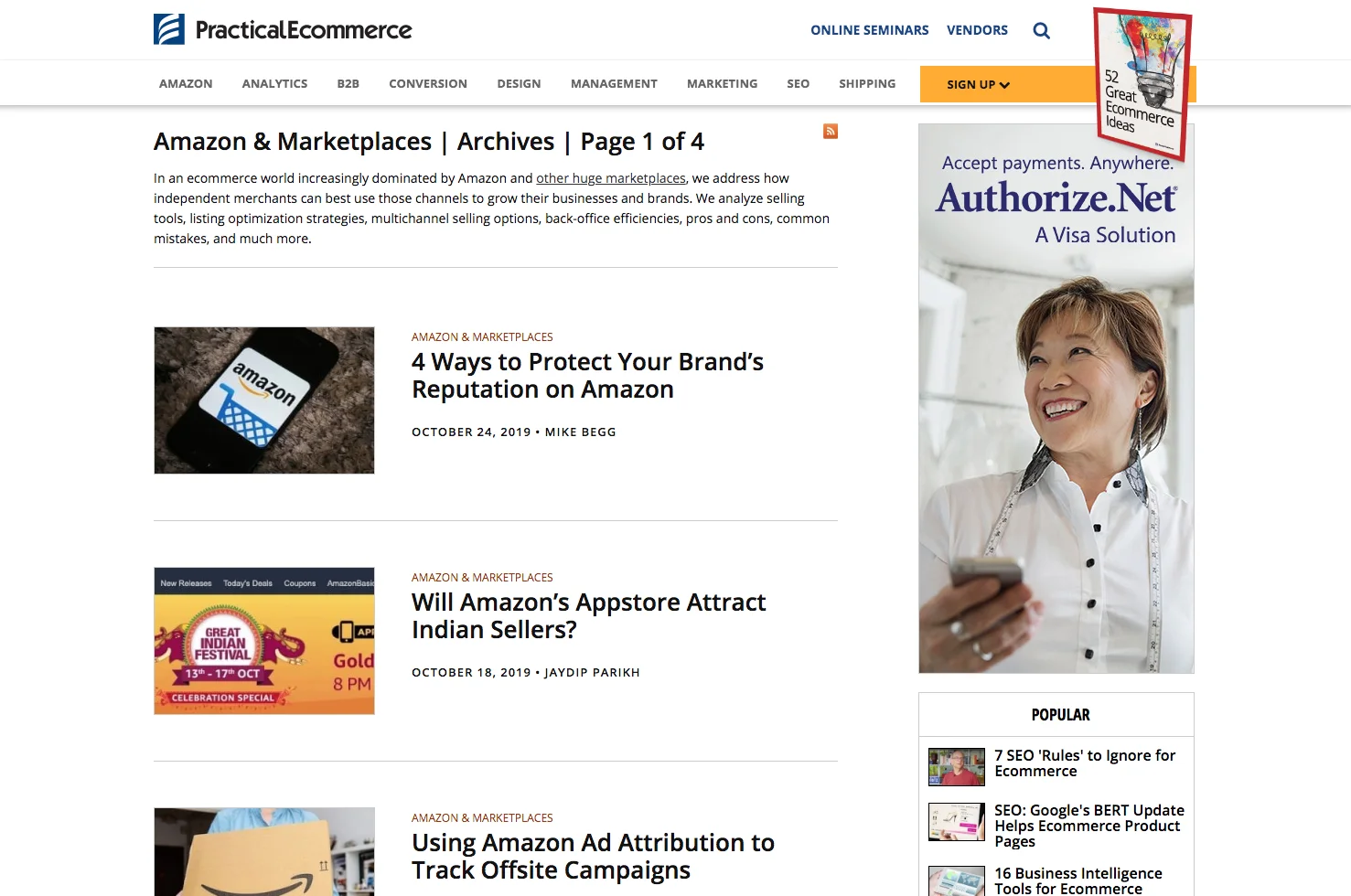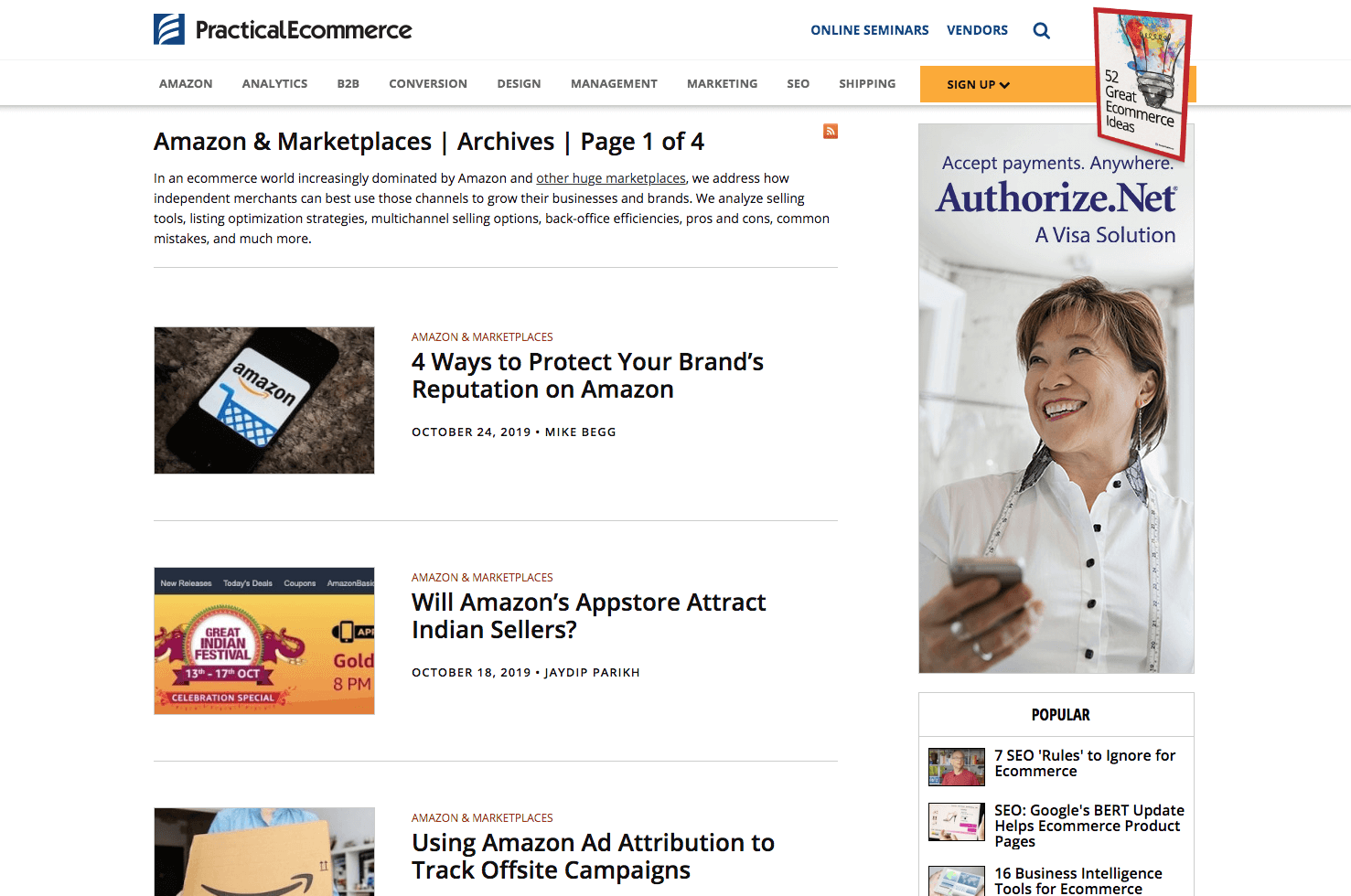 Why we recommend PracticalEcommerce:
The blog regularly posts new articles. On average, readers can look forward to 2 or 3 new articles daily.
Convenient navigation enables flicking to the next or previous article without any need to return to the blog home page.
#4: A Better Lemonade Stand
A Better Lemonade Stand is another top-rated e-commerce community. It provides:
Deep real-life insights
Guides
Advice assisting owners along the way while they establish their business
The blog is focusing on supporting early-stage entrepreneurs. It covers topics like choosing and validating products to sell, how to resolve shipping issues, and suggestions about negotiations with manufacturers. Readers can also enjoy free video training webinars.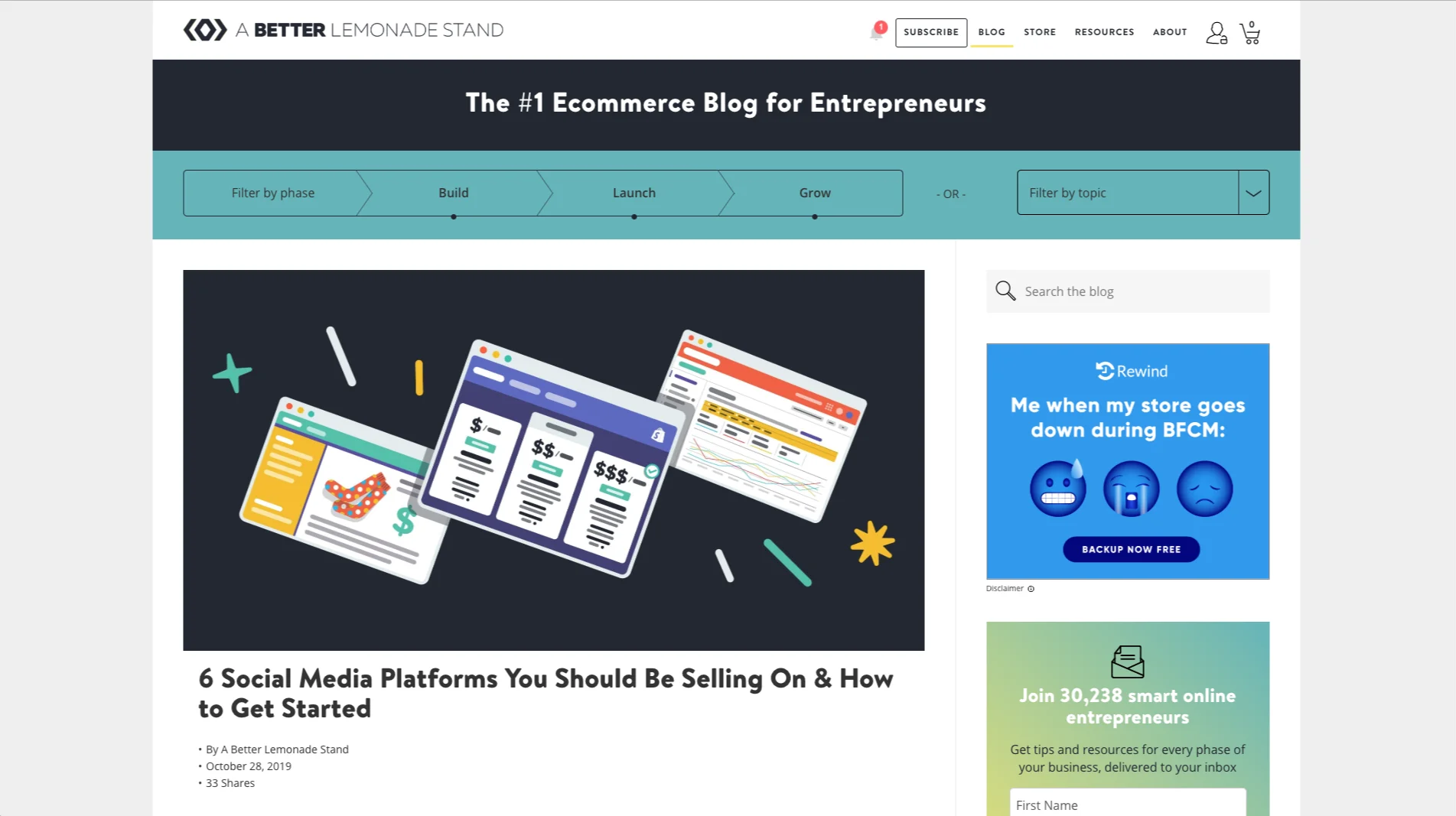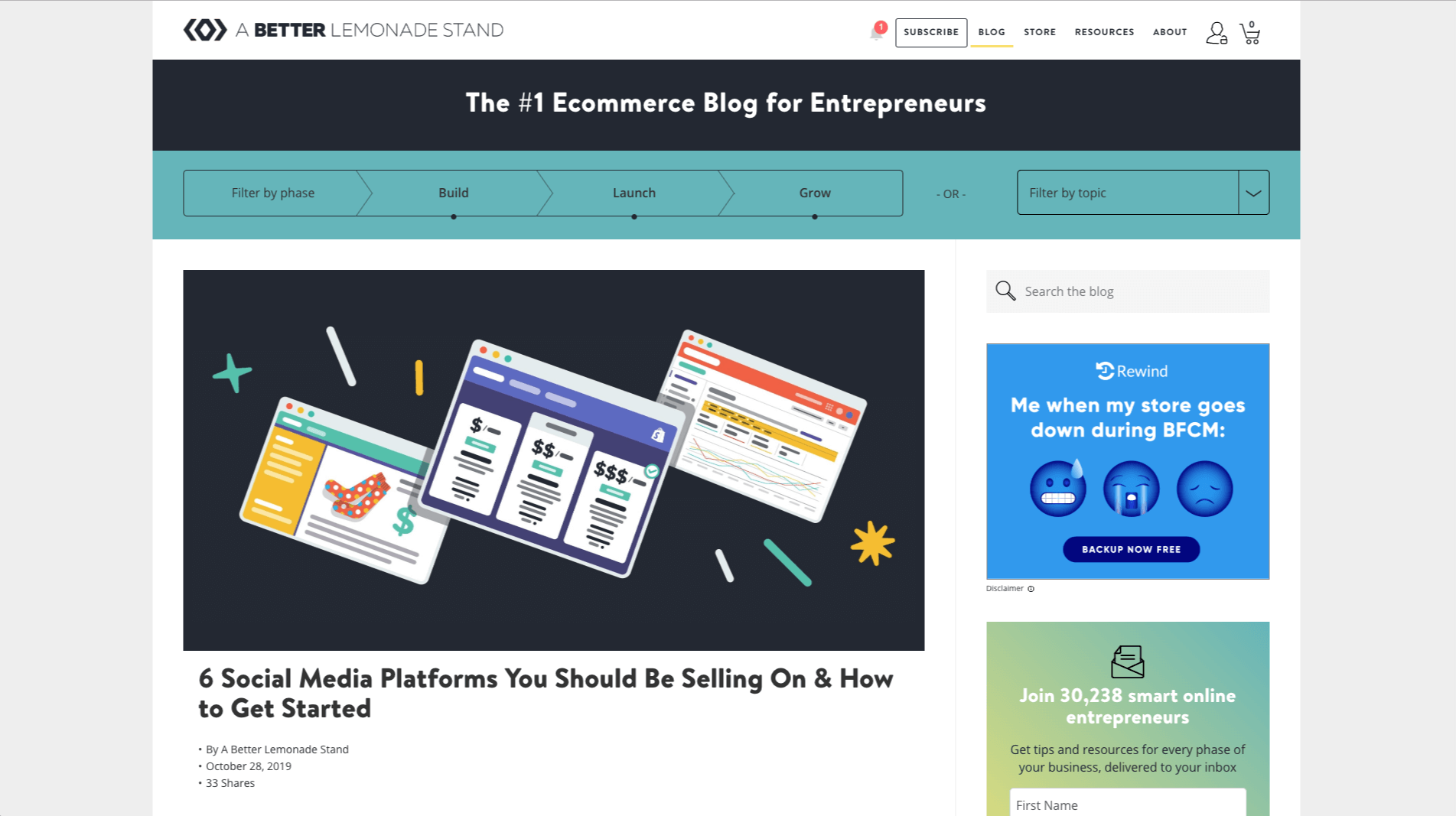 Why we recommend A Better Lemonade Stand:
The articles are divided into sections according to the stages of business development: Build, Launch, Grow. This allows the reader to select a needed section without the necessity of sorting articles.
The structure of every article is clear and simple, which makes articles convenient for reading.
#5: eCommerceFuel
Gather all the best e-commerce blog ideas and you'll get E-commerce Fuel – the blog that unites over 1,000 online store owners and professionals in the e-commerce sphere. Together they created a community specialized in business, SEO, business optimization, scaling, branding, and community building. With their collective expertise, they cover every field of knowledge that can be potentially interesting to the average entrepreneur.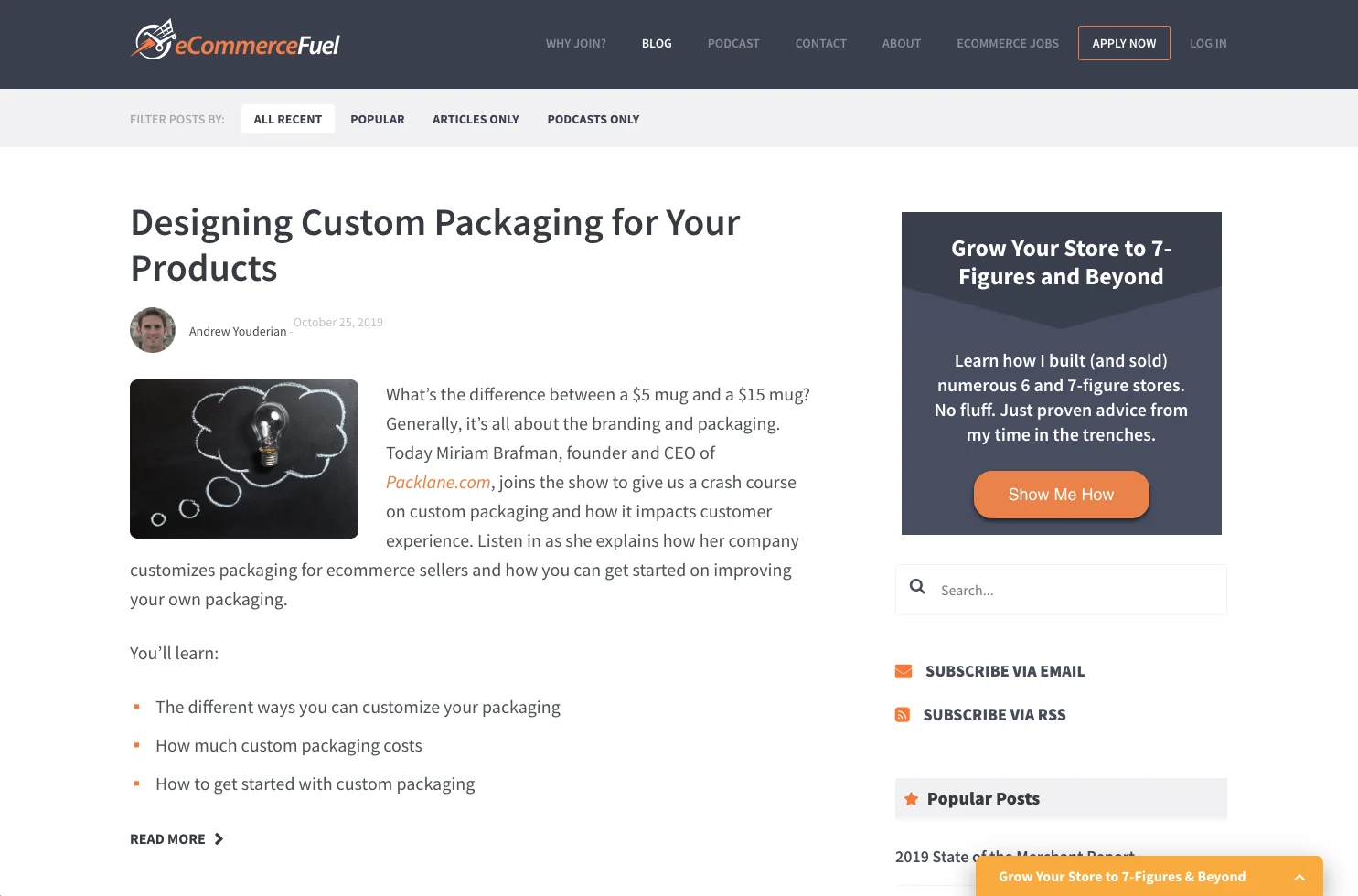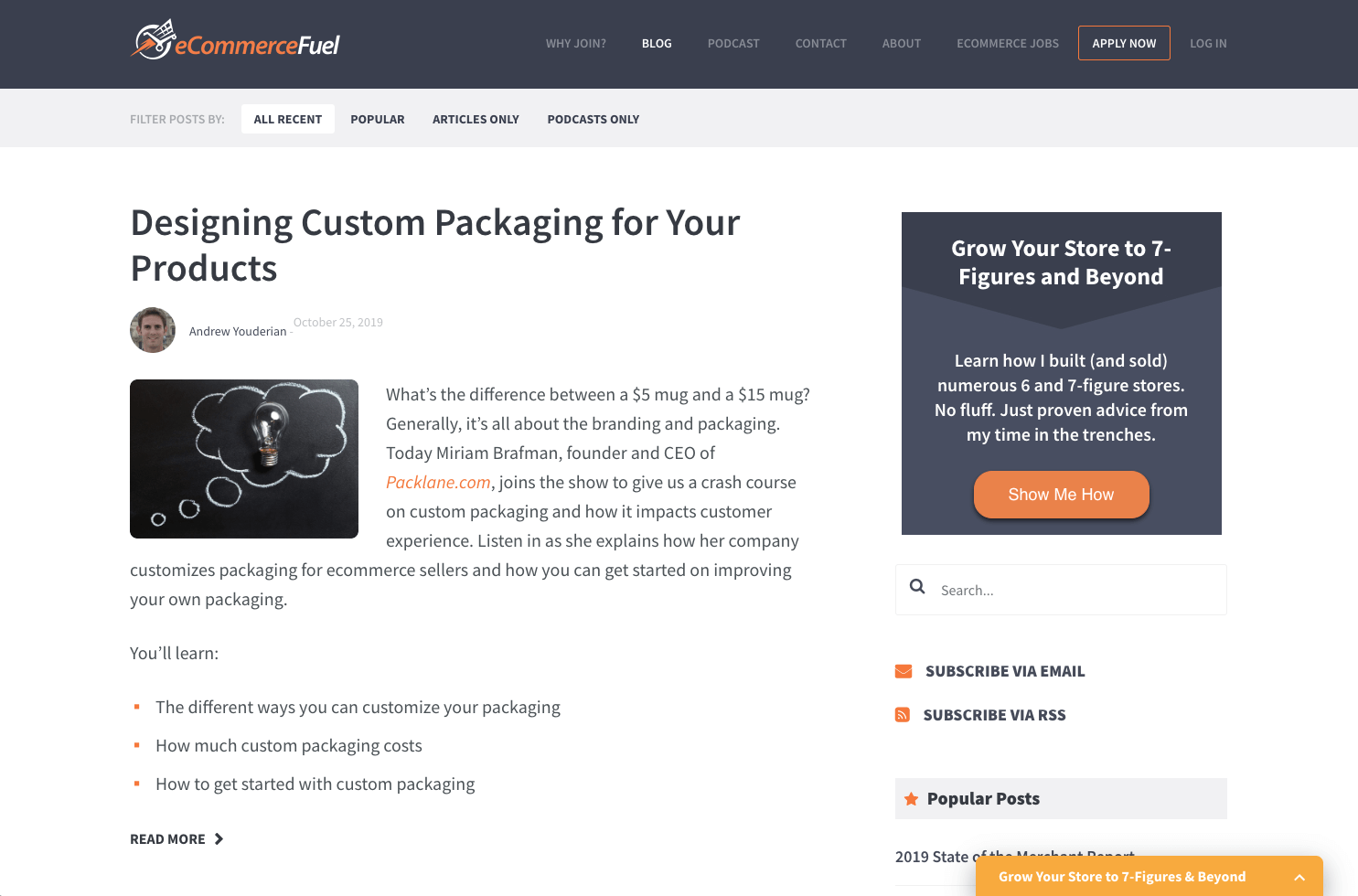 Why we recommend eCommerceFuel:
Before reading a full article, the visitor can first see a short summary to get an impression of what said article is about.
In addition to the rich blog, eCommerceFuel also offers podcasts. Very often articles and podcasts work in duo, complementing each other.
#6: E-Commerce Times
E-Commerce Times is one of the most respected and well-reputed websites today. This resource focuses mostly on readers such as C-level executives and managers of small and mid-sized businesses. E-Commerce Times covers topics like e-commerce, m-commerce, e-business, networking, enterprise, customer relationship management, and many more.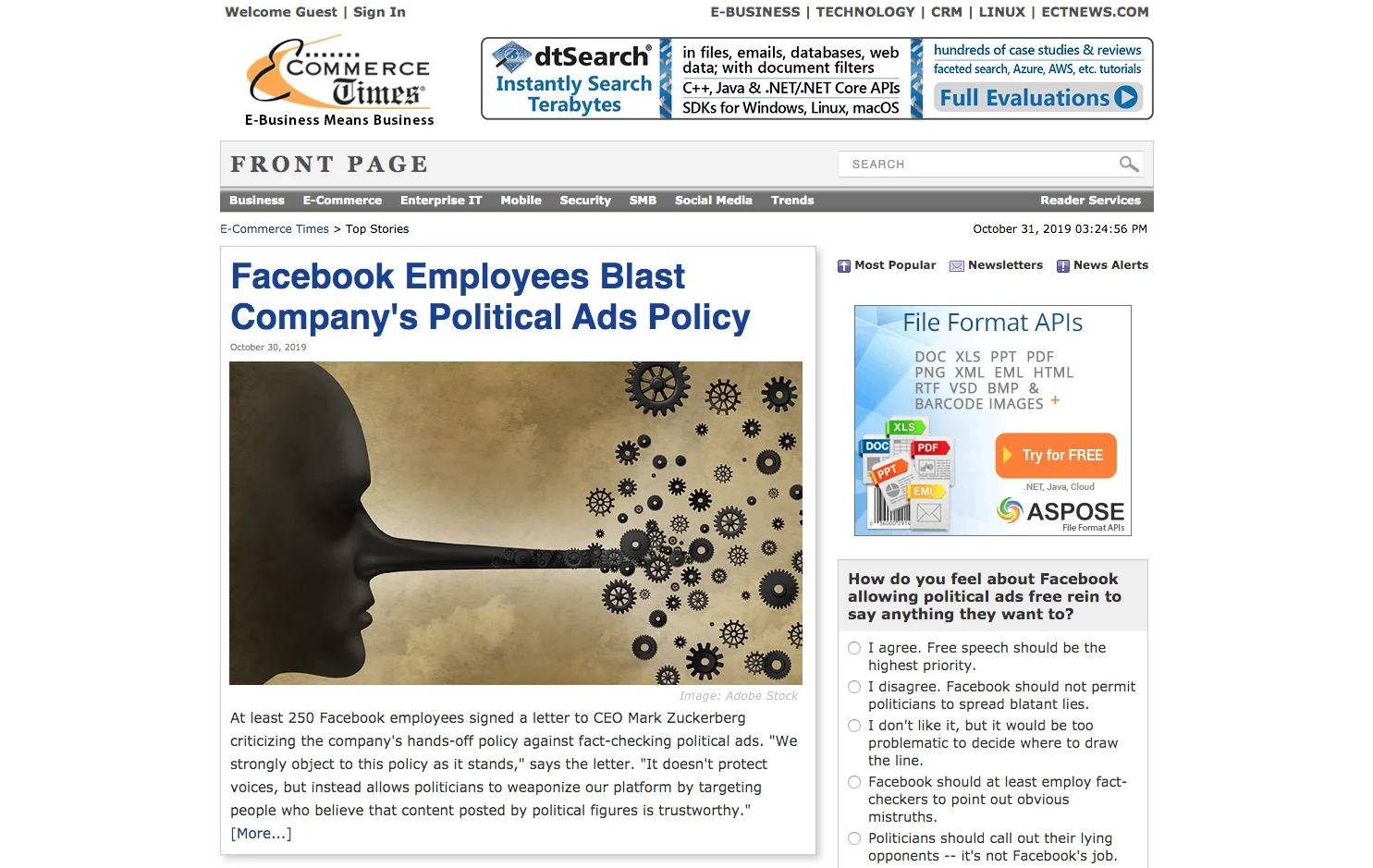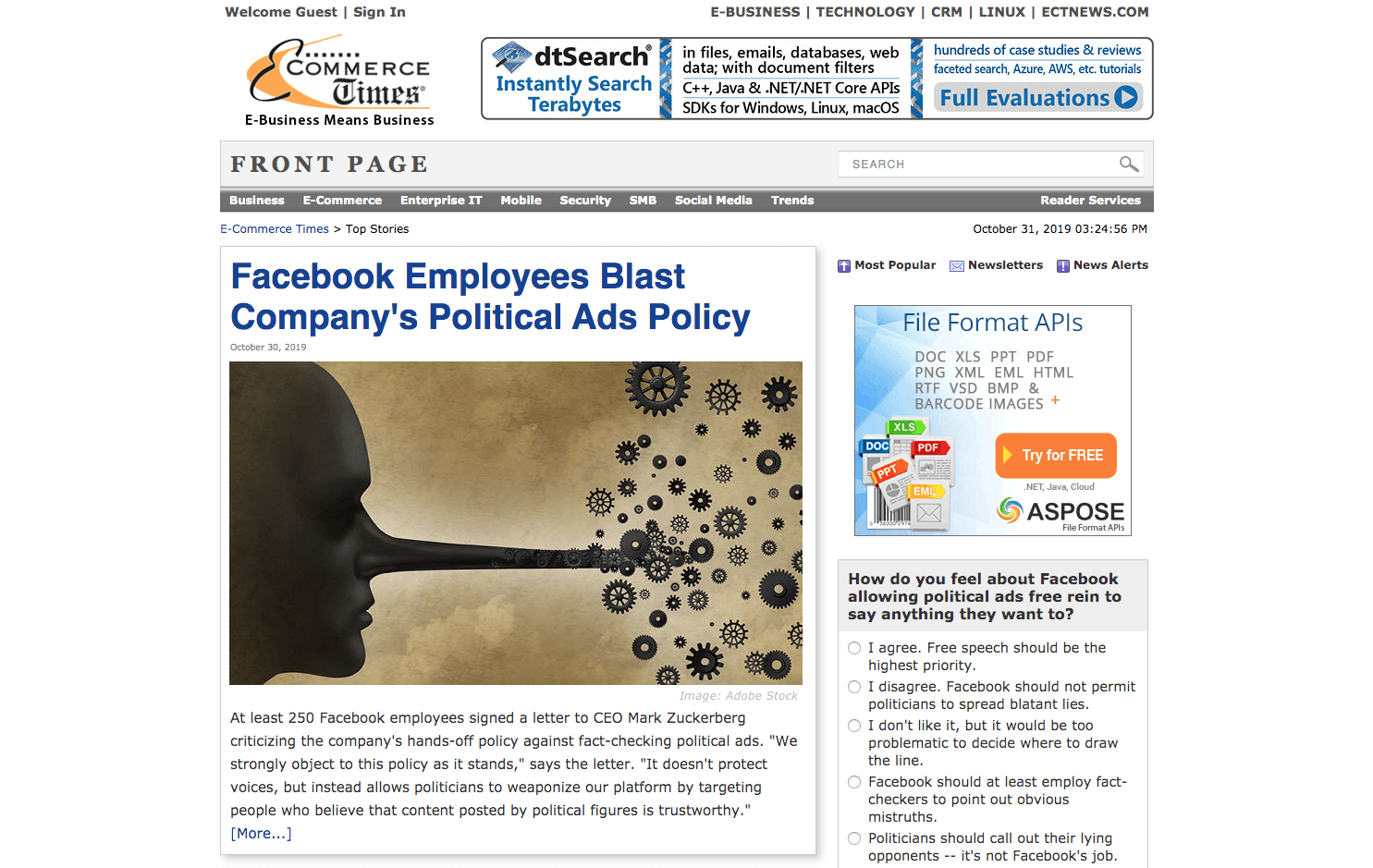 Why we recommend E-Commerce Times:
The blog is updated regularly, so you can always find fresh ideas and insights about the e-commerce sphere.
In addition to ordinary articles, the resource gladly invites C-level managers for interviews and presenting their beliefs and concepts in the blog.
#7: E-Commerce Nation
E-Commerce Nation claims that its purpose is assisting e-commerce entrepreneurs of any scale internationally. Thus, this e-commerce solutions blog is full of practical recommendations including case studies and real solutions about store setup, logistics, online marketing, multi-lingual support, and many more. The E-Commerce Nation blog is well-known for engaging mature industry specialists to create content. The blog also provides insights into various communication tools, such as infographics, podcasts, webinars, live interviews, e-books and so on.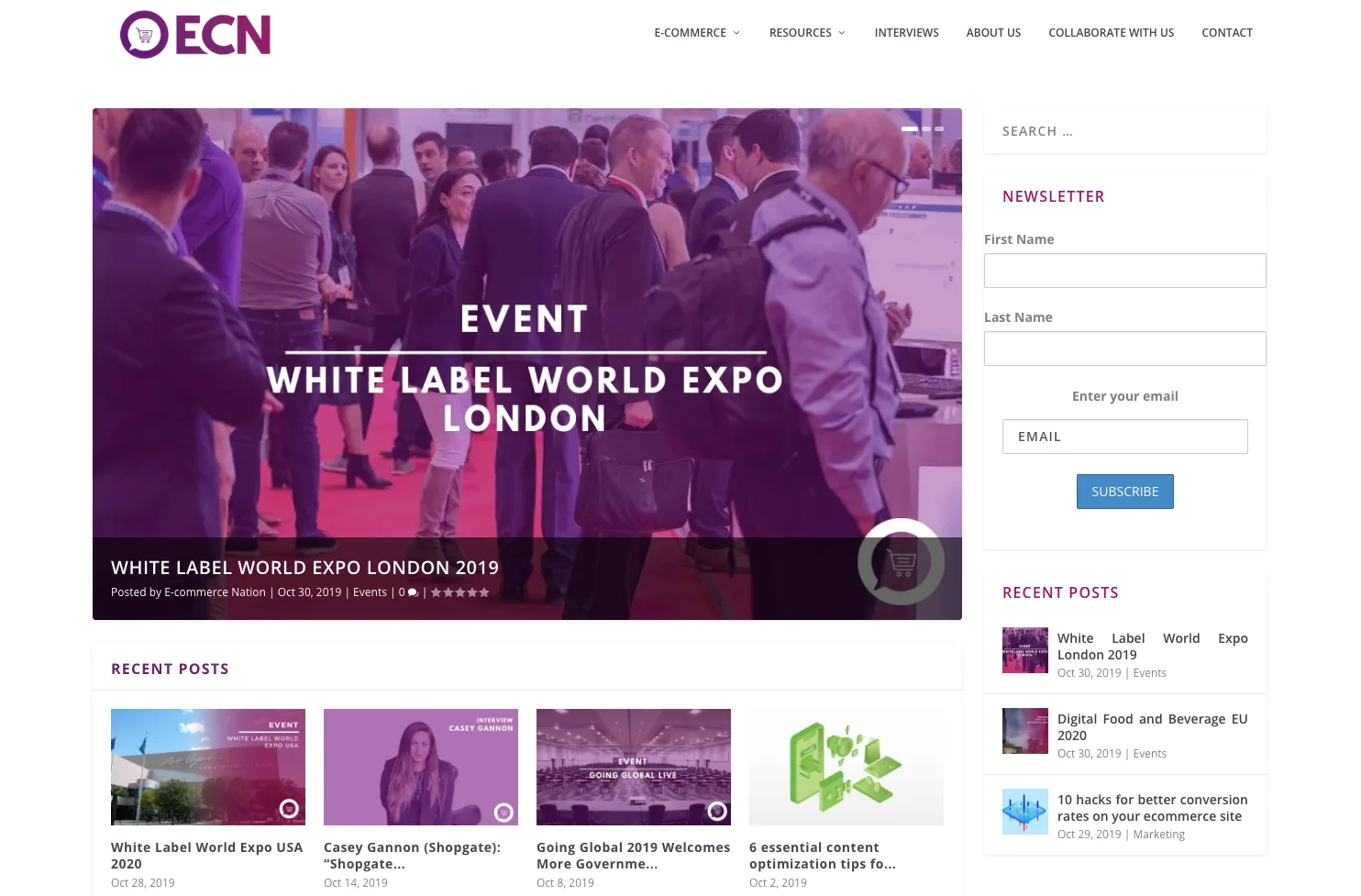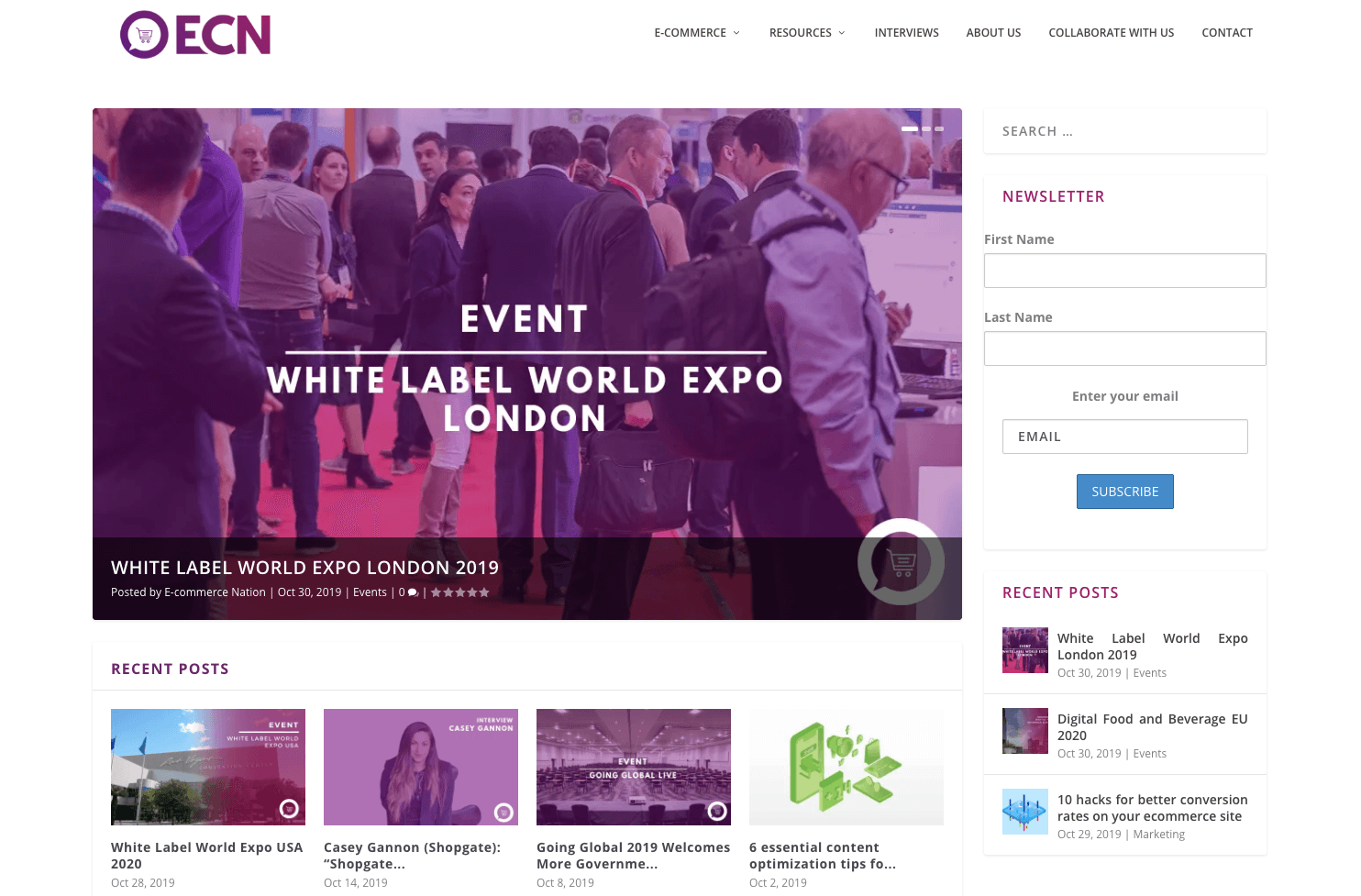 Why we recommend E-Commerce Nation:
At the beginning of every article, you'll see a list of anchor-headings that help readers promptly head to whatever section of the article they're looking for.
Any interested person that is also qualified enough, has a chance to join the ranks of authors of the blog, while moderators provide article editing and SEO-support.
#8: HubSpot Blog
HubSpot Blog is a real pioneer amongst the others. They started in 2004 – on the rise of the blogging activities. When it comes to e-commerce marketing – the blog comes out heads above competitors. Keep in mind that e-commerce is just one small part among several other topics covered by HubSpot, including sales, marketing, and inbound marketing. Reading a bit of the HubSpot e-commerce blog, you will gain insight and awareness into every little aspect of running an online business.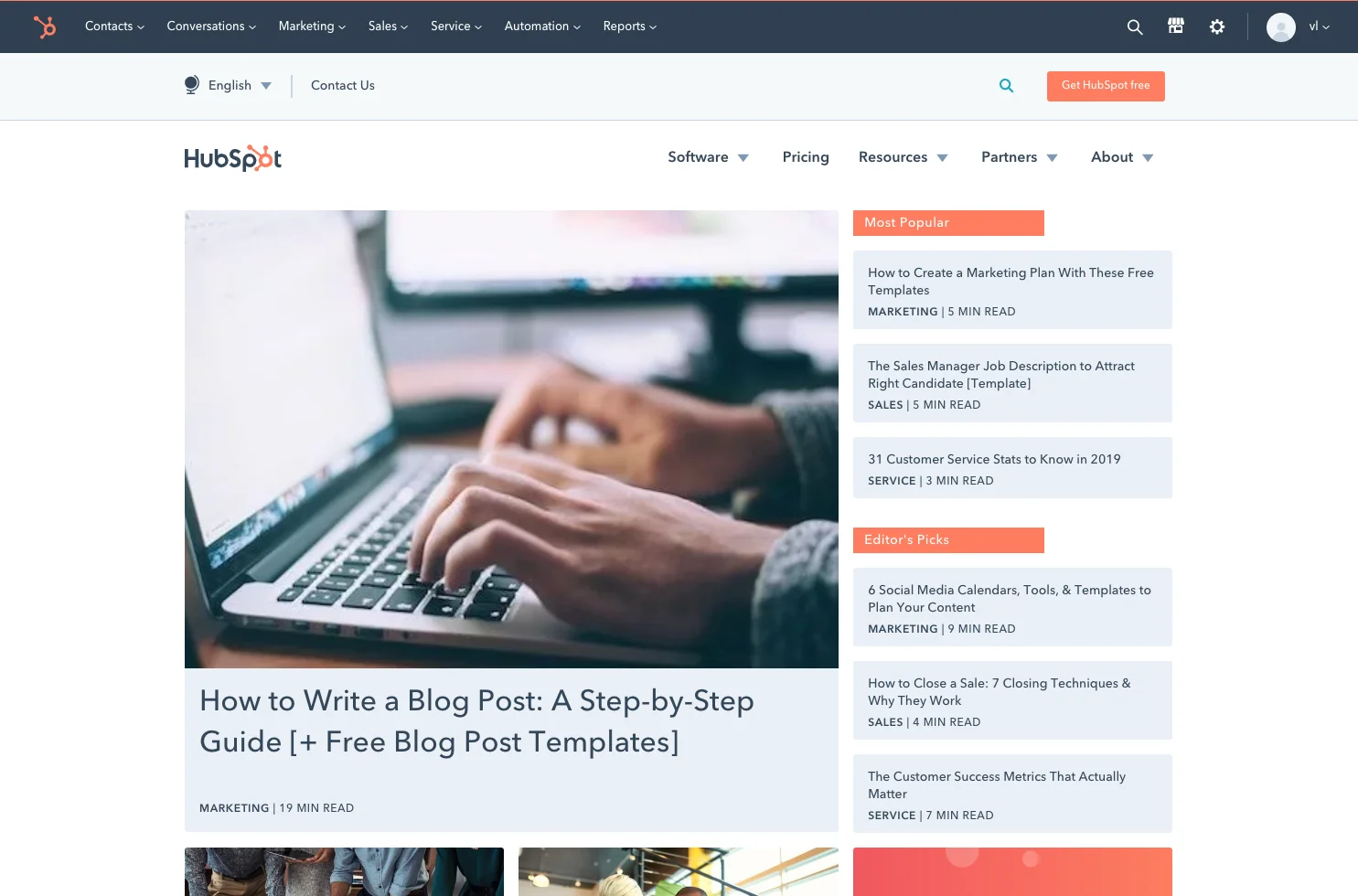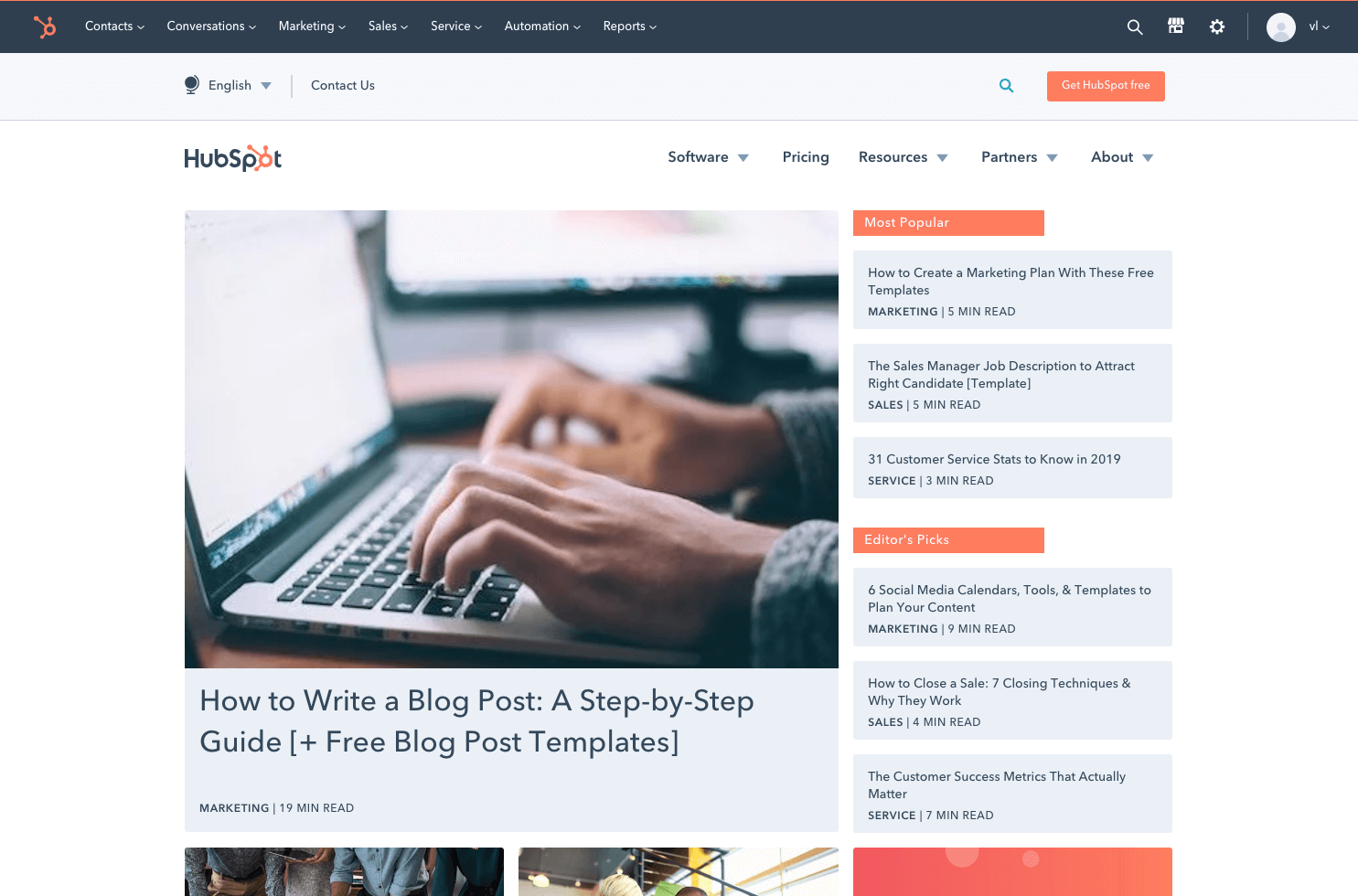 Why we recommend HubSpot Blog:
HubSpot provides articles in 6 languages: Japan, English, Spanish, German, French, Portuguese. This provides insights for a multinational audience.
Any person engaged in e-commerce will find something interesting to read since HubSpot provides materials for a wide range of specialists such as C-level managers, marketing and social media managers, salespersons, and many others.
#9: TechCrunch: E-commerce Topic
Founded in 2011, TechCrunch very quickly became one of the leaders in the sphere of technology media, being the first when it comes to representing breaking tech news, reviewing new gadgets, events overview and so on. To date, TechCrunch is especially appreciated by the entrepreneurs who are engaged in e-commerce and the gadget & technology sphere, or anyone enthusiastic about those topics.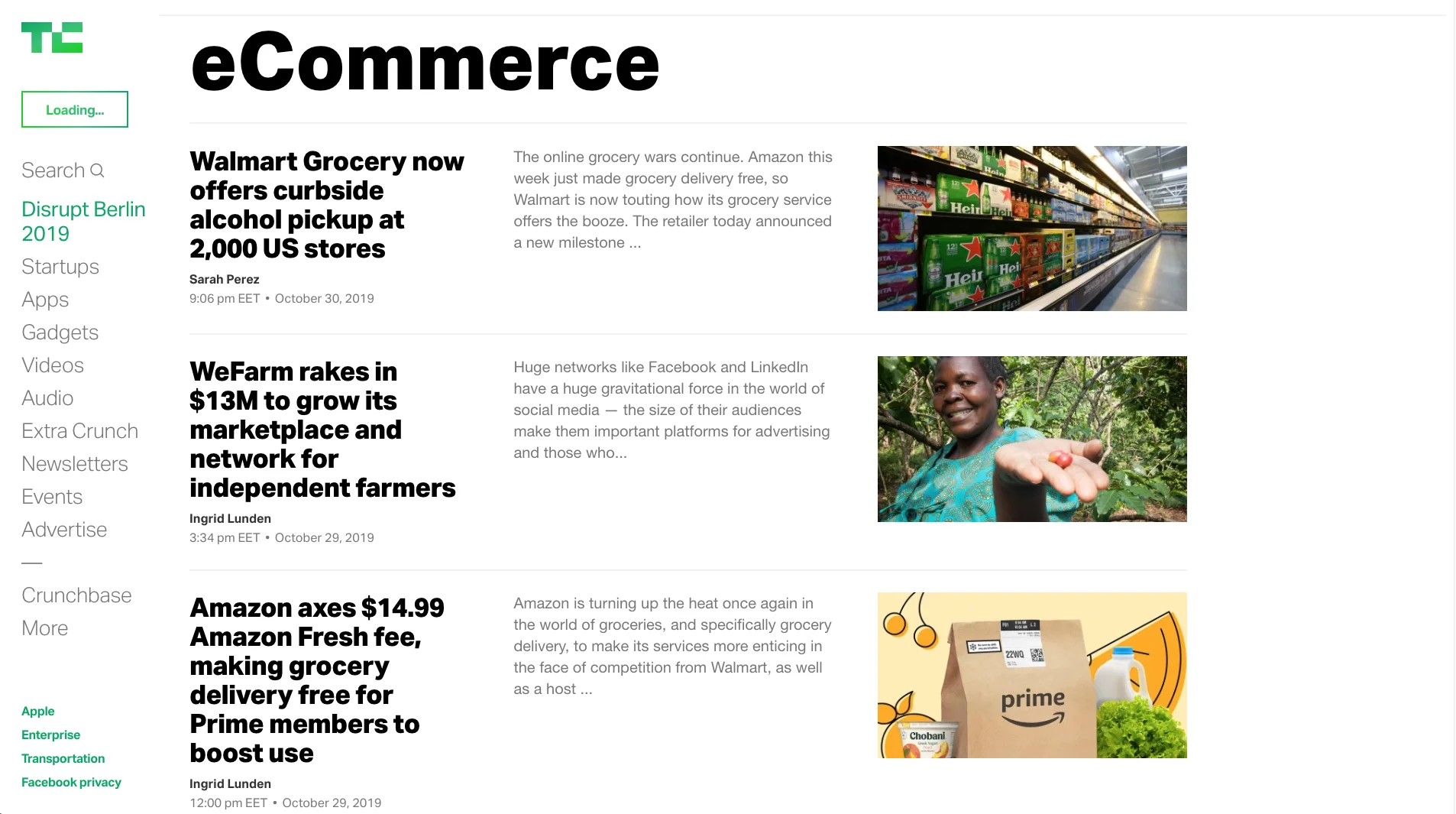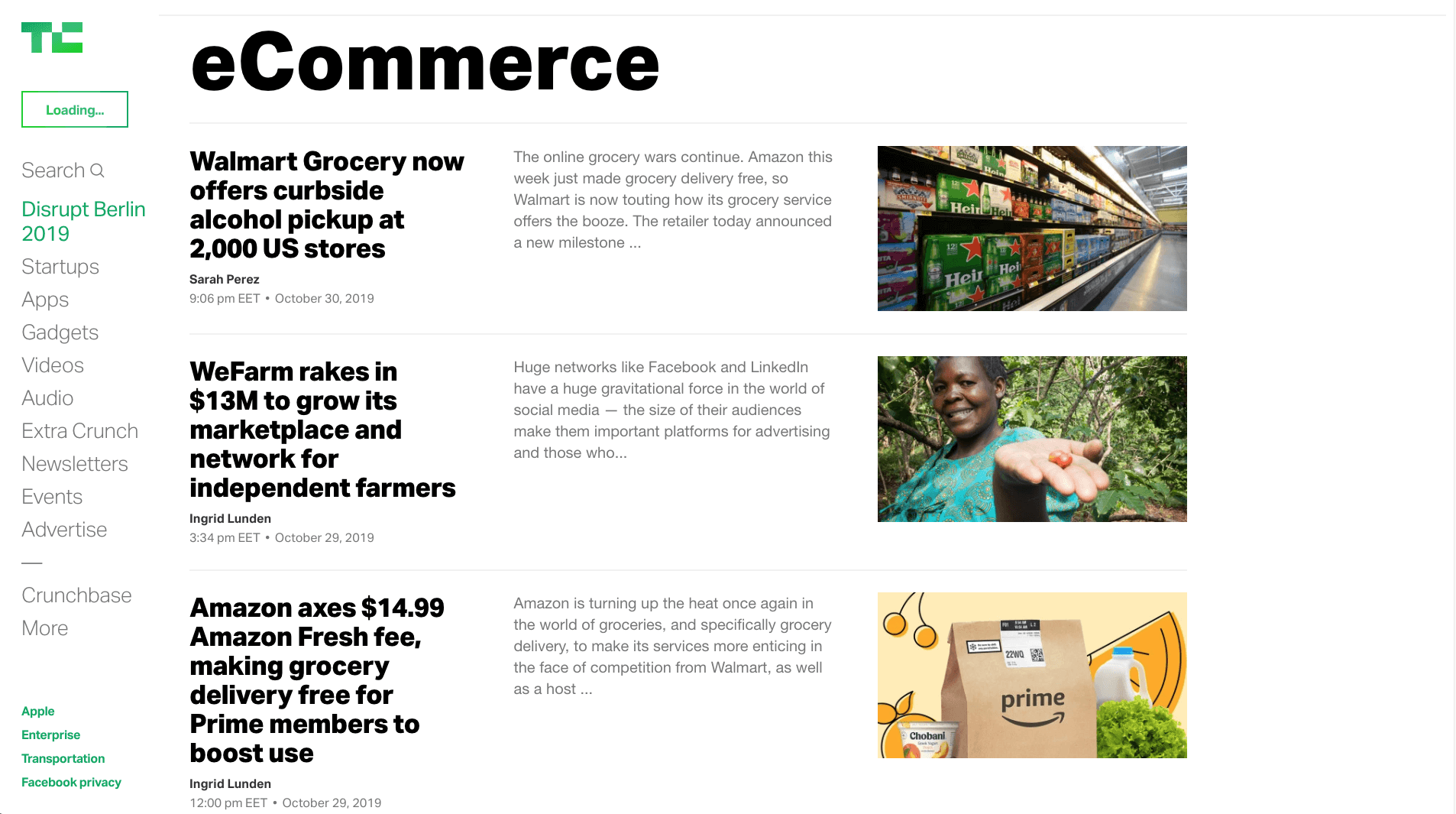 Why we recommend TechCrunch:
TechCrunch is one of the most "lively" blogs to date – on average, they publish 10 articles weekly.
Readers can choose from a plethora of models of subscription. The user can receive news about updates in startup and events sections, get daily or weekly digests, or get insights about sponsorships.
#10: E-commerce Platforms
E-commerce Platforms is the place to find various simple tips and tricks on the best solutions and software to run an e-commerce business. Easy to read and implement, they are particularly popular among early-stage business-owners. The blog is always up-to-date. This allows readers to be aware of the most recent news and the latest innovations in the world of e-commerce.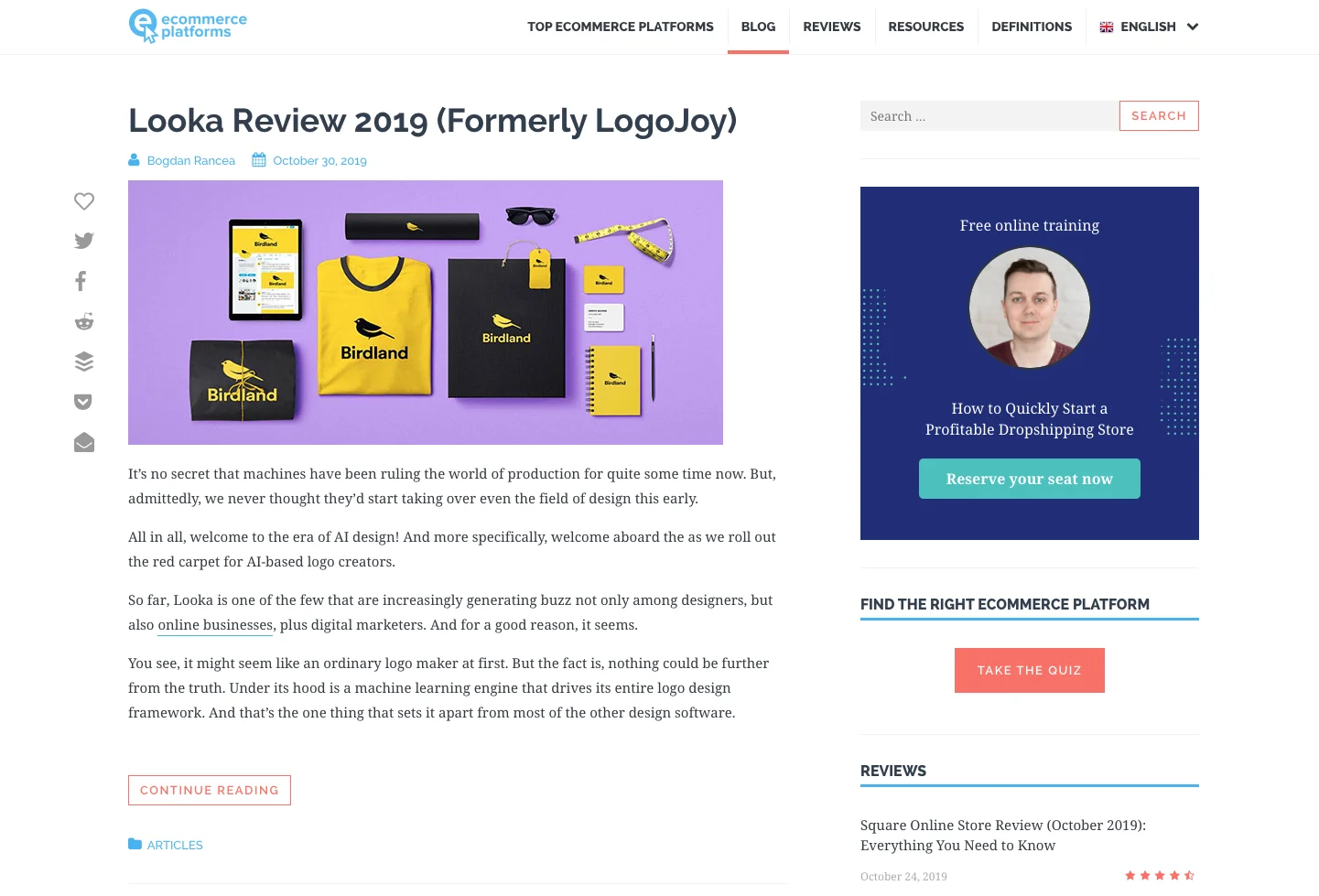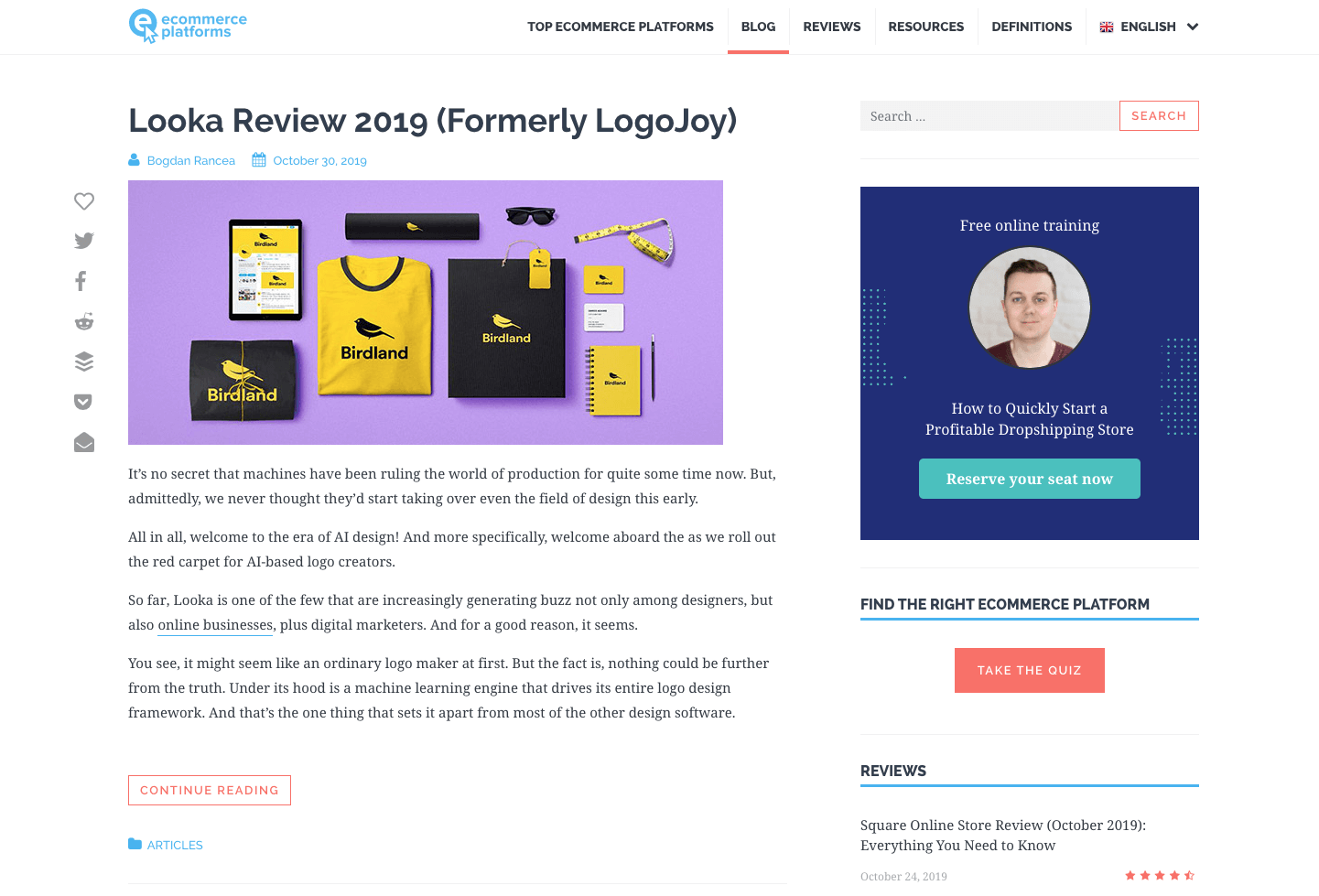 Why we recommend E-commerce Platforms:
E-commerce Platforms supports 11 languages, among which are Portuguese, Chinese, Arabic, and Hindi. Because of this, virtually any user can find needed information in their language.
Each article in the blog is perfect. The text readability and flow are flawless in every article, which makes reading comfortable and convenient.
#11: Entrepreneur: E-commerce Topic
The Entrepreneur is proud of showcasing the latest news from the world of e-commerce in the form of videos, and discussion topics. The main focus of this resource is to cover building and developing an e-commerce business from the very beginning to a stable phase. In addition to educational videos and topics, users can take advantage of Entrepreneur's library, which is a rich compilation of the most popular editions related to the business, self-development, time management, and many more.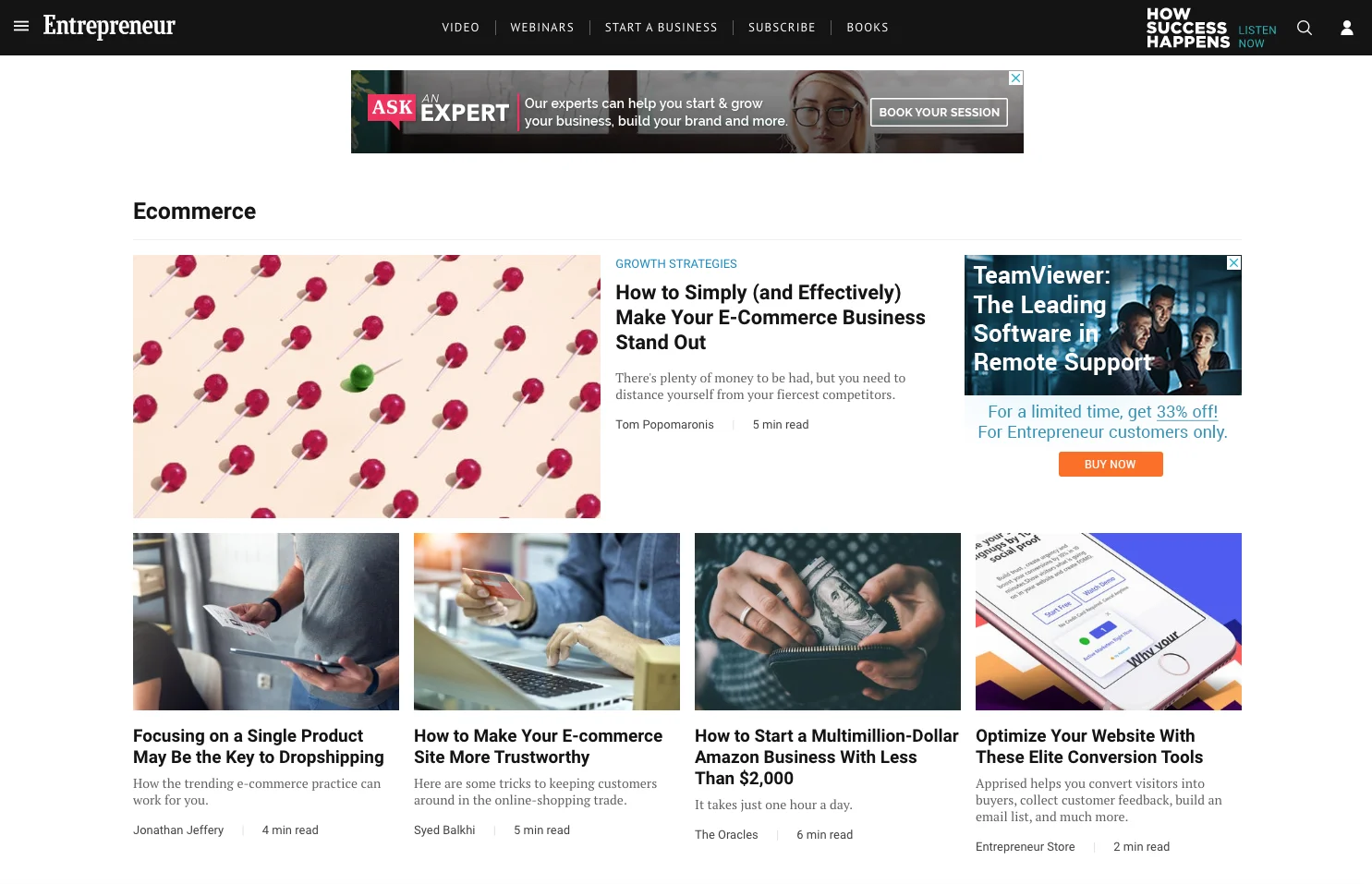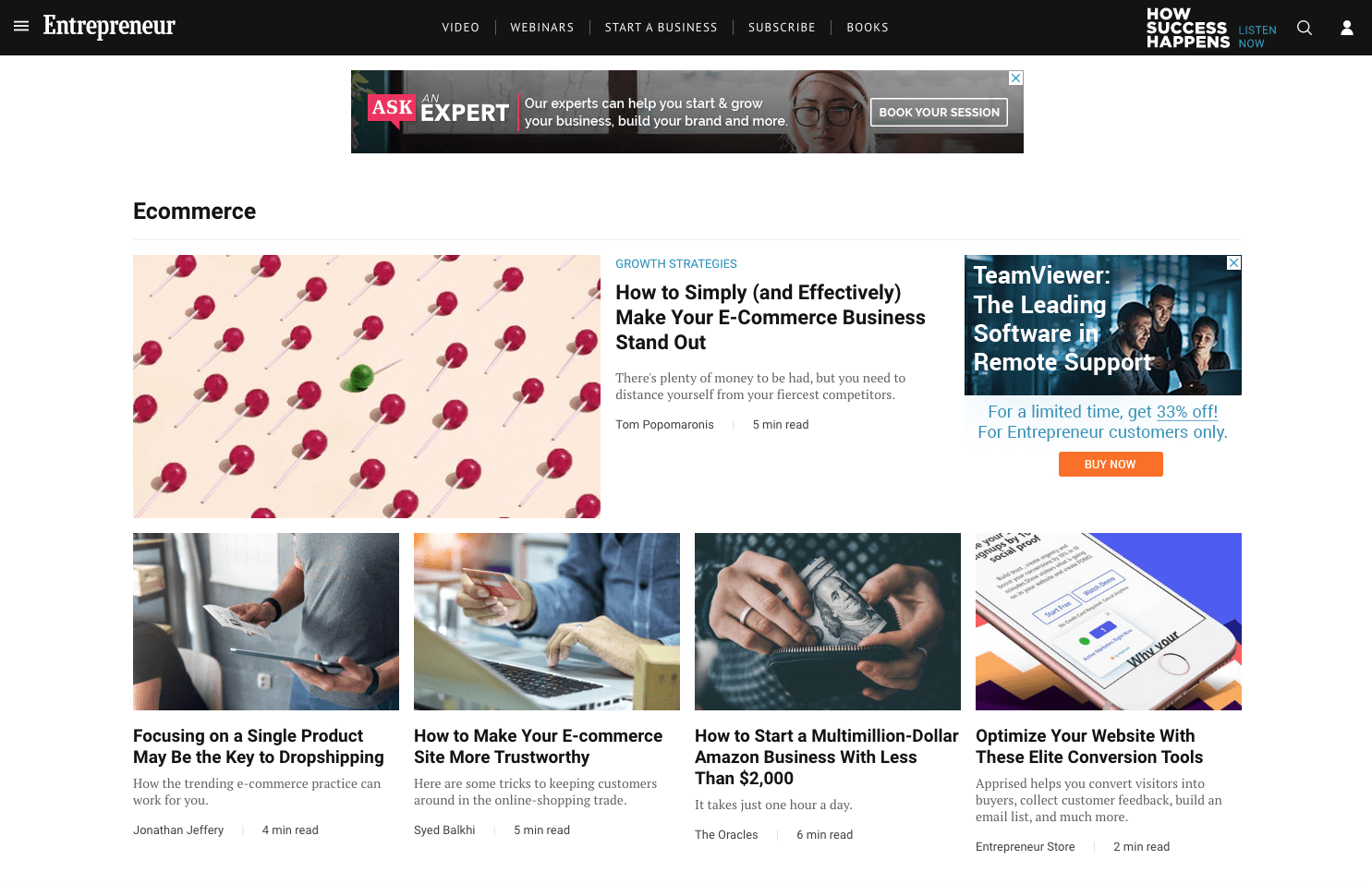 Why we recommend Entrepreneur:
Most articles are longreads. They give a detailed impression of the topics.
After reading an article, you can see the list of related books, where the article subject is disclosed in more detail.
#12: Ecomdash
Ecomdash's purpose is providing readers with the latest tips, insights, news, and strategies for e-commerce owners' inspiration, but without going deep into any niche. Offering their free guides and eBooks, Ecomdash strives to assist beginner entrepreneurs in gaining a clear impression and aspiration to be the best in every round of the e-commerce game.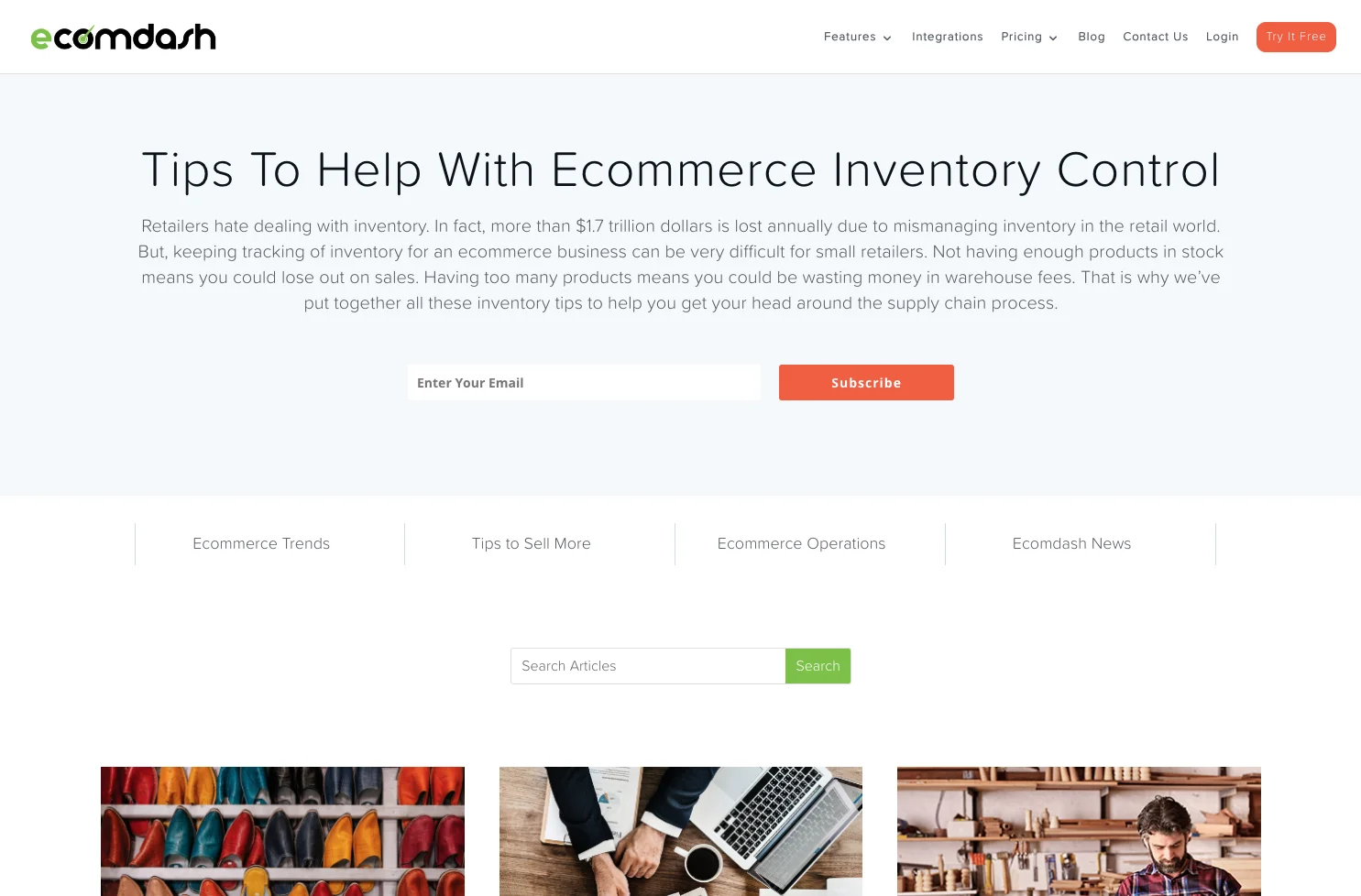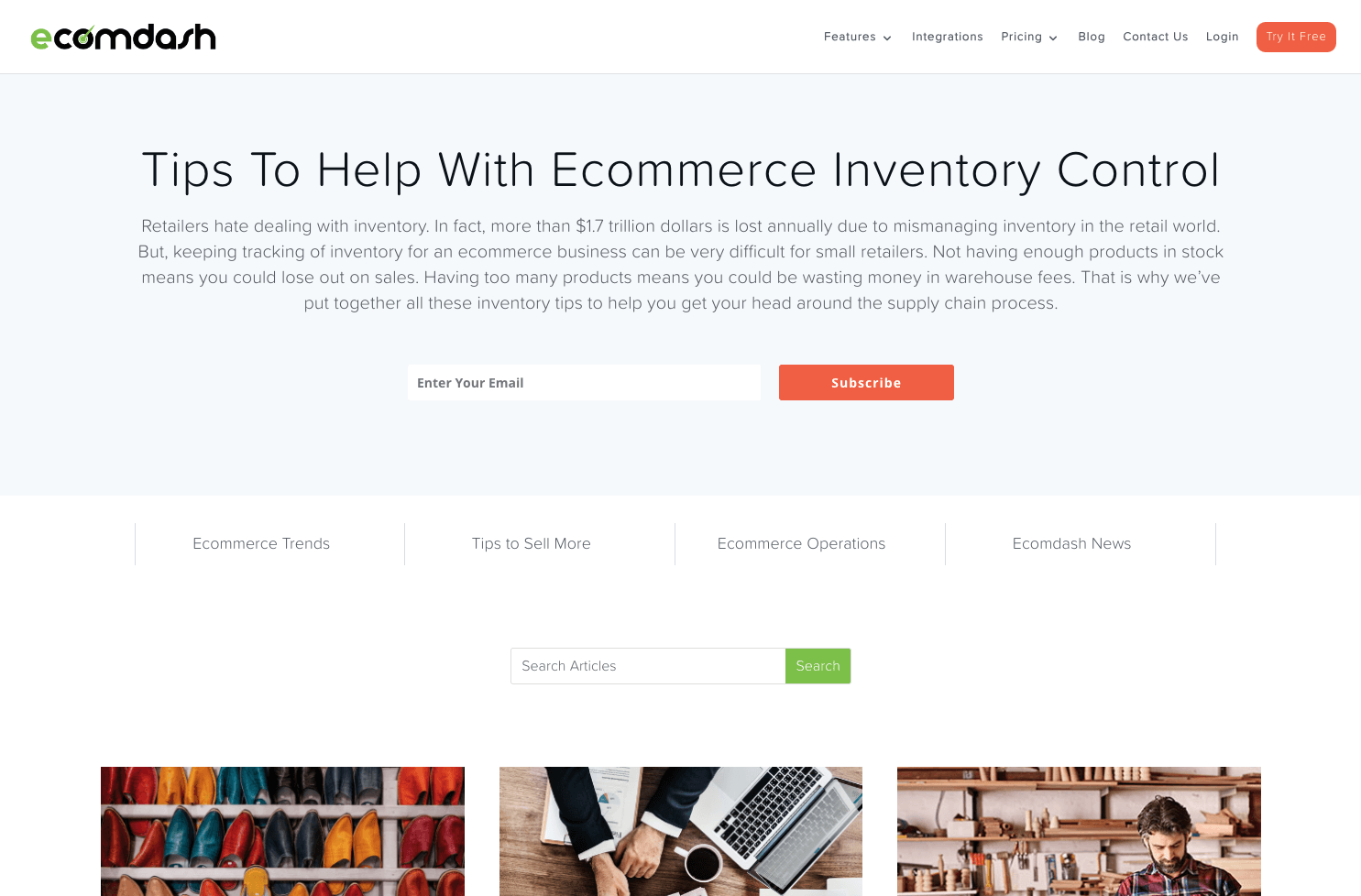 Why we recommend Ecomdash:
The blog has a very convenient distribution on topics such as e-commerce trends, e-commerce operations, tips to sell more and Ecomdash news. Each topic then has sub-topics to make navigation even more simple and clear.
Every article has a clear layout. This aspect helps the reader in terms of readability and makes the reading easy and straightforward.
#13: SocialMediaToday
SocialMediaToday is one of the top e-commerce blogs for self-education when it comes to social media marketing in the world of e-commerce. Supported by a team of experienced marketers who make updates to the blog several times a day, the blog is always ready to provide its readers with the latest news about platform algorithms, releases, and cutting-edge tips for the most popular platforms.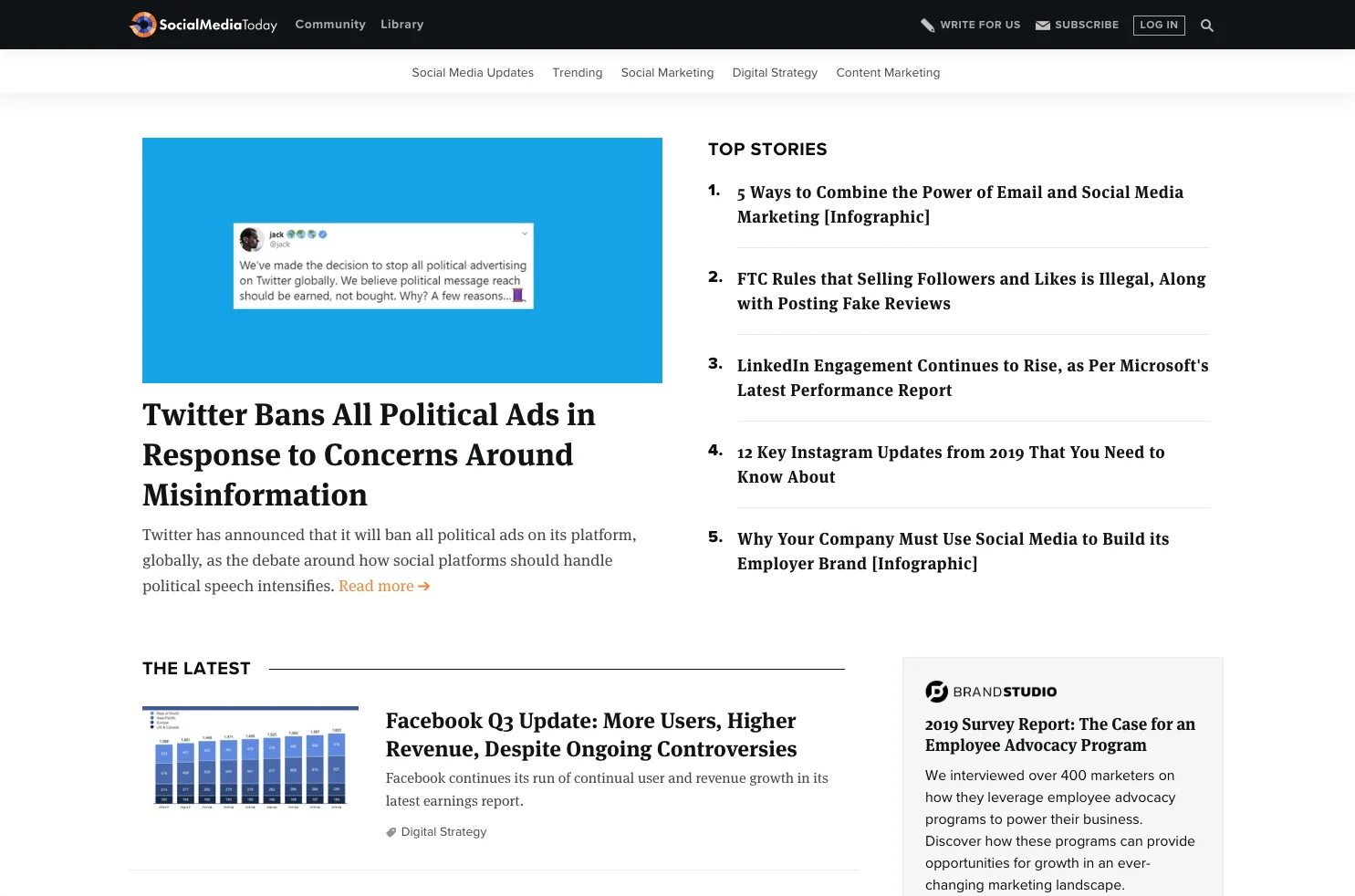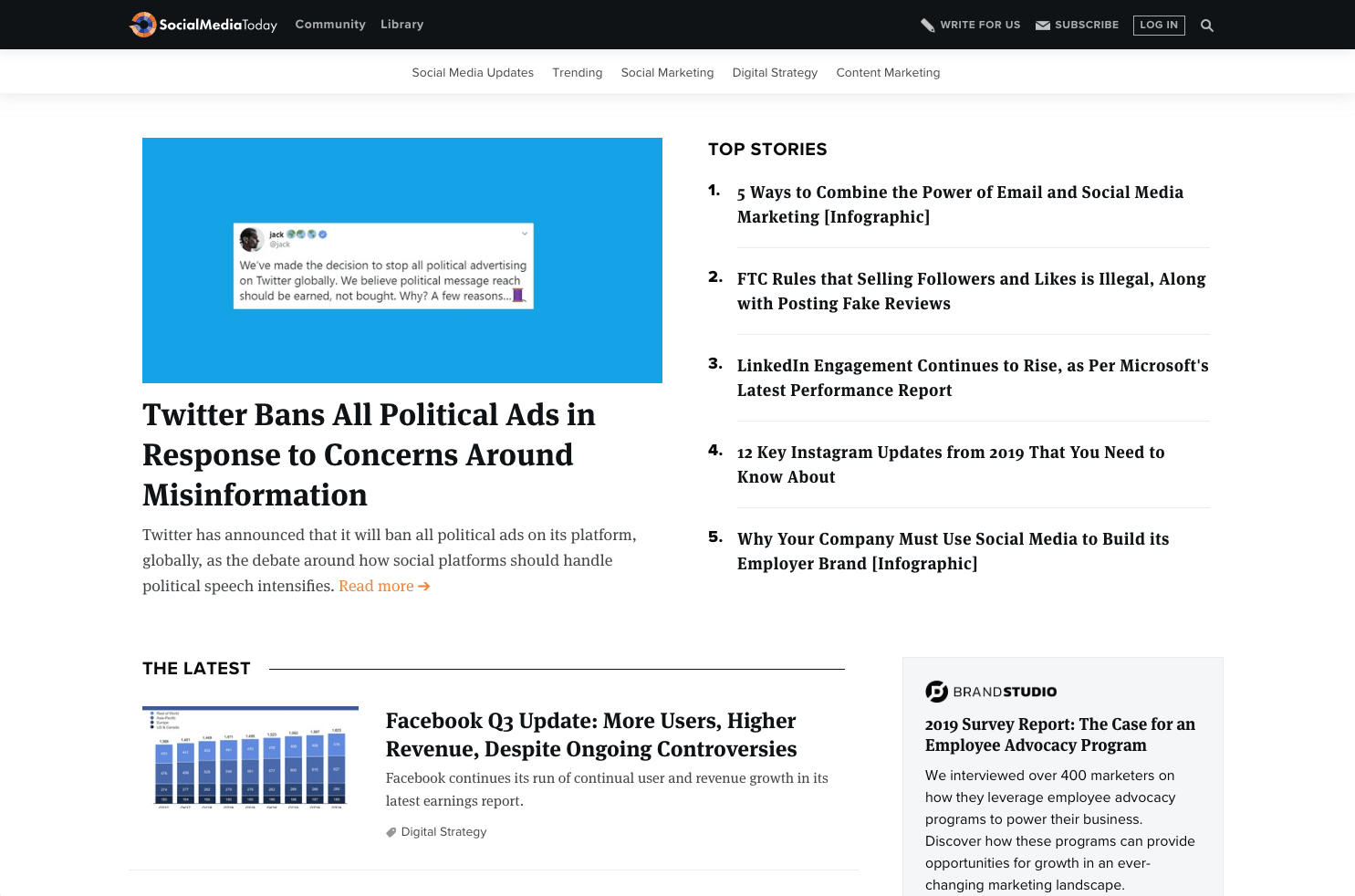 Why we recommend SocialMediaToday:
The resource has a very crisp design. Thus readers do not distract from their main goal – getting priceless information.
Along with reading their chosen article, the reader can also consult the right sidebar section, where they can get information about the most popular articles, upcoming events, industry news and so on.
#14: Miva
The youngest among the blogs mentioned in the article is Miva. This blog is also famous for being the most practical e-commerce blog among others. Though young, Miva has already gained a strong reputation as illustrated by their inclusion in various lists about the best e-commerce blogs to follow. Their articles are casually short yet informative and interesting.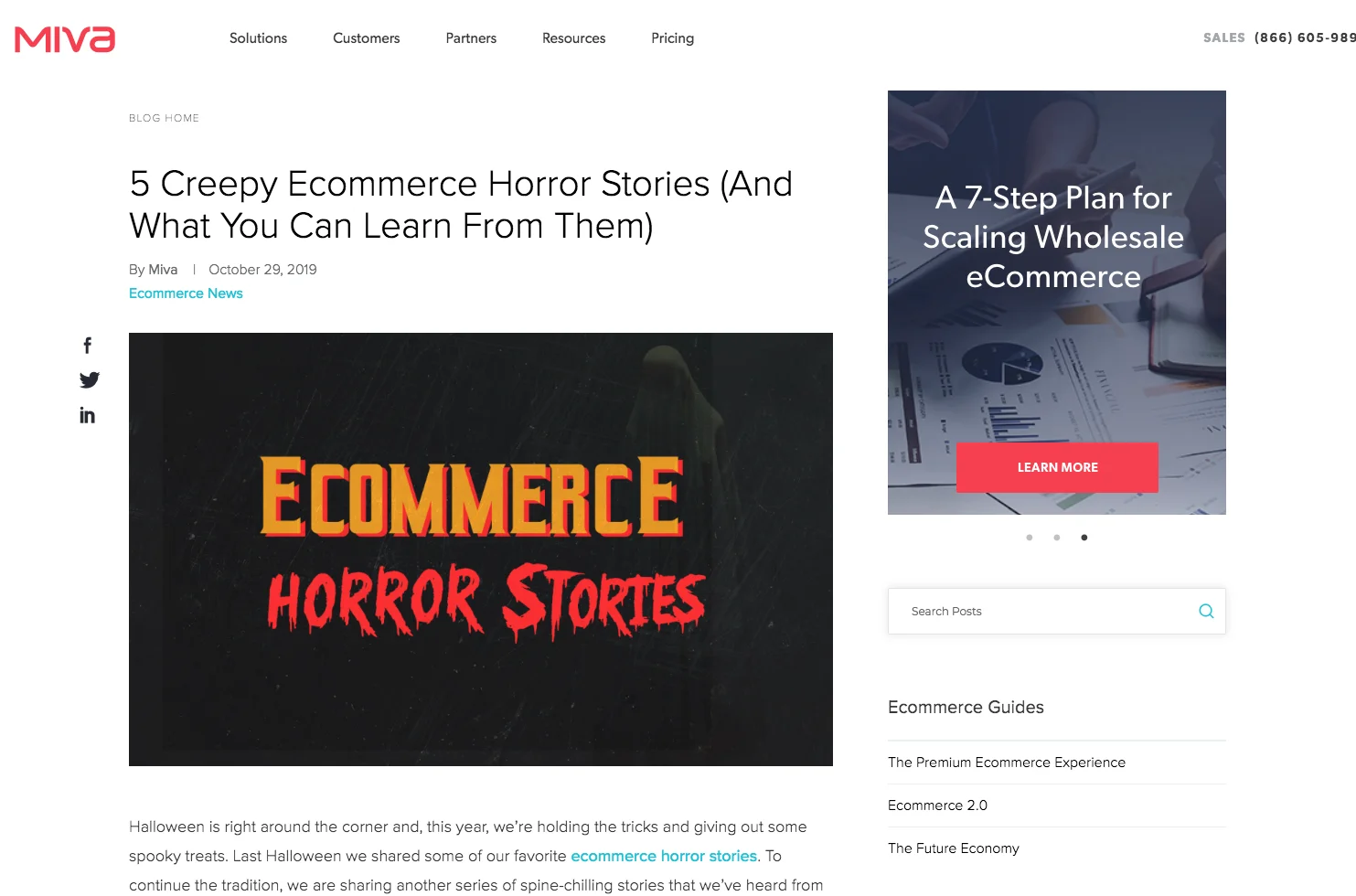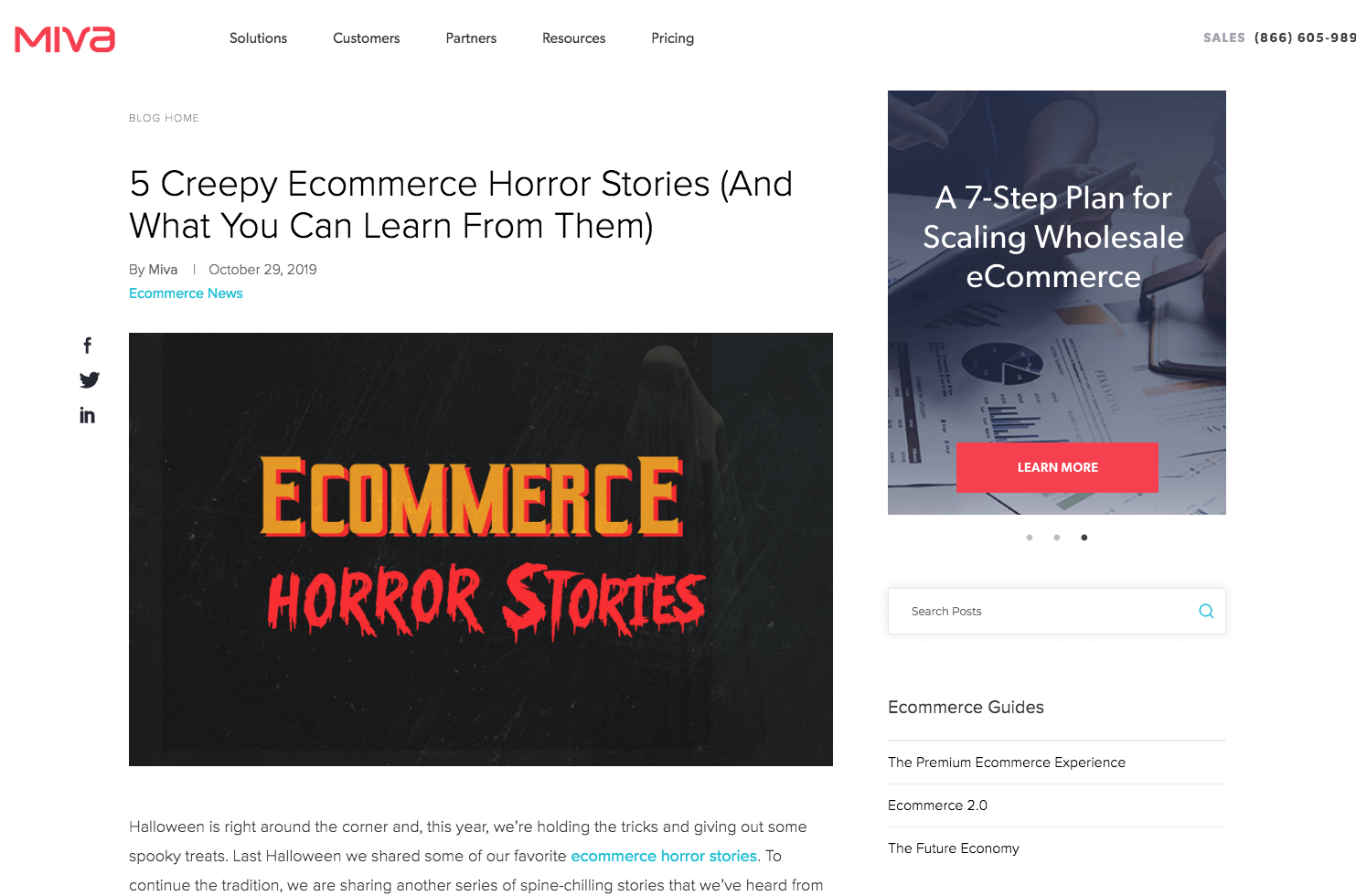 Why we recommend Miva:
The manner of the blog's articles comes across very informed. The authors use many stats and third-party hyperlinks to support the information provided and give their readers a sense of reliability.
Miva's resource library consists of various infographics, guides, white papers, webinars, and many more. Thus, any reader has the chance to find needed information in the most convenient format.
#15: Internet Retailing
Stylish and straightforward, Internet Retailing does not stick its readers in a mire of deep and detailed ideas. Here you'll just get some general news of the e-commerce industry. No precise numbers, lengthy instructions, or detailed guides. We love it because while it's not earth-shattering, it's quite useful for getting a general overview on various e-commerce subjects.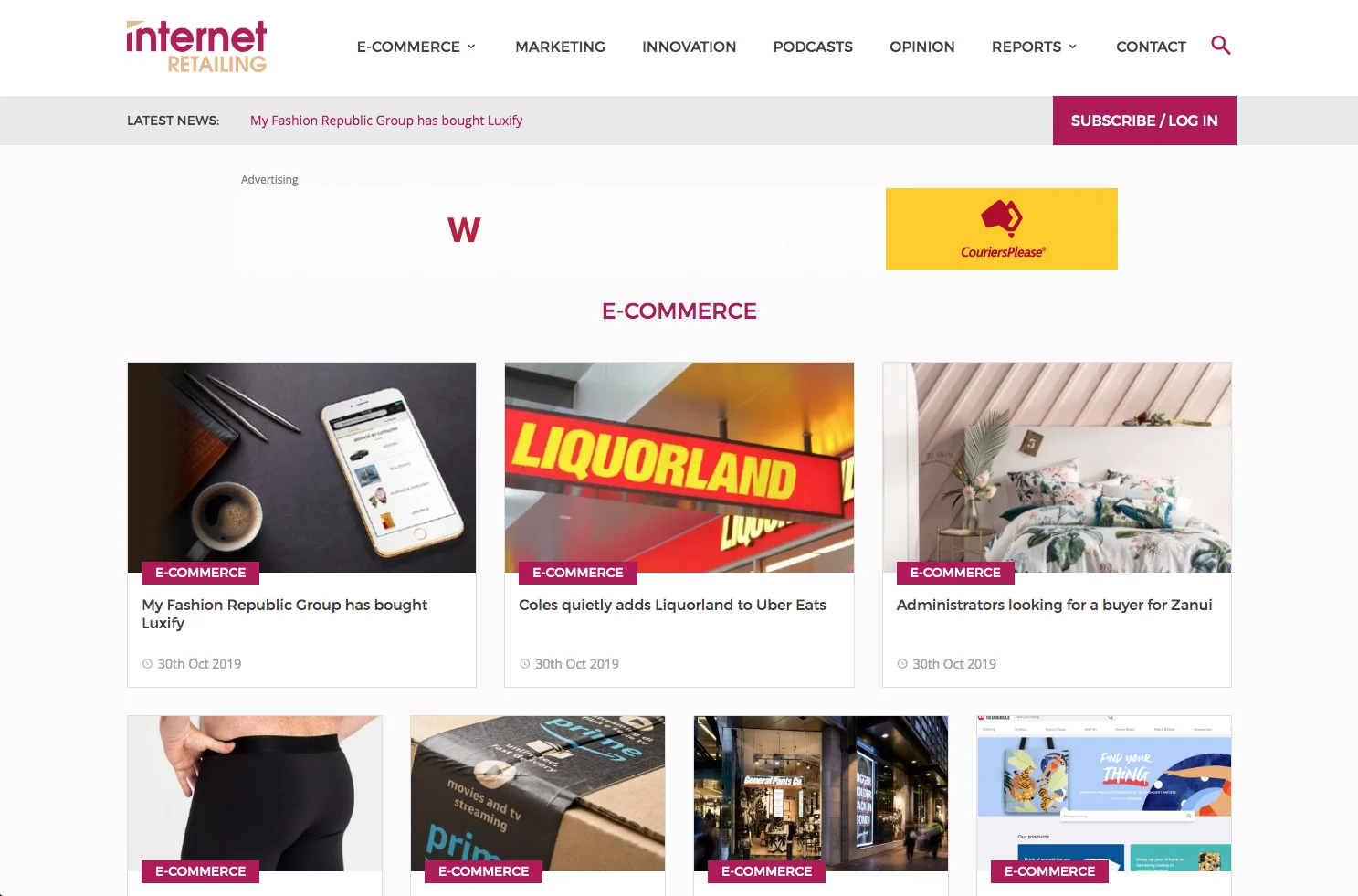 Why we recommend Internet Retailing:
The Internet Retailing articles are casually short yet informative to provide meaningful insights to the reader.
Based in Australia, this blog gladly discloses the local industry news and events. Such an approach enables the reader to be informed not only about US news but about the local news and events as well.
Final Thoughts
E-commerce blogs are a great option to learn more from the leaders of the industry at any time, day or night and without even leaving the room. Blogs also enable you to educate yourself without any limits and keep pace with the latest news, trends, and tactics.
We hope you've found some meaningful insights from the above-listed e-commerce blogs 2019. Do you have an e-commerce blog that you love? If you think we've missed any decent blogs – mention them in the comments section below – we'd love to know about the new stars!
https://whidegroup.com/wp-content/uploads/beb-bll.webp
300
772
Olha Fedchenko
https://whidegroup.com/wp-content/uploads/whidegroup_logo.png
Olha Fedchenko
2019-12-03 15:01:27
2023-02-15 14:20:02
15 Best E-commerce Blogs for Online Retailers
15 Best E-commerce Blogs for Online Retailers