In the current digital reality new business processes, structures and sales formats are constantly appearing. These days, selling digital products is one of the most popular trends. Compared with physical products, selling digital ones has a bunch of advantages, which we will talk about below. Although digital goods can't be touched or assessed before the purchase, people still buy them. From e-books to audio products to software – people need these goods and are ready to spend their money on them.
Before diving deep into the peculiarities of selling digital products, learn more about Shopify, its distinctive features, disadvantages and everything else you might want to know about the platform in our
Shopify tutorial for beginners
.
Thousands of entrepreneurs around the world have already begun to appreciate all the benefits of this type of e-commerce business and have managed to create successful businesses. In this article you get access to the info you need to know about selling digital products on Shopify and will find answers to the following questions:
What are digital products?
What are the pros and cons of selling digital products on Shopify compared to physical goods?
Can you sell digital downloads on Shopify?
Why choose Shopify?
How to sell digital products on Shopify?
What are the most popular digital products to sell on Shopify and how to choose your perfect products?
What are the best Shopify stores that sell digital downloads?
And many more…
What are Digital Products?
A digital product is an intangible asset or content that is sold and distributed online. It can be literary, graphical, musical, audiovisual, and any other type of content. In short, if you have any product that can be of value to other people and you can email it or download, it can be considered digital.
The relevance of such products and the demand for them can vary depending on the location and the direct needs of potential consumers.
Pros and Cons of Digital Products Compared to Physical Goods
If you're wondering whether it is a good idea to sell digital goods online, the next step is to weigh all the pros and cons of the decision.
So here are the main advantages of the digital products over the physical ones:
A digital product is easier to distribute, since you don't need a warehouse and suppliers to store and ship goods.
Your customers receive their purchase almost immediately, in just a couple of clicks.
No additional costs for the product packaging and shipping.
Fairly high marginality.
The digital product will always be in-stock, so you can sell an unlimited number of products.
Selling digital goods often has a close connection with the online education niche, which currently is growing rapidly. By 2025, about $320 billion will be concentrated in the niche.
In summary, the main advantage of selling digital products on Shopify is that they are created once and then can be sold hundreds of times without the need to restock.
However, here are several disadvantages that come with selling digital goods:
Immateriality. While consumers have gotten used to purchasing virtual products, physical goods have obvious material features and appeal.
The costs are not always obvious. Since there are no physical specifications to describe, it is much more difficult to justify the cost.
Harder to market (?). Although it is not always the case, sometimes you can face certain challenges associated with advertising and marketing your digital products. Such has extra consumer education.
For now, it is clear that the number of pros several times exceeds the number of cons, so we still consider the launch of an online store selling digital goods a pretty good idea. Now let's proceed with weighing the pros and cons related to the choice of the perfect platform.
Why Choose Shopify as the Platform to Sell Digital Goods?
Today, merchants can find dozens of different platforms to choose from, each with its own advantages and disadvantages. The list of top rated e-commerce Content Management Systems (CMSs) includes Magento, Bigcommerce, Shopify, Wordpress + WooCommerce, WIX, and many others. Of course, before choosing the best platform for launching your own online store, you need to carefully consider the characteristics of these platforms and choose the one that best suits your business needs.
Why, in the context of selling virtual products, we are talking about Shopify as the best platform? There are many reasons for this. Here are some of them:
1. Shopify is one of the most successful CMS for the implementation of the needed functionality to sell digital products. Whidegroup has been developing and customizing Shopify stores for more than 7 years now, and despite Shopify being originally created for the sale of physical products, it can be successfully used for other product formats and variants.
2. Shopify has been on the market more than 12 years and is now the leader among the most reliable platforms for e-commerce. It's recognizable and trusted.
3. Shopify has excellent support from both the company and independent developers. At the moment, there are thousands of available apps that help expand or improve the functionality of your store. Most of these applications are installed in a couple of clicks and start working right away.
4. Shopify subscription fee is quite low and most of the service packages are available to almost any business.
5. Choosing Shopify for their stores, merchants can pay maximum attention to the creation or selection of products and promotion because the service provider takes care of and is fully responsible for the hosting and handling potential interrupted operation of the server.
This was just a short list of the Shopify benefits. If the above points were not enough to decide whether it is a good idea for you to sell digital products on Shopify, you can contact us for further information and consultation.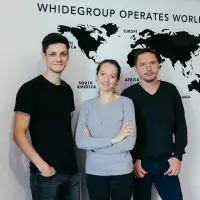 Looking for help?
Contact Professional E-commerce Development Company
How to Generate Ideas for Digital Products to Sell?
Generating ideas for Shopify virtual products to sell is a key step. Sometimes it doesn't require many ideas, especially if you already know exactly what you want to sell and all you have to do is organize the technical part of the product creation and website setup.
In case you haven't chosen the niche and type of virtual product that suits you, it's time to start generating ideas. The Shopify digital products idea generation starts with 3 key steps. Let's break down each step.
Step 1: Brainstorming
Do you have any ideas? Write them all down. Even seemingly bad ideas in the long run can be useful. Ask yourself these questions to make it easier and faster to decide on a list of suitable niches and products:
1. Is there anything you can teach your clients? For example, if you are already selling a product, consider whether you can train the customers to use it or help them gain a new level of proficiency. If yes, then you can create online courses and provide customized training services for VIP clients. In this case, your opportunities will directly depend on your product and variety of virtual services you can additionally provide.
2. What ideas do you already have? Before searching for new ideas on the internet, think about ideas you've had before. Maybe, you've already started writing a list of resources you can create for your clients, a business plan around expanding your 1:1 work to help many at once, or just thinking about ideas you wanted to try but weren't sure how? All of these can help tremendously.
3. What are you a pro at? In fact, you don't have to sell physical goods and come up with complementary virtual products. With expertise in any niche, you can always create your own high-quality info product and sell it successfully.
Step 2: Research
When you've run out of ideas, you can do more research to expand the list of possible options. Try to find places where your potential consumer is frustrated or underserved with any product or service. Do you know the ways you can help them to solve these issues? Is it a virtual product? That's great! Now you can proceed with the research.
Here are a few of the best places to start researching:
Niche forums (e.g. Reddit, Quora, etc)
Reviews of competitors' products
Facebook groups
Blog posts and comments
Step 3: Idea Validation
At this stage you have enough ideas for selling digital products on Shopify. What you have to do now is validate these ideas, meaning discovering whether your potential customers will want your new product or not. Validation is crucial because first, just having an idea doesn't mean it will be as beneficial for the client as you imagine it to be. Second, you still have to narrow down the list of ideas and choose one to start with and which you will work on and develop. It's tempting to choose many, but you can introduce new products later. Focusing on one to start is a big key to success while you're creating a new line of business.
Here are some tools and ways to help you confirm or deny the viability of your idea:
Research keywords. With the help of keyword suggestion tools, you can get a glimpse into how your potential customer would search for your solution and what is commonly searched for around your topic. This insight allows you to validate or disapprove your idea and helps you understand whether there is any interest in the selected digital product . For this, you can use tools like Keyword Planner, Semrush and others.
Google Trends. Check the topics you are interested in on Google Trends. Which shows you graphs on common search and other internet trend data. Give preference to those topics which face the growing demand. Be sure to filter interests by countries in which you plan to sell your products.
Conduct a survey. If you have current customers, ask them for feedback. To reach a wider audience, ask for feedback on social media with a question or survey post. You can also reach a wider social media audience with paid ads.
Regardless of which niche you plan to gain a foothold in, the main thing to remember is that your digital or info product must have value for the end user. Otherwise, even the most brilliant idea can turn into complete failure.
Have you already chosen a niche? It's time to move on.
Profitable Digital Product Ideas to Sell on Shopify
Digital products come in a wide variety of formats like PDF, mp3, various video formats, plugins, e-books, applications, courses, and so on. Let's talk a little bit more on the types of products you can consider selling on your Shopify store.
#1 Online courses
Today, we live in a DIY (Do it Yourself) culture. If you are an expert in some field and want to share your knowledge with your audience, then an online course is a great option. You create it once and then can sell it an unlimited number of times. You can use your knowledge and talent to help others and provide one-to-one coaching for people with an interest in a particular topic.
#2 Guide / checklist
This is a good option for those who have experience and knowledge in any field and want to share them with others while making money. The goal is to allow the customer to gain valuable experience and "life hacks" faster without studying lengthy video courses and reading books.
#3 Graphic templates / mockups
Such materials are highly demanded by web designers and other specialists who work or study remotely. Your customers can buy and use these templates to build websites, create designs or anything else – the choice is limited only by your imagination.
#4 Memberships
Selling membership access to exclusive content is a working model for websites that only gives access to subscribed users. As soon as the user buys a subscription or membership, they get access to exclusive content you've prepared for them. You can offer either a permanent membership or a monthly / yearly subscription.
Explore more about

#5 Printables
When talking about printables to sell, you gave a huge number of product options to choose from. You can find loads of printouts on Etsy or other marketplaces, or you can create them yourself from scratch. Examples include templates, stickers, invitations, schedules, planners, illustrations, scrapbooking materials, and more.
#6 Stock photos and videos
This is a great option for freelance photographers and videographers looking to sell their works online. You can sell your work in bundles or individual pieces.
#7 Photo and video filters or presets
Many social media users are interested in beautiful one-click photo and video processing. This demand can be satisfied by selling different presets. With one click, photos can be changed with hundreds of preset options for color, tint, shadow, contrast, and more. This is a great product option to consider, especially if you have the needed skills and professionalism to create such presets yourself.
#8 Theme templates for different CMSs
Creating templates for websites or e-commerce stores is a rather laborious process that requires professional skills. If you have mastered it and are able to create your own templates, then Shopify will help you organize sales.
#9 Fonts
People love to stand out and impress their audience. Standard fonts are terribly boring, and it is hard to use them in any original project. Therefore, there is a high demand for non-standard and expressive fonts, which, as a rule, are paid for.
#10 Music and audio
You can sell beats and instrumental music, plugins for music software, stock music, and sound effects.
#11 Licenses for digital assets
If you are a photographer, designer, or musician, you can license your digital assets so your customer can pay for it and use your assets in their own content or projects. Be sure to secure all your products to protect them from copying.
#12 E-books
The popularity of e-books continues to grow. There were about 538 million e-books sold in the US in 2018, and the niche is just picking up steam. You can choose any genre – the list of topics is almost endless.
#13 Podcasts
Podcasts are another product to sell in an electronic store. This is the author's audio recording of speech. Often they are presented in the form of a conversation (possibly in the format of an interview) or a monologue on a relevant topic: cinema, fashion, news, sports, humor, and so on. To make your podcasts high quality, it is worth paying attention to the sound quality, the topic and presentation of the information, since customers are guided by these indicators. You can ask payments individually for the specific item, for donation, sponsorship or by subscription.
#14 Research
Another way to make money is selling statistical data or research results. Of course, this is a difficult type of product to produce by yourself. However, you can contact research centers and offer cooperation. If you are interested in this idea, start with the area that is most familiar to you and your audience. Also, consider what advanced knowledge people are willing to pay for.
#15 Ready meals
This product is suitable for all niches related to nutrition or a healthy lifestyle. You can sell ready-made menus and product boxes adding them to fitness items or use them as an addition to other products.
Additionally, we'd like to mention that before selling almost any of these digital products, you need to create it. Without having any valuable skills or knowledge, it will be difficult to find worthwhile products that will generate sufficient income in the long term.
How to Sell Downloads on Shopify: Set Up Process Step-by-Step
Once you have decided on the type of product to sell, you need to create it, set up your Shopify store, and start selling.
To begin with, decide on who will be involved in setting up and preparing your future store for the launch. Will you work with a company that provides Shopify development services or try and build it yourself?
In this section we cover the steps you need to take to configure your store for selling digital goods yourself.
So, how to add digital downloads to Shopify?
Step 1: Register on the Shopify platform
After the registration you will have 14 days of free trial at your disposal. This time should be enough to understand the specifics of setting up and using the platform and its features. The service provider offers several different subscription packages. You will have to choose one at the end of the trial period.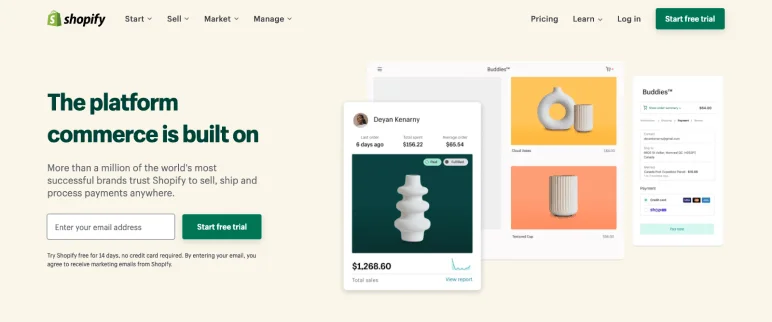 Step 2: Disable shipping
The next step is disabling all shipping options for your products.
To do this, go to the Shopify admin panel > Products > All products. Click on any product or create a new one, and uncheck the field "This is a physical product" in the shipping section. Save your changes.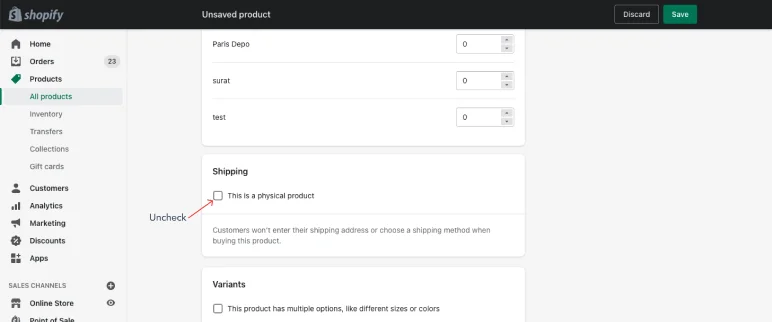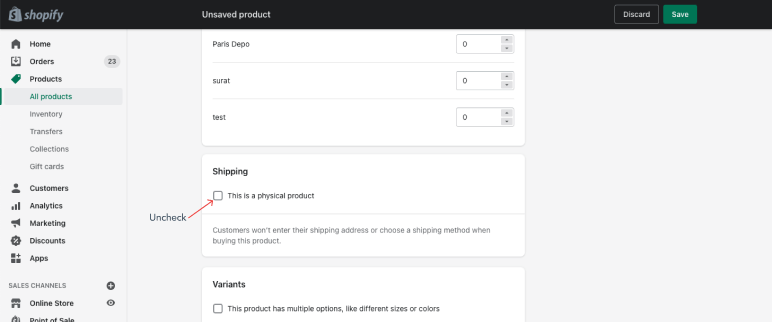 Step 3: Choose and install Shopify digital downloads app
Now you need to install an app that allows you to sell digital goods. In the Shopify App Store you will find several apps with similar functionality from different providers. We will overview the most popular options in this article.
Or, Build a custom app for digital downloads

To install the app, go to the Shopify App Store, download the needed app and add it to your store.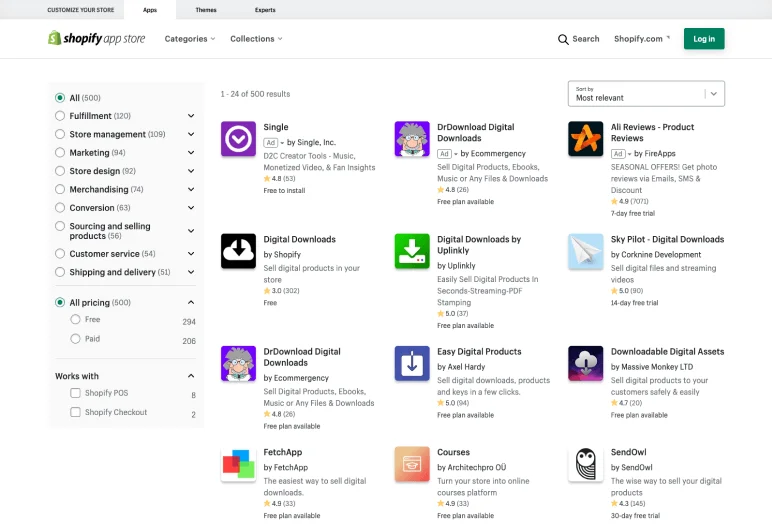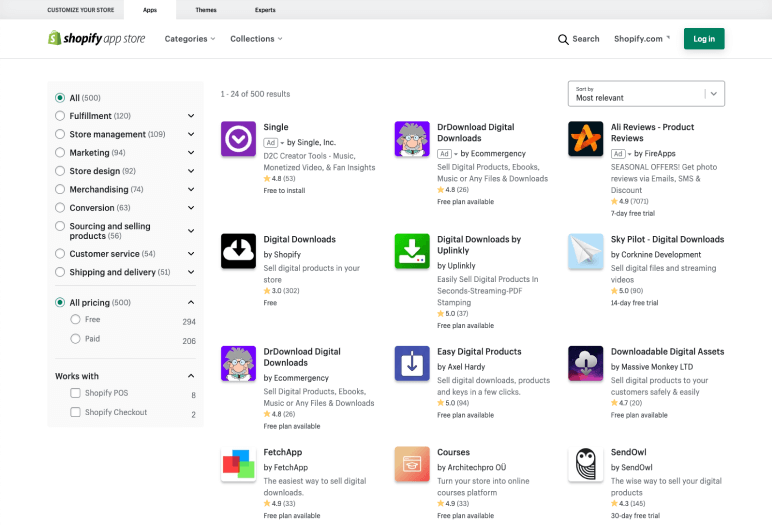 Now you can add a digital product in Shopify. Go back to the product settings and "Add Digital Attachment" – this can be a file, a pdf document with a link to Google Drive or Dropbox, a zip archive, etc.
After customers purchase the product, they receive an email with a link to download the purchased product or on the Thank You page they will see a button to download it.
Step 4: Place a test order
As the last step in the setting up process you should place a test order to make sure everything works smoothly. Go to your store and purchase any digital product. In order not to spend a large amount, you can create a private promo code (for example for $89), so the total amount paid for the test order is at least $1. This will save you money, while still allowing you to fully test the process front end and back end.
Step 5: Define promotional tactics
Once you set up your store and prepare it to launch, it's time to choose ways to attract your customers. It can be search engine optimization (SEO), paid advertising, promotion in social networks, and sharing with current customers. This step is extremely important. Thanks to paid and free promotion, you can find a new audience and constantly promote your products.
Best Shopify Apps for Selling Digital Products
As promised, we are sharing a list of the best Shopify apps built to optimize your online store for selling virtual products. Some of the apps presented below are designed for narrower niches and will not suit everyone. Therefore, read, then choose:
Digital Downloads
SendOwl
FetchApp
Sky Pilot
Courses, and others
Next, we'll take a closer look at the most versatile and popular of them.
Digital Downloads
The Shopify Digital Downloads app is one of the best free shopify apps used for selling digital content. The easy-to-use app allows you to sell digital products on your Shopify store.
Customers access content instantly and product updates are automatically sent to customers. You can also mix and match to include both physical and digital products in one order.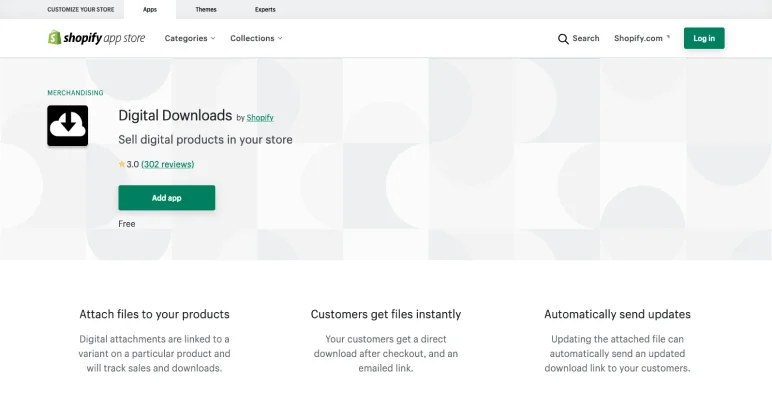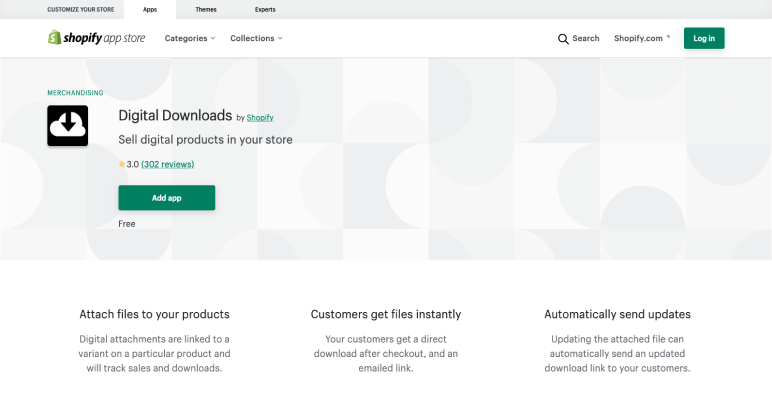 SendOwl
With SendOwl, you can sell literally any digital downloads through Shopify. From videos to e-books, photos, audiobooks – anything you want!
When someone makes a purchase, SendOwl automatically provides a secure and time-limited download link, giving customers instant access to their purchase. It's a fully automated process, which means that you, as a business owner, don't have to spend time or effort managing order confirmations.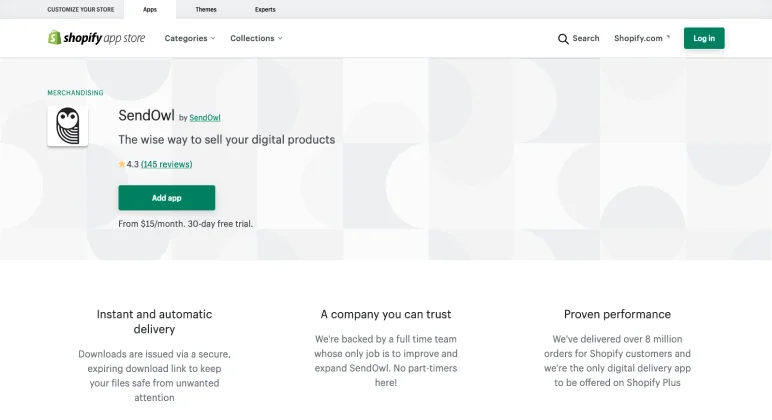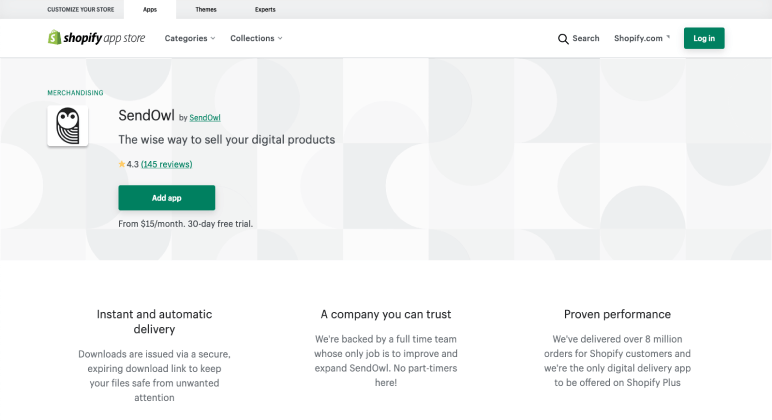 FetchApp
Like SendOwl, FetchApp integrates seamlessly with your Shopify store to automatically deliver digital products to your customers. FetchApp has a pretty impressive list of clients including Robbie Williams, a Book Apart, Ghostly, MerchNow and many others.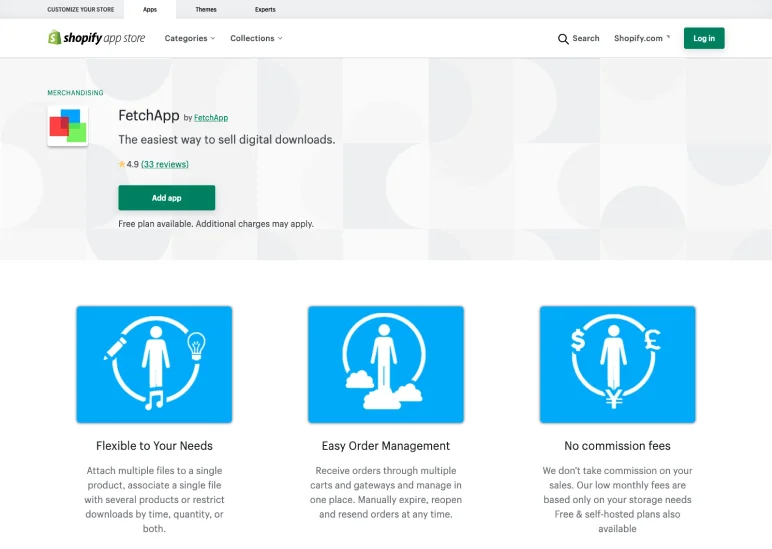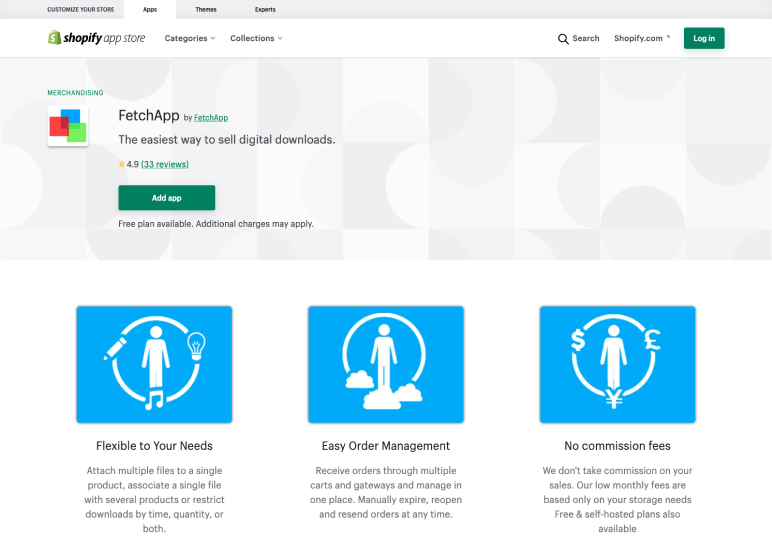 Here are some of the main benefits you get with the FetchApp on Shopify when sell digital downloads:
No need to buy a separate hosting
Access for multiple users
One-click import of all digital products from Shopify
You can attach multiple files to one product
You can restrict clients' access to your downloads by time and / or quantity, and so on.
If you want to overview all available apps for digital products selling, visit the Shopify App store and read not just full descriptions, but also detailed customer reviews.
The Best Examples of Shopify Stores Selling Digital Products
Finally, we want to show you what modern, high-quality, and competitive stores selling digital products on Shopify can look like. The owners of these stores went through all the steps, found their niche, took the time to research the market, and created unique offers that are still popular among consumers to this day.
Use them as an example, get inspired, and learn how to sell a digital product on Shopify. Let's work together to launch your own online business that will be even better than those from our list!
#1 Hiphopdrumsamples.com – Shopify store selling hip hop drum samples.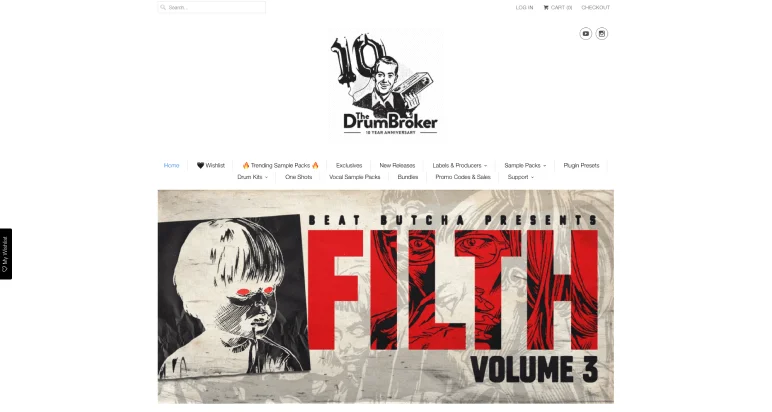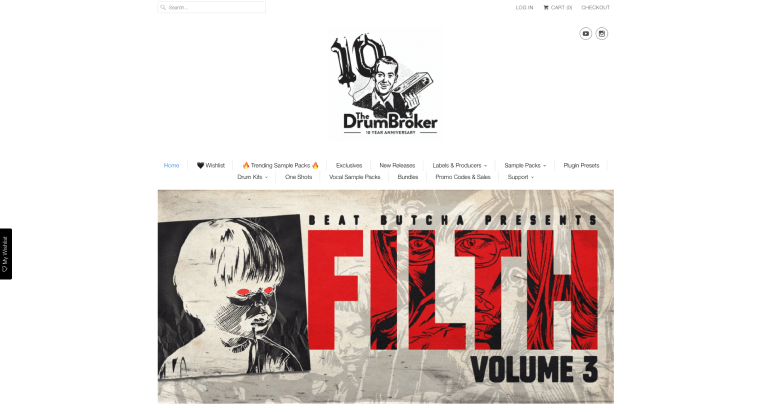 #2 On Rabbitroom.com you can buy music, books, and other merchandise.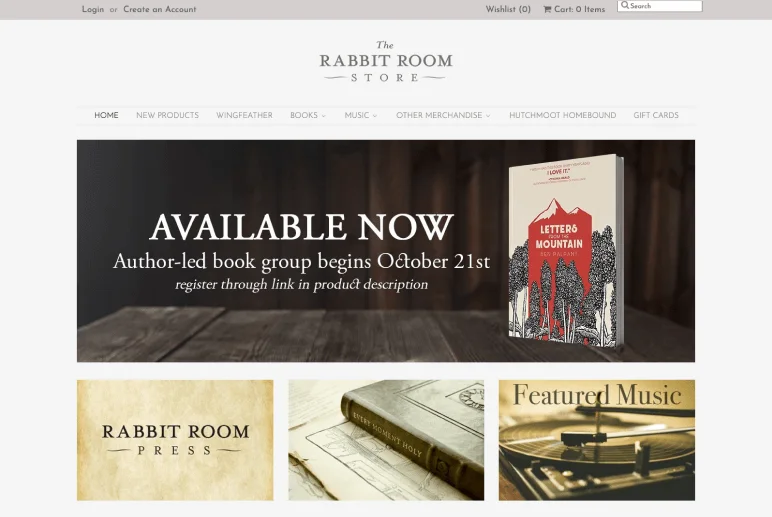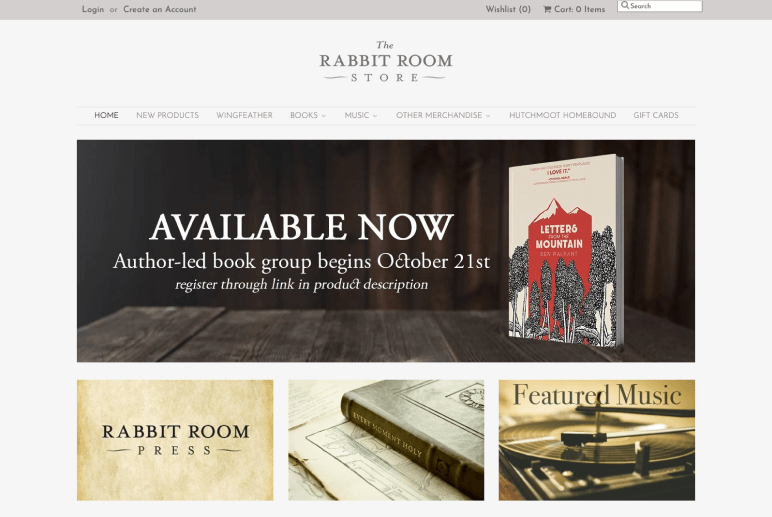 #3 Agmanuals.com website is selling farm equipment manuals.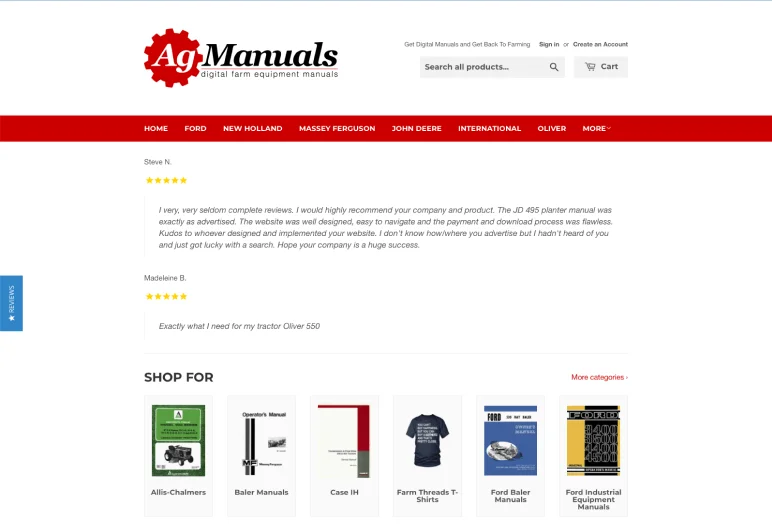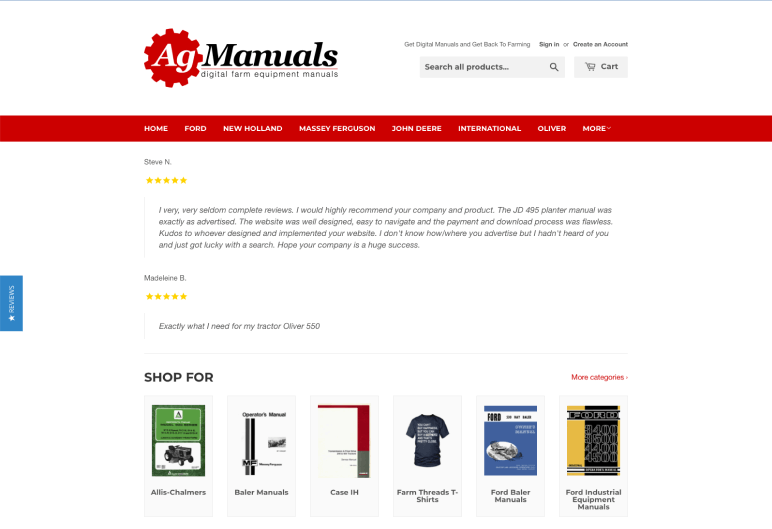 #4 Gaugegirltraining.com offers online courses and plans for wellbeing.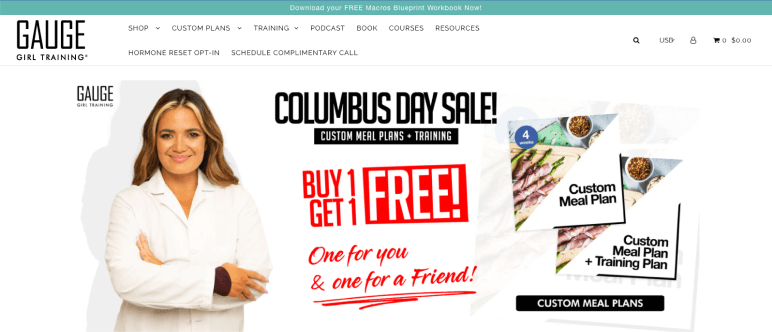 #5 On Lifeismessyandbrilliant.com you will find digital downloads for planners.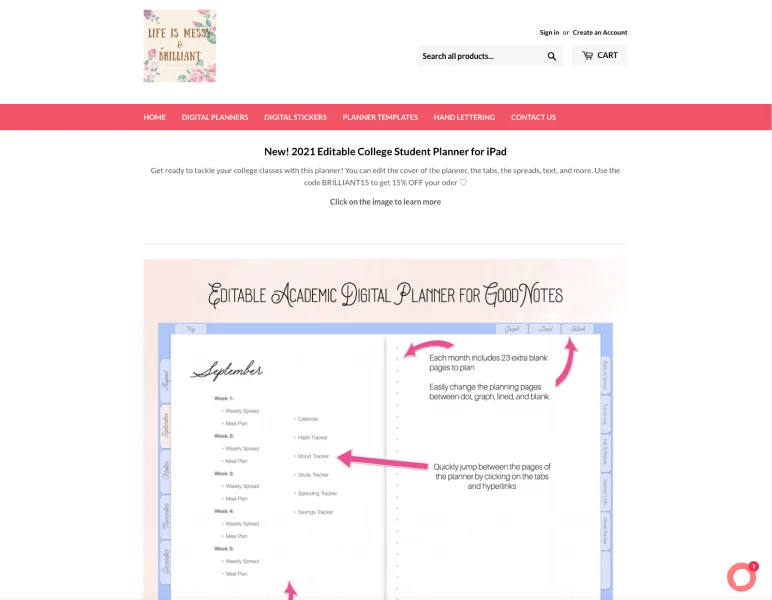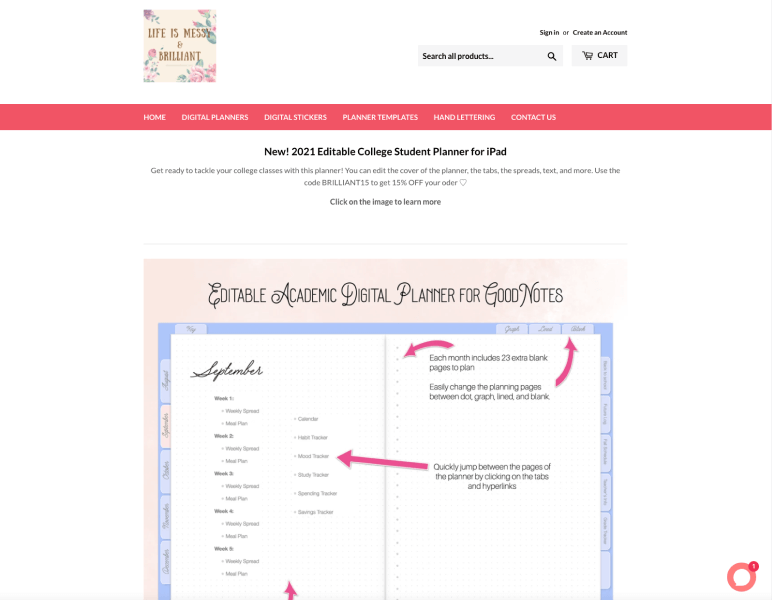 #6 Theluxelens.com contains hundreds of presets and online courses for photographers.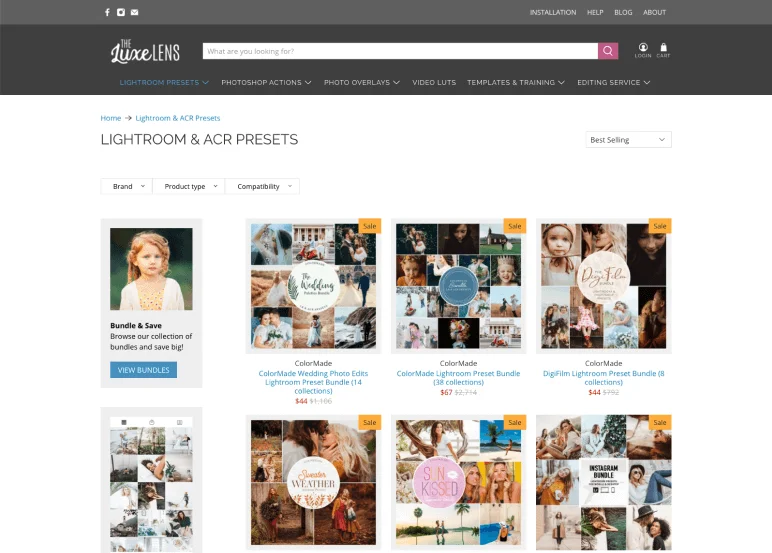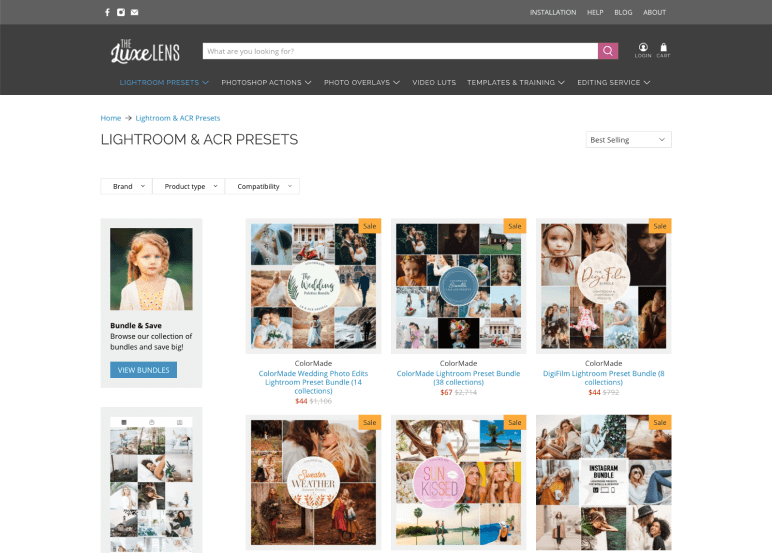 Digital Products FAQ
What are some examples of digital products?
To get an idea of what products are digital, just imagine any goods that can be bought online and does not require shipping. As an example, consider the following types of products:
Online courses
Audiobooks
Templates
Software programs
Printables
Professional photos and graphics
What are the most profitable digital products to sell online?
As of today, these are:
Software
Games
Photography
Ebooks
Music production software
Can I resell digital products?
Probably one of the greatest advantages of virtual goods is that each of them can be resold an unlimited number of times, and you will never run out of your items. There is no need to search for suppliers, replenish stocks, or arrange the product shipping.
Can I sell physical products along with digital?
Yes. You can sell both digital and physical goods in your Shopify store. Along with it, you can attach a digital download to a product that is already in your store.
Can I control the number of times the product is downloaded?
In the digital downloads app you installed for your Shopify store you can set a download limit that matches your needs. You can either allow unlimited downloads by the same customer or limit the number of times the same customer is able to download the same file.
For products that have multiple variants (e.g. printable products provided in different sizes), you should set a download limit for each variant individually.
Final Thoughts
We've laid out the whole process of creating a Shopify store selling digital goods from idea to implementation. So now you know how to sell downloadable files on Shopify.
Your choice of which product to sell online will definitely influence the success of your business. The product you choose will shape your entire business – from marketing to shipping and from pricing to product development. So, choose wisely!
If after reading the article you still have any questions on the topic, feel free to ask them in the comment section below or use the contact form.
https://whidegroup.com/wp-content/uploads/digital-products-shopify-small-1.webp
300
772
Olha Fedchenko
https://whidegroup.com/wp-content/uploads/whidegroup_logo.png
Olha Fedchenko
2021-10-19 14:50:28
2023-10-19 09:05:59
Selling Digital Products on Shopify: Every Detail Explained
Selling Digital Products on Shopify: Every Detail Explained