Selling online today is a fierce competition. The reward for a win is brilliant sales and customer loyalty. Who wins this competition, you may ask? The answer is simple: it's a company that cares about its clients by implementing e-commerce features that help to improve the buyer journey and provide an exceptional user experience.
Let's be honest – today the customer is a king, and they have a wide range of e-commerce stores to find the products they want. Since a majority of the stores in the same niche list items for approximately the same prices, what makes one site sell more than the competition? Where will a shopper want to return? Most likely, consumers choose online stores that provide a high-class customer experience, user-friendly navigation, and other features of e-commerce that ease the buyer's journey and make the purchasing process a pleasant one. In this article, we're going to dive into basic, mandatory, and advanced customer-winning e-commerce website features.
Basic E-commerce Features List
We all know e-commerce websites try to stand out among each other by using unique branding, layout, and design. In addition to these features though, each online store should also have website features and functionality that add a competitive edge in the market.
Let's explore what features an e-commerce website should have to be appealing, look reliable and meet basic customers' expectations.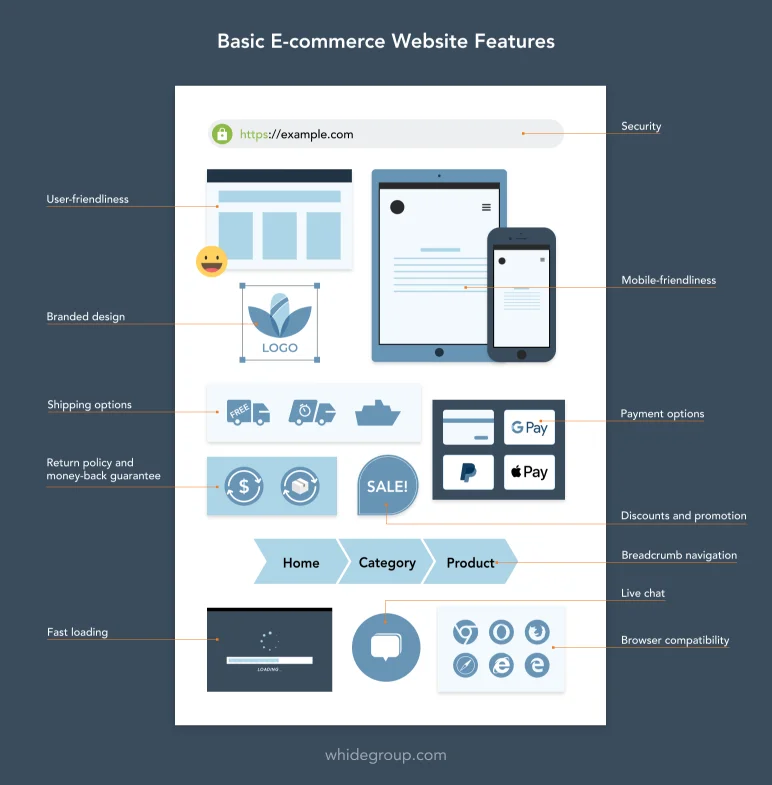 Security
Security is the primary factor among basic e-commerce features. It is the first thing you should think about when making a list of e-commerce website requirements. The reason for this is because all people are concerned about the safety and security of their personal data. This becomes especially true when they make any transactions online. Since we want to encourage transactions in e-commerce, our site visitors must feel safe.
Many websites use Secure Sockets Layer (SSL) certificates to guarantee the security of customers' sensitive information like login and payment details, and personal information while transmitting. SSL certificate enables websites to move from Hyper-Text Transfer Protocol (HTTP) to Hyper-Text Transfer Protocol Secure (HTTPS).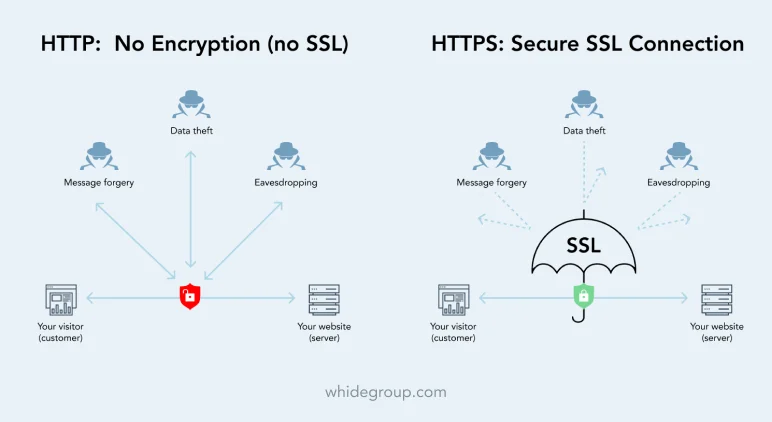 Here are some reasons why this is really important:
Authentication – SSL certificate verifies the identity of the website
Encryption – it is harder for hackers or other third parties to steal or modify any information on the website
Ranking – Google uses HTTPS as a ranking factor and prioritizes such websites by moving them higher in search results
Trust – website visitors feel trust if they see a padlock near the URL of your website

If you want to win customers' trust and start building loyalty from first sight, implement an SSL certificate as an indicator that you are a reliable and responsible store. A person won't make a purchase if they don't feel confident with your website. Using an HTTPS connection shows your shoppers everything is under protection.
Branded design
So now your shop is totally secured, what's next?
Now is the perfect time to think about the unique design of your brand. Branded design and catchy representation of your business are e-commerce features which allow you to not only differentiate yourself from other e-commerce businesses, but also to build recognition and credibility.
Branding determines how people see and "feel" your business. Branding is what makes a good ecommerce website represent the business's values, be a powerful tool to shape customers' behavior, and build loyalty towards your brand. When style, messaging, and design are chosen thoroughly, people support not only your business, they support the idea that stands behind your work.
Carefully define your target audience and create portraits of your buyer personas – their age, gender, demographics, and interests. Use that information to choose the voice, or personality, your brand would speak. Are you funny, playful or helpful? Maybe sophisticated? Choose smartly, and people will feel you speaking directly with them.
You probably already know that different colors evoke different emotions and help with associations. For example, green has a strong bond with nature, health, and calmness. Blue calls to calmness and serenity. It is usually associated with reliability and stability. Think about how you want people to feel when they interact with your business. And what colors reflect those feelings.
Let's take a look at Poketo, an e-commerce store that sells custom designed stationery and carries a curated collection of housewares, apparel, and accessories. Bold and vivid colors, creative patterns create a brave and optimistic mood, and inspire to be original. We can assume that Poketo's target audience is young, active and positive people. That is how branding works.
It is also beneficial to share the story and origin of your business. This feature will work much better than creating a standard About page. Share your mission and dream for being in this industry. Just remember, you do not only sell something – you interact with real people who have their own life values and vision. When you share your values and vision, it's an opportunity for your potential customer to see themself in your story and connect with you, wanting to buy from you and share your store with others.
Utilizing the information discussed above you can develop accurate visual representation of your brand that will work as an additional tool for building loyalty for your business.
User-friendliness
User-friendly website is a site that is convenient, understandable and easy to use. It is a website that is designed in accordance with users' behavior, supports them in their buying journey and makes interaction with your website effortless.
Hubspot conducted research where
This is where user-friendliness plays the leading role.
An appealing design, great content, and big assortment of products you offer are great, but this is not everything to engage users. User-friendliness takes the leading position among e-commerce features that make sure website visitors are able to find what they are looking for in your store. Whether this is a specific product, its characteristics, your business contact details, or anything else that helps them to make a buying decision.
Everything people typically interact with on your website should be straightforward:
1. Navigation, website structure and page names. Make navigation clearly visible. Opt for grouping items into broad categories instead of placing too many options in the main menu. Organize website structure logically and keep page titles simple. Unfamiliar abbreviations or jargon can be tricky for understanding, and most probably won't help people navigate through your store. Integrate breadcrumbs and support completed actions with informational messages and notifications. All these will help website visitors intuitively navigate within your e-commerce store and complete desired actions.
2. Content and graphics. In addition to providing structured and logical information on your website, creation of a consistent look that is easily scannable by your customers is another feature that will help them get a complete engaging experience in your store. All the content including texts, images, and icons should be formatted according to your brand style guide that describes how your content should look. Don't forget that the most important information on a page should be offered first. Pages with a lot of text should be broken down with headings, lists, and illustrations. Take care creating links and buttons that are easily recognizable and create clear calls to action (CTAs). There are a lot of details you should pay attention to, so don't hesitate to work with a professional design and development team that will cover all the aspects of creating a user-friendly website for your business, so you can focus on your strategy.
3. Registration, checkout and contact forms. These processes are very important for customers during their buying journey. E-commerce stores have to keep them as simple as possible. Don't ask for more information than you actually need and implement a minimum number of required fields, put them in a logical order, use clear labels and offer tooltips to make the flow straightforward.
Another aspect that will help your e-commerce store become friendly and easily accessible is its optimization according to website accessibility standards. Optimizing for accessibility will create an invisible connection between your business and people with disabilities allowing them to interact with your website, order products and services, and engage with your brand.
Furthermore, people tend to make impulse purchases. The easier and clearer your store is for them, the less chances they will have to overthink the purchase decision, allowing for more purchasing opportunities from your e-commerce store.
Mobile friendliness
Mobile shopping is a big priority shaping the merchants' approach to their online business. It is projected that the world's mobile commerce sales will reach 53.9% of all e-commerce sales by the end of 2021. Moreover,
So keeping up with customers' preferences, Google requirements, and adapting a website to mobile devices will give a huge boost to your store's traffic and revenues. There are things to keep in mind when making your store friendly for mobile users. The era of responsive designs has given way to the mobile-first, or adaptive, approach.
Your store's design should be totally different from the desktop version сreating unique and straightforward mobile experience for website visitors.
Keep the mobile design simple and structured. Think out the navigation carefully, add foolproof CTA buttons with short text for easy clicks, and more.
It's also beneficial to implement autocomplete functionality for search and address completion. Streamline the checkout process by cutting the number of mandatory fields, offer guest checkout or add social media login options.
When implemented properly, mobile friendliness becomes one of the e-commerce features to significantly boost your website conversions.
Browser compatibility
People use different browsers while surfing the internet. The way websites, and your store, appear can vary for each web browser.
Statcounter shows the statistics of the browsers' usage over the last year.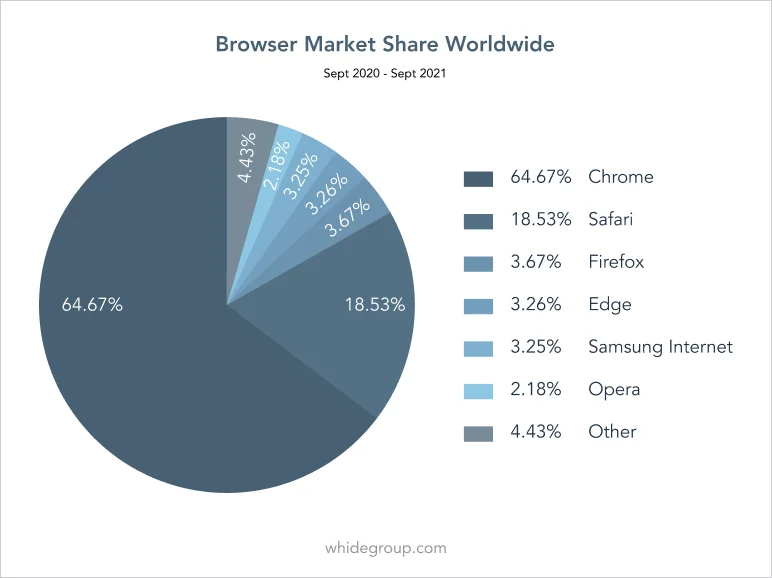 Each browser has its own specifics and a way of rendering HTML content. For example, Safari doesn't display SVG images, Edge will show a font that is used within your website as Arial by default. At the same time, Safari will output Helvetica.
Wrong displaying of images and product information can naturally influence a person's decision to buy.
These are impressive numbers which show that browser compatibility takes a top spot in the e-commerce website features list. Making your e-commerce website compatible with different browsers will guarantee flawless experience each time and for each person no matter what device and browser they use.
As we can see from the statistics above, the majority of people use Google Chrome, but every customer is important and you can't just plan for one browser. Check your Google analytics to see what browsers your website visitors use mostly. An experienced QA engineer from the Whidegroup team can help you check if your website is compatible across different browsers and test your store for any other issues. We always create a report listing used test cases and discovered bugs. Combining Google analytics stats and report data a merchant or a Business Analyst from the Whidegroup can prepare a prioritized list of e-commerce features that require optimization.
If you have a technical background and are ready to optimize the website on your own, use special programs like CrossBrowserTesting, LambdaTest, etc. to see if your website is properly rendered in all main browsers.
Payment options
Commercial transactions lie at the foundation of an e-commerce business. That's why payment options are mandatory e-commerce features for a website to be considered an e-commerce store.
Credit cards, digital/mobile wallets were the most popular payment methods in the United States in 2020 according to Statista. Each of them accounts for 30% of all e-commerce transactions. Debit cards hold the third place by popularity, having 21% of payments made online.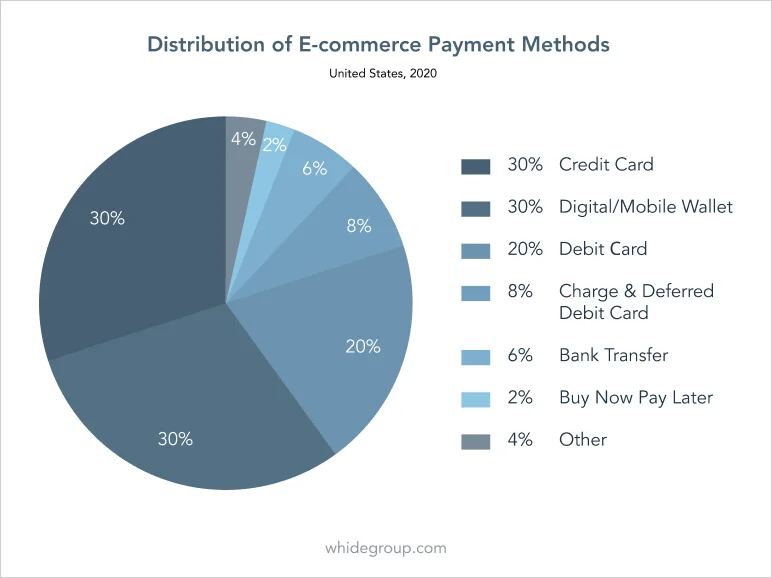 Shoppers' demand and preferences influence the decisions e-commerce merchants should make in order to earn their loyalty. Besides sticking with the most popular payment methods, it is very beneficial to investigate if there are some preferred online payment options in your region or within your target audience. Individual approach is key!
In order to facilitate a payment transaction you can use a few payment gateways. Let's take a look at the statistics of payment gateways usage in e-commerce in 2021. The most popular and well-known on the market now are PayPal, Authorize.net, and Stripe. A reputable payment gateway provides an additional level of security while transmitting sensitive financial information and makes payments easier.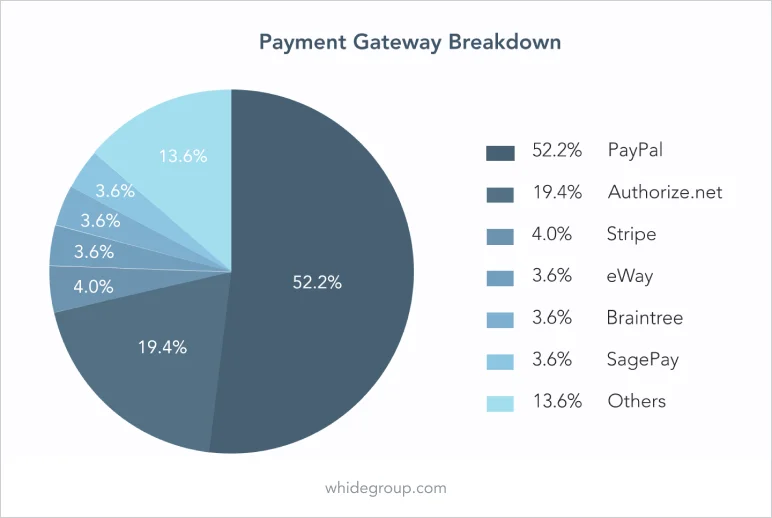 When choosing a payment gateway for your store, pay special attention to its trustworthy and, definitely, cost. Like any other service, payment gateways take a fee associated with payments handling and currency exchange. Do your research in advance, so you are not faced with any surprises.
Startling, right? Having multiple payment options in your online store will significantly contribute to sales and consumer loyalty growth.
Shipping options
Shipping is another important must-have e-commerce feature. E-commerce businesses require a wise shipping strategy which balances your costs, reliability and pricing for a buyer. Metapack stated that 38% of consumers never shop with retailers again due to bad delivery experience. At the same time,
The most popular shipping carriers nowadays are UPS, US Postal Service, FedEx, and DHL. But there is no universal solution for each e-commerce store. In order to choose shipping options for your e-commerce website take into account these factors:
1. Product type. The size, weight and material of products you sell influence the cost of delivery and shipping method to choose. For example, not all carriers can provide an efficient and safe delivery for fragile items, but most can deliver large solid goods.
2. Target audience. What you sell defines the audience you target. Find out if they need the fastest or the cheapest shipping method. Maybe your customer is ready to wait for a while, if they can pay less?
3. Shipping destination. Not all shipping companies deliver abroad. If you sell internationally, think twice on the shipping carrier and be prepared to use more than one. Do you wish to proceed with a well-known company or are you ready to combine a few delivery companies to optimize delivery time and costs.
Four most popular shipping options in e-commerce:
Free shipping, which is known as the gold standard in e-commerce for making a sale and significantly influences shoppers to place an order.
Flat rate shipping which does not require any software for calculating real-time rates and gives customers a sense of stability no matter what they order.
Expedited shipping that acts as a time saving offer for your clients allowing them to get their items next day or 2nd day delivery for an extra cost.
In-store pick up – an option popular among e-commerce businesses operating both online and brick-and-mortar stores. It provides enhanced user experience via a combination of several sales channels.
Develop your shipping strategy thoroughly by paying attention to all the features reviewed above. Track website visitors' behavior, preferred shipping methods and don't be scared to apply changes based on what you learn. This will optimize your sales funnel, improve relationships with clients, and increase the conversion rate in the final result.
Fast loading
When we are talking about e-commerce businesses, time literally is money. Many years ago it was a typical thing for all websites to be slow – all Internet speed, in general, was low. People were ready to wait for their favorite website to load as they simply didn't know it could be different.
But time has changed – Internet speed increased, websites learned to optimize their loading times, and the pace of people's life became faster too. We're not as patient anymore. In 2019 70% of surveyed shoppers stated that page speed was among the e-commerce features that influence their decision to buy from an online store. We believe these numbers are even higher in 2021.
In order to get to the bottom of e-commerce website speed, let's take a look at what impact loading speed actually has on important e-commerce indicators:
1. Bounce rate and conversion. There is a direct correlation between e-commerce store speed, bounce rate and conversion. If the website takes too long to load, people leave the page without buying, so your business doesn't get the sale. According to a Google study the chance your potential clients will bounce reaches 123% if the loading time is in between 1 to 10 seconds. Striking statistics, right?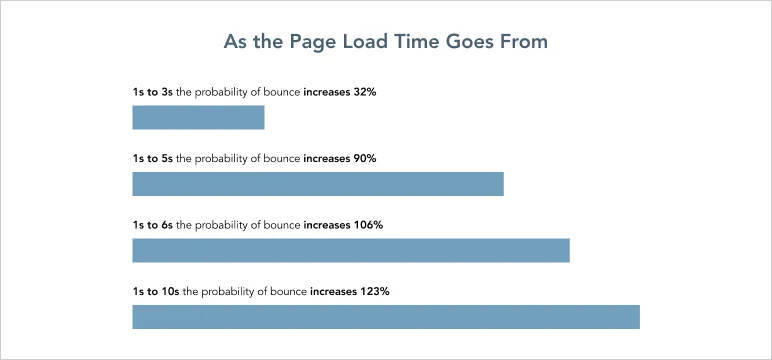 2. Customer loyalty. Being an e-commerce merchant, you understand it is easier to get your existing customers to repeat purchases rather than convincing new ones to make their first purchase. But what can help your existing customer buy again? The answer is great user experience, and speed is one of its most important factors. 79% of shoppers who face any website speed issues on the website are less likely to return to an online store. So if people don't get speed from you, they go to somebody else.
3. Google search rankings. In May 2021 Google started using website speed as the ranking factor for all websites including online stores, understanding it as a part of page experience for users. Google's mission is to help people find the relevant websites on the web, so speed is now used as a filter to sort billions of web pages on the Internet and show people what they are looking for. Fast websites are promoted to rank higher in search results meaning your store can get more visibility and sales. Isn't that something every merchant is looking for?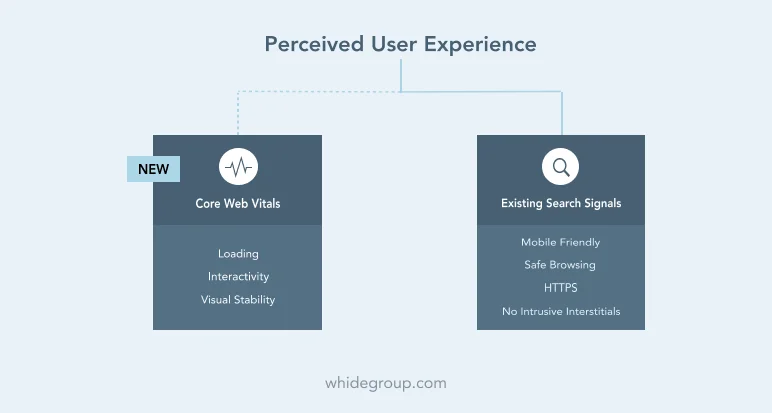 So what does speed actually mean for e-commerce businesses? It is a crucial e-commerce website feature which if optimized properly helps to rank higher, get more traffic and turn potential buyers into customers.
Return policy & money-back guarantee
Returns and refunds are definitely not a favorite part of doing business for a merchant, but the e-commerce features needed to make the process seamless require special review. There are a few main reasons why you should offer them to your customers:
1. Building trust. When you have a clear and easily accessible return policy, people will buy willingly from your store. Knowing they can receive their money back if something goes wrong, establishing a sense of security, and making shoppers feel safe. A return policy and money-back guarantee which meets people's expectations and starts building trust in your business from the very beginning, work towards customer retention.
2. Customers' attraction. It is not obvious from the start, but return policy can advance your marketing strategy. 49% of shoppers check the return policy on a website before completing their order. Offering transparent return and exchange conditions indirectly show that the goods you sell are actually of a high quality, and if they don't meet their expectations, your e-commerce store can easily sell them to someone else. It is a very helpful marketing instrument to show you put trust in your products and customers can put trust in your business.
3. Professionalism. Reputable businesses are not afraid to work with clients' complaints. So if you have a return and refund policy, this means you are ready to take the responsibility for the products you sell. This is definitely a professionalism indicator for your company in other areas of business as well.
Pay attention to your country and state laws regarding returns and refunds regulations. Create a return policy page that is as detailed as possible, is easy to find and readable. Support information with illustrations where it is reasonable to make the understanding straightforward. For example, list the details about:
How to initiate a return or exchange procedure
Items that can't be returned or exchanged
Timeframes acceptable for returns
Product condition to be eligible for making a return or exchange
Discounts and promotion
Let's be honest – discounts and coupons are the e-commerce features everybody likes and uses, if there is such an option available on the website. In addition to the obvious reason why they are so loved by people as saving money on an order, they also are an efficient marketing instrument working on a subconscious level.
In research done by Business Wire, scientists found that a $10 dollars discount led to higher oxytocin levels of 38% of respondents and those who got coupons were 11% happier than those participants who did not get them. More relaxed and happier customers thanks to the $10 discount. What an unexpected result!
As most discounts are available only during a limited period of time, they also create a sense of urgency pushing a person to order immediately. Fear of missing an opportunity to save money for an order or receive a free gift make discounts really work.
But what does an e-commerce store get by offering a discount? That's the most interesting part, and to be specific we answer – they increase sales. A global survey made by RetailMeNot found that
In addition to standard seasonal sales you can periodically run the following promotional campaigns:
Buy one, get one free or bulk discounts which become useful for clearing inventory of excessive or seasonal products
Percentage off for meeting specific criterias offering to add a specific item to their cart or spending a minimum amount to trigger a discount
Free shipping discounts for a limited time or at a minimum order value
Referral discounts allows businesses to increase sales and attract new customers by rewarding their existing customers
In order to make sure people will see your offer in the store, you can create top header banners that are visible on each page of the website, add special tags on product and category pages, send emails or show pop-ups notifying about sales and discounts.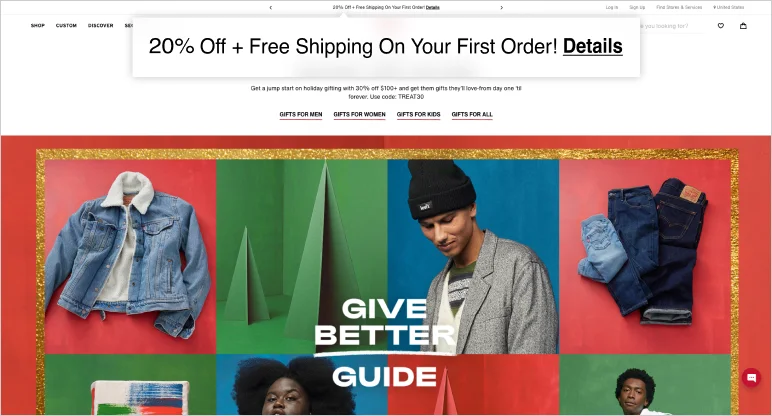 Source: https://us.levi.com/
Discounts are one of the best e-commerce website features in terms of simplicity and implementation. They are also considered to be an efficient tool of e-commerce marketing and pricing strategy. Consider all the ways you can create discount conditions that allow you to create value for customers and increase conversions.
Live chat
In modern times when every person wants to receive a personalized experience and get help as soon as possible, live chat support becomes a vital part of a customer support service. Live chat is a fast, convenient, and efficient e-commerce feature. So it is not surprising that people often choose this contact channel over email, phone and social media channels.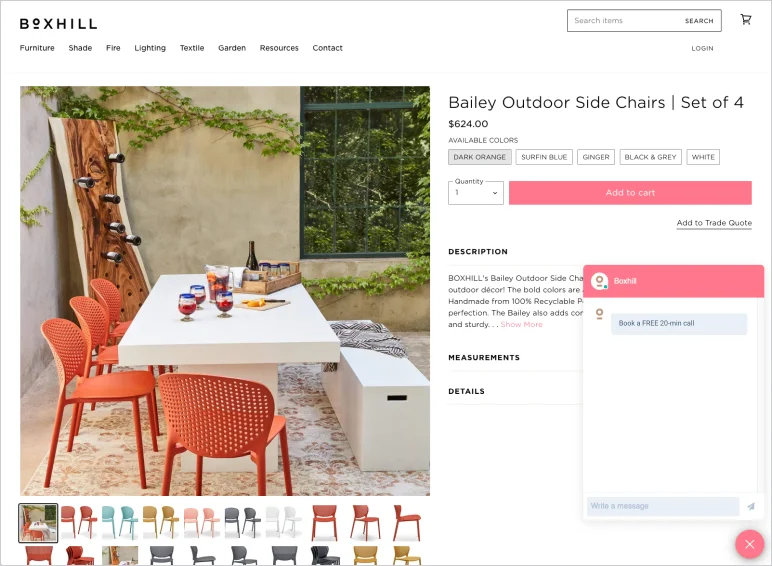 Source: https://shopboxhill.com/
Integrating a live chat service for your e-commerce store enables numerous advantages for your business and your customers.
1. It improves customer experience allowing people to get answers to their questions right away instead of waiting for an email reply for a few days and having a chance to change their mind about the purchase.
2. Option to contact a support agent on your website builds trust in your store, increases customer engagement and helps to make a purchase decision.
3. Live chat helps you understand user behavior, get insights about the information they lack on your website's product or Terms & Conditions pages, and improve your store on the go.
4. It enables your business to be more efficient. Chat support agents can work with a few clients at a time, when phone support allows them to deal with only one client. The details shoppers disclose during live chat sessions are accompanied with a page they are currently viewing, previous requests history and allows your agents to provide comprehensive help.
Along with a live chat support where customers interact with real people, you can opt for chatbot development that can optimize the time spent by the support agent for each person and provide more efficient support. You can also combine these two e-commerce features to lower the workload for support agents and stay ahead of the competition.
Breadcrumb navigation
Breadcrumbs are little, though efficient pointers that allow website visitors to understand where they are on your website, and help Google understand how your e-commerce store is structured.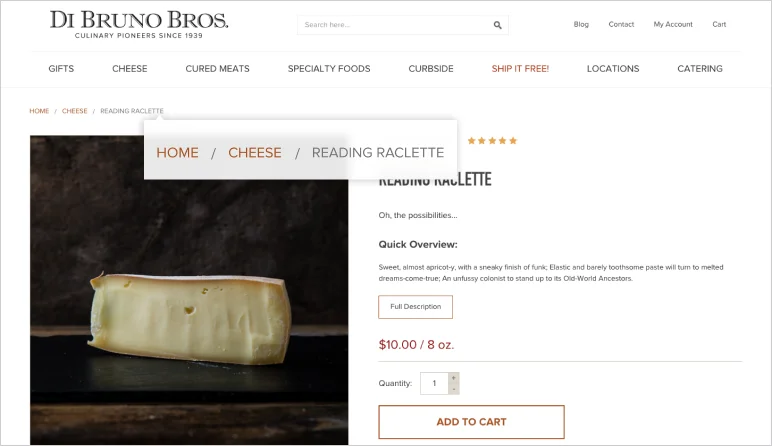 Source: https://dibruno.com/
This small text is usually visible at the top of a website page showing where in the hierarchy the page you are browsing is located. Why are breadcrumbs helpful?
First of all, breadcrumbs help your website SEO as Google uses them to understand website structure and evaluate if the information your website provides is relevant. Google can also show breadcrumbs in search results making your store more enticing for users.

Another advantage of breadcrumbs is that they enhance user experience. No one likes to be lost, customers especially. When browsing the page they like to see familiar elements, understand which category the product is located, and what options they have for navigating back. Less confused consumers mean more sales for your store.
Breadcrumb navigation also reduces bounce rate! Following organic search results, shoppers can enter your e-commerce website at any page, so breadcrumbs in this case act like a guide showing the options they have to move around. If the page they see isn't what they were looking for, navigation to a higher page in the hierarchy or to the homepage via breadcrumbs is much better than clicking the back button leading to the search results page.
There are a few types of breadcrumbs like hierarchy-based showing parent web pages, history-based listing the pages you visited previously, and attribute-based – made up of product attributes. Each of these e-commerce features has their own case for implementation, so stick with the one that suits your business best.
E-commerce Homepage Features (Incl. Header and Footer)
The homepage is the face of your business. It needs to be well designed, clearly structured and offer people what they are actually looking for. When designing your homepage, make sure to include all important e-commerce website features to strike as a reliable and modern seller. So, what are the best e-commerce features to add on your homepage?
1. Business logo
Business logo is a symbol made up of texts, images or shapes, or a combination of these three elements that help people recognize your brand. Its goal is to distinguish you from competitors and to be recognizable. Choose the prominent place for it in the header to be noticeable. The most common positions are the top left side and center.
2. Search bar
Search is a powerful e-commerce feature that can significantly advance the user experience of any online store and raise conversions. People often use the search bar when:
They know exactly what they want
The current page doesn't show what they need
The better your e-commerce website search is at giving the results customers expect to see, the more chances you have to receive a new order. Make sure the search bar is located in a usual place. For more convenience and speed, consider implementing an autocomplete feature and add filters on the search results page to narrow the results.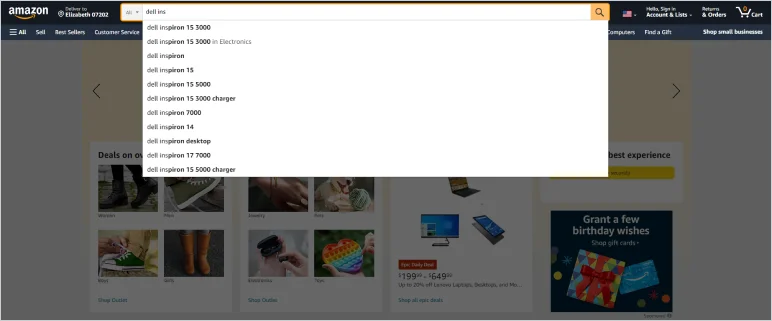 Source: https://www.amazon.com/
3. Customer login
Being able to create a personal account and log in is a mandatory feature of an e-commerce website. Having their personal space with order history, payment and shipping information saved, shoppers are more willing to make the next purchases with your brand. The overall shopping experience becomes smooth and seamless. Make the login button or icon clear and place it in a header or top bar for easy access.
4. Wishlist
We suggest e-commerce merchants consider adding a wishlist functionality to the list of mandatory e-commerce features for their website in the initial stages of website development. It is an efficient tool that influences consumers' behavior and improves conversions. People sometimes can be interested in products you offer, but are not ready to buy , and would like to save them for later and more details. Wishlist meets this exact need allowing customers to easily find items next time they visit your website.
By providing an option to save products in a wishlist, you encourage people to share their contact details and create an account. You can then use it for optimizing conversions:
Sending follow-ups and marketing messages
Tracking website visitors behavior
Defining the most popular items in your store
Optimizing sales and marketing strategies
5. Shopping cart
No doubt, a shopping cart is a vital point among e-commerce features of a website. The main goal is enticing people to add products to a cart, proceed to checkout, and successfully complete a payment. Placing a shopping cart icon in an easily accessible place like the top right corner of the header is a great way to streamline this process.
6. Multi-currency and language options
Multi-currency and language options are very handy e-commerce features for merchants who work in multi-language countries or who sell internationally. Letting shoppers see prices in their currency and viewing the information in a native language, establishes a certain level of trust between them and your business.
Some e-commerce platforms offer such features out-of-the-box, like Magento, while you will need to use modules or extensions to implement this feature within other e-commerce software.
7. Social media links
Giving visitors the opportunity to know your company deeper and contact you within a few social channels, creates transparency and allows shoppers to stay connected with your brand. It works towards building customer loyalty and retention. Remember to put social media links on the list of essential online store website features and thankfully doesn't require much effort to integrate.
8. Main categories highlighted
Easily noticeable, clear and user-friendly navigation bar with main categories highlighted provides an easy and efficient way for customers to understand what you sell and easily find what they need. Depending on your business niche and target audience these are the most popular ways you can categorize your stock:
Divide by departments
Organize by brand
Group by function
Learn your target audience thoroughly, regularly analyze behavior of your website visitors, and review orders to integrate the most efficient navigation features in your store in order to categorize your stock in the most convenient way for customers.
9. Risk reducers
Create a few risk reducers for website visitors to convince them to make a purchase in your store. These can be free shipping, guaranteed warranty terms, easy returns and so on. They are the key features of an e-commerce website which build confidence, help attract clients and convert those who are doubting whether to place an order. You can choose any of these e-commerce features or offer them all, just don't forget to highlight these benefits on the homepage to catch visitors attention.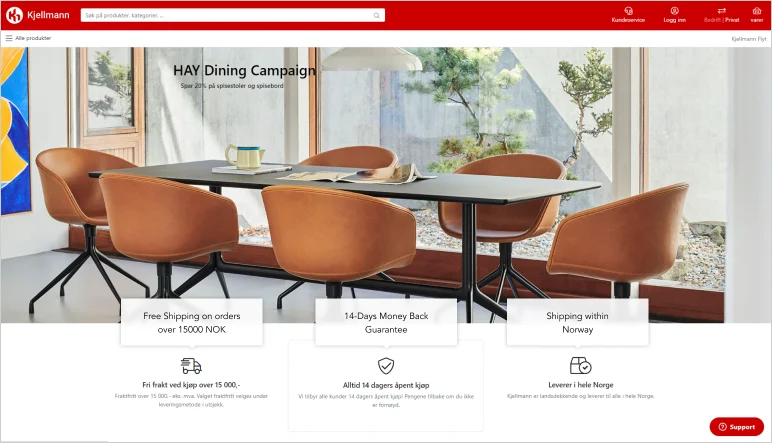 Source: https://www.kjellmann.no/
10. Loyalty programs
If you offer some special bonuses, rewards, perks, and other marketing e-commerce features for repeat clients, the homepage is a good place to tell them. Clearly state your offering and include a link to the loyalty program details page.
11. Highlighted UVP
Unique Value Proposition, or UVP is a unique offer you provide to people that explains why they should buy from you and not your competitors. These simple and clear statements have to speak to your target audience's pain points and explain how your services or products solve their problems. Displaying UVP on the homepage helps to grab customers' attention and engage them with your brand.
12. Featured products carousel
E-commerce merchants have a wide variety of options about how to name this block on the homepage and what products to associate with it. Whether it is Featured products, New arrivals or Best selling products block, these features of an e-commerce website are intended to increase sales offering items that may interest your target audience most.
13. Customer care
The customer care section is typically located in the footer with links to all information people will potentially require while shopping at your e-commerce store. These are Contact Us page, FAQs, Size Chart, Returns & Exchanges, Payment and Shipping information, etc.
14. Company information
Comprehensive company information is essential for establishing trusting relationships between your company and your clients. Adding a detailed About page, Store Locator, Privacy and Cookie Policy to this section in the footer will help you attract customers and convert them.
15. Newsletter sign up
Modern e-commerce businesses should definitely consider integrating a newsletter sign-up in the early stages of the website features and functionality implementation. This e-commerce feature allows merchants to collect information from both potential and existing customers, and use it for marketing purposes. You can send emails that acquaint people with your business, notify about special offers or send useful recommendations from your corporate blog.
Category Page E-commerce Features List
An e-commerce category page groups goods with similar characteristics together. Developing a comprehensive and well-structured category page can help e-commerce websites improve rankings for specific keywords and increase traffic. What's more, accompanied with e-commerce features that ease product exploration, it optimizes user experience and positively influences conversions. Let's review the key features of an e-commerce website category page.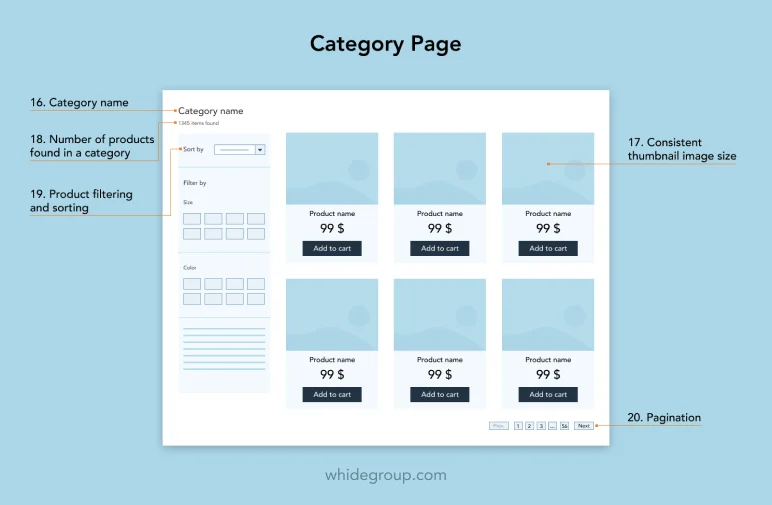 16. Category name
Category name is the most obvious, but not an e-commerce feature to ignore. It describes the page content and helps website visitors understand if they can find what they are looking for here. Use common and simple words and try to include target keywords to describe the product in detail.
17. Consistent thumbnail image size
In order to imitate brick-and-mortar shopping experience where customers can touch and feel a product, e-commerce stores have to pay special attention to the product images used on their website. Thumbnail image size needs to be enough to show basic features of the product like shape, color, and design, and catch consumers' attention, motivating them to proceed to a product page. Each e-commerce platform provides its own recommendations regarding product image and thumbnail image sizes. Try to follow these recommendations.
18. Number of products found in a category
This is one of the basic e-commerce features with simple logic that shows a number of goods in a category. It gives your customers an overview of the "situation" which helps them navigate through your store. Seeing 5,000 items found, a person will probably prefer to narrow down the results with filters to save their time instead of viewing 250 different pages. At the same time getting 50 products in a category, they may want to view all of them fearing to miss something.
19. Product filtering and sorting
Filtering and sorting functionality is a very useful e-commerce website feature that enables shoppers to specify the characteristics of an item they are looking for. Usually, e-commerce stores show the newest products first, allowing you to change the sorting order by relevance or price.
Filters are specific product characteristics like color, size, brand, price, etc. Choosing the exact values for each allows customers to get results that correspond with their requirements. It improves user experience, simplifies their buying journey and increases chances they place an order in your store.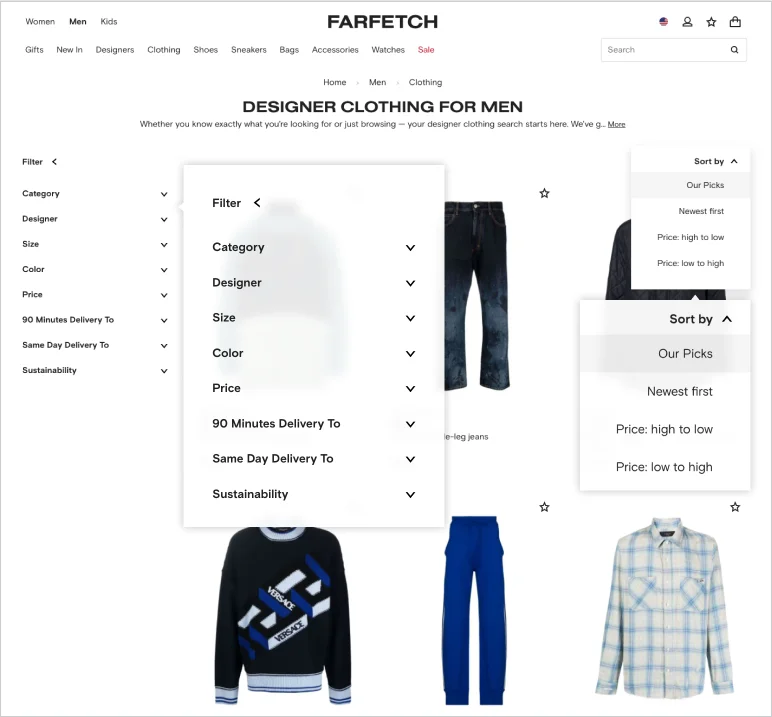 Source: https://www.farfetch.com/
20. Pagination
Pagination is the next point among e-commerce features that optimize navigation on a website. It is used to divide all the assortment of goods in a single category by separate pages for more convenience. There are two frequently used variants of pagination:
Load More button allowing the next selection of items to show in a category without the page reloading lessening inconvenience for the shopper but can cause issues with SEO.
Numbered sequence with Next and Prev buttons to navigate you between different pages is the most preferable solution nowadays.
We recommend consulting with a professional e-commerce development company regarding pagination implementation as there is a need to:
Think out a clear URL structure for each paginated page
Take into account possible impact of a pagination on website speed
Pay attention to pages canonicalization
Consider indexing, etc.
Features of E-commerce Website Product Page
Being the most important page in an e-commerce store for conversions, the product page e-commerce features require a special attention. It showcases the items you sell and helps a person understand if the product meets their needs and decide whether they are ready to buy or not. What makes a good e-commerce website product page, you may ask. Let's review its every feature in detail.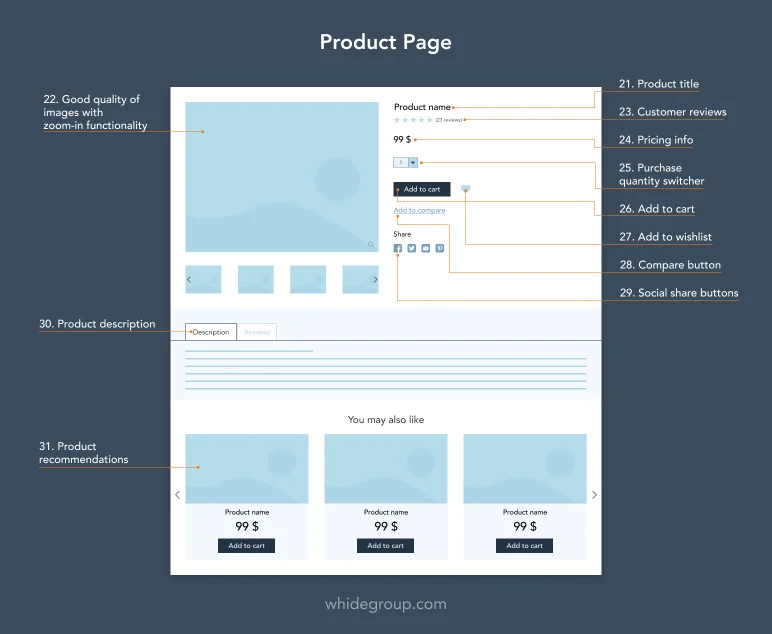 21. Product title
Product title is a name that makes it possible for customers to understand general characteristics of a product. It should be easily noticeable and descriptive. Knowing your target audience, you understand what product features to include in the title – whether it is a brand name, cut, color, or all of them to make a product title self explanatory.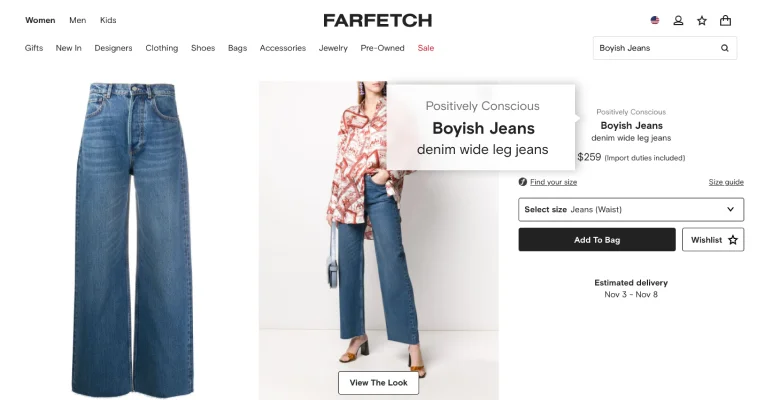 Source: https://www.farfetch.com/
22. Good quality of images with zoom-in functionality
When you are shopping offline you have a chance to examine the product in detail. Shopping via the Internet is different. That's why you need to utilize good-quality images in your e-commerce store. It's the only way people can see what they are buying. Low-quality, blurred images make people skeptical and suspicious about your shop. Integration of a zoom-in e-commerce feature will benefit your customers' shopping experience even more. They will be able to notice stitches, fabric density and texture, even the color of the threads. All these can help make a purchase decision. Pay attention to the image resolution which has to showcase product features and quality, but doesn't have to be too large as this can lead to website loading issues.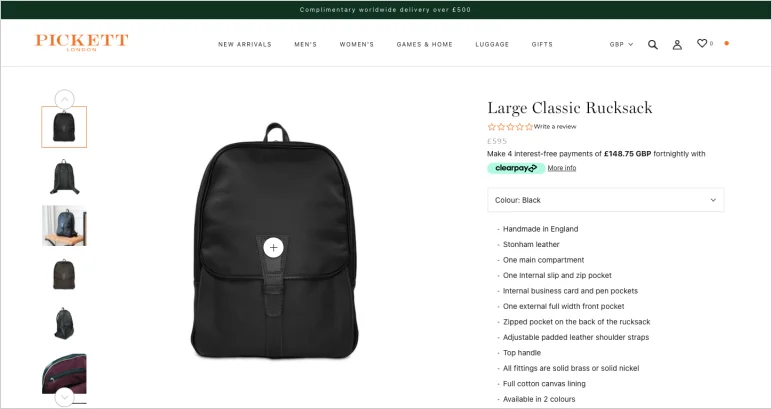 Source: https://www.pickett.co.uk/
23. Customer reviews
In recent years, reviews of a product or a service became one of the most important purchase decision factors.
People want to learn about others' experience with the same product or service – if it meets their expectations, the price corresponds to quality, and more.
Integrating such an e-commerce website feature increases trust in your brand and shows you are not afraid of getting feedback from real people because you are sure of your products and services quality. Customers don't trust simple text reviews anymore as you never know whether they are real or paid. Integration of advanced reviews functionality for clients where they can upload real photos, talk about the sizing and fit, should be added to your e-commerce website requirements list with a high priority. It will help you develop a high-converting product page for your business.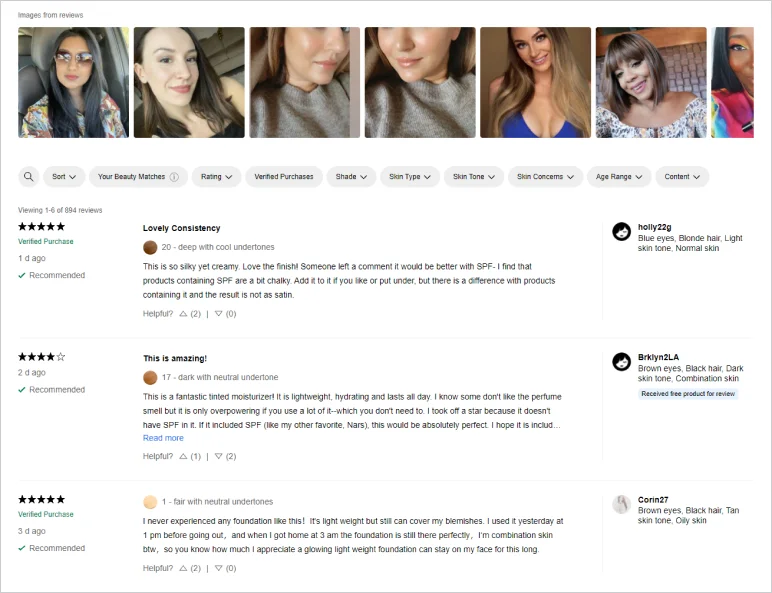 Source: https://www.sephora.com/
24. Pricing info
Price as well as information about active discounts and promo codes takes an honorable place on the list of important e-commerce features for product page development. Price and discounts help shoppers make a decision about a purchase based on their expectations warmed up with a fear of missing out (FOMO) to get a deal on this exact product or service now.
Show the price and all additional add-ons you may have for it. Maybe you provide a discount or free shipping when buying 2 or more similar items, or add a gift for buying this product. Make sure people understand the value they're receiving by highlighting the original price, discount amount, and the new price.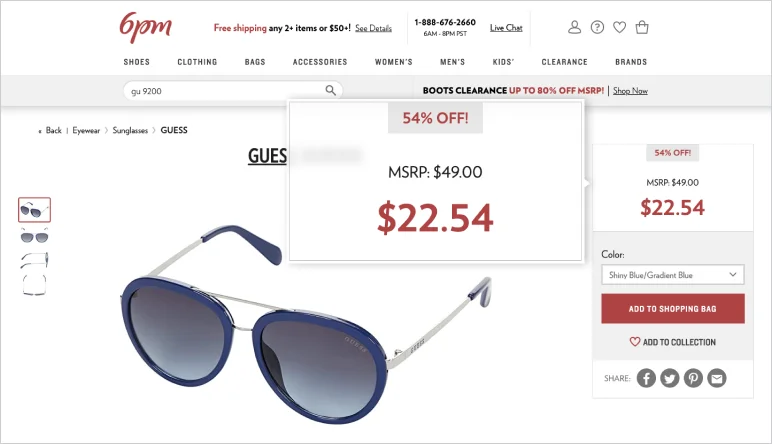 Source: https://www.6pm.com/
25. Purchase quantity switcher
The purchase quantity switcher is located right below the price and allows customers to select the number of the same items to be added to their shopping cart. This is one of those small e-commerce features which doesn't look significant but brings a certain level of flexibility and convenience for shoppers.
While the quantity switcher is very useful, it can be redundant for e-commerce websites whose customers typically buy one piece of a product. Such as online stores selling luxury accessories, jewelry, clothing, shoes, etc. Think about the specifics of the items you sell and your target audience when making up the e-commerce website features list.
26. Add to cart
Add to cart is a highly important call to action (CTA) button on the e-commerce store taking each customer one step closer to placing an order. It is one of the e-commerce website features that actually makes a website e-commerce. The add to cart button should be the most eye-catching button on a product page calling the person to make the buy.
27. Add to wishlist
Add to wishlist functionality is one of the best e-commerce features specially designed for the people who are interested in goods or services you offer, but are not ready to make a purchase yet. Allowing such customers to save their favorite products, e-commerce merchants significantly increase the chances of converting potential customers to buyers. A product page is the ideal place to integrate this e-commerce feature.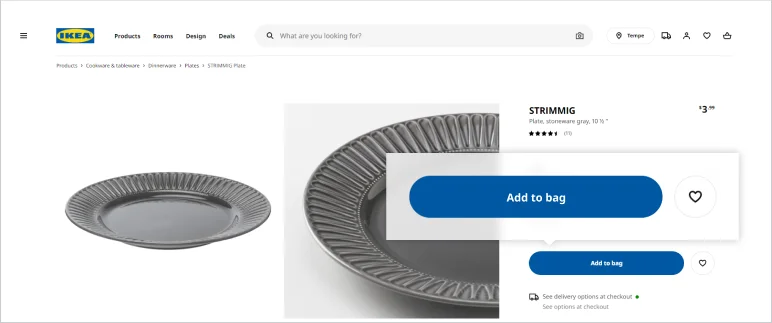 Source: https://www.ikea.com/
28. Compare button
For e-commerce stores that sell a wide range of similar products with slightly different characteristics, the Compare button is one of the top features on a website features list. These are mostly electronics, home appliances stores, and stores that have many different items to solve the same customer problem. Compare functionality helps customers make a complicated purchase decision collating numerous features of two or more items. This e-commerce feature reduces a bounce rate making the process of product choice more straightforward, and as a result improves e-commerce conversions.
29. Social share buttons
Add social share buttons to let your customers share goods they like with others and spread the word about your company. Choose highly visual social networks like Facebook, Twitter, or Pinterest. You also can add an option to share favorite products from your store via email too. This e-commerce feature works as an additional marketing instrument helping you reach a wider audience and additionally promote your brand.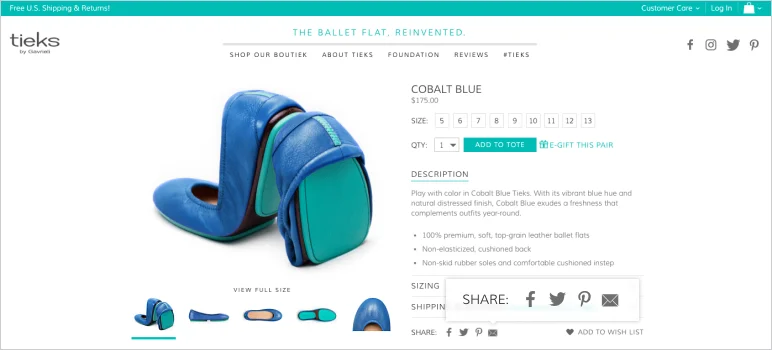 Source: https://tieks.com/
30. Product description
The product description is an essential part of a product page. It should definitely include all information about product purpose, material, specifications for electronics, and cut, shape, sizing for clothes. A description is what sells your product too, so try to be creative describing how this item meets your customers' needs while still being accurate. Make sure the description is brief but contains enough keywords, so search engines can rank your product pages.
Scientists proved that holding a product in one's hands is enough to increase the desire of owning it. Unfortunately, you can't offer this opportunity during online shopping. All you are left with are the words. Play with the people's imagination to convince them to make a purchase. With the thoroughly prepared description of product features, e-commerce stores can significantly increase sales for their business.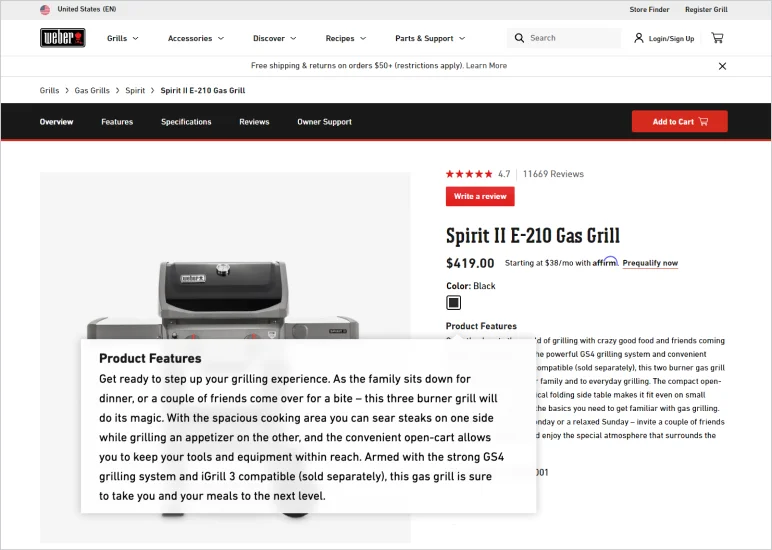 Source: https://www.weber.com/
31. Product recommendations
By product recommendations, we mean an online store functionality that shows relevant items to customers on a product page with the goal to motivate them to take a certain action. Some of these actions are adding an additional product to the shopping cart, choosing a pricer or more marginal item over the one a customer is considering, and more. Obvious reasons for using product recommendations e-commerce feature are growth of the order value and conversion optimization.
For this purpose e-commerce merchants can use any of the most popular algorithms available for this e-commerce feature, such as "People Also Buy", "Related Products", "You May Also Like", "People Who Bought This, Also Bought ", and similar. These product suggestions are usually shown like a carousel block at the bottom of the page.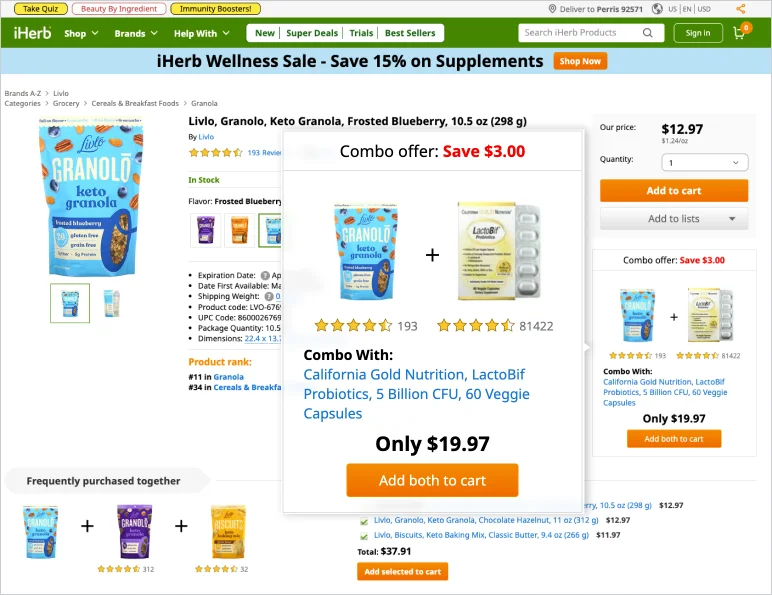 Source: https://www.iherb.com/
Shopping Cart and Checkout E-commerce Features
Shopping cart page is an essential online store website feature. Website visitors reach this page as a result of expressing their intent to make a purchase. Being a connecting link between a product page and a placed order, it determines whether a user will proceed to the all important checkout.
It is known that the less steps customers have to take to complete an action on a website, the more likely they are to place an order. That's why combining the shopping cart and checkout e-commerce features on a single page has become a very popular and user-friendly solution in e-commerce. So why don't you do it too?
The golden rule for a combined shopping cart/checkout page is to allow customers to check the key details of their order and at the same time not distract attention so they complete their purchase. In this section we will review e-commerce website requirements for shopping cart and checkout features, explore primary and secondary elements of this page, and give advice on how to properly arrange them in relation to each other.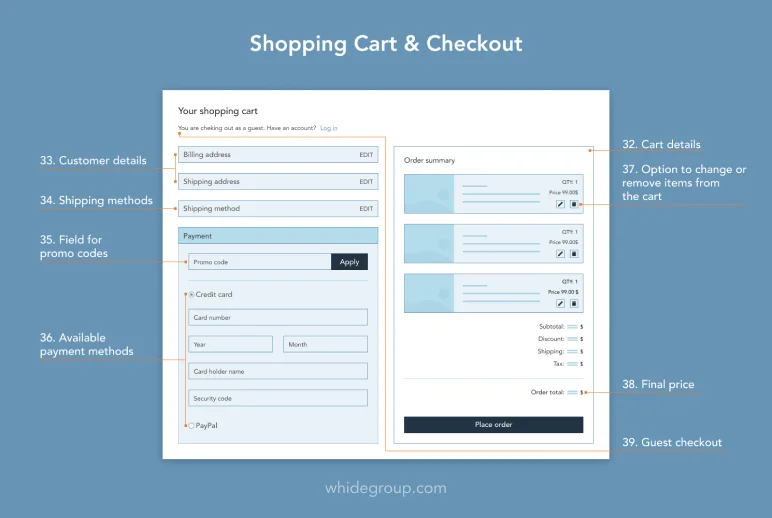 32. Cart details
It's obvious that a person wants to check every detail of an order before making a purchase. These details form the order summary section which is usually placed apart from billing and shipping details to focus customers attention on products they think meet their current needs perfectly. Cart details include the following features:
Product title
Thumbnail image
Specific options like color and size
Price of each product
Quantities of individual products
Pricing details like order subtotal, shipping, tax amount, etc.
33. Customer details
Having two separate fields for the customer's billing and shipping details is a common practice in e-commerce. Shipping address is the address where the order will be sent, and the billing address has a direct relation with the customer's payment method. These addresses are usually the same, but not always. The order can be a gift or customer billing details can be different from their temporary place of residence. These fields include:
Email address
First and Last name
Address
City, state
Country
Zip code
Phone number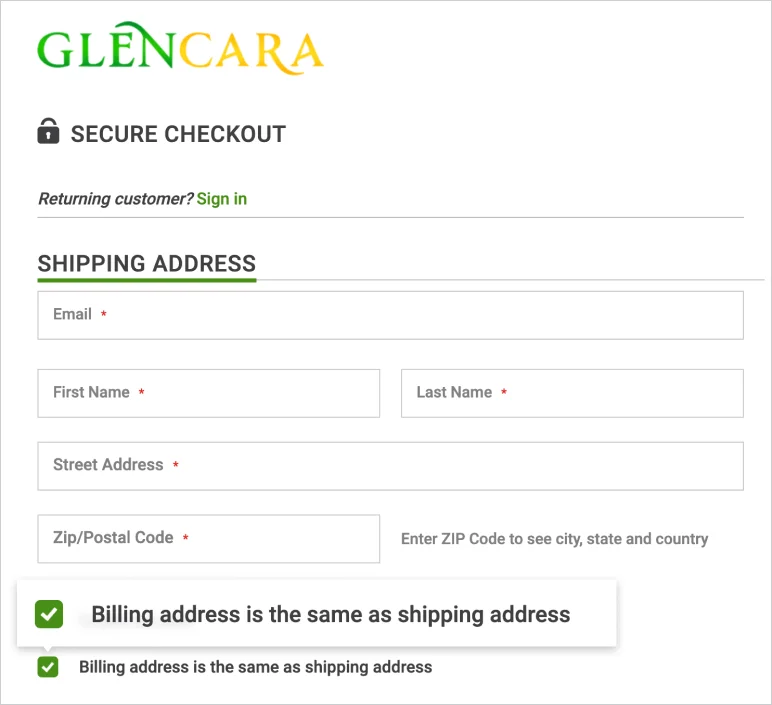 Source: https://www.glencara.com/
34. Shipping methods
Shipping methods and their costs are e-commerce website features that highly influence customers' decision to place an order. They should dynamically change during the checkout depending on the shipping destination entered by a customer and shouldn't require them to reload the page. If you offer multiple shipping methods, we suggest defaulting to the cheapest one, and of course consider having a Free shipping option which significantly improves conversion. If there are special conditions for Free shipping, make sure it's clear how to meet the conditions.
35. Field for promo codes
Let's be honest, everyone loves coupons and promo codes which allow people to get the desired product for a discounted price. So if you offer them time after time in your store, add a noticeable field on a checkout to input a promo code. At the same time, coupons and promo codes are e-commerce features that can make customers feel they are missing something and urge them to go searching for any possible coupons on the Internet. If you hardly ever provide discounts, make this field inconspicuous or don't add this feature at all to lower the chance of cart abandonment. Shoppers can feel they are missing something and will go searching for any possible coupons on the Internet. There is always a chance they won't come back.
36. Available payment methods
As we have already mentioned at the beginning of this article, offering several payment methods that are popular among your clients improves conversion and works toward building customer loyalty. This is a very important step during the checkout process, so make it very clear and provide instructions or tooltips, if necessary. If you use a payment method that requires a redirect to a third-party website, tell your customers to maintain trust.
37. Option to change or remove items from the cart
These e-commerce features provide simple functionality, but become incredibly useful during checkout allowing customers to remove an item from cart or edit its options like color or size right in the shopping cart. This improves user experience, speeds up the checkout process, and positively influences conversion rate.
38. Final price
Order total amount should be easily noticeable, understandable, and supported with information about other cost details like discounts and taxes. Final price is placed right before the Place order button, so if everything is as expected, the customer could easily complete the checkout process.
39. Guest checkout
Guest checkout is one of the best e-commerce website features allowing people to place an order in your store without the need to create an account. With this option you will definitely have less data for analytics, but checkout will be faster increasing chances that customers will complete a purchase with less obstacles in their way.
It is always good to provide a choice, so we suggest you having two options in your store:
Redirect to guest checkout by default
Offer to log in or create an account
You can also use one small trick – offer customers to create an account after they placed an order as guests and let them know it will make order tracking easier. Acquiring new clients is 5 to 25 times more expensive than retaining existing ones. So why not try to convince customers to create an account? You can then use their data for marketing purposes motivating them for new purchases in the future.
Customer Account Page E-commerce Features
Business owners often pay sufficient attention to e-commerce website pages like Homepage, Category page, Product page. They think out every small detail, decide on blocks location, button shape, and more. For some reason though, they often overlook the Customer account page which in reality is more important than you think.
Why Customer account page matters:
It stores important customer information
It saves all order details
Account page makes it easier to repurchase products
It helps to store favorite items
And as a final result, it builds trust
It is a critical component of an online store, so let's take a look at the key features of an e-commerce website customer account page.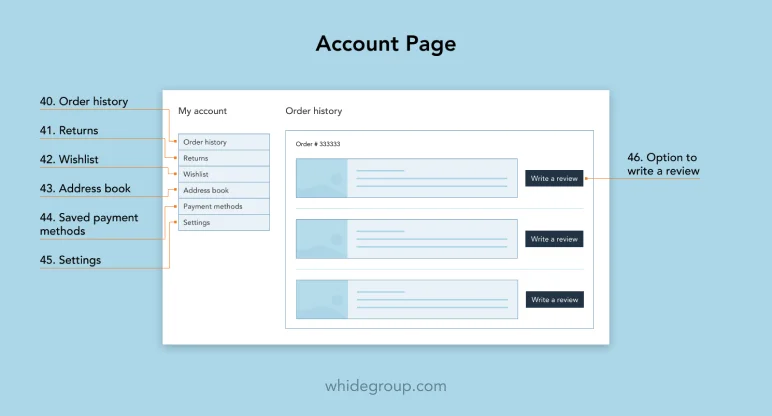 40. Order history
The first and foremost point among key e-commerce website features of a customer account is order history. The primary reason why people access their account is a desire to review their orders – review details of the ordered items, check order status and estimated time of delivery, look at previously ordered items to leave a review or consider buying them again, and more. The main features order history tab should have on the customer account page to make interaction with your e-commerce store more user friendly are:
Order number
Date of the order
Order status
Product titles
Product details like color and size
Quantity of each item ordered
Amount of goods in the order
Product thumbnails for easy recognition
Cost breakup
Shipping details
Billing and payment information for each order
41. Returns
Online shopping is definitely different from making purchases in brick-and-mortar stores. When running an e-commerce business merchants should always be ready for return management. Wrong size, improper fitting, poor quality or simply an absence of attraction for the received product can be the reason customers want to return a whole order or some of its items. Provide a transparent return policy and return management interface on the customer account page, so buyers can easily return or exchange the products at your store. Offering e-commerce features like returns and exchanges will efficiently work towards your business reputation.
42. Wishlist
Wishlist is the next feature of a customer account page. It is a so-called private space for each client where they store favorite products, products they like but are not ready to purchase at the moment, and sometimes products they're considering to purchase as gifts. Wishlists provide you a fantastic opportunity to use buyer created data for marketing purposes and send personalized offers to encourage customers to place an order.
43. Address book
Allow customers to store their shipping and billing information to ease the ordering process. Having saved personal information, street address, zip code, and phone number, people don't need to enter this information over and over again during checkout which will speed up the buying journey and improve conversions. If something changes, customers can always log in to their account and edit this data in the address book for future purposes. This e-commerce feature drastically increases convenience for customers while interacting with your store.
44. Saved payment methods
Adding an option to save a payment method during checkout lowers barriers for repeat purchases from your store . Give your customers an easy place to review and manage their stored payment information any time. This increases retention, customers' loyalty and provides a new level of speed and convenience while placing an order.
45. Settings
Consumers want to know they have control over the settings and interactions with your website and brand. At some point they may need to change account information like the name, email address, password, newsletter subscription preferences, and more. So it is reasonable to provide a straightforward interface and clear options for doing that in the customer account.
46. Option to write a review
As reviews are one of the most important purchase decision factors nowadays, it is reasonable to encourage your existing clients to leave reviews for each item ordered. Clearly, the customer account page is a perfect place for that. Add a noticeable button near to each product in the order history tab and consider sending friendly email reminders to promote real people to share their experience with your audience.
In case you are concerned about the features of the Customer account page on your e-commerce website or would like to design a modern customer account for your future business, we at Whidegroup are here to help.
What are the Features of an E-commerce Website Blog?
Operating a business blog is highly important for any website in a modern world, and e-commerce websites are not an exception. In addition to the advantages that a blog has in helping you to communicate with your target audience in an informal way and allows you to show your industry expertise, it also:
Lets you to express your brand values
Helps to stay in touch with your existing customers
Can entice potential clients
Provides an easy way to promote your goods
Helps to build a loyal community
Can be a good source of traffic to your e-commerce site
Plays a significant role in improving your search engine rankings
With all that said, it is obvious that an e-commerce website blog needs to have certain e-commerce features to be clear and user friendly for customers, provide comprehensive information, and allow merchants to use it as an effective marketing tool.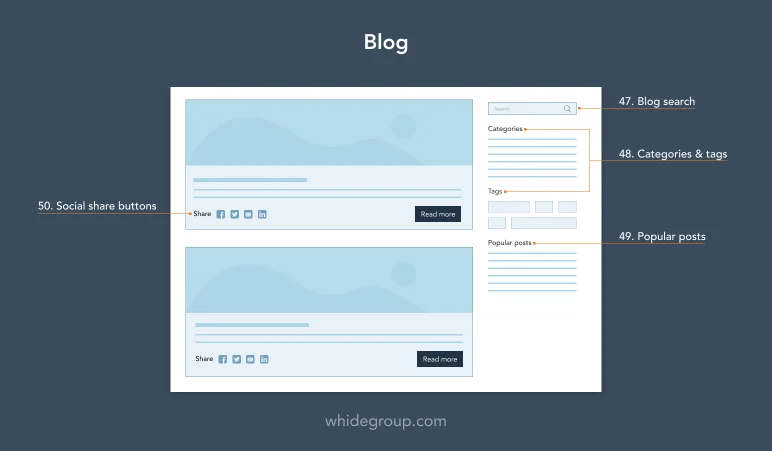 47. Blog search
Search is the first and the most noticeable navigation feature within a blog. It's a convenient way for your readers to search for the particular information they need. You need to decide how you want it to work:
Do you want the search to show a broad match, phrase match or exact match?
Do you want to search only in the article's title or in the article body too?
Any of these strategies are good depending on your goals and business vision, just make sure visitors can easily find what they are looking for. This increases customer satisfaction, engages them with your website and increases chances they make a purchase in your store.
48. Categories & tags
Categories and tags are additional e-commerce features that provide convenient and straightforward navigation on your blog. They improve user experience and can lead to conversion improvement on your website as well. You can categorize your posts depending on product category, area of usage, or other aspects specific to your business. Tags are usually used to mark specific brands and models. This way people can easily find reviews, instructions, and other content they are interested in.
49. Popular posts
Let your clients see the most popular posts on any page they land on in your blog. One of the most common ways to do that is to place the Popular posts section in the blog sidebar, near to blog categories and tags. Popular posts help visitors of your blog understand which products or information are interesting to the majority of people. It allows them to stay up to date about industry trends, take part in leaving comments, and feel a part of your community. You can also use these popular blog posts for marketing purposes featuring goods you want to increase demand for.
50. Social share buttons
As you can already understand – the blog can produce sales for your e-commerce website, and its efficiency strongly depends on how many people actually read your content. Social share buttons are e-commerce features which if added for each article on your blog can greatly increase readership by attracting traffic from social networks.
Include social share buttons to let your readers share content they like to spread the word about your company and attract new website visitors. This will also work toward search engine rankings of your e-commerce website as social signals like number of shares and likes in social media are used as a ranking factor too.
Features of E-commerce Website Contact Page
Trust is the most expensive recognition e-commerce stores can earn from customers. Providing an easy way for them to contact your business with any type of question helps to earn this trust. That is why e-commerce businesses have to consider the Contact page and its elements as important e-commerce features that improve user experience on your website and contribute to overall customers' satisfaction.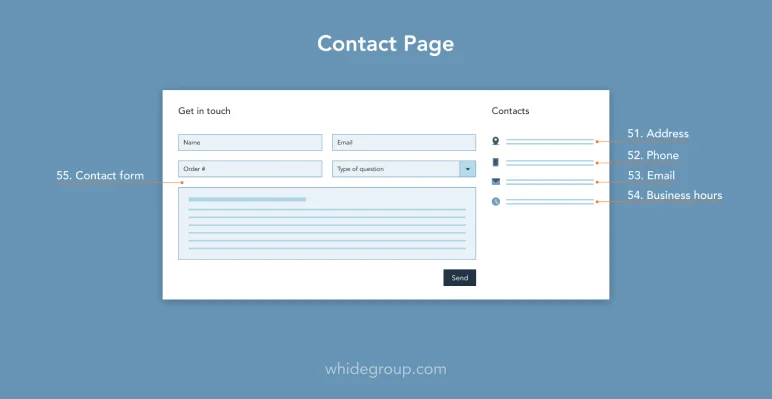 51. Address
Providing a business address on a corporate website is a sign of trustworthiness. It means that a business has nothing to hide and is ready to deal with possible complaints or simply meet their clients face to face anytime.
52. Phone
Phone number allows your customers to contact you and get answers to their questions quicker than, for example, leaving a support request. Giving your clients a few options to connect with your business improves their experience.
53. Email
Email address gives your website visitors an option to contact your business using a more convenient and typical interface – their inbox, rather than filling a contact form on the website. It is important to have a professional email address that includes your domain name. First of all, it additionally proves that you are serious about your business and have a professional attitude to everything that relates to your e-commerce business. Second, it increases your company's potential to attract new clients.
54. Business hours
Informing your customers about the open hours is an additional aspect that builds confidence. Knowing which time they can call you, contact the support team or come to your brick-and-mortar store, if you follow an omnichannel business approach, encourages your clients to engage with your store. Google also uses this small e-commerce website feature to evaluate businesses trustworthiness, so don't forget to specify it on the contact page.
55. Contact form
Integration of a contact form on an e-commerce website has a few advantages that significantly improves the efficiency of your business. A contact form to leave a request:
Lowers the number of spam emails as spam bots can't crawl an email address
Improves tracking of customers' behavior and reaction to their inquiries, if form submissions are integrated with CRM
Helps to compile a base of emails for marketing purposes
Keep the contact form simple – include a minimum number of fields, accompany them with tooltips if necessary, and reduce user writing effort.
Back-end E-commerce Features List
We finally reached the last, but not least section of our article, describing back-end features of an e-commerce website. This is the only aspect of an e-commerce store that remains hidden from customers, but supports the work of merchants and e-commerce managers daily. Being the instrument that helps understand and manage everyday business processes, back-end features of e-commerce determine the overall success of your business in the final result.
Examining this section in detail we want to help you understand what the features of an e-commerce website are that:
Ease management of an e-commerce website
Help to automate basic business operations
Allow tracking of main e-commerce business metrics and KPIs
Let you quickly react to customers' queries
Support the making of important business decisions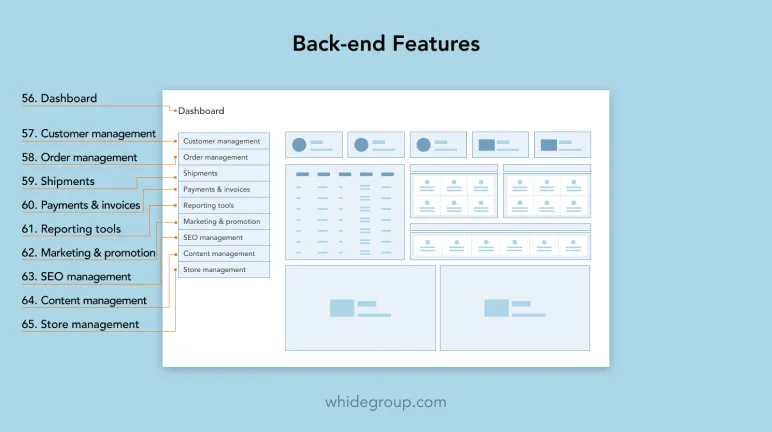 56. Dashboard
The dashboard is the first thing you see logging into the admin panel. It shows the main e-commerce metrics in a summarized way like the list of last orders, average order value, most popular items, new customers, and so on. You may want and need to customize this view, if your e-commerce platform allows.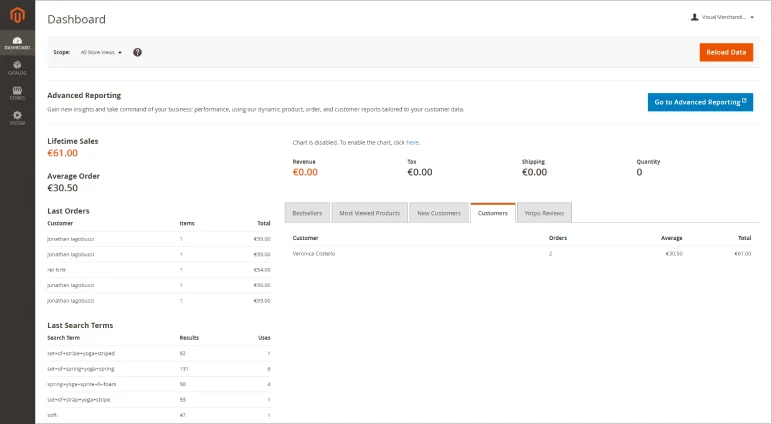 57. Customer management
Customer management is one of the e-commerce website must-haves which guarantee smooth communication with your clients. You have to know everything about your customers and be able to modify such details like their personal data, location, preferences, search queries on your website, and other important information. It can then be used to segment and group your customers, send them personalized offers, and provide support in the most efficient way.
58. Order management
Getting orders is a natural desire of every e-commerce website and their number can be considered an indicator of business success. That is why powerful and flexible order management should be high on the list of essential e-commerce website features. It is crucial to remember that the job doesn't finish at the point when people place their orders on a website. Sometimes you'll need to edit order details or change recipient addresses for an order. As a merchant you also need to keep track of orders with different statuses. All this should be easily manageable from a back-end system of the e-commerce platform you choose for your business.
59. Shipments
An e-commerce business may process orders by means of an in-house team or utilize services of a fulfillment company. So back-end features of e-commerce should allow it to handle different shipment processes, properly reflect information about order shipping statuses, and provide the possibility to track these orders anytime in the back-end system.
60. Payments & invoices
Back-end features of an e-commerce store should provide an easy and understandable way to manage different payment methods whether it is PayPal, Credit Card or Cash on Delivery methods. It is a mandatory e-commerce feature of any successful business to clearly see payment statuses, track calculation and application of taxes by customer location.
61. Reporting tools
We'd like to highlight reporting tools among e-commerce website must-haves as they help e-commerce owners to stay up to date about the state of their business. These e-commerce features help to combine and analyze data from different periods to run business efficiently. The variety of reporting tools and their specifics are determined by the platform used for e-commerce store development. The most important reports for e-commerce merchant to track are:
Total sales
Average order value (AOV)
Online store conversion rate
Stock level reports
62. Marketing & promotion
Can an e-commerce business expect to make sales without systematic marketing and promotion activities? Surely, it can't. Based on this, e-commerce merchants and managers definitely require e-commerce features to manage these activities and track their results in the admin panel. So your e-commerce platform has to provide a straightforward mechanism to create discounts, implement promotional offers, set up catalog and shopping cart price rules.
63. SEO management
There is no doubt about the need for e-commerce businesses to take care of SEO management for their websites. Search engine rankings and traffic amount strongly depend on SEO. That is why such basic features like being able to set up URLs for products, categories, and other pages of the website, filling meta titles and descriptions are essential defaults for your e-commerce platform.
64. Content management
Content and layout of pages on an e-commerce website, as well as blog and other static pages require changes time after time. You may need to modify product descriptions, privacy policy details, add new blog posts, and more. To make this process fast, simple, and cost-effective, an e-commerce platform should allow you to do this without the help of developers or any other technical specialists.
65. Store management
An e-commerce website has numerous aspects that have to be managed to operate successfully and according to legal terms. These are e-commerce business details, its location, tax number, tax calculation details, website categories, product options, SKUs, stock levels, and more. You also need to manage website administrators' access details and decide what parts of the back-end they have access to. The back-end e-commerce features have to provide convenient and reliable options for that.
Final Thoughts
An e-commerce website is multi-component. And its success depends on a wide range of factors starting from the choice of platform you built it on to the specific e-commerce features you provide to your clients.
In this article we have described modern e-commerce website must-haves. Some of the online store website features are mandatory for creating an e-commerce website, others are the basics you will require from the beginning, and others can help you win over the competition in the long term offering advanced options for your customers. You may not necessarily need all of them. Your list of e-commerce features and their specific implementation depends on the niche and size of your business.
Now you know what a good e-commerce website should include to meet people's expectations, which aspects require your attention when creating a competitive website, and which you can consider implementing when your business grows. If you have any questions or need help implementing any of these features for your e-commerce website, don't hesitate to contact us for more details. The Whidegroup team will gladly simplify this process for you.
https://whidegroup.com/wp-content/uploads/cover-ecommerce-features-small.webp
300
772
Anastasia Zhuk
https://whidegroup.com/wp-content/uploads/whidegroup_logo.png
Anastasia Zhuk
2021-12-08 10:35:06
2023-03-02 11:30:28
E-commerce Features: Must-Haves for High-Converting E-commerce Websites in 2023
E-commerce Features: Must-Haves for High-Converting E-commerce Websites in 2023