According to Statista, 61.6% of internet users have made at least one online purchase, and this trend is only going to grow. Retail e-commerce sales worldwide have reached $2.842 billion. All together, these facts demonstrate that digital sales are forward moving, and for you, as the business-owner, it's hard to imagine a more appropriate time to take advantage of the e-commerce growth! We've compiled a list of the key features of an e-commerce website that'll help you raise your online store sales.
Preparing the list of the vital features for your e-commerce store is one of the numerous steps in the website development process. Before you proceed, make sure you know how to build an attractive and optimized
e-commerce website from scratch
.
Key Features of a Successful E-Commerce Website
Selling online is a fierce competition, in which the reward for a win is brilliant sales results. Who wins this competition, you may ask? The answer is simple: it's a company that cares most about its customers. Let's be honest – today the customer is king, and they have a wide range of places to seek the items they want. Since a majority of these stores list their items for approximately the same prices, what makes a store stand out? Where will customers want to return? Most likely, to the store that provided them with exceptional service. Perhaps, to the store that made the interaction smooth and hassle-free? Probably to the store that designed a custom user experience to meet the highest demands. We're going to go with, definitely!
But how does one provide this experience? Take a look at our list of successful features of an e-commerce website below. You'll get a better idea!
Best E-Commerce Website Features to Boost Sales
1. Guest Checkout Option
So, let's begin getting acquainted with the features for custom e-commerce website by looking at the guest checkout option. This feature gives you lots of points for being user-friendly, and it dramatically affects conversion rates. According to a Neil Patel report, around 22% of shoppers decide to leave a website if they find they have to create an account to proceed through the shopping process. This also makes it the second most common reason that shoppers will abandon a cart. The best practices of checkout design state that you should allow users to complete the checkout as a guest without any added hassle.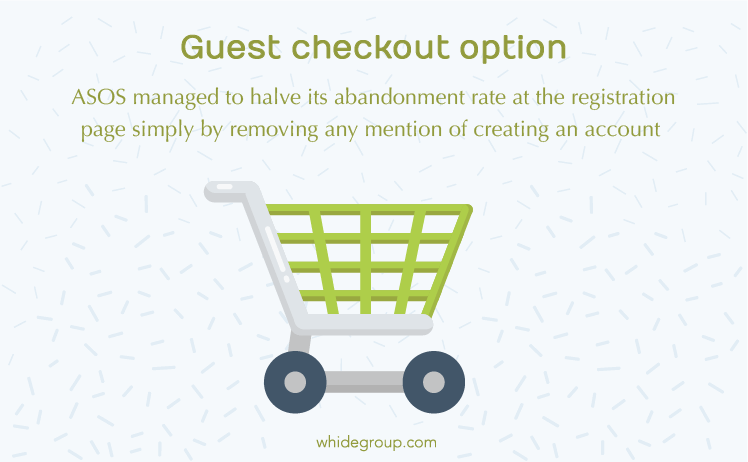 However, thanks to the exploding popularity of social media, you can implement a signing-in process via Facebook, Google, Twitter, or any other social network. To simplify your life, you're welcome to use services like Gigya in order to collect data about your customers by them signing-in to your website via their social media accounts.
2. Live Chat Support
It's relatively often that a customer will have questions to be clarified. Since they will need an answer, it is likely they'll leave your website, but with the intention of contacting you via e-mail or phone. However, in reality, this added complication more than likely means the customer will simply move on without bothering to get clarification. Instead, let your customers get an immediate answer in the most convenient way possible! You can count on live chat to provide real-time help, which leads to an enhance customer experience. You can also take advantage of a chatbot or FAQ page, as they are also helpful with respect to user guidance.
The popularity of online chat is really growing, thus more and more websites are utilizing online chat features to improve their customer service. You definitely don't want to get left behind, especially by competition that may be using online chat support to enhance their customer support, so now is the time to enable an online chat feature on your site. There are a multiplicity of live chat services, such as Olark chat, Kayako, and Velaro, and they can all be easily implemented into your e-commerce store.
3. Product Videos
A list of the best e-commerce features wouldn't be complete without product videos. Why? Currently, product images are losing their selling power. So, what's next on the pedestal? It's the product video. These features continue to gain popularity among business owners and customers alike. People simply prefer watching videos over reading texts, and e-commerce made that work in its favor. According to the latest report from HubSpot, more than 80% of marketers are successfully running videos as a marketing tool. Additionally, they claim the time an average user spends on a website increases by 88% if the page includes product video. And it's no wonder – video is a great tool to establish a connection with users that is easily understandable and perceived. Consequently, a higher engagement rate brought on by videos eventuates increasing e-commerce sales.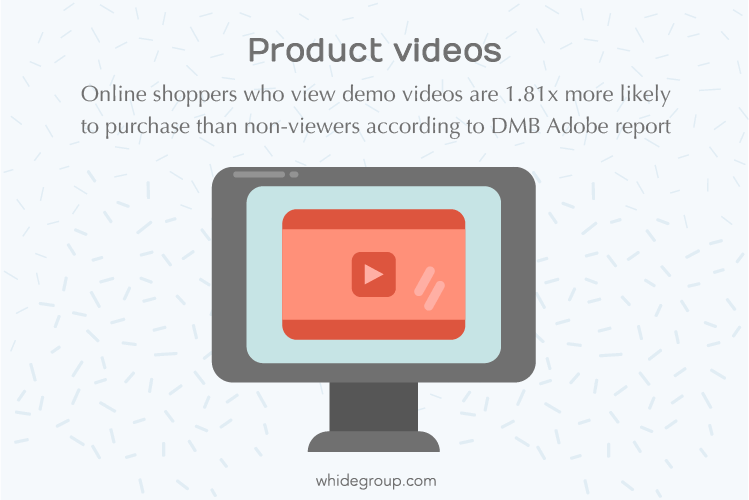 The video strategies that work most effectively involve and include:
Introducing a mix of superb storytelling and product showcase.
Highlighting the product and providing entertainment.
Educational videos that add value to the product.
Product unboxing videos.
4. Multiple Payment Options
If you sell internationally, offering multiple payment options is a must because customers in different countries tend to have varying specific checkout and payment preferences. As consumers become increasingly more demanding, it's not enough to only offer PayPal checkout on your e-commerce website if you want to be successful. To provide customers with the most user-friendly experience possible, it's important to offer a multiplicity of payment options.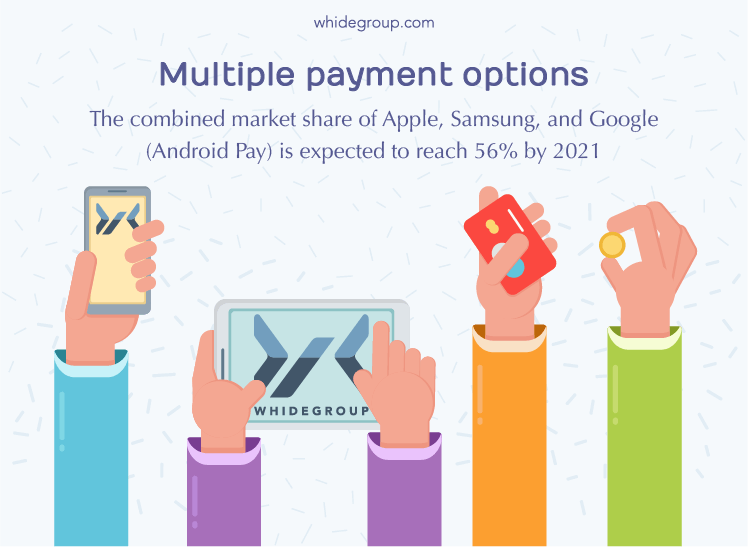 In essence, the more payment options you offer, the more efficient and friendly the checkout process becomes. In such a way, you make the process of money transfer from shoppers easier. While it can be a headache to optimize your website and checkout to include all the desired payment options, it is a really straightforward way for you to increase your online sales.
5. Strong Money-Back Guarantee
No doubt that one of the most prominent things among e-commerce website features is a money-back guarantee. Let's face it – one of the major reasons which restrains a customer from making a purchase is fear that the product will no be fit for purpose. The desire to avoid a potential loss is natural, and fear of financial risk works even while buying small items. Buyer's remorse is real! Your task is to prevent any hesitation, and offering a money-back guarantee is the best device for it.
If the product you sell is really good, you should have no issues betting on it. Such backing can mean a strong basis for building a trustworthy relationship between you and your customers. Credibility of your brand is vital in the e-commerce sphere. A money-back guarantee and clear return policy help to bolster customer confidence and trust in your brand.
To recap: The more risks and fears you allay in buyer decisions, the higher the probability of seeing a sale! So, simply take away anything that could dissuade shoppers from buying at your store.
6. Page Load Speed
A lot has been said about the cruciality of page speed load in the sphere of online sales, but many e-merchants remain in the dark about the importance of this factor as it relates to sales. The ways to increase page load speed are truly numerous.
On the image above you can clearly see how the conversion rate is affected by load time. On his blog, top web influencer Neil Patel claims that 47% of people expect websites to load within 2 seconds and 40% exit the browser if the site takes more than 3 seconds to load.
While you may suppose that your only concern should be providing customers with top-level service and products, you have to consider that if customers cannot even see how brilliant your products are due to the slow website, then your efforts are wasted. Don't lose customers due to a slow loading website.
7. Top-Selling Items Bar
Often, while visiting a particular e-commerce website for the first time, users tend to feel a bit unsure about what to do there and what to look for. So, it would be good to guide them in some direction. The most popular way to do this is highlighting your best selling products. For example, you can include a "Bestsellers" category on your homepage..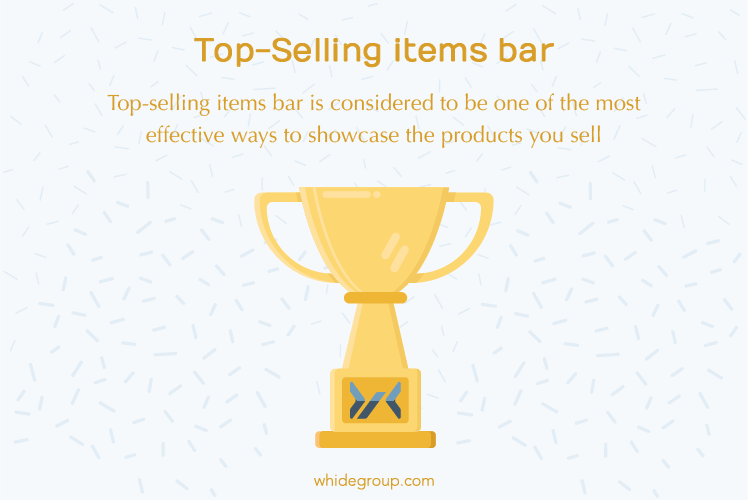 Thus, new users can promptly find out about the most popular products on your website. Sometimes visiting an online resource for the first time can be a little confusing, because the user isn't necessarily familiar with the navigation and common scheme of the website. Hence, it's crucial to help a newcomer navigate by giving them an idea of what they may like. This idea will work even better if you sell a wide range of products!
8. Multiple Delivery Options
Delivery option variety is inseparable from the benefits of payment options variety. Offering only one delivery option can easily backfire on you. Sometimes even the most devoted customers need faster delivery!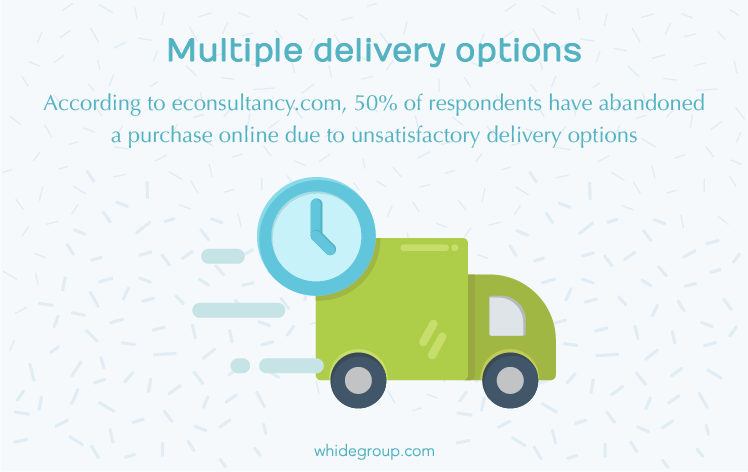 However, including basic delivery options such as Fedex, UPS, USPS, and DHL from the start may bring you considerably more love from customers choosing an online shop from which to make a purchase.
9. Testimonials
Despite its wide use, people are still a bit skeptical about shopping online and they need more trust signals to entrust their funds to you. That's why customer feedback is so important. Your happy customers can provide you with an incredibly formidable e-commerce weapon – testimonials. The voice of a previous customer that expresses how wonderful you are, and how lovely the product is, can be much more persuasive than sales copy from even the best copywriters. Testimonials should be easily accessible – the best course of action is to place them on product pages, landing pages, or even the homepage, since testimonials help to form a more favorable perception of your brand.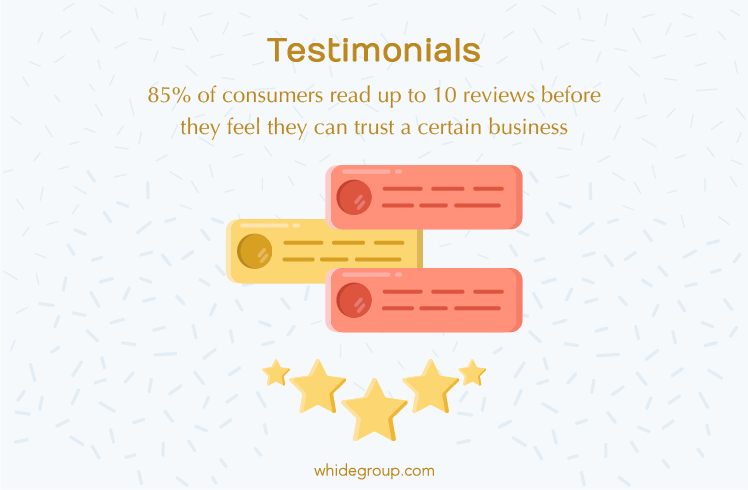 Users are especially interested in how you process bad reviews, so be careful! Tips to get and process reviews wisely are straightforward:
Put a thank you note in the delivery package, plus the link to your review page.
Send an email to your customers 1-24 hours after their purchase asking them to review their items.
To prevent a 1-star or 2-star review from making it online, include a contact phone number for complaints and concerns.
A particular interest for customers is the way you deal with negative reviews, so you should be especially attentive here! Address such reviews promptly and properly – in this way you'll demonstrate brilliant customer service by your company.
10. Progress Indicator
And the last but not least in the e-commerce website features list is the progress indicator. It's no secret that we live in a world with a prevalence of lack of the time, and people become more and more impatient. It aggrieves all spheres of life, and accordingly, e-commerce is no different. In short, it's a good idea to let the customer know how many steps are left to complete their purchase. How do we know? By way of the dramatically growing popularity of progress indicators.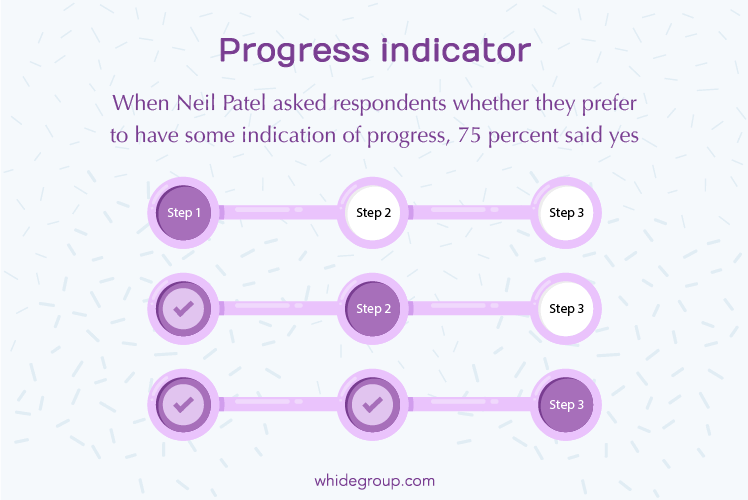 Set clear expectations for your customers by demonstrating to them at which stage of checkout they are, and how long it'll take to complete the checkout process. It can minimize their frustration and boost e-commerce sales. This feature also simplifies the shopper's life in the event they decide to go back and make any changes.
Conclusion
Today is the right day to grab all the benefits of custom e-commerce website development, and enrich your e-store with the best features to attract and excite your customers! In this article, we've reviewed ten of the most effective features your e-commerce site needs to boost its sales. As you can see, all of these tips revolve around the customer. Enhancing their shopping experience is the main key to boosting sales. If you'd like to clarify anything in this articles, or have any other questions regarding your e-commerce site drop us a line! We look forward to helping you.
https://whidegroup.com/wp-content/uploads/boost-sales-small.webp
300
772
Anastasia Zhuk
https://whidegroup.com/wp-content/uploads/whidegroup_logo.png
Anastasia Zhuk
2019-02-15 10:35:06
2021-10-20 16:07:17
10 of the Most Important E-commerce Website Features to Boost Sales
10 of the Most Important E-commerce Website Features to Boost Sales