So, you have decided to launch your own Shopify store. But did you know that a vast majority of e-commerce stores close down long before reaching their first anniversary?
It's easy to think that your store won't end up in the startup cemetery. However, the sad truth is — most failed stores had very promising beginnings. So, why do Shopify stores fail? Today, we will take an in-depth look into seven devastating shortcomings that could potentially put an end to your business.
Additionally, we will provide you with useful advice on how to avoid falling into these common traps. After all, the last thing we want is to discourage you from pursuing your e-commerce dreams. At Whidegroup, we strive to inspire merchants and help them create more thriving online businesses. Keep reading to find out how to be successful on Shopify for years to come!
What Percent of Shopify Stores Fail?
Although there isn't a cut-and-dry Shopify success rate statistic, the general consensus is that up to 90% of e-commerce stores close down during the first year of working.
Seeing such depressing statistics can deter a lot of ambitious merchants from launching their business. But if you're passionate about e-commerce and willing to put in hard work, it's perfectly possible to get into the 10% of businesses that succeed.
When we dissect failed startup stories, we see various reasons behind their Shopify failures. In most cases, it's not as simple as making one mistake along the way. Rather it's a combination of different misjudgements that pile up over a period of time. And when these issues are left unresolved, it's fair to say the store's days are numbered.
What can go wrong?
To better understand how a series of small missteps can lead to a disastrous outcome, we compiled a few illustrative examples. Below, we will take a look at three promising startups that didn't manage to overcome the difficulties of running an e-commerce business and how they had no choice other than to shut down their webstores. These infamous stories are about Move Loot, Wantful, and 99dresses.

Move Loot
Move Loot was a San Francisco-based online furniture reselling marketplace that was launched in 2013. The store focused on reselling second-hand furniture to customers who were moving houses or wished to refurbish their interior.
The main attraction of Move Loot was it's customer service. The company took care of picking up the furniture, taking professional photographs of it, and delivering it to the end customer. In 2013, such an approach was quite new, and the startup had every chance to dethrone Craigslist.
However, in the next two years the company started to run into financial difficulties. A rushed decision was made to expand their business by opening up warehouses in New York and Los Angeles. This left Move Loot running at more than double the expected cost, while the profits were certainly not keeping up.
Over the next year, the company changed their business plan multiple times in hopes to find a more productive way of operating. But jumping from one idea to another without evaluating if the change was actually beneficial led to massive internal layoffs. Dozens of uncompleted orders and hoards of disgruntled customers marked the beginning of the end for Move Loot.
In the end, lack of a comprehensive long-term plan and a series of premature commitments took a toll on Move Loot's working capital. Without the money and resources to fulfill orders and keep the business afloat, the company ceased operations in July 2016.
Wantful
Wantful was an e-commerce platform founded in 2011 with headquarters in San Francisco and New York City. Upon launch, Wantful's concept was to provide its users with personalized gift recommendations for friends and family.
To get a customized recommendation, users would need to enter the gender, tastes, and preferences of the person they were buying the gift for. The platform would then search through its inventory to bring a series of suggested items to the users. Later, the company expanded, allowing users to find and buy items for themselves, too.
While Wantful experienced exponential growth in the beginning, the company's success quickly waned after they switched to a more traditional e-commerce model. Since the store's focus shifted from gift-giving to selling personalized items, Wantful faced serious competition from other stores in the niche.
Failing to create a prominent brand that would stand out in the market, Wantful wasn't capable of achieving significant growth curves needed to secure additional funding. Without venture capital, the company slowly faded off the radar until its ultimate closure in 2013.
99dresses
99dresses was an Australian-based fashion trading platform founded in 2011. The idea behind this startup was basic inter-trading of second-hand designer dresses between users.
The founder recognized the problem with designer clothes — they are worn a couple of times and then hung in the closet to waste away forever. 99dresses connected fashionistas to help find and trade designer dresses, which gave these clothes a second life. This concept was quite innovative for its time and gained promising traction upon launch.
Within the next two years, 99dresses experienced a series of financial turmoils, but still managed to get remarkable funding from American investors. However, shortly after they decided to ditch their website entirely and focus on developing a mobile application instead. This decision was the point of no return for 99dresses.
With a flawed business plan and failure to make the business profitable enough to be successfully maintained, the majority of investors eventually pulled out of the startup. It didn't take long for the niche to be populated with other, more competitive stores that managed to obtain hefty funding. Consequently, after several months of stable decline, 99dresses came to an end in June 2014.
Although these stories are certainly tragic, dwelling on their failures won't do you any good. Instead, keep them in mind as cautionary tales as we explore the daunting question — why do Shopify stores fail?
How to be Successful on Shopify: 7 Mistakes to Avoid
Every store on Shopify is unique, so it's hard to predict what exactly could go wrong. Nonetheless, we see a clear pattern of mistakes most failed Shopify businesses make. Let's take a deep dive into the seven crucial oversights you must avoid in order to be successful on Shopify.
#1 Insufficient planning
As you can see from the three examples we've discussed above, most of the time the issues start to accumulate at the very beginning. If you go into e-commerce thinking you can make quick cash easily, then you have already set yourself up for failure. E-commerce, just like any business, requires meticulous planning long before you create a Shopify account.
Business plans that don't prepare for financial predicaments and unforeseen emergencies is the most common reason why Shopify stores fail. Ideally, your business plan should account for the next three to five years ahead. Yet, it should still leave wiggle room in case you decide to implement changes in the long run.
It all boils down to whether or not you have enough capital to sustain your business. If you fail to properly calculate your expenses and reserve an emergency budget, you will quickly find yourself spending your personal money on unexpected fees. And as you know now, that usually marks the beginning of the end for e-commerce stores.
How to create an adequate business plan?
The first step to create a productive business plan is conducting extensive research. If you have no business experience or expertise, you must learn how to operate and manage an e-commerce business before starting one. The scope of your research will determine how comprehensively you will be able to calculate your budget.
To be successful on Shopify your budget must, at the very least, cover the expected costs of developing, launching, and promoting your Shopify store. Needless to say, a sizable portion of your budget must be set aside for stocking up your product inventory. The last thing you want is to suddenly run out of money to restock your inventory, when your Shopify store is live.
We prepared some more tips on

Once you formulate your exhaustive budget to cover every anticipated need, it's smart to set aside around 20% of the budget for emergencies. Having crisis capital will be extremely helpful in case of any unexpected events, so you can be prepared to fix issues as soon as they arise.
#2 Wrong niche choice
Continuing from the previous point, it's important to note that a fundamental part of your business plan is choosing the right niche of products to sell. Generally, merchants who consider opening up e-commerce stores already have a certain idea in mind around the products they want to sell. Unfortunately, not all niches are profitable and can sustain a business long-term.
One of the major reasons why Shopify stores fail is choosing a niche that is currently popular without conducting proper market analysis. Such stores usually experience a big growth curve in the beginning, but quickly start losing revenue once the excitement around the product starts to die down. The same goes for niches with obscure products.
During your research you may have noticed that most successful Shopify sites concentrate on one specific niche and put their unique spin on it. This allows them to target particular audiences and establish their business as the go-to brand. It's imperative to understand what will be in demand for years to come in order to choose a profitable niche.
How to choose the right niche?
To find the best fitting niche for your Shopify store you must carry out diligent market analysis. A methodical market analysis will unveil what niches are in demand and which are more likely to stay relevant over the years. Furthermore, you will learn what types of products are the most sought-after by the target audience in a given niche.
It's best to choose a smaller niche with a dedicated audience and higher priced products. You may think that selling expensive items is counterproductive for an up-and-coming Shopify store. But in reality, customers who are willing to splurge on these particular items will be more devoted to a credible business that sells them. Not to mention, this approach will result in higher average order value, which means you'll be able to see actual profits faster.
Once you know which products you want to sell, the next thing you want to do is competitor analysis. To be successful on Shopify, you must know how your competitors operate, how they market their store, and what is the message behind their brand. If you don't know what makes your competitors' offer special and why customers choose their services, how can you possibly make your Shopify store stand out?
Want to explore the latest trends in e-commerce?

#3 No defined branding
While on the subject of standing out, we can't move past the significance of branding for a business. In e-commerce, if people don't know about your brand, then it doesn't exist. Failing to establish yourself as a distinct brand can ultimately result in no sales on your Shopify store. This is supported by statistics that show 59% of shoppers prefer to buy products from brands they're familiar with.
59% of shoppers prefer to buy products from brands they're familiar with.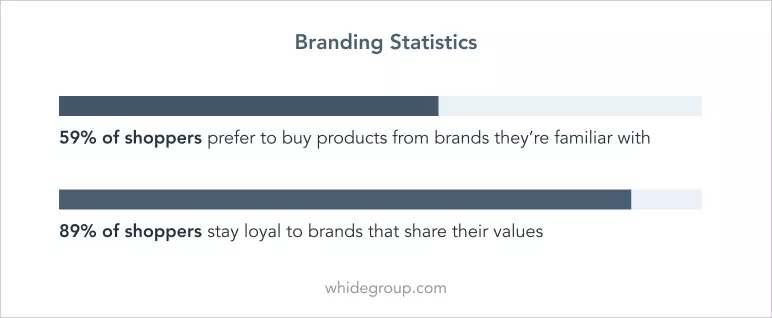 While spending the budget on marketing campaigns and advertisements is a great practice, it won't matter much if people can't recognize your brand and, thus, deem it as trustworthy. Studies show that it takes customers five to seven interactions with a brand to actually remember it. This leads us to a natural conclusion that branding has to be consistent.
Consistent branding isn't just about presenting the same image on every platform. It's also about consistent message and authenticity. Your brand identity must stem from genuineness and communicate your message in an unambiguous manner. Your customers cannot think twice about what your brand stands for, why choosing your product is beneficial for them, and why they can trust buying from you. Otherwise, you risk becoming another Shopify failure story.
How to build a recognizable brand?
Building a brand that will be remembered for years to come is basically art. However, there are a few areas you can focus on as a new Shopify store. Branding begins by designing a distinct brand name, an eye-catching logo, and an exceptional selling proposition. At this point, it's necessary to understand that it's much more productive to be known for one thing you've mastered, than compete for recognition in multiple areas.
Choose one area to build your brand upon and focus on presenting an incomparable solution to a particular customer problem. Don't dilute your brand by catering to various target audiences. It will be a pointless waste of resources to run separate (or even worse — disjointed) marketing campaigns and won't create a competitive, recognizable brand.
In today's world, having a philanthropic principle can really amplify a brand's appeal. You can see that most successful Shopify sites usually make the welfare of particular groups their focal point. Customers are generally more inclined to buy from a brand if the value of their purchase extends further than just their personal benefit. In a lot of ways, brands that contribute to the community are seen as more preferable.
#4 Poor website appearance
Perhaps the most apparent issue that may arise once your Shopify store is setup and running is the poor appearance of the website. Imagine a potential customer visiting your store just to encounter spelling errors, fonts varying drastically across the site, grainy or even broken images. Nowadays, this is not acceptable for pretty much any online shopper and will turn most of your visitors away from the store.
Ensuring that every page on your website is error-free and displays content appropriately is not the only area you should focus on when it comes to the appearance. The design of your store lays the foundation for your website and plays a vital part in how customers perceive your brand. In fact, research indicates that judgments of a store's credibility are 75% based on a website's overall design.
Judgments of a store's credibility are 75% based on a website's overall design.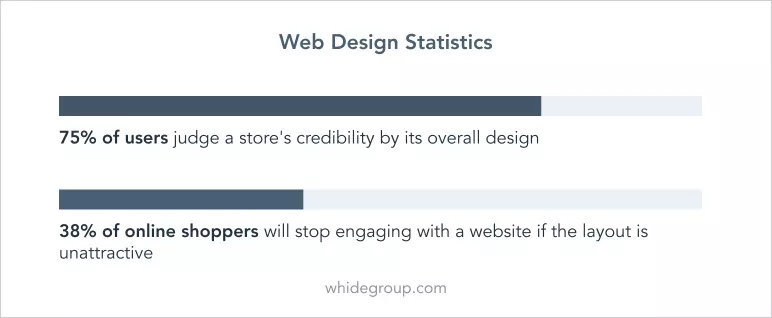 The days of crammed, flashy website design are over. Having webstore design straight from the late 2000s is a surefire way to earn yourself a spot among Shopify failures. Luckily, Shopify provides hundreds of modern themes which leaves merchants no excuse for subpar website appearance.
How to elevate Shopify store's appearance?
First and foremost, you must locate and eliminate any misspellings, unmatching product descriptions, faulty images, nonfunctional buttons, etc. Such seemingly small mistakes are noticeable and can damage your store's credibility. After all, if you can't be bothered to deliver correct information on your site, why would customers trust you with their money?
When it comes to modern standards for web design, you want to aim for a sleek and coordinated look with lots of whitespace to avoid distracting the customer on their buying journey. On top of that, good design also includes easy, intuitive navigation that won't leave visitors confused on where they should go next.
If your budget allows for it, consider developing a custom Shopify theme. Most successful Shopify sites opt for a custom-made design to keep their stores up to date. Crafting a brand new theme can really take your Shopify store to the next level. Not to mention, tailoring website design to best reflect your brand identity will make a better first impression on your visitors. Along with ensuring that your store is truly one of a kind.
Curious about the mechanics and costs behind custom themes?

#5 Non-optimized website
How fast your Shopify store loads is also a major part of whether or not customers will be inclined to buy from you. Page load speed refers to the time needed to load a certain webpage. It's measured from the moment a user clicks on the link to the moment when a webpage is fully loaded. Ideally, your page load speed should be below the 3 second mark.
It's fascinating to think how many Shopify stores fail because of poor loading speed. Nowadays, customers expect a fast loading experience. And if your store doesn't live up to the expectations, they won't hesitate to hit the back button and check out your competitors instead. This goes to show how loading speed directly affects your conversion rate and, subsequently, the success of your Shopify store.
Another thing you have to consider is the mobile responsiveness of your website. Research suggests that 80% of shoppers have bought online using their mobile devices within the last six months.
80% of shoppers have bought online using their mobile devices within the last six months.
Seeing such an increase in mobile e-commerce makes it undeniable that your store must be optimized for mobile shopping in order to be successful on Shopify.
Want to know why mobile-friendly stores are more successful?

How to optimize Shopify store's speed and responsiveness?
What should be done to increase loading speed depends on each store's problems specifically. However, there are some general practices directed at optimizing page load speed that you can use. Your first step is to actually test your loading speed. Some of the most favored speed analytics tools include Google PageSpeed Insights, Lighthouse, GTmetrix, and WebPageTest.
Based on the results of your analysis, you will be given a set of recommendations on which areas need some improvement. Here's a quick overview of what you can do to improve page load speed:
Minify and combine CSS, JavaScript, and HTML files
Reduce the number of HTTP requests
Implement lazy loading
Utilize Gzip compression
Enable browser caching
Revise your Shopify apps and customizations to your current theme
Discover how to improve your store's loading speed

When talking about optimizing your website for mobile, it all comes down to usability. To increase your Shopify store success rate you need to make sure the following principles of mobile optimization are implemented:
The size of icons and space between them is sufficient enough so the user can easily tap on them
The menu is presented in an expandable, hamburger style
The search bar is visible and present at all times
The text used on a webpage is concise, so it can neatly fit on a mobile screen
Website optimization is a tricky topic that often becomes a pitfall for online businesses. However, by applying these general guidelines you can advance your Shopify store and reduce the daunting chances of failure.
#6 No traffic to the store
Creating an attractive and converting Shopify store is only half the battle. You need to make sure people can actually discover your brand and decide to visit your website. For the most part, e-commerce businesses drive traffic to their stores through a combination of marketing activities like search engine optimization (SEO) and advertising campaigns.
While taking care of your website's visibility on search engines is certainly important and often unfairly disregarded, it's generally not the primary reason why Shopify stores fail. A much more detrimental mistake to make is not investing into promotional activities. Or, conversely, investing into ineffective promotional activities.
Advertising your Shopify store is essentially about raising your brand awareness. It should be clear by now that if you fail to make your brand known, your business will fall apart faster than you can imagine. It's worth noting that good marketing involves combined efforts in paid advertisement, social media marketing, and search engine optimization.
Marketing strategy that isn't holistic and coordinated is not productive and not worth wasting your budget on.
How to drive traffic to your Shopify store?
The topic of search engine optimization is very extensive and can't be comprehensively explained in a few words. We suggest you take a look at this in-depth guide to SEO for beginners. This will give you a better understanding of how search engine optimization works and how it's intertwined with marketing.
There are several methods of driving traffic to a Shopify store and most of them include paid advertisement. Today, running paid advertising campaigns for your Shopify store has become easier than ever. One of the go-to advertisement places for e-commerce merchants is paid Google ads. These ads show up on search results, Google Shopping tab, and many more Google's partner websites.
Likewise, you should take advantage of social media ads, which can be bought and placed on pretty much any social platform nowadays. With prices starting at just $5 per 1,000 impressions, you can create a personalized ad that will put your Shopify store in front of your target audience.
However, for your marketing efforts to really work, they need to be consistent and uniform in their message and have a unique selling proposition. In addition, to maximize your return on investment from paid ads, it's highly recommended that you maintain a strong social media presence. Having poor social media feed, or even worse — not having one at all — may deem your store as untrustworthy in the eyes of potential customers.
Taking the most successful Shopify sites as an example, you will notice that all of them turn their social media into additional promotional channels. For instance, Califia Farms's Instagram displays beautiful product photography, delicious food that can be made using their product, and occasional recipe tutorials. And it works wonders.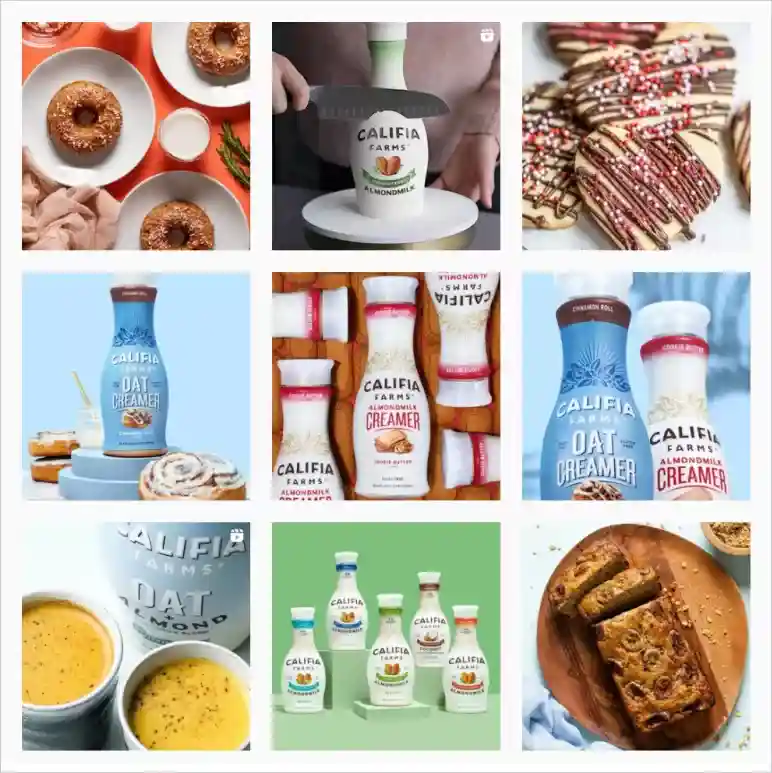 Does your Shopify store experience low traffic?

#7 Customers don't return
The issue of not being able to retain customers usually comes to light after e-commerce stores have been on the market for some time. Your store may look appealing, efficiently perform, have decent traffic, and even produce sales. Yet, customers just don't return for a second purchase.
It's common knowledge that selling to repeat customers is easier and less expensive than selling to new visitors. Moreover, without loyal customers spreading the word about your store, it's impossible to build a long-lasting and trusted brand. Such a bold statement is supported by statistics that show 92% of consumers trust suggestions from friends and family more than any other type of advertising.
92% of consumers trust suggestions from friends and family more than any other type of advertising.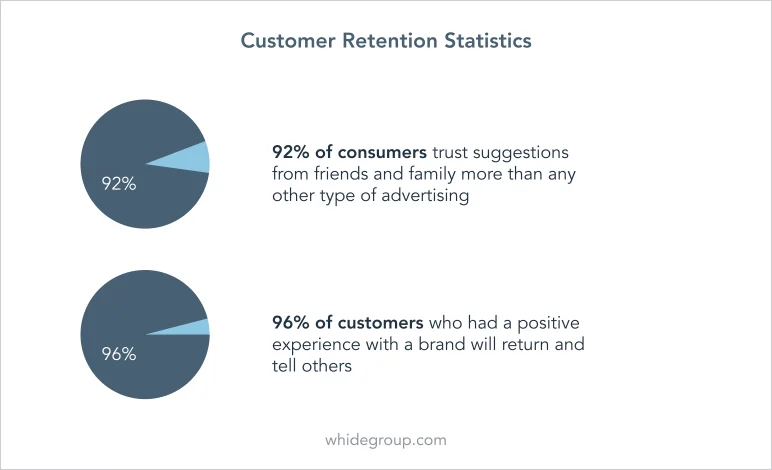 While there are several proven methods of customer retention, it's best to eliminate any possibility that your store is to blame first. Sometimes, negative experiences during the purchase can turn customers away indefinitely. Considering how many Shopify stores fail because they're unable to grow their fanbase (and, subsequently, their brand), the following factors cannot be overlooked.
Poor customer service
Providing quality customer service is a must to be successful on Shopify. Customers may require support at any stage of their journey. And if your support team fails to grant it, who's to say that a customer will be inclined to return to your shop?
Problems with shipping providers
Your choice of shipping providers plays a major part in customer satisfaction. If the shipping gets delayed or the product arrives broken, your store's reputation will undoubtedly suffer as a consequence. Ideally, you should work with multiple reliable shipping providers, so your customers can choose whichever option they prefer.
Inadequate refund & return policy
The main drawback customers have when shopping online is the fact that they can't evaluate the product in real life. It's in your best interest to establish a reasonable return and refund policy. Offering a full refund with a return system that is free of any shipping costs is the best way to go. Otherwise, you risk putting a dent in your customer retention strategy.
How to effectively retain customers?
In order to increase your Shopify store success rate, it's highly recommended to hire an employee to take care of customer service. In the long run, you will most definitely need help with answering customer's questions and solving their specific issues. Doing it by yourself will quickly prove counterproductive and tedious.
Another tactic that helps to obtain and retain customers is the possibility of free shipping. Numerous studies show customers are more likely to make a purchase if they don't have to pay any additional costs for shipping. If you're unable to provide unconditional free shipping, then consider offering free shipping after a certain order value has been reached. Research suggests that it's a highly effective tactic since 24% of consumers would spend more to qualify for free shipping.
24% of consumers would spend more to qualify for free shipping.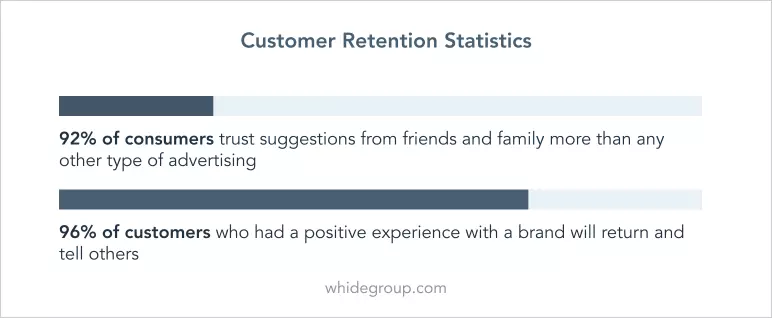 Once you have taken care of factors harming your brand reputation, here are some additional customer retention techniques you can implement:
Create a loyalty program to incentivize future purchases with personalized offers
Run a referral campaign to boost word-of-mouth marketing for your store
Utilize upselling and cross-selling techniques to increase average order value
Offer next purchase and/or limited discounts
Knowing how and when to delight your customer can be a defining factor in the success of your Shopify store. After all, a devoted fanbase can pull the brand out of doldrums.
Take a look at our simple guide that explains

Some of the Most Successful Shopify Sites
Now that you're aware of the most frequent mistakes that lead to e-commerce store failures, it will be beneficial to understand what makes Shopify stores actually succeed.
One common thread that connects most successful Shopify sites is the emphasis on community-centered branding. Every store recognizes the specific problems their target audience experiences and provides an exceptional solution. All while avoiding cliche mistakes that damage their reputations. On top of that, all of them offer conditional free shipping and returns, which further encourage their customers to become fans.
Below, we will take a look at five examples of excellent Shopify stores to draw inspiration from!
#1 BioLite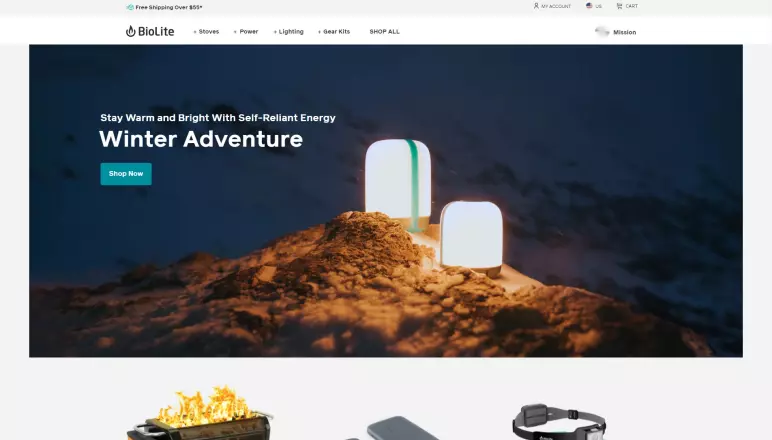 BioLite is a Shopify store with a dedicated mission to bring renewable energy to countries where energy poverty exists. Founded in 2009, BioLite came up with an idea to develop low-emissions stoves that use minimal biomass to fuel battery-powered fans. Over the years, they grew into an enterprise that offers groundbreaking solutions for cooking, charging, and lighting for both outdoor enthusiasts and off-grid households.
In fact, BioLite claims to have impacted over three million underprivileged households and offset 600,000 tons of CO2 emissions with their products. This is branding at its finest — identifying a resonating issue and providing a solution that was truly unseen before. As of today, BioLite's estimated revenue sits at a staggering $30 million per year.
#2 Rumpl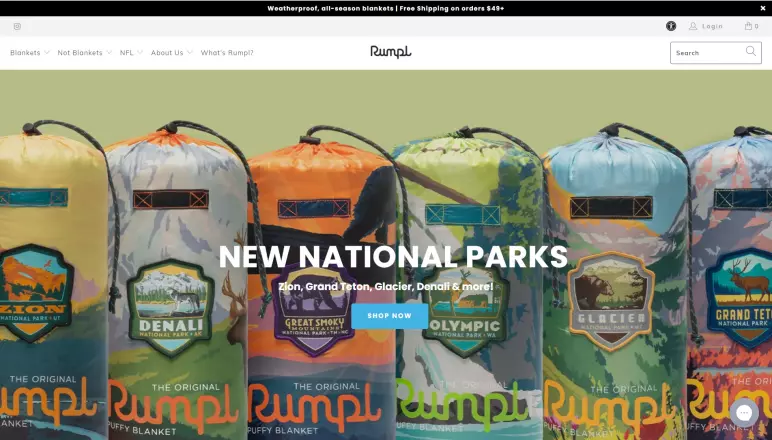 In their own words, Rumpl was founded in 2013 in the back of the van. Their idea to create warm, water-resistant blankets that fit almost any environment saw the light after their Kickstarter reached its funding goal in less than 24 hours. Despite the idea of all-purpose blankets seeming trivial at first, Rumpl's unique selling point is actually a best in class example.
Their blankets are made from 100% recycled material. Rumpl now recycles over 5 million discarded plastic bottles through their supply chain every year. They also donate 1% of all their revenue to environmental non-profit organizations. On top of that, Rumpl puts effort into collaborating with professional artists to create outstanding blanket designs. The well-thought-out approach brings this business more than $8 million in annual revenue.
#3 Flourist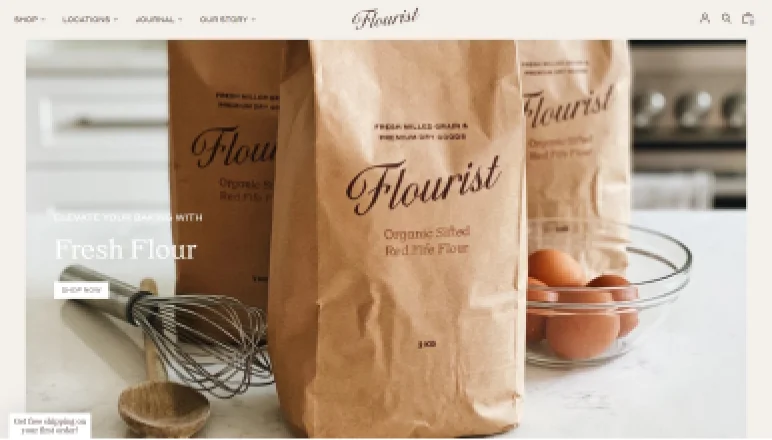 Flourist is a Canadian flour and pastry Shopify store that was founded in 2014. What's special about Flourist is that they work exclusively with Canadian family farms to source premium local grains. Their philosophy lies in protecting the farmlands, raising awareness about where our food comes from and making informed decisions about what we're consuming.
The prominent point of Flourist's marketing strategy is their nutritive value and grain quality. Grocery store flour is processed to extend its shelf life which leads to the loss of several nutritious elements. Flourist, on the other hand, offers fresh flour that's free of chemical altering and bleaching. In fact, the company's flour is not even stocked in the warehouse. Instead, it's milled to order. The conscious consumerism of Flourist earns them almost $1 million of annual income.
#4 Goodfair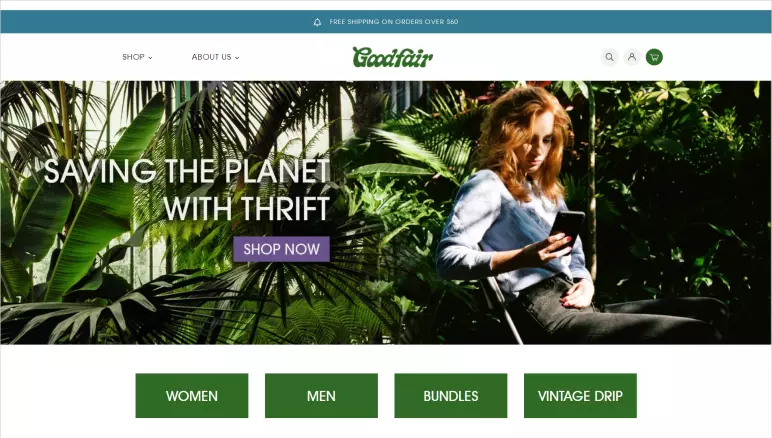 While on the topic of conscious consumerism, we want to highlight Goodfair — a beyond-regular Shopify thrift shop. Founded only a few years ago, in 2018, the company pioneers their "No New Things" mission that focuses on reducing our carbon footprint. Their thrifting solution works to eradicate unethical low wage factories, clothing waste, and reduce pollution as a result of fast fashion. With billions of clothes ending up in the landfill each year, Goodfair had to come up with an unconventional thrift store idea to be successful on Shopify. Undoubtedly, they did.
The company rescues clothes on their way to landfills, quality checks them, and then wraps them up into one-of-a-kind bundles. What makes these bundles one of a kind? Their team hand-picks each piece based on customers' preferences. This makes their thrifted bundles a complete surprise until a customer unpacks them. This brings a whole new twist to online thrift shopping.
On average, a thrifted bundle purchase at Goodfair saves 2000 gallons of water and 100 kilograms of carbon emissions. These benchmarks certainly attract and resonate with a growing number of conscious consumers. Although the founder doesn't disclose total numbers, Goodfair's annual revenue is estimated to be around $4-5 million.
#5 SmartyPits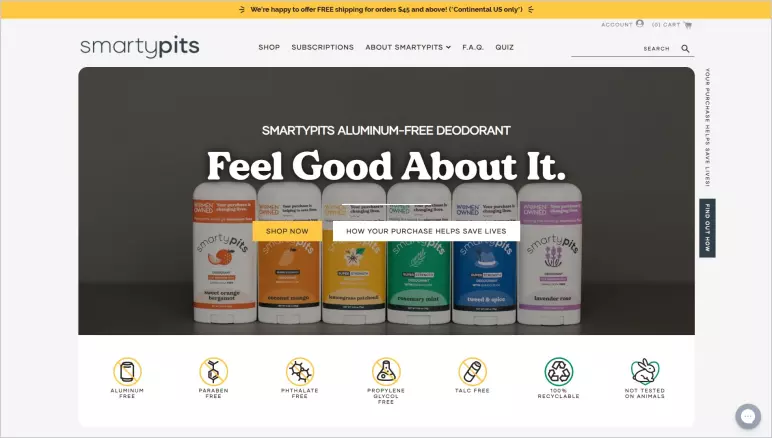 After the mother of SmartyPits founder discovered cancer underneath her armpit, the founder came upon studies which linked aluminum in antiperspirants to breast cancer. She wouldn't use antiperspirants anymore, but already being a natural deodorant user, she recognized that regular natural deodorants just don't work as well. In light of these events, she decided to make one herself. That's when SmartyPits was founded, in their own words, on a tiny kitchen stovetop in 2014.
Although the niche was already tightly populated, SmartyPits created a unique deodorant formula that is free of cancerogenous chemicals and powered by natural prebiotics. All while offering the same benefits as a regular deodorant. They also have multiple formulas which range from super-strength to made-for-kids. To empower the community, SmartyPits donates 1% of all sales to breast cancer research and free deodorant to cancer non-profit centers. As of 2020, the health-conscious company collected almost $2 million in annual revenue.
Final Thoughts
So, why do Shopify stores fail? This almost philosophical question set the beginning of this article and it's only right we ask it again in the finale. The only difference is that now you know the answer. And the answer is… not as conclusive as we wish it was. The success of any business, not just the ones on Shopify, cannot be predicted. But in a lot of ways, it can be calculated! After all, we do have the necessary data to define mistakes and pitfalls that could potentially bring a halt to your business.
In this article, we've reviewed seven business-killer mistakes and provided guidance on how to avoid making them. It's best to steer clear of these issues in the beginning, before you start asking yourself "why is my Shopify store not selling?". And if you have any questions or need any help in creating a successful Shopify store, be sure to drop us a line! As e-commerce experts, our team will make sure your store stays afloat for years to come.
https://whidegroup.com/wp-content/uploads/small-cover-shopify-fails-1.webp
300
772
Kristina Bardusova
https://whidegroup.com/wp-content/uploads/whidegroup_logo.png
Kristina Bardusova
2022-03-22 19:13:52
2023-05-17 12:04:04
Why do Shopify Stores Fail: 7 Devastating Mistakes & Guidance on How to Avoid Failure
Why do Shopify Stores Fail: 7 Devastating Mistakes & Guidance on How to Avoid Failure