No doubt, the pandemic rocked the way we think about online shopping, turning e-commerce into one of the fastest growing business models ever. The lockdown presented a new challenge for merchants: you can either monitor changes and adapt, or be left behind. But as the world recovers from two years of uncertainty and strives to live normally again, we see significant changes take place.
At Whidegroup, we always keep our finger on a pulse of what niches are trending. We gathered data from various research and analysis to bring you the most up-to-date information on this matter. In this article, we will provide a bird's-eye-view of the recent changes in trending e-commerce niches, as well as give you some valuable advice on how to find the most profitable e-commerce niche for you.
What is a Good Niche for E-commerce in a Post-Pandemic World?
As the e-commerce business adapts towards new consumer demands, we see that some shopping trends are here to stay. Before we jump into discussing the most trending niches in 2023, it would be beneficial to outline more generalized changes in online shopping patterns. Brands can work to implement these changes into their business strategy to stay on top of current consumer trends.
Sustainable e-commerce
People are making an effort to create a healthier world. Products like metal straws, bamboo toothbrushes, reusable feminine products, biodegradable plastic bags, and much more have already become modern staples of eco-friendly consumption. But there are other sustainable e-commerce solutions that draw online shoppers in.
A study back in 2019 revealed that 73% of global consumers would change their consumption behavior to reduce their impact on the environment. Now, we can see that consumers are more likely to shop with brands that make at least some kind of effort to increase sustainability in e-commerce.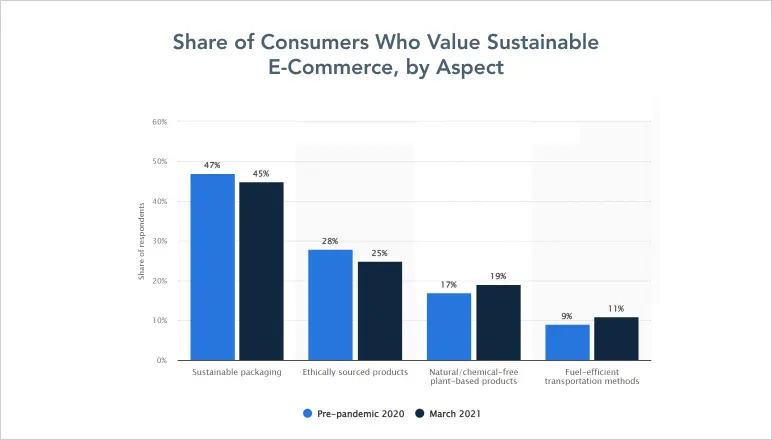 The most valued sustainable e-commerce trends include:
Biodegradable packaging. More brands are opening up to the idea of recycled paper and biodegradable cardboard as packaging. There is also a trend of reducing the amount of packaging in general.
Eco-friendly shipping. To decrease the amount of carbon emissions, stores can transfer the packages in bulk. This, however, negates the option for express shipping.
Natural components. The hype around chemical-free products is not news to anybody. In recent years, the popularity of natural components in beauty care, makeup, and food e-commerce niches has increased as well.
Introducing such changes is going to reflect on your store's reputation positively. You will be able to reach new audiences that significantly value sustainable shopping. Some of whom might be willing to pay more for environment-friendly options. Of course, you will also be a part of an e-commerce trend that helps build a more conscious shopping experience.
Subscription business model
Amidst the pandemic, we saw a big rise in the popularity of subscriptions. What's more convenient during lockdown than having your commodity items brought to your doorstep? Now that people have had a real taste of this convenience, the trend is certainly here to stay.
Moreover, with the rise of popularity for streaming services like Netflix and Spotify, more and more consumers are feeling comfortable subscribing to other e-commerce services. In fact, 54% of online shoppers have subscribed to an e-commerce subscription service, with 15% of online shoppers having subscribed to a service within the past year.
Nowadays, subscriptions have become a source of customer retention for brands. There are several subscription models to choose from, meaning every type of e-commerce business can find a suitable option. The most popular e-commerce subscription models are:
1. Curated subscription. A subscriber receives a box of products curated by the store after they complete a questionnaire detailing their shopping preferences. Curiously, this is the most popular subscription model.
2. Replenishment subscription. Customers receive the same products on a recurring basis. Usually, this model is used for low-margin commodity items or ones that are used frequently.
3. Membership subscription. Subscribers pay a monthly fee to gain access to special discounts, products, and other members-only deals.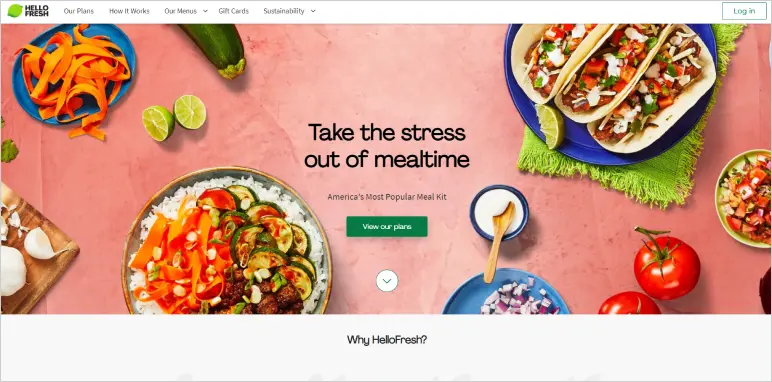 One of the most prominent pioneers of this e-commerce niche is HelloFresh. Their meal-kit delivery service saw massive success at the beginning of the pandemic and has been breaking subscription revenue records ever since. As of the first quarter of 2022, the company reported $2 billion in revenue and 4.25 million active customers. This goes to show a sizable increase in interest around subscription services among consumers.
What were the Top 3 Niches in 2022?
In order to find the most profitable and trending niches of 2022, we turned to analytic tools. Below, we will be using Google Trends to see which niches have seen increases in popularity, as well as analyzing the overall market and consumer demands over the past years. You can also use Google Trends in your market research since it is a very user-friendly tool that analyzes the popularity of certain search terms over certain periods of time and regions.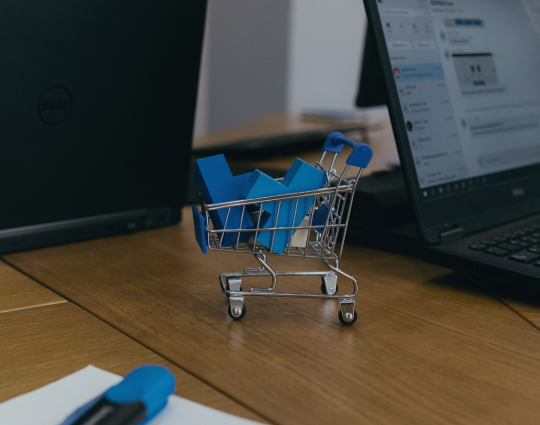 Need Help With E-commerce Store Development?
We Provide a Wide Range of E-commerce Development Services
#1 Pet products
Conscious and ethical pet ownership has been a hot topic for a few years now. Lots of pet owners make an effort to feed their pets organic, even artisanal food. Along with organic foods, pet wellness products are on a rise, too. Many pet stores now carry supplements to help improve health, CBD oils that reduce anxiety, cat toothbrushes, training toys, and much more.
Generally, the pet industry can be categorized into three branches:
Pet food
Pet care and services
Pet products and supplies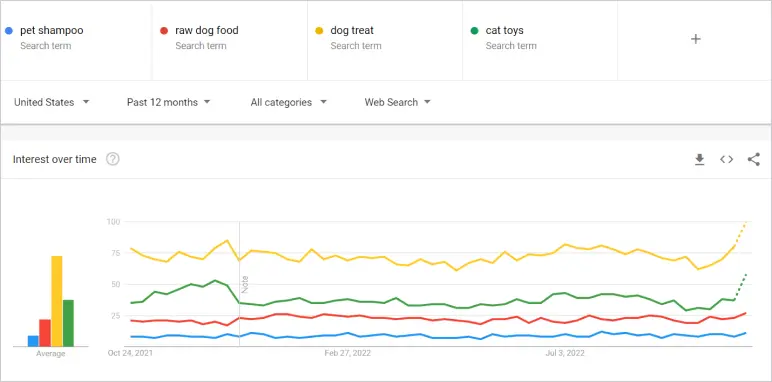 The rise of pet ownership rates can also be a contributing factor to why the pet industry has become one of the most trending niches in 2022, considering that seven out of every ten households in the US own a pet nowadays. The pet niche is also a great way to make your brand more eco-conscious and introduce a replenishment subscription box into your store.
It should be noted that this e-commerce niche has seen some serious increase in competition in recent years. Analysts project a 6.1% compound annual growth rate (CAGR), which means the pet market is set to be worth $350 billion by 2027. These appealing numbers are what spawned a lot of up and coming pet brands.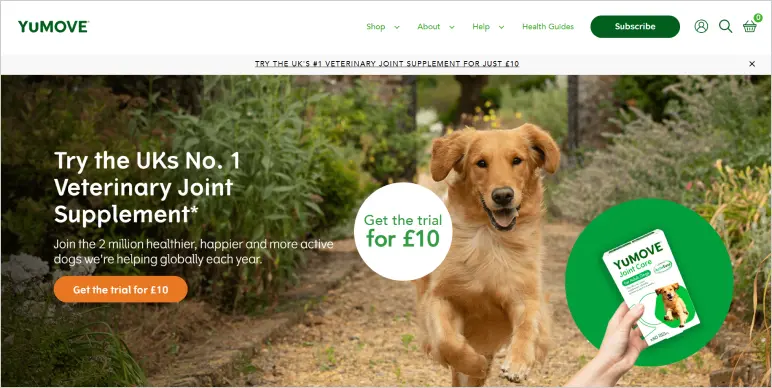 Take a look at YuMove, for instance. The brand sells veterinary joint supplements for dogs and became an official American Kennel Club supplement sponsor in 2022. What partially brought their success is their confident branding. YuMOVE claims to use sustainably-sourced, all-natural ingredients with visible results in just six weeks. They also offer a subscription box in addition to their regular one-time purchase model.
The company certainly did the homework about its e-commerce niche, implementing two of the hottest topics in the industry today: sustainability and convenience.
#2 Vegan products
Veganism and plant-based diets go hand in hand with the rise of sustainability trends. But what's more important is that vegans and vegetarians are not just excluding animal products from their diet — they're actively looking for alternatives.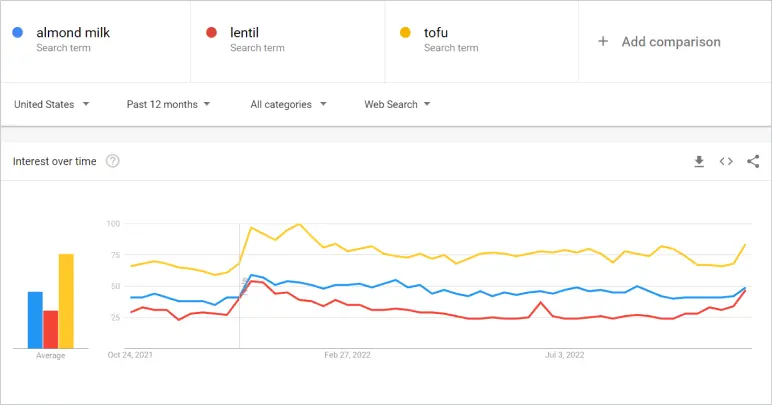 A lot of brands have already jumped on the train of selling alternative dairy, cultured meat, and protein-rich products like beans or tofu. And this trend doesn't seem to slow down anytime soon. The reasons people are turning to plant-based diets more and more nowadays are various. In the midst of the pandemic, health and wellness were one of the most popular niches in 2022, driving people to adopt a healthier lifestyle and trying to reduce animal cruelty.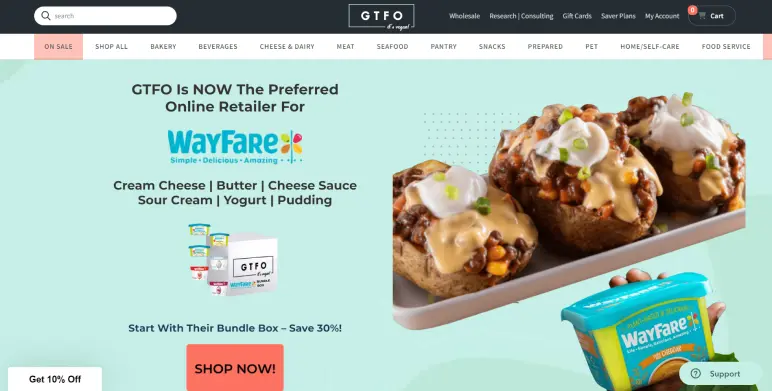 A very telling example is GTFO It's Vegan, a vegan marketplace that carries over 700 brands and strives to be a one-stop company for everything vegan. What's truly amazing about their story is that the company was founded in 2020 and has managed to generate $3 million in revenue over only two years. This perfectly encapsulates the staggering growth of consumer demand for plant-based food alternatives.
Studies also support this claim, as research suggests the vegan market is expected to grow from $26.16 billion in 2021 to $61.35 billion by 2028, estimating a CAGR of 12.95% during the forecast period. This makes veganism one of the best niches for e-commerce in the coming years.
#3 Second-hand items
Second-hand, also sometimes called re-commerce, refers to selling items that were previously owned, both new or used. Commonly, second-hand products include: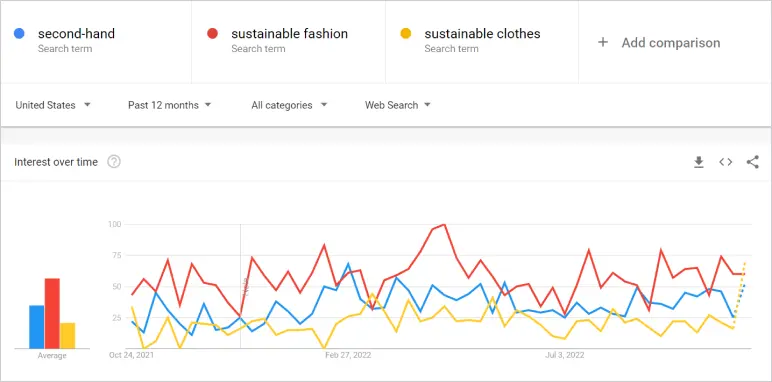 While thrift shopping and the second-hand niche has always existed, it used to be more stigmatized. However, the pandemic rocked supply chains and the world became more conscious of detrimental shopping behaviors like fast fashion. The market of previously owned items has grown significantly — worth around $119 billion in 2022.
In fact, some analysts suggest that the pre-owned trend is set to overtake fast fashion completely by 2029. This notable change is mostly powered by the younger generation, which sees second-hand as a cheaper and more environmentally-friendly way to purchase clothes. It is certainly a positive trend shift in the fashion e-commerce niche and might be a good opportunity for clothing brands to expand their reach.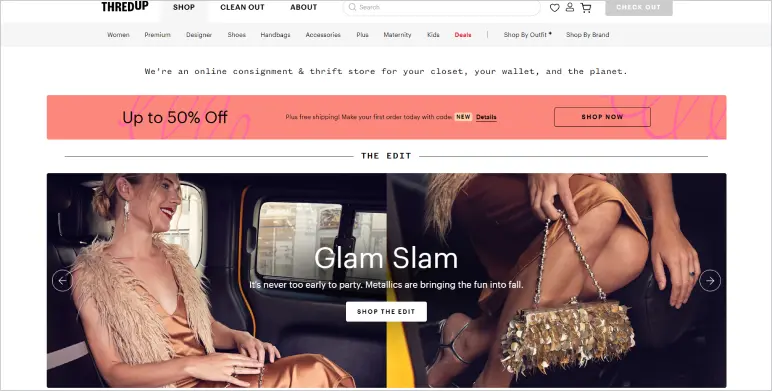 A popular online thrift shop threadUP attributes its success to the flexibility of its model, that helps navigate a highly dynamic market. What their model essentially means is that they constantly re-evaluate their costs to stay on top of customer demands. Indeed, the brand took home $76.4 million in revenue in just the second quarter of 2022, which represents 27% growth year-over-year.
What's curious is that studies show the second-hand market is projected to double by 2026, reaching a value of $218 billion. Taking inflation into account, the reselling niche is only going to get stronger and will remain one of the best niches for e-commerce for a long time.
More Popular Niches to Consider for 2023
While we discussed the most trending niches of 2022, it doesn't mean the rest of them are hopeless. Some e-commerce niches show steady growth, while others remain popular with customers over the years. This is why we want to give you some more e-commerce niche ideas to consider.
Grooming products for men
These days, men are held to higher grooming standards, especially in professional fields. It's not uncommon to see grooming products for men in stores, such as beard oils, hair styling products, body washes, cleansers, moisturizers, etc. One can argue that COVID raised the awareness concerning cleanliness and personal hygiene, but it's hard to evaluate all the factors that boosted this e-commerce niche.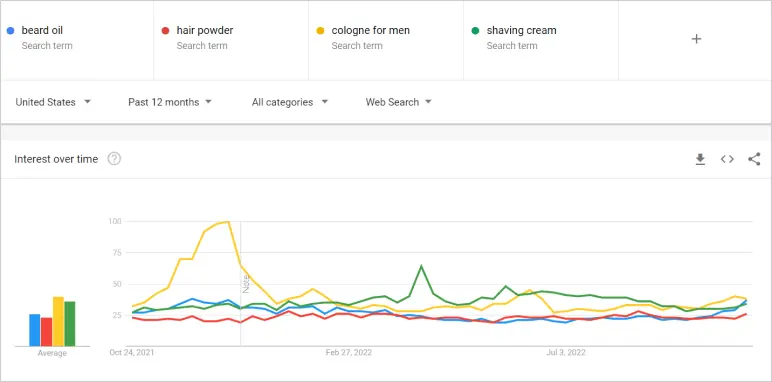 According to recent studies, the global market for men's grooming products is expected to reach a value of around $110 billion by 2030. This shows a CAGR of around 8% over the forecast period. It's clear that this e-commerce niche will not see a dramatic rise in popularity; it will instead increase gradually over the coming years.
One of the first popularizers of this e-commerce niche was Dollar Shave Club. Their success was largely attributed to them being the first subscription-based grooming brand for men. But their story is not as illustrative as Harry's.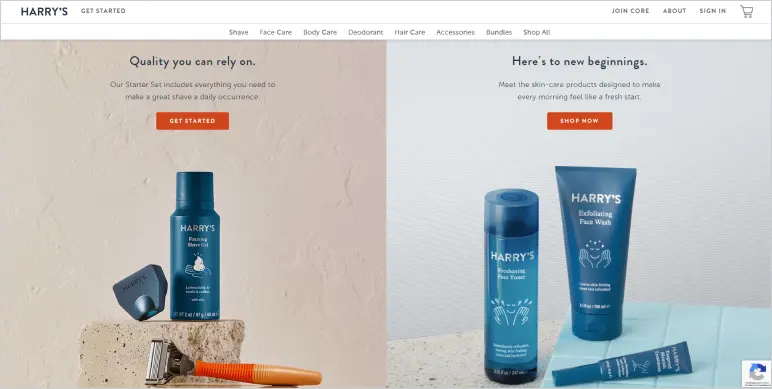 Starting as a single-product razor brand, Harry's faced a serious challenge when COVID hit — the team realized shaving was not going to be a priority for a while. Despite having some turmoil with investors prior, the company still took a risk and went through with the expansion. That year, Harry's introduced a skin, body, and hair care line. This diversification of the product line and its expansion into mortar stores is why Harry's is currently valued at around $2 billion.
Kitchenware
Paradoxically, over the last year, the demand for food delivery and prepared meals has considerably gone down. One of the reasons may be that consumers have grown to enjoy cooking at home while on lockdown. For others, it may be because they want to control the quality of food and know where the ingredients are sourced. Whatever the reasons may be, the cooking niche has always seen surges and decreases in popularity.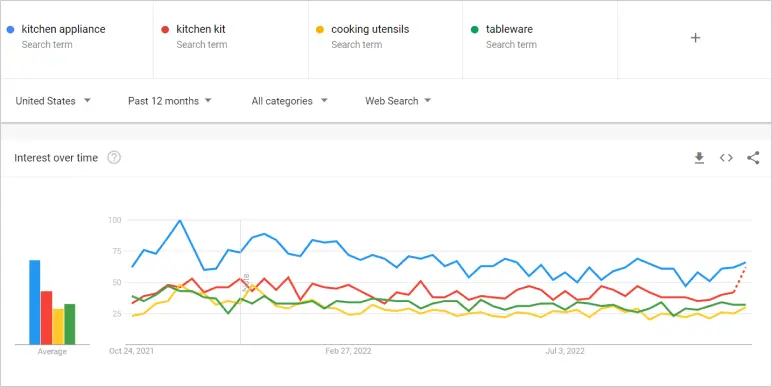 As of 2022, the cookware market is valued at around $21 billion with projections to reach $41.6 billion by the end of 2032. This puts the cooking niche at a CAGR of 7.1% over the forecasted period.
The biggest appeal of the kitchenware e-commerce niche is… well, how niche it is. This market is very narrow and tends to attract devoted customers, often cooks, who take kitchen appliances very seriously. It's also worth noting that these kitchen appliances are often expensive and sometimes can be considered luxury items. This means kitchenware is usually a high gross margin niche. We will talk more about what that means later, but for now, take a look at Le Creuset's example.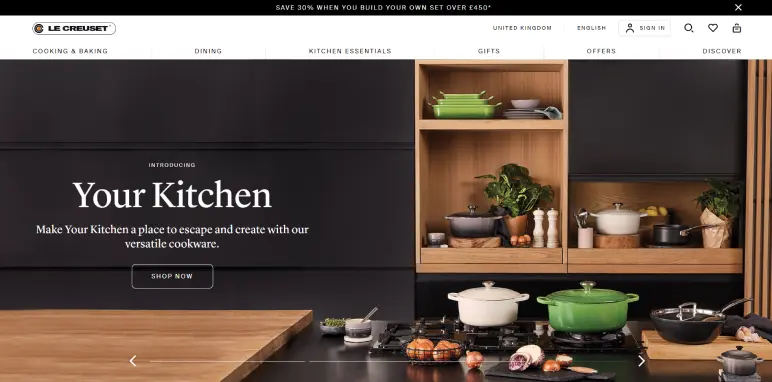 It used to be a niche French kitchenware company before it became a global staple of cooking utensils. Their bright-colored cottagecore aesthetic and heat-retention technology are why they attract high-end professional and novice cooks. Le Creuset is considered a luxury, but privately owned brand, which means they choose not to disclose their annual revenue. However, analysts estimate their revenue to be around $143 million. Certainly, in the kitchenware niche nobody can argue that they're a household name.
High-end coffee products
Coffee is a big part of the everyday routine for a lot of people. In recent years, the number of specialty coffee shops that serve coffee to-go has increased around the world. Now, more and more people are looking to buy at-home coffee appliances, as well as high-end coffee itself.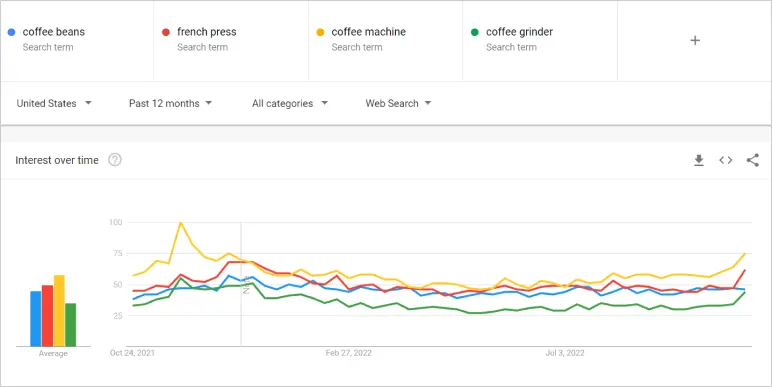 However, make no mistake, coffee is a very oversaturated e-commerce niche with serious competition. There are 38,411 branded coffee shops in the US alone. Of course, there's a reason for it: coffee will always be popular, regardless of how difficult it will be to make a breakthrough, you can expect the coffee niche to stay relevant.
If we turn to research, we can see that the coffee market is expected to reach $152 billion by 2030, at a CAGR of 12.32% during the forecast period of 2022-2030. By next year, even more new coffee brands will emerge and make it tougher to stand out on the market. If opening a coffee store is your choice, then you need to make strategic marketing your number one priority.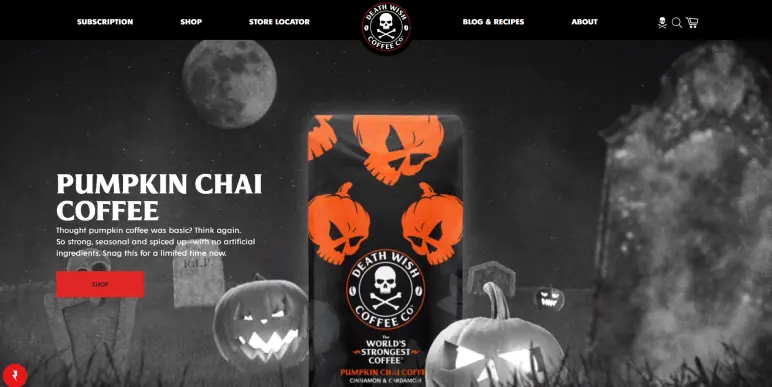 Talking about outstanding marketing, Death Wish Coffee went to space! Yes, you read that right. A coffee brand, which claims to sell the "World's Strongest Coffee", developed an instant freeze-dried blend of its coffee to fuel the astronauts on the International Space Station. After this amazing publicity stunt in 2018, their coffee became a staple on NASA's food menu.
You might think getting your product into space is way too complicated, and it is, but this is the kind of thinking-outside-the-box marketing we're talking about when it comes to a highly competitive niche. Get your name out there in a way that will immediately boost your recognition. Preferably, in a positive light.
How to Find the Most Profitable E-commerce Niche for You?
It's best not to rely solely on our article to pick your e-commerce niche. The data is mostly centered around the US market, which may not be accurate for your country's market. Furthermore, the year 2022 has proved to be uncertain and unexpected so far, so keep in mind that predictions can go wrong. With that being said, here's some advice on how to continue searching for your perfect niche.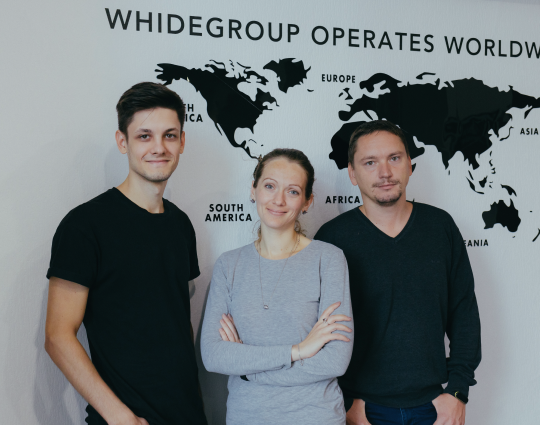 Looking for help?
Contact Professional Ecommerce Development Company and Get a Free Consultation
Consider the gross margins
Gross margin is a metric that measures your profits as a share of revenue. The higher your gross margin — the more successful and profitable your business is. Gross margins are calculated by subtracting the cost of goods from your revenue. Cost of goods includes the purchase value of your product, shipping, importing, and warehousing costs. To put it roughly, if you bought a product from a supplier for $100 and sold it for $150, your gross margin is $50.
So you can see how this becomes an important aspect of choosing among the most profitable e-commerce niches. Sure, you can get on trend with certain niches, but you also have to consider how profitable they will actually be in the long run. If you have a small gross margin, you need a high level of revenue to be able to pay your overhead expenses, like marketing, taxes, rent, etc.
When it comes to e-commerce niches, a high profit margin is usually considered to be around 30%. But there are certainly serious challenges associated with high margin niches. The most significant issues you will run into are the high cost of goods and high competition. You will also need to develop a very strong marketing strategy that will keep your business of selling expensive items afloat.
Generally, e-commerce niches with high profit margins are considered to be:
Jewelry
Electronics
High-end accessories like watches and sunglasses
Fitness equipment
Home appliances
Of course, you don't need to aim for the highest gross margin possible. Currently trending niches like kitchenware and high-end coffee supplies also show very satisfying profits. In any case, your potential profits should be one of your top priorities when choosing a niche.
Rigorous market research
Considering that you're reading this article, you're already doing some market research. But extensive research doesn't end here. Market research investigates several areas of the market, from product demand and target audience to competition. By the end of your research, you should be able to confidently answer questions like:
Who is your buyer persona?
How will you reach your target audience?
Who are your primary competitors?
… and much more.
Tools like Google Trends are useful to find out which search terms are most searched locally and internationally, as well as their relevance over time. Subscribing to analytic resources like Statista will also unveil what niches are trending and how profitable they really are. These metrics can considerably reflect the niche's popularity in the market and its competitiveness.
The "resell or manufacture" debate
One big part of choosing the most profitable e-commerce niche is the question of whether you will be reselling items from suppliers or manufacturing them from scratch. The options are significantly different from each other and will result in different business strategies, as well as revenue. Both approaches have their pros and cons to consider, so let's take a closer look at each of them.
Creating your own product
Pros:
You have complete control over your product's quality and design
You get to keep all of the revenue
The product will be exclusive and unique to others on the market
Cons:
Your idea for a product must be solid and scalable in the future
Significant expenditures on developing, prototyping, manufacturing, testing, and marketing the product
You will require work space and crew to manufacture
It takes longer to launch the product
Reselling from suppliers
Pros:
The development and manufacturing part is done for you
You will be able to sell a wide range of products
You can start selling a ready product right away
Cons:
You will have to pay the trade price for the product and will only get to keep the margin that you make
Intense price competition to offer a product at the lowest price
Very unlikely that you will have product exclusivity
The choice will ultimately come down to how much time and money you have and are willing to invest into your business. If you have plenty and can afford to wait until you start seeing revenue, then creating your own product would be a better, albeit tougher, option. Some business analysts say that it's always better to be a supplier rather than a seller. At the end of the day, you won't have to worry about finding a product to sell. With experience, you might also be able to turn your business into a legacy.
With that being said, the ability to resell is what initially drives a lot of merchants into e-commerce. You'll be able to start selling from day one and receive profits much faster. But the biggest pitfall some newcomers seem to fall into is the failure to market their brand properly. Since with reselling you won't have product exclusivity or control over its features, your number one priority will be making your offer stand out against the competition.
So, keep these nuances in mind when looking through e-commerce niche ideas. They might help guide you in the right direction.
Follow your instincts
At the end of the day, you can always turn to your hobbies and interests to launch an e-commerce store. A lot of merchants started their businesses because the founders had a certain hobby and realized other people could benefit from their products or services. Or they simply found that a particular niche is lacking and they have something worthy to bring to the table.
If your heart truly lies in a specific e-commerce niche, you need a mindful approach to break through intense competition. Consider attending a business and marketing course specifically centered around your chosen niche. Developing a custom website for your store is also going to help deliver a unique and authentic experience when shopping with your brand. Of course, you will run into occasional predicaments, like all businesses do, which is why a detailed and well thought out business plan is also a must.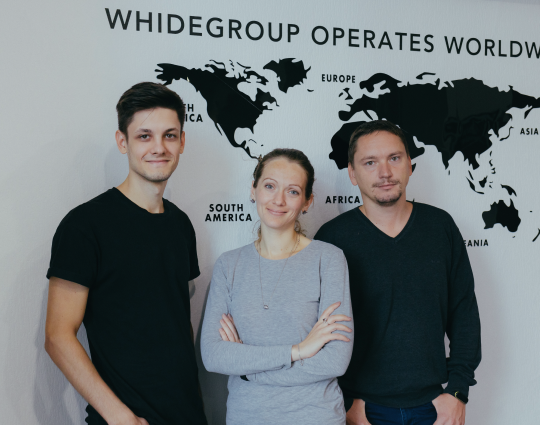 Ready to get started with your brand?
Contact Professional Ecommerce Development Company and Get a Free Consultation
Final Thoughts
The last two years proved that shopping trends can change like the weather. The pandemic brought many new challenges for e-commerce merchants and highlighted weak points of modern online businesses. However, we can definitely see that some changes are for the better. Consumers grow more aware of detrimental shopping trends, while brands learn how to be more flexible in uncertain times.
In this article, we turned to analysts and data to show you what niches are trending and why. It's worth repeating that statistics and projections can be inaccurate in some ways, we might see a different trending pattern in 2023. However, the e-commerce niches we highlighted today show a very promising future, both in revenue and continuous popularity. If you have any questions regarding the best niches for e-commerce and bringing your project to life, feel free to get in touch with us for a consultation with our team!
https://whidegroup.com/wp-content/uploads/small-cover-e-commerce-niches.webp
300
772
Kristina Bardusova
https://whidegroup.com/wp-content/uploads/whidegroup_logo.png
Kristina Bardusova
2022-12-12 16:19:21
2023-02-24 16:51:25
[Un]Expected Changes in Trending E-commerce Niches: How We Shop Post-Pandemic
[Un]Expected Changes in Trending E-commerce Niches: How We Shop Post-Pandemic