Continuous, high-quality traffic is the lifeblood of any e-commerce store. After all, the more people visit your website, the greater your chance to convert them into customers. Whether you recently launched your website or have been in the market a while, the big question is how to get customers on your Shopify store. In this article, we'll dissect eleven tried-and-true strategies that will show you how to drive traffic to a Shopify store, whether you're a newcomer or an avid user.
So, why is traffic so important? By expanding your discoverability on search engines and social media, you tap into a bigger pool of potential customers. More potential customers equals more sales. If people can't see your brand, is it really a business? There is also no point in reaching people that aren't interested in what you have to offer. A better approach would be building a loyal base of customers around your brand through various traffic acquisition channels across the web. Let's take a look at all of the available and proven methods that help you increase e-commerce traffic to your Shopify store.
What Types of Traffic Are Out There?
Before we can figure out how to get traffic to your Shopify store, we first need to understand what kinds of traffic exist. Let's take a look at the six types of traffic:
Organic. User types a specific search query in a search engine, sees a list of websites come up on a search engine results page (SERP) and clicks on a link leading to your Shopify store.
Paid. User discovers and visits your online store through advertisements displayed across various platforms.
Direct. Visitors come directly to your store by typing your website URL in a search bar. Generally, that means the user already knows about or has previously been to your store.
Social Media. By creating a strong social media presence, you can reach a wide audience of potential customers who will come to your Shopify store by clicking the link in your profile that leads to your website.
Referral. People come to your website through links left on other resources. For example, you put up a press release with a link leading to your Shopify store and the user clicked on it – that's referral traffic.
Email. If you already had an opportunity to collect a contact base, you can increase traffic by launching email campaigns.
All types of traffic can be further split into two categories: free traffic and paid traffic. The first thing you may be wondering is how to get free traffic to my Shopify store. Let's start with it.
How to Drive Traffic to a Shopify Store for Free?
When discussing "free" traffic we talk about organic ways people come across your Shopify store. However, the expenditures on development and marketing teams have to be taken into account. You need to not only create a sustainable marketing strategy but consistently manage it to keep it afloat.
In this section, we will explore several methods on how to drive traffic to your Shopify store for free before going to paid ads.
#1 Work on Your SEO
Search engine optimization (SEO) is a process of improving your site's visibility on search engines, such as Google, Bing and others. SEO includes many practices directed at optimizing a website for search engine requirements. It can be further divided into on-page and off-page SEO.
On-page SEO is all about the changes you can make within your website. You can change:
URLs
Title tags
Meta descriptions
Site speed
Content
Off-page SEO is a set of actions taken outside of your website to improve your rankings on search results. This is accomplished by other reputable websites linking back to your site, increasing your domain authority within SERPs.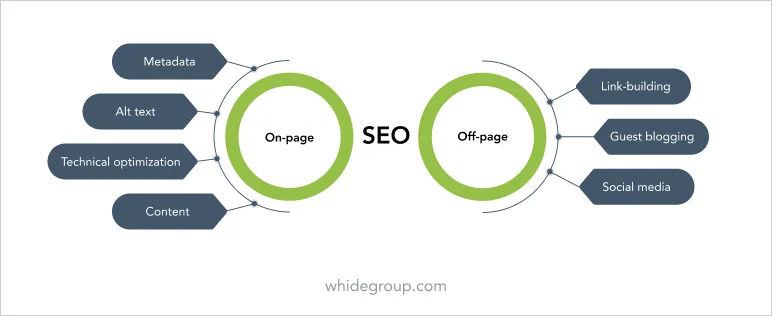 Incorporating relevant keywords into product descriptions, alt text, and metadata helps you rank higher on SERPs. You can research keywords using tools like KWFinder, Ahrefs Keywords Explorer, and Google Keyword Planner among others.
Shopify offers a variety of features and apps for on-page SEO. Built-in features include editing title tags, alt text, meta descriptions, and URLs. Going further with applications like SEO Manager will guide you step by step through the intricacies of SEO improvement.
Another important thing to evaluate is how well your Shopify store is optimized for mobile devices. Crafting a responsive design that displays properly across all devices and is easy to navigate is vital in retaining visitors that land on your page. According to statistics, more than
68% of all web traffic is generated using mobile phones.
Users are more likely to abandon placing an order in your store if they find the mobile user experience lacking or off-putting.
Making sure the speed of your Shopify website is optimized can also help you rank higher in search results and, consequently, drive traffic to your Shopify store. Reportedly, 53% of users click away if the site takes longer than three seconds to load. Choosing the correct responsive theme, consistently revising all the apps you have installed to your Shopify store and opting out of extremely high resolution images will ultimately amount to a faster loading website.
In the long run, working towards a higher domain authority is a must to drive Shopify store traffic. Domain authority is measured between 0 and 100 – the higher your score is, the greater the chances of your Shopify store appearing in the top positions of a search result's page. Generating quality backlinks from domains with high authority, eliminating broken links and rejecting external links from resources the search engine may find harmful are the most common methods of increasing domain authority.
Of course, if you're not tech-savvy and everything that we've mentioned above sounds like a heavy load, we suggest hiring an experienced development team to handle all optimization inquiries.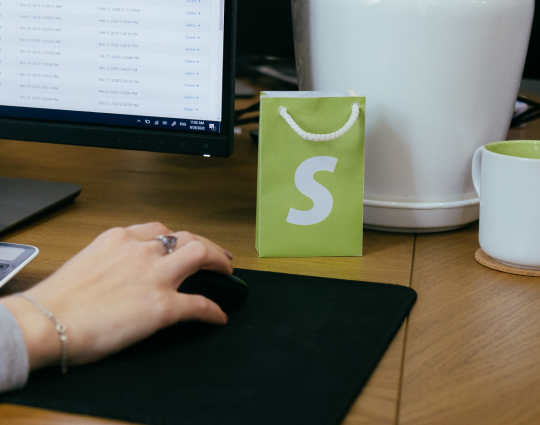 Looking for help?
Take a look at our Shopify services
#2 Apply for a Google Shopping Free Listing
Amid the coronavirus pandemic, traditional brick-and-mortar stores faced a new reality. As a response, Google introduced free listings to their Google Shopping.
While paid ads still hold the top row, Google promises the Shopping tab to "consist primarily of free listings". Such listings will include price, availability, ratings and brand annotations. In Google Images, available products will be marked with a specific sign at the bottom left corner. Your products may also get featured as a rich snippet in a search results page for related product searches.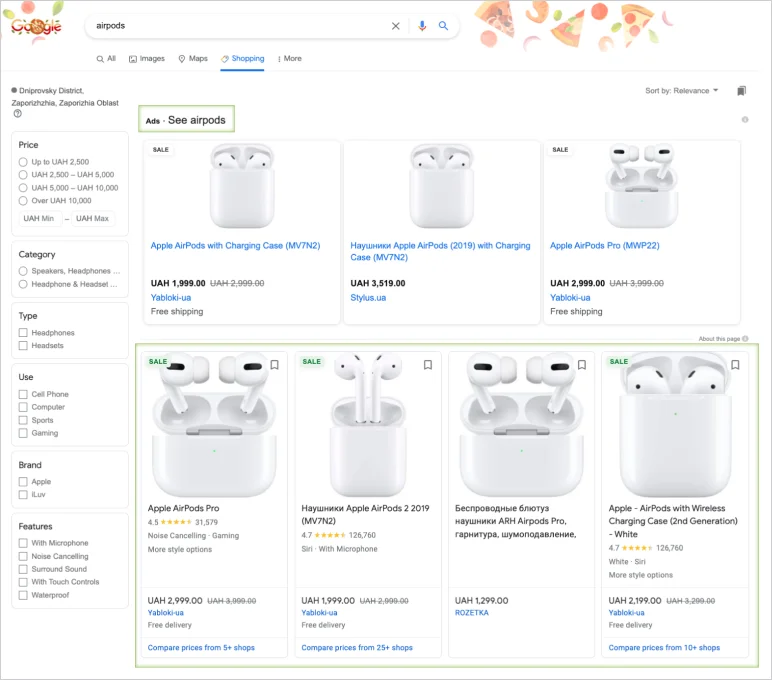 Organically appearing on Google Search, Google Shopping tab, and Google Images, merchants are now able to put up their products for advertising and drive free traffic to Shopify stores. To get started you will need to:
Set up a Google Merchant Center account
Upload your product feed into Google Merchant Center
List "surfaces across Google" as a destination for your product feed
To improve your listings performance, make sure your product and store information is up to date, includes high-quality images, titles and descriptions using appropriate keywords. By adding more relevant information, such as size and gender, you increase your chances of being found and driving traffic to your Shopify store.
For ease of use, Shopify offers a plugin that syncs to your Google Merchant Center account to automatically check the eligibility of your products and put them up for free listings.
#3 Reach Your Target Audience via Content Marketing
Content marketing is all about creating meaningful and engaging pieces of content for your target audience. Distributing it across different platforms generates curiosity around your brand and drives webstore traffic. The key is to outline your target audience and understand what kinds of content would peak their interest.
There are various content marketing strategies to choose from, such as blogging, strong social media presence, podcasts, and more. But keep in mind: it's not a one time said and done deal. You need a consistent posting schedule with a new, engaging topic each time to make your content marketing work.
Start Your Own Blog
Blogging can be an extremely efficient way to drive traffic to your Shopify store. According to statistics, companies that consistently blog get 55% more website visitors. So putting your time and effort into blogging is going to come back threefold.

Before launching a blog, you need to have a general idea of what you are going to write about and to whom. Create a buyer persona specifying:
Who are the people you provide services for
What kind of questions will your customers want answered
What tone of voice they will find most appropriate
Understanding your readers' pain points and giving them a valuable solution could be what encourages them to convert into leads.
Another thing you'll need to think about is the design of your blog. Choosing a look that aligns with your business image is going to be essential. After all, you wouldn't opt for a flashy, colorful design if you sell sophisticated accessories. Take a look at your competitors' blogs. What makes them stand out and how can you make it better?
Incorporate SEO into your writing process to generate quality traffic to your Shopify store. When picking a topic for your next article, research relevant keywords and add them into the text to help your blog rank higher in SERPs.
For example, if you're going to write about handmade candles, using long-tail keywords like "highly scented handmade candles for home decor" will drive your blog post on a search engine to a higher spot. But you must remember to avoid keyword stuffing at all costs. This creates an awful user experience and Google will be quick to give you a search penalty.
Choose one primary, low-competition keyword that best describes the topic of your article and use it in sentences that feel the most organic. The rule of thumb for keyword density is below 2%. Compile a list of additional keywords similar in meaning. Adding them into titles, alt text and headings improves your SEO as well.
Create a posting schedule and stick to it. You can choose how many posts you will publish per month, but it has to be consistent. Otherwise, your efforts to drive traffic to your Shopify store won't bring many results.
Write a Guest Post
Guest posting is the marketing practice of writing a blog post on a third-party website to acquire referral traffic and enhance your domain authority. The most important thing here is identifying a target audience that could potentially find interest in your products or services to promote your Shopify store for free.
Generally, guest writers are allowed to leave a link leading to their website in an author's description panel or one anchor link within the text. Aim to write guest posts on websites with high domain authority and large traffic to build a better backlink profile.
So, how do you find guest posting opportunities? For starters, you can use Google search operators to find websites offering to write for them. Let's say you sell beauty products, type a command in a search bar: intitle:write for us + beauty or intitle:become a contributor + beauty to find blogs within your niche.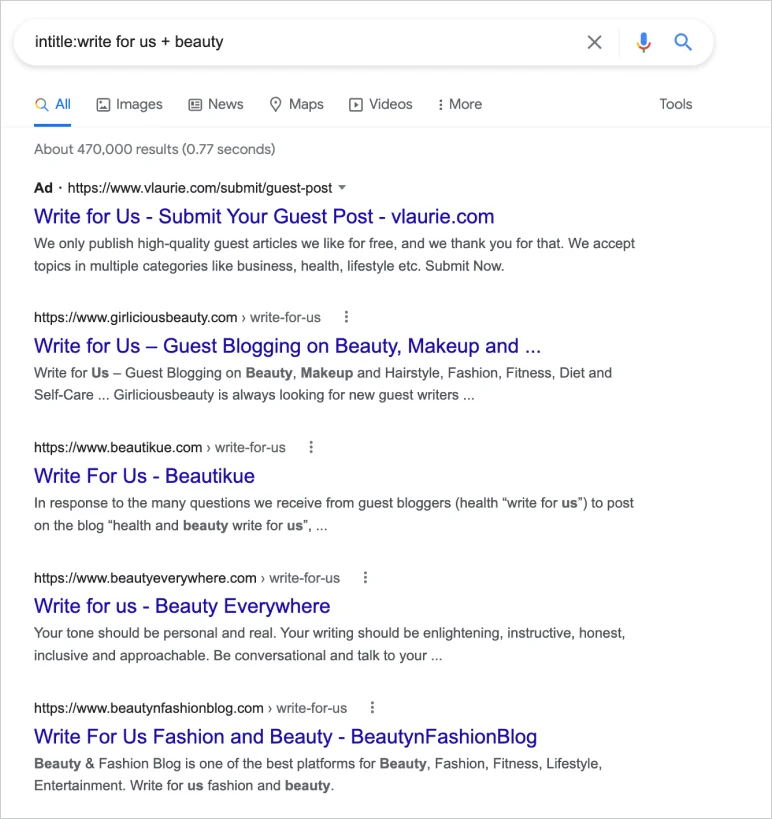 After composing a list of qualified blogs, it's time to start working on your pitch. Typically, blogs that accept guest posts will have guidelines that paint a picture on how to write a pitching email. But sticking to the general rule of a clear and concise message while maintaining a business casual tone is a good way to go about it.
And if guest blogging just doesn't fit into your marketing strategy, try reaching out to content writers to get included in gift idea compilations. We've all Googled, at least once, "Best Gift Ideas for xyz" and scanned through various products and propositions. Choose appropriate merchandise to propose as a gift idea and pitch it to several blogs. We can confidently say, while this may be an unorthodox way of marketing, it certainly helps to drive Shopify store traffic.
Make Yourself Known on Social Media
There's no denying that social media has become a huge part of our lives with an estimated 4.48 billion users across various platforms. Almost every brand nowadays has a comprehensive social media marketing strategy, whether it is presented on Instagram, Facebook, Twitter or all of the above. Creating a tailored business account and keeping a consistent posting schedule can amplify brand awareness and ultimately drive customers to your Shopify store.
All social media brand accounts use engagement as a measure of how people are interacting with content – whether they find it useful and engage in conversations, or simply leave your pages and don't return. Customers will often come to your comment section to ask questions regarding your products and services. Providing them with a complete answer is where customer trust grows. Simply existing on social media without communicating with your audience is just not going to do much to attract website traffic. You should aim to create your special community.
A big aspect of a successful social media marketing campaign is building your brand's distinctive look. As businesses begin to flock to social media, standing out against your competitors can be a challenge. Companies resort to unconventional marketing techniques to simply linger on users' minds long after they close the tab. For Example, Tiffany & Co. uses storytelling in their posts to promote their products.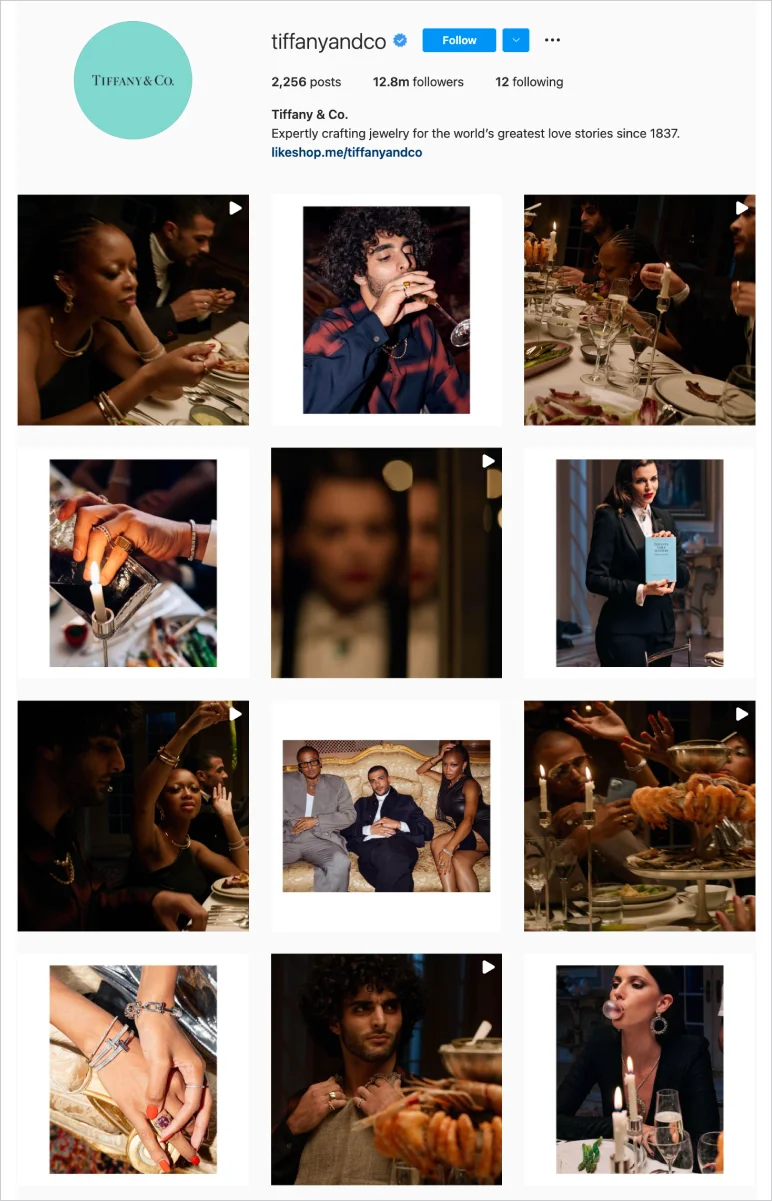 Some choose to go the comedic route, often aiming to become a "meme" in the eyes of their younger audience. A well-known fast food brand, Wendy's, crafted their social media presence by resorting to slapstick comedy. And it worked.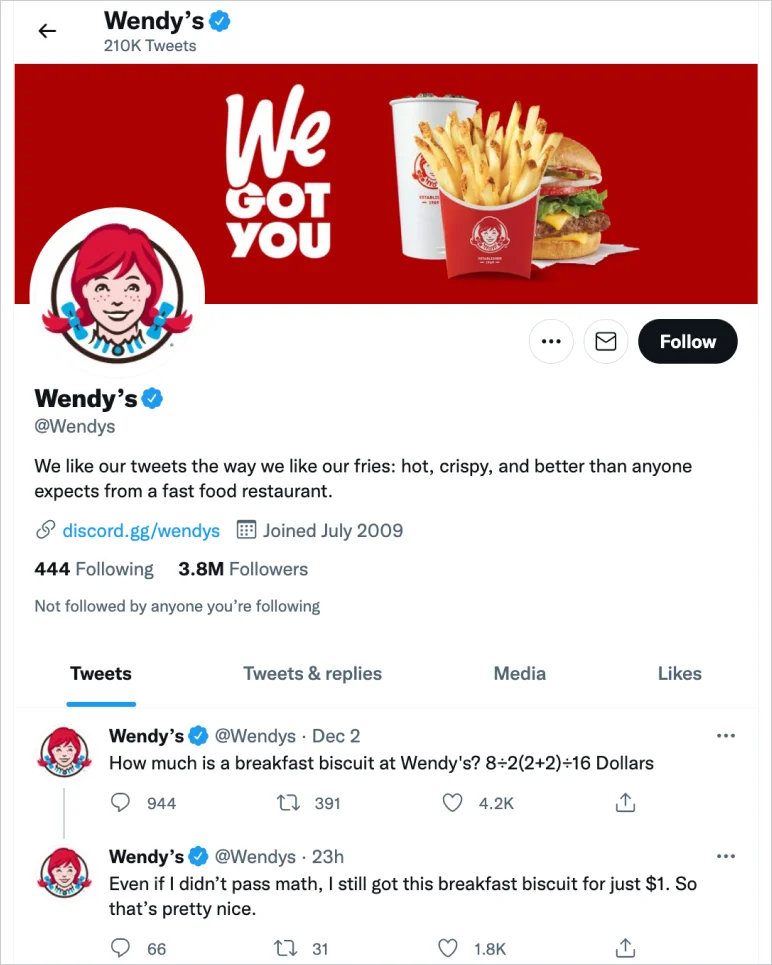 Understand your target audience and forge your social media appearance with them in mind. Creating valuable and informational posts that connect with your customer's pain points is also a great strength, as opposed to blunt advertising content. After all, nobody is going to like, share and come back for more plain commercials. Incorporating entertaining videos into your feed can drive traffic to your Shopify store as well.
Pro tip: Shopify offers a tool to connect your Instagram stories directly into your store to reach a broader audience.
Tune In With a Podcast
In recent years, podcasts have exploded in popularity, with over 2 million shows streaming in 2021. So it's clear to see how starting your own audio show can help drive traffic to your Shopify store by means of inbound marketing.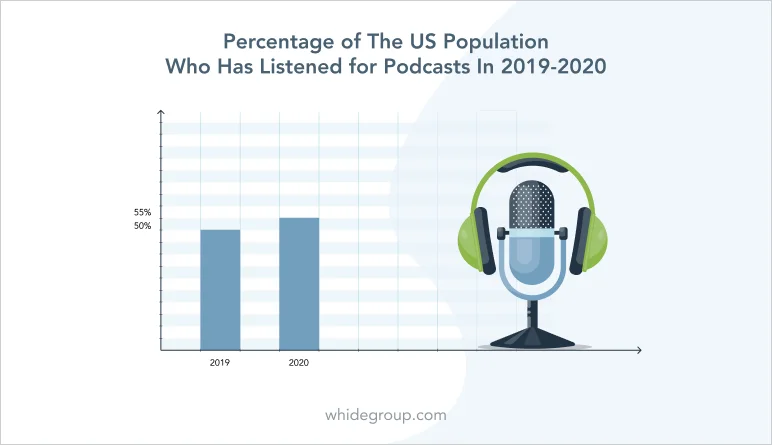 There are several benefits of integrating podcasts into your marketing strategy:
Podcasts are easy to consume. Since it's downloadable audio, listeners can enjoy the show while driving, working or doing regular chores.
It creates a sense of authority on the topic. Listeners are more likely to visit your Shopify store after consuming valuable information from a respected source.
Podcasts drive engagement with your content across all social media as they can reach a completely different niche of customers.
Marketing your brand through podcasting immediately raises awareness about your business.
Podcasting is a great way to increase your website traffic. Whether you host a single-person show, or invite on relevant guests to interview, you'll discuss current topics in your niche and provide insight on the matter, to establish yourself as a respectable source. Listeners are more likely to come over to your Shopify store and buy from you if they get a sense of familiarity with your brand.
Take a look at Blue Apron's "Why We Eat What We Eat" – a branded podcast from an American ingredient-and-recipe meal kit company.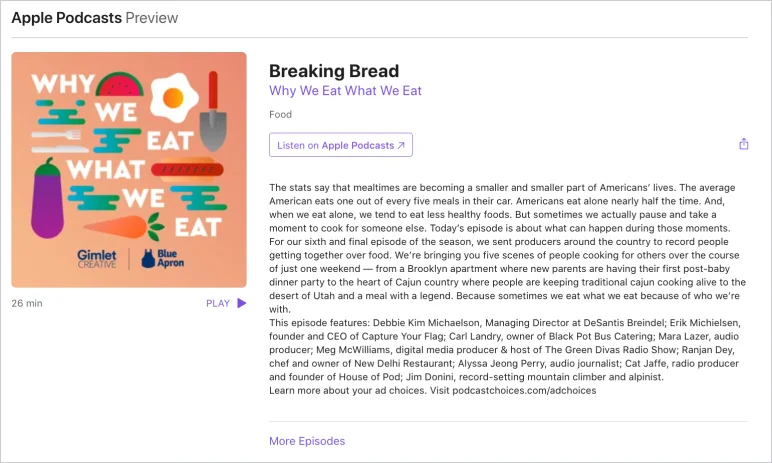 A podcasting format allows the brand to discuss important topics, such as where food trends come from and how they shape our eating habits. The show not only helped raise brand awareness but also established them as knowledgeable experts in their field.
It's evident that podcasts have great potential to drive traffic to your Shopify store. However, many businesses choose to opt out of them due to the difficulty of creation. Writing a comprehensive script, investing in high-quality equipment and finding respectable guests is only a small portion of preparations to tackle.
Another thing to think about is where you are going to upload your podcast to. It's best to not include your show to your shop's hosting as it will noticeably slow it down. Instead, select one of many platforms available. Popular ones are SoundCloud and Apple Podcasts.
Integrate the SEO tips and tricks we've discussed above to expand your visibility on the site. Think of a catchy name for your channel and establish your authority on the topic in the title and description.
Your goal is to create a community of customers throughout all of your social media profiles. Engage with them in the comment section, ask them to give you suggestions for your next episode, encourage inside jokes and reviews. If you are willing to put your energy into some or all of these marketing strategies, it won't be long before you see traffic growth to your Shopify store.
#4 Word-of-Mouth
Closing the topic of driving free traffic, we can't overlook the power of word-of-mouth marketing (WOM). Fundamentally, it is exactly what it sounds like – pleased customers spreading the word about your brand to whomever is willing to listen.
Having a referral program will come in handy, as customers will be more inclined to share the excitement about your Shopify store if they can earn a tangible benefit. In turn, it would further peak the interest of newcomers to try out what you have to offer at a discounted price point someone has vouched for.
The struggle with word-of-mouth marketing lies on your shoulders – providing a customer experience worth talking about. In today's world, WOM marketing has evolved to include a digital aspect. Customers share their experiences with a business, positive or negative, through social media platforms like Twitter, Facebook, LinkedIn, etc., broadcasting to its followers.
So, what are the positive ways to integrate word-of-mouth into your marketing strategy?
Have your products do the talking. While it seems pretty straightforward, having a high-quality offer is enough to give people a reason to talk about you.
Connect a reviews panel to all of your products. Research shows that adding reviews to your product page results in a 15-25% surge in search traffic.
Work hard on a dedicated fan base using the social media strategies we discussed earlier.
Create referral or affiliate programs using apps specially made for Shopify.
In an ideal world, word-of-mouth marketing works by itself, but if you're a newly launched business it can be demanding to drive traffic to a Shopify store. Investing in paid traffic can bring fruitful results quickly.
So, what is this paid traffic?
Best Ways to Advertise Your Shopify Store
Paid traffic is characterized by traffic coming to your Shopify store through ads. Leads come across your website after seeing your paid advertisements on third-party resources. There are several types of paid ads, such as:
Pay Per Click (PPC) – meaning you only have to pay when someone actually clicks on your ad
Cost Per Impression (CPI), also known as Cost Per Mile (CPM) – you pay per 1,000 impressions, or views, of your ad
Cost Per Action (CPA) – pricing model is when payment is made only after the prospect completes a certain objective, like a sale, form submission, subscription
A wide array of platforms offer e-commerce owners ad space on their websites, ranging anywhere from Google ads to ad exchanges. Let's dive deeper into the world of paid ads and how they can drive customers to your Shopify store.
#5 Google Ads Are One of the Most Accessible Options
Google, being the most popular search engine in the world, has been a leading resource of Pay Per Click advertisements for years. Tapping into their vast network can have astounding results for driving traffic to your Shopify store. In this section, we will analyze the types of ads Google proposes.
Google Shopping Ads
We explored Google Shopping free listings before, now it's time to uncover the main differences and benefits of the paid version.
The first and most obvious benefit – broader visibility of your ads as they appear in the top row of the Shopping tab.
The second one is the inclusion on Google Search Partners' websites – these are other websites that partner with Google to showcase ads from Google search network on their webpages. Although Google refuses to release a list of their partner program participants, such partners include: Ask.com, BizRate.com and Amazon among others.
Google Search Ads
Remember the last time you Googled a product and a list of suggestions popped up in front of you – that's Google search ads. With a fairly easy setup process, you could have your ads appear at the top of search results too. Follow a beginner's guide to creating the best ad campaigns for your business.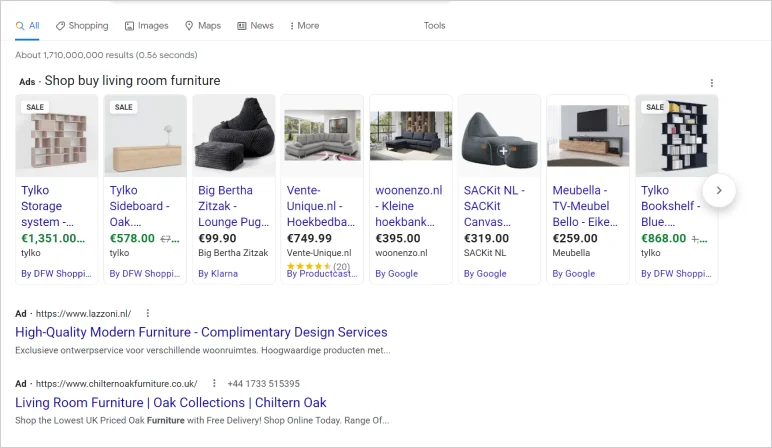 Google Ads on Youtube
Google, the parent company of YouTube, offers a few variations of ads to display on Youtube:
TrueView In-Stream Ads (Skippable Ads) – advertisers only have to pay if the viewer clicked on an ad or watched for at least 30 seconds or until the end.
Non-Skippable In-Stream Ads – usually plays mid-roll or after the video ends and can be up to 20 seconds in length.
Bumpers – the shortest non-skippable ads lasting only 6 seconds.
Overlay ads – the banner that hovers at the bottom of the video.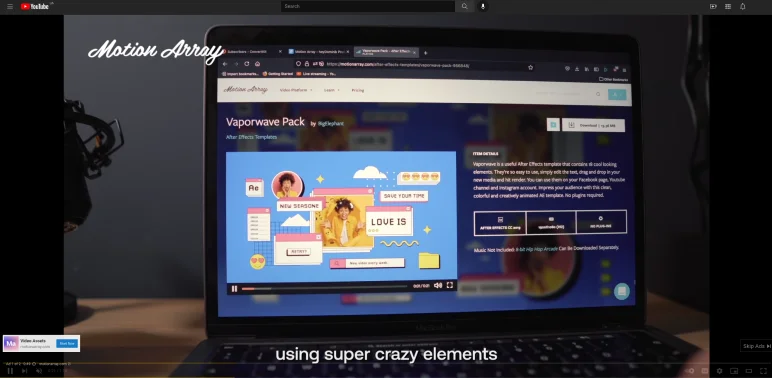 Constructing a video ad that is both engaging and memorable is an art form in itself. Thankfully, Google provides a customizable, yet easy to use campaign creating experience to drive traffic to your Shopify store.
#6 Paid Social Media Ad Campaigns
Another type of advertisement that has gained popularity in recent years is social media ads. Most social platforms present a variety of ad campaign options to drive website traffic. We will take a closer look at the most popular channels for paid advertising – Instagram, Facebook and Pinterest. As to which channels you should be on, depends on your audience and where they are spending their time and attention.
Start With Instagram Ads
By converting your profile to a business account, you open yourself up to a new realm of possibilities for creating unique and engaging ad campaigns. The selling point of Instagram advertising is its flexible customization. You can turn existing posts from your feed into ads or create them from scratch in a matter of a few clicks.
With the introduction of Instagram Shopping, merchants can now connect their Shopify store catalog directly to their Instagram posts. Customers will be able to click on an image with a shopping icon and immediately see product information, such as description, price and additional pictures on a product details page. Selected products can be bought without leaving the app with an implemented Checkout option.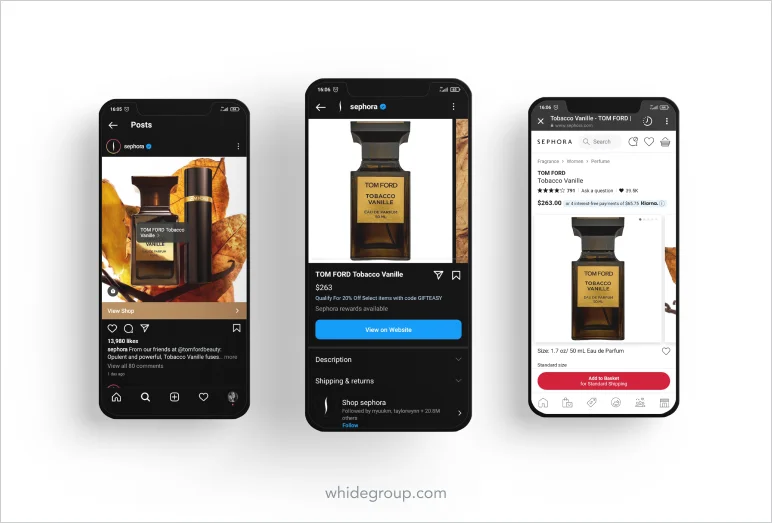 To activate this feature you will need to:
Check your Shopify store for eligibility
Make sure your profile is set to a business account
Connect to your Business Facebook page
Upload your product catalog (Shopify offers to integrate and import your catalog right from your store)
Submit your account for a review
Select the catalog you want to connect to your account
And, finally, start tagging your posts and stories!
Go further by turning your posts into ads that show up in users' feed, stories and on the explore page. They look similar to regular posts and stories, but always contain a "Sponsored" label and a link to your profile or Shopify store. The process of boosting your post is very simple and is done through your profile page in the "Ad Tools" setting.
Craft your ad from scratch using Facebook Ads Manager. This takes a bit more finessing, but the end result is worth it. Thankfully, Ads Manager operates fairly intuitively and takes you step by step through the settings.
You get to choose one of eleven marketing objectives, such as raising brand awareness, reaching a wider audience, or driving traffic to your Shopify store. The next step is establishing your budget and schedule for when your ads will be shown, customizing the audience you want to reach (or use a Saved Audience for the future) and create your ad in an image or a video format.
Another thing that makes Instagram ads so attractive is their pricing. You get to set your own budget. Whether it's a daily minimum or over the lifetime of your campaign, you choose and you can change it anytime you want during the campaign.
Invest in Facebook Ads
Facebook is the most popular social media on the planet, with 2.74+ billion users and owning media giants like Instagram and WhatsApp. Considering Facebook's diverse demographic, it wouldn't be hard to reach your target audience and drive traffic to your Shopify store.
Before you can begin running paid ads on the website, make sure you created a separate Business Page as you cannot run ads from a personal profile. Similar to Instagram, Facebook offers multiple options for paid advertisement:
Image. The most basic type of ad that includes a photo and follow-up text, appearing in news feeds. Akin to the technology used on Instagram, you can boost your regular posts to surface as an ad.
Video. A video sequence with a text caption below. The length of videos can be anywhere between five seconds to ten minutes, though Facebook recommends a 15 second maximum with skippable and unskippable options. These show up on the feed, stories or as an in-stream ad in longer videos.
Carousel. Uses up to ten images or videos to showcase a range of products. Includes individual links to a product page, accompanied by a call-to-action button like "Shop Now".
Collection. A mobile exclusive type of ad that combines images, videos and itemized product shots in a grid-like manner. It is designed as a fast-loading in-app purchase.
Messenger. Displays in a separate Facebook Messenger app as a message in an inbox to help start a direct conversation between your brand and a customer. Such ads can be created by adding Messenger Inbox as a placement of your campaign or by setting an automated placement.
Lead ads. Also a mobile exclusive type of ad generated to increase customer acquisition by collecting contact information. When tapping on such ad, a pre-populated form emerges requesting to subscribe to a newsletter, sign up for a trial, register to an event, etc. Facebook allows you to connect your newly collected lead information to your CRM for a faster response.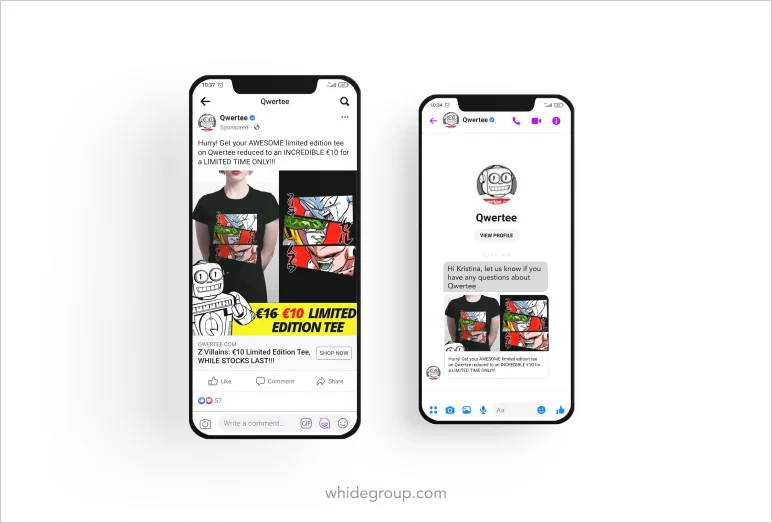 Although some of these ad types don't drive traffic to your Shopify store directly, they still raise brand awareness.
All of these options can be constructed in Facebook's Ads Manager. Go to the Campaigns tab, then click Create to get started with a chosen method of advertisement.
Broaden Your Reach With Pinterest
Pinterest is a highly visual search engine that people use as a social network. With over 447 million active users worldwide, it is known for its overwhelmingly female audience. Pinterest mainly works as a shopping inspiration platform with the ability to save "pins" that peak users' interest.
Pinterest was one of the first platforms to introduce Buyable Pins long before it became mainstream. Now, with the enrollment of brand catalogs and shoppable pins, it has become easier than ever to drive traffic to a Shopify store.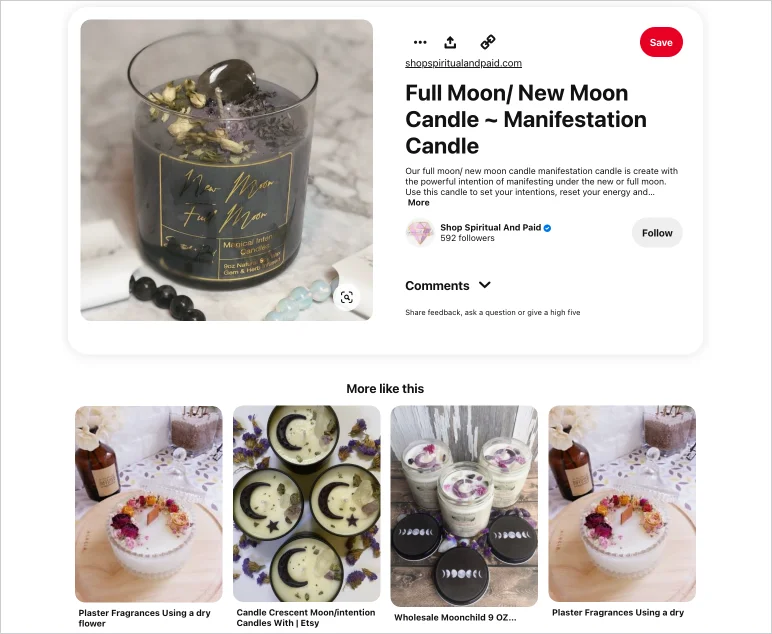 Before you can get to work on your ad campaign, create a Business Account first and check your eligibility within Pinterest's guidelines.
Just like Facebook, Pinterest has their own Ads Manager system with a customizable budget and six different campaign goals:
Grow brand awareness
Drive traffic to your website
Boost app installs
Increase traffic to specific products
Encourage specific actions on your website
Promote video impressions
For your ease of use, Pinterest suggests Shopify merchants utilize a sales channel app to help you import your product catalog and automatically turn your goods into Product Pins with just a few clicks.
Your next step for promoting your store on Pinterest is using the Promoted Pins feature. They look and behave like normal pins but with payment comes exposure to a wider audience.
Remember that Pinterest is a visually driven platform. You want to begin by selecting a few of your best performing pins, then click the Promote button. All promoted pins operate on a pay-per-click model.
#7 Reach Out To Influencers
Social media influencers have populated almost every corner of the web. As the number of their followers grew, so did the interest of marketers. Working with influencers in your target niche is still a great way to promote your Shopify store.
As the name suggests, influencers create a loyal fan base around themselves by creating valuable content that connects with their audience. In turn, the followers trust their favorite creators' opinions and expertise.
When talking about crafting an influencer marketing campaign for your newly launched business, think beyond a huge social media star advertising your store. Instead, conduct research on smaller influencers who share your brand's interests and reach out to them about a possible collaboration.
Influencers generally offer several methods of promotion. One of them is a public relations package or simply a PR box. By providing a few free samples of your products, an influencer can try out for themselves to see what your brand is all about and subsequently review your brand in a post or a video. In many cases, PR boxes are enough for small content creators to give you a free review and exposure to a new audience.
But what if your business has already gained some awareness and is now ready for something bigger?
Try reaching out to influencers with greater audience coverage and arrange a social media takeover. This might sound a little scary, but in essence a social media takeover is when you give the influencer access to your social platform of choice for a few hours and allow them to post content from their point of view. This could be posting on your Instagram or Facebook stories, or perhaps your brand would find a humorous Twitter takeover appropriate.
One way or the other, your goal here is to lead the influencer audience to your social media, grow brand awareness and ultimately drive traffic to your Shopify store.
To make searching for the right influencers easier, there are a handful of platforms online that assist in connecting influencers with brand owners. For example, a marketplace like TRIBE helps craft your campaign first, then finds suitable content creators to bid for your offer later.
In the long run, building a strong relationship with an influencer can create a return on investment by organically converting a content creator into a brand ambassador. Generally speaking, you can turn any loyal customer into your ambassador – and you should – but having a recognizable person talk about your products with genuine passion will have a significant effect on growing your Shopify store.
#8 Try Ad Exchange
Another great way to drive traffic to a Shopify store is using an Ad Exchange. Ad Exchange is an online marketplace where publishers offer available ad space on their website and advertisers bid in a real-time auction to take that place. A key to understanding how ad exchanges work is to look at how the two sides work simultaneously.
Unlike ad networks where inventory is collected from publishers and sold to advertisers for a hiked up price, ad exchange users work together towards a more custom experience.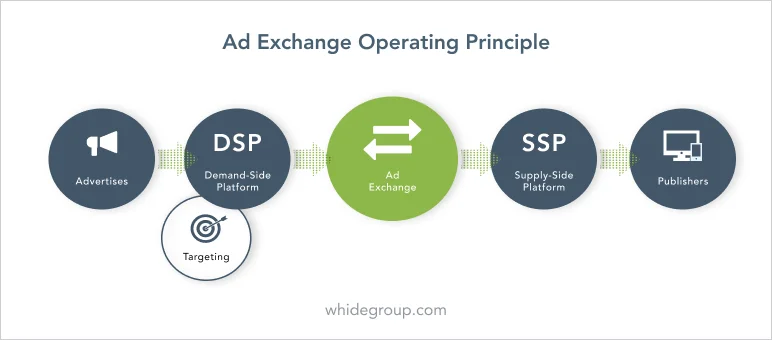 On one end, a publisher connects to the exchange via supply-side platform (SSP) and provides his inventory for bidding. Gathering information about the website visitors through cookies, such as their behavior on a webpage and search history, ad exchange chooses the best fitting bidders for that space.
Simultaneously on the other end, an advertiser is connected to the ad exchange through a demand-side platform (DSP). After declaring the maximum cost-per-impression they are willing to pay, they enter a real-time bidding for a specified inventory. The highest bidder walks away with the space.
And while this may seem like a timely process, the entire operation is carried out within seconds and starts over for the next batch of inventory biddings.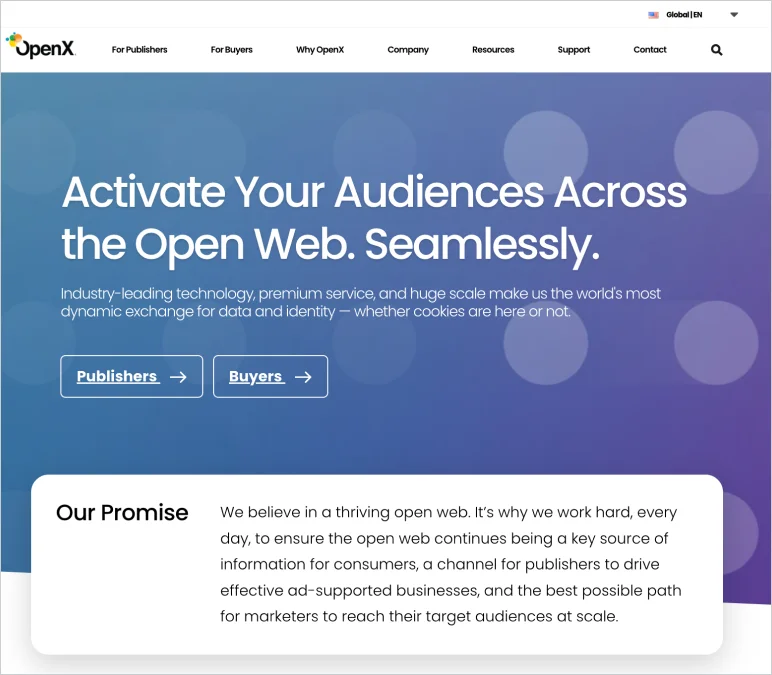 Among the most popular ad exchange platforms are: Google Ad Exchange, OpenX and AppNexus, which are secure platforms for biddings called private marketplaces.
#9 Offline Marketing Works Too
Offline marketing is a traditional way of advertising on TV, billboards, and in newspapers. Whilst in a contemporary world offline marketing may seem out of fashion, combining both online and offline strategies is still beneficial for driving traffic to your Shopify store.
One of the ways offline marketing evolved to stay relevant is through public speaking at events, trade shows, and product launches. Putting a face to a name can help in building brand awareness and customer trust. Public speaking allows you to interact directly with your audience and make an instant connection between consumers and brand.
Investing in promotional pamphlets and handing out business cards gives people something tangible to associate with your brand. Design your printed items to make a memorable first impression, craft a message that strikes a chord with your audience, and remember to include your contact information and a call-to-action. After all, online ads can be easily ignored and forgotten, but a useful brochure can remain in a household for a long time.
Speaking of visual ads, there are 4.23 billion TV users worldwide, so it's safe to say television marketing isn't dead. Running your ads on television channels that target your potential consumers can help grow your Shopify store as 12% of viewers reportedly purchased a product after seeing a commercial on a TV.
What Else Do You Need to Know If You're an Established Business?
Granted, the strategies we examined above are a starting point to drive Shopify store traffic. But what if your business has been up and running for a while and you have already implemented some or all of the above marketing methods? The following tips are things you can work on to continue improving your website traffic and audience connection.
#10 Set Up Your Email Strategy
The fundamental goal of email marketing is to keep people returning to your website. Research shows that an average email open rate is 20.2%, while click-through rates across all industries averages at 1.5%. You want to aim for a higher click-through rate as this is an opportunity to drive traffic to your Shopify store. Gather as much information about your customers as possible to craft a personalized email campaign. Statistics show a
20% increase in sales revenue for email campaigns tailored to each customer.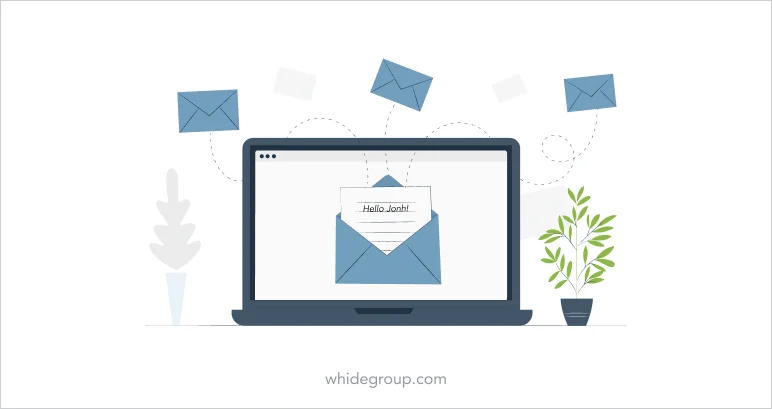 There are several types of email campaigns you should incorporate into your strategy:
Order confirmation. A clean, informative order confirmation email is a must for any e-commerce business. The most successful confirmation emails are personalized to include a buyer's name, a product picture and order information, such as order number, shipping details and links to customer support.
Scarcity. Mentioning a limited-time offer or a clearance sale puts your customers in a now-or-never mindset and makes them more inclined to check out your proposition.
Abandoned cart. Notifying a client of an abandoned cart may seem like an invasive practice at first, but research tells us that abandoned cart emails sent within the first day have a click-through rate of 9.50% and an average recovery rate of 4%. The content of such an email should be attractive and imply that the customer has left something behind.
Special offer. Everyone wants to feel special and that's when crafted segmentation comes in handy. A personalized email notifying a customer of a special offer or a discount designed with them in mind will surely bring them back to your Shopify store to at least consider a purchase.
Sales. This is an efficient way to drive traffic to your Shopify store because everybody loves sales. Create a sense of urgency with your email by offering a seasonal sale that your customers cannot miss out on.
There are several popular applications made for Shopify to implement an email marketing campaign. You can choose whichever one fits your business's needs best. Shopify also provides their own emailing tool which smoothly integrates with Shopify stores.
#11 Create a Customer Loyalty Program
Rewarding loyal customers is integral for keeping a stable retention rate and website traffic. Selling to returning buyers is less challenging and more cost efficient than acquiring new ones. Show your clients that being a part of your business can reap benefits for them too by creating a loyalty program.
In essence, a loyalty program is a customer retention strategy designed to reward devoted clients with discounts, special offers and free products. The more they buy, the more tradable points they obtain. But how can a loyalty program drive traffic to your Shopify store? Well, the statistics show that
members of a loyalty campaign visit the company's website 35% more often than those who aren't members.
Now that we're certain of the loyalty program's benefits for both brand owners and their customers, let's take a look at the types of programs that exist:
Points based. A system where points are collected for making a purchase, leaving a review, sharing on social media or having a birthday. These points can later be traded for a discounted or a free item, cashback, merch or anything you choose to delight your customers.
Tiered. With each purchase, buyers progress through a tier-based scale, unlocking new benefits and gaining access to greater rewards. Generally, there are three or four tiers, starting with a newcomer like rank and ending as a devoted customer.
Value based. This kind of a program doesn't materialistically reward clients, but instead offers to donate a percentage of their spendings to a charity that aligns with your brand's values. Purchasing creates a perception of doing something good for the welfare of others.
Paid (or VIP). A fee-based program where customers are offered to make monthly or annual payments to gain access to exclusive perks. This model only works if acquired bonuses outweigh the fee.
A combination of several types. A hybrid loyalty program can combine several of these models. For example, integrating both a point based and a value program can maximize engagement from customers as they can not only reap benefits from a purchase themselves, but also donate their points to a charity of choice.
RETAIN YOUR CUSTOMERS EFFICIENTLY

By rewarding your clients with advantages they won't find elsewhere, you not only incentivize them to keep buying from you, but secure consistent Shopify traffic.
Reasons You Might be Getting Low Traffic
Driving traffic to a Shopify store can be taxing and laborious, unless you're an e-commerce giant. The reasons for decreased traffic vary depending on the circumstances:
1. You operate in a niche overpopulated with strong competitors that monopolize every related search result or it's simply a result of poor SEO optimization.
2. The merchandise or a service you provide just isn't in demand for large audiences.
3. The marketing team you hired isn't competent enough or is completely absent from your marketing strategy.
Luckily, there is always hope to redeem low Shopify traffic. Identifying the issue that's causing a decrease in traffic is the first step. The solution might lie in tweaking your SEO or building brand awareness to reach more people in your target audience. In any case, consulting with a professional and reliable team will surely bring positive results in growing your Shopify store traffic.
Final Thoughts
Website traffic is integral for getting your business visible and profitable. Most e-commerce niches are densely packed with competition and cutting through the noise can be grueling, especially for a brand that's just getting started on their journey.
In this article, we investigated all of the pragmatic strategies to answer the question of how to drive traffic to a Shopify store. Even though extracting a website out of the traffic doldrums is a long and full-scale process, you can start today by applying some or all of the methods we discussed. And if you aren't sure you can manage it all by yourself, feel free to contact us anytime for a consultation. The Whidegroup team will take care of all technical related aspects, so you can focus on the business side of your e-commerce. We look forward to hearing from you!
https://whidegroup.com/wp-content/uploads/small-cover-shopify-traffic.webp
300
772
Kristina Bardusova
https://whidegroup.com/wp-content/uploads/whidegroup_logo.png
Kristina Bardusova
2021-12-20 17:03:11
2023-05-16 14:27:00
10+ Surefire Ways on How to Drive Traffic to a Shopify Store: a Comprehensive Guide
10+ Surefire Ways on How to Drive Traffic to a Shopify Store: a Comprehensive Guide