The rise of online businesses have taken traditional brick-and-mortar stores by a storm. Since the vast majority of people use the internet, it has become exceedingly easy to reach online customers from around the globe. However, such an industry boom also means increased competition and a substantial chance to fail. In this article, we compiled a list of the best online business books recommended by successful entrepreneurs. Below, you will find informative books about successful startups, adequate marketing, and e-commerce efficiency.
Best Books for Starting an Online Business
We want to start our list with the best books for starting an online business. These recommendations will be of great help for up-and-coming entrepreneurs and merchants that are just starting their way in online business.
#1 Zero to One: Notes on Startups, or How to Build the Future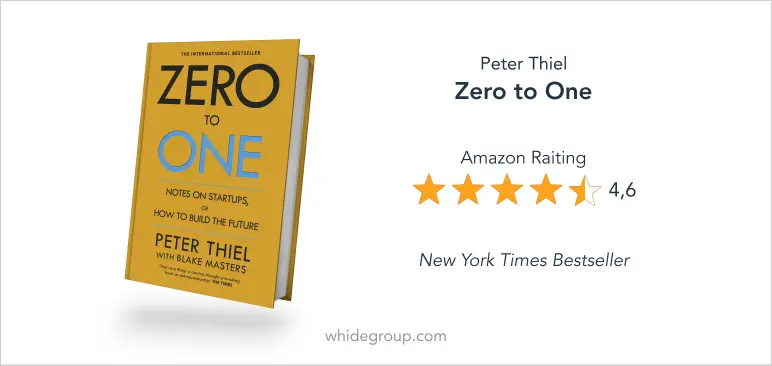 Author: Peter Thiel
One of the most famous online business books, Zero to One is written by a legendary entrepreneur and investor Peter Thiel. Zero to One presents both an optimistic view of the future of progress in America and a new way of thinking about innovation: it starts by learning to ask the questions that lead you to finding value in unexpected places.
This book delivers completely new and refreshing ideas on how to create value in the world. Mark Zuckerberg, CEO of Meta
For Your Inspiration

#2 CEO Excellence: The Six Mindsets That Distinguish the Best Leaders from the Rest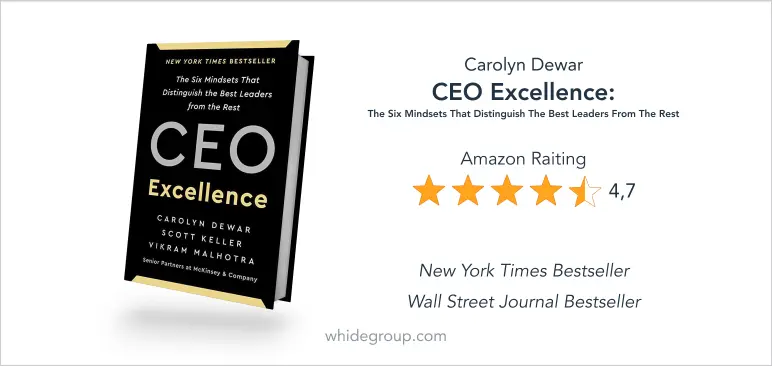 Author: Carolyn Dewar
Being a CEO at any of the world's largest companies is among the most challenging roles in business. To identify the 21st century's best CEOs, the authors of CEO Excellence started with a pool of over 2400 public company CEOs. What came out of those frank, no-holds-barred conversations is a rich array of mindsets and actions that deliver outsized performance. Compelling, practical, and unprecedented in scope, this is one of the most valuable online business books that contain wisdom from today's most elite business leaders.
Breaks it all down…a master class in leadership…knowing the six mindsets of the most visionary businesses could mean the difference between sinking and swimming for business leaders. Business Insider
#3 The 4-Hour Workweek: Escape 9-5, Live Anywhere, and Join the New Rich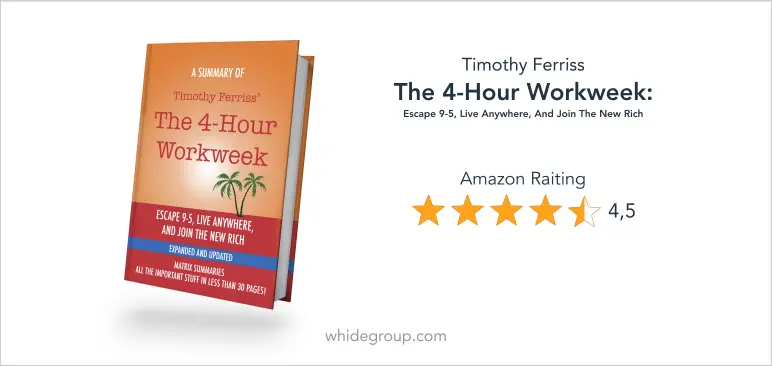 Author: Timothy Ferriss
Forget the old concept of retirement and the rest of the deferred-life plan. There is no need to wait, especially in such unpredictable economic times. Whether your dream is escaping the rat race, experiencing high-end world travel, or earning a monthly five-figure income with zero management, The 4-Hour Workweek is the best book to read to start a business.
The 4-Hour Workweek is a new way of solving a very old problem: just how can we work to live and prevent our lives from being all about work? A world of infinite options awaits those who would read this book and be inspired by it! Michael E. Gerber, Founder of E-Myth Worldwide
#4 Solving the People Problem: Essential Skills You Need to Lead and Succeed in Today's Workplace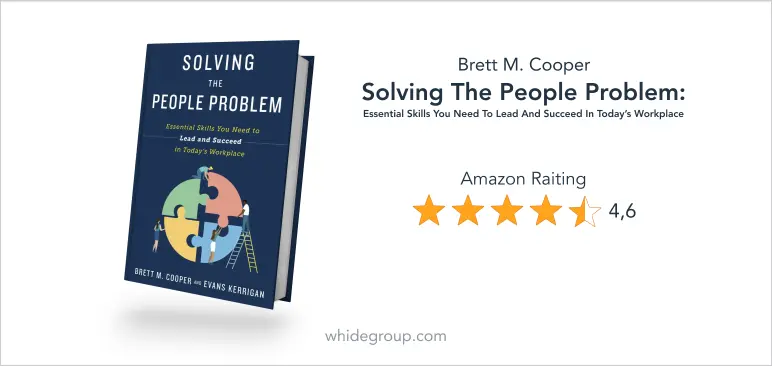 Author: Brett M. Cooper
Would you like to learn how to create healthier and more productive relationships with your coworkers, including colleagues, employees, and other members of the team? If you answered "yes" to any of these questions, then Solving the People Problem is the best book for starting an online business on this subject.
As a human resources and organizational development professional, I find the concepts in this book to be indispensable. If you want people in your organization to work together more effectively and productively, give them a copy of Solving the People Problem and teach them about DISC-EQ. Kimberly Kochurka Shaw, Vice President of Blue Cross Blue Shield
#5 The Lean Startup: How Today's Entrepreneurs Use Continuous Innovation to Create Radically Successful Businesses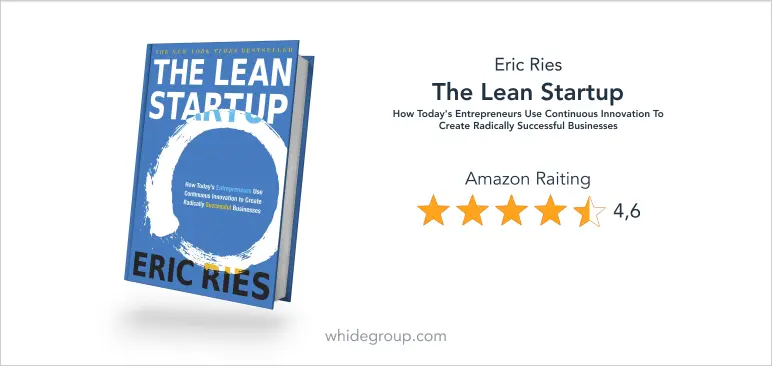 Author: Eric Ries
Most startups fail. But many of those failures are preventable. The Lean Startup is a new approach being adopted across the globe, changing the way companies are built and new products are launched. Being among one of the best online business books, this read will show a scientific approach to creating and managing successful startups in an age when companies need to innovate more than ever.
"The Lean Startup" Provides a great inside look at how the tech industry approaches building products and businesses. Sheryl Sandberg, COO of Facebook
Best Books For Online Business Marketing
Marketing is an essential part of online business. Working to understand it and implement solid marketing strategies can build a foundation for your long-term success. Here's our compilation of the best online business books about marketing.
#1 Create Or Hate: Successful People Make Things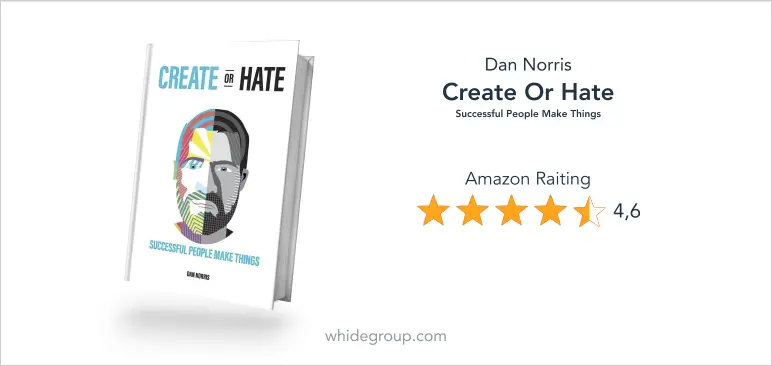 Author: Dan Norris
This book exists for only one reason — to help you create something you always wanted, but for any number of reasons haven't done. We are all creative, but there is also a force called Hate, which will work against your creativity and stop you from making things. Hate can be controlled and overpowered, and your creative side can be nurtured and grown. Hate or Create is one of the most outstanding books on online business marketing that will show you how to achieve success.
While I was thinking of the best books to add to this short list, I realized that not even half of them are directly related to digital marketing. This is because I believe that the best marketers are people who understand human nature deeply and aim to bring out the best in it. Call me naive, but that's how I see it. If I were to pursue a career in marketing, I'd read "Create or Hate. Andra Zaharia, Content Marketer at The Content Habit
#2 1-Page Marketing Plan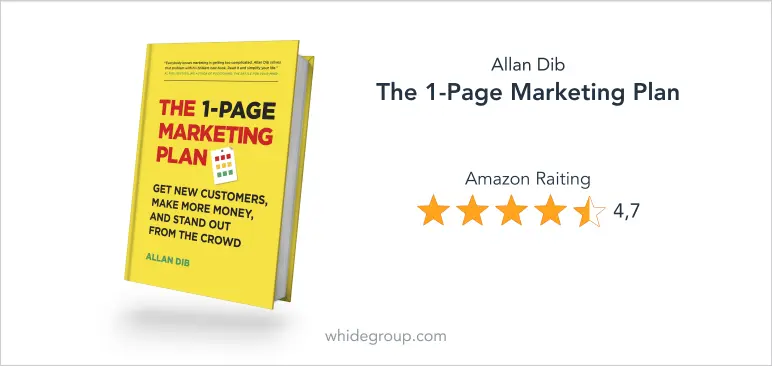 Author: Allan Dib
To build a successful business, you need to stop doing random acts of marketing and start following a reliable plan for rapid business growth. Traditionally, creating a marketing plan has been a difficult and time-consuming process, while most books on online business didn't give useful enough directions. In 1-Page Marketing Plan, serial entrepreneur and rebellious marketer Allan Dib reveals a marketing implementation breakthrough that makes creating a marketing plan simple and fast.
Everybody knows marketing is getting too complicated. Allan Dib solves that problem with his brilliant new book. Read it and simplify your life. Al Ries, author of "Positioning: The Battle For Your Mind"
#3 Marketing Made Simple: A Step-by-Step StoryBrand Guide for Any Business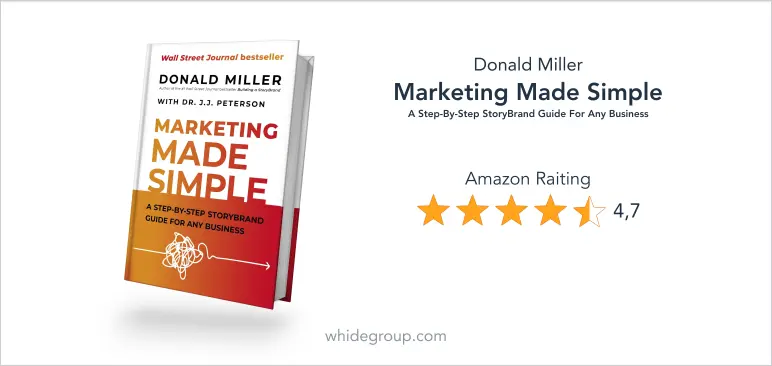 Author: Donald Miller
Based on proven principles from Building a StoryBrand, this 5-part checklist is the best book to read to start a business marketing campaign. Marketing Made Simple is the ultimate resource for marketing professionals and business owners as they cultivate a sales funnel that flows across key customer touchpoints to effectively develop, strengthen, and communicate their brand's story to the marketplace.
A client went from $15MM last year to $27MM so far this year. All from updating their messaging and implementing new lead generators and email campaigns. Wes Gay, CEO of Wayfinder
#4 One Million Followers: How I Built a Massive Social Following in 30 Days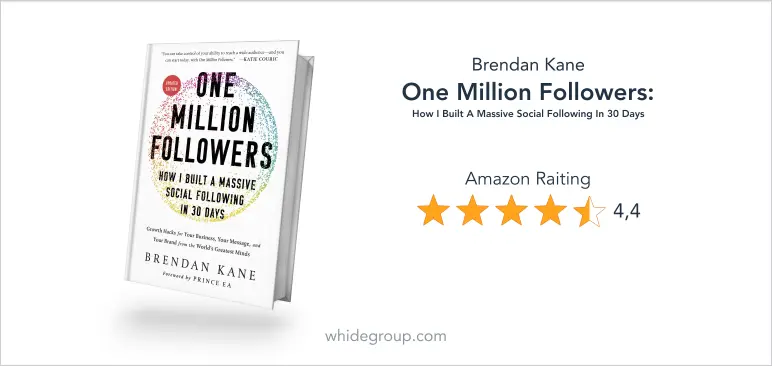 Author: Brendan Kane
No matter what business or brand, everybody wants to gain mass exposure for their transformative content and connect with audiences around the globe. The question is how to best take advantage of the numerous different platforms and beat the algorithms. One Million Followers is one of the best online business books that will teach you how to gain an authentic, dedicated, and diverse social media audience from scratch.
Brendan is an outlier in a crowded market. His strategies are easy to implement and will lead to massive success. Working with him opened my eyes to the power of his ideas. He's the best at what he does. Luke Wahl, executive producer at Sports Illustrated and Yahoo!
#5 Disrupt You!: Master Personal Transformation, Seize Opportunity, and Thrive in the Era of Endless Innovation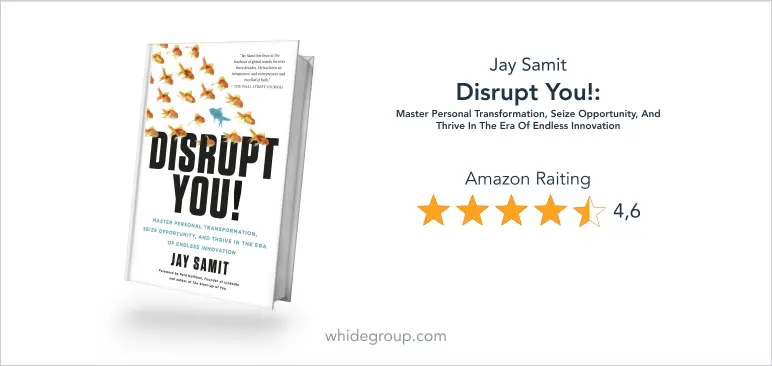 Author: Jay Samit
Disrupt Yourself is written by Jay Samit who is a digital media expert who has launched, grown, and sold startups and Fortune 500 companies alike. He describes the unique method he has used to invent new products and grow established businesses throughout his career.
Samit has been at the helm of businesses in the e-commerce, digital video, social media, mobile communications, and software industries. Helping merchants navigate through turbulent economic times and guide them through necessary transformation, Disrupt Yourself is one of the best online business books on the matter.
Online Business Books About E-commerce
The last three recommendations are centered around e-commerce and provide insight into how to build your online presence according to the latest trends and keep your online business afloat in the long run. These books on online business reveal intricacies of selling online and teach you how to get the most out of e-commerce.
#1 Don't Make Me Think, Revisited: A Common Sense Approach to Web Usability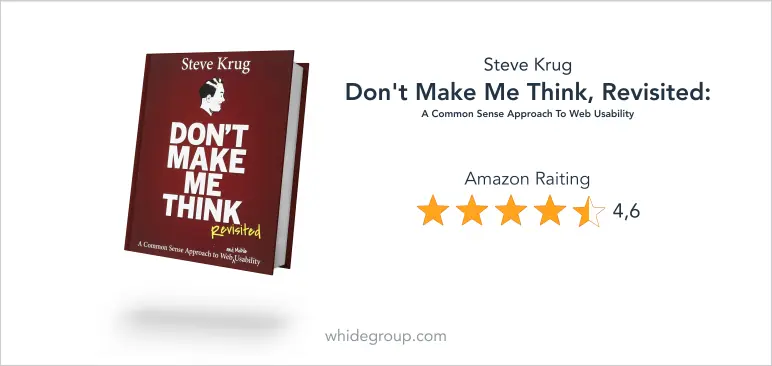 Author: Steve Krug
Since Don't Make Me Think was first published in 2000, hundreds of thousands of Web designers and developers have relied on usability guru Steve Krug's guide to help them understand the principles of intuitive navigation and information design. Witty, commonsensical, and eminently practical, it's one of the best-loved and most recommended online business books on the subject.
#2 Ecommerce Evolved: The Essential Playbook To Build, Grow & Scale A Successful Ecommerce Business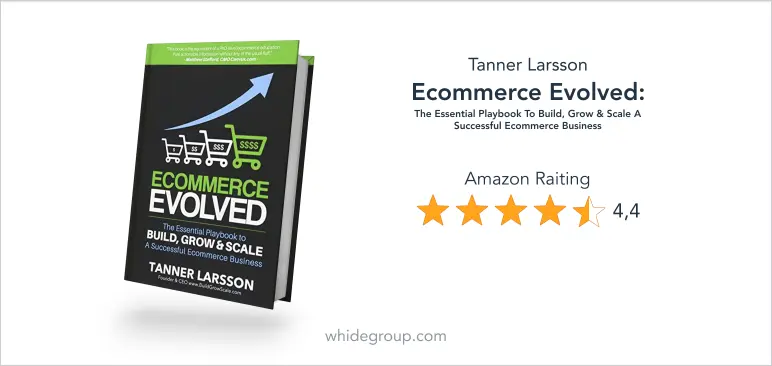 Author: Tanner Larsson
Most ecommerce business owners are still doing things in the same way they were doing back in 2016. There is so much more to e-commerce than building a store, filling it with products and driving some traffic! E-commerce Evolved is one the best online business books about e-commerce that contains a simple, repeatable, and proven formula to help you build, grow, and scale a wildly profitable business in today's competitive market.
#3 Sell Your Crafts Online: The Handmaker's Guide to Selling from Etsy, Amazon, Facebook, Instagram, Pinterest, Shopify, Influencers and More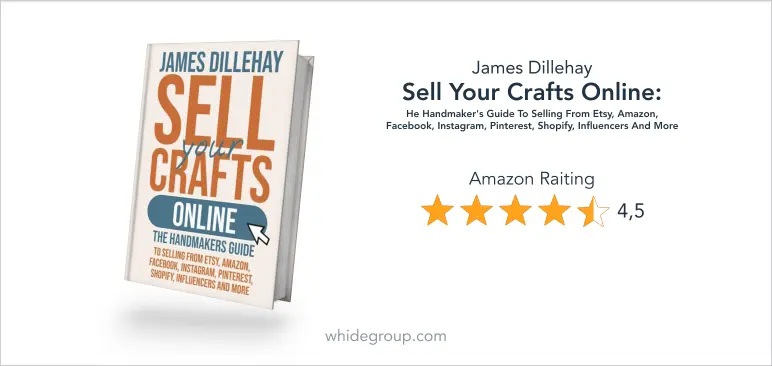 Author: James Dillehay
Sell Your Crafts Online is a one-of-a-kind blueprint for finding success and generating profitable returns in the highly lucrative world of e-commerce. Dillehay's proven strategies will teach you which crafts to make and sell across various distribution channels and show you how to reach wider audiences that are ready to invest in your talent. It's by far the best book for starting a business selling crafts.
This book is choc full of great information and resources aimed at getting your craft business online and making it work once it's there. I highly recommend this book to anyone interested in selling crafts or artwork online. Mommacass, seller on Amazon
Final Thoughts
Becoming an entrepreneur is a responsible step. With many bumps along the road, some of us find themselves lost and in need of advice. Which is why we brought to you a list of 13 best online business books. We compiled book recommendations for starting a business, marketing your brand, or operating in e-commerce efficiently, as recommended by top-notch entrepreneurs.
After reading our recommendations, you should have an idea about where to start with your online business. However, books won't teach you how to keep your online store afloat and up to date. Working with a web development company is the best way to assure stability and optimization of the website. If you have any questions regarding our recommendations list or need any help with developing your online business, feel free to contact us anytime for a free consultation!
https://whidegroup.com/wp-content/uploads/small-cover-online-business-books.webp
300
772
Kristina Bardusova
https://whidegroup.com/wp-content/uploads/whidegroup_logo.png
Kristina Bardusova
2022-12-23 15:57:11
2023-04-28 13:16:59
13 Best Online Business Books As Recommended by Entrepreneurs
13 Best Online Business Books As Recommended by Entrepreneurs