Sales shouldn't be the only thing you celebrate — product page visits are worth a cheer as well! They indicate that someone is well on the way to becoming a customer. As an e-commerce addicted digital agency, we are well aware that creating high-converting product pages for e-commerce is a bit an artform. Hence Whidegroup developers have prepared some helpful advice regarding how you can boost your product pages with constructive examples for you to consider.
The Basics: What Makes an E-commerce Product Page Great?
At first glance, it may not seem a complicated issue to make a good e-commerce product page. You have a product to sell, you want to represent it online, so you put descriptions on the website you own, and that's all that's needed. However, in today's e-commerce world, that's not enough. Product pages are not only about representing the products, but also building a relationship with your customers, and it is important to keep this in mind as you go along.
To help you build a product page for your e-commerce store, you're welcome to check out the two lists below. The first is a list of tips that will allow you to strengthen your product page game, and the second one is comprised of live e-commerce product pages we recommend that you review. With the advice in our guide, you'll get meaningful insight on how to enhance your product page.
1. Utilize Clear Product Images
Crisp product images are critical, and without which, it's nearly impossible to imagine a good e-commerce product page layout. And it's no wonder – if you're buying a product online, you want to have a clear idea on what it looks like. Image is not just important, image is everything when it comes to e-commerce. Customers can't see, touch, taste, or try your products in any other way before they buy, therefore they need to be able to scrutinize it visually. That's why product photography plays such a vital role to your product pages.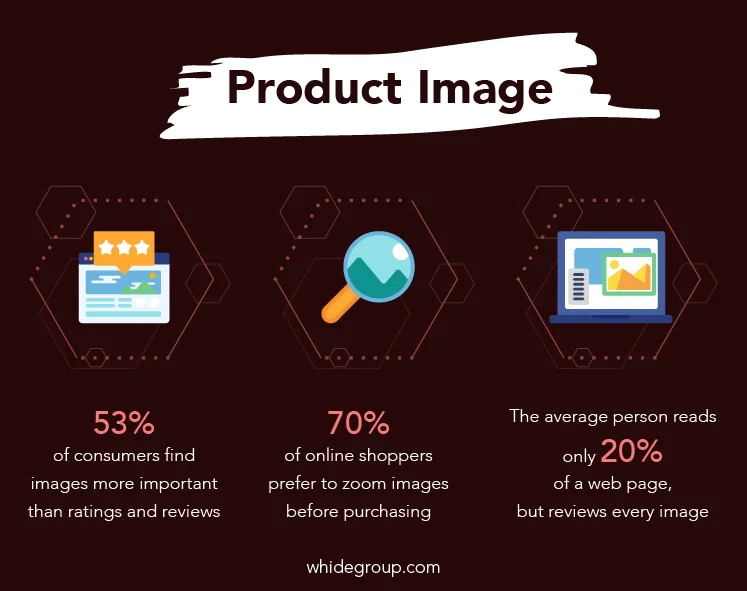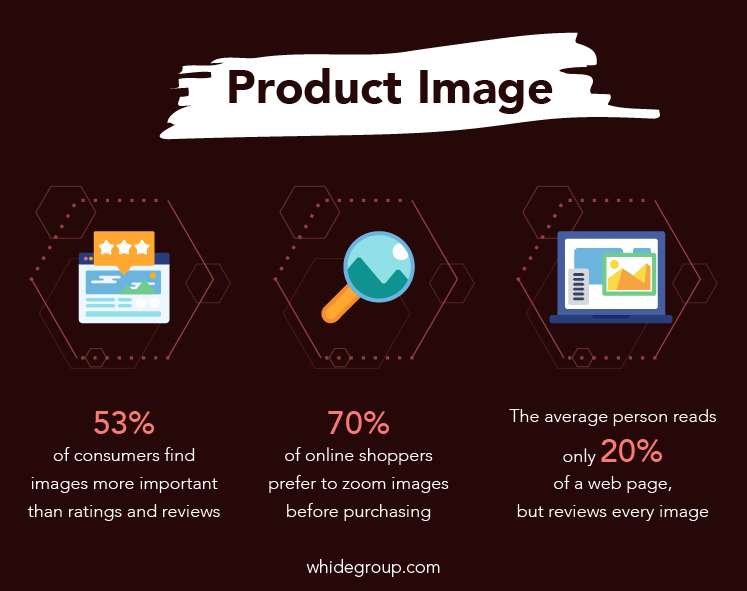 However, don't panic! – here are few tips for you to heed that will help you gain the best product images possible to build an e-commerce product page:
Work with your image metadata. Use appropriate title tags and alt tags that describe the image. Also, it's important to name files utilizing hyphens (e.g my-image.jpg). Metadata is critical if you want to be easily accessible by Google.
Ensure your images are an appropriate size and quality. A one-size-fits-all solution are square images as they work well across all devices. Rectangular images are also good if your products are particularly long or wide. Images between 1000 and 1600 pixels are typically a good size. All images you use must be enabled to be zoomed.
Use more white space on the product image to minimize visual complexity in case you sell design-focused products such as apparel or home decor.
One image is not enough. To really show off the product, you need several images taken from multiple angles, which will provide insight on the size and shape. If the product comes in more than one color, include photos of each. After all, 'indigo' could mean anything from sky blue to the darkest navy,and your visitors deserve to know every small detail.
Great product photography builds the buyer's trust, and when it comes to e-commerce, buyer's trust is like oxygen for your business. The shopper can't see the product in person, but they can assess its qualities with a clear photo. Providing a crisp image that covers all of the product's details makes the buyer feel confident in making their online purchase.
2. Write a Clear Call-to-Action
While continuing to speak about essential elements for a successful e-commerce product page, it's virtually impossible to pass by the call-to-action (CTA). This element plays a vital role in sales since it encourages customers to complete checkout and make their purchase. If a CTA is not clear, shoppers may get distracted by other elements on the site, and then fail to complete their order.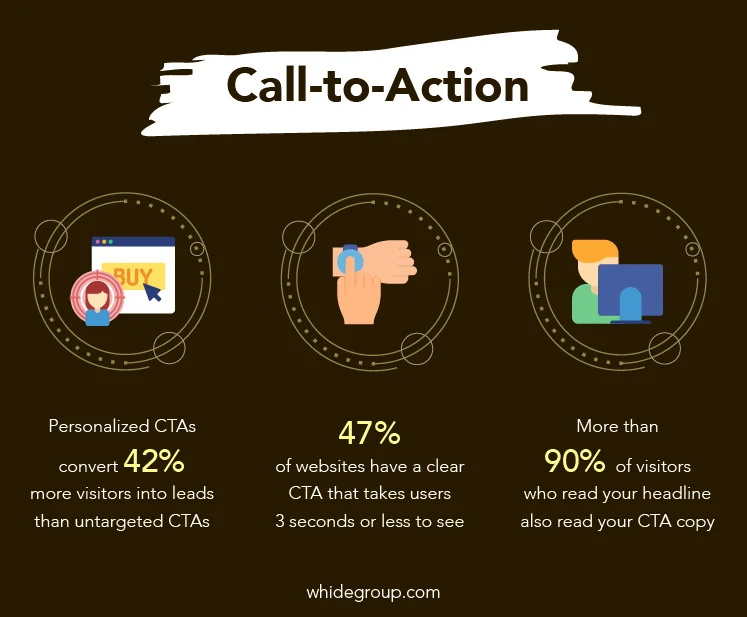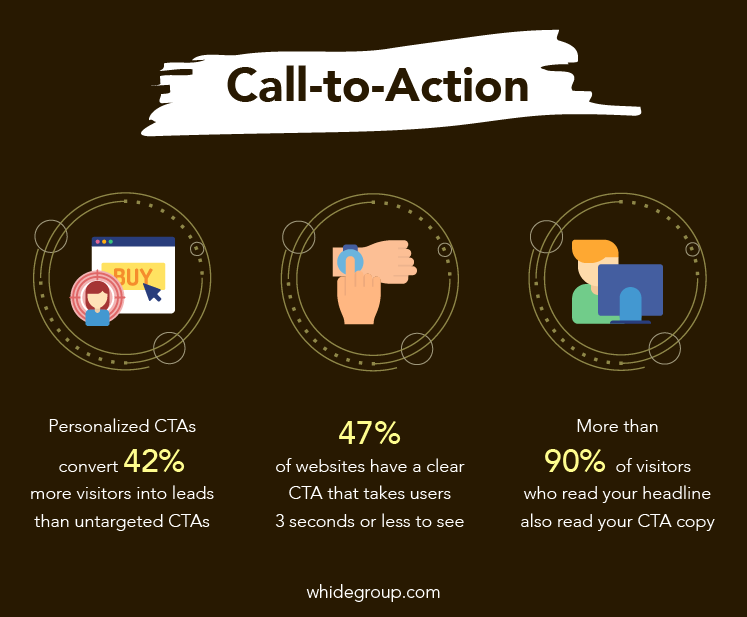 To assist you in creating a truly outstanding CTA button, we've prepared some tips:
Choose a bold color

– select a color that is bright enough to catch the shoppers' eye. It's a good idea to use a different color for other buttons on the page so the CTA button doesn't blend in with them. Another related tip is to try using contrasting colors to make the button really prominent. These tactics are widely used by many popular e-commerce shops endeavoring to make their CTA more noticeable to shoppers.

Keep it large

– make your CTA button the largest one on the product page. You can have one or two other buttons that are the same size, but not larger than the CTA.
One more piece of advice from the behemoths of the e-commerce sphere – don't try to be unnecessarily innovative with CTAs. Clear and concise "Add to Cart" or "Submit Order", will be enough. Try different variations because when you get it right, you may begin to notice a growth in sales.
3. Don't Forget About Product Descriptions
The main principle to adhere to while writing descriptions is to not limit them by standalone, impersonal sentences and plain facts. While you need to tell your customers about the products you sell, since you cannot address them in person, do it in the manner in which they speak, think and understand. Undoubtedly, you've got product copy from the manufacturer, but it would be best to throw it in the garbage can. Instead, try to create a compelling story, as a professional salesperson. Good product description writing is an art that requires practice. Invest your time, creativity, and energy in your customers, and the results will pleasantly surprise you.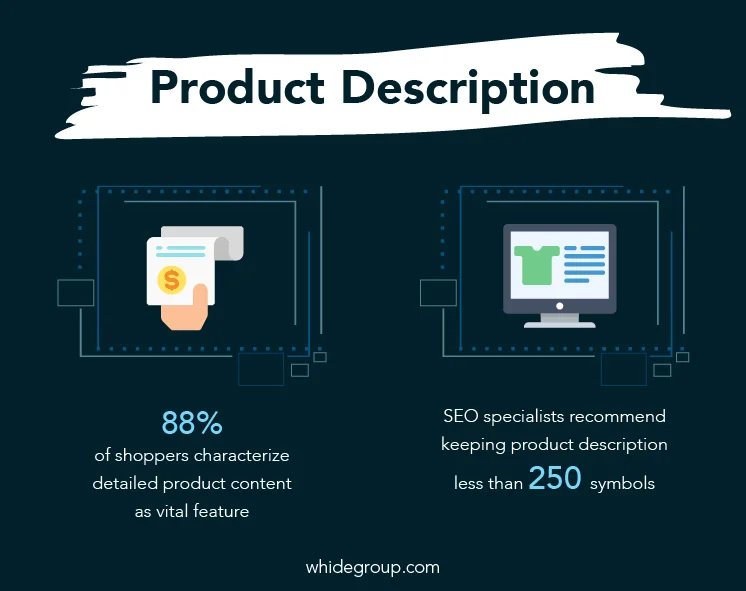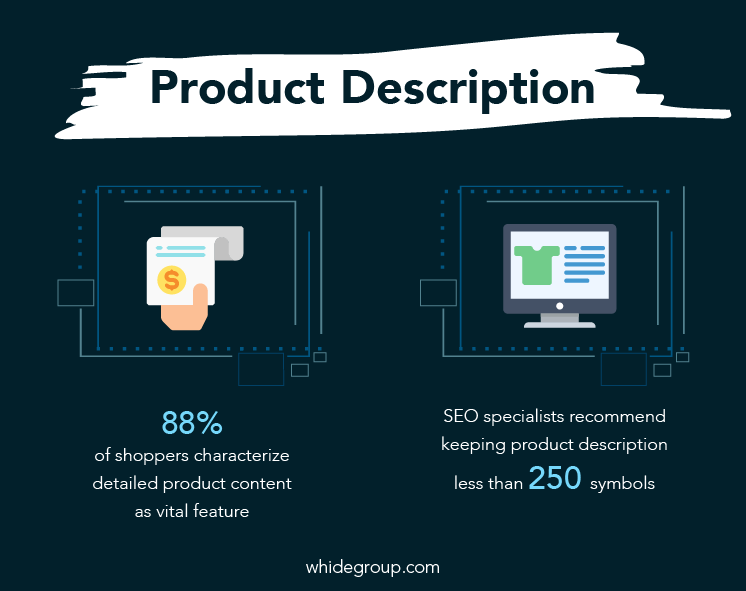 So, in nutshell:
Start with the relevant information

– there's no guarantee that shoppers will read your entire description. In case they don't, you'll want the most alluring aspects of your product to be mentioned first to quickly engage buyers. The best way to encourage your shoppers to read your description and see the product's benefits is through a reasonable limitation of text length. Generally, the accepted "perfect" length is between two to five sentences.

Speak the language of your buyers

– consider the behavior of your buyers' journey and distinguish key features of your buyers' personas. Reflect those characteristics in your product descriptions.
When customers read your product descriptions, they try to obtain an immediate understanding of the key details on the items you're selling. Hence, your primary mission is to talk about your item succinctly and persuasively so that the shopper is quickly motivated to buy the product. Avoid being too descriptive or robotic, strive to be helpful and human instead. Put yourself in the visitor's shoes, impart your creativity, and explain in written form everything one would need to know about a particular item when deciding to purchase it.
4. Pay Close Attention to the Metadata
The first touchpoint where the user meets the brand is on the search engine result page (SERP), not the website! And here, a brand expresses itself through metadata, which consists of three elements: title, uniform resource locator (URL), and description.
Title

– it is one of the strongest ranking signals for organic searches, and is shown in search results, in the browser tab, and on social networks. Its role is more than just a heading; it sets the tone for what the piece of content is about for users and search engines.

URL

– it doesn't have as much power as the description or title, but can still make a snippet look "off". As observed in anecdotal tests, users are less likely to click a URL that consists of mostly numbers and random characters.

Description

– this tag influences the clickthrough rate for a search results page. The probability that a user clicks the link is much higher if a description is written well. This is even more important on mobile devices because user attention spans are shorter and expectations are higher.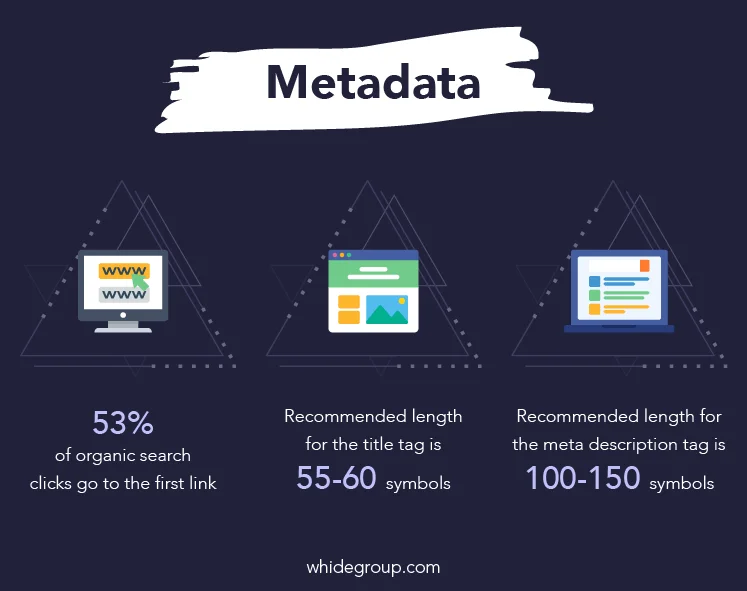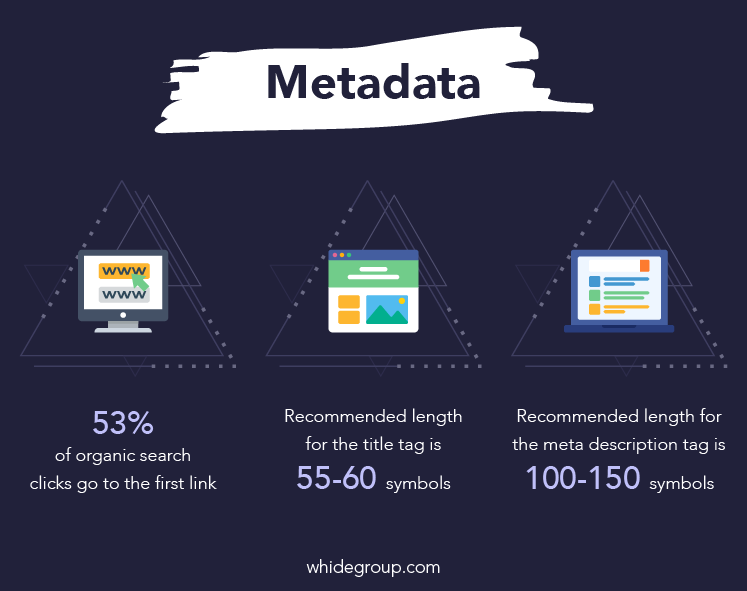 All the elements listed above are vital to conversion rates because they tell the user what to expect behind the result. In other words, the search result has to look right for the user to click. If the user doesn't get to the page in the first place, a perfectly, conversion-optimized experience won't matter.
Good practices to work over meta description claims:
Include main and secondary search keywords.
Keep it genuine and unique.
Stay within the recommended length.
Mention the value of the product that stands out.
Include a call-to-action.
Describe the page/product to set the expectations of the user.
5. Make it Work Fast
Everybody knows how vital the page speed load is, but there are few who know the exact statistics. So, here they are: more than half of web users expect a website to load in two seconds or less, users tend to abandon a site that isn't loaded within three seconds, and 79% of web shoppers who have trouble with site performance say they won't return to the site.
Sounds significant, doesn't it?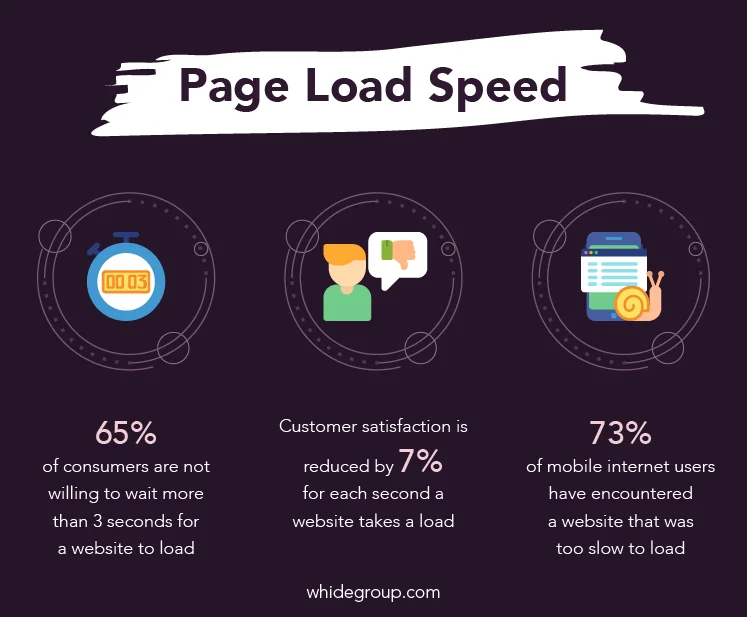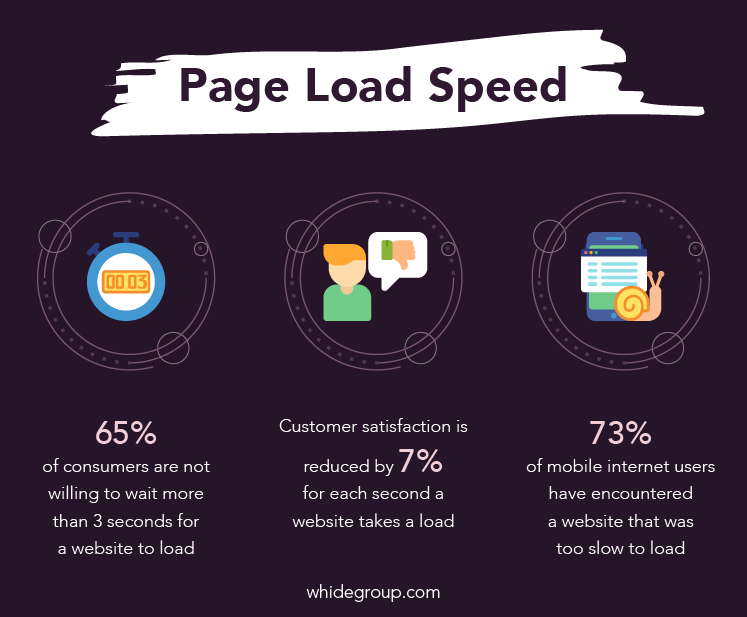 To make your e-commerce product pages load faster, we advise you to consider the following recommendations:
Reduce the number of HTTP requests on your site

– your browser has to make an HTTP request for every little file on the product page. Consequently, the more HTTP requests that are made, the slower the page loads. The most effective approach to improving site speed and lessen HTTP requests is removing unnecessary files and reducing file sizes.

Check and fix all the links throughout your site

– common product page links such as size charts or shipping information may be broken – i.e., links may lead to the non-existing pages, or return a 404 error. To prevent this, you need to verify that all links are accessible and avoid confusing customers, thus forcing them to abandon your site.

Test your website speed

– with the report you get, you'll be able to identify and remedy any additional causes of slow page load speed. To run the testing, you're welcome to use Google PageSpeed Insights or Storalyze.
6. Consider Tools for Rating Reviews
It's no secret that most users have difficulty trusting sellers. They instead prefer to know the opinion of customers who have already tried the item and purchased from the seller. Ratings tools area perfect solution to handle this aspect of e-commerce, since they works as a short testimonial, provide social proof, and demonstrate the popularity of a particular product.
Currently, the most popular rating tool in the e-commerce sphere is simply star ratings. However, while they're always useful, there's no need to stop at star ratings. You can include more social proof on your product pages via additional rating features.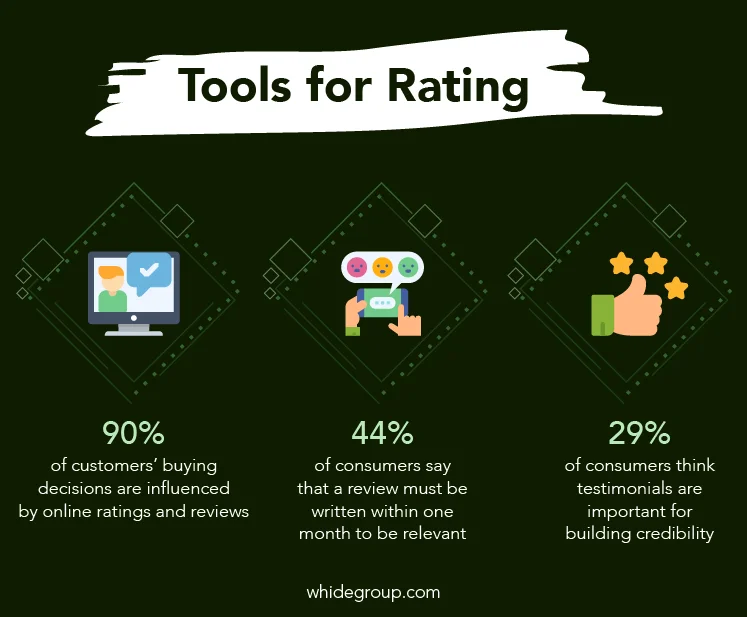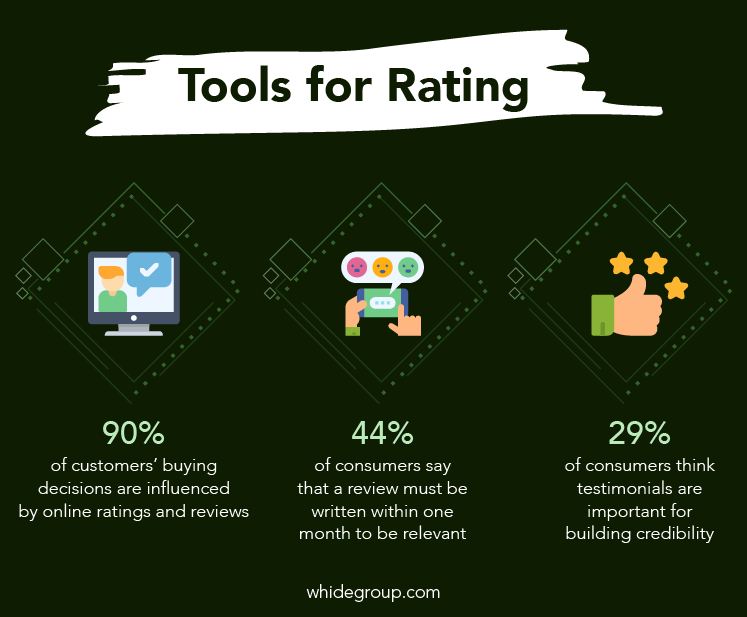 Another highly popular rating system allows shoppers to "heart" the chosen product. Hearts are an incredibly powerful rating feature because they're simple and quick, yet meaningful. Rather than taking the time to judge the product out of five stars, shoppers can quickly say whether they like the product or not with a heart. Seeing how many hearts the product has received motivates shoppers to buy it. Beyond hearts, here are a few other types of ratings you can include in your product page layout:
Include customer fit survey ratings

– some apparel and shoe companies indicate how customers have rated the fit. For example, they indicate whether customers felt an item's fit was "true to size."

Indicate social media likes and shares

– showing how well the product has been received on social media platforms builds buyers' confidence in you and your product.
7. Take Care of Mobile Priority
Usage of mobile devices has grown too high to ignore. In 2017, mobile commerce made up 34.5% of e-commerce sales in total. This figure is going to continue to grow, so you should be ready to accommodate mobile usage by ensuring all your product pages work well through mobile devices.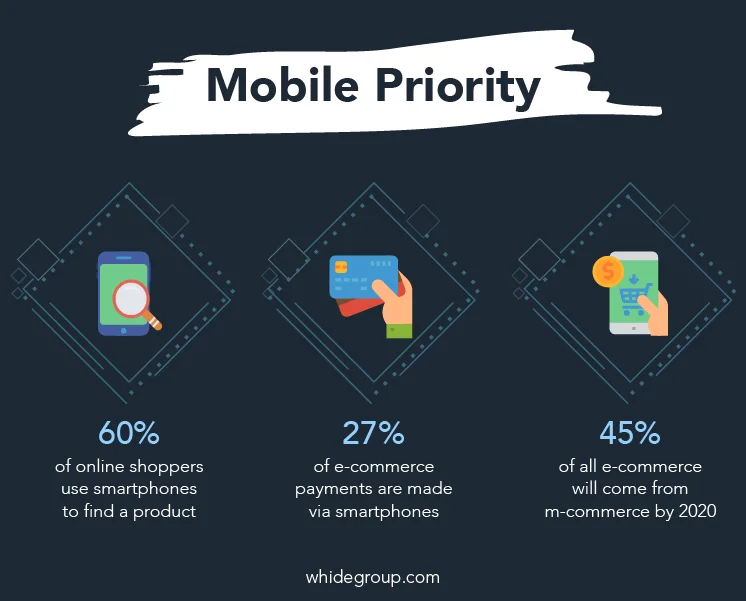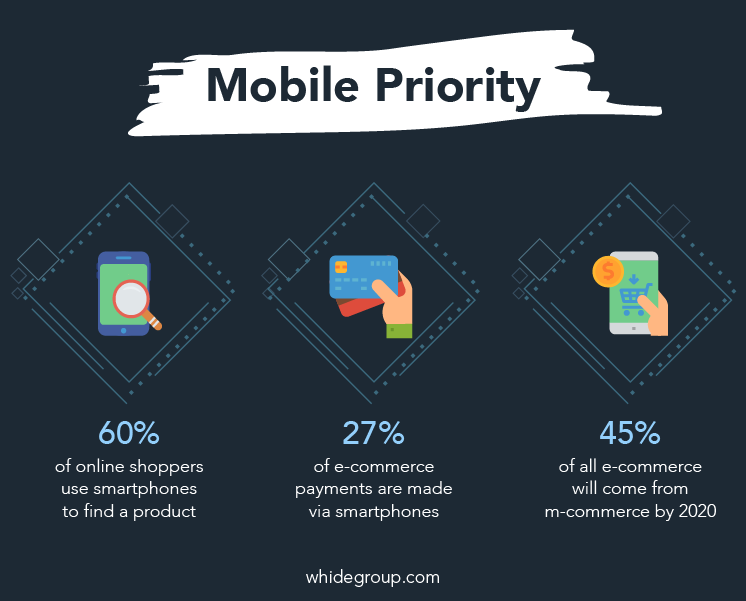 Here are some of the most important aspects to draw your attention to:
Pages should be easily navigable, with convenient UX design.
Optimization is vital – bug-free and fast-loading pages are not some sort of perk for the user, but a necessity in modern e-commerce business.
8. Shipping and return policy
Keep your customers informed when it comes to shipping charges. In an ideal world, a customer doesn't want to shell out any money on shipping. Recent studies clearly demonstrate that an unexpected shipping cost tends to be the main reason for cart abandonment. However, if you must charge them, be honest about it up front and don't try to sneak in the expenses at the checkout stage. Otherwise, you risk annoying your customers, who will likely abandon the cart, as well as your hopes of optimizing the checkout, in the process.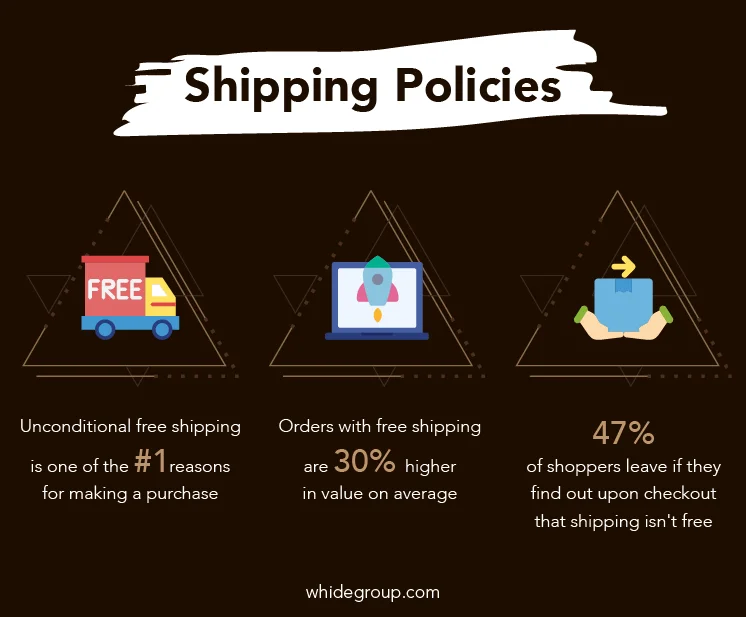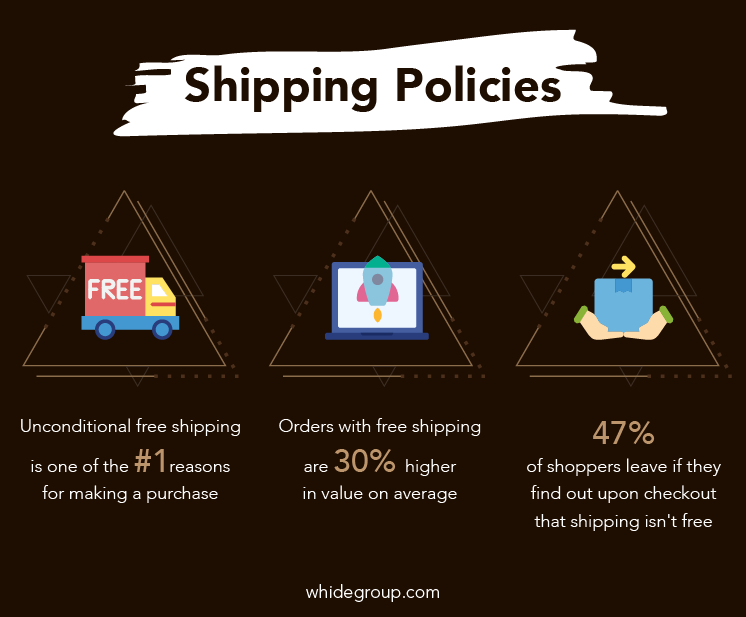 Be clear on the return policy as well. Do customers have 10 days to return the product? The luxury of an entire month? Or no such privilege at all? Whatever the policy may be, it should be clearly specified.
9. 360-degree View
A 360-degree view is a great opportunity to attract more attention to your store, reduce returns, and boost conversion. In contrast to videos, a 360-degree view of your product offers higher levels of interaction because the customer is fully in control. It allows your shoppers to actively engage with your product while experiencing a near 100% accurate understanding of your product.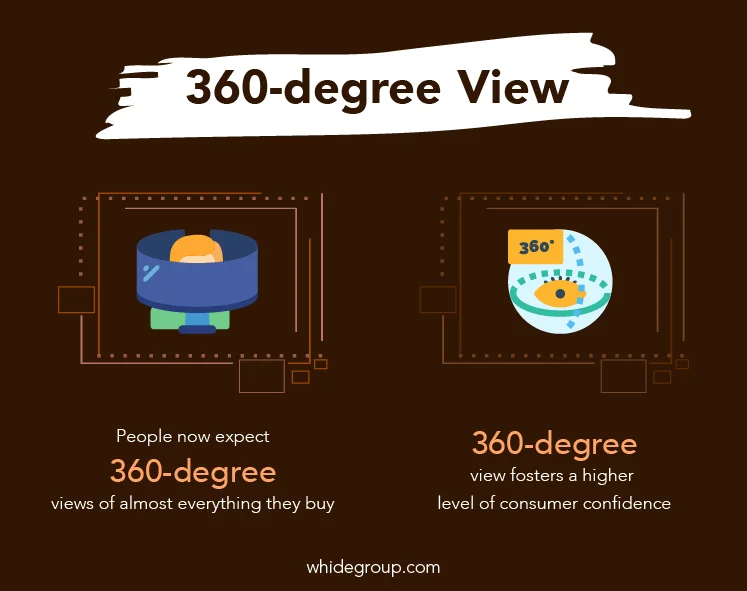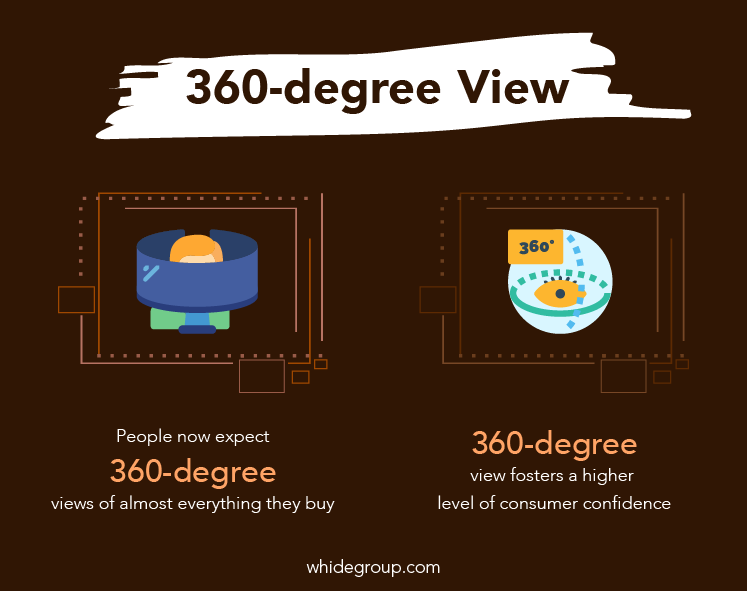 It's not difficult to learn 360-degree product photography, and there are some great beginner's guides to 360-degree product photography. You can also outsource 360-degree shoots to a professional 360-degree photography studio if you don't have a studio in-house.
10. Stock Availability
It's senseless to argue the fact that the shortest way to disappoint customers is telling them that a particular product is unavailable only at the checkout. The solution is simple – don't keep in secret if you are running low on stock. Let your product page clearly inform the visitor if a product is available or not. When the "not-in-stock" information is visible from the very first moment, visitors have the choice to move forward and look for alternatives. If you choose to wait until they're filling in their credit card information, it's almost certain they'll abandon the cart and move to another site. Moreover – they will possibly never return because it's hard to undo a bad first impression.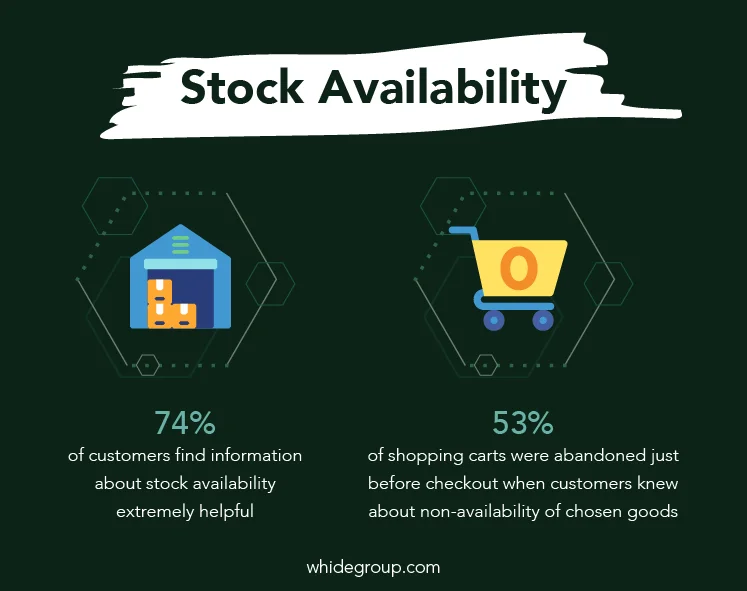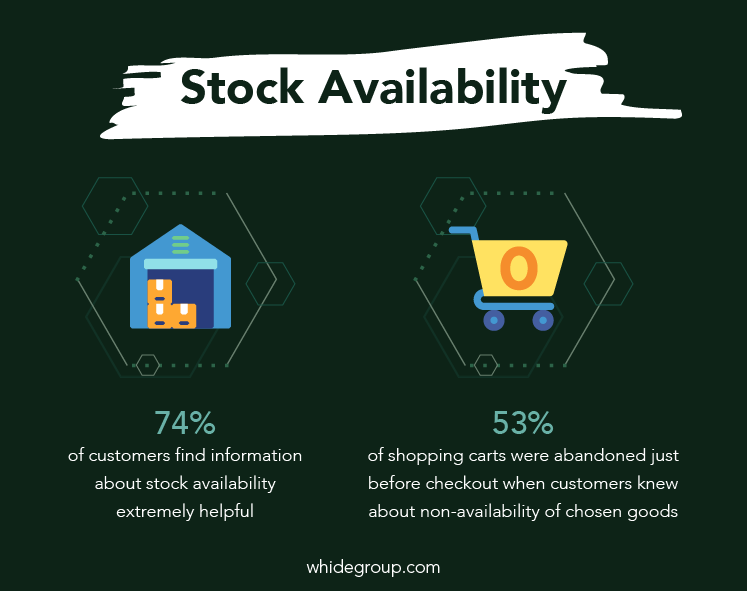 The Perfect Product Page for an E-commerce Store: What Does it Look Like?
Discussing the principles of creating the perfect e-commerce product page is somewhat pointless without reviewing real examples. So, let's look at some of them:
1. Luxy Hair
To get to the product page of this hair extensions site, the user is taken along a journey to determine which hair set is most suitable. First, the user has to choose the thickness of their hair, followed by the color. After these decisions are made, customers are taken to the specific product page containing exactly what they were looking for. To enhance the user experience, Luxy Hair's product page hosts features such as: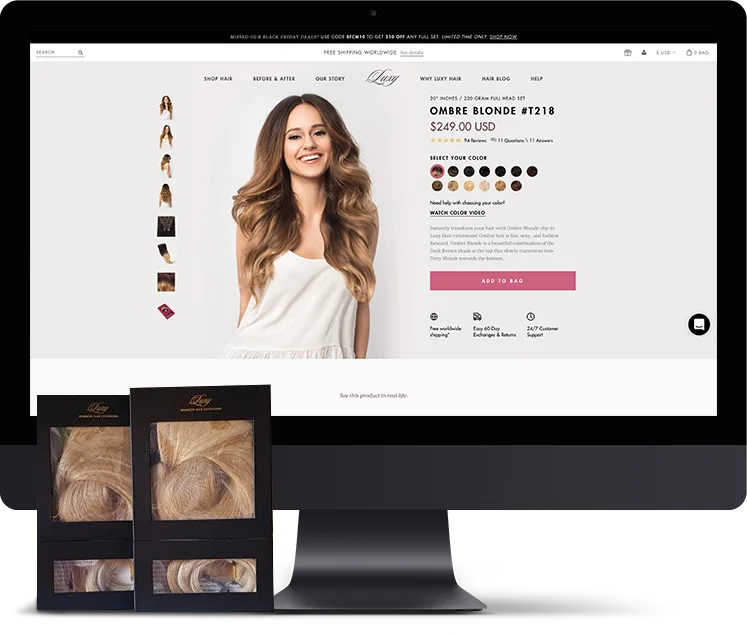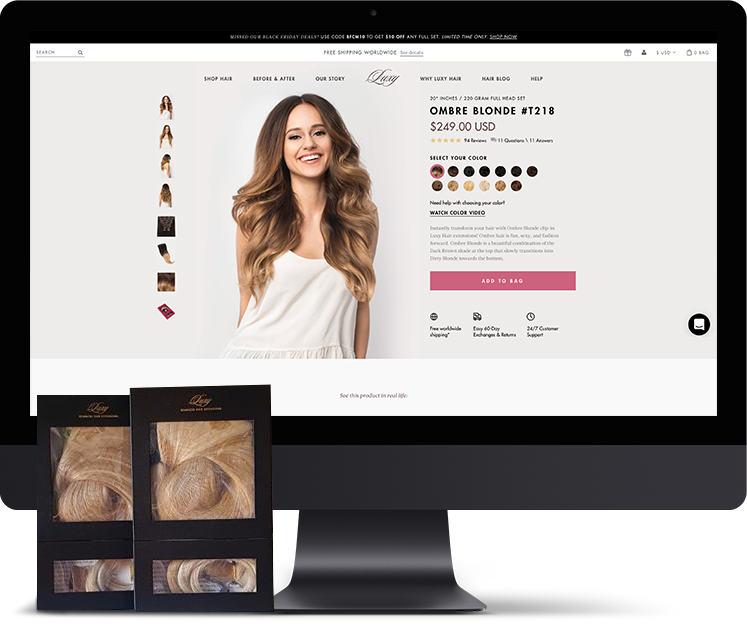 Multiplicity of product images, which gives a full impression about the product represented.
Rating tool represented in stars, which shows the number of users that have already liked the product.
Return policy conspicuously situated right under the call-to-action button.
Original and creative product descriptions.
2. IKEA
Despite its plain and simple product page template, IKEA maintains a leading position in the sphere of furniture retail. How so? Perhaps the list below will provide the answer.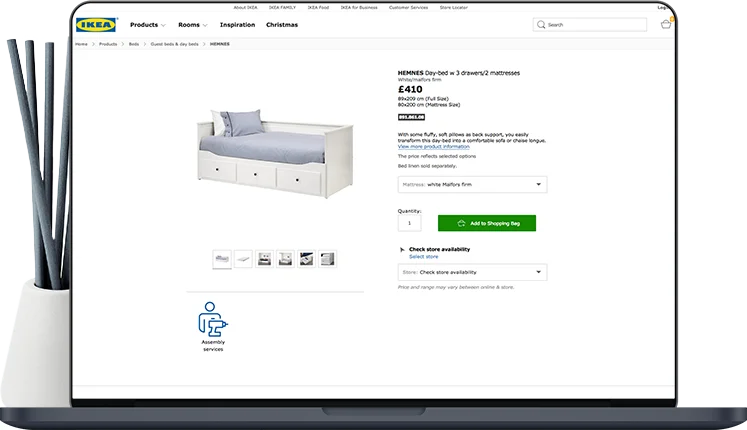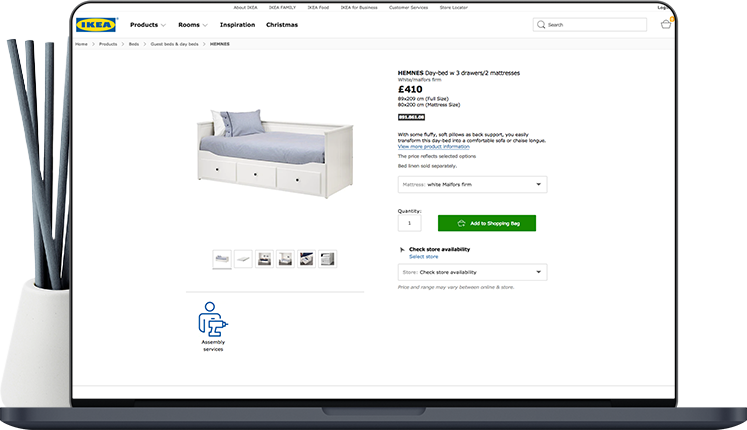 Call-to-action is highly visible and stands out from the whole product page layout.
Mobile priority lets users feel unencumbered while navigating the website across mobile devices.
Product description is concise, yet still informative.
Stock availability is immediately obvious to inform the customer about the possibility to purchase a particular item.
We're Whidegroup
We develop optimized
e-commerce stores.
3. Mytheresa
With its stylish and straightforward design, apparel store, Mytheresa is considered to be one of the most successful online apparel stores. The company has approached designing an e-commerce product page layout flawlessly, incorporating a striking and bold view that proves attractive to all. Why? Let's look at it in detail: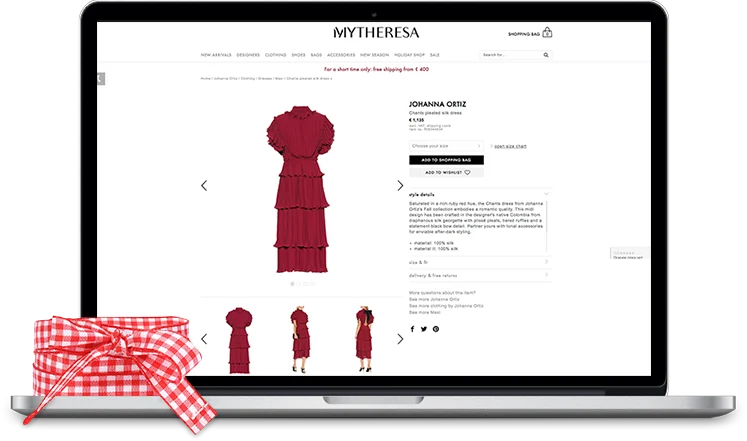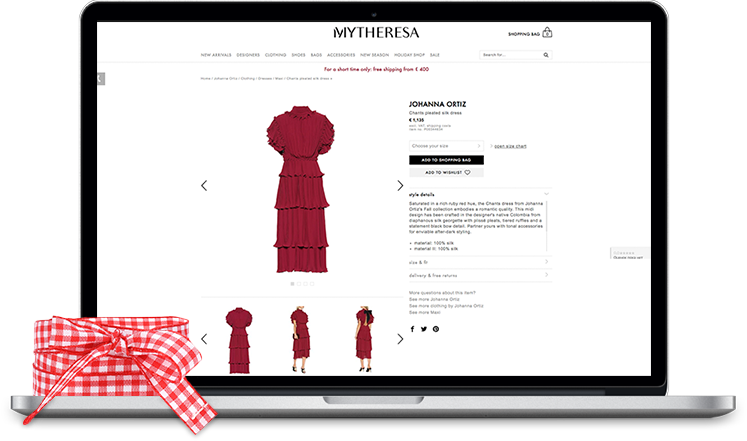 Product images are crisp and seductive. Moreover – they show how a particular item can be combined with other items, thus showcasing and promoting a wide range of products.
Shipping and return policy are easy visible and situated adjacent to the call-to-action button.
Call to action is clear and successfully moves the customer down the sales funnel.
Metadata is also good and gives a complete idea about what the page encompasses on the SERP.
4. Amazon
It's absolutely no surprise that the most well-known online website has one of the best e-commerce product pages. But why do we appreciate it so much? Just look at the list below: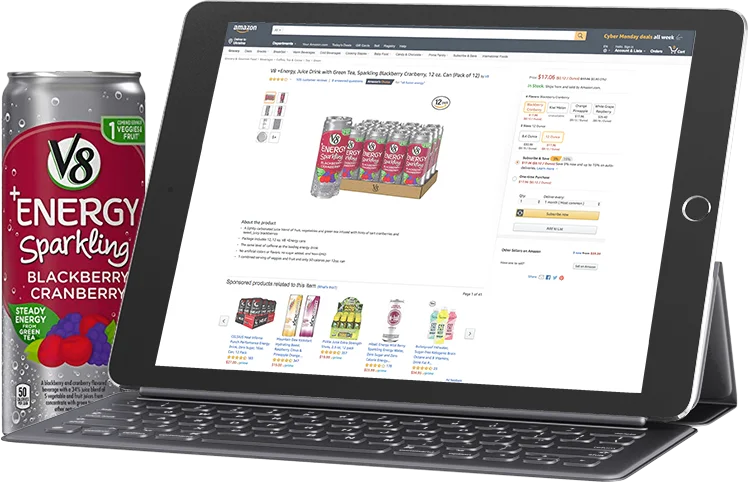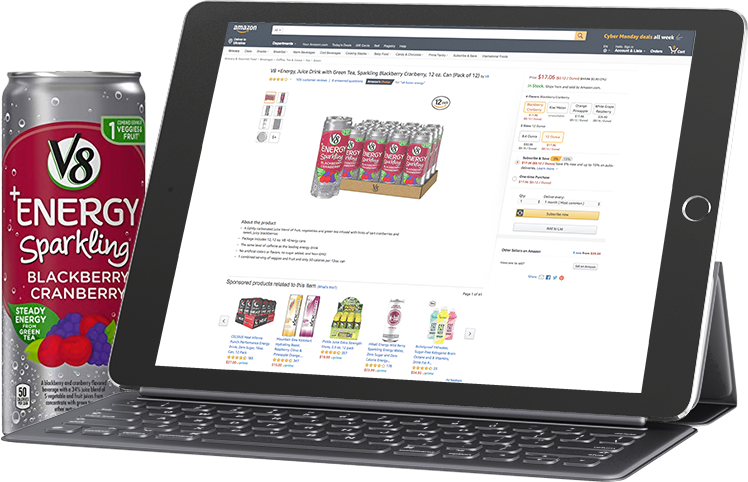 It is fast – and Google PageSpeed Insights prove it, evaluating Amazon at 95 points out of 100.
Product descriptions are thorough and issued in a list, which makes it comfortable to read.
It works fine across a wide range of mobile devices
Stock availability information doesn't keep customers in the dark until the checkout process.
5. Adidas
With its fresh and compelling appearance, this product page contains virtually all needed information that a customer may require. What else can a customer find here? Let's see: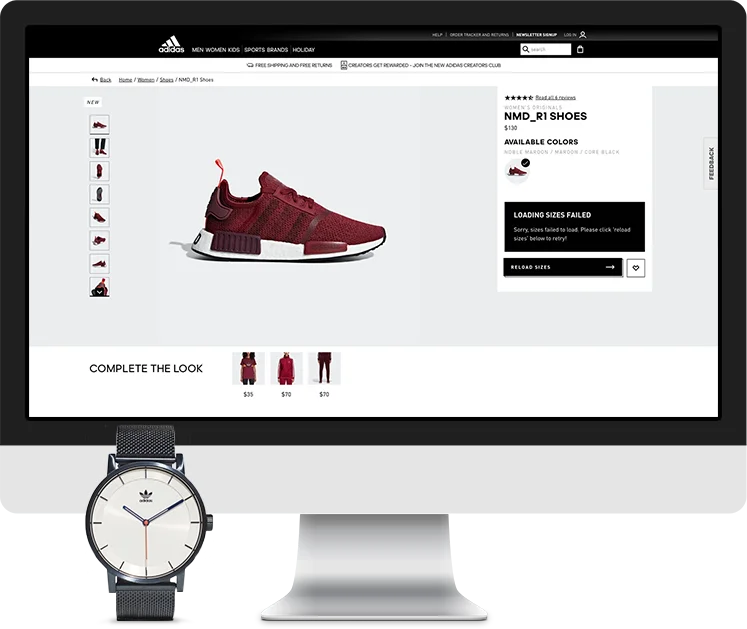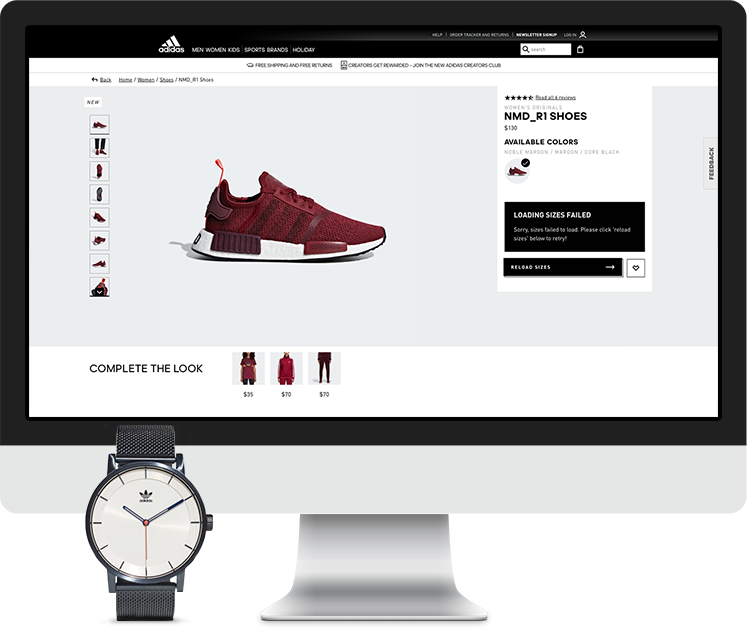 Metadata is extremely clean and elegant. The first meeting with the brand on the SERP gives a comprehensive impression of what is waiting for the customer on their page.
Fast could be the middle name of this store and Google PageSpeed Insights don't lie – they gave Adidas 94 points out of 100.
Rating tool is absolutely prominent here – in addition to traditional average ratings and reviews, visitors can also discover the number of customers who have already experienced buying an item and how they estimate size, quality, width, and even comfort with it.
If we group all the factors mentioned in this article into decisive recommendations, we know the ultimate product page has to be easy to understand, contain all relevant information in a concise way, provide fantastic service, and point out how other customers experience the products.
You can effortlessly craft a product page for your e-commerce store that drives conversions by using the tips in this guide. With a few design and copy adjustments, your product page will keep shoppers engaged and gradually lead them towards completing their purchase.
https://whidegroup.com/wp-content/uploads/pr-pbg-it.png
292
746
mary
https://whidegroup.com/wp-content/uploads/whidegroup_logo.png
mary
2019-01-17 12:33:19
2019-09-20 16:23:35
How to Create a Perfect E-commerce Product Page
How to Create a Perfect E-commerce Product Page