Many carpenters and handcraftmen are wondering how to start woodworking business without any clue about how business and e-commerce really work. Just like with any business, you must realize it's a serious undertaking and be completely informed about the intricacies of running your own company. If you're going to pursue e-commerce, there will be additional areas of your business you'll have to worry about, like developing and maintaining a website. Not to mention a myriad of legal hoops you'll have to jump through in order to become a legitimate business.
Of course, all predicaments pale in comparison to the ultimate goal that every newcoming merchant chases — becoming your own boss. It's a dream of many to turn a favorite hobby into a profitable job. Which is why we are here to explore how to start a profitable woodworking business, as well as outline the steps you'll have to take to create a well-founded company.
How to Start a Profitable Woodworking Business?
In general terms, a woodworking business specializes in manufacturing items from wood. There are a few different niches a woodworking company can take. For example, a woodworking company that specializes in furniture may produce:
Dressers
Drawers
Cabinets
Chairs
While another company may specialize in smaller, sophisticated items, such as:
Jewelry boxes
Decor
Cutting boards
Wooden mugs and coasters
How much profit woodworking as a business can bring depends on many factors. The kind of items you make will play a major role in the income, since large furniture products are typically pricier than smaller decorative items.
If you're starting a woodworking business at home and planning to sell DIY handcrafted items, then you can expect to spend a lot of time making low margin items. In order to mark up the pricing, you would have to work hard on your marketing to present your products as exclusive.
Another big factor is your target audience. Some people are willing to pay big money for a sophisticated item from a reputable master craftsman. What's also important to the revenue is where you're going to distribute your products. Selling locally is not going to bring the same amount of profit as opposed to selling globally.
Overall, the woodworking niche is quite profitable. Meaning, you have a lot of potential for growth. As for the market, it shows a very promising compound annual growth rate (CAGR).
The global wood products market grew from $631.11 billion in 2021 to $690.04 billion in 2022 at a CAGR of 9.3%
Let's move forward to discussing the basic steps of opening up a woodworking business. We separated the process into four essential steps, so you can focus on each aspect at a time.
Step #1: Write a Comprehensive Business Plan
The very first thing an entrepreneur must do when starting any kind of business is writing an exhaustive business plan. A detailed plan is going to serve as a roadmap for your company's objectives, operations, and how you plan to achieve your goals.
Ideally, the plan should detail the next three years of your business journey and can be updated periodically to reflect which goals have been met and which have changed. There are many aspects that need to be included into the business plan, from essential structure to the color of the logo. However, we wanted to touch on three main aspects that make up a business plan:
Executive summary
Financial planning
Marketing strategy
You will have a clear understanding of these aspects after conducting competitive market analysis, which would reveal your major competitors' business and marketing strategies. This will help you understand market trends and consumer demands in your niche.
Let's start by defining what an executive summary is and how to start a woodworking business based on it.
Outline your executive summary
Executive summaries are short sections of business plans that are used to introduce your business or project to investors and other stakeholders. Which means it must be engaging and persuasive to spark their interest. Such summaries are also used as a general guideline for the business, briefly outlining company's description, marketing strategy, and financial information.
A company's description addresses the purpose of the company, its values, products, and headquarter location. The language you will be using should be appropriate for the target audience, while still possessing a formal tone. Your summary should clearly identify the problem on the market and convince the target audience that your company can solve it.
It's better to end the executive summary with a concise conclusion that wraps up all of the main points. The length of the summary is generally not more than 10% of the entire business plan. Starting a woodworking business with a solid executive summary can play a crucial role in whether or not you will manage to get investors on board.
Calculate the expenses of starting a woodworking business
When it comes to how to start a woodworking business, you need to have a clear idea of how much it would cost to open and operate a woodworking shop, as well as what kind of revenue you can expect to receive. The startup costs will depend on the size and scale of your company. Starting a small woodworking business will be less expensive and you'll have room for scaling your shop in the future.
The basic expenses include:
Materials and equipment
Licensing and insurance
Taxes
Website development
Marketing campaign
Overhead expenses, such as rent
Employee's salary, etc.
If you're launching a home woodworking business, you may already have all of the equipment and even a workshop, which should significantly reduce the startup costs. In any case, you can expect the upfront expenses of starting a woodworking business to be between $5,000 – $7,000.
Consider how you will market your store
Marketing has become an essential part of any modern business. Nowadays, there are entire fields of study that researches how marketing influences our daily shopping habits. Which is why you should remember that marketing is an ongoing process. Developing a holistic marketing strategy is going to help your store get noticed and build a fan base.
When you think about how to start a woodworking business, you have to think about the people who will be buying from you. As mentioned before, you must identify your target market, what problems they have, and how you can solve them. You also must have a solid foot on the ground when it comes to market and competitor analysis. Otherwise, you wouldn't know how to market the values that make you unique.
Once you have those essentials down, your marketing strategy is going to work towards reaching your audience through various channels. Eventually, you will need to develop strong branding and not neglect the importance of social media presence. We will return to the subject of branding later on. For now, let's get into the tedious legal aspect of starting a woodworking business.
Step #2: Create a Legal Entity
Once you're done with initial planning, the next step of how to start a woodworking business is creating a legal entity. Registering your company grants you legal rights and obligations to operate your business. Of course, the processes and permits will vary depending on the country you plan to sell in. Hence, we will outline general stages of making your company official, based on the US guidelines.
Choose the appropriate legal business structure
When starting a woodworking business, you must decide which business structure you want to establish. Your form of business structure determines which income tax return form you have to file.
The most common forms of business structures include:
Sole proprietorship. The most simple structure in which the business and the owner are the same entity. The incomes and expenses of the business are included in the tax return of the owner. Although this form is inexpensive to maintain, the owner is personally responsible for the debts, liabilities, and other risks.
Partnership. This form of business structure comprises two or more owners. Similar to a sole proprietorship, partnership owners are held personally liable for any predicaments. Partners are also required to pay self-employment tax.
Limited liability company (LLC). This form provides personal liability protection to business owners while reducing tax and business requirements. Limited liability essentially protects the owners' assets from being sold to pay liabilities of the entity.
Corporation. This form of structure gives the company a separate legal entity from its owners, making it more expensive to establish and operate. Corporations are required to pay both federal and state taxes, while the shareholders are required to disclose their dividend payments. Corporations come with limited personal liability, offering the owners protection against business-related risks.
When thinking about how to start woodworking business, business owners should first consider their needs and goals first in order to understand which features of each business structure suit their company the most.
Acquire permits and licenses
After establishing your legal entity, the next step of how to start your own woodworking business is acquiring all of the necessary licenses and permits. Don't be confused by the term "business license", as it is not a single license you will require to legally run the business. There are several permits you'll need to conduct business within the government's geographical jurisdiction.
Keep in mind that starting a woodworking business at home will require different permits from those necessary to run a small business outside of the home. Most permits are granted at the city level with an extra fee to get a tax registration certificate. Here are some of the licenses and permits you will have to obtain to start a woodworking business:
Business operating license. What most people imagine when thinking about "business license", a general operating license lets you do business in your locality.
Seller's permit. Regardless if you sell goods in person or online, this permit lets you collect sales tax from customers.
Fire department permit. The permit is recommended for woodworking businesses that use flammable materials or tools that may cause fire, such as welding equipment and gas.
You also have to choose the company's name by registering a Doing business as (DBA). Typically, you register a DBA with the same office where you form your legal entity. To make sure nobody has formed a company with or reserved that name, you can check name availability by searching federal trademark records. It's also best to see if your business name is available as a web domain (URL) and as a handle on social media.
Acquire insurance coverage
One of the most important stages of how to start woodworking business is preparing for potential problems and hazards by making sure you have the right types of small business insurance coverage. Having insurance in a woodworking industry is necessary, as it protects the company's financial assets in case of any harm.
Most businesses use general liability insurance. This insurance type provides coverage for several risks:
Bodily injury
Property damage
Medical payments
Legal defense and judgment
Personal and advertising injury
While you're not legally required to obtain such an insurance, it's extremely risky to operate without it. Beside the general liability insurance, you should also consider product liability insurance, especially when starting a woodworking business.
For example, a customer purchased a large bookshelf that subsequently fell on them in their home. In case the customer decides to go to court, a product liability insurance policy pays for legal costs when defending yourself from such a lawsuit, including the cost of paying a settlement if you settle out of court.
Get your taxes in check
What kind of taxes you will pay will depend on the business structure you chose. However, a word of caution must be said. Regardless if you're starting a small woodworking business in the comfort of your own home or in a workshop, you must have your taxes in check.
The most reasonable course of action is hiring an accountant to keep your taxes in order. One slip-up in turning your profit could lead to unwanted tax audits from the federal revenue services. This is especially relevant if you plan to sell your goods abroad. If you're truly determined to become an entrepreneur and start a woodworking business, you must treat it seriously and avoid any kind of law violation.
Open business banking accounts
Finally, you're at the final stage of making your business legitimate! Now, all that's left is opening business banking accounts. Using dedicated business banking and credit accounts is essential for personal asset protection, even if you run a home woodworking business.
Additionally, learning how to build your business credit rating can prove very helpful. After all, banks are more keen to give out loans and other financing to a business that proved to be reliable. You may also get better interest rates, higher lines of credit, and more if you work on your rating.
This concludes the legal aspect of how to start woodworking business. There might be other aspects we didn't talk about due to differences in legal requirements for each country or region. Still, you can expect to go through similar processes when creating a legal entity. Now, let's move on to practices that are aimed at maintaining the viability of your business over the years to come!
Step #3: Work on Your Branding Strategy
Branding can be quite an obscure practice for newcoming merchants that may fail to realize its sheer importance for the business in the long run. The main point of developing a solid branding strategy is to assure long-term viability and success of the business. Such a strategy groups your target audience into separate segments and aims to influence their shopping decisions.
The "strategy" aspect of branding focuses on presenting and maintaining the same brand identity to the customer. Your brand identity includes every element of what makes your store unique: the visuals, the values, the tone of voice you use to communicate with your customers. Creating a branding strategy ahead of time is an often overlooked aspect of how to start a profitable woodworking business. Which is a shame, since successful branding could be what turns a simple company into a legacy.
Learn How to Get the Most Out of Branding

Step #4: Develop Your Website
Let's get one thing straight: it's the 21st century and all legitimate businesses have websites. The times when stores got away with not having a website, or worse — having a terrible website, are long gone. Even when starting a small woodworking business, your website has to fit modern standards of design and optimization. Social media accounts and business profiles are not a replacement for a business website that you use for e-commerce.
When it comes to website development choices, you have the option to build a store yourself, even if you lack development skills. SaaS solutions like Shopify have a great intuitive interface for beginners. Of course, if you aim to impress your customers from the moment they land on the website, you can hire an e-commerce development company to build and maintain your store.
As new technologies arise every year, it can be hard to manage the website yourself, let alone implement new exciting features. The cost to develop an e-commerce website and maintain it over the years will majorly depend on the project requirements, as well as what kind of development company you choose. In any case, working with a professional team is the only way you can guarantee you're starting a woodworking business with the best possible website.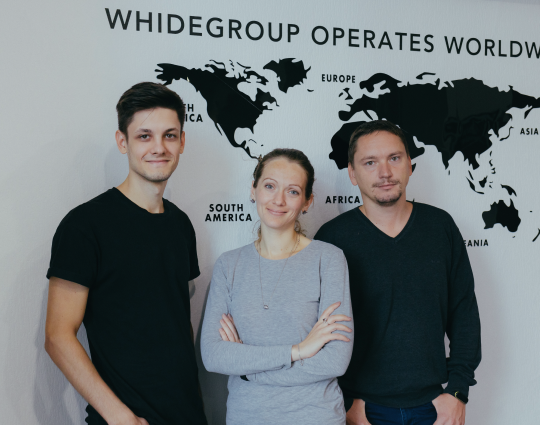 Ready to Start Your Woodworking Website?
Reach Out To Us for a Free Consultation!
Final Thoughts
Without a doubt, starting a woodworking business is challenging and nerve-wracking. Many merchants choose to launch a business because a particular niche is their hobby. However, if you want to become a serious entrepreneur, you must take woodworking as a business seriously. Business launch requires meticulous planning, investment, and patience in order to succeed.
In this article, we answered the question of how to start a woodworking business from small details, like executive planning, to big aspects, like becoming a legal entity. Of course, we can't forget the significance of proper branding, marketing, and website functionality in these modern times. If you have any questions regarding e-commerce website development, feel free to drop us a line for a free consultation. We look forward to hearing from you!
https://whidegroup.com/wp-content/uploads/small-cover-woodworking-business.webp
300
772
Kristina Bardusova
https://whidegroup.com/wp-content/uploads/whidegroup_logo.png
Kristina Bardusova
2022-12-21 15:23:29
2023-09-28 10:52:47
How to Start Woodworking Business: A General Overview for E-commerce Beginners
How to Start Woodworking Business: A General Overview for E-commerce Beginners