Every business starts with an idea. Small or big, common or crazy, funny or serious. Any idea is good to be tested. At the turn of the 20th and 21st centuries we've had an opportunity to observe hundreds of crazy and funny business ideas revolutionizing the retail business market. Some of them lightning fast turned into successful businesses bringing millions to their founders. Others, for different reasons, turned into ash.
Before you go on exploring the craziest business ideas people have ever initiated, just know that we have an insightful guide on
How to Build an E-commerce Website
. Use it to make your brand new online store a perfection!
Success and failure business stories serve as a lesson for everyone who is going to launch their own business. Analyzing them, merchants can learn from other people's mistakes and get inspired by cool solutions implemented in more successful businesses projects.
Today we'll focus on the most prominent examples of funny business ideas that amazed the world with their uniqueness and brought a huge success to their founders.
#1 UsedCardboardBoxes
We've decided to start with business, the idea of which is very difficult to call fun. Instead, it is very surprising and extremely helpful in today's world, namely, creating profit by reducing waste.
Meet the Used Cardboard Boxes, the rare business idea that appeared back in 2006.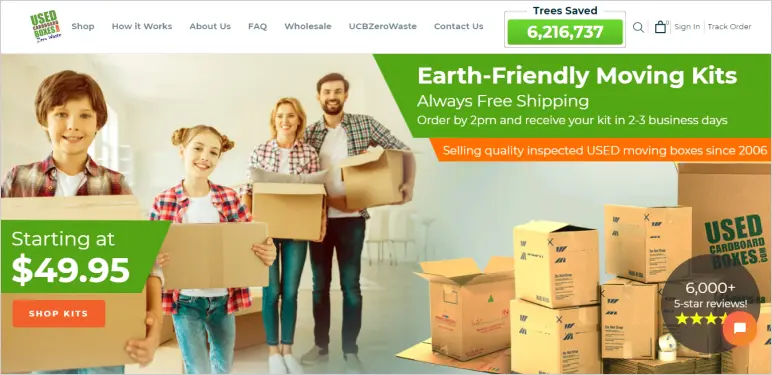 The basis of this crazy business idea was the huge demand among customers for ordinary cardboard boxes that people use when moving (in the meaning of changing their place of living). The fact is that people usually buy dozens of new cardboard boxes, pack their things, and after unpacking just throw all those boxes away.
Expore more about

From the very beginning of the 21st century such consumer trends went completely against ecological trends and goals for the preservation of our planet. That is why the founders of this business implemented a great idea, according to which their customers can buy used cardboard boxes in a perfect state, and what is most pleasant – at lower costs.
Initially, the company's clients were able to buy cardboard boxes that were already used by other people for different purposes. However, this idea, as well as many other unusual business ideas, was not entirely viable, because it was extremely hard to maintain a stable quality of packaging commodities sent from the first owners.
Through years of work and improvement of all business processes, the company's business model has changed. Today, they buy shipping boxes and other commodities from large companies at a price that exceeds the price of recycling, and resell them to customers at a price that is cheaper than new packaging materials. With a huge list of suppliers, UsedCardboardBoxes is able to offer its customers a wide variety of products, from ordinary boxes to barrels and pallets for transporting large-volume items.
With the preservation of the environment as the main mission of the business, to date, the company has already saved almost 6.2 mln trees through its activities.
#2 Petrock
The second place in our list goes to an unusual and very funny business idea that nobody could take seriously. The world saw it back in 1975.
It may surprise you, but rocks can also be pets and that's how Gary Dahl became a millionaire – he just sold rocks, which he called Pet Rock.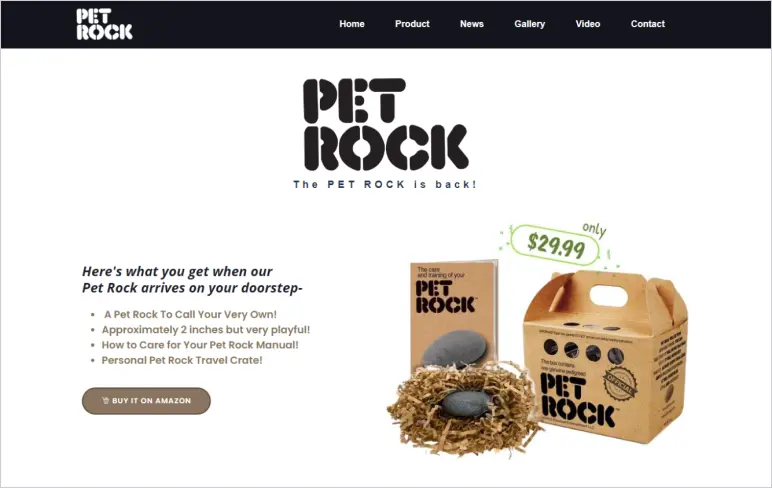 The man worked as a manager in an advertising agency. Harry often had to listen to his friends complaining about their pets, which sometimes damaged the furniture, needed care, and were not well trained. Then he invented his ideal pet – a rock. Friends thought it was a stupid business idea or just a joke, but Dahl decided to make it a reality.
First, he created a company called "Rock Bottom Productions" and began to produce pet rocks under his brand. The Pet Rock set included: a rock house (it looked like a cardboard box for transporting pets), a rock, and care instructions. The instructions talked about how to teach your rock the commands "sit", "lie down", "die" and "come here".
The rocks were sold for $3.95 per item, and in six months more than 5 million people bought them. Despite the fact that the popularity of Pet Rocks was fleeting, it quickly brought Harry more than $15 mln.
Need some more inspiration?
#3 Big Mouth Billy Bass
Another one of the weird business ideas that made millions is Big Mouth Billy Bass, a perch nailed to a board. It was invented back in 1998 by the vice president of Gammy Industries. The company manufactures decorative items, as well as seasonal holiday decorations. The funny business idea to create a Billy Bass came to Joe Pelletieri after he visited a store that sold hunting and fishing equipment.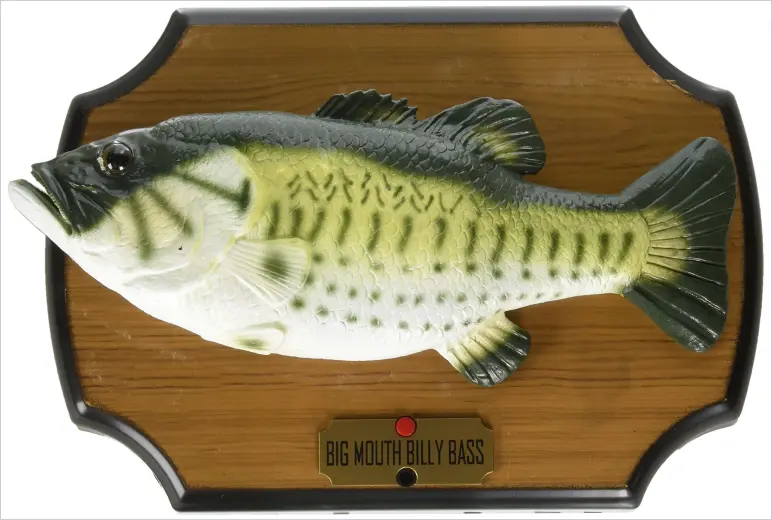 This thematic wall decoration was initially conceived as something that should attract the attention of new customers who entered the store. When Big Mouth Billy Bass's motion sensor went off, it would start flipping its tail, then turn its head to the visitors and sing one of the two songs (either Al Green's "Take Me To The River" or Bobby McFerrin's "Don't Worry, Be Happy").
Very quickly the toy became popular and people started buying it for home decor or just as a souvenir. Just when the toys began to be sold en masse in stores, sellers began to complain about it, because the perch "constantly sings and it is impossible to work". Only then the company decided to add a button to Billy perch, which would activate its singing.
Look closer, and in many American movies, you will notice a perch nailed to a board. In the late 90s, this perch flooded American TV shows, it was even mentioned in The Simpsons.
You know, if you think that a rubber bass nailed to a board that wags its tail and sings only two songs is gross, you'll probably be surprised to know that the Big Mouth Billy Bass hangs on the wall at Balmoral Castle, the residence of the British royal family.
#4 Ship Snow, Yo
One of the next funny business ideas came to life in February, 2015, when anomalous cyclones came to Boston. Clearing snow around the house, Kyle Waring, founder of "Ship Snow, Yo", together with his wife were talking and laughing about whether it is possible that someone might need all that snow. They were joking that maybe someone wants to buy it. Just a few days later, they launched Ship Snow, Yo with the headline "Delivering Historic Boston Snow".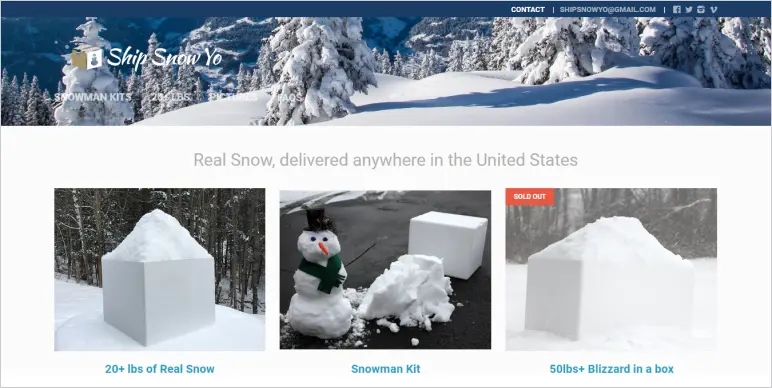 Numerous popular local editions, like the Boston Globe, wrote about this crazy business idea in a day. Right away, their sales multiplied overnight. Entrepreneurs were not ready for such rapid scaling of their small business. So, another family member got involved in the business. Kyle's brother helped with shipping, while Kyle himself was working on the e-commerce website creation. Working full-time at their main jobs, the couple rested for 4 hours a day, and the rest of the time they sent snowmen in boxes around the US.
Despite its popularity, Ship Snow, Yo is, after all, seasonal business. On the official website, even today you can pre-order a snow parcel and after your order is processed, delivery will be carried out within 20 hours to any state.
#5 Slinky
The Slinky spring is one of the most popular toys right now. However, when it was released to the market, it seemed like a really crazy business idea.
Richard James, the inventor of this toy, was a marine engineer and was working on engines for warships at that time. Just one day changed Richard's life. It was 1943 and an active stage of World War II. The engineer, as usual, worked at his desk at a shipyard in Philadelphia. Suddenly, a spring from one of the instruments that Richard used, fell off the table and began to "walk" around the office.
At the end of the day, Richard brought the spring to his wife, Betty, saying, "Perhaps I can make a toy out of this". Betty immediately grabbed a dictionary in search of the most appropriate name for the toy. As a result, it was called "Slinky". The name exactly conveyed all the properties of the new toy – smooth, silent, sinuous.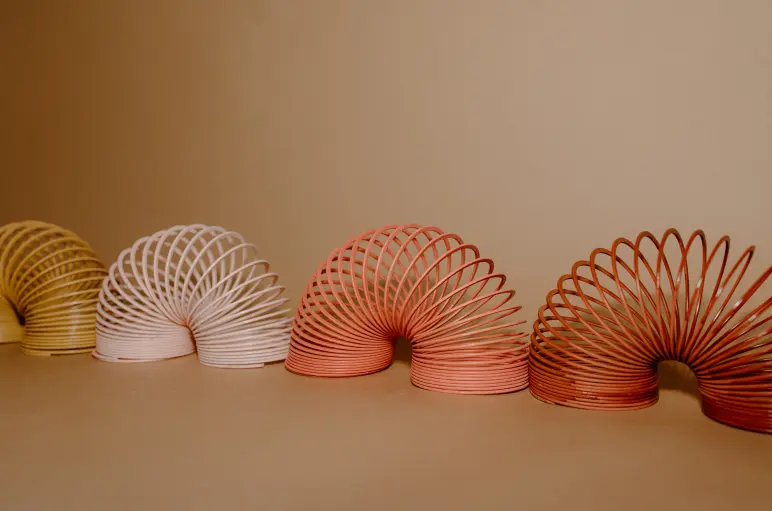 In 1945, Richard and Betty took out a $500 loan to pay for the first batch of Slinky from a small Philadelphia manufacturer. At first, sales were very poor, but on Christmas Eve, the toy showed its full potential and started bringing real profit.
In the 90s (the era of plastic), slinky saw a rebirth. Cost reduction and automation of labor have several times increased the revenue of manufacturers. According to rough estimates, Slinky brought in about $250 million to its founder. Even today you can see these toys in pretty much every toy store around the world. What is it if not a rare business idea that turned into real success?
Final Thoughts
Each of the mentioned funny business ideas examples is unique in its own way. For sure, today you can't come up with the same idea and hope for the same success. The idea of this article was to show you that every, even the craziest, idea appearing in your imagination deserves attention, even if your friends and family say it doesn't.
If you have long dreamed of launching your own outstanding business but lacked fresh ideas – take your destiny into your own hands, analyze the world around you, notice the slightest demands and look for the original ways to fulfill them. Be creative while the Whidegroup team takes care of the technical part of your project. Contact us with any questions regarding your project realization and get a free consultation with our e-commerce experts.
https://whidegroup.com/wp-content/uploads/small-cover-funny-business-ideas.webp
300
772
Olha Fedchenko
https://whidegroup.com/wp-content/uploads/whidegroup_logo.png
Olha Fedchenko
2023-01-24 16:45:22
2023-04-04 09:18:42
Top 5 Funny Business Ideas That Turned Into Profitable E-commerce Business
Top 5 Funny Business Ideas That Turned Into Profitable E-commerce Business