Rich Magento functionality is the reason why over 250k e-commerce store owners have chosen this platform upon deciding to move their business online. However, sometimes existing functionality is not enough, and businesses face the need for custom Magento extension development services. Pricing for custom Magento extensions is a common question our clients ask. In order to shed some light, we have decided to raise the curtain and, based on our experience, give specific numbers on how much custom extension development might cost you today.
If you want to know more about other Magento costs or gain an in-depth knowledge about the platform, we suggest you look through our
Magento tutorial for beginners
. This is where you can get acquainted with all basic aspects of the platform and find practical tips to apply to your own Magento store.
Further information will be useful not only for online store owners but also for businesses with a desire to target the e-commerce market. For example – we are often addressed by companies, who provide shipping, payment processing, and other services, that want to promote their business by creating custom extensions for integration with e-commerce platforms. Magento is the undisputed leader of client preference in terms of such requests.
What Factors Determine the Cost of Magento Extensions?
It is almost impossible to estimate a custom extension development cost before we have at least a notion of your business needs and the required features of the extension you have in mind. To be more precise, below, we will impart some of the basic factors that impact cost estimation.
Magento 1 or Magento 2 extension?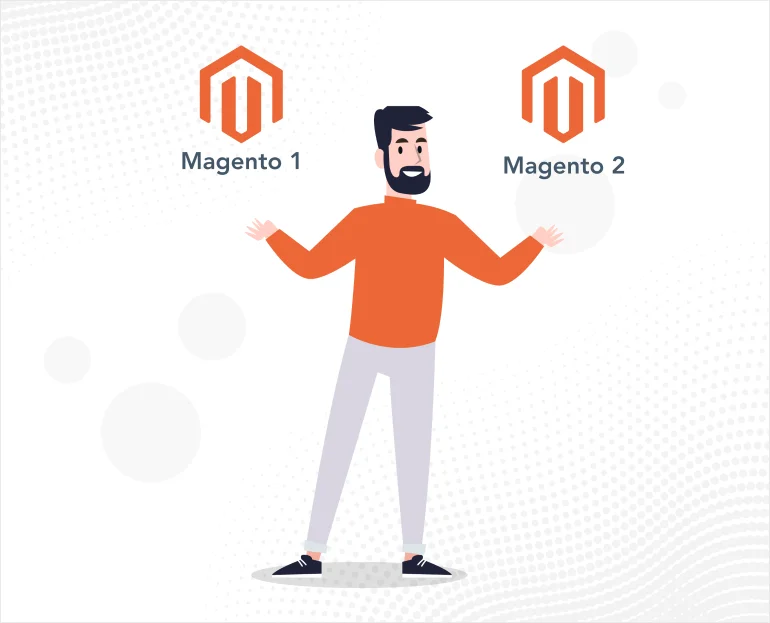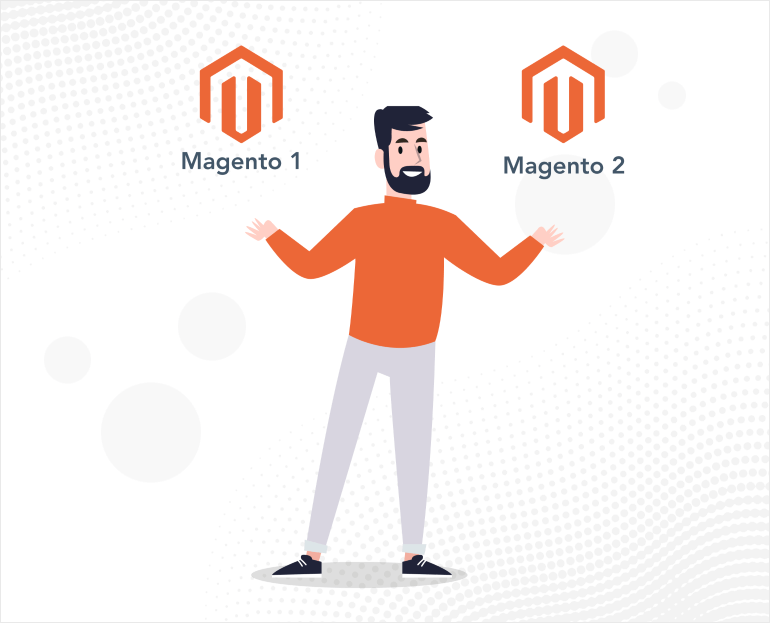 Today, for those who want to integrate their business with e-commerce, it still makes sense to create extensions for both versions of the platform (Magento 1 and Magento 2). Despite the impending end of Magento 1, there are still more than 150k M1 live stores and therefore 150k potential clients.
If you need to develop a Magento extension from scratch, the cost of a Magento 1 extension and a Magento 2 extension are approximately the same. At the same time, several variables can significantly affect the calculations. For example, when it comes to Magento payment gateway extension development, the creation of two of them (for M1 and M2) based on the payment gateway provider's API will cost less in total. This is because most payment processing operations will run on the side of the service provider, and not on the backend of the platform.
Consequently, rewriting the Magento 1 module to comply with Magento 2 will take much less time and effort compared to the process of development from scratch. Additionally, this process does not have to consider the planning or coordination steps.
The price for two custom fields for checkout or custom contact form development will remain the same for M1 and M2.
Which extensions deserve your attention today?

Freelance developer or Magento extension development company?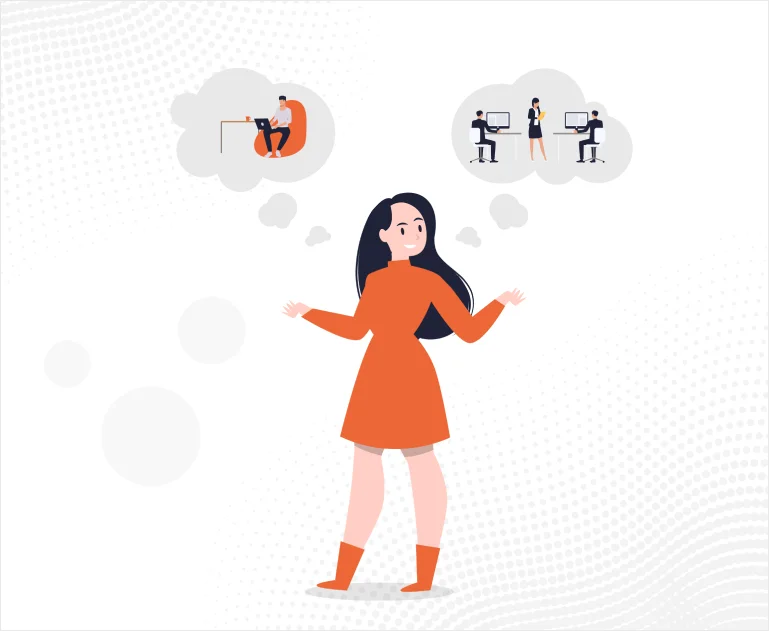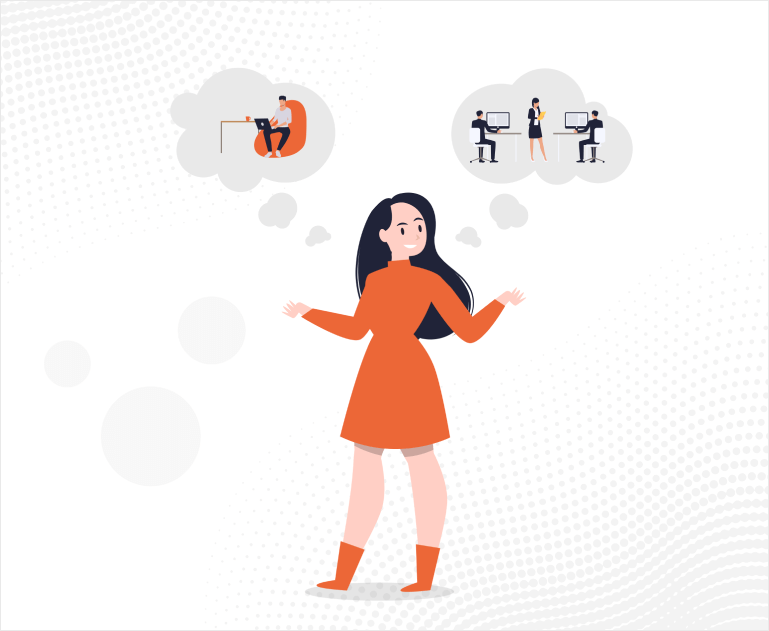 At first glance, it's not a hard decision to make. You think all you need is to determine a budget for the development and then find a Magento developer who will be ready to create an extension following your requirements.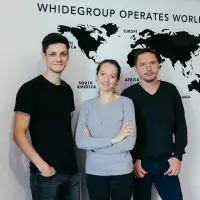 Want to hire Magento developers?
Contact Us Now and Get a Free Consultation
The truth is, whatever your budget, you will always find developers eager to take on your task. However, the quality of the work done will remain questionable until the very end. Remember, you always get what you pay for.
What specialists you might need to hire?
Here are a few more critical points to pay attention to before making a final decision. Depending on the specification of your extension, you may need the help of specialists in several different fields. For example:
1. To develop a Magento analytics extension, one back-end developer with decent experience is often enough.
2. For a Magento marketing extension or any other extension whose design must encompass customer user interface and the store's admin, the team of developers should consist of at least two people – back-end and front-end specialists.
3. To develop a quality Magento 2 payment extension, you are more likely to need the services of four or more specialists, including front-end and back-end developers, a web-designer, and a QA engineer.
4. Additionally, when several developers participate in Magento 2 extension development, you are likely to meet one more member of the team – namely, the project manager. This is the person who will manage the whole development process and give you the latest updates. Note that the project manager's contribution to the process is valuable unless you have the desire and time to manage the process yourself.
Do you need to develop an extension with complex functionality from scratch and expect the result to meet your requirements? Then, when choosing between a freelance developer and a Magento extension development company, you should pay attention to more than just the price tags. It is more crucial to define whether they have experience in the relevant field supported by portfolio examples.
How to Calculate Magento Custom Extension Development Cost
The first thing you should know is that it is impossible to estimate the cost of any custom extension before specifying its requirements and functionality. The price always depends on the time required for its development. That is, the greater the extension functionality, the longer its implementation will take, and consequently, the more it will cost.
To make the process transparent, we offer our clients a certain workflow. By following it, our clients get a cost estimate for the future extension (with a possible deviation of ~25%) at the very first stage of our cooperation. In addition, at every next step, we keep them informed of any possible deviations from the development schedule or original estimate.
So here is what our workflow looks like: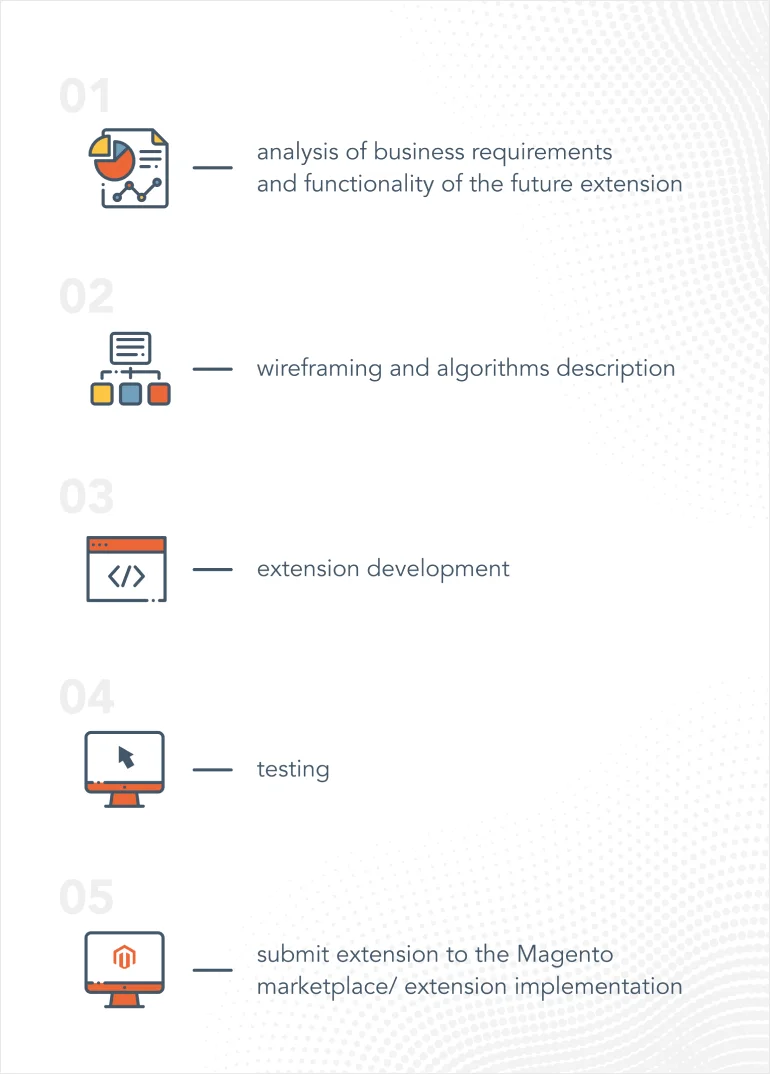 In fact, most Magento development companies, and even some freelancers who offer Magento 2 custom development services, adhere to approximately the same model of cooperation. Although the initial analysis of an incoming request for custom development is often free, further business needs analysis, and wireframing steps must be paid. Therefore, if your development services provider has not warned you about this in advance, be sure to expect extra hours included in the check.
The time required for extension development
First, for you to get at least a small idea about how your extension development time can be estimated, take a look at the grid below.
When coordinating every new project with our clients, we estimate each step of our workflow in hours. So let's see how the time estimation table might look.
Average extension development cost estimation
In the first column, you see an estimate for the development of a small e-commerce store customization. The second one represents average hours required for the development of a more complicated extension.
Project stage
Min hours required
Average hours required
Analysis of project requirements and functionality of the future extension
Wireframing and algorithms description
Average hours required
68
Submitting the extension to the Magento marketplace/extension implementation
Average hours required
86
Actual hours spent by Whidegroup team on the extensions development
To see how this works in practice, peruse and compare the time spent on two of our recent projects.
In the first column, you can see the time estimation table for a custom feature we've implemented for Ambassador Cafe. We added two custom fields (a text field for the customer's address and a checkbox consenting to the data transfer) to the custom One Step Checkout, using knockout.js architecture, and designed it so that the information submitted therein then populates to the business admin panel. The second column represents time spent on the development of a Magento 2 custom extension for Savvy.io, a cryptocurrency payment gateway provider.
Project stage
Simple feature creation (hours)
Complex payment integration (hours)
Analysis of project requirements and functionality of the future extension
Simple feature creation (hours)
1
Complex payment integration (hours)
4
Wireframing and algorithms description
Simple feature creation (hours)
2
Complex payment integration (hours)
10
Simple feature creation (hours)
14
Complex payment integration (hours)
148
Simple feature creation (hours)
4
Complex payment integration (hours)
12
Submitting the extension to the Magento marketplace/extension implementation
Simple feature creation (hours)
1
Complex payment integration (hours)
6
Simple feature creation (hours)
22
Complex payment integration (hours)
180
How does the process look like?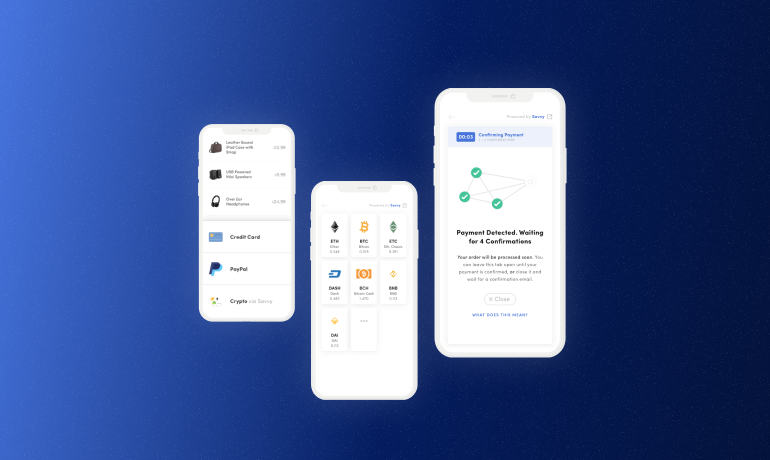 How much for extension development in monetary terms?
Both Magento development agencies and freelance developers charge hourly fees for their services. At times, the rates can differ quite a bit, especially when comparing specialists from different countries or continents. Here's how Magento development rates fluctuate depending on the location of the specialists: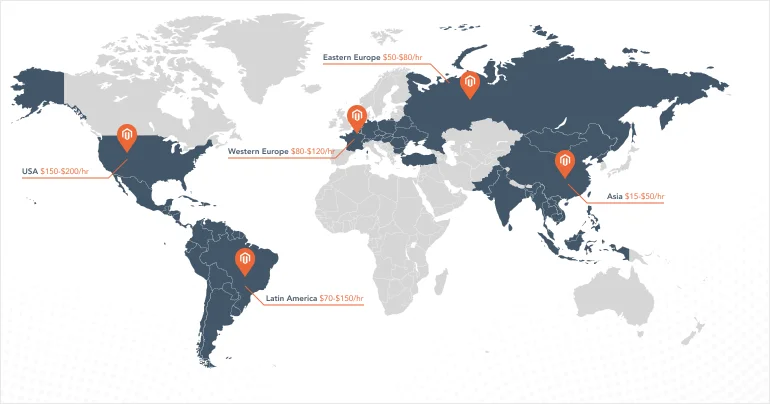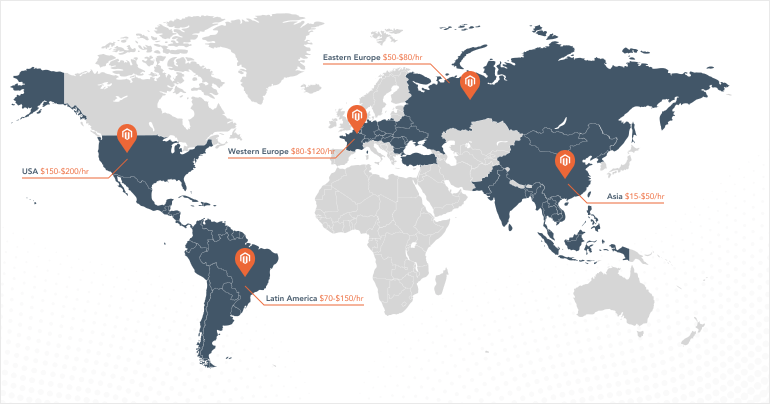 Now, having in mind the average time estimates for Magento module development and the average hourly rates, it is easy to calculate the approximate cost of the future extension.
Let's say you want to develop a simple feature, just like the one we described in the table above. If you address an outsource development agency from Eastern Europe to build this project, you will be charged the following sum: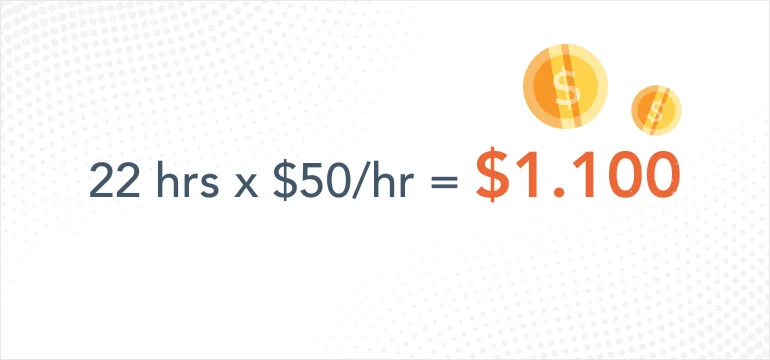 At the same time, development services provided by specialists from the USA will cost you: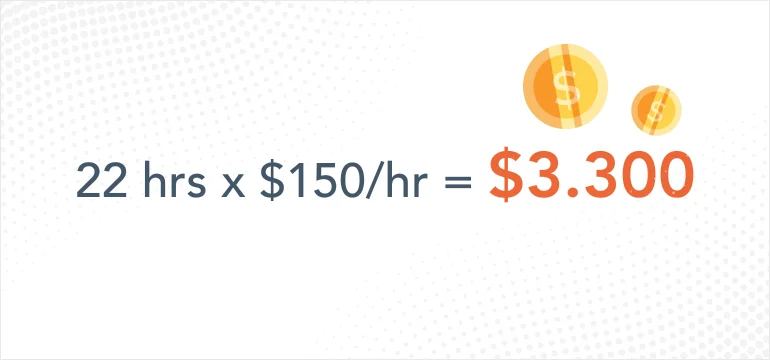 It is not hard to calculate how much custom module development might cost in different countries.
Final Thoughts
In this article we wanted to help e-commerce business owners and businesses targeting the e-commerce market understand how the price of Magento custom development services is determined. There are numerous reasons for the development of custom extensions. No matter what your purpose is, be assured that it can be developed by experienced Magento developers.
Now that you undoubtedly understand the whole process better, from the choice of developers to evaluating the work to be done, it will be much easier to find the right development team and to draw up a technical task list for the project you have in mind.
However, if you need any help with information we didn't cover, or want to get a more precise cost estimate for your project – you are welcome to contact us at any time. We'll be happy to provide you with a free quote and answer any questions you may have.
https://whidegroup.com/wp-content/uploads/magento-extension-development-small-2.webp
300
772
Olha Fedchenko
https://whidegroup.com/wp-content/uploads/whidegroup_logo.png
Olha Fedchenko
2019-10-18 14:04:46
2023-02-24 16:59:14
How Much Does Magento Extension Development Cost?
How Much Does Magento Extension Development Cost?