Shopify is the leading e-commerce platform today. As a complete e-commerce solution, it provides huge flexibility to its merchants – you can easily set up a store and sell different products, from the tangible to the virtual, all without the need to worry about proper hosting options. You can also change the look and feel of your store quickly using one of the many professionally designed Shopify themes or extend the functionality of your store by using ready Shopify apps.
When implementing custom apps into your Shopify store, you should always keep track of the website performance. For more practical advice visit our
Shopify Speed Optimization guide
.
Whidegroup has been developing and optimizing Shopify stores for over 6 years. This has given us the opportunity to gain firsthand knowledge of the goals that store owners usually want to meet when looking at the available Shopify apps. With that information in mind, we've compiled a list of the most used Shopify apps. We've even grouped them into several categories by their business purpose and objective to make it easier for you to explore. It doesn't matter whether you are looking for the best free Shopify apps or the best Shopify Plus apps, you can find them in our article.
Must Have Shopify Apps for New Merchants
When merchants just start their business, they undoubtedly wonder "What apps do I need for my Shopify store?" Though, as your business is young, the last thing you want is to spend budgets on Shopify third party apps when you are unsure whether they will even be vital to your store's success. With this idea in mind, we created a handy compilation of the best free apps for Shopify stores essential for new merchants that allow expanding Shopify store features at a zero price.
Our list includes useful apps for newly created Shopify stores like the best free SEO app for Shopify, Shopify image optimization app free of charge, the Shopify free pop up app, the best Shopify FAQ app, the best free upsell app for Shopify, the Shopify free review app, the Shopify price change app and others. Feel free to download and review our compilation anytime.
The Best Apps for Shopify Product, Inventory and Order Management
When your store is set up and running, you hopefully welcome customers and start receiving orders. All this leads to an increase in the number of operational tasks like invoicing, a need to pack orders, manage shipping and returns, update inventory and product information, and more. The list of Shopify apps presented in this section will definitely optimize these processes for you.
Want even more insights?

Export and import of products, collections, customers, discounts, and more
Let's start with the Matrixify app that can simplify the process of adding products, collections, customers, discounts, draft orders, orders, payouts, pages, blogs, redirects, metafields and more utilizing Excel or CSV import. Whatever fields merchants see in their Shopify Admin, they are able to export and import with the app. It also allows users to migrate data to Shopify from other e-commerce platforms like Woocommerce, Magento and more.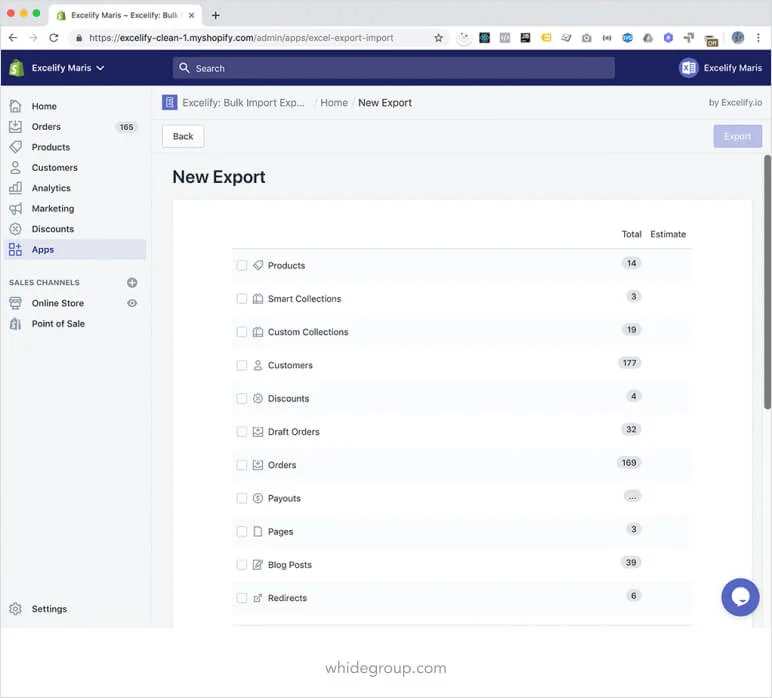 Bulk products and variants editing
Bulk edits of products and their variants will become easier with the Bulk Product Edit & CSV import app by Hextom. You can manually bulk edit prices, tags, inventory, titles, descriptions, vendors, product SKUsor import CSV and Excel files. It is also possible to schedule bulk edit tasks to run on any future date and time, or on a daily/weekly basis. And if you want to go back, there is the option to undo any changes and revert back to the pre-edited state.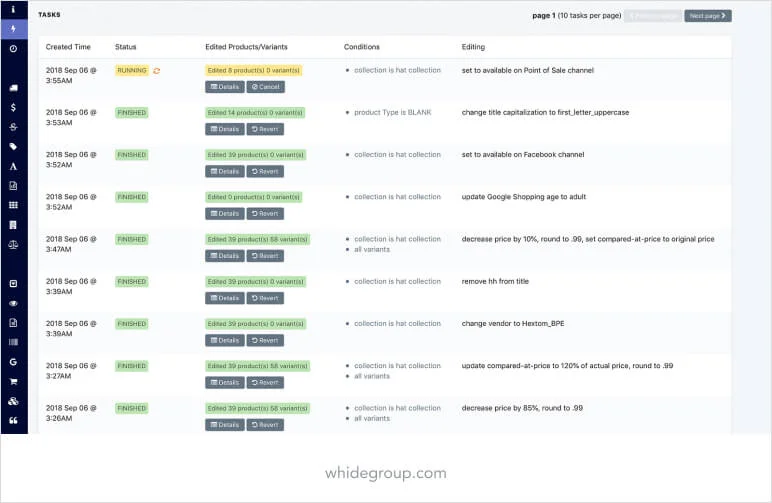 Custom product options and bundles creation
It is important to have conversion-optimized product pages on your store to engage customers and provide a full understanding of the products you sell. Infinite Options by ShopPad Inc. is the top-reviewed app among the best paid Shopify apps for adding custom product options and creating bundles. It gives the flexibility to add unlimited custom product options including text, numbers, calendars, swatches, checkboxes, and dropdown menus. It gives an option to personalize products for engraving, or monogramming, with the goal of increasing the average order value by utilizing product bundle features.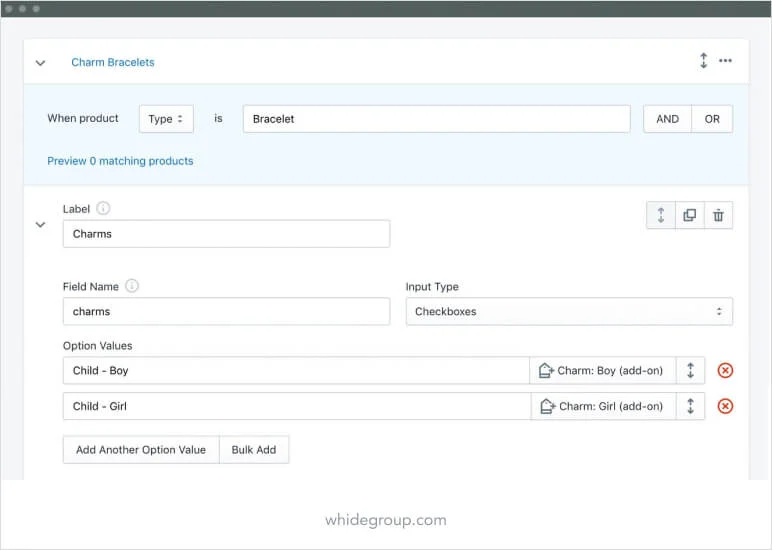 Low stock notifications app
The best Shopify inventory app that grants low stock alerts is definitely StockBot Low Stock Alert by StoreBuilder. With its free plan, you can track up to 200 products in your store – set low stock levels and get daily or weekly email updates with products that have reached these levels. This will help eliminate the frustrating situation of running out of popular and/or high-margin products. This is especially important because empty stock means you can't meet the demands of your customers, which leaves them disappointed and shopping elsewhere.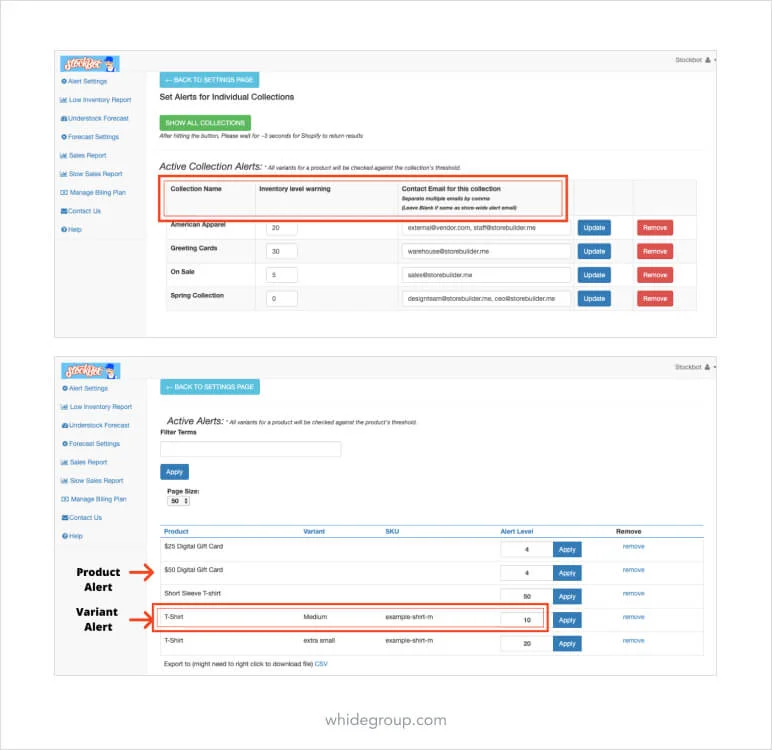 Low-stock is only one part of inventory management

The best order editor app
There is nothing more valuable than providing an outstanding customer experience for your shoppers. For example, if a customer forgets to add a discount code, or mismatches the needed size or color of the ordered product, there is no need for them to cancel the order and start over again. You can easily edit order details like price, billing address, shipping method, adding a discount code, or any other potentially available custom options with the Edit Order app by Cleverific, Inc.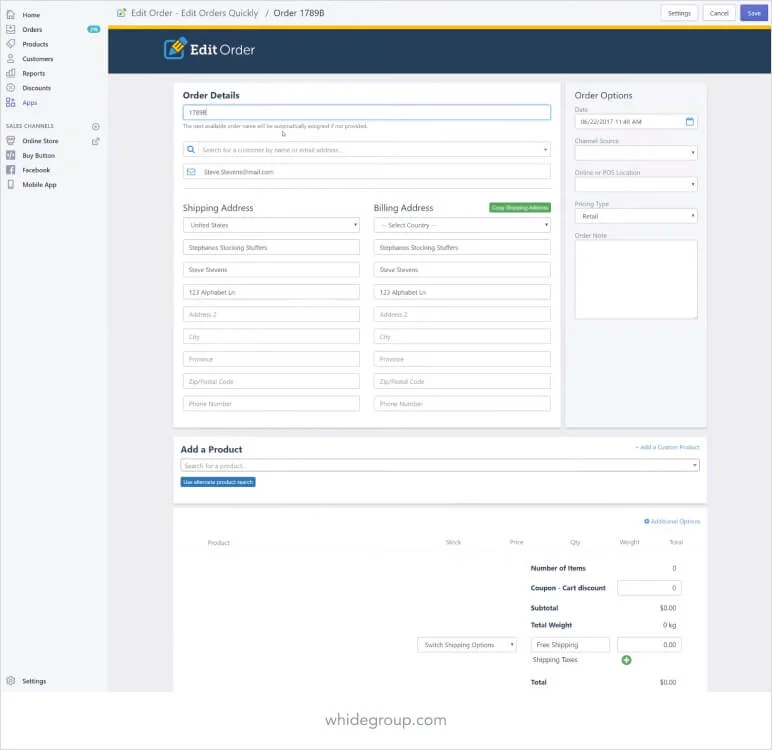 Custom order statuses creation
As a merchant, you may need to have additional order statuses to the default ones in Shopify to handle your back-office processes efficiently. The Custom Order Status app by W3trends Inc. is a good instrument for that and one of the best Shopify apps of 2022 in our opinion. With its help, you can set unlimited order statuses and update multiple orders at once. Additionally, it allows to set public or private notes for an order, keep a record of the status changes and see when the order status was updated and who received notifications. You can also enable customers to check their order status without having an account.
Invoicing management
The combination of Order Printer Pro and Order Printer Templates apps by FORSBERG+two ApS is the favorite choice of merchants for printing and delivering PDF invoices, quotes, and packing slips with numerous editable templates. Order Printer allows you to quickly create invoices, quotes, packing slips and return forms for Shopify orders, print documents manually or deliver PDFs automatically to сustomers. You can also export these documents as a PDF in bulk, for record keeping.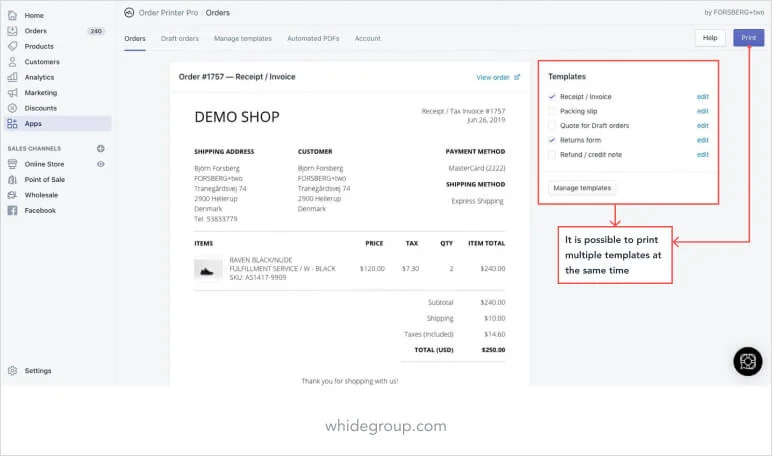 Best shipping app for Shopify
The most efficient Shopify shipping app is the one that provides a balance between costs, delivery terms and packaging options depending on the products you sell. You need to choose the one that best suits your business out of the Shopify shipping apps available in the apps store. You can try apps like UPS Shopify app, Shopify FedEx app or choose the best shipping app Shopify offers for more popular providers in your region.
The best order tracking app for Shopify
If you are serious about providing an exceptional customer experience for your customers, it is essential to allow them to track orders conveniently. The AfterShip Order Tracking app by AfterShip & Automizely allows merchants to create customized tracking pages and set automated notifications about order status changes. As a result, this reduces customer inquiries and complaints. You can replace the carrier's tracking link with an auto-generated link to drive traffic to your site instead of the carrier's site. This is seriously the best Shopify tracking app ever.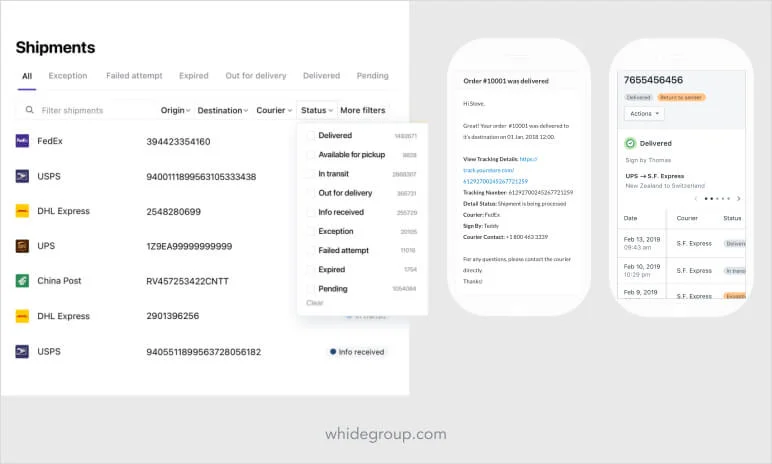 Returns and exchanges management
Exchanges and returns are important for building customer loyalty and retention. It is great for customers to have the option to return a product and get a refund in the easiest way. It's also important that the process is run efficiently for businesses, requiring minimal manual work. US and Canadian merchants can luckily go for Returnly: Returns & Exchanges, provided by Returnly Technologies, Inc. When integrated into a Shopify store, it allows you to set your store returns policy and then this fully-brandable returns center handles everything else automatically. This is the only returns app that lets customers get the right item before returning the wrong one. Returnly pays for the new order on behalf of customers, so there is no need to wait for the wrong product to be delivered in order to purchase a new one.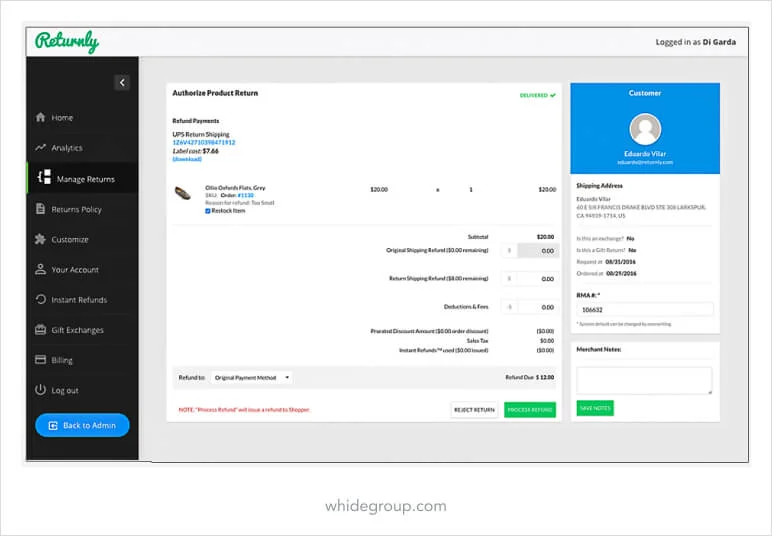 UK merchants are actively using Clicksit Return Center by Clicksit App Limited. It is a free app, and additional charges can be applied only when using Collect+ options. It provides a self service customer return portal and a dashboard for merchants to manage returns. Customers can use email or mobile numbers to register a return in the returns portal. You can use the Collect+ return option for convenience, email the tracking status to your customers and leave them with the confidence to come back again.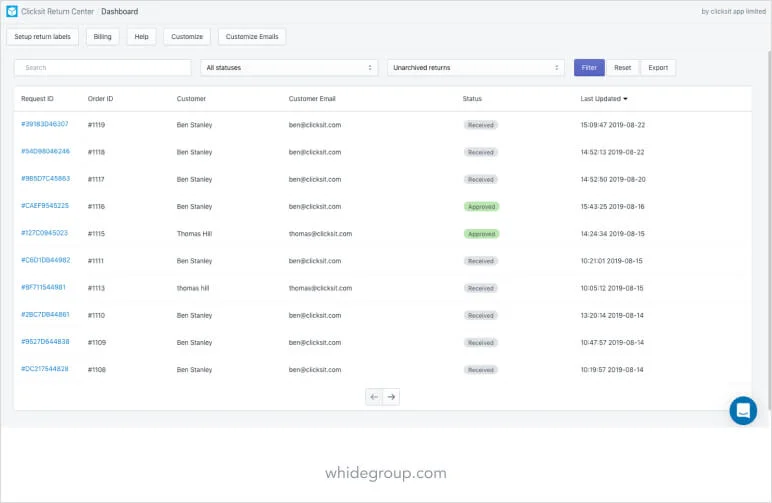 Shopify Apps for Website Design and UX Optimization
In the digital world, users only need about 50 milliseconds to establish an impression about a website. And that impression determines whether they continue to browse or abandon said website. Customers of your e-commerce store need to feel confidence, convenience and entertainment in order to engage with your brand and make purchases. This can be reached by means of design and providing the additional functionality that improves the user experience.
One click login app for Shopify
The aggregated research published by WebHostingBuzz shows that 77% of users consider social logins as a necessary registration solution. Implementation of this functionality into Shopify stores can decrease bounce rate, and increase retention and sales volume. The Oxi Social Login app enables customers to login with their existing social accounts like Facebook, Google, Twitter, LinkedIn, or Amazon. It also allows for automatic tagging of users and provides daily statistics of the number of registrations.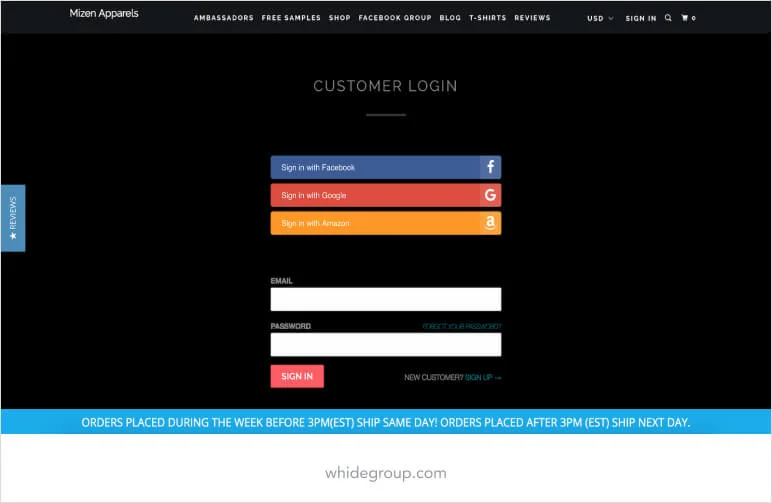 Best menu app for Shopify
Being provided with a clear structure of your store departments, product categories and collections is a vital part of a convenient buying journey for your customers. Smart Mega Menu & Navigation allows you to customize a mega menu with the look and feel you want. You can show or hide specific menu items on mobile and desktop, providing better UX – such as having a comprehensive menu on desktop, but a simple and clean one on mobile. Smart Menu allows you to:
Include an unlimited number of menu items
Use pre-designed templates
Place products or promotional banners anywhere on the mega menu to catch attention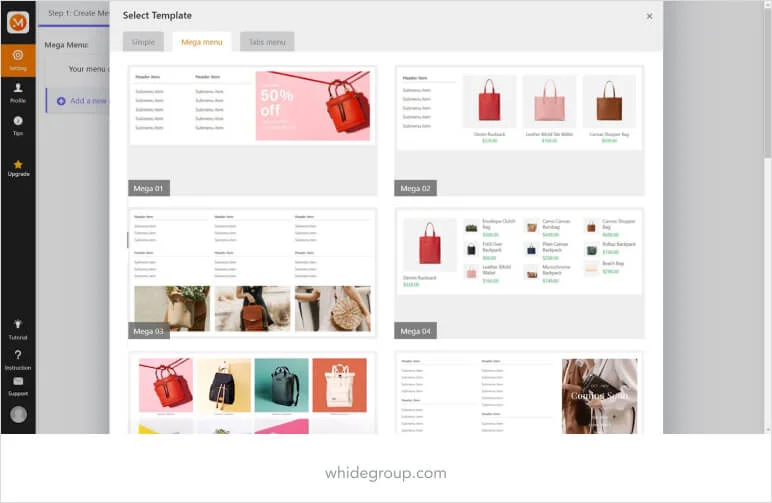 Best blog apps for Shopify
We consider the Shogun Landing Page Builder app the best app for blog creation. Its in-built Page Builder provides a robust drag-and-drop page designer with 24+ elements, and tools for A/B testing and measuring performance. It is the advanced set of instruments for the creation of different pages including blog and blog posts. Using this app, you can create a story around your brand, share experiences using your products and services, and much more.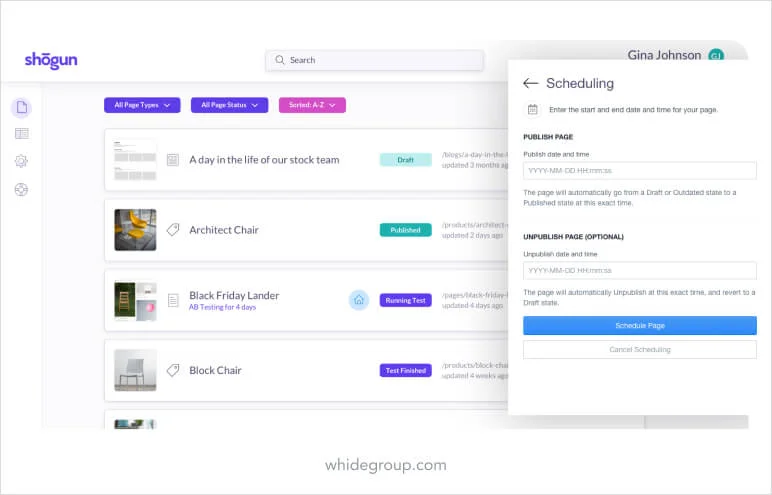 Shopify geolocation app
A geolocation app is a big help for merchants who run their e-commerce business in multiple countries. They detect website visitor locations, and, based on that, redirect customers to the relevant store. We recommend using Geolocation Redirect by Mod Media. This app is easy to install and easy to configure. It detects customer location and can:
Automatically redirect customers to the correct country website to purchase from
Redirect users to another URL if they access a specific page on the website
Add a notification bar at the top of the site which allows users to select the store that suits their region best
You don't need any coding knowledge to install and use this app. Plus, you can create unlimited redirects within your store.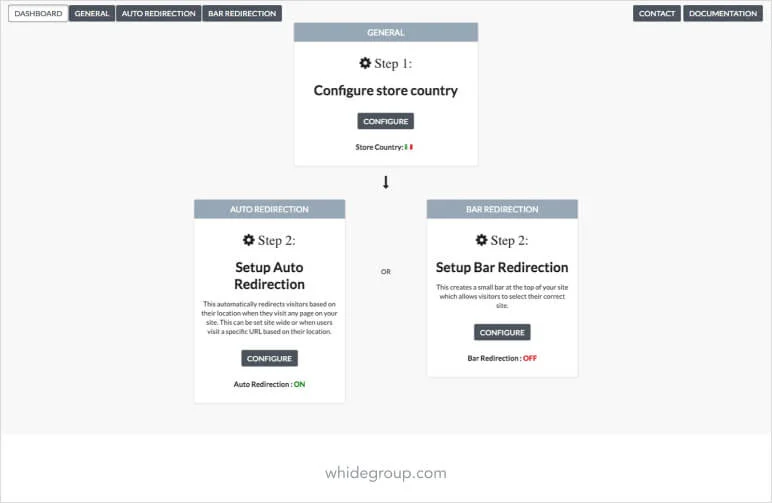 Best translation app for Shopify
A Shopify translation app is also very handy for merchants that sell internationally or in multilingual countries. Translate your shop by GTranslate is the best translate app Shopify merchants could ever dream of. It is the one and only free translation app available in the Shopify apps store. With 103 supported languages, your site will be automatically translated and available globally in minutes. It also provides paid plans with complete SEO features based on sub-domains. This can make your e-commerce store appear in search engines in different languages, which will increase international traffic and sales. The app features include:
A language selector for your shop
Google Analytics integration
A nice dropdown with flags
Flags with language names, and more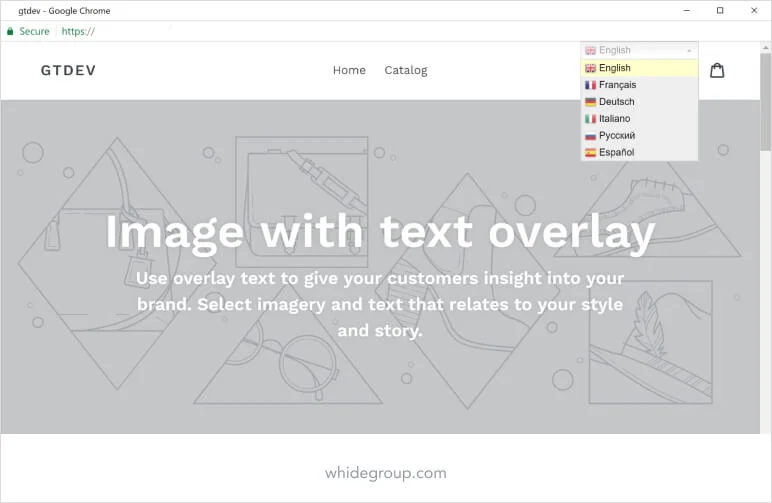 Currency converter app for Shopify
Currency Converter Plus by Code Black Belt automatically detects the customer's country and shows prices in their local currency. This is the only currency converter for Shopify that uses paid professional providers for exchange rates and the best paid IP geolocation service. Plus, it is highly configurable to suit the needs of e-commerce stores everywhere. It supports 222 available currencies, including Bitcoin, other cryptocurrencies and precious metals. The exchange rates are taken from reliable sources and updated every minute. For increased usability, the app provides a drop-down currency switcher to directly change the price where it is displayed. Merchants have a wide range of customization options on what currency format to choose, how many symbols to show after decimal separator and more.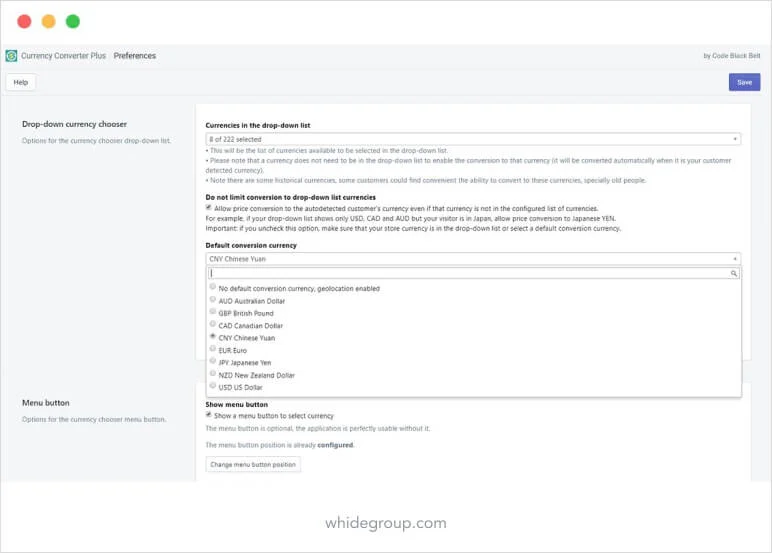 Form builder Shopify app
The best form builder app for Shopify that allows e-commerce merchants to create an unlimited number of contact forms within a website and don't require any coding experience is Form Builder by HulkApps. You can build advanced contact forms for generating leads, collecting payments, and distributing surveys. You can even track page views and more. It includes:
Captcha in multiple languages
File upload functionality
Google Analytics integration, and more
to track customer behavior and help you engage them effectively.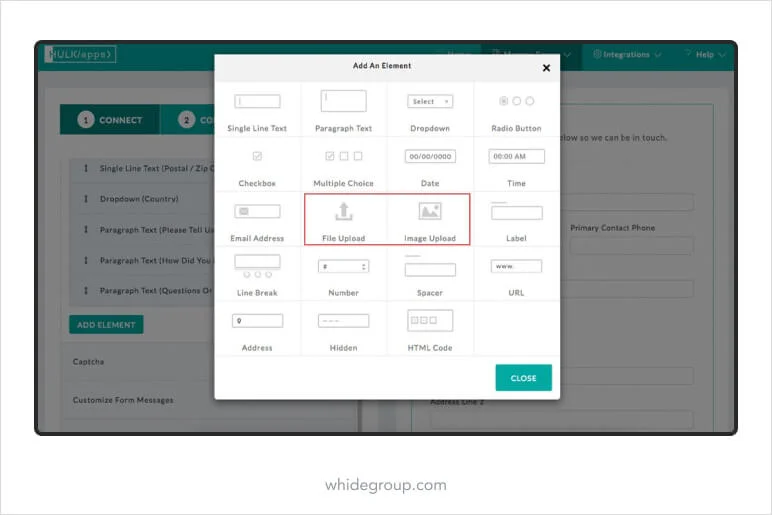 The Most Useful Shopify Apps for E-commerce Businesses Operating Multiple Sales Channels
The multi-channel approach for e-commerce is a modern way to provide a better experience for your customers. They can purchase from you directly within the various touch points, like eBay, Amazon, Google, Facebook, and more. This extended availability results in higher conversion rates and increases customer loyalty.
1. First, we want to highlight eBay Marketplace Integration by CedCommerce. It syncs catalog information from Shopify such as title, inventory, pricing, and order details on eBay. It further helps convey the details of orders received on eBay to create them in Shopify.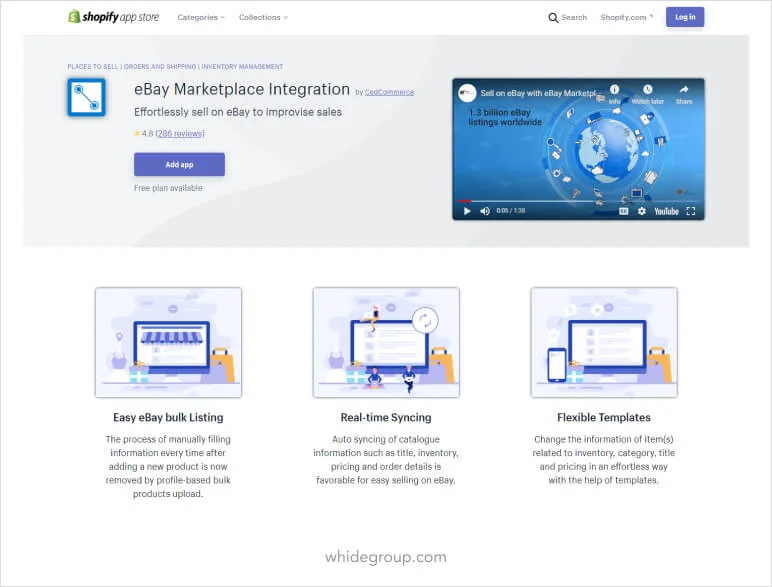 2. Another useful app is Google Channel by Shopify. This app makes it easy to list your products on free Google listings and promote them with Smart Shopping campaigns.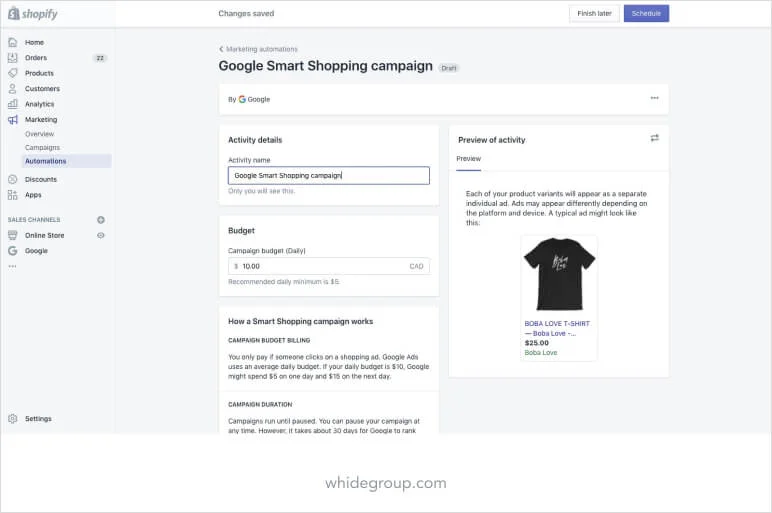 3. The one app we can name as the best Shopify sales channel app is Shopping Feed by Shopping Feed, Inc. It allows you to list, sync and manage products, inventory and orders within all the sales channels you use, and the Shopify store itself. It is an app for users that permanently operate in numerous sales channels. Shopping Feed offers a free plan for Google Shopping Actions Integration only. It also has paid plans ($50-700/month) allowing it to integrate Shopify stores with listings in 40 countries, connect PIM, ERP systems, etc.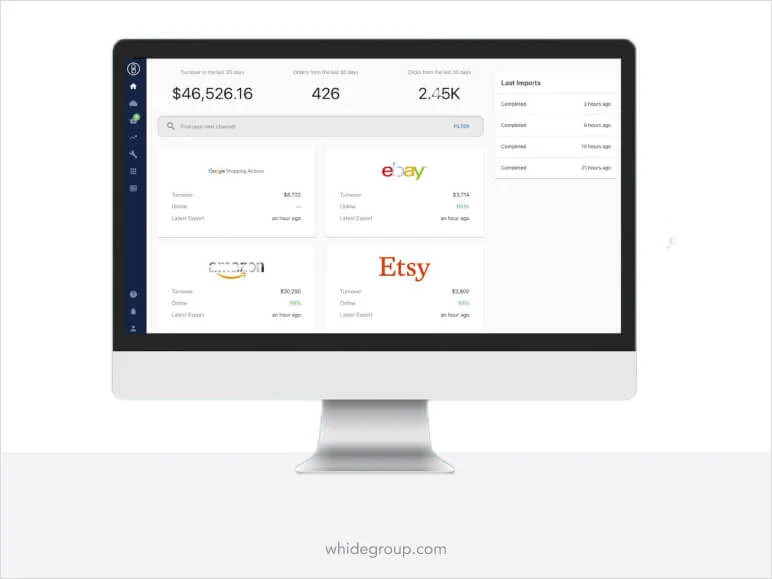 4. Another one of the apps by Shopify is the Buy Button channel app. It will be helpful for those businesses that promote their products or services via third-party sites like influencer blogs, landing pages and so on. This app allows you to create a Buy Button for any product or collection and add it to a website or blog to let customers checkout fast and easily.
Start Utilizing Multiple sales channels

Best Apps in Shopify for Different Business Models
The flexibility provided by Shopify in terms of choosing business strategies gives birth to thousands of new merchants every year. Whether you resell products, customize ready ones or manufacture them on your own, the Shopify app store offers a wide range of beneficial apps suitable for e-commerce businesses operating the most popular e-commerce business models. These options include apps for dropshipping, on-demand production, the best Shopify app for subscription, and more.
Best apps for dropshipping on Shopify
1. Spocket ‑ US & EU Dropshipping by Spocket includes a wide range of options:

Offers a huge range of US, Europe, Australia, and Canada based product providers
Provides real-time inventory updates and automated order processing
Supports AliExpress dropshipping cashback
It is possible to place bulk orders, fulfill multiple orders with one click and auto-purchase all orders within minutes without a limit.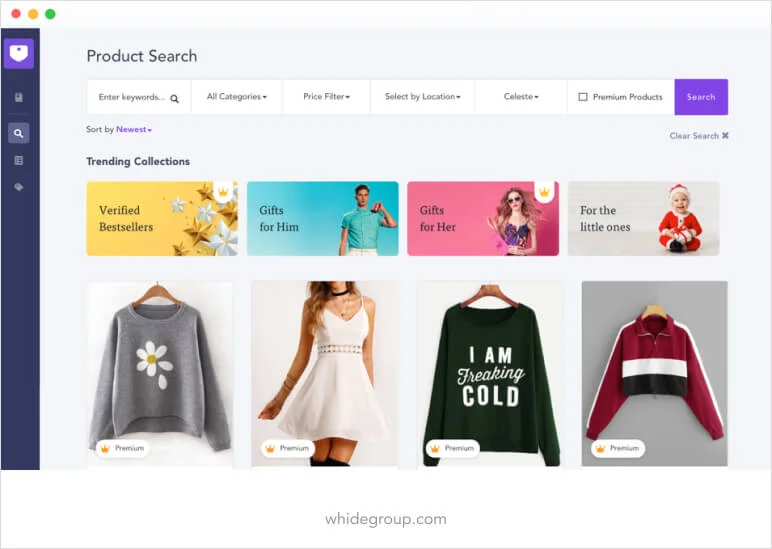 2. DSers‑AliExpress Dropshipping by DSers allows:

Managing multiple Shopify stores in one account
Placing multiple orders to AliExpress in one click
Creating bundles and "buy one, get one free" (BOGO) offers.
Product management is easy and intuitive, and orders can be delivered to the USA in 10 days.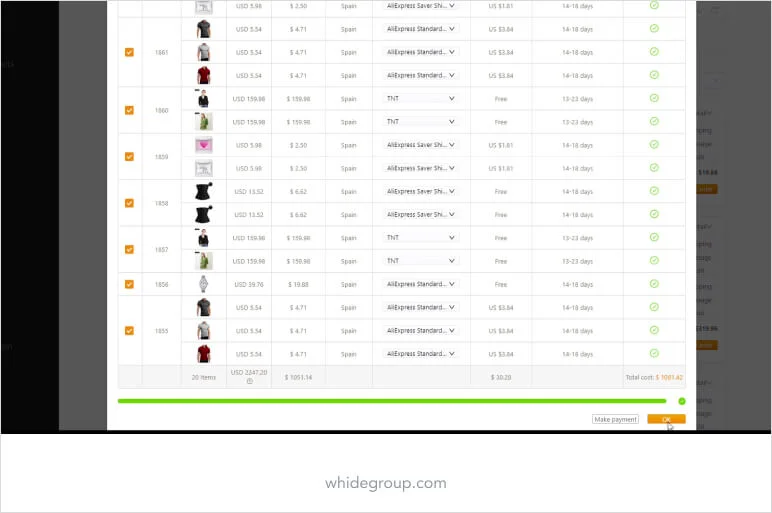 3. EPROLO‑Dropshipping & Branding by Eprolo. This Shopify dropshipping app covers product sourcing, warehousing, supply management, and packing and shipping for Shopify businesses. All products are stored in one warehouse, so customers won't receive multiple packages for a single order. It supports customizable packing and branding. Fast shipping is available for US and UK businesses, as well.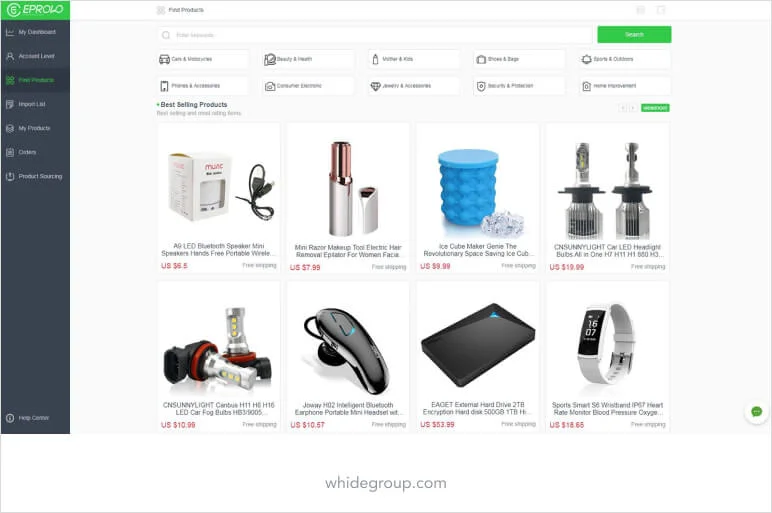 These three top Shopify apps for dropshipping are all free to install. However, to successfully use it you must cover the cost and shipping charges for items sold.
Essential apps for Shopify print-on-demand production and products personalization
1. Printful: Print‑on‑Demand by Printful is a print-on-demand dropshipping and warehousing app with an impressive product catalog that ranges from clothing and accessories to home decor. With fulfillment centers in North America and Europe, and partner facilities across the globe, Printful handles inventory, production, and shipping. In such a way Shopify store owners can fully focus on building the business.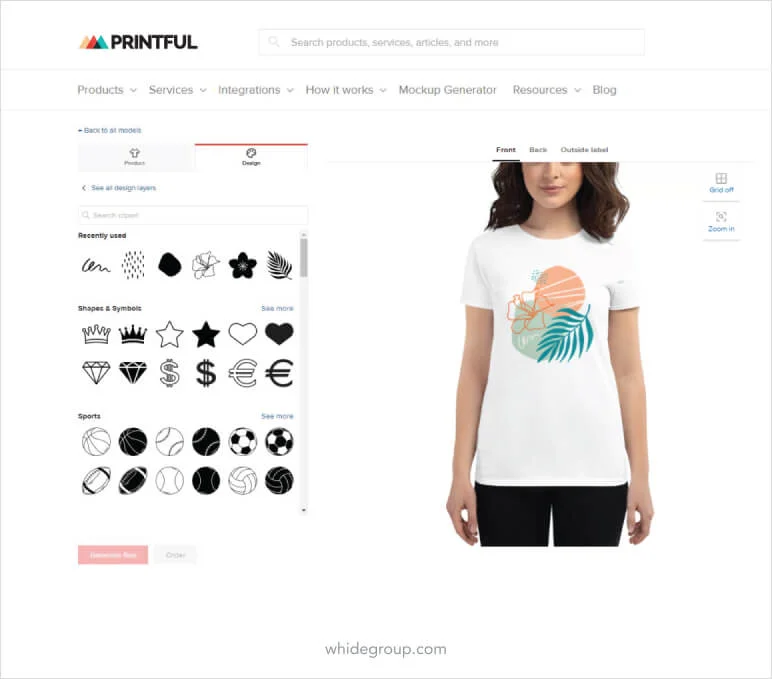 2. Zakeke Product Customizer by Zakeke (Futurenext Srl) is an innovative product customization app that lets customers personalize any product (clothing, promotional gifts, paper products, shoes, jewelry, watches, etc). Customers can:

Add text to products with their favorite fonts
Change color, size, orientation
Pick artwork from a pre-selected list
Upload their own images
With the help of Realtime 3D and Augmented Reality tools, customers see 3D models of their customized products allowing them to visualize their orders in a real-life fashion.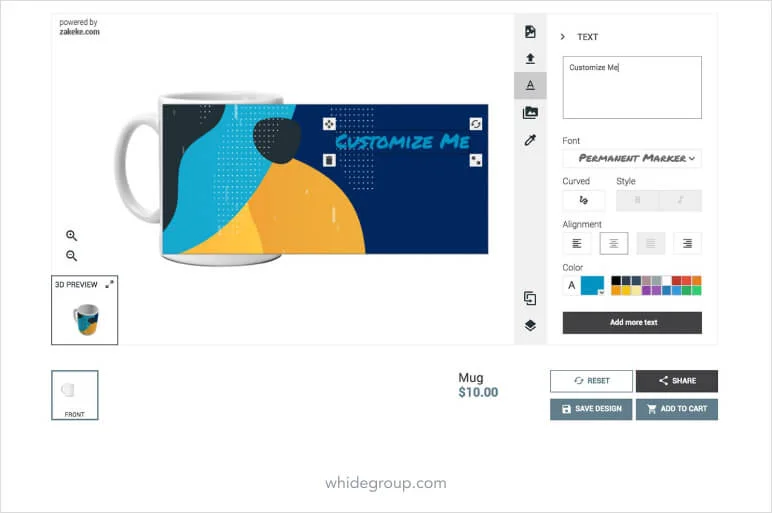 Best Shopify subscription app
Subscription is a primary business model now for many big companies (Netflix, Spotify), which offer Software as a Service solution. It is also widely spread among other industries. For example, fashion and beauty – selections of cosmetics and skincare products, men's grooming replenishments, and others. Subscriptions are not just a stable source of growth for your business. They also maintain strong relationships with your customers and build loyalty. The Subscription E-Commerce Market report by UnivDatos Market Insights states that almost 75% of businesses that sell direct to consumers (D2C) will offer subscription services by 2023.
One of the ways we gained subscription functionality experience came from our Postfly project, created for a client that sells fishing supplies boxes. ReCharge Subscriptions were replaced by Bold Subscriptions to meet the new needs of the client's business. We didn't simply integrate Bold Subscriptions which enables the subscription logic only on product pages. Instead, we customized its default logic to make it more flexible and optimized the customer's buying journey.
We can't say that there is a single subscription app that is perfect for each store. You need to base your choice on the specifics of your business.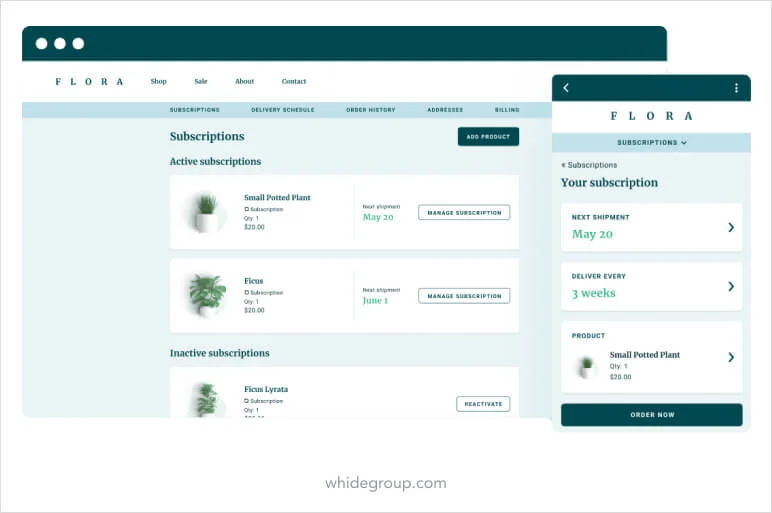 ReCharge Subscriptions by ReCharge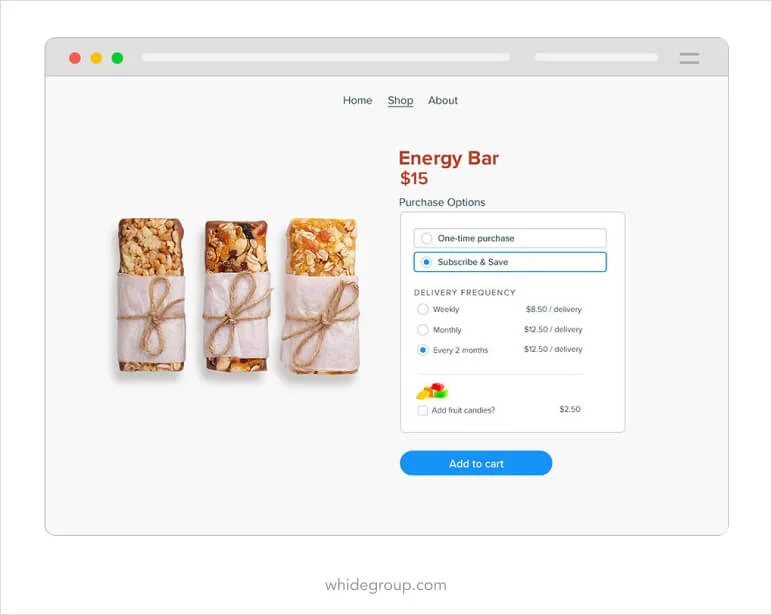 Learn more about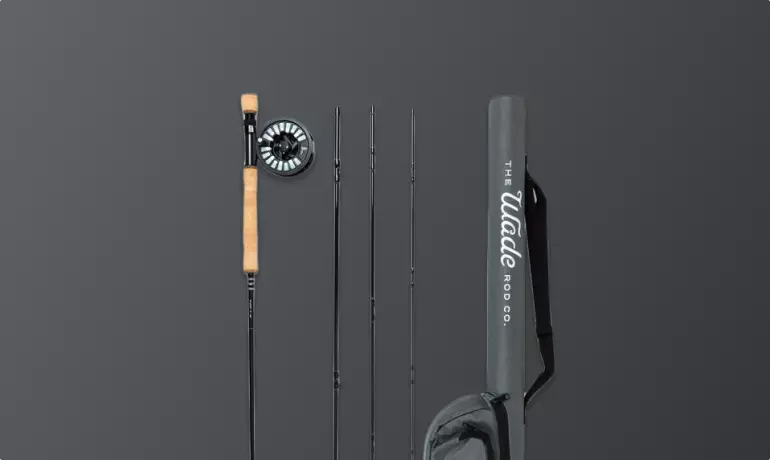 You can also consider the Seal Subscriptions app which utilizes a default Shopify checkout process and has a free plan with a 0% transaction fee. It also adds a subscription widget next to the add-to-cart button on product pages. So, when your customers subscribe and the time comes to pay for their next recurring order, the app sends an automatic email reminder with the checkout link where they can pay for it.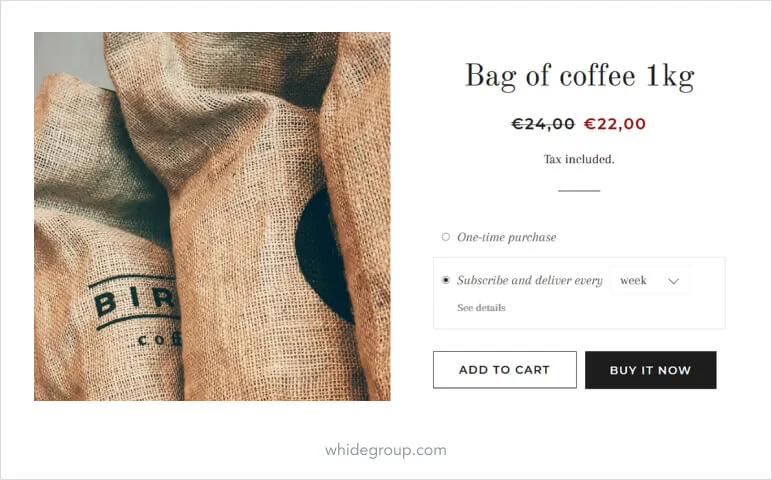 Best wholesale app for Shopify
We suggest our clients think about wholesaling on Shopify in two aspects:
1. The first one refers to cooperation with B2B clients regarding large order volumes and special mass order forms. Of course, this implies customer segmentation and special pricing and payment terms for different segments.
2. The second approach is related to provision of tiered pricing options for all categories of customers. You can show these options on product pages for customer consideration.
The best Shopify app for wholesale, which offers multiple wholesale pricing and tiered pricing on products, is Bold Custom Pricing: Wholesale by Bold. It allows you to:
Create several pricing levels for products
Tag customers manually or automatically to give them different pricing
Offer different discounts for different groups of products.
Customers simply need to login into their approved wholesale account and discounts will be applied automatically.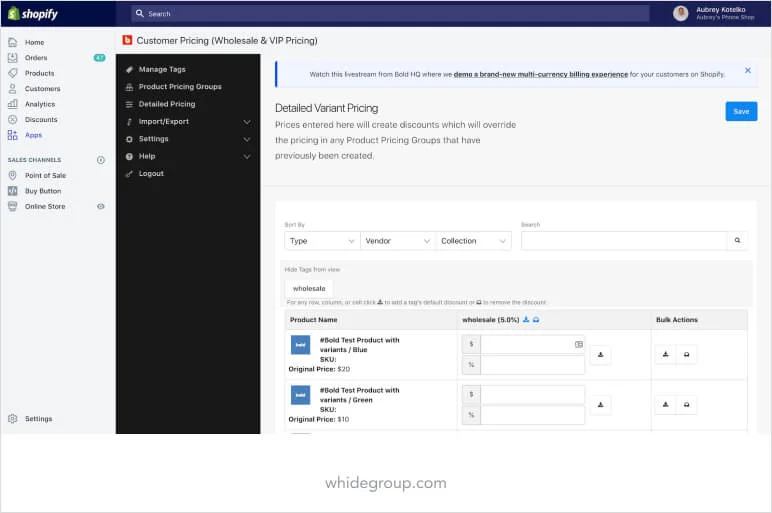 Whether your goal is to start a wholesaler program, entice new customers, or just reward loyal and repeat purchasers, there is nothing simpler than using Volume & Tiered Discounts by HulkApps. With its assistance, you can create bulk pricing, quantity breaks, product discounts and tiered pricing sales. It works across the entire product catalog and offers unlimited groups of tiered discounts for different products and collections, at a fixed discount amount or a percentage.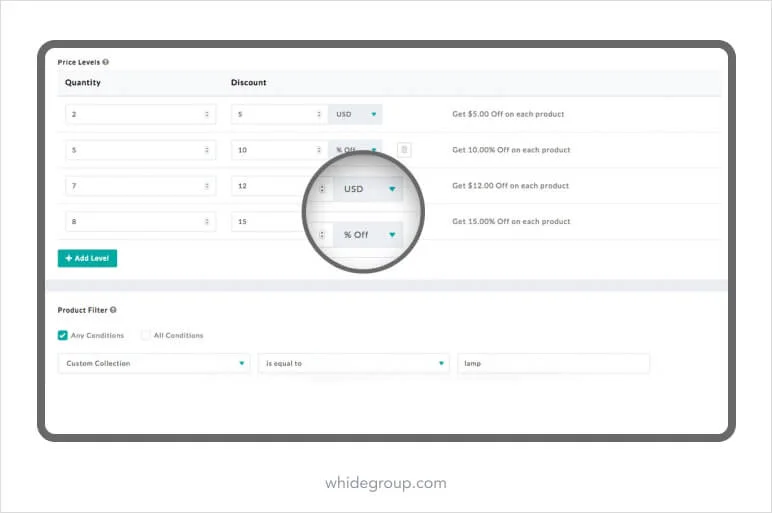 There is also a great app called Wholesale Order Form & ReOrder by Wholesale Helper. It creates a single page order form with the entire product list where B2B and retail customers can add multiple products directly to their cart. This is perfect for stores with returning or wholesale customers who know exactly what they want to buy.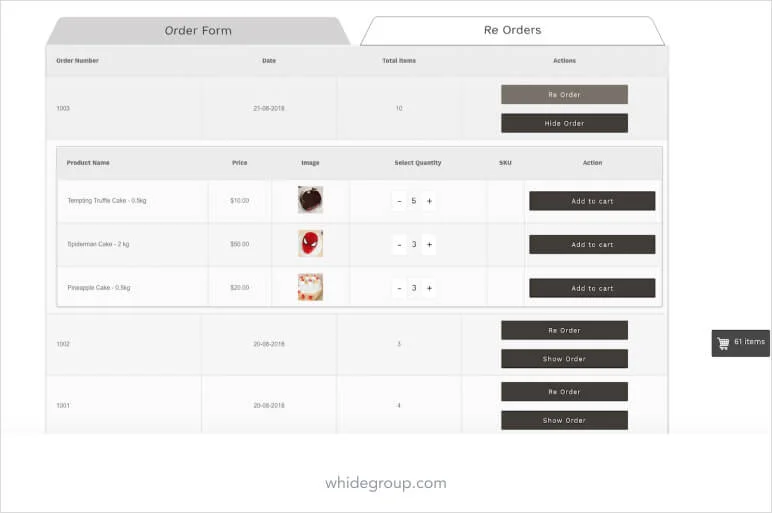 Marketplace app for Shopify
The Marketplace business model becomes more and more popular each year. On the one hand, it is very convenient for customers. They can purchase a variety of products from one store instead of making a few orders from different websites. On the other hand, it is less risky for business owners as they don't sell anything themselves. Instead, they charge a commission to the vendors selling on their marketplace. Marketplace is not a trivial functionality to be implemented inside the Shopify platform. Merchants usually choose other more technically powerful platforms for that. This explains why you won't find a big variety of apps in the Shopify app store.
The best Shopify marketplace app among the three available is Multi Vendor Marketplace by Webkul Software Pvt Ltd. It is a paid Shopify app with plans that differ by the number of active sellers in a store. It facilitates the process of adding sellers and keeps track of their sales. Sellers (vendors) can have their own profile and collection page with a variety of products. The Admin (merchant) can easily set individual commissions and global commissions for all the sellers.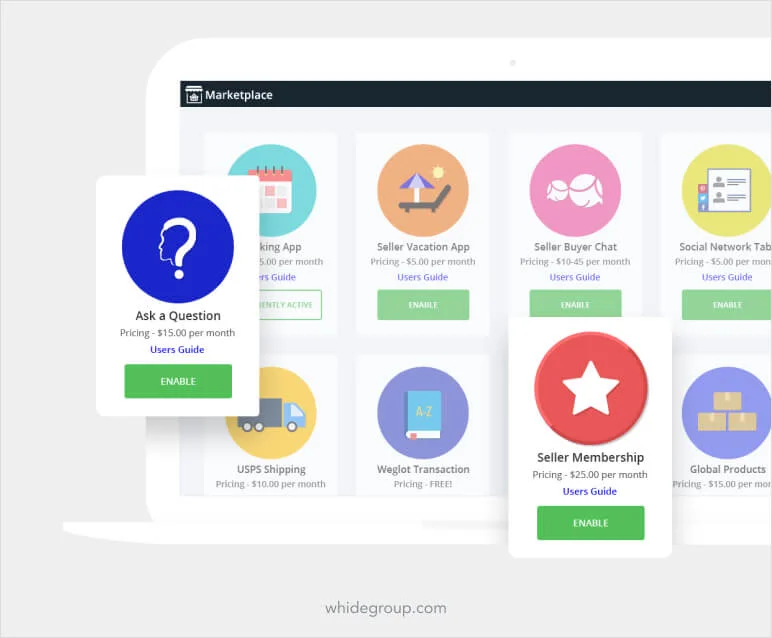 Shopify apps you must have to sell digital products
The Shopify platform is convenient for selling digital products. However, you can only find a few apps in the Shopify store that offer such functionality. We have chosen two of them. They have both free and paid plans that can suit the needs of small to medium e-commerce businesses.
1. With Easy Digital Products by Axel Hardy you can attach any files to your products or variants automatically, easily customize the user interface, buttons, and texts. What is also important – you can import your own license keys or use the app algorithm to automatically generate a unique license key per order.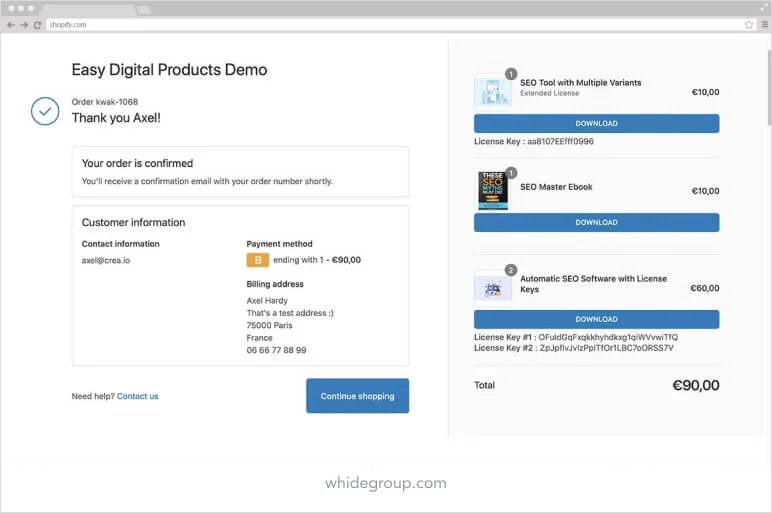 2. Digital Downloads by Uplinkly seamlessly integrates with the Shopify store design. It also provides flexible delivery methods. Downloads can appear immediately after checkout, on the Order Status Page, sent via Email, be displayed on the customer's Product Download Page or you can even provide external links. It is possible to use streaming for audio and video, protect PDFs with encryption, and have PDF stamping. This is a great app with no restrictions for selling bundles of physical and digital products together.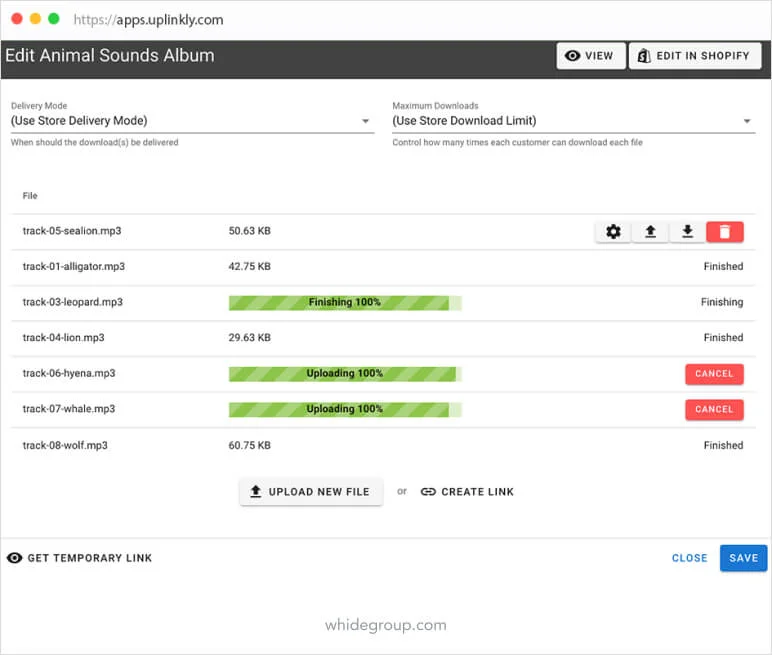 Final Thoughts
If you are disappointed because this is the end of our compilation of the top Shopify apps for e-commerce businesses, feel heartened. We have prepared a second part of the best Shopify apps for 2023 in another great piece of content. E-commerce business requirements and the necessary optimizations to store functionality are vast and wide. Take your time in considering improvements in your Shopify store to boost the customer experience and increase sales volumes.
In case you have any questions on how to choose Shopify apps or how to extend the default app functionality, don't hesitate to contact Whidegroup for advice and support.
https://whidegroup.com/wp-content/uploads/best-shopify-apps-small.webp
300
772
Anastasia Zhuk
https://whidegroup.com/wp-content/uploads/whidegroup_logo.png
Anastasia Zhuk
2021-01-04 18:16:54
2023-05-09 17:11:20
Top Shopify Apps to Efficiently Run Online Business in 2023 (Part 1)
Top Shopify Apps to Efficiently Run Online Business in 2023 (Part 1)