Loyal customers, they don't just come back, they don't simply recommend you, they insist that their friends do business with you.Chip Bell
The challenge of attracting and retaining customers has always been one of the toughest problems in the business, with the best and brightest marketers' minds focused on trying to solve this problem over the years.
So far, one of the most effective solutions to this problem is the implementation of a customer loyalty program of some sort. The impact of customer loyalty programs on customer retention is substantial. Plenty of business owners already take advantage of such an approach. As a result, they find it effective and beneficial in terms of doing business.
Loyalty programs implementation is just one of the numerous steps you'd want to take to convert more regular visitors into your loyal customers. To learn all other steps, operate this
E-commerce Conversion Optimization Guide
that help brands to grow.
Dealing with e-commerce development, the Whidegroup team has repeatedly been faced with customer loyalty programs. To put this article together, we combined our practical experience with the best existing practices that are used for creating a customer loyalty program. Learn everything you need to know about customer loyalty programs from this article.
What is a Loyalty Program for Customers?
Currently, there are many responses to the question of what is a loyalty program. In light of our multi-year experience, we developed our own definition.
In a nutshell, a customer loyalty program is a long-term marketing strategy. It's designed to encourage customers to buy at or use the services of a business associated with the program. Such encouragement is normally represented as a customer retention program offering various benefits to customers:
Discounts
Rebates
Free products and more
What Are the Benefits of Customer Loyalty Programs to an E-commerce Business?
The benefits of loyalty programs to customers are evident and well-known to everyone. The major ones provide customers with opportunities for saving money, entertainment, gaining access to unique offers, and so on.
But whether implementing customer loyalty programs is advantageous in terms of doing e-commerce business? Numerous stats along with the experience of numerous online business owners claim it's really profitable in many respects. Let's look at the ways of how your business can benefit from loyalty program implementation.
Retaining existing customers
According to numerous stats, repeat customers are the most loyal ones for the business. Why?
1. They spend more money.
2. They are easier to sell to.
3. Loyal customers promote you via word of mouth.
That's why they should be your first priority to target your online customer rewards programs.
In order to give you an even deeper impression on what are the benefits of customer loyalty programs to online business in terms of retaining existing customers, we've prepared some stats. You're welcome to take a look at them below.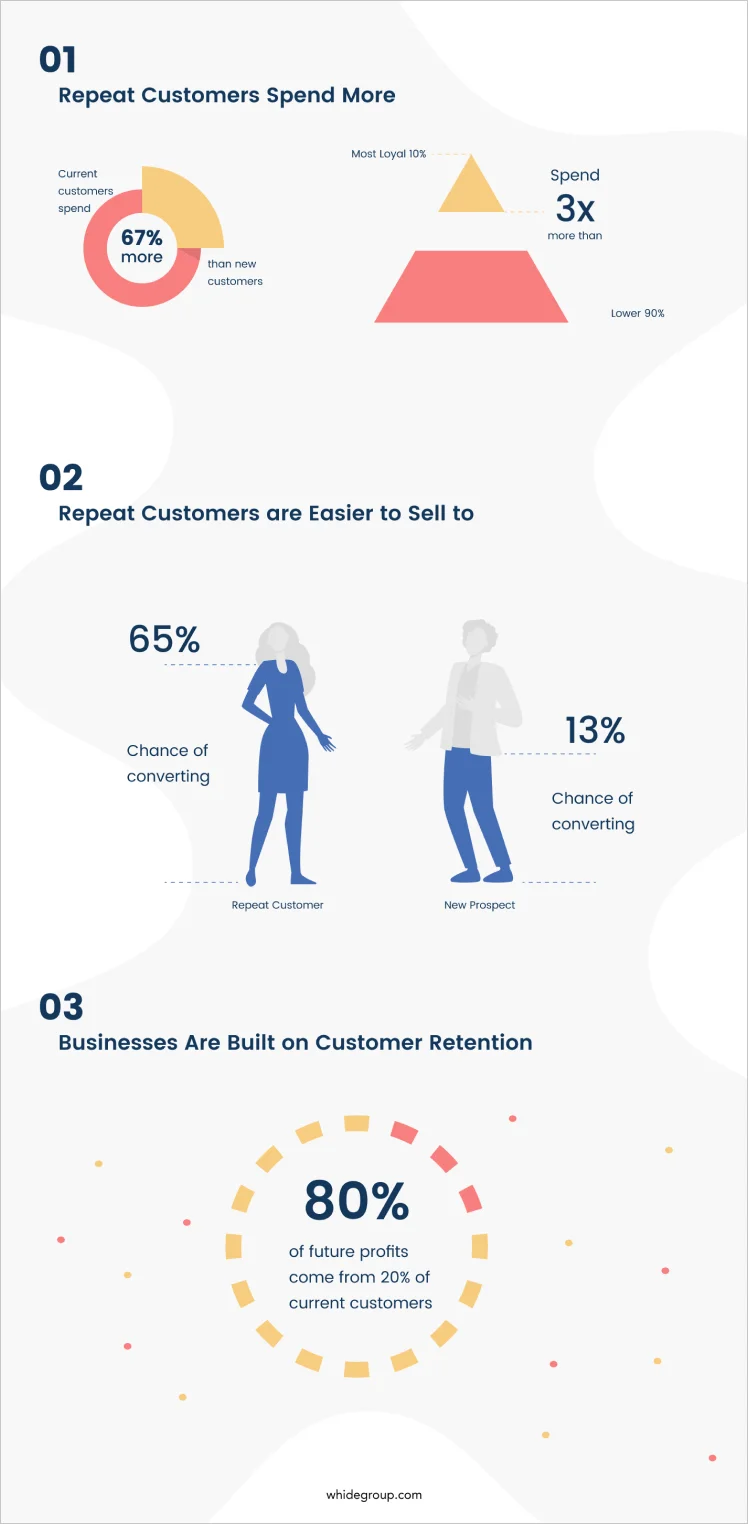 Fostering your repeat customers who make purchases from your business regularly is a must. Building your online customer rewards programs around this idea will help you to
Retain more customers
Grow their loyalty
Grow your profits!
Attracting new customers
Paying attention to new customers would be a good addition to the previous point. Designing a really attractive customer loyalty program would be nothing but a real boost to growing your audience. The number of your customers will grow respectively. And if you treat them properly, you'll convert them into repeat customers that will come back to you again and again.
Conversion rate optimization (CRO)
The concept of CRO itself lies in increasing the ratio of users performing the desired action within the website. The strategy for obtaining this includes the creation of specific forms of engagement between customers and the brand.
We broke down every aspect of

Offering your customers to take part in a well-designed and though-out customer loyalty program is a good way to implement such engagement, and consequently, increase the conversion rate of your website.
Collecting customer data
You can ask customers to provide more information about themselves in order to take part in your customer loyalty program. The benefits of collecting customer data are numerous. Having it on hand, you can utilize it to:
Improve the customer experience
Refine your marketing strategy
Provide personalized offers to customers
Turn the data into cash flow
Find plenty of other methods to profit from the gathered data
Increasing customer lifetime value
Customer lifetime value (CLV) is one of the key stats you should track as a part of customer experience program. Essentially, CLV is the total worth of a customer to a business over the whole period of their relationship.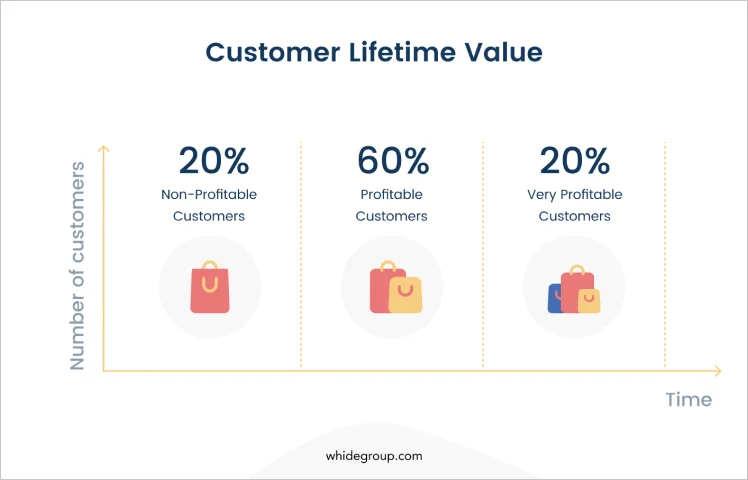 It's an important metric as it costs less to keep existing customers than it does to acquire new ones. So, increasing the value of your existing customers is a great way to drive growth.
Reducing promotional costs
Promotional costs are constant companions to any online business, often resulting in being a dramatic item of expenditure. By opting for customer loyalty program implementation, you can expect reduction costs for promotion and advertisement. The reason? These customers will gladly share details about the new loyalty program with their friends and family. Consider this as an additional means of promotion. Taking this into account, you can even consider lowering your budget for promotion.
Types of Customer Loyalty Programs
To date, types of loyalty programs for customer retention are numerous and represented in different forms and variations. You're free to choose only one of them or use a mixture of several.
Below we explore the most popular customer loyalty programs for small businesses, mid-sized ones, and enterprises. We're sure this review will help you choose the type of customer loyalty program most appropriate for your business.
Earn & burn program
One of the most popular in comparison with other types of customer loyalty programs is an earn & burn program. Programs like this imply giving rewards to the customers on the base of the amount they spend at your business. This program is one of the most popular ones due to its simplicity, ease of implementation, and further support. It is also known for its effectiveness. After the program implementation, business owners experience reducing churn rate and increasing transaction amounts.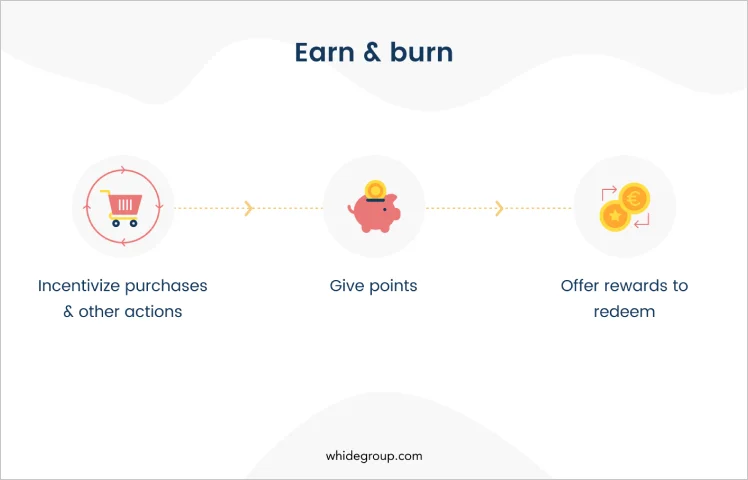 An earn & burn program motivates customers to stay invested in your company over the long term in hopes of accruing enough points to redeem them for something really special.
Tiered program
Tiered programs encourage customers to spend more in order to reach the new level of rewards by advancing through the ranks. By gaining access to higher levels, the customers get more and more rewards, increasing their engagement rate and thus bringing you more profit.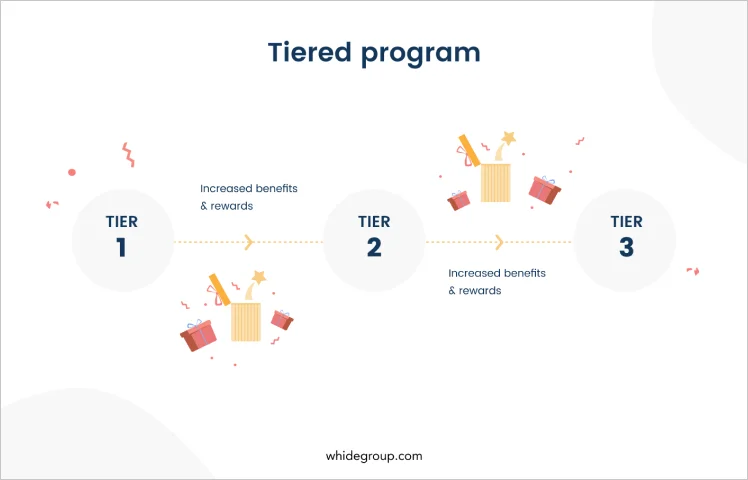 Value-based program
If the essence of your customer loyalty program resonates with the inner values of your customers, that may result in an unprecedented growth of customer loyalty. The reason is simple: customers are happy to become brand-ambassadors if they like a particular brand itself and share the same values.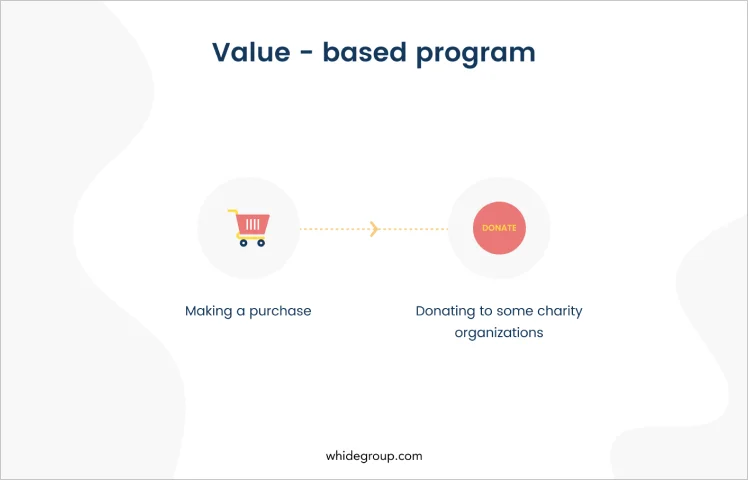 Let's say, you run an online pet store. Most likely, your customers are people who are concerned with the welfare of animals. You can launch a program where customer purchases turn into currency: every time a customer makes a $50 purchase, you donate $5 to a chosen animal rescue organization. In such a way, you give your customers much more than a reward. Instead, you give them a sense of meaning, which people appreciate much more.
Gamified program
This type of customer loyalty program is based on entertaining and engaging customers via game-like interaction. This can be realized in several ways. For example, you can consider an option to offer your customers to complete certain challenges, or collect badges. Your customers will appreciate such an interaction, and they will want to come back to experience such a fun customer experience again and again.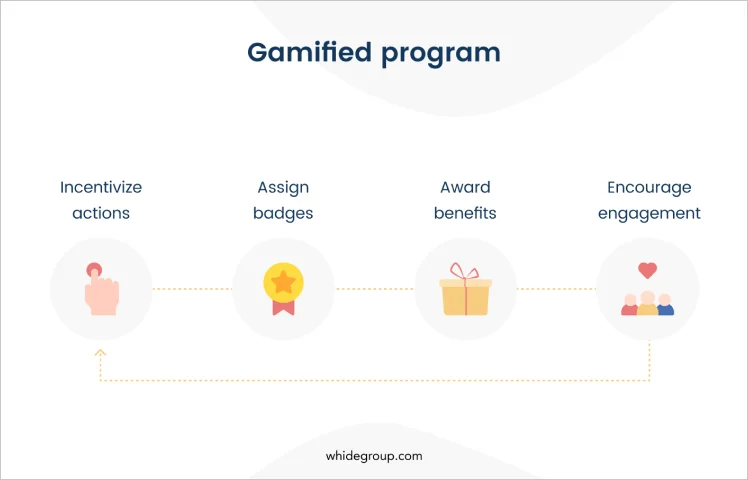 Paid program (VIP)
The main principle of a paid program is offering your customers something really unique and exclusive, which is also inaccessible to regular customers. Customers can join VIP member clubs by making regular (monthly or annual) membership fees. In reward, you can offer access to special services, discounts, unique opportunities, or other benefits.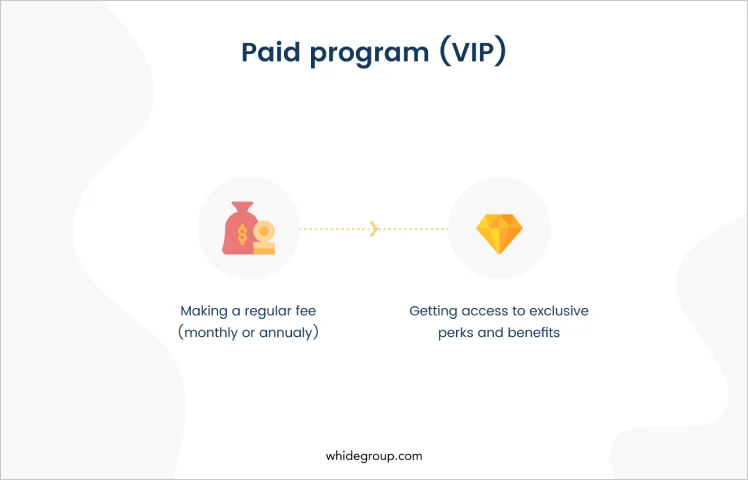 Hybrid program
Last but not least in the list of types of customer loyalty programs is a hybrid program.
As you can imagine, a hybrid program is the merge of two or more types. Creating such a mix can be an advantageous solution for one's business. The reason is that you can combine the best practices of different types of customer loyalty programs under this approach to exclusively fulfill your business needs and reach the new heights in running your e-commerce business.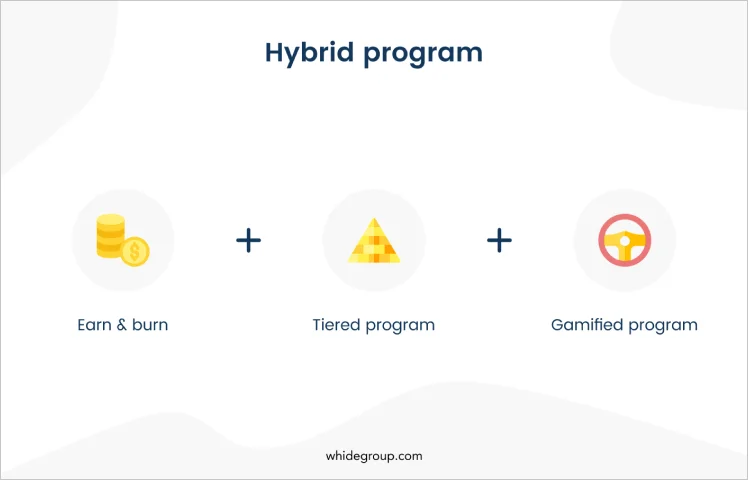 How to Design a Loyalty Program for Your Business
It's likely at this point, you already have some considerations about how to start a customer loyalty program of your own and what it should look like. If so, then next is the time to learn more about the stages of loyalty program development and its launch.
Currently, there are plenty of strategies in creating customer loyalty programs. In this article, we disclose the one we consider the most reliable.
The workflow on creating the loyalty program for your e-commerce business is a complex process that includes many interrelated activities. You can learn the stages of designing the customer loyalty program from the scheme below: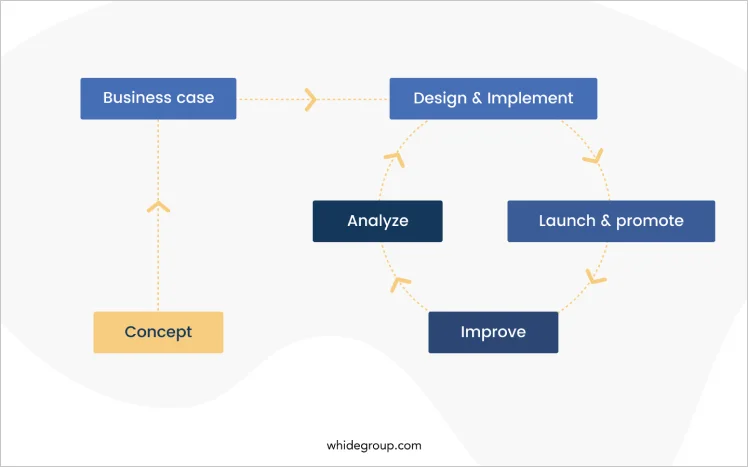 Work on the general concept
The answer to the question of how to build a customer loyalty program starts here, from developing a general conception, setting clear loyalty program goals, and keeping in mind crucial e-commerce performance indicators to track. That's why it's important to build the proper basis for your program by answering the following questions:
What are your long-term objectives?
Do you have any existing customer loyalty program which can be enhanced, or do you need to develop a new one from scratch?
How can you make the customer loyalty program a natural part of your brand?
Do you know the needs of your customers well enough to offer something relevant to fulfill these needs?
If you have clear answers for every question from the list, congratulations – you're ready to proceed with the next stage of online loyalty program development!
Create the design
When it comes to loyalty program app design preparation, there are two options possible: you can consider the option to create the design yourself, or address a trustworthy design agency with a proven track record. The first case is beneficial in terms of cost-efficiency: you'll save funds. The second option is advantageous since it allows you to create a unique and alluring look with a spark of exclusiveness. If you're hesitating to choose between these two options – we'd recommend you to consider the option to hire professionals. In doing so, your program will have more chances to be successful.
Launch and promote
Consider your loyalty program as nothing other than a product. With that in mind, ask youeself, what does any product need before it is released? Right, it needs promotion. To develop a robust customer loyalty program promotion, we recommend that you pay particular attention to such factors as building effective communication with your customers, highlighting the program benefits, and keeping a constant focus on tuning your programs. That's it.
Analyze and improve
After you've launched your program, you need to track how successfully it hits your objectives and KPIs. We recommend learning the list of the most popular analytics tools that are used for e-commerce analytics and find your perfect one. You can also consider an option to combine several tools to create a powerful mix to fulfill all your business needs.
The Best Practices to Design a Loyalty Program
Now, that you've learned the basics of how to implement a customer loyalty program, you may be interested in getting some insights about making it even more attractive and outstanding. So, the next question for you to answer should be something like: what are the ways to improve customer loyalty?
To write up this section, we put together our experience with the existing customer loyalty program best practices we found after investigating top e-commerce businesses. Proceed with reading, find your inspiration below, apply the best customer loyalty program ideas, and reach new heights in doing your online business!
Make it sleek and appealing
The point of departure for every successful loyalty program is its attractiveness. So, it makes sense to put forward some effort in making the program really appealing and attractive. How to best achieve this? It's all about the wow-factor here. We recommend you to focus on the following factors:
Coming up with a great idea in the background
Creating a cool program name
Inventing catchy loyal currency
Build an emotional connection with your customers
One more idea you can use to answer the question "how to improve a customer loyalty program" is simply making a positive impression. This strategy has always been a surefire way to increase customer loyalty rates by adding a little adventure and mystery. The secret of such an approach lies in addressing people's desire to be amazed and make discoveries. Plus, when they aren't aware of a gift, receiving it for the first time yields an emotional high – one that they will want to experience again and again. You can profit from opting for this type of program by rewarding customers when they least expect it, or when they complete hidden objectives that are important to your business.
Be present in the daily life of your customers
When designing a program for your online business, it's necessary to realize that the loyalty program best practices are based on building relationships with your customers. One of the most obvious answers to the question "how to increase customer loyalty" is just being present in their lives constantly. And the only reliable way to do that is to communicate with customers – not only about the products or services business offers, but provide added value by advising, consulting in other related topics, engaging them far beyond the classic buying cycle. When customers are attracted not only to the benefits and rewards but with your brand itself, your business will get the chance to stand out and become a priority over your competitors.
Reward your top-customers with VIP perks
All people strive for the feeling of exclusiveness and uniqueness, and you can use this in your favor when designing your customer loyalty program. So, how to create a customer loyalty program given this fact? The main idea lies in offering your customers something rare, and something that's limited for others. By doing so, you make your customers feel special. Such an ego boost would be a powerful motivating factor in making a purchase decision.
Let's look at how it works in detail. Let's say, you can benefit from implementing the customer loyalty program if you have a tier system. Then you can add one extra invitation-only tier at the top – this approach ensures only top customers that spend the most have access to this status. Lower-ranking customers would likely want to have the same exclusive treatment and will make efforts to reach the same status.
One more way to strengthen a customer loyalty program by this approach is to create some inner circle or special interest club within the customer loyalty program. Under this approach, the members spend points to enter this inner circle. After getting access to this club, customers must be rewarded with some VIP-perks and benefits.
Ways of Customer Loyalty Program Implementation
Currently, the two most popular e-commerce platforms, Magento and Shopify, which together own over 31% of the market share, offer plenty of various solutions for customer loyalty program implementation.
If you use Magento to run your e-commerce business, you may be interested in finding a great Magento 2 loyalty program extensionoption for your store. We recommend you to draw your attention to the Reward Points extension by AheadWorks and Reward Points by Mirasvit.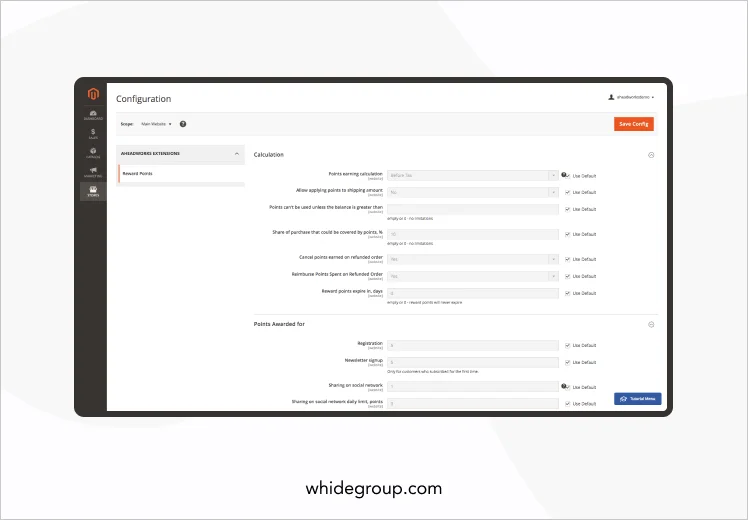 If you have opted for Shopify to develop your online store, you need to learn more about Shopify loyalty program apps. The list of the best loyalty program apps for Shopify looks something like this: Smile.io, Loyalty points manager and LoyaltyLion.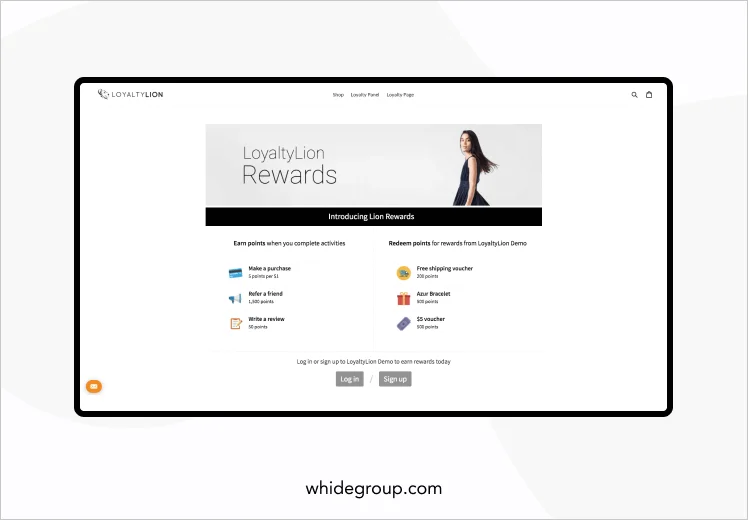 Any of the ready-made extensions and apps can be tailored to the needs of your business and customer loyalty program ideas by a qualified e-commerce development company. Another way to implement a customer loyalty program is to develop it from scratch. This approach eliminates unnecessary functionality installed together with the extension and ensures the smooth integration of this new functionality with your e-commerce store. As you can see, the answer to the question "how to implement loyalty programs" is not all that challenging. All that is required of you is a mindful approach and clear expectations.
Cost of Customer Loyalty Programs Implementation
The cost of implementing a loyalty program consists of many elements and is affected by different factors. Below we consider the most crucial items of expenditure and costs involved in implementing a customer loyalty program in order to get a full view of the price.
Preparational cost
No one great loyalty program can exist without thorough planning, so pay the utmost attention to this aspect. Modeling every little aspect plays a vital role, and you should be ready to splash out on expenses for the following activities on this stage:
1. Technical research. You can do it on your own from scratch, or rely on a trustworthy agency.
2. Creating the loyalty program structure. This stage implies planning: determining rewards and tiers, planning segmentation, and scheduling marketing communication.
Cost for development
Every loyalty program cost calculation should include cost for the program development, which technically falls into two elements. The first one is the cost of the loyalty platform itself. No matter what option you opt for – third-party solutions, signing a paper with some SaaS provider, or building your own program – any option has a price tag that can't be ignored. The second element is the cost of human resources engagement. Most likely, you'll need the assistance of a project manager, developer, and a loyalty program or business growth consultant. Also do not forget to include the person who'll be in charge of the program management on a daily basis.
Expenses for rewards
A perfect rewards catalog should include a wide variety of rewards: from the basic up to the experimental. Cost of each reward should be neatly calculated taking into account aspects such as the time and effort being spent to design these rewards and the cost of delivering the reward (e.g. if you opt for some physical reward, make sure you've handled the shipping issue).
Promotional expenditures
Even if you have the best customer loyalty program ever, it won't help you if nobody knows about it. The best way to tell the world about the program is advertising. So, don't forget to include expenditures for promotion when calculating the cost of customer loyalty programs. Promotional expenditures consist of the following elements:
1. Arrangements. Come up with design elements and slogans that align with your brand (e.g. visualize customer levels, rewards, or activities, and use language that creates a feeling of exclusivity).
2. Campaign launch. Announce your program launch via Facebook or Google Adwords, email marketing or even consider an option to create a promo video.
3. Lifetime management. Follow-up emails, promotions, contests, special events organization – use everything to keep your loyalty program alive.
Post-launch expenditures
After you launch the program, the story doesn't end. At this stage, you should be ready to invest your time and funds for some post-launch activities, which include getting customer feedback about the program, further processing of the results, and making fixes and updates to the program.
Management cost
Do not forget to include management expenditures when calculating the cost of customer loyalty programs. Right after you launch your program, you need an appointed manager. We recommend you to consider hiring a specialist for carrying out the following tasks:
Keeping your customer loyalty program up to date. Sooner or later you'll need to update the program to keep it interesting and attractive to your customers.
Analyzing the results and making necessary tweaks to the campaign. To get the best result possible, you can hire a financial specialist or loyalty consultant.
Providing customer support service. Staying in contact with your customers is vital for running a successful program.
Overview of the Best Digital Customer Loyalty Programs
Reviewing one example of a customer loyalty program is not enough, even if it's a really detailed review. Since our goal is to provide you with the maximum dose of inspiration, we did a thorough analysis of several of the most successful existing customer loyalty programs. In this section, we review three of the best customer retention programs, diving deep into their mechanics, and revealing the secrets of their attractiveness and success.
Swarovski: Feeling of luxury and exquisiteness
One of the most successful customer loyalty programs examples worldwide is the program run by Swarovski – an Austrian-based producer of glass. Swarovski is considered to be a luxury brand, so in order to keep that perception, their program needed to be a luxury as well. Thanks to exclusive rewards (invitations to events, priority access) the connection between the loyalty program and the brand itself appears seamless and unforced.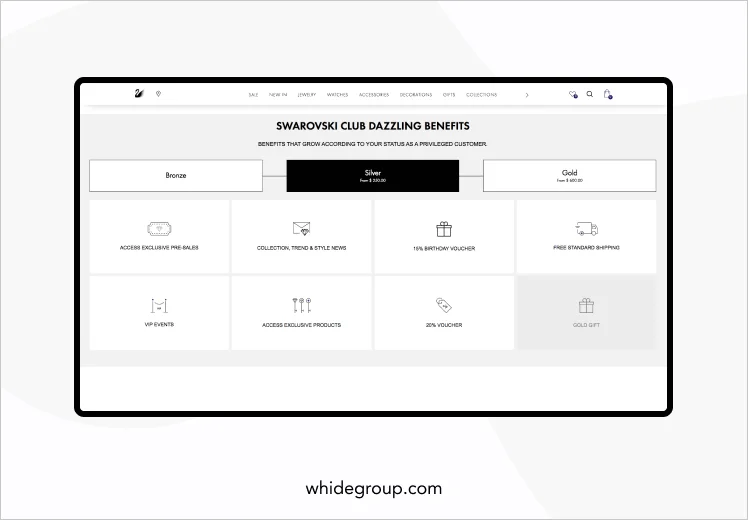 If a user already owns an account on the website, they need to log in, and just below the email address, the user can see the option: "Be Swarovski membership details". After inserting their membership number and clicking "Save", the user will get a notification that their details have been registered to their account.
Sephora: Beauty-insider guide
One more case in our list of successful online loyalty programs examples is Sephora's loyalty program. The program, which is known as "Beauty Insider", is free to join for anyone. The essence of the program lies in giving the users points for the money being spent. All members earn 1 point per $1 spent.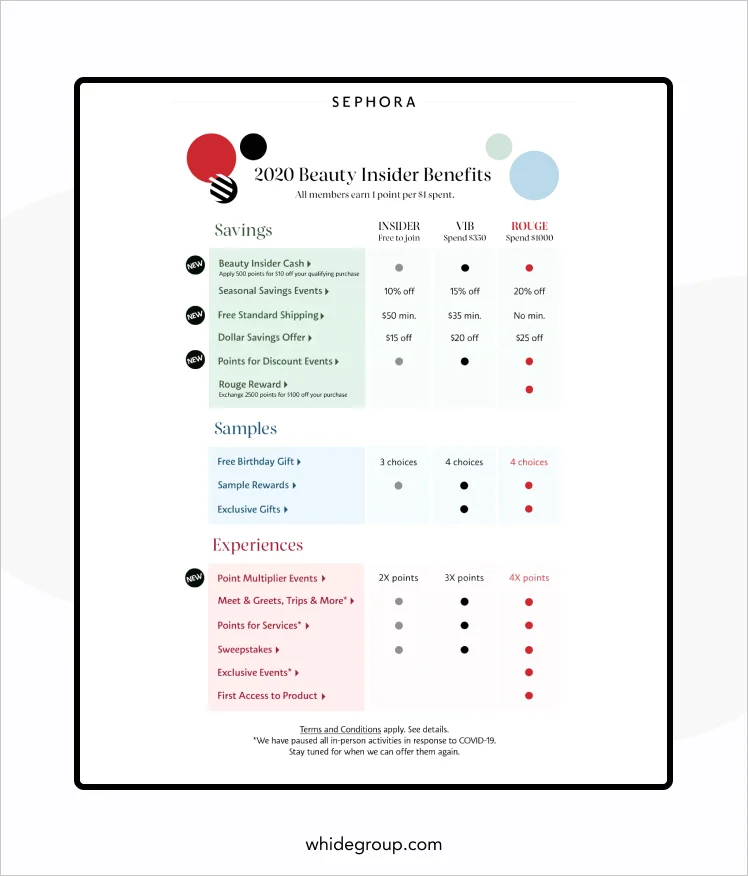 The program has three tiers: the first one ("Insider") is free to join for anyone. The second one unites customers that spent over $350 ("VIB"), and the third is available to the users that spent more than $1000 ("Rouge"). In the picture above you can see what benefits each tier offers to customers.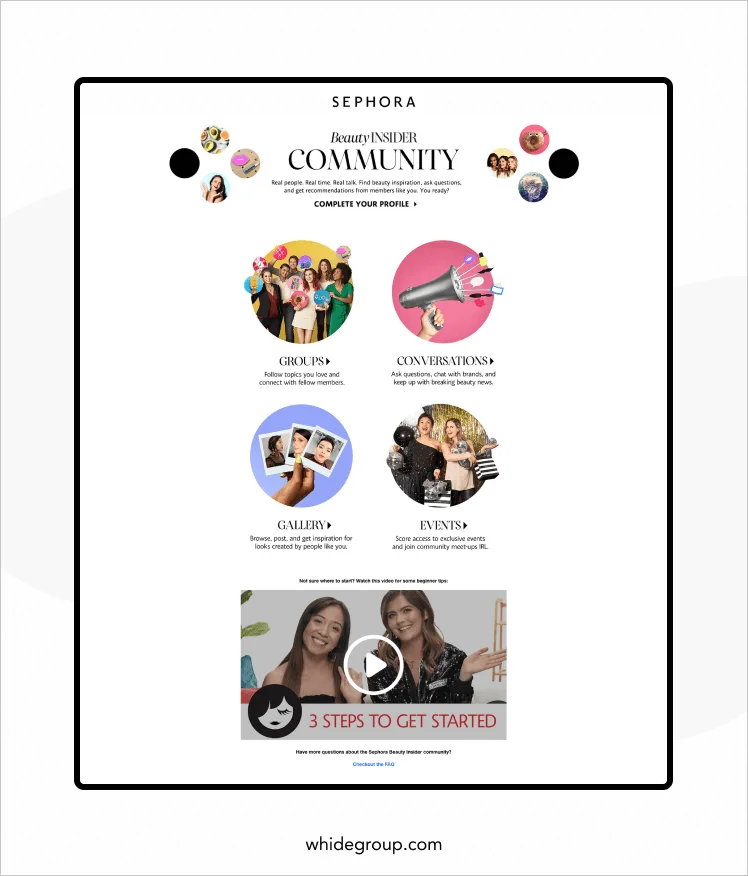 Currently, the program can boast more than 25 million members. Top-tier customers, in addition to the benefits represented above, also have access to exclusive events, where they can share their experience with other top members.
Nike: the Ambassador of active lifestyle
When talking about examples of loyalty programs,it's impossible to pass by Nike.
We've already reviewed outstanding marketing strategy for Nike in one of our previous articles. And when it comes to customer loyalty programs, Nike's also killing it. Nike's loyalty program is simply called Nike Plus, and it allows its members to access various benefits.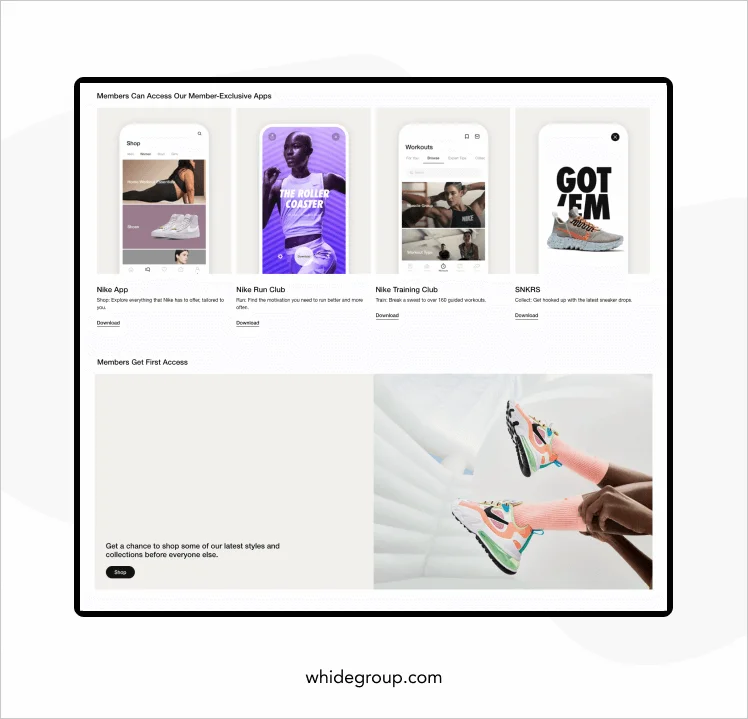 Nike is well known as an ambassador for the active lifestyle, so the incorporation of getting rewards for workouts does not come as a surprise. The company offers exclusive products (custom t-shirts, running products) as a reward for running with Nike Run Club (NRC) and doing workouts with the Nike Training Club (NTC).
As you can see, numerous successful loyalty programs examples clearly demonstrate the attractiveness and profitability of a well-designed program to both businesses and customers.
Final Thoughts
It's hard to overestimate the value of customer loyalty and retention in the realities of contemporary business when so many businesses experience the problem of low customer loyalty. Customers that give you their priority over your competitors should be treated properly, and so far loyalty programs are the best solution for that.
As you can see, building a loyalty program is beneficial for any e-commerce business, but it's crucial to find the combination that will perfectly fit your business needs. Definitely, do not hesitate when it comes to starting a customer loyalty program.
At Whidegroup, we take care of every little aspect of e-commerce development. By opting to work with us, you can rest assured that your online business will have everything to please your customers and reach new heights.
https://whidegroup.com/wp-content/uploads/customer-loyalty-programs-small.webp
300
772
Anastasia Zhuk
https://whidegroup.com/wp-content/uploads/whidegroup_logo.png
Anastasia Zhuk
2020-06-10 14:05:35
2023-02-15 14:40:42
The Ultimate Guide on Customer Loyalty Programs: Everything You Need to Know
The Ultimate Guide on Customer Loyalty Programs: Everything You Need to Know