E-commerce business is a game of time and money. Most business owners are found in constant search of the fastest e-commerce platform, otherwise in pursuit of e-commerce website performance metrics improvement.
Online store loading speed is one of those crucial metrics. Over the last decade, Whidegroup has been successfully addressing our clients' website performance issues and helping them gain a stronger e-commerce presence. Among our happy clients are Kjellmann, Styled, Beloved Dresses, and many more. In this article, we will review the fastest e-commerce platforms and the ways to avoid any type of performance issues in the future.
Why Should You Choose the Fastest E-commerce Platform?
According to a report provided by Skilled on the basis of 12 case studies:
79% of web shoppers who are dissatisfied with website performance say they won't return to the site again.
47% of consumers expect web pages to load in two seconds or less.
64% of smartphone users will abandon a page that takes longer than four seconds to load.
If we talk about money loss, here are more reasons to choose the fastest website platform. Let's say you run an e-commerce website that makes $100k per day. Below you can see how one small second impacts the revenue from your website:
A one-second improvement generates an additional $7K daily
A one second delay in page response can result in a 7% reduction in conversions
And the same one-second delay means 11% fewer page views
Staggering results, aren't they?
Google gives preference to fast websites, granting them first positions in the search results. Therefore, if you desire to receive more organic traffic, choosing a fast e-commerce platform is the first thing to consider.
Choosing the Fastest E-commerce Platform: What to Look At?
Most e-commerce platforms are made fast by default. Problems arise when underqualified developers start expanding the functionality of an online store for better user-friendliness. As a result, the store's performance gets worse.
Before diving deep into the platform's characteristics to identify their major pain points, let's first identify the most widespread factors causing poor performance of the fastest e-commerce software.
#1 Hosting
Choosing the fastest e-commerce hosting is crucial. This responsibility usually lies with the merchants, unless an online store is based on one of the SaaS platforms like Shopify, which takes care of the hosting settings and tuning. A physical server located far from your target audience means slow response time and, consequently, slow website load speed.
#2 Out-of-the-box features of the platform
Every platform provides a different stack of features out-of-the-box. The more functionality you get from the platform, the less third-party extensions and plugins you will have to install later. Even the fastest e-commerce platform will show poor performance if you integrate several dozens of plugins or extensions into it.
For example, WooCommerce is one of the most popular engines for online sales, but the number of features it provides out-of-the-box is often not enough. In fact, this is not a platform at all, but an e-commerce plugin which integrates with WordPress to turn a blogging platform into an online store. So, to turn WooCommerce into a fully functional and feature-rich online store you will need to install numerous additional plugins. Magento, in turn, is a platform designed specifically for online store creation and provides merchants with rich functionality out-of-the-box.
#3 Quality of third-party extensions and plugins
You need to always monitor your website performance when enhancing the functionality of your online store with the help of third-party extensions and plugins. After each new feature installation, it is crucial to keep track of the changes in load speed. Things like low-quality extensions, internal conflicts between installed plugins, and excess code in third-party integrations, always negatively affect e-commerce performance.
#4 Custom themes
Most custom themes for e-commerce stores are already pretty well optimized for good performance. However, when tuning your online store for better sales you can still face themes that worsen the performance of the store.
#5 Non-optimized images and other media files
Overabundance of images and media files (especially if not compressed) throughout the store makes the page size bigger, which causes slower load time, making your visitors wait longer until pages are fully loaded.
#6 Caching
Caching is essential. Consider it as the #1 feature for every up-to-date e-commerce store in the world. It removes performance bottlenecks that slow down access to data and improves performance by retaining frequently used information like stylesheets, images, JS files, and other data. So, what? When the visitor comes back, their browser doesn't have to reload the entire page every time. No page caching = slow website, and no matter how fast your e-commerce platform initially was. That's it.
Learn more about

Before choosing the fastest e-commerce platform, Whidegroup's advice is to look back at the listed points, and to weigh all the pros and cons of each of them to decide which one suits your business needs best. Below, we will try to help you make the right decision by reviewing and comparing the performance of different e-commerce platforms.
The Fastest E-commerce Software: Magento vs Shopify vs WooCommerce
Running a successful e-commerce business is absolutely impossible without knowledge of the specifications of each particular e-commerce platform. In order to investigate the problem of low performance in more detail, let's review the three most popular and fastest e-commerce platforms – Magento, WooCommerce, and Shopify. According to the usage statistics, over 50% of all e-stores run on these three CMSs.
Magento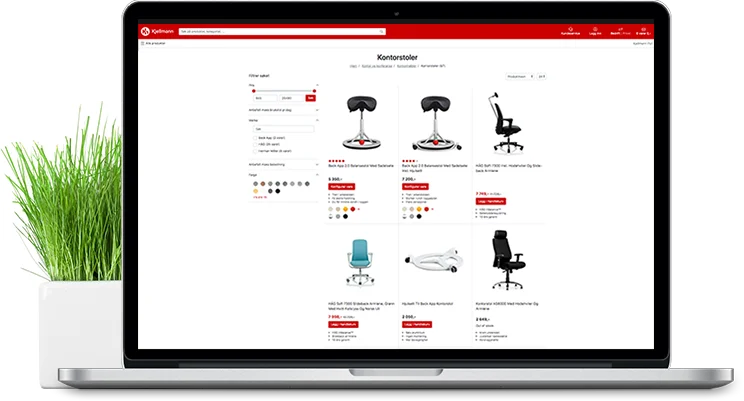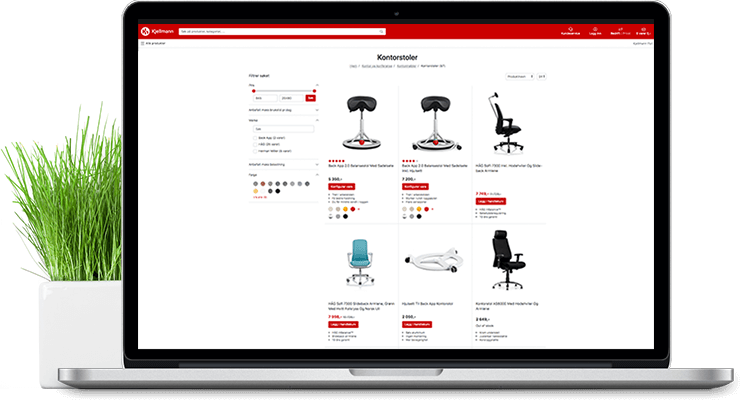 Magento is a free, open-source e-commerce platform. It provides almost unlimited opportunities for online store scaling and enhancement in its functionality.
Hosting
Unfortunately, hosting is not provided along with other features and services offered by Magento out-of-the-box. However, consider this an advantage. Depending on your business needs, you are free to decide on the hosting provider, hosting plan, and location of the physical server, and choose the fastest e-commerce hosting you can find.
Magento is a pretty demanding CMS, and it requires stable hosting for a stable operation. Standard hosting plans do not fit the bigger online stores with high traffic loads. If an online store has hundreds of products, we advise opting for a dedicated server.
Out-of-the-box functionality
Magento is an e-commerce platform providing the biggest stack of features out-of-the-box. Although many users claim that Magento sites are slow – in practice, everything is not that dismal. Full Page Cache, Varnish, SEO tools, built-in marketing tools – these are a tiny part of features that you get with Magento, and all of them are generally aimed at better performance for your online store.
Third-party extensions
Thousands of Magento extensions – here is what you can find at Magento Marketplace. Third-party extensions for every possible purpose are available there for download and installation. Some of them are free, others are paid. However, no matter which one of the extension types you are going to integrate with your store, you should first make sure that:
Your online store can't perform well without the feature
It is a high-quality extension
It will not cause any downtime
With every extra extension your store will create more HTTP requests, the server response time lengthens, and consequently, the website loading time slows down.
Custom themes
Magento Marketplace offers free and paid custom themes. However, you are not forced to buy and install any one of them. You are free to develop and apply a custom theme to your taste and needs. To create an optimized Magento 2 theme, you will most likely need the help of an experienced UI/UX designer, unless you are one.
On the one hand, a custom theme will always meet your expectations regarding the store interface. On the other hand, unfortunately, not every specialist is able to design a lightweight, optimized theme.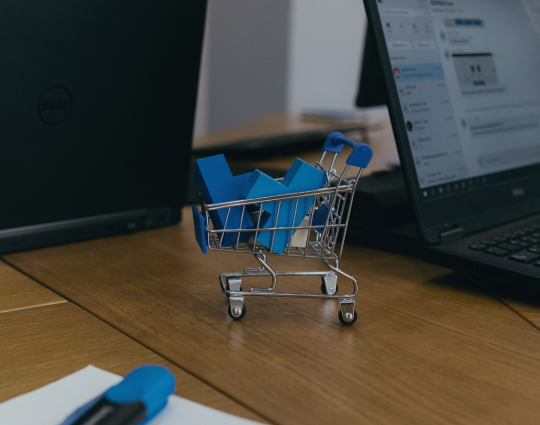 Require any customization for your Magento store?
Look What We Can Offer!
Caching
Among the most popular and fastest e-commerce platforms, Magento provides the most comprehensive caching capabilities out-of-the-box. There are 10 types of Cache in Magento 2 (Configuration, Layout, Collection Data, Page cache, and more), and each of them helps an online store perform better and improve its speed.
Summing up
Magento is a complete solution for medium and large retail businesses that want to move online or migrate from another platform and establish a strong online presence. The platform shows good performance. According to a preliminary analysis of the demo version of the Magento 2 online store with the default LUMA theme, the homepage load speed varies within 3.5 seconds, and the size of the page slightly exceeds 1Mb. This is a good result for a store with a wide set of features available out-of-the-box. That's why we consider it a fast e-commerce platform.
Unfortunately, the platform is not a perfect choice for small businesses, and here's why – Naturally, it will be quite simple for an administrator to manage Magento based store sales or SEO tools. However, when it comes to expanding functionality, creating custom features, updating, and management, programming experience is a must. Often, such stores can't do without constant technical support from experienced developers, and these are additional costs for Magento development services.
Shopify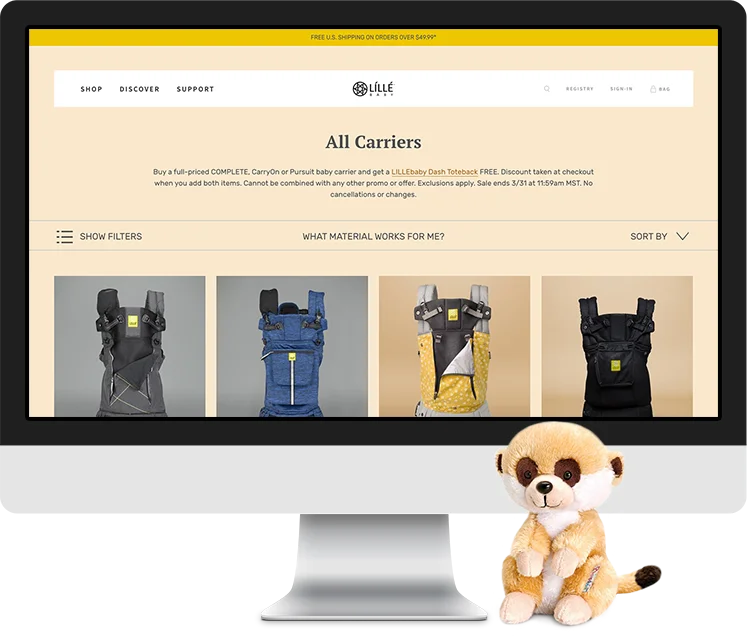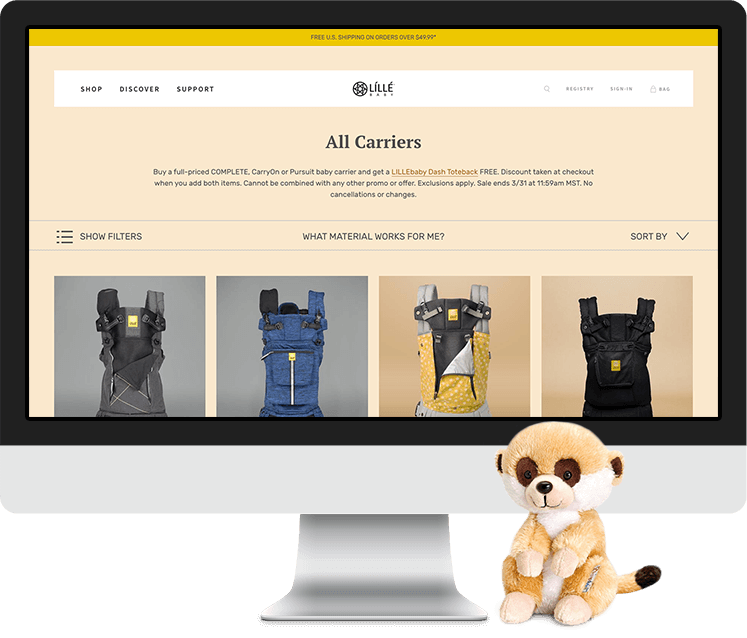 Shopify is a SaaS e-commerce platform that is known for its high performance and easy operation.
Hosting
Since it is a SaaS platform, when you build an online store with Shopify, you get it hosted too. Domain and hosting prices are already included in Shopify payment plans, so no additional costs and no need to search for the fastest e-commerce hosting and dedicated server provider.
Shopify takes on the responsibility for fast server response and absence of downtimes during high loads and holiday peaks. In addition, they offer a high-quality CDN (Content Delivery Network), which is one of the major necessities for high performance in online stores that operate all over the world.
Out-of-the-box functionality
Shopify's out-of-the-box functionality provides a decent value for a brand new online store to be launched and operated for years to come. Numerous vital features let most small and mid-sized Shopify stores perform perfectly without any additional apps while remaining fast and user-friendly. Some of them are:
Multiple shopping cart configurations
Storefront tuning
Management of customer profiles
Marketing and SEO tools
Wide product configuration opportunities
Actional dashboard
Integration with Google Analytics
Device friendliness, and more
Shopify Apps
The choice of Shopify apps is almost as wide as the choice of Magento extensions. By all means, these apps can enhance the functionality of any store. But, keep in mind that with each installed app, you increase the load on the platform and make your customers wait longer until an online store is fully loaded.
Another issue with Shopify apps is that you can't modify the app's code. So, if an app is slowing down the store, the only thing you can do is to remove it and make sure there are no leftovers, which might interfere with normal website performance.
Custom themes
The Shopify theme store provides a bunch of free and premium store templates to fit every taste. Most of these themes are already optimized for mobile commerce and for better performance. Additionally, private-label Shopify developers have already developed hundreds of custom themes. Custom themes often cause a sharp decline in the performance of online stores, and together with additional features like animations and product customization opportunities, your store gets dragged down and becomes too slow. So, no matter how much you enjoy any of those themes, before you start using your chosen one, it is crucial to review the theme's performance indicators by analyzing its demo version with one of the online tools available.
Caching
The Saas infrastructure of Shopify does not support leverage browser caching. Instead, Shopify provides online stores with extremely fast servers, with the claim: "When someone experiences a slow page load, this is due to their local internet connection, and not on the server-side"
Summing up
Performance analysis of the most popular Shopify theme Demos shows that their average page load speed is 3-3.8 seconds. This is a good result, but it is essential to consider every further move towards implementing extra features, each of which will negatively affect the e-commerce site performance.
Along with numerous advantages of the platform, like a large community, 24/7 support, ease of setting up and managing a store, Shopify also has disadvantages.
1. Although there are dozens of ready-made custom themes, the platform provides limited design customization capabilities. If you are not satisfied with any of the available custom themes, you can't implement major changes to the layout to make it fit your needs. The only solution in such a situation is to develop a theme from scratch.
2. App code is not customizable either. Thus, if an app with the needed functionality significantly affects the speed of the fast e-commerce platform, you will have to either remove it from the store or bear with a slow website.
If you want to start selling products online quickly, with minimal effort and technical skills, Shopify is a great option. However, if you want to have endless opportunities in terms of business scalability and full control over your online store functionality, you shouldn't choose fully hosted platforms.
WooCommerce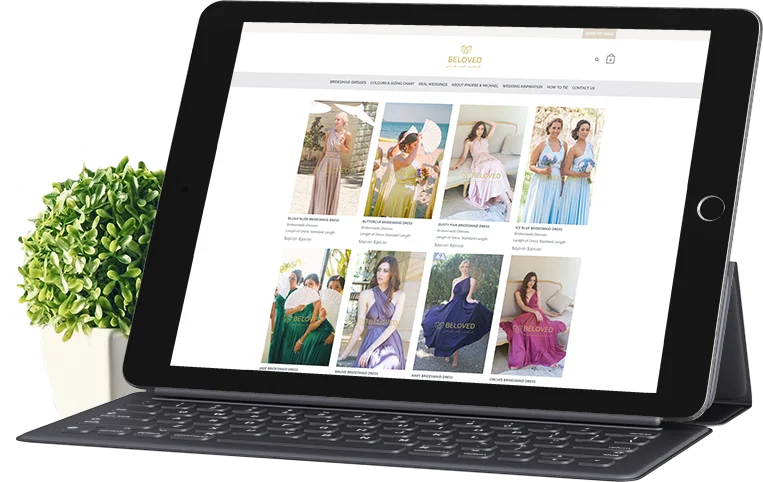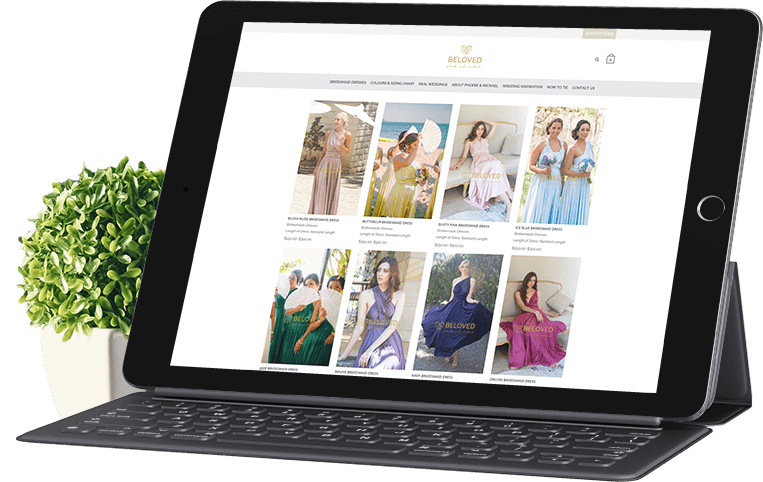 WooCommerce is not a platform. It is an e-commerce plugin for WordPress (the most popular platform for blogging), which gives you almost unlimited opportunities for your store design and optimization. That's why we included it in our review of the fastest e-commerce platforms.
Hosting
Both WordPress and WooCommerce are open source projects. To set up an online store you should get a domain name, web hosting, and SSL certificate, and then launch a WordPress website. To get these you can choose one of dozens of providers. The cost of Wordpress hosting is usually an average of $5-$15/month, which is more than affordable.
CDN is equally important for the performance of any e-commerce store. You can easily integrate WooCommerce based online stores with the help of any of the CDN service providers, like KeyCDN, CloudFlare, or MaxCDN.
Out-of-the-box functionality
WooCommerce provides numerous useful features for e-commerce, for both store owners and developers. These stores support all WordPress out-of-the-box functionality along with excellent opportunities for SEO optimization. In addition, you get an admin panel with a user-friendly interface, simple product page creation, and easy store management.
Third-party plugins
You can enhance WooCommerce with a huge number of free and paid WordPress extensions and plugins. A great number of WordPress plugins compatible with WooCommerce can provide such vital features and functionality like:
Integration with social networks
Referral programs
SEO tools
Customer feedback forms
Abandoned cart recovery, and more
Put simply, the WordPress-WooCommerce combination offers almost endless opportunities for expanding the functionality and creation of a feature-rich online store.
Custom themes
Since both Wordpress and WooCommerce are open source projects, you have unlimited design options. First, you can make changes to the WooCommerce code. Second, there are thousands of free and premium WordPress themes compatible with WooCommerce. In addition, you can easily customize any theme to your needs.
WordPress also offers an intuitive theme customizer that helps you see all changes right away. The number of settings depends on the theme you select – the more advanced the theme, the more options for customizing you have.
Caching
As one of the fastest e-commerce software available today, WooCommerce provides ample caching options, both out-of-the-box and with third party plugins like W3 Total Cache. In order to properly configure page caching without any plugin, you will need some technical skills or to hire a PHP developer to help you.
Summing up
The WooCommerce-WordPress combination provides merchants with a fully customizable design and functionality to create a user-friendly small or midsize online store. Compared to Magento and Shopify, WooCommerce stores are much more lightweight and easily manageable even for those who are new to e-commerce. Custom themes are perfectly optimized, and their average load speed is 1-1.5 seconds.
However, as with other e-commerce platforms, when working with WooCommerce, it is crucial to count every plugin you install and to keep an eye on website performance. Although most of them are developed specifically for WooCommerce, each plugin affects the performance. Thus, sooner or later your store will require e-commerce optimization services.
WooCommerce, with all its merits, does not provide enough capabilities and flexibility for launching and running a big online store. The reason is that not every hosting can pull out high traffic loads. This leads to performance issues, which are extremely undesirable – especially during the high season or holiday sales, which will be on us before we know it!
How to Monitor Performance of the Fast E-commerce Platform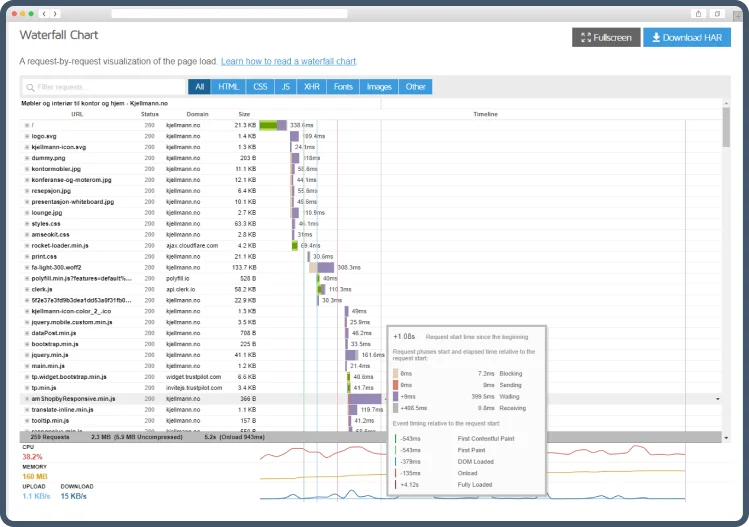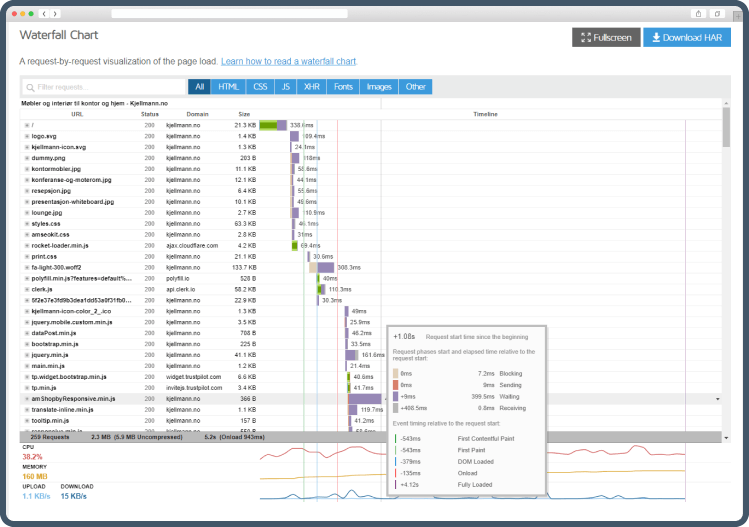 There is no doubt that analytics is the best way to keep a pulse on an e-commerce business. Currently, there are plenty of tools for performance analytics: between the paid and free, to the simple or complex. However, some of them have gained particular love and respect from everybody engaged in running websites. Here you're welcome to learn the most popular tools that are used to monitor website performance:
Google Analytics. This tool is like a launchpad for most aspects of the business, and it's no wonder – it's free, and it's more than enough for providing basic information on website performance.
Google PageSpeed Insights – This tool analyzes the website's front-end, provides a website score from 0 to 100 points and offers optimization suggestions.
GTmetrix – This tool enables you to perform tests from 7 different locations (USA, UK, Canada, Australia, India, Brazil, and China). You can set and compare website performance against various connection types (like Cable vs dial-up) to see how each affects your page loads.
Pingdom – This provides insights about the number of requests per domain and what type of content gets the most requests. The report you receive outlines areas for improvement.
WebPagetest – This tool can test speed through 25 browsers including mobile ones, in 40 locations in Europe, the Middle East, Asia, North and South America, and Oceania. Advanced features include video capture, disabling JavaScript, and ignoring SSL certificates.
Yellow Lab Tools – This frontend-oriented performance tool provides insights about JavaScript interactions with a document object model (DOM) during the loading of the page, and other code validation issues.
Final Thoughts
We know choosing the fastest e-commerce platform can be really daunting. Every platform is unique and has its own specific characteristics, such as the maximum number of products, product type, scalability, security, and everything else that comes into play. That's why one of the biggest dreams of an e-commerce owner is simply being able to find a single e-commerce platform that will just be fast and reliable.
Your choice should be based on your current and future business needs and the possibility of their technical realization within the chosen platform. If you find yourself at a crossroads and are looking for any helpful advice, Whidegroup would love to help you launch an optimized online store or boost an existing one to its best self! Connect with us today!
https://whidegroup.com/wp-content/uploads/fastest-platform-small.webp
300
772
Olha Fedchenko
https://whidegroup.com/wp-content/uploads/whidegroup_logo.png
Olha Fedchenko
2023-03-21 10:06:38
2023-04-03 11:18:06
Choosing E-commerce CMS: What is the Fastest E-commerce Platform?
Choosing E-commerce CMS: What is the Fastest E-commerce Platform?