We all had these experiences, where we go online shopping and end up ordering way more than we originally intended. Or go on Netflix to find something to watch and then spend the next six hours binge-watching things that the platform recommended to us. So, how come these brands trick us into engaging with them more? Well, sit tight, because we're going to reveal a magician's trick today.
We also got you covered when it comes to the maintenance of your website! Be sure to check out our specially-curated
Website Maintenance Checklist
.
All you need to do is remember three special words: E-commerce Recommendation Engine. In this article we're going to take you on a journey to explain what this engine is and why you should make it your best friend. In other words, a thing you always wanted, but never knew what it was. Let's jump right into it!
What is a Recommendation Engine for E-commerce?
A product recommendation engine, also called reco engine, is software that tracks the user's behavior on websites and, based on that, suggests products users might be interested in. This is a powerful marketing mechanism because it is designed to offer each customer a unique, personalized experience.
Product recommendation strategies usually involve multiple channels, from the actual store's website to emails and social media ads. Each channel generates unique streams of customer data. Which means you can use a recommendation engine not only on your website, but to personalize your email and ad campaigns as well.
You have definitely encountered product recommendation engines if you've ever purchased something online. Most commonly, you will notice recommendation categories like:
Products you might like
Customers also bought
Recommended for you
Often bought together
These are all parts of the product recommendation engine.
Your product recommendations can also be displayed in various places across your store, such as:
See how Lacoste showcases their You may also be interested in product recommendation category on a product page: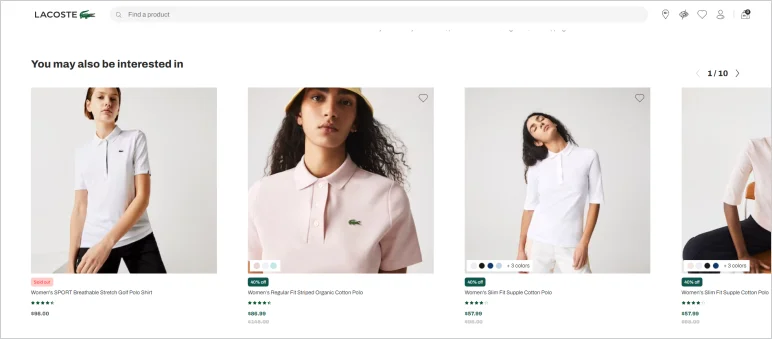 Industry West neatly manages to integrate two recommendation categories, Explore our modern furniture and Best sellers, right on their homepage: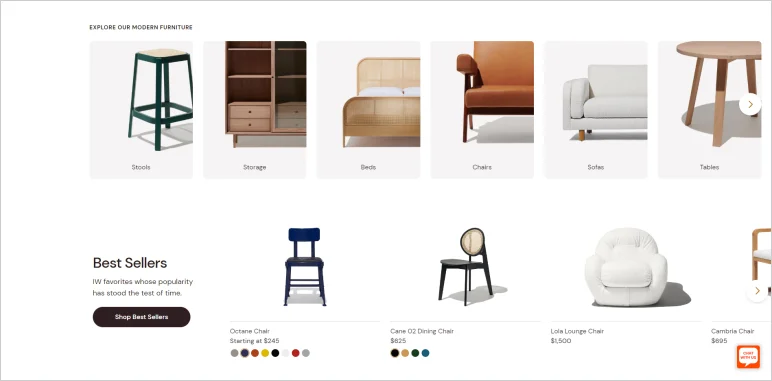 Sephora tries to get the most out of a sale by suggesting customers to Add These for Under $15 products right on a shopping cart page.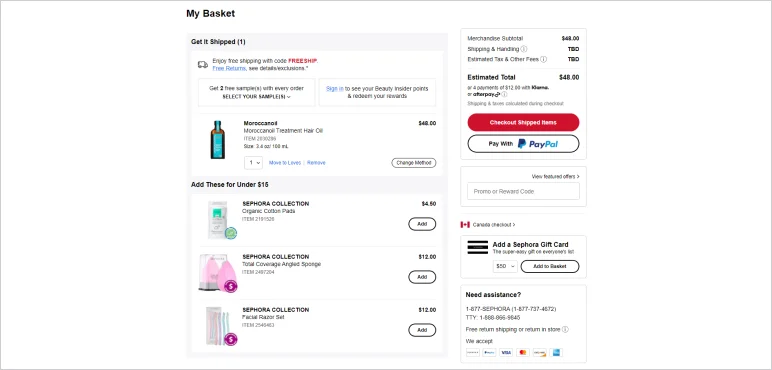 Placement is everything when it comes to recommendation in e-commerce. Your recommendations need to be in the right place at the right time to produce the desired results. Thorough A/B testing can help you find the most efficient strategy for your store. For now, let's try to understand how e-commerce recommendation engines actually work.
Types of E-commerce Recommendation Engine Algorithms
To understand how a product recommendation engine works, you must know which algorithms it uses. There are three types of recommendation engine algorithms:
1. Collaborative filtering algorithm
2. Content-based filtering algorithm
3. Hybrid recommendation algorithm
A product recommendation engine can use some or all of the algorithms to provide the most accurate personalization on your website. Let's get into more detail about the types of algorithms.
Collaborative filtering algorithm
This algorithm is based on comparing similar actions by different users and trying to predict what a specific user might be interested in. It's not based on machine-learning, but on combining massive amounts of information about users' past purchases and product ratings. Thus, a collaborative filtering algorithm doesn't need to "understand" what the actual interests of the user are.
One significant downfall of this algorithm is the cold-start problem. This means that collaborative filtering fails to make recommendations when the user or the product is new. Which also raises the issue of popularity. Since this algorithm recommends products based on historical ratings and sales, it won't recommend products with little or no historical data. Subsequently, the more users will buy a popular product, the more popular it becomes, leaving new items in the dark.
Content-based filtering algorithm
Content-based filtering analyzes customer data based on likes and dislikes of each user, using technology such as cookies. This algorithm uses keywords and attributes assigned to items to match to a user's preferences. The idea behind content-based filtering is that if you enjoy a certain item, you'll likely also enjoy a similar item.
To give you a visual, this is how collaborative and content-based filtering compare: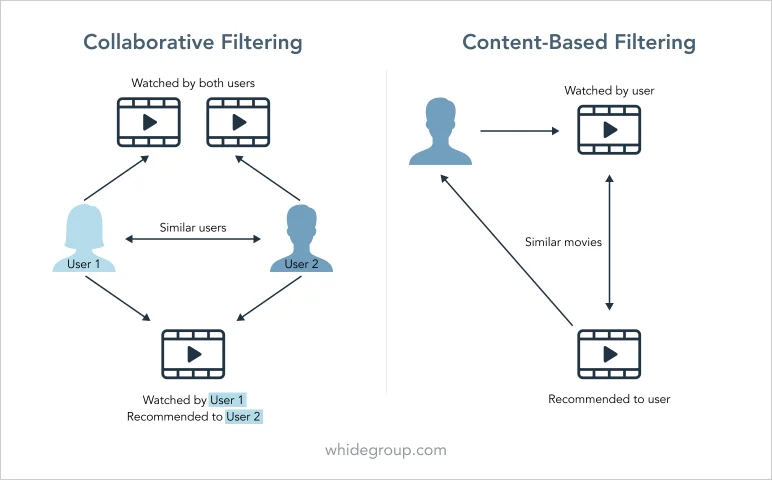 The major key to making this type of recommendation system work is improving your store's SEO. Since content-based filtering primarily operates by recognizing attributes and accurately assigning items to the right user, having an extensive range of descriptive attributes is how you help the algorithm work in the most efficient way possible.
A very demonstrative example is how Netflix reverse engineered the movie industry. They hired people to watch films and tag them with all kinds of metadata, ranging from shooting locations and actors to plotlines, tone, and emotional effects. This allowed Netflix to build an incredibly accurate recommendation engine for viewers.
Hybrid recommendation system
Hybrid recommendation system means pretty much what you think — combined efforts of content-based and collaborative filtering algorithms. A hybrid recommendation system can generate more accurate product recommendations than collaborative or content-based filtering systems by themselves.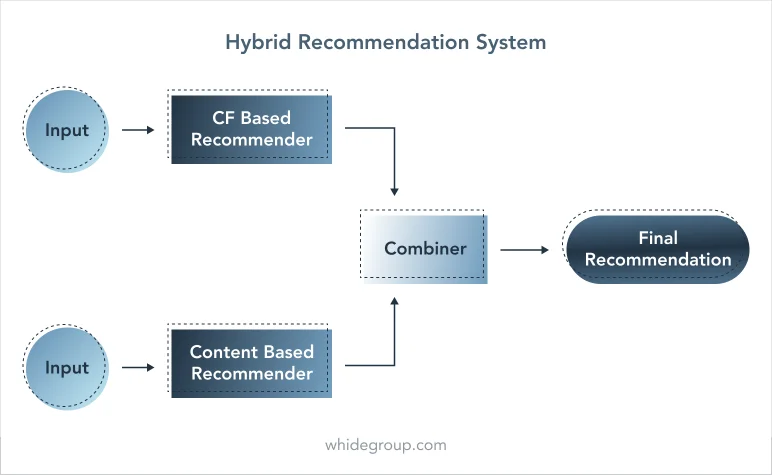 Most e-commerce recommendation engines use hybrid recommendation systems, as implementing both types of recommendation algorithms can help overcome and compensate for limitations or downfalls of each filtering method.
Why Do You Need an E-commerce Recommendation Engine?
Some merchants may be skeptical of e-commerce recommendation engines for various reasons. One may think the software is way too complicated and requires a significant investment. Others may be wary of the cold start problem we mentioned before. However, we strongly suggest incorporating a reco engine into your business strategy, since the benefits are too good to ignore.
So, what are these benefits? Let's dissect them one by one.
#1 Better customer experience
A solid e-commerce recommendation engine analyzes customer's behavior over time and, consequently, helps better understand and meet their needs. Customers will see more products that they are actually interested in, which raises their customer satisfaction. Certainly, a satisfied customer is also more likely to return and spread the word about your store. This way, a reco engine improves your customer loyalty and increases your overall brand awareness.
See Other Useful Tips on How To

#2 Increased click-through & conversion rates
Since the products that are being recommended are highly relevant to the customer:
The click-through rate in your store increases exponentially
An e-commerce store with a product recommendation engine will convert more compared to a similar store with no reco engine
In fact, one study reveals that
shoppers who engage with personalized recommendations are 4.5x more likely to add a product to their cart and complete the purchase.
Recommendation Engines Are Only The Tip of an Iceberg
#3 Increased average order value
Speaking of improved conversion rates, we can't overlook how e-commerce recommendation engines dramatically increase the average order value. Since relevant recommendations expose shoppers to more products that they are likely to enjoy, the chances of them buying more significantly increase.
#4 Increased time on site & number of pages visited
Because of high content relevancy, customers tend to stay longer on the website and visit more pages per session. On top of that, recommending relevant products can also decrease your average bounce rate and cart abandonment rate.
#5 More chances for cross-selling and upselling
Creating a personalized experience for your customer can also create a more potent environment for upselling and cross-selling. A solid product recommendation engine can assist the customer, suggesting them a better-priced product, as well as recommending a complementary product.
#6 Improved targeted traffic
Like we mentioned before, a product recommendation software works not just in your store, but across other channels as well. Recommending relevant products through email, advertisements, and social media will drive more targeted traffic.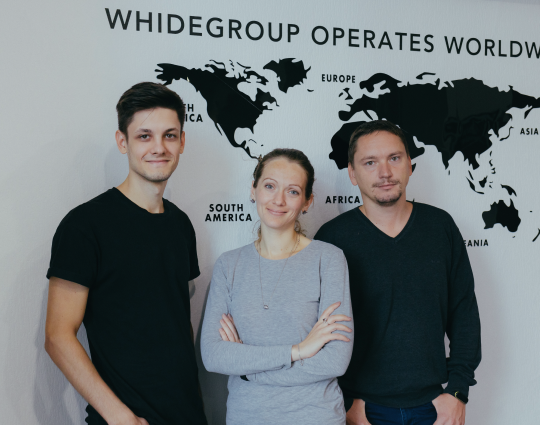 Ready To Get Started?
Whidegroup Can Help You Achieve the Best Results!
While all of these benefits are promising and make you consider implementing such software into your store, can we actually prove that they work? Let's turn to numbers.
Real Cases of Brands that Mastered E-commerce Recommendation Engine
The talk of product recommendation engines is all nice, but can we actually point out businesses that turned product recommendation into a money-making system? Well, as it turns out, we can.
The three most prominent brands that totally mastered the art of product suggestion are Amazon, Target, and L'Oréal. So, how did they make e-commerce product recommendation engines work? Let's discuss that for a moment.
Amazon
Amazon is famous for its accurate product suggestions. Their recommendation system is based on artificial intelligence. It is capable of intelligent analyzing and predicting customers' shopping preferences in order to offer them a list of recommended products.
Now, Amazon has created its own personalization system called Amazon Personalize, which uses the same personalization technology as before. The algorithm selects recommended products for each user based on their previous purchases, interactions, and ratings of other items on display.
In the example below, Amazon's recommendation engine suggests items on a product page based on More in this color.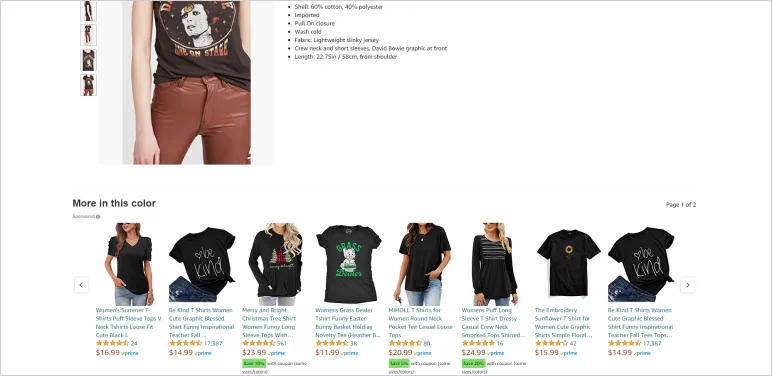 So, how did that help Amazon with their sales? Well, the brand claims that up to 35% of their digital sales are generated thanks to their proprietary product recommendation algorithm. This is undoubtedly impressive and serves as a great example of how integrating an e-commerce recommendation engine can drastically increase revenue.
Target
In their own words, Target believes that recommending more relevant items both enhances the user experience and drives deeper engagement and sales. The product recommendation engine Target uses learns customers' behavior and habits to ensure that their recommendations are accurate and worth your time.
For example, on a product page of a candle, Target makes a suggestion of Completing the set.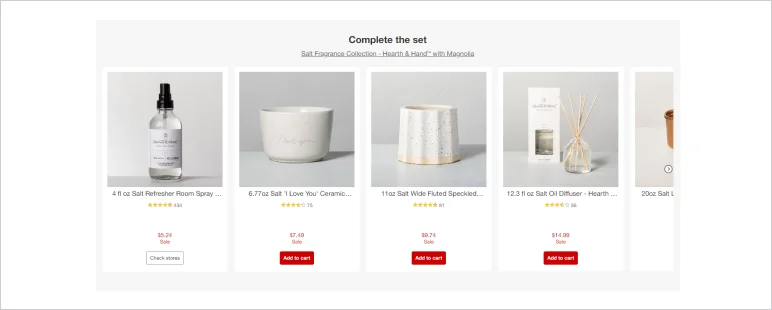 It's pretty clear that their strategy is working, considering that Target delivered $106 billion in total revenue in 2021, having grown more than 35% over the past two years. When it comes specifically to the e-commerce side of their business, Target says digital sales represented 18.9% of its $106 billion in total revenue for the year. Surely, their solid product recommendation engine is partially to thank here.
L'Oréal
Within the beauty niche, L'Oréal is definitely known for their high personalization and elevated customer experience. The brand continues to invest in its personalization engines to provide more engaging and relevant shopping experiences. L'Oréal uses hybrid recommendation algorithms to offer customers a near-limitless personalization, which provides high levels of precision for each customer.
A similar example of a brand suggesting to Complete the look. However, what's special about it is that the reco engine recognizes the color scheme of an original product and makes a recommendation in the appropriate shades.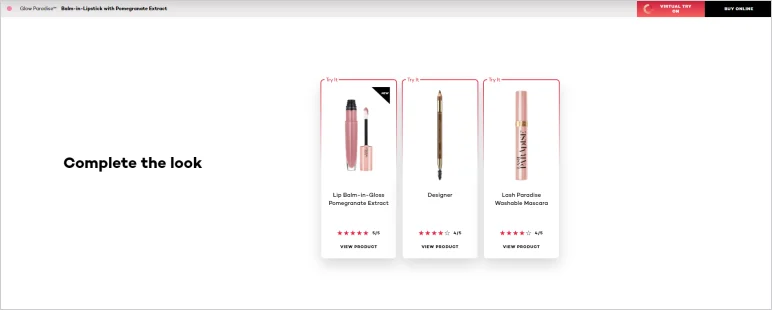 They also leverage product recommendations through email. Considering how vast and inclusive their catalog is, suggesting to the client the products they are more likely to enjoy greatly improves their conversion rate. As opposed to having a customer sift through a myriad of their products manually.
Their unique personalization system brought L'Oréal a staggering 28.9% of digital sales in 2021. This means that more than a quarter of their overall sales was made through their website.
Hopefully, these statistics solidified your decision to integrate an e-commerce recommendation engine into your store. However, the next big question is: "which product recommendation software should I invest in?". Don't worry, we got you covered.
Best Product Recommendation Engines for E-commerce
Before you can make a decision about which product recommendation software to purchase, you should consider the average conversion rate increase you can expect. Look for case studies for that software or ask their support team about the average increment in conversion.
We can provide you with a list of the five top-rated e-commerce recommendation engines. This will help you understand what features are generally offered with such plans and the approximate cost for the services. Still, we highly encourage you to conduct your own research to find the most suitable solution for your business.
In case none of these softwares quite fit your needs, you can always turn to a professional e-commerce development company for help. Although, developing a recommendation engine from scratch will take several months, a consultation with experts will reveal what kind of a solution will be the best for your store. For now, let's get to the list.
#1 Dynamic Yield
Dynamic Yield has proven to be a staple in e-commerce personalization with world-famous clients like McDonald's and Sephora. They use a predictive and deep learning recommendation system called AdaptML, which allows them to segment the customer's position in the purchase funnel (homepage, product page, cart, etc.) and implement the appropriate recommendation strategy based on that.
Some of the main features of Dynamic Yield include dynamic A/B testing, real-time behavioral overlays, email personalization, and much more. Overall, Dynamic Yield is a one-stop solution for creating an advanced customer experience. The company, however, chooses to keep their pricing discrete and offers a contact form for a quote.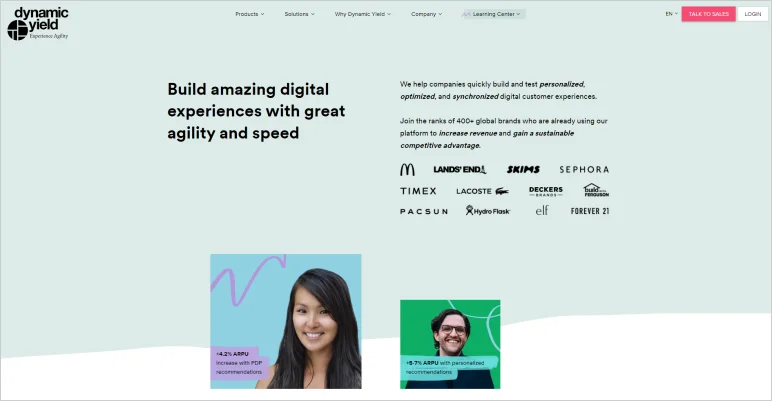 #2 Recolize
Recolize is a cloud-based e-commerce recommendation engine with more basic personalization features. It will be a perfect fit for small and medium-size stores that are looking to enhance their customer experience. The features of Recolize include:
Product recommendation
Email recommendations
Product labeling
USP bars
The company claims to increase your revenue by up to 20%. They also integrate with most common e-commerce platforms like Shopify, Magento, and WooCommerce. Recolize operates on a monthly subscription model, with plans ranging from $79 to $899 billed each month.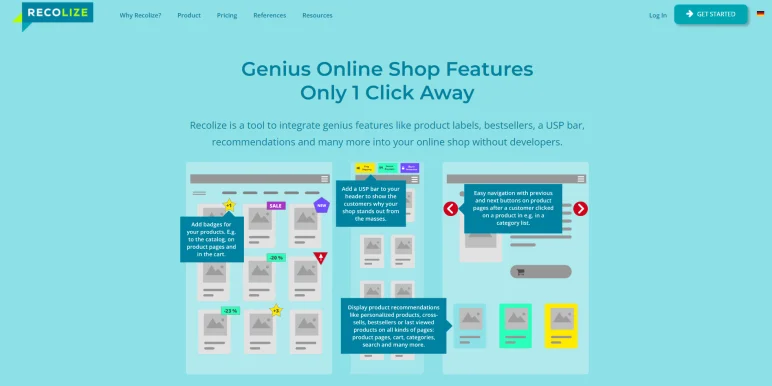 #3 Qubit
Qubit claims to be a customer-oriented reco engine that strives to create true 1:1 personalization. Their next-gen deep learning AI, CommerceAI, curates a unique selection of products for every customer, carefully predicting and understanding their shopping journey and preferences in real-time.
Qubit promises their clients a +5% in revenue, +100% in CTRs, and showing 300x more products than their competitors. To prove their claims, the website features dozens of case studies and testimonials. With that being said, Qubit is one of those product recommendation softwares that choose not to display their pricing. Which means you're going to have to fill out a contact form for a quote.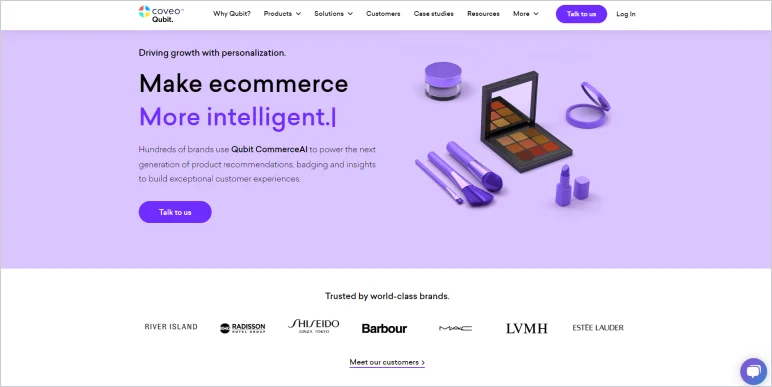 #4 Nosto
Nosto is another one-stop solution for content personalization that operates on advanced machine learning AI. They have a wide range of features such as:
In-depth analytics
A/B testing
Dynamic recommendations
Personalized emails
Behaviourally triggered pop-ups
Nosto is considered one of the most comprehensive e-commerce recommendation engines as it implements and adjusts personalized recommendations at every aspect of the customers' shopping journey. Some of their testimonials claim to have witnessed an 18% uplift in conversion within weeks. Nosto's pricing is quite ambiguous, disclosing that it ranges from 2.5-4% of the sales generated by Nosto, and urging visitors to contact them for details.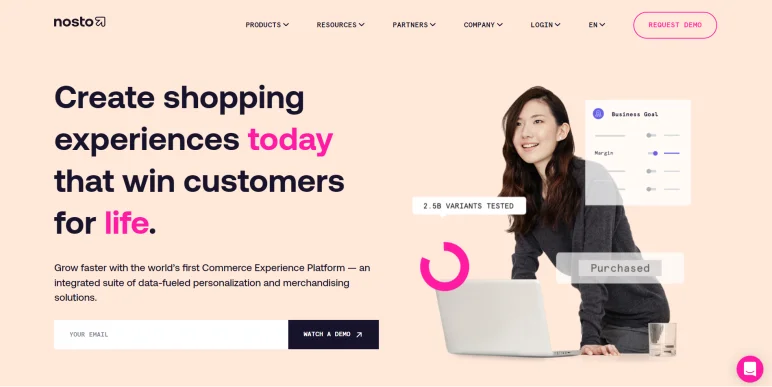 #5 Unbxd
Unbxd is an exhaustive e-commerce recommendation engine that utilizes a self-learning AI to deliver a personalized customer experience for every shopper. One key feature of Unbxd is their dynamic ranking. Meaning their AI analyzes ongoing sessions to understand the customers intent and preferences to dynamically rerank the results as the session progresses.
They claim to bring their clients up to 20% increase in conversion rate, as well as uplift AOV by 30%. Unbxd also integrates with e-commerce giants like Shopify and Magento. They keep their pricing transparent, with subscription plans ranging from $399 to $1999 per month.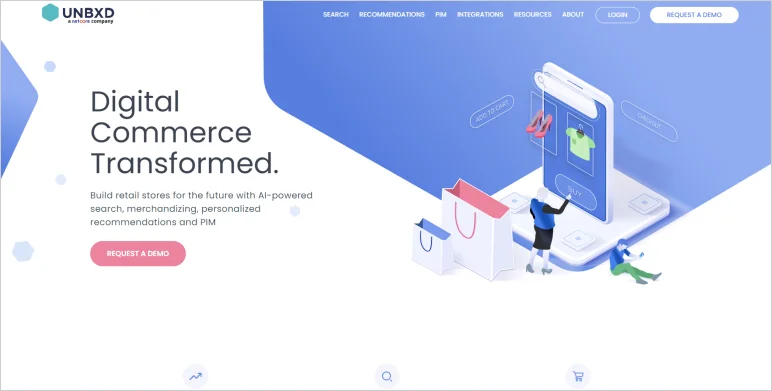 Final Thoughts
As e-commerce moves towards a more automated and "smarter" approach, powered by ever-improving AI, it's hard to ignore how something as simple as recommendations can drastically improve the state of your business. Being right on time to jump on a train of customer-centric shopping experience can be a big factor in your future success.
Which is why we brought you our deep dive into e-commerce recommendation engines. We hope our analysis helped you understand what reco engines are, why they are definitely a thing to consider, and how to choose a software that will meet your business's needs. If you have any questions regarding product recommendation softwares or other aspects of your e-commerce business, feel free to drop us a line for a consultation! We look forward to hearing from you.
https://whidegroup.com/wp-content/uploads/small-cover-ecommerce-recommendation-engine.webp
300
772
Kristina Bardusova
https://whidegroup.com/wp-content/uploads/whidegroup_logo.png
Kristina Bardusova
2022-10-17 15:00:57
2023-02-27 15:29:03
Understanding E-commerce Recommendation Engine: When Customer Comes First
Understanding E-commerce Recommendation Engine: When Customer Comes First