Often, beginning, and even experienced, entrepreneurs face the problem of their e-stores simply not generating a sufficient number of sales. They have enough traffic, their website position on search engines are high, and budgets for contextual advertising are impressive. Yet, still there lacks a copious amount of orders. If you are experiencing the same problem, or if you have just created your own online store and want to avoid such obstacles in the future, then this article is sure to be useful to you.
To increase your conversion rate (CR), you need to have proper website usability, visual attractiveness, simplicity in making orders, and availability of various payment and delivery methods. Let's find out what a good conversion rate is for an e-commerce store and whether it is important to adhere to this standard.
The Average Conversion Rates In the E-commerce
Conversion rates vary by industry, geography, type of device and other factors. As for e-commerce websites, rates around 1% to 2% are considered optimum. Take a look at the pic below to see whether your e-store matches your industry's average CR.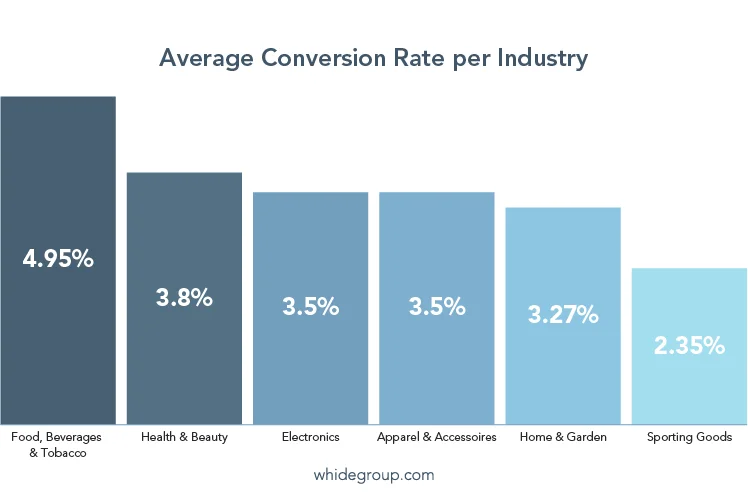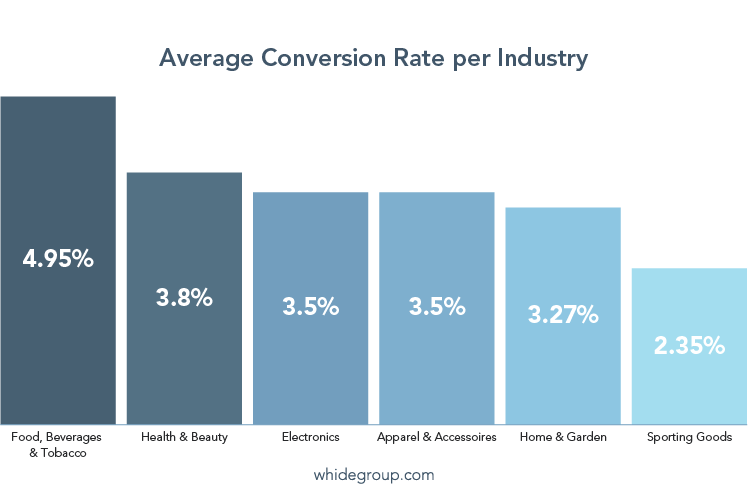 Even though conversion rates between 1% and 2% are normal, it doesn't necessarily mean that your shop is succeeding. To estimate the performance of your online business, consider other indicators in your analysis such as KPI, bounce rate, and average order value (AOV). Truly, the only thing that is important is to achieve a conversion rate that allows you to make a profit. This becomes possible if you consistently work on improving e-commerce conversion rates.
How Do E-commerce Stores Increase Their Conversions?
There are virtually hundreds of ways for how to improve e-commerce conversion rate. Whether it's good news or bad, nobody knows what exactly will work for your e-store. Simply changing the color of the CTA button probably won't help you much. However, a more complex approach is likely to improve things. To help you, we have prepared interesting cases for increasing conversion rates that have worked for other businesses.
1. Improve Website Navigation to Make It Clear.
For every business owner, their website looks intuitively understandable. However, from the customer's point of view, similar product categories or an unclear allocation of the checkout button can be confusing. To improve the purchase process, you can use analytics (e.g. Google Analytics, Mixpanel, KissMetrics) to see how visitors move through the site, how many categories they sifted through before finding the right one, and whether they found what they searched for or instead just closed the page.
PrintGlobe proves that improving website navigation can give you an 18.5% increase in conversion rates. After various tests, they identified that showing products in a grid view combined with a navigation pane and carousel option in the top of the page allows buyers to shop the most effectively.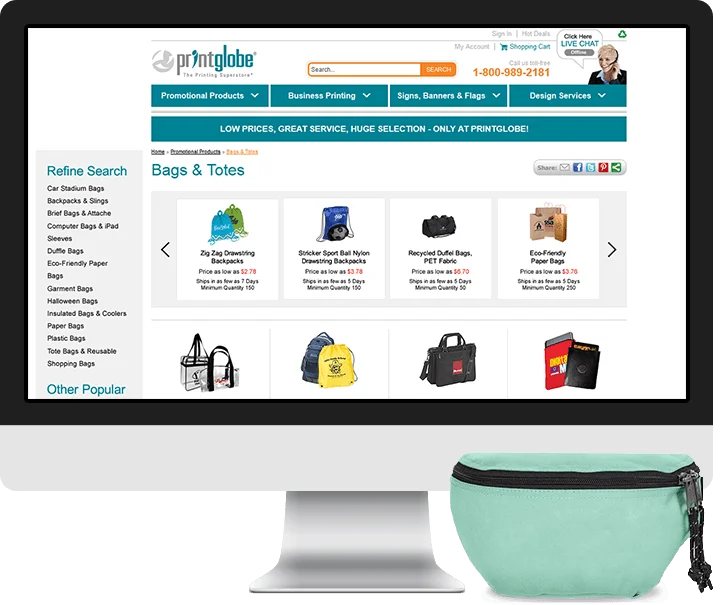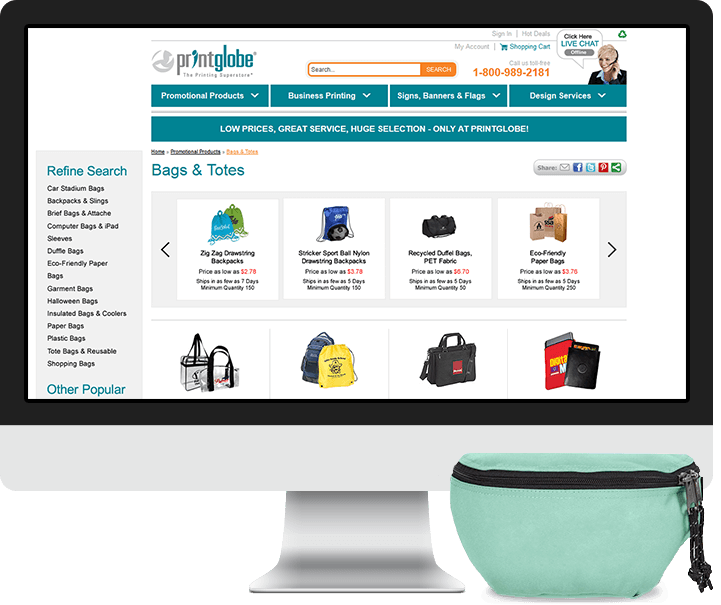 2. Create High-Quality Descriptions of Your Products, and Don't Forget About Storytelling!
If you think people don't read text on websites, you're probably wrong. People just need a reason to read your text. An investigation conducted by BizReport shows that product pages containing detailed information are more important than reviews and price.
Extend the description section on your website to tell more about your product. The main points to consider when writing text for the product description section are:
Make the text easy to read
Write short sentences – 15-25 words
Predict potential questions and try to answer them in the description
Tell your website's visitors about the benefits of your product
Use simple, everyday language
Include keywords in the text, but don't overstuff them
Don't be boring. Create a story around your product! Storytelling is a very powerful tool since it can attract the reader's attention to your products and your brand.
A stellar example of storytelling comes from the guys at SignificantObjects.com. They purchased products from thrift stores for a very low cost and composed stories about them to create an imitation of history. Then, these products were placed on eBay. In the end, these guys sold $128 in goods for $3,612. Storytelling helped SignificantObject to increase the value of their products by 2800%.
For another example, let's compare similar item descriptions from WP Standard and Amazon.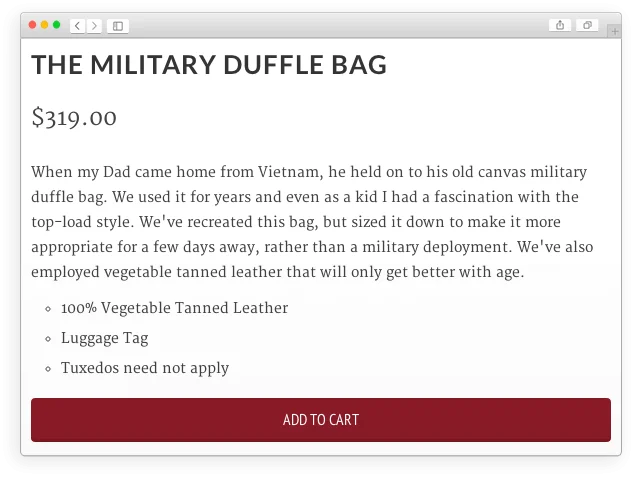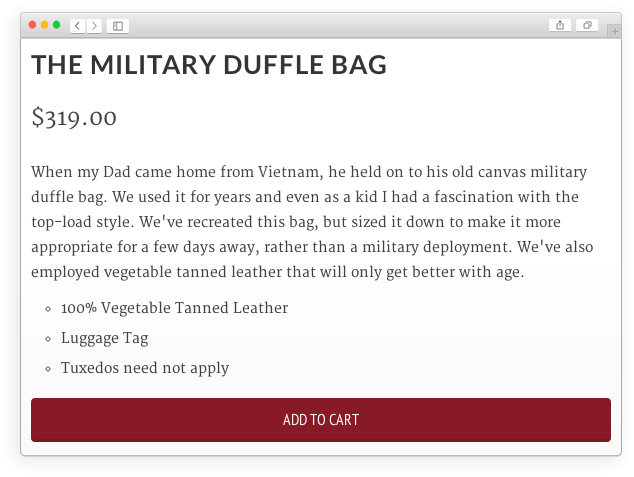 This WP Standard's military bag's description is simple, but it tells a story. We can practically see the kid playing with their dad's bag.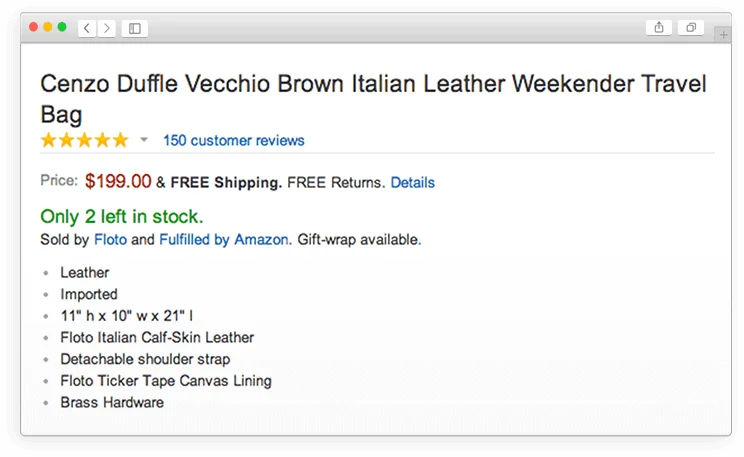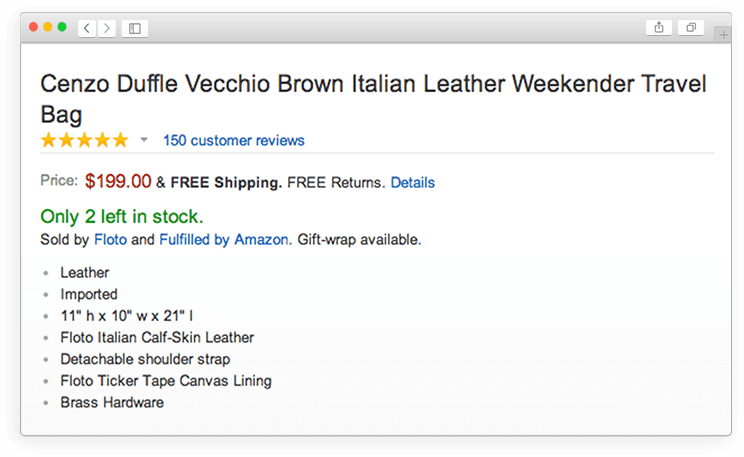 The above description is from Amazon. Yes, it contains detailed information about the product, and it explains the product features, but does not engage the user. E-commerce expert Sid Bharath that although Amazon has this bag for $100 less, shoppers are more likely to buy a bag with a story.
3. Use Large, High-Quality Product Images.
You can increase sales on your online store just by changing the quality of your website's images. Even though product description is important, providing large, high-quality images might be even better. More than 67% of customers say that high-quality photos are essential for the purchasing process. Let us introduce a striking example – Ties.com. At Ties.com, products are displayed from different angles and the images are zoomable.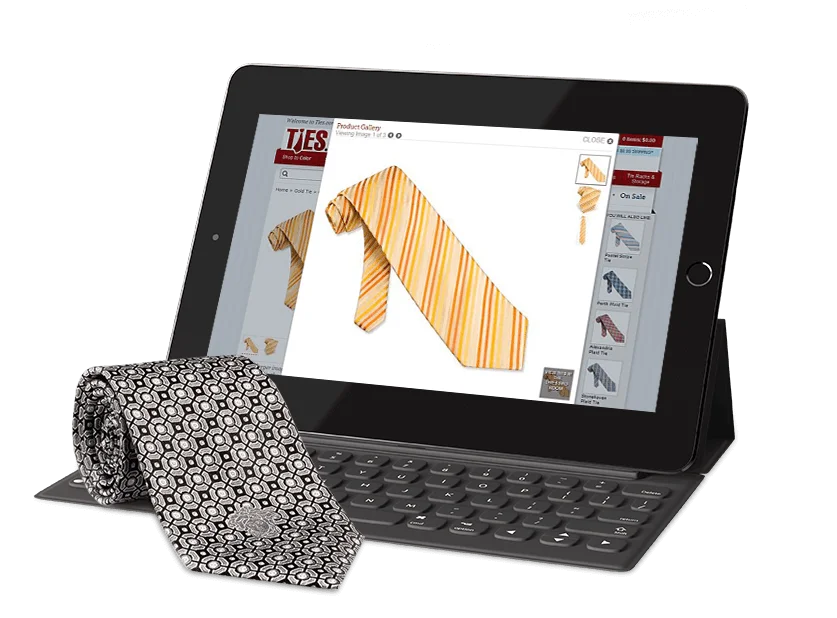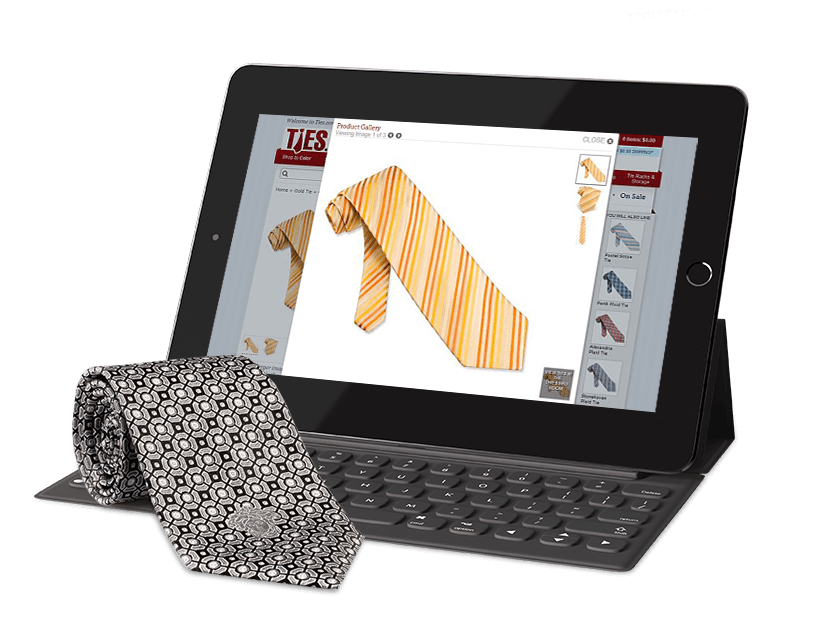 Another study by VWO shows that using larger product images delivers a 9%-increase in sales. As an example, let's take a look at Mall.cz. They've managed to increase their conversion rate by using large, high-quality images viewable on mouseover, combined with great product descriptions.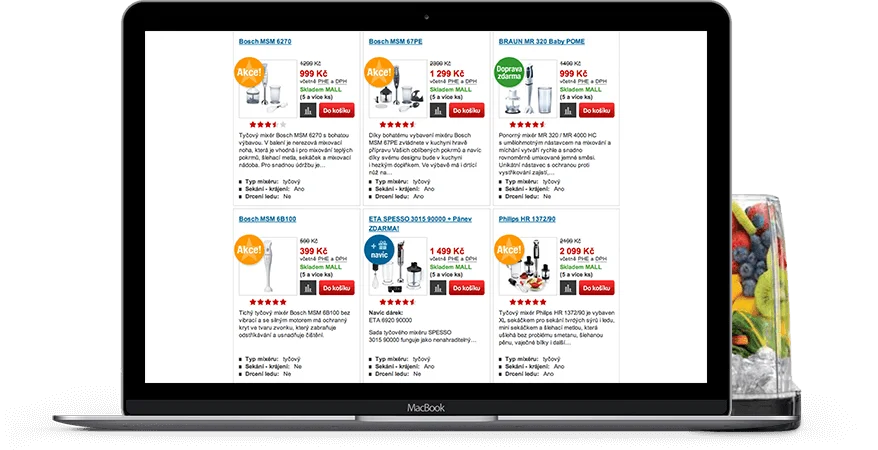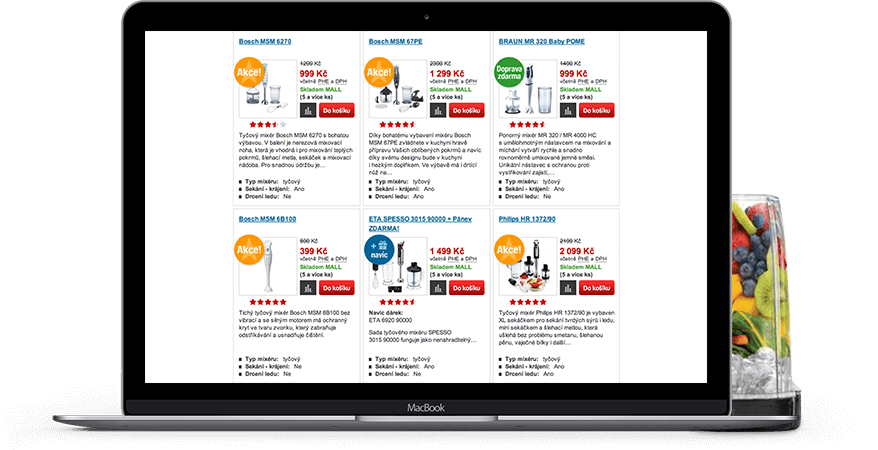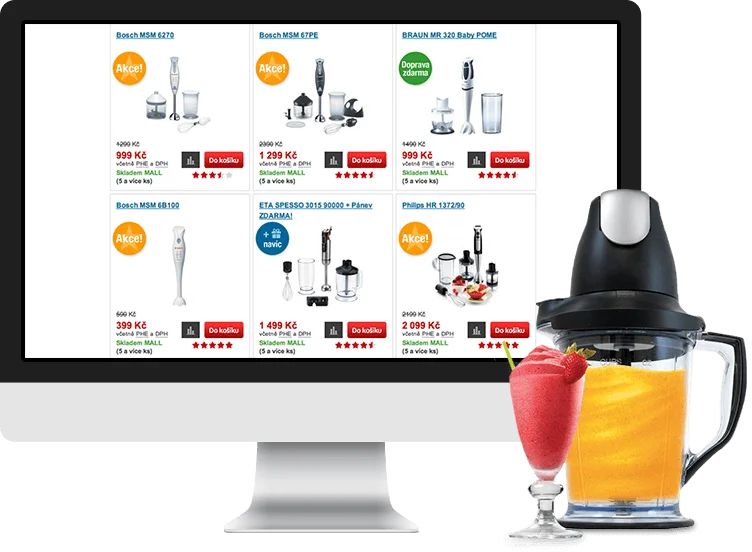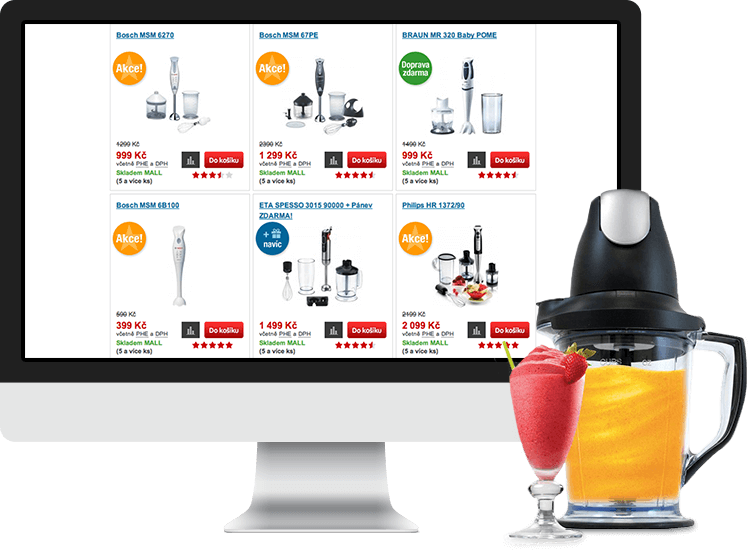 Another way to engage customers and make them craving for your product is to add videos. This practice helps not only showcase the product visually and in a comprehensive manner. It also allows you to empower your marketing opportunities via sending sales & special offers or personalized videos to bring back abandoned cart users.
Moreover, viewing a video, potential customers get the feeling of real interaction with your product or service. Thus, they want it.
Remember, you can implement different types of videos: sales and offers, e-commerce listing and abandoned cart videos, and so on. All of them is a part of e-commerce video marketing strategy which you should develop to increase sales.
4. Offer Easily Accessible Online Customer Service.
Software Advice did research to find out communication preferences for online shopping. The result is that almost half of website visitors prefer to use live chat instead of phone. This means that 50% of website visitors may be displeased with the customer experience on your site if you don't provide an online means of communication.
Even if you have included all the characteristics of a product, there will always be customers who need to clarify details. This is usually because they doubt whether your product will suit their specific needs. Thus, it is a good option to provide online chat to the website. Further, the response time should be as short as possible and you should be prepared to answer the following likely questions:
1. Is the product in stock?
2. Does it have complex technical characteristics?
3. Can you help me understand how to use it?
In these and other cases, online chat will help maintain a shopper on the site and lead them to make a purchase.
Let's take a look at how it works. Virgin Atlantic had a 23%-increase in its conversion rate after implementing live chat. Also, users who initiated chat spent 15% more per order.
Another case shows us that 'Total Gym', a company selling gyms, has seen a 39% increase in sales after implementing their chat service.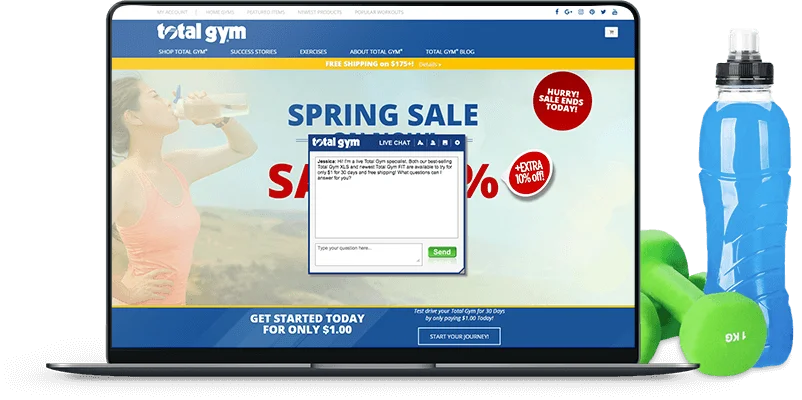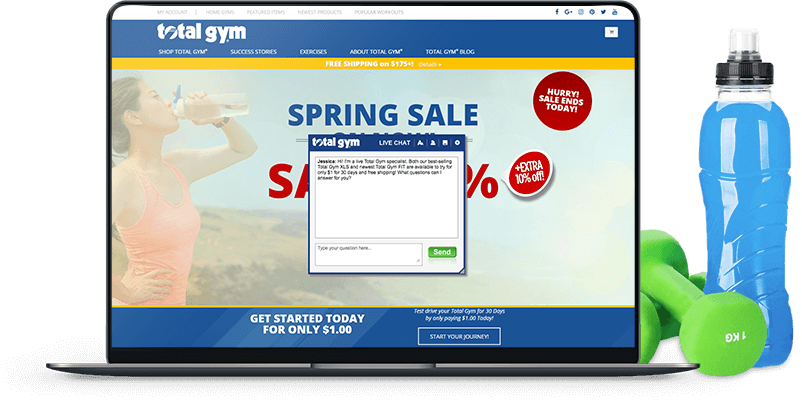 5. Offer Freebies: Low Prices, Specials, and Promotions.
Your customers like discounts. E-tailing Group states that 47% of online shoppers only like to buy products with a discount. 62% of them claimed they always look for the section with sales and special prices.
Sometimes, people buy goods because they are at a discount, not because they really need them. To entice these shoppers, you can launch an ad with discounts, add a banner to the homepage, and display promotional products in a recommended products section. Also, be sure to set a deadline, after which the discount burns. The closer it gets, the more willingly visitors will buy goods.
Be sure to think carefully about the amount of the discount. You won't impress anyone with a 5% discount on already cheap goods. However, a 30%-off offer on every product on your website will increase your conversion dramatically. For example, Macys.com has various discounts, and some of them even reach 50-70%. This is a solid option to drive sales. Just be confident about your price strategy.
6. Accept as Many Payment Options as Possible.
People are reluctant to buy from e-shops they've never used before. Also, customers care about their privacy and the security of their personal information. They prefer using proven payment methods. This can be supported by an independent online survey that had 2000 British participants. The result stated that almost half of the respondents said they won't buy from an e-store if their preferred payment method isn't available.
Of course, you don't have to include all the existing payment options. Rather, just be sure to provide major credit/debit card payments like MasterCard/Visa, online wallets like PayPal and Amazon Payments, and even the availability of a cash payment, which can be an option in the e-commerce sphere.
According to Aciworldwide.com, the availability of widely used payment methods can increase your conversion up to 30%. Here's how The-House offers three options: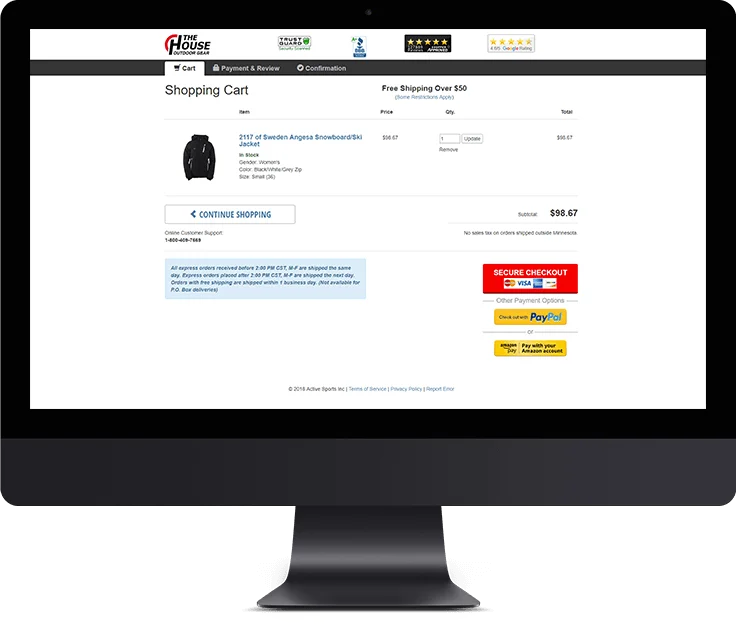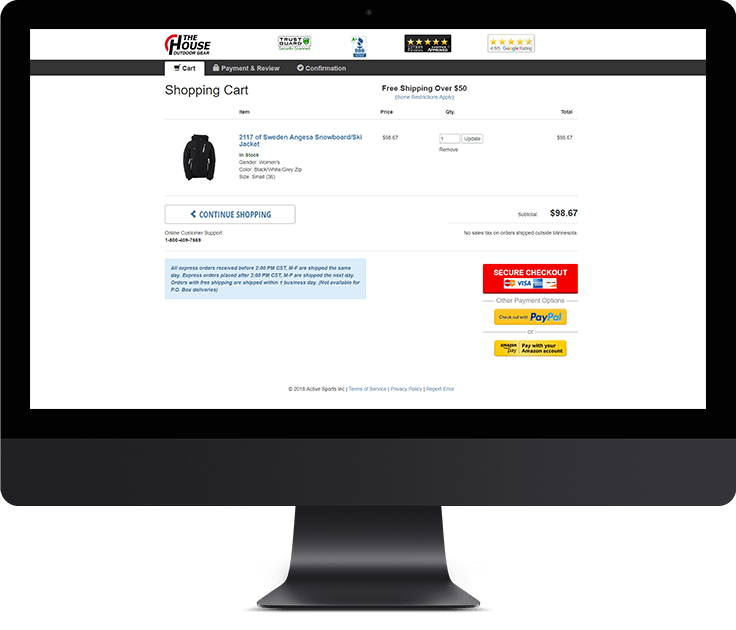 7. Website Speed Optimization.
It is impossible to underestimate the importance of website performance for your business. 47% of consumers expect webpages to open in less than two seconds. Even just a one-second delay means a 7%-loss of conversion rates. So, if an e-commerce website earns $1000 daily, that's a potential loss of $25,000 revenue per year.
One of our clients, the owner of a Danish fashion store Styled.dk, received five times more orders after we improved his website's performance from 7.1 to 2 seconds.
Tools, Services, and Technologies to Improve Conversion Rates
You undoubtedly can't wait to try some of these tools (or all of them!) for your website. Below, we will look closer at the tools that can help you to improve your conversion rate.
Analytics
These tools allow you to understand what part of the website's content is the most engaging for your visitors. For example, in e-commerce it is useful to see what products are the most interesting. Analytics reveals the disadvantages of the interface that prevent visitors from converting into customers. They also provide data you can base your decisions on.
Crazy Egg is a tracking tool which you can use to see what your visitors are doing on your website. It can provide you with maps of clicks, links, scrollmaps, confetti (heatmap with segmentation by traffic sources, search phrases, etc.). It also creates reports based on these heatmaps.
Usability and UX
Usability tests performed by a "special focus group" allow you to get information about how your website is perceived by the target audience.
UsabilityHub service offers the Five Second Test (gets testers' opinions after they viewed your homepage for 5 seconds), the Click Test (finds out where users click the most), the Question Test (a report based on a questionnaire designed by you), the Preference Test (can help you choose between several design options) and many more other useful tools to increase your conversion.
Technical diagnosis
These tools identify technical errors/defects in performance speed, how the website displays in different browsers and devices, and more.
GTmetrix defines the boot parameters (time, file size, number of requests) and how your website is displayed in different browsers and devices. You can also compare your indicators with other websites available in the system.
Our company is working on the creation of our own brand new optimization tool. It will be built specifically for e-commerce websites to measure website speed, explain how it affects your conversion, identify issues that can be improved, and advise how much it can increase your e-store's success. We will assess these issues and their impact based on industry data. If this sounds interesting to you, use the "contact us" button on the right to be among first to get this tool for free!
Feedback tools
These help you increase your website visitors' engagement and receive user feedback in the form of polls, surveys, and messaging. You can also interact with visitors to know if they need assistance, see how their shopping experience is going, and learn how to improve it.
Zopim is an international service with a wide range of functions which will positively influence your website's conversion, such as: proactive chat, analytics of visitors by geolocation, displaying the device shoppers are using, the source of traffic, history of visits (including your website's pages that have been viewed); customizable chat settings, a dialog history, and integration with third-party apps and platforms.
A/B testing
And last but not least, A/B testing is probably the most important tool. Indeed, just thanks to testing you can understand what will work best. It is a practical tool for increasing your conversion rate because it allows you to build hypotheses and test them.
Visual Website Optimizer (VWO) allows you to conduct every possible experiment such as: A/B testing, Split URL testing, and multivariate testing. It also has a visual editor, heat maps, click analytics, separate tests for mobile and desktop devices, 15 targeting parameters, integration with Google Analytics, and many other analytics services available.
Improve Your E-commerce Store
In case your business requires increasing conversion rate e-commerce, you need to constantly work on UX, technical, marketing and other aspects. Also, it would be remiss to forget about testing and analysis. Another valuable point is to talk to your customers and get their opinions. The more you understand your customers, the higher profit you will get.
If all your e-commerce conversion rate optimization tactics cost you more than the revenue you have generated, then it was unlikely a good investment. It is not always easy to choose the best options from the dozens of available tools in order to successfully predict what will work for your business. To avoid such problems, you can work with professional and experienced help instead.
https://whidegroup.com/wp-content/uploads/7-best-practices-small-2.png
300
772
Anastasia Zhuk
https://whidegroup.com/wp-content/uploads/whidegroup_logo.png
Anastasia Zhuk
2018-05-16 14:53:59
2021-02-05 17:59:22
7 Best Practices to Improve E-commerce Conversion Rate of Your Store
7 Best Practices to Improve E-commerce Conversion Rate of Your Store