Price is critical when it comes to e-commerce site development. However, there is no clear guide for business owners on how to calculate the cost of an e-commerce website and what aspects they should be prepared to take into account.
In this article, we will comb through every little component that should be included in the average e-commerce website and estimate a price for its implementation. This guide is applicable to both small business e-commerce website cost and enterprise custom e-commerce website price.
An average e-commerce website has a complex structure and consists of many elements. In this article, we review the steps to build an e-commerce website and estimate the costs involved in order to get a full view of the price.
#1 What does an e-commerce platform cost?
Platform selection is the foundation of every e-commerce store. You can find various e-commerce solutions: free and premium, light-weight and heavy, for small stores and enterprises. In this article, we'll focus on Magento and Shopify e-commerce solutions. We'll focus on these for two reasons – first, they are the most popular, with over 31% of the global market share. Second, at Whidegroup, we specialize in both of these e-commerce solutions. We have come to learn each little detail, nuance, and peculiarity of them, thus providing our customers with the best e-commerce solutions possible.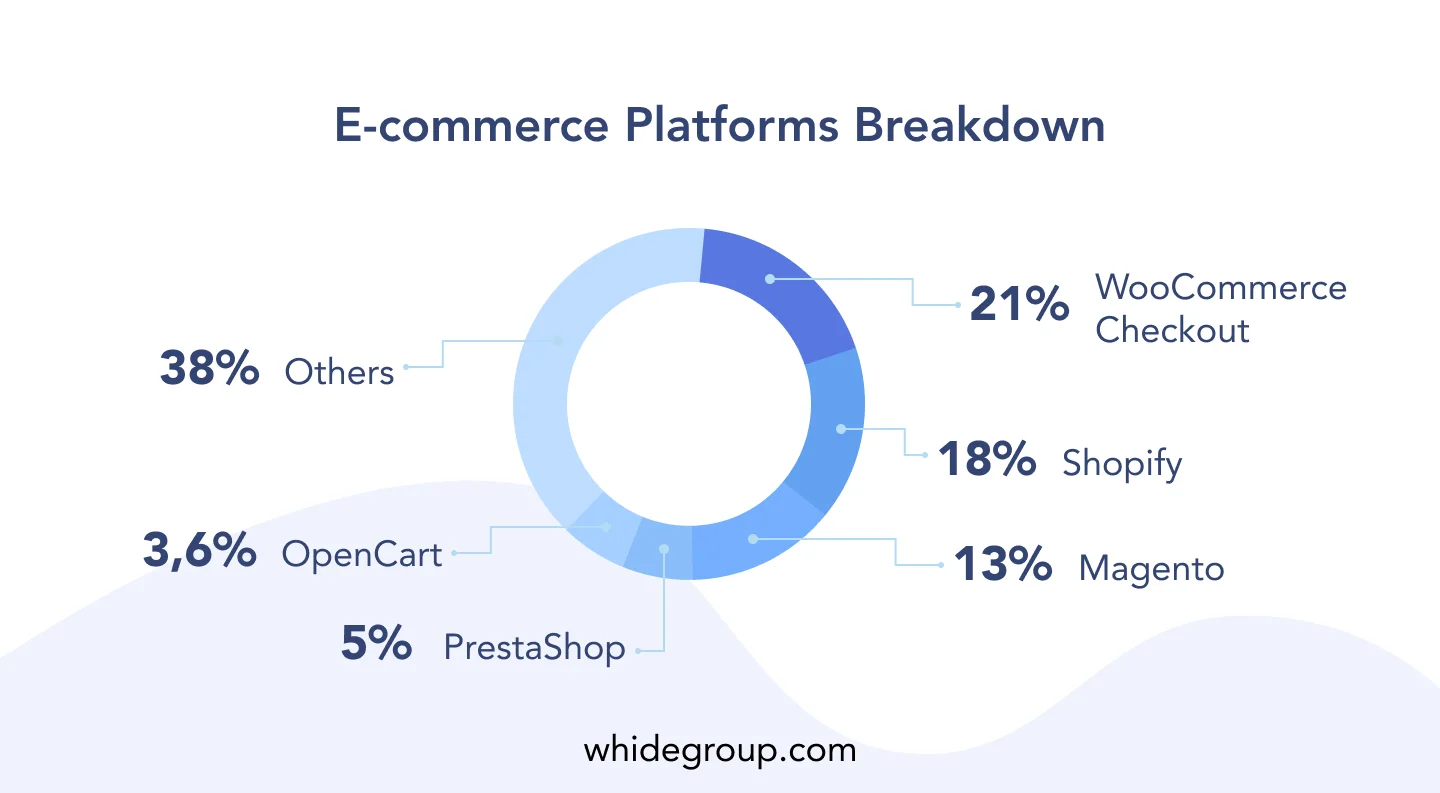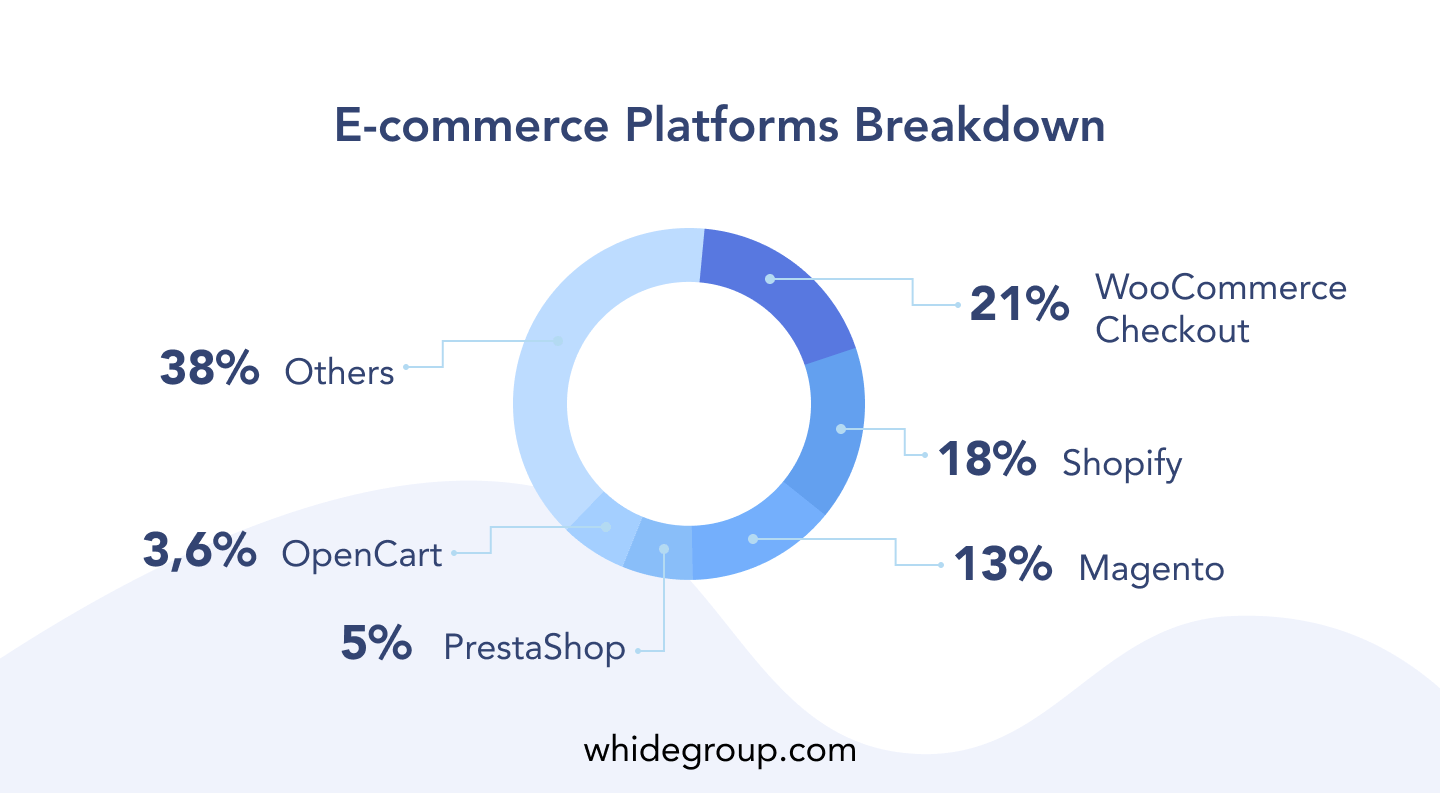 Both platforms offer several plans. Because of this, business-owners of any scale will be able to find a perfect solution for themselves.
Magento
The open-source e-commerce platform currently offers three options to choose from to run your e-commerce store:
Magento Open Source. This option is perfectly suitable for small online store development and it's absolutely free to use.
Magento Commerce. Designed for scaling businesses, Magento Commerce charges from $22,000 per year.
Magento Commerce Cloud. This edition provides entrepreneurs with fully pre-provisioned infrastructure. Magento Commerce Cloud costs from $40,000 per year.
Shopify
This SaaS e-commerce solution provides customers with four plans:
Basic Shopify. Perfect for those who only do the first steps in e-commerce. Basic Shopify costs $29/month.
Shopify. Intended for the creation of mid-sized businesses, it charges $79/month.
Advanced Shopify. Perfect for scaling business, this plan costs $299/month.
Shopify Plus. This solution was developed for large enterprises with a high traffic load and a significant quantity of products. The price for its license starts from $2,000 per month.
#2 What is the price for e-commerce hosting?
The second step after choosing a platform is hosting selection. Hosting solution providers are numerous, and below we review three that are considered to be the most popular ones:
1. A2 Hosting. If you're seeking a speed-star among hosting providers – A2 Hosting is the best possible option for you. It costs as little as $12.25 per month.
2. SiteGround. This hosting provider will suit you perfectly if your top priorities are reliability and safety. Choosing this option will run you $11.95 per month.
3. HostGator. Powerful and fully-featured, HostGator is perfectly-fitted to large e-commerce store development. However, it is also pricey – charging $118.99 per month.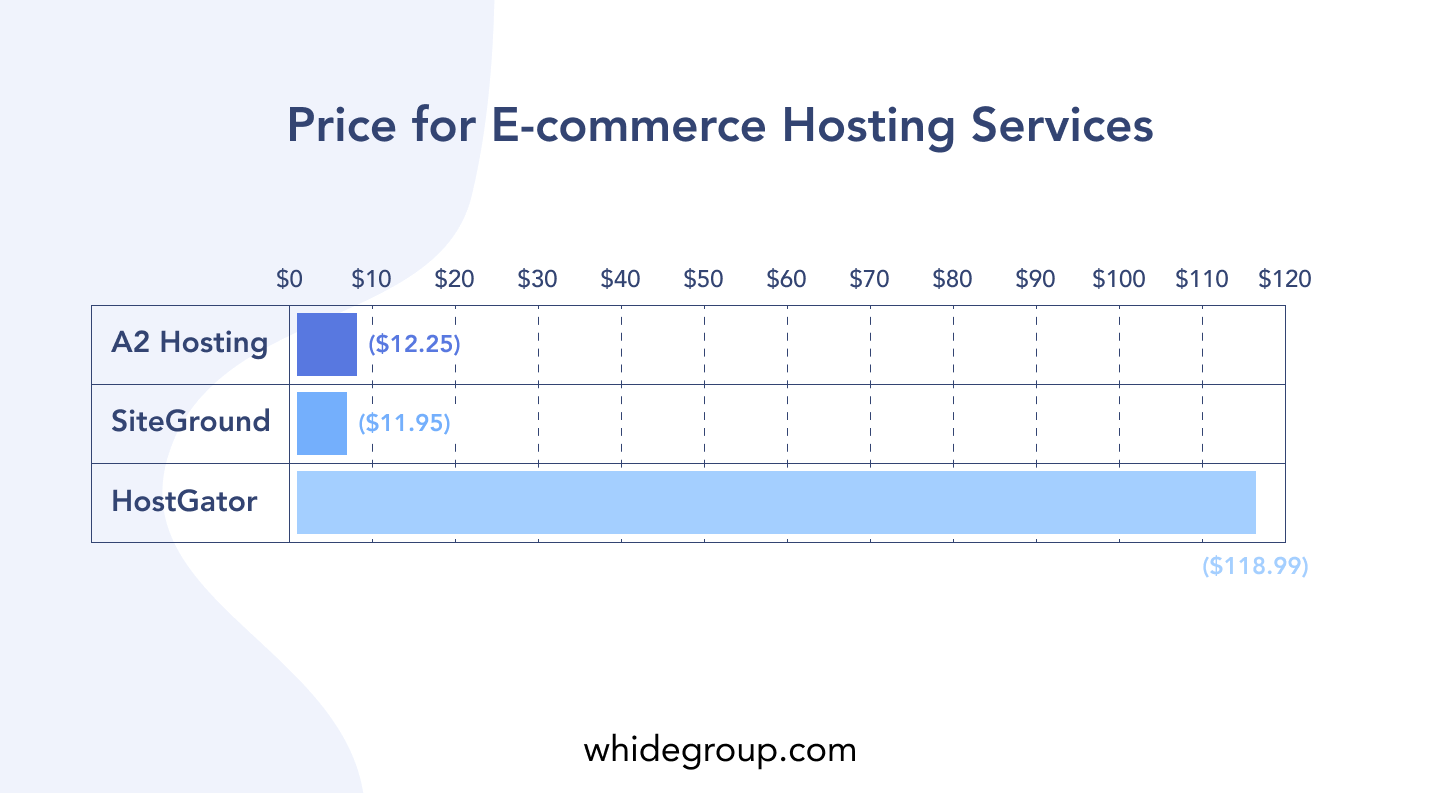 Every hosting provider mentioned above has various plans – from cheap and cheerful to more serious and costly. In this article, we referenced prices for only the heaviest options. We strongly believe that light plans are not suitable enough to run an e-commerce business of any scale, so we wouldn't waste your time on it. Instead, we recommend choosing the plans with more features, better support, and less downtime percentage.
#3 What is the price to develop e-commerce pages?
Every industry has a cluster of webpages that are considered to be the most critical. E-commerce is no exception here, and the list of important pages for e-commerce includes product page, home page, category page, and checkout. Below you can see the traffic breakdown of the pages mentioned above and estimate their importance.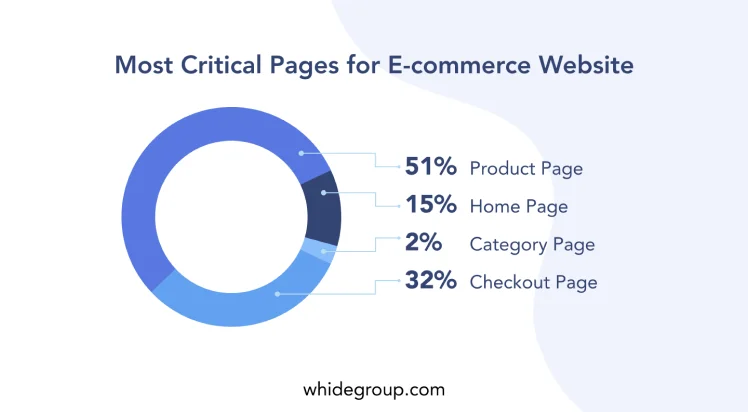 The most common way to measure the cost for page development is by using an hourly estimation. A developer's hourly rate varies from $50 per hour to $200. So, let's look at how long it takes to build an e-commerce website pages mentioned above.
Product card
Selling the product without a product card, or a product page is virtually impossible. By checking the product page, the customer gets an impression of a particular product and makes a decision about making a purchase. The time needed for custom product page development is on average 50 hours.
Want to know more about a product page development?

Home page
This page is perfect for placing information about you, your business, and the products you sell. With this display, you'll grow your authority and trust in the eyes of your customers. Homepage development is commonly estimated to run 10 hours.
Category page
If you sell many products, it's best to categorize them to make the shopping experience more convenient for your customers. Category page development on average takes 36 hours.
Checkout page
The checkout page requires particular attention from you since it's the final online touchpoint between your brand and your customers. Thus, the impression it leaves must be perfect! The best checkout is a frictionless one, and the best way to make checkout frictionless is to implement a custom checkout process. You can also consider an option to optimize an already existing checkout page.
On average, custom checkout page development takes up to 40 hours while optimizing an existing one takes around 20 hours.
#4 What is the e-commerce website design cost?
When it comes to the e-commerce site design cost – it all depends on whether you prefer to use a ready-made theme or implement a fully-custom design, and the price difference between these two options can be dramatic. Let's review these in more detail:
1. Themes. Magento and Shopify offer a vast amount of themes on their official marketplaces and through partners. The prices for the themes start at $37 and go up to $179. Both platforms also provide several free themes. However, they tend to look a bit outdated and out of style.
2. Custom design. Estimating custom design cost strongly depends on a variety of factors, the main being the designer's qualifications, the design's requirements and complexity, and the project scope. Almost every custom web design agency will price e-commerce projects based on the number of hours it takes to design them, multiplied by their hourly rate. On average, the custom design development process takes from 10 to 500 hours to be completed, while the web designer's hourly rate starts at $50.
#5 What is the e-commerce payments processing rate and fee?
To date, the most popular e-commerce payment solutions are PayPal, Authorize.net, and Stripe. Together they own over 75.6% of overall market share. All of them have no setup fees and charge only for successful transactions.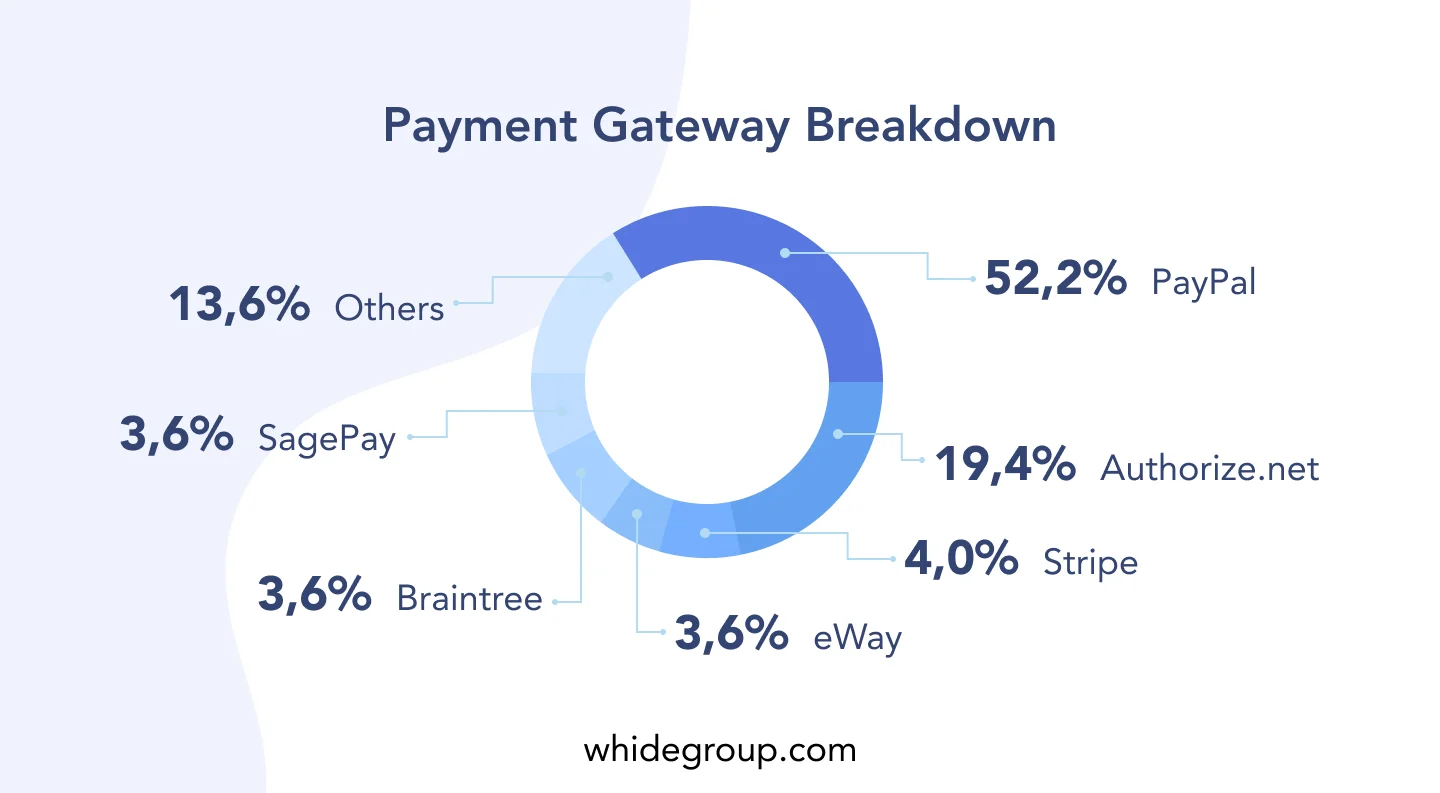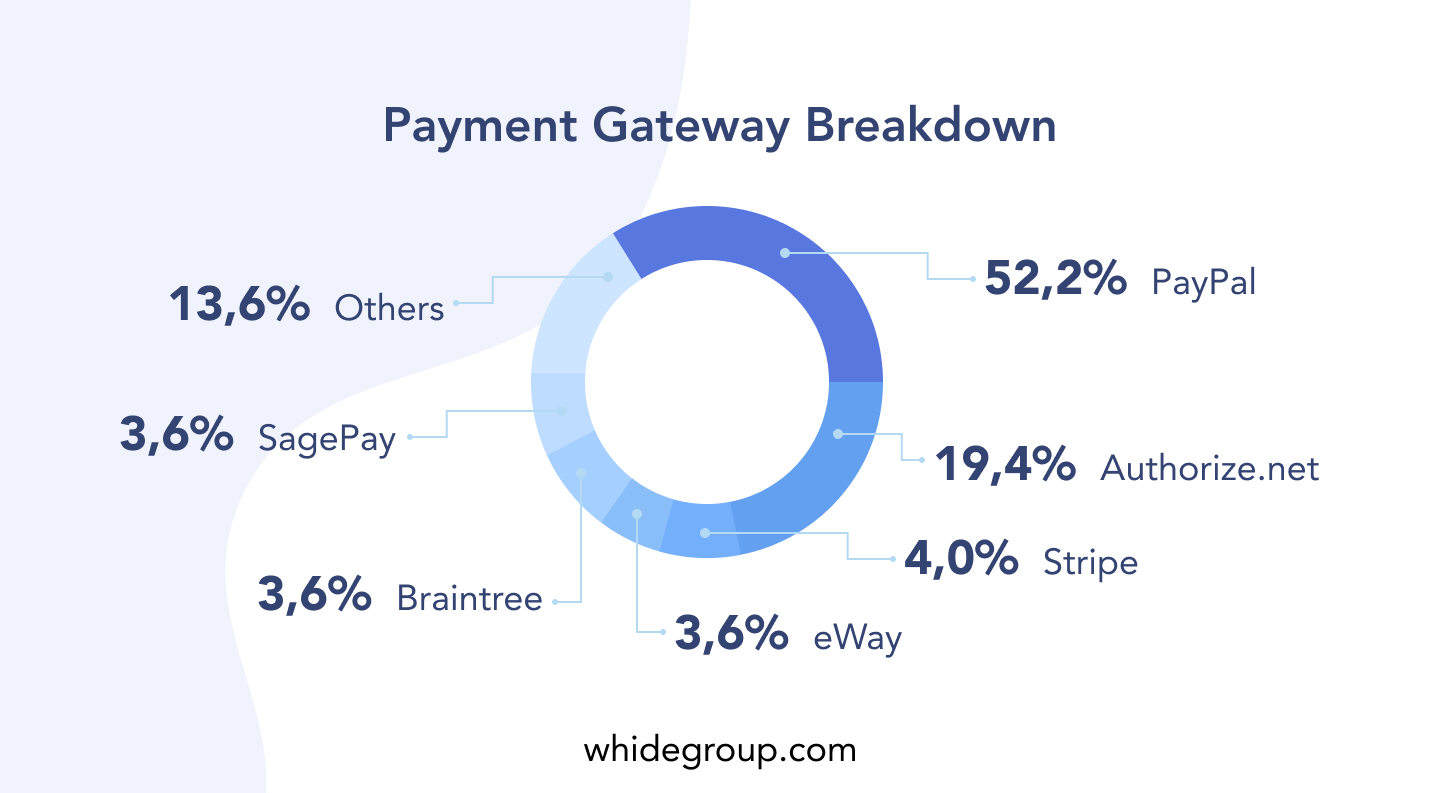 Payment integrations in more details:
1. PayPal. With its multiple payment options, PayPal is an undeniable leader among other payment solutions and a must-have payment option for any e-commerce website. As for the costs: PayPal charges 2.9% + $0.30 for transactions over $10.
2. Authorize.net. This payment provider has become a synonym of good reputation and charges 2.9% + $0.30 per transaction. Additionally, Authorize.net charges a monthly fee at the rate of $25.
3. Stripe. Feature-rich and user-friendly, Stripe leaves behind all the competitors when it comes to ease of use and setup. Stripe charges 2.9% + $0.30 per transaction.
In our experience, we can say that customers are most interested in implementing such payment solutions as PayPal, Klarna, Sage Pay and Stripe, considering them to be both safe and trustworthy.
Choose the best payment option for your store

#6 What is the price of SEO promotion?
SEO promotion is one more aspect to pay attention to while composing an e-commerce website quotation. The reason is that SEO has become a vital component of the e-commerce business. It affects the findability across search engines, it improves user experience, and eventually, SEO perfectly works as a promotion of the website. Let's look at the work it includes and how much it costs:
1. Copywriting. Writing copy is often overlooked in e-commerce development estimation. However, copywriting is a surefire way to kill two birds with one stone – entertain customers and grow your visibility in the search engines. Thus, it makes sense to invest in writing good content. It will cost you from $50 to $500 per page.
2. Building links. Young yet effective, this tactic is considered to be a vital part of every successful SEO strategy. Link building services charge from $500 per month.
#7 What is e-commerce website maintenance cost?
E-commerce maintenance costs are an essential part of the overall website development cost, which can't be left out. Let's look at what activities are included in website maintenance and how much they cost:
1. Domain name. Your website identificator will cost you from $2 to $20 per year.
2. SSL certificate. The price for purchasing an SSL certificate starts from as little as $6 per year and goes up to $99. We do not recommend you to get excited by either options that are too cheap or expensive – find a middle ground instead. You can easily find SSL certificates which cost on average $14 per year, and they will suit an e-commerce store fine.
3. Regular upgrades. E-commerce platforms release updates regularly. It's vital to remain up-to-date with the latest updates possible. Website updation charges starts from $5,000 and goes up to $50,000, depending on the number of products, custom implementations, and overall store complexity.
4. Troubleshooting services. Troubleshooting service providers offer two main models of estimation – on an hourly basis (from $25 per hour) or charging per issue (from $69 per issue).
#8 Any hidden pitfalls?
While making any estimate, there's a risk to encounter pitfalls that can make a significant impact on the ultimate e-commerce website price. These pitfalls are the following:
1. Hiring the developer or team. It's the developers who make the estimate, which eventually defines the price to develop an e-commerce website. Thus, hiring under-qualified developers results in poor project estimation.
2. Poor project scoping. Even the best developers can do nothing if you set unclear expectations. Make sure you speak the same language with your development team and you'll get the desired result.
3. Additional expenses. At any moment your e-commerce development project may require immediate purchasing of some tools: plugins, extensions, modules and so on. This requires additional funds, and you should be ready for such a situation. Make sure to work with a developer whose intentions you trust, and you'll know anything additional will have only been a necessity for your website's success.
Final Thoughts
In this article, we've reviewed the cost of setting up an e-commerce website – the aspects it depends on and its components. We also covered possible problems to look out for.
However, this guide, even with its detail and accuracy, can't necessarily cover all the aspects of online shopping website development cost. You should keep in mind that a precise e-commerce website cost estimate is impossible without knowing every requirement for your site. Thus, in order to get a precise project estimate, we recommend that you drop us a line and include all the details of your project. We look forward to working with you!
https://whidegroup.com/wp-content/uploads/ecommerce-development-cost-small-3.webp
300
772
Anton Zhuk
https://whidegroup.com/wp-content/uploads/whidegroup_logo.png
Anton Zhuk
2019-12-18 17:54:56
2021-09-17 15:13:19
E-commerce Website Development Cost in 2021
E-commerce Website Development Cost in 2021