Even the most determined business owners and marketing specialists feel burned out and in need of motivation sometimes. In this article, we put together a compilation of e-commerce quotes that are meant to inspire and help merchants and business specialists stay motivated. You also might discover a few important insights about the future of e-commerce and where online shopping is headed. Without further ado, let's check out the quotes about online business from top industry experts!
Motivational E-commerce Quotes About Digitalization
We want to start our list of e-commerce quotes by focusing on the topic of digital transformation. In recent years, e-commerce has transformed significantly in terms of technological development.
#1
There are so many opportunities on the horizon, from mobile exclusives to geo-located offers to better filtering and search. We've only scratched the surface of what's possible with personalization. Michelle Peluso, CEO of Gilt Groupe.
Something particularly important to bear in mind for 2023 will be the ongoing blurring of physical and digital worlds. Technologies like recommendation engines show that our behavior across multiple online channels can shape the way we shop.
#2
People don't call it e-commerce anymore. It's called Omni-commerce, and it's the idea that digital permeates every step of the purchase chain, from product discovery, to trial, to pricing, to actual purchase. Tolman Geffs, Co-President of the Jordan Edmiston Group (JEGI).
The trend of going multichannel has been on a rise for awhile, but the last two years of the pandemic proved that harnessing all sales channels can be so much more than just marketing.
#3
Remember, every 'mistake' your customer makes, it's not because they're stupid. It's because your website sucks. Peep Laja, Founder of ConversionXL.
Of course, no one can deny the significance of a good-quality website these days. Most inspiring shoppers' quotes put emphasis on how important a well-designed, easy to navigate, and optimized website is when deciding on a purchase.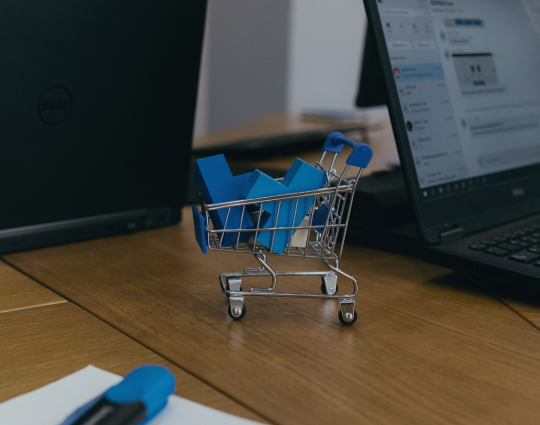 Ready To Transform Your Online Store?
We Can Help You!
#4
At least 40% of all businesses will die in the next 10 years… if they don't figure out how to change their entire company to accommodate new technologies. John Chambers, Cisco.
There is nothing scary about a technological and digital transformation of online retail business. In fact, implementing the most recent developments into your strategy can make or break your brand in the long run. Here's what some of the e-commerce quotes have to say about it.
#5
It's no longer the big beating the small, but the fast beating the slow. Eric Pearson, CIO, International Hotel Group (IHG).
#6
By 2022, brick-and-mortar retail spaces will be little more than showrooms. Eddie Machaalani and Mitchell Harper, Co-CEOs of BigCommerce.
The last quote about e-commerce is especially valuable, considering that shopping from desktop is also slowly fading into the past. Which is why you should make mobile optimization your next priority.
Revealing E-commerce Quotes About Marketing
For any business to grow, it must build a long-lasting relationship with its customers. While a lot of merchants view marketing as a tool for reaching their target audience, customers see it as social proof that your brand is worth purchasing from.
#7
When you say it, it's marketing. When your customer says it, it's social proof. Andy Crestodina, Co-Founder and strategic director of Orbit Media Studios.
Leveraging the internet to reach your audience is possibly the biggest advancement in e-commerce since its inception. It's truly amazing how information about a certain product can now reach so many people from different corners of the internet.
#8
You can't wait for customers to come to you. You have to figure out where they are, go there and bring them back to your store. Paul Graham, co-founder of startup accelerator Y Combinator.
As many e-commerce quotes put it, getting leads is one thing, convincing an online shopper to trust your brand and make that very first purchase is entirely different. Luckily, we have a lot more personalization technology now to help with this.
#9
Getting leads is the first step but converting those leads into satisfied customers is one of the most important and most challenging tasks of a business. Pooja Agnihotri, author of 17 Reasons Why Businesses Fail: Unscrew Yourself From Business Failure.
While social media is the most engaging opportunity for brands to reach their customers, your marketing strategy doesn't end there. Knowing all of the tips and tricks of increasing conversion rate, you can maximize your marketing efforts.
Insightful E-commerce Quotes About Customer Service
Efficient customer service can greatly help a potential customer on their buying journey. Moreover, having reliable customer service can do enormous damage control in case something goes wrong with the purchase.
#10
Customers don't expect you to be perfect. They do expect you to fix things when they go wrong. Donald Porter, VP at British Airways.
Having a customer service team is non-negotiable, no matter the size of your store. It's one of the guarantees of quality you give to your customers.
#11
Customer service should not be a department. It should be the entire company. Tony Hsieh, CEO at Zappos.
Many quotes about online business draw attention to how merchants should never underestimate how crucial listening to your customers is. Customer feedback helps you determine which products are working, which are failing, and why. As well as how you can improve in the future.
#12
Your most unhappy customers are your most important source of learning. Bill Gates, Microsoft Founder.
Helpful E-commerce Quotes About Customer Loyalty
Every business owner, especially in e-commerce, knows that selling to repeat customers is cheaper and easier than acquiring new ones. However, it can be challenging to acquire the loyalty of online shoppers when they have so many options to choose from.
#13
The easiest and most powerful way to increase customer loyalty is really very simple. Make your customers happy. Kevin Stirtz, author of More Loyal Customers: 21 Real World Lessons To Keep Your Customers Coming Back.
Indeed, delivering an exciting shopping experience every time is going to naturally build customer loyalty. However, you can go a step forward and encourage customer loyalty through various exclusive programs.
#14
Don't forget about those people who have spent their hard-earned money with you. They could be responsible for substantial online sales later down the line. Treat them like your family and take them with you on your journey. Matt Thorpe, founder and senior director of M.Thorpe & Associates Inc.
Some of the most inspiring shoppers' quotes encourage merchants to put their customers first. It may sound cliche, but it's true. Your recurring buyers are the foundation of your business that ultimately keep it afloat.
#15
If you do build a great experience, customers tell each other about that. Word of mouth is very powerful. Jeff Bezos, founder of Amazon.
Another great point is that having your repeat customers spread good word about your store is a very effective marketing technique. Word of mouth might be one of the first types of advertisement in retail and remains relevant to this day.
General E-commerce Quotes to Motivate Your Business
#16
Over-developed websites are slow to load. This directly impacts conversion rates. No matter how cute the treatment, if your home page requires a "Loading" message, you're probably in trouble. Brian Massey, founder of Conversion Sciences and author of "Your Customer Creation Equation".
We cannot stress enough the influence of speed optimization on your conversion rate. Dozens of quotes about online business state that no customer in the modern world is willing to wait even 30 seconds for a slow website to load. Remember that your website is your storefront.
#17
If you've made sure your product is super-valuable to the customers, when customers get the message from you that their card is going to expire, has expired, or their payment otherwise failed to go through, they'll drop everything and update their card so they don't miss a beat with your product. Lincoln Murphy, customer success consultant, and keynote speaker.
Only a few brands have managed to master the art of selling the experience of using the product, rather than the product itself. Obviously, your product needs to be actually good to succeed on the market. However, establishing an exciting and trustworthy brand is a major element in long-term success.
#18
Chase the vision, not the money; the money will end up following you. Tony Hsieh, CEO, Zappos.
#19
Timing, perseverance, and ten years of trying will eventually make you look like an overnight success. Biz Stone, co-founder of Twitter.
A good reminder to any business owners is that no great business was made overnight. Aside from positive online business quotes, something you won't see on social media is the turmoil and predicaments every brand faces. Perseverance is key.
#20
In 2021, more people Googled "How to start a business" than "How to get a job". This is not just the year of the entrepreneur – this is the start of a new era where being an entrepreneur is people's first choice for a career Harley Finkelstein, President of Shopify.
E-commerce truly redefined how people shop and maintain a business online. Over the years, we can see that various e-commerce niches have gone in and out of trend. All of the featured e-commerce quotes highlight that now is the best time to lean into modern technologies and bring your online business to the next level.
Final Thoughts
No matter how many positive online business quotes we read, the truth is — there is no secret path to overnight success. Instead, it's a combination of perseverance, trial and error, and determination to scale your business in order to become a brand people will remember for decades. It's also crucial to keep in mind that e-commerce changes each year and you need to stay on top of customer demands.
Some e-commerce quotes suggest that modern online shoppers pay significant attention to how optimized and visually appealing an online store is. Which means the quality of your store is of vital importance now more than ever. If you need any help regarding website optimization and development, you should drop us a line for a free consultation with our team experts. We look forward to hearing from you!
https://whidegroup.com/wp-content/uploads/small-cover-20-e-commerce-quotes-from-industry-expertss.webp
300
772
Kristina Bardusova
https://whidegroup.com/wp-content/uploads/whidegroup_logo.png
Kristina Bardusova
2022-11-25 18:15:34
2023-02-27 15:30:25
20 Inspirational E-commerce Quotes to Motivate Your Business
20 Inspirational E-commerce Quotes to Motivate Your Business