The phrase "sustainable e-commerce" gets thrown around a lot lately. However, not many merchants truly understand what it means for their business. More online shoppers these days, especially in a post-pandemic world, are making an effort to decrease their negative influence on the environment. Curiously, what some business owners fail to realize is that consumers are already judging brands on whether or not they are adopting eco-friendly trends into their stores.
So, what can you do to stay on top of current consumer demands? In this article, we will explain what the term "sustainable e-commerce" means for businesses and customers. You will also learn three essential eco-friendly trends you can start adopting into your store today!
What Does Sustainable Online Shopping Mean?
Running a sustainable e-commerce business essentially means conducting retail in a way that doesn't harm the environment or exhaust natural resources. The goal is to decrease the impact retail chains have on nature by adopting ecological manufacturing, eco-friendly shipping, and sustainable retail management.
So, why should e-commerce sustainability suddenly appear on your priorities list? Well, according to research:
Over the past five years the popularity of searches for sustainable goods has risen by 71%.
More and more shoppers are concerned with the environmental impact of waste disposal, fast fashion, deforestation, water and air pollution. Consider this: more than 2 billion tonnes of municipal solid waste is generated worldwide annually.
With such a noticeable shift towards conscious consumerism, adopting an environmentally responsible branding strategy can establish a good image in the eyes of the customers. By communicating eco-friendly values to the shoppers, you give them a cause to pick your brand over competitors and an ethical incentive to spend.
Adopting sustainable e-commerce practices will not require global changes for your business. Since the eco-friendly strategy has been steadily rising in popularity, merchants now have a lot of options when it comes to introducing sustainable online shopping options. Let's move on to discuss the three essential practices most stores adopt first when going green.
Three Eco-Friendly Trends to Adopt Into Your Store
In terms of adopting more sustainable e-commerce practices, the options vary by complexity. Becoming a completely green online store implies restructuring your entire supply and retail chain to utilize exclusively sustainable materials. Latest studies also include ethical labor practices to be a part of the sustainability trend.
You can work towards implementing as many environmentally conscious practices as you deem necessary. However, you can start with the basic eco-friendly e-commerce practices. According to a study, there are three environmentally sustainable essentials valued by consumers today. These are:
Sustainable packaging
Reduced carbon footprint
Reduced waste in the operating process
Without further ado, let's break down each of these practices in detail.
#1 Sustainable e-commerce packaging
Adopting sustainable e-commerce packaging into your store is possibly the easiest thing you can do to reduce your environmental impact. A lot of brands are switching towards recycled materials to use as packaging, even if the company isn't striving to go green. It's definitely a sustainable practice you should consider, especially since 85% of plastic used for packaging ends up in landfills.
Here's some tips on how to implement sustainable e-commerce packaging:
1. Use only biodegradable materials. Stop using plastic and foams because they're cheaper. Introduce biodegradable packaging, which is any form of packaging that will naturally disintegrate and decompose, such as paper or cardboard. It's an easy transition that will ultimately reduce overall waste that the e-commerce industry generates.
2. Choose the appropriate packaging size. Unnecessary large packaging is an unjustified consumption of resources. On top of that, larger packages are shipped at a higher cost and occupy extra space that could be used for other deliveries.
3. Market your sustainable packaging. Sustainable packaging is one of the main selling points for many e-commerce businesses that are trying to become more environmentally conscious. Don't shy away from telling shoppers your brand is on the right path, too.
Of course, the biggest drawback of sustainable e-commerce packaging is the design. However, you can try and test out several versions of the new packaging to see which one customers like the most. After all, nobody said that sustainable packaging must be unattractive, so there's definitely room for creativity.
#2 Eco-friendly shipping
As every merchant knows, fast delivery is very important for customer satisfaction. However, what many fail to understand is just how detrimental express delivery can be to the environment. Fuel emissions caused by transportation are responsible for 27% of all greenhouse gas emissions in the US. Which is why building a sustainable e-commerce supply chain is a much more serious and responsible step.
You can begin transitioning to more eco-friendly delivery using these tips:
1. Transfer deliveries in bulk. Optimize delivery route by grouping orders whenever possible. That way you can deliver more packages at a time, while reducing carbon emissions from your delivery transport. However, this option does mean longer shipping, which is okay for some customers.
2. Express delivery only for certain order types. Offer express delivery only in special cases, like when shipping products with a short expiration date. This option should not be default and it's your job to communicate to shoppers why this change is for the better.
3. Outsource sustainable delivery options. In case the order needs to be shipped quickly and it doesn't fall under express delivery criteria, you could offer sustainable shipping options, like a FedEx Green Ship program. The shipping will cost more, but you can be assured the order will be delivered via electric or hybrid transportation.
Reinventing your supply chain to increase e-commerce sustainability is a task that will require rigorous research and investment for implementation. However, the positive impact on the planet will be substantial and will certainly attract shoppers who are devoted to making this world a better place.
#3 Sustainable return management
What often goes unnoticed when it comes to production waste is the management of returned goods. Incompetent approach to return management can be even more harmful than non-sustainable packaging. Considering that at least 30% of all products ordered online are returned, consumers have grown much savvier about merchants' return policies.
The key to fixing excessive returns is changing the conversation towards e-commerce sustainability. Here's what you can do:
1. Try to prevent returns. The basic rule of return management is providing customers with accurate and complete product information, as well as high-quality product photos. This reduces the chances of the product not meeting the customers' expectations in the first place.
2. Work on your return policy. Being able to return an unfitted product is a customer's right by law. However, your return policy should not encourage "try on and return" behavior. Communicate to shoppers that returns are not only a financial burden, but also an environmental hazard. In addition, establish reasonable return dates and conditions.
3. Encourage non-refundable products. Some customers already take the initiative of not returning the purchased product even if it didn't fit. You can take a step forward and provide customers with a form they can sign that will waive the possibility of returning.
Unfortunately, returns are an essential part of online retail business that can't be 100% avoided. Changing the consumers' attitude about returns should reduce the amount of unnecessary operations. As for returned products, you can offer them at a discount or sale to divert waste from landfills. The resurgence of the second-hand e-commerce niche is projected to be the pioneer of ongoing eco-friendly trends.
Examples of Sustainable E-commerce Stores to Draw Inspiration From
Taking a hard look and reinventing your business strategy may seem scary. After all, you can't guarantee that implementing sustainable e-commerce strategies is going to be successful for your store or that your customers will appreciate the effort. What we can do, however, is show you some examples of sustainable online stores that are leading the way with their commitment to making e-commerce more eco-friendly. Their journey could help inspire and dispel any fears you might have about going green.
#1 Shades of Green
Shades of Green is a truly unique online store that sells a variety of household items. Their main value is to satisfy the need for high-quality products while not ignoring the impact manufacturing has on the planet. The company is committed to sourcing and selling only environmentally sustainable products with most materials being recycled.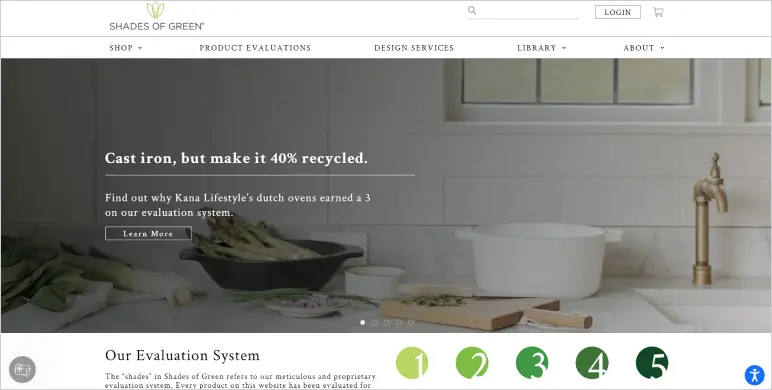 Curiously, Shades of Green developed their own product evaluation system based on how sustainable the product is — the shades of green. Where #1 is typically greener than most mainstream products and #5 are exceptional eco-friendly products. The brand's devotion to starting transparent conversations about consumerism and e-commerce sustainability is what makes them a standout example.
#2 Pela
Pela is an e-commerce store that promotes sustainable online shopping by offering biodegradable iPhone and iPad cases, smartwatch bands, sunglasses, and accessories. The brand's mission is to create a waste-free future, hence why all of their products are made with environmentally-sustainable materials.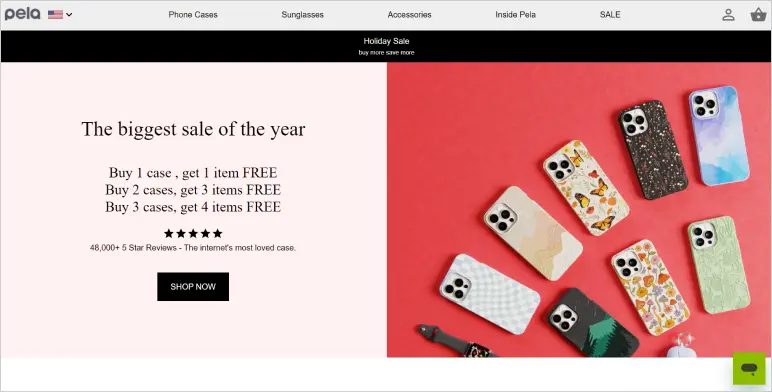 In addition, they also work towards streamlining transportation and improving manufacturing efficiencies. Pela has an entire team of researchers and scientists that constantly monitor and measure their impact on nature. As of 2022, the company prevented 760,000 pounds of plastic from entering the waste stream and they're certainly ambitious for the future.
#3 Thousand Fell Shoes
Thousand Fell Shoes is a fashion brand that is committed to closing the loop in the footwear industry. Their ultimate goal is reaching true full circle footwear — turning old products into new ones. Thousand Fell Shoes not only sells fully sustainable sneakers, they also offer customers a recycling program.
Once you're done with their pair of sneakers, you can ship them back to the store to be either recycled or given to someone in need. This eliminates the possibility of a pair of sneakers ending up in a landfill. Notably, their branding is mostly aimed at a younger demographic, which raises e-commerce sustainability awareness in people who will shape the future of online shopping.
Final Thoughts
Sustainable e-commerce has crossed the threshold of simply being a buzzword and turned into a business strategy that yields remarkable results. Nowadays, customers pay more attention to how environmentally-friendly the brand is, which might even influence their decision of purchasing from you. Becoming an eco-friendly e-commerce company does not necessarily mean a major financial burden. On the contrary, it opens many new marketing and scaling opportunities that you wouldn't otherwise have.
In this article, we explained what sustainable online shopping means for customers and brands. You can use our tips to start your transition into a brand that cares about the world we live in. If you have any questions about e-commerce development, we encourage you to drop us a line for a free consultation!
https://whidegroup.com/wp-content/uploads/small-cover-sustainable-ecommerce.webp
300
772
Kristina Bardusova
https://whidegroup.com/wp-content/uploads/whidegroup_logo.png
Kristina Bardusova
2022-12-14 11:40:44
2023-02-15 14:32:22
Simple Sustainable E-commerce Practices to Introduce Into Your Business
Simple Sustainable E-commerce Practices to Introduce Into Your Business