Attracting new customers and converting them into loyal fans is something every e-commerce merchant strives to do. Keeping loyal fans is the job of customer retention. Many customer retention methods have been invented already, and gift cards remain one of the most effective options you can implement. Gift cards are a versatile tool that can be used to lure in a new customer, or repair the relationship with one that had a not-so-great experience in your store. Today, we will show you how to add gift cards to Shopify in just a few simple steps and how to get the most out of them.
Before we jump right into exploring gift cards in Shopify, be sure to read our ultimate
Shopify Speed Optimization Guide
! We covered everything you will ever need to know about Shopify maintenance and optimization.
The benefits of using gift cards in your store may not be as obvious and can seem outdated, but they can substantially boost your revenue when used right. Studies show that one-third of customers purchased a gift card at a specific store because certain incentives or bonuses were offered. This is just one of the ways you can make gift cards work for your store. Let's stop for a moment and explore exactly what kind of advantages you can get when using gift cards for Shopify.
Why Should You Use Gift Cards Powered by Shopify?
A gift card is a prepaid card that contains a certain amount of money which the owner can use to redeem the card's value for products or services in a specific store. Digital gift cards generally contain a gift code assigned to it by the store. Some gift cards can be used only once, while others allow you to spend a certain amount over the course of multiple purchases (given that the gift card balance still contains some value).
Merchants have been using gift cards to incentivize customers even before the era of digital shopping became a thing. It's no wonder these gift cards are such a revenue booster. Have you ever wondered what are the actual advantages of implementing gift cards in Shopify? Let's take a closer look at the most prominent ones.
Do you know how digital products are sold on Shopify?

#1 Customer loyalty
The struggle to gain customer's loyalty leads businesses to create the most intricate loyalty programs. After all, it is well known in e-commerce that it's much easier to sell to a loyal customer than a new one. Which is why the easiest way to make the customer return to your store is by offering them a sweet discount through a personalized Shopify gift card.
Gift cards are only the tip of an iceberg!

#2 Brand visibility
Shopify gift cards can do much more for your brand than just incentivize your loyal customers. Selling gift cards in your store can actually boost your brand visibility. How? The answer is quite simple.
Imagine this: your loyal customer purchases a gift card from your store for their loved one. In case the receiver is already aware of your brand, the gift card gives them a stress-free way to purchase their favorite products. If the receiver doesn't know about your brand, well, now they will be able to test out your products. In the end, selling gift cards is a passive method of raising your brand awareness and you should consider implementing it into your Shopify store.
#3 Alternative for refunds
Unfortunately, every now and then you will run into customers who are dissatisfied with their purchase and demand a full refund. However, offering a gift card with a personalized deal can turn a grievous situation into a sales opportunity.
In case of a refund request, you can provide the customer with a gift card of similar value, like another product, or with a discount that will cover the refund amount. Adding a small note of apology can also warm up the customer to your brand again. Making a fair deal like this is not only a method of damage control, but a way to improve your sales as well.
#4 Increased holiday-season sales
Nothing can give your brand a quick boost like an anticipated holiday season. You will find that for some people it's much easier to buy a gift card from their favorite (or the receiver's favorite) store as a present and call it a day. Selling Shopify gift cards during this time is the best thing you can do. Consider this: 59% of shoppers exceed the value of the gift card when shopping. While we can't judge if holiday gift cards leading to impulsive purchases is a good thing or not, the point is — they can make a great return on investment.
59% of shoppers exceed the value of the gift card when shopping.
How do Shopify Gift Cards Work?
Before you can learn how to set up gift cards on Shopify, you need to have a solid understanding of how Shopify gift cards work. First of all, creating gift cards in Shopify is free of any charge for the merchant. The extent of functionality for Shopify gift cards is fairly decent and covers pretty much everything you might need.
There are two different types of Shopify gift cards:
Gift card product. This type of a gift card can be sold in your Shopify store as a regular digital or physical product.
Issued gift card. You can also issue and email a digital gift card to a specific person, without a customer purchasing it, as a reward or incentive.
Gift cards can be spent on more than one order, given that there is still a balance remaining on the card. Unfortunately, customer's cannot manually look up their gift card balance, only store admins can view this information. That means the only way a customer can look up their balance is by contacting your customer service team.
Another thing to keep in mind is that gift card product sales are reported differently. You can use the gift card sales report to help track your gift card sales and to account for purchases made with these gift cards. However, the gift cards that you issue for free do not appear in the sales report.
You can also sell and redeem physical gift cards on Shopify POS! Customers can buy physical gift cards in your store and redeem them online later. However, to do that you must buy physical gift cards from the Shopify Hardware Store. The good news is, you get to completely customize the design of your physical gift cards.
How to activate gift cards?
Before you can proceed with creating your Shopify gift cards, you need to activate the gift card feature. If you've never added gift cards into your store, this feature will be turned off by default.
Follow the steps below to activate a gift card feature: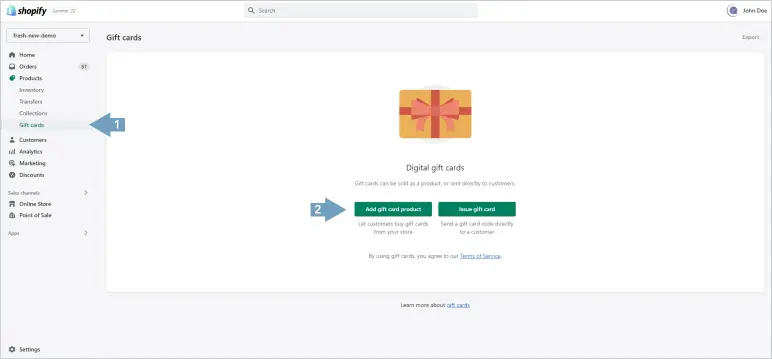 1. From your Shopify admin, go to Products > Gift cards.
2. Click Add gift card product.
Your first gift card will be created immediately and set as a draft. You can always go back and edit your drafted gift card. For now, let's move on to creating the gift card product for your Shopify store.
How to Add Gift Cards to a Shopify Store?
Selling gift cards as a product is a great way to boost your seasonal sales and attract new shoppers to your store through your loyal customers. You also get to customize the look and feel of your gift card products, so you can make an outstanding first impression.
Here's a step-by-step guide on how to create a gift card product in your Shopify store: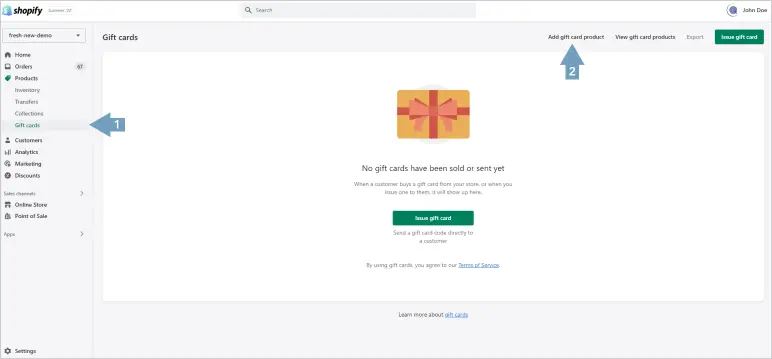 1. From your Shopify admin, go to Products > Gift cards.
2. Click Add a gift card product.
Enter the gift card's information into the following fields: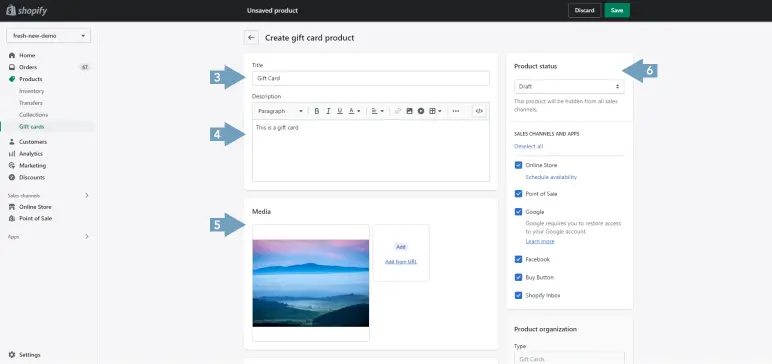 3. Title. Enter a name for this gift card product.
4. Description. Enter an accurate description of the gift card.
5. Media. Upload an image for your gift card.
6. Edit additional settings. On the right hand side of the menu, edit additional settings that will apply to your gift card product, such as sales channels and apps, product organization, and how the gift card will be displayed in your store.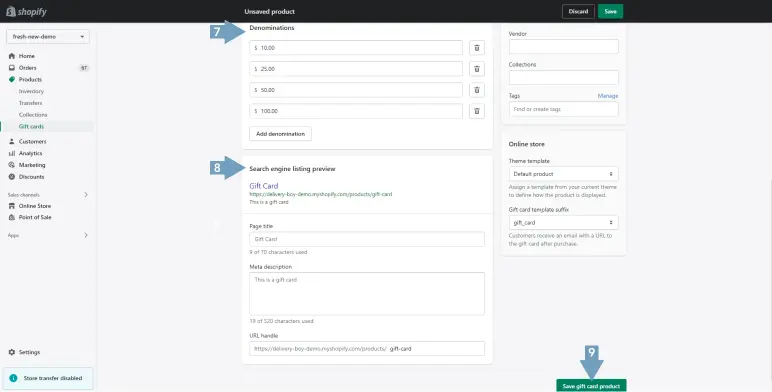 7. Denominations. There are several default denominations created for a gift card product in the currency of your store. Each denomination is saved as a variant of the gift card product.
8. Search engine listing preview. Edit a preview of how your gift card product will appear in search engine results.
9. When you're done, click Save gift card product.
The gift card will then appear in the View gift card products, where you can manage and edit your gift card at any time.
How to Issue a Shopify Gift Card to a Customer
When you issue a gift card, you generate a Shopify gift card code and email it to a customer without receiving any payment in return. You can set your gift card to be issued to a specific person or assign the customer later. In case the gift card is being used as a refund, you should assign it to that specific customer and set the appropriate monetary value.
Let us walk you through the process of issuing a gift card: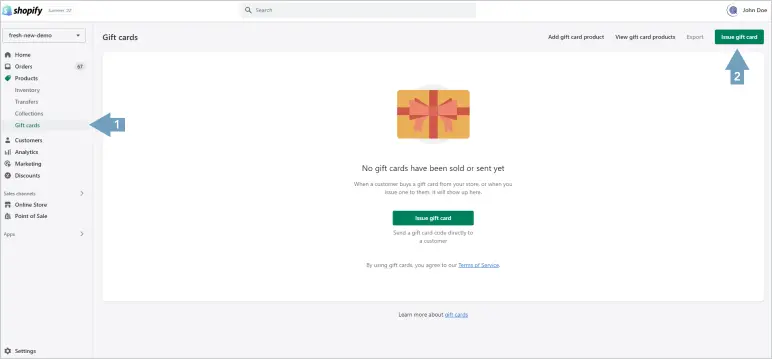 1. From your Shopify admin, go to Products > Gift cards.
2. Click Issue gift card.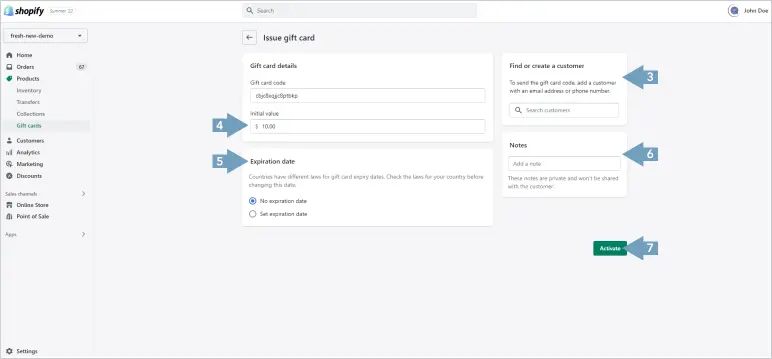 You will notice that Shopify automatically created a code for the gift card. The code is unique for each issued gift card and can't be altered. Once you activate this gift card you will no longer be able to see the gift card code, as Shopify considers the code to be a currency that can only be viewed by the customer.
3. In the search box under Find or create a customer, enter a customer's name or email address to select or create a customer.
4. Set the value of your gift card in Initial value.
5. If you want to set an expiry date for the gift card, select Set expiration date, then select a date. The gift card expires at midnight in the store's time zone.
6. You can also enter a Note for your reference. The note is visible when viewing the gift card in your Shopify admin, but is not visible to the customer.
7. Click Activate to issue the gift card.
After that, the customer will receive an email with their gift card code and can use it right away.
Best Gift Card Apps for Shopify
Although you can customize and manage your Shopify gift cards through your admin dashboard, you have the opportunity to expand their functionality even further. We put together a list of the best gift card apps for Shopify that offer extended functionality and customization in this area. Let's take a closer look at them!
#1 Gift Cards & Loyalty Program
Gift Cards & Loyalty Program is one of the most highly-rated apps that focuses not only on customizing gift cards, but helping you create structured loyalty programs. Merchants can also sell and issue branded digital gift cards and gift vouchers to the recipient through email and direct messages! The price for monthly subscription ranges between $19.99 to $599.99, with a seven-day free trial.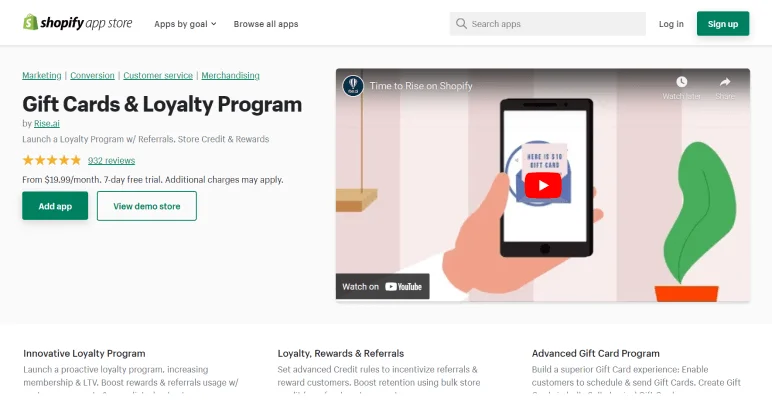 #2 Gift Box
The main attraction of this app is its AI. Gift Box offers a system that dynamically calculates the order total and gently recommends to customers how much is left to get the free gift or service. For example, at checkout the customer will see a prompt like "Spend only $10 more to get free shipping/gift card/free product". Of course, the settings and conditions are completely customizable. The cost of Gift Box ranges between $29.99 to $199.99 per month.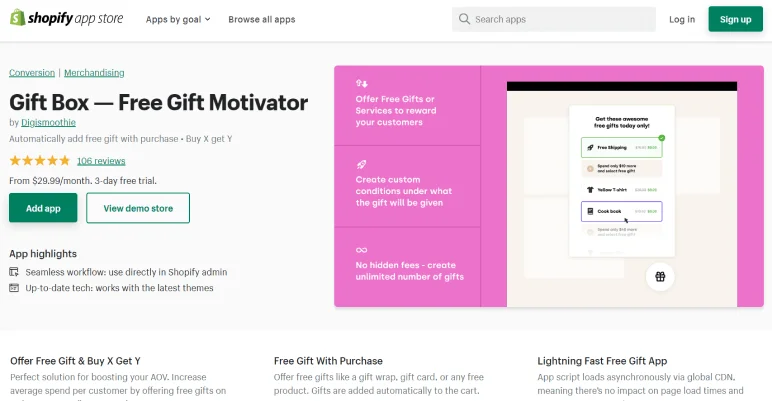 #3 Giftkart
The main point of the Giftkart app is personalization. This app is a winner, since it allows customers to select an appropriate Greeting Card for the occasion and add their message to the gift card! After the purchase, customers can also schedule the gift card and the app will automatically send the gift card to a recipient on the scheduled day.
Giftkart also allows customers to view their gift card balance at any time. You can install this app for free, but 2.5% of your gift card sales will be subtracted by the app, or subscribe to a monthly plan for $29 with no additional commissions.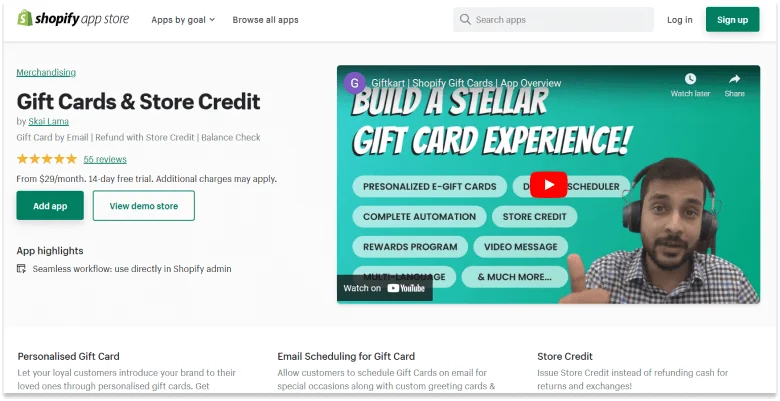 If none of these apps seem to satisfy your needs, you can always choose to develop your own custom app. Of course, this process will be quite costly, but it gives you complete control over the app's functionality. The cost of custom app development will depend on many factors, all of which you can learn in our in-depth investigation of how Shopify developers determine the price for custom apps.
Final Thoughts
While gift cards may seem outdated, the value of having them in your store is still significant. Earning the loyalty of your customers can help you build a strong and long lasting brand. Which is why implementing gift cards to your Shopify store is a great place to start, considering how easy Shopify makes the process for the merchants.
In this article, we explored why you should definitely incorporate gift cards into your store, how do gift cards work on Shopify, how to add gift cards to a Shopify store, and which apps will expand your options considerably. If you have any questions regarding Shopify gift cards or interested in creating your own custom loyalty program, be sure to contact us for a free consultation. The Whidegroup team will handle any technical issues and customize your store how you see fit!
https://whidegroup.com/wp-content/uploads/small-cover-shopify-gift-cards-2.webp
300
772
Kristina Bardusova
https://whidegroup.com/wp-content/uploads/whidegroup_logo.png
Kristina Bardusova
2022-09-05 16:12:16
2023-05-17 11:49:56
The Ultimate Guide on How to Add Gift Cards to Shopify In a Few Simple Steps
The Ultimate Guide on How to Add Gift Cards to Shopify In a Few Simple Steps