Alcoholic beverages are one of the ways in which we relax and spend time with others, whether it's for a birthday celebration, or a public holiday, or something else entirely. Business executives enjoy a whiskey after making a deal. A young couple in love sits on the terrace, drinking red wine and talking about the future. A group of old friends share a round of beers during a reunion. Sounds nice, right? Naturally, selling alcohol is a lucrative business. In 2017, the revenue brought by alcoholic beverages in the U.S. totaled approximately $71.69 billion. Are you thirsty? Below, we explore the challenges you may face, as well as the opportunities you have to become a leader in the alcohol market.
The Global Market for Alcoholic Beverages
The sale of alcoholic beverages continues to see growth every year. The top 10 European countries for alcohol consumption see people consume between 2.64 to 3.96 gallons per capita. Just in 2016, the total consumption of alcohol in the United States was 2.35 gallons per capita. The demand for alcohol generates worldwide supply, especially among the younger generations.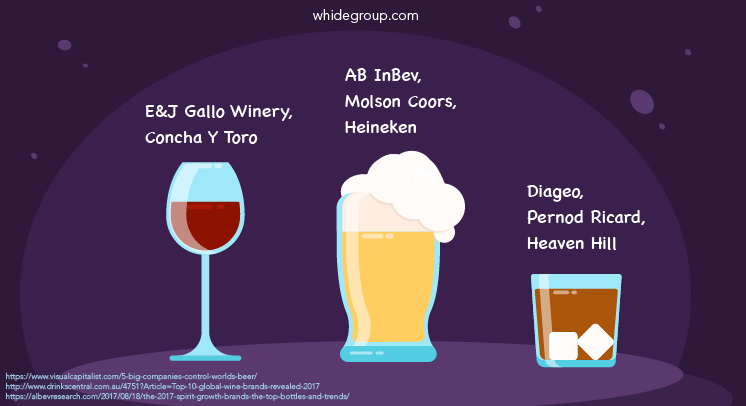 All of the above-mentioned brands have online distributors, which significantly boosts their income. Despite some legal restrictions (we'll talk more about that later), they have chosen the most fruitful route. A clever marketing strategy (virtual tours and videos, smart ad campaigns), along with steady distribution, and the availability of broadened purchase channels, such as gas stations and convenience stores, and online outlets, have all tied together to promote internal, as well as external demand growth.
We're currently seeing a trend of brand upgrades, and the emergence of new products and new flavors, all of which breed the same external demand growth. These trends also illustrate the high competition of alcohol goods on the international market and the huge profits to be made in the sphere.
Who Buys Alcohol Online?
Despite conventional wisdom that the major consumers of alcoholic beverages are Generation X, this opinion is far from the truth. The main buyers are actually Millennials or Generation Y. Thanks to their advanced tech skills, quick lifestyle, captivation with smartphones and internet, selling alcohol online is growing daily. More than 60% of youngsters drink alcohol for fun, with 55% wanting to look social among their peers or friends.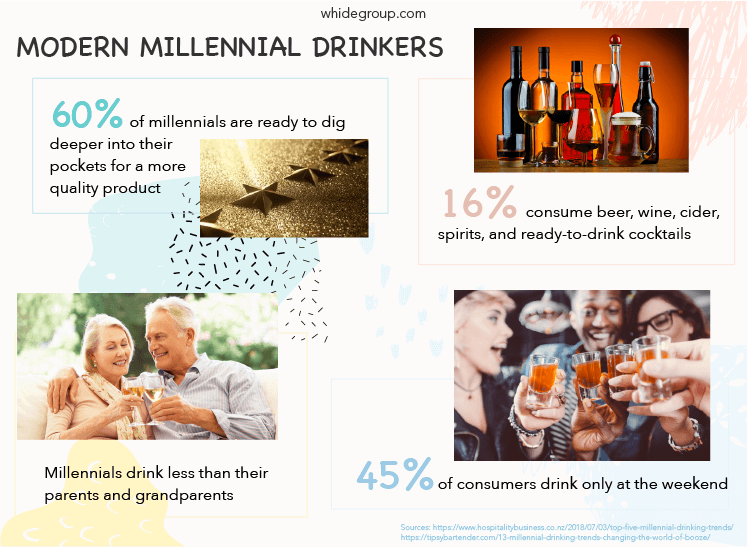 Thus, the modern global alcohol market is changing according to Millennial and Gen X demands.
Market Demands for Online Alcohol Purchase
Most food & beverage products are still purchased at brick-and-mortar supermarkets. However, thanks to delivery processes becoming more tech-savvy, the purchase of food & beverages online has been on the rise.
When ordering groceries online, for example, customers can also add a bottle of red wine for a romantic dinner, spirits for an exciting party, or a pack of beer for a friendly get-together. It is simply a matter of convenience.
Interestingly, there are alcohol delivery websites which have fared well ahead of their offline competitors, thanks to the implementation of highly successful marketing and selling strategies. They can offer almost any kind of wine, spirits, or beer, sweetened by free home delivery (usually with a price minimum) and delivery to remote places, as well as special offers for the next purchase, and many other beneficial services.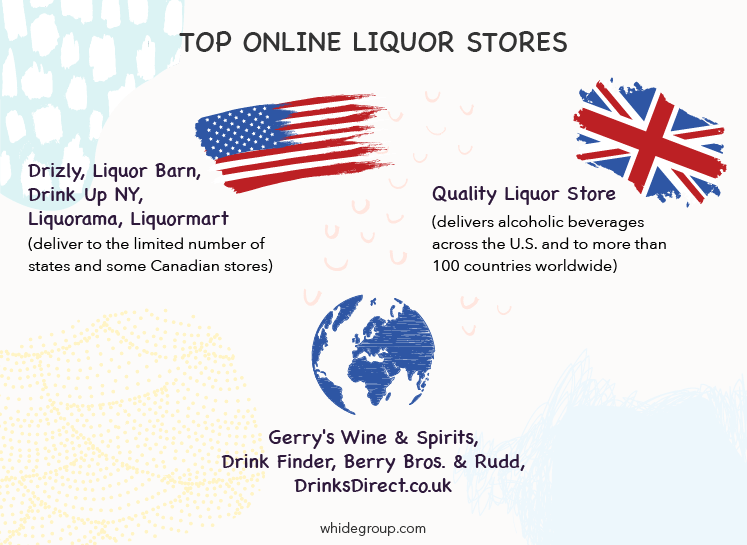 Looking back at those popular alcohol brands, we can say for sure that they meet customer demands & needs. Here are three of the most important market demands for selling alcohol online:
Always be trendy and dynamic

As customers are more and more demanding, they are becoming increasingly indifferent to traditional drinks like wine and beer that lack artificial additives or flavor. Consequently, if they want to be successful, producers' outputs must be focused on pleasing their buyers' tastes. Our research shows that consumers tend to buy prosecco and sparkling wine, non-alcoholic wine, boutique drinks, craft spirits (rum, gin, and vodka), blended drinks, low-calorie, low-carb, gluten-free and lactose-free beverages.

Keep a pulse on customer tastes

One by one, we see many brands fail, with no profits for their business. How and why does it happen? Customers quickly change their preferences and desires. One day they love pomegranate wine, the next week the competitor announces the release of raspberry wine, and customers love that instead. These changes force producers to constantly transform their brands.

Changing purchase behaviors

The wide variety of alcoholic beverages can overwhelm consumers at times, whether they find themselves standing, lost, in front of a shelf, or staring blankly at a list on a product page. The problem? The overabundance of brands competing with each other can make knowing what to choose quite difficult for customers. This is where both mass and social media come to the rescue by promoting a certain product.
Next time the market veers in another direction, and customer behavior changes, a sharp entrepreneur will lead them on their journey. A brand's power lies not only within its high quality product, but also within a smart marketing strategy and efficient distribution.
Demand for Craft Beer
For most connoisseurs, beer is not just an alcoholic beverage. It is about taste and smell, custom and tradition, unique content, individuality and purpose. Whether the descriptor is "craft beer" "Nano", "craft", "handmade" or "Micro," all these words conjure up images for the same work of art.
Craft beer certainly began its story long ago, at various times all over the world. Contemporarily, the number of craft breweries has grown to match modern demand. While 2010 saw several microbreweries in craft beer countries, the craft boom really emerged in 2015. Several factors can be thanked for the trend, including emerging new technologies, the spread of knowledge, and digital marketing & advertising. Thanks to e-commerce, small breweries can be sure that more customers have access to their products.
No one doubts that it's hard to surprise consumers now by craft beer. That's why producers have to look for new tricks in this competitive industry. If they adjust their product to the detriment of the quality, even a name brand will fail. To avoid such a mistake, let's take a look at the list of the main market demands to keep your business on top: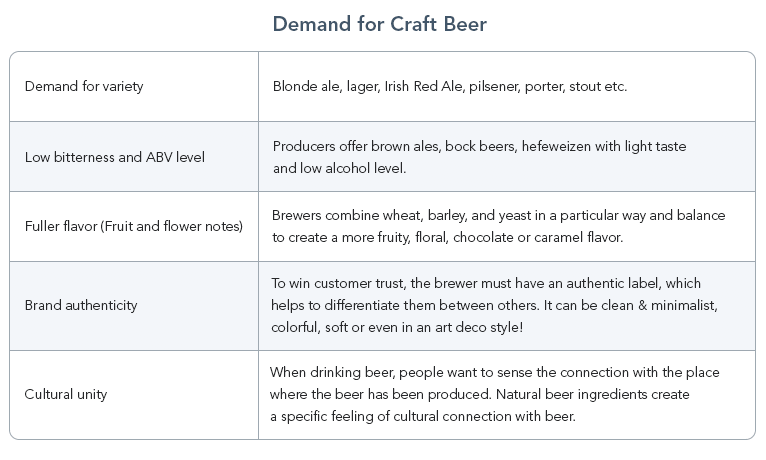 As you can see, demand for alcohol is growing. Customers are dually becoming more exacting and getting bored quickly. On one hand, finding your alcoholic niche can mean lucrative results. However, on the other hand, alcoholic beverages are of the more complicated products to sell & distribute. Let's review some of the more prominent pitfalls you can meet when selling alcohol online.
Obstacles of Selling Alcohol Online
Despite the huge profits produced by online alcohol sales, the industry remains unconquered. Many producers and distributors continue to sell their goods in brick-and-mortar stores. What discourages business owners from maintaining their own e-commerce channels with online liquor store development? Here are some of the reasons:
Age-gating.

Generally, most alcohol websites check user age by asking their birth month and year, or by just asking the user to confirm that they are of legal drinking age. It gives the sense of being unreliable, despite the fact that a user who has entered a false age can potentially face criminal charges. However, such deceit is difficult to track.

Shipping Restrictions and Regulations.

Online stores fix high shipping fees based on various circumstances: beverage type, weight, volume, packaging, state sales tax, and the time and location for the order's delivery.

Temperature Control.

Keeping wine fresh and beer cold is one of the main demands in the alcohol industry. It can be complicated to control temperature during the delivery process. Moreover, some websites adhere to the rule that a client can delay shipment if the temperature is not between 45°F and 80°F.
Another obstacle in the way of business owners wishing to make an online alcohol store is the three-tier system regarding alcohol distribution. Let's look into it below.
Three-Tier Distribution System
The United States is known for its rigorous approach to alcohol distribution. Most states have strict laws regarding alcohol sales and distribution. In fact, 13 states see their state governments maintain total control of the sales of spirits, even down to having state-owned liquor stores.
All 50 states follow a particular strategy that impedes alcohol supply directly from the producer to the customer. This strategy, know as the three-tier distribution system, has been created to protect customers and retailers from alcohol manufacturer domination and to regulate alcohol consumption and distribution.

The system creates a perfect balance between control and access. Producers sell their goods to distributors, who safely deliver them to retailers such as bars, restaurants, markets, and shops. Retailers make the product available to customers. Distributors are vital to the system because they deliver the products we expect to see on the shelves. They also give the opportunity to small businesses to develop, build their brands, and satisfy the consumers with their products.
The main benefit of the three-tier distribution system is that craft brewers and winemakers don't have to hire personnel to deliver the products, waste the fuel, lease the trucks, or build big warehouses to keep their products fresh.
However, a significant disadvantage occurs when, for example, a distributor is located some 50 miles away from a producer (even if the product simply goes back to be distributed in its town of origin). In cases like this, brewers have to spend a significant amount of money to deliver their products through their distributor.
As you can see, this system has its pros and cons – it protects customers, but can be geographically awkward for producers, to say the least.
Drizly: The Amazon of Alcohol
Despite the law restrictions, we are still seeing a trending growth in online alcohol sales. This is thanks to third-party companies with short-time liquor delivery, in which the customers simply order their alcoholic beverages just using their smartphones or laptops.
Second only after Amazon in alcohol distribution in the U.S., Drizly covers virtually all of the alcoholic beverage industry. The past several years have seen the brand become a leader in the sale and delivery of alcohol. Drizly allows its customers to order products via their website or on a smart app, and promises delivery within 40 minutes.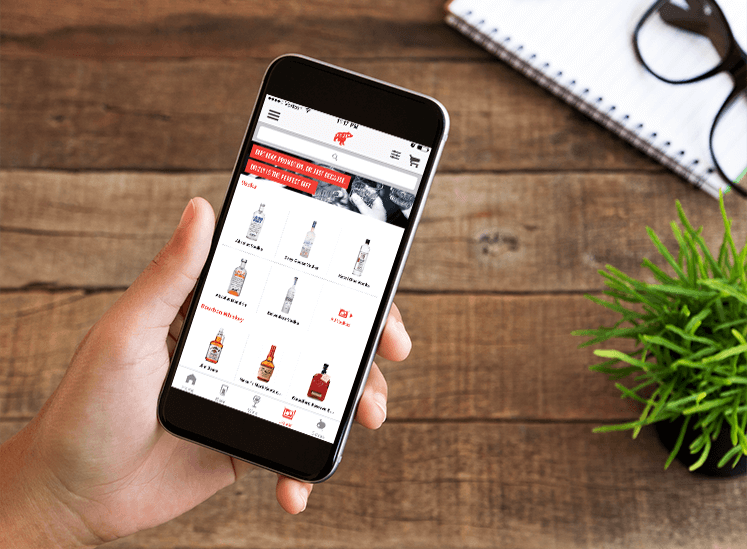 This alcohol marketplace delivers alcohol goods from retailers, without breaking delivery laws and while complying with local sales tax. The company is present in 30 states, and over 95 cities across the U.S. Drizly even operates in Canada, and has deals in place with more than 3% of alcohol retailers in the market.
How Drizly Works
Hailed as the "Uber for Alcohol," Drizly strives to be a true marketplace connector. It has almost endless opportunities for customers to purchase what they want. They simply enter their city, state, and street address to find stores available in their location, then choose the beverages they want, add a tip for the driver if they desire, and proceed to checkout. They will be notified when their order is on the way, and can look forward to enjoying a glass of wine or bottle of beer within the hour.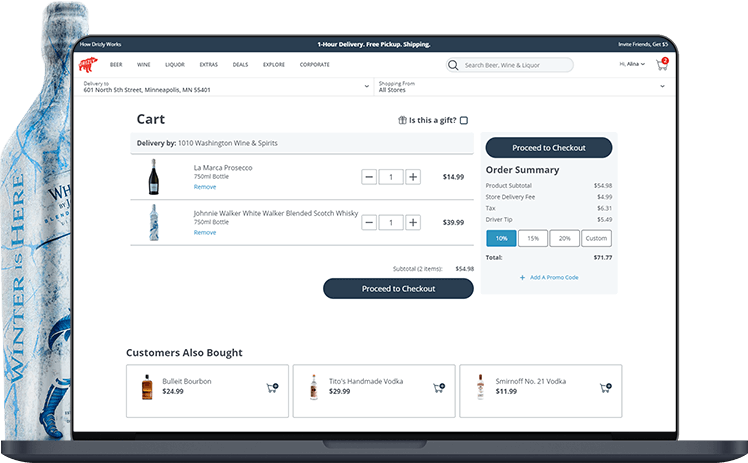 As you can see, the process is quite easy. But, what is interesting is that Drizly neither takes part in the order delivery, nor in packaging the goods. Drizly just sends your order to its retail partners – the near-to-you shops or stores you've chosen during your ordering. It is these retailers that actually fulfill the orders.
What is more, Drizly doesn't charge interest on the transaction. The company makes money by applying a $5 delivery fee to each order and a monthly license fee from its retail partners.
How Drizly Verifies Customer Age
In the UK, a person over 18 can buy alcohol. While teenagers over 16 can drink, it applies only if they are eating a meal together with adults. However, in the U.S., we see a significant difference in the law and the minimum legal age to buy alcohol is 21.
How does Drizly verify age and why is it impossible for the customer to cheat the delivery man? After making a purchase, the buyer must sign an acknowledgement and go through an age verification process. The drivers who deliver the orders, use Mident, a proprietary ID verification mobile app. It allows the driver to scan the customer's ID and if the verification doesn't match, the driver has the right to refuse delivery. All data and GPS location is kept in the app.
It only makes sense that in order to stay in the game, Drizly uses this smart age verification process, thus allowing it to preclude alcohol delivery to minors and keep its hands clean at the same time.
Examples of E-commerce Stores
Though Drizly stands on top when it comes to selling alcohol online in the U.S., (with claimed revenue around $2.2 million!), this company is not the only e-commerce alcohol marketplace in the world. Here are other examples of e-commerce stores specializing in alcohol, for your inspiration:
Launched in 2013 with a focus on small, independent craft drink producers, this UK company has become a huge craft alcohol marketplace bringing unique products from the producer directly to a customer. For the individual wanting a bottle of wine from a local vineyard, or a few packs of beer from a local brewer to impress at a party, EeBria.com is the site for retail products.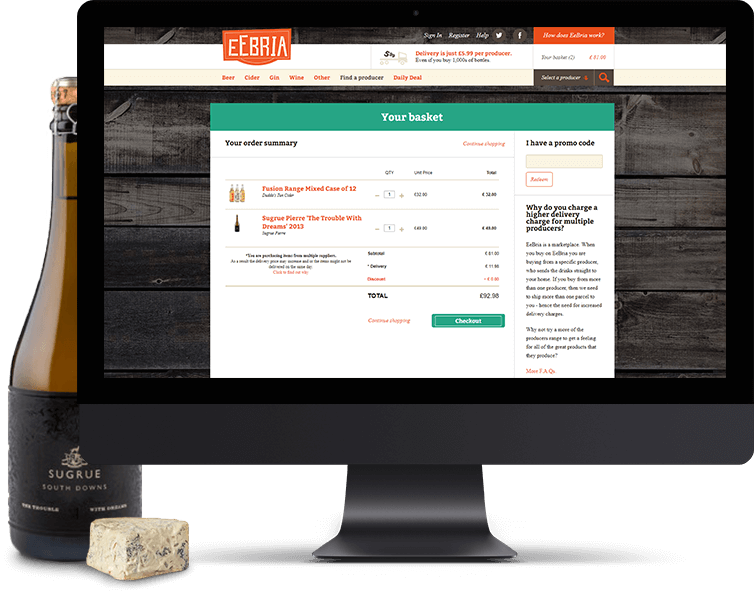 Additionally, for restaurants, stores, bars, and pubs, EeBria created its own trade platform, EeBriaTrade.com, where they sell bottles, kegs, cask, and cans around the UK. This kind of access means that pubs in remote areas can have the same variety of goods as pubs in the City Centre.
Another of EeBria's advantages is the low commission fee on every sale due to absence of warehouses and associated costs. It's enough to cover the expenses that the company has, like the packaging, customer, service, age verification through deliverers, and payment processing.
This brand rocked onto the alcoholic beverage market in 2007 and became a famous craft brewery in the UK at once. Selling craft beer online only in the UK, they began easily winning consumers over. They have even expanded production internationally, and have built their own channels in the U.S. Known for its strange public shows, aggressive digital marketing strategy, top-notch liquor store design, this Scottish craft beer brand has already conquered 60 beer markets, worldwide.
BrewDog is pretty much the only beer company that stands out in this crowded marketplace. Their motto "Beer for punks", bright colors, grungy designs, and a truly memorable logo, have lured their audience in. BrewDog is the greatest example of how a step-by-step design, combined with patient effort, pays off.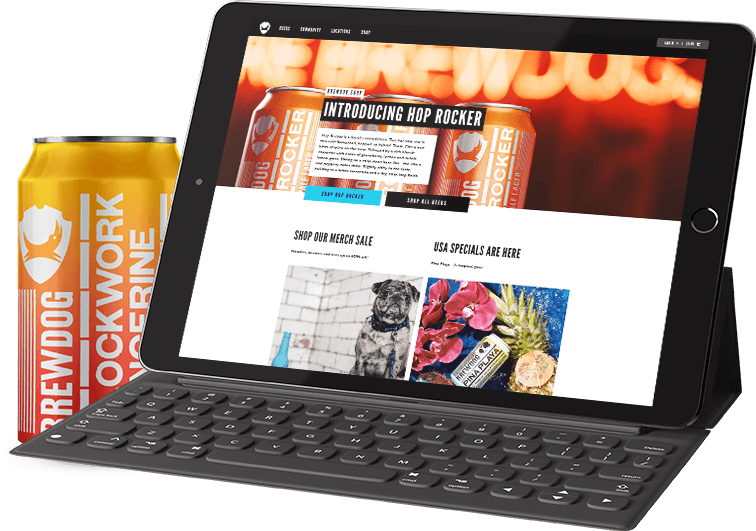 Where else can you find an alcoholic beverage company that has its own popular TV show? "Brew Dogs" follows two Scottish brewers traveling worldwide, and shining the light on some of the secrets to brewing. After the show was cancelled, BrewDog's co-founders created a SVOD (streaming video on demand) service called The BrewDog Network (where you can find the 14-show series of the "Brew Dogs" TV show reincarnated).
So, we saw an additional two successful e-commerce alcohol marketplaces that can surely inspire you to create your own e-commerce alcohol store.These companies underwent a struggle, but found their way to the top. Due to their smart business strategy EeBria and BrewDog made their way into the mainstream.
How Alcohol Brands Can Tap into E-commerce Opportunity
Upon becoming the legal drinking age, this young, tech-savvy generation expects to buy alcohol online, via their smartphones with a few easy taps or clicks. Customers prefer to buy more online than in a brick-and-mortar liquor store. So, what should companies do? What strategies should they follow? Here are some of the ways alcohol brands can tap into e-commerce:
Monitor online alcohol activity
Keep a pulsecheck on the market and stay ahead of the game by tracking the marketing and business strategies of your competitors. You should also look to define trends, create promotions, and welcome the new arrivals to the global alcoholic beverages market. Also, pay special attention to both positive and negative customer critiques of products.
Build consumer engagement
One of the ways to step into e-commerce and boost sales is to get closer to your customers and leave them feeling warm and snug. Try implementing an experiential marketing strategy that sees your brand's interaction with consumers in a real world situation. Try to demonstrate and promote your product using any branding material you have! For some examples, consider the Ghostbusters movie promotion, Volkswagen's "Take a Slide", or Mountain Dew's UK 'guerrilla tour'.
Follow a smart digital marketing strategy
Don't forget about digital branding strategy. By operating online, you can enhance your chances to be seen and gain popularity. The name of your brand can fly from mouth to mouth. It's a straightforward way to find new buyers and markets. Using customer-relationship management (CRM), you can readily expand your customer base and get the necessary insight into every single customer preference.
Use the Amazon or Drizly distribution strategy
Using Prime Now, Amazon distributes alcohol among many markets in the US. Drizly relies on its wholesaler partners in distribution. Learn their strategy and make some variants suitable for your niche and region. Track events that happen in the European, Japanese, Chinese, and other alcoholic beverage markets.
Create useful partnerships
One of the greatest ways to tap into e-commerce is to build strong, friendly relationships with meal delivery services, restaurants and cafes. It gives your business a huge opportunity to boost sales and extend your client base.
How to Build an Alcohol Website
Above, we discovered business and marketing e-commerce strategies you can implement into your project. However, robust strategies alone cannot help you become successful. You also need an appropriate website that will demonstrate your niche. Now, let's dive into the advice on how to build an online liquor store:
Powerful software platform.

Depending on your business requirements, you have to choose the right CMS. If you want to only sell craft beer or wine, for instance, there is no need for a complex platform. Create an alcohol website using easy-to-manage e-commerce platforms, e.g. Wordpress or Shopify. However, if your goal is to sell a wide range of products from multiple vendors (beer, wine, hard spirits, etc.), the sensible decision is to build a website using more complex systems, e.g. Magento.

Add age verification.

We all know the law regarding the legal drinking age, and a breach of the law means unpleasant legal consequences. While it's hard to track whether a minor has violated the law by entering the wrong age, you must still implement age verification plugins into the site. They are quickly installed, website responsive, and have no influence on the site performance.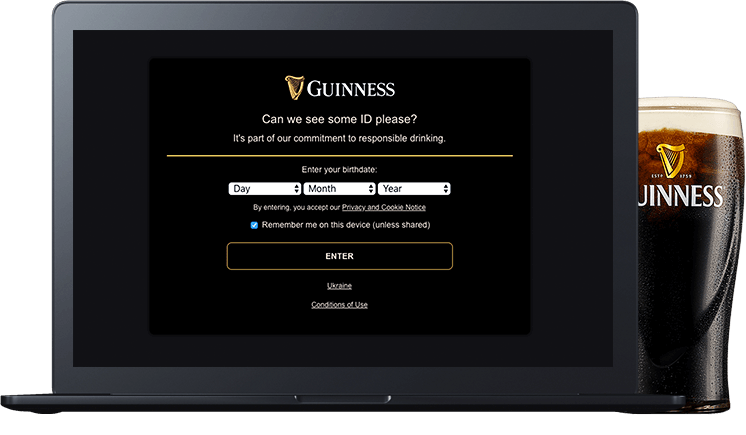 Clear vertical navigation.

Traditional horizontal navigation is used by the majority of e-commerce websites. However, with today's mobile device popularity and tall screens, horizontal navigation becomes a bit uncomfortable for the user. To iron this issue out, you can use vertical navigation instead and make the customer journey easier and more comfortable. Another suggestion is if you have more than 7 categories, add a white space between the blocks for clarity. You can also use a show/hide menu to save space and architecture.

Search bar with autosuggestion.

There can be hundreds, even thousands of alcoholic beverages at your store. Imagine your customer wants to find "Pinot Blanc". They'll have to find the "Wine" category, then navigate to "White Wine", then click "more" and only then does their desired drink finally appear. However, a search bar with an autosuggestion function helps customers shorten their journey.
Grid and custom sorting.

Providing custom search is crucial in the alcohol industry. Everyone has their own taste, budget, and drink preferences. Some people prefer dark, unfiltered beer, and some tend to drink sweet cider. Some may drink only Chilean wine, while others drink only Italian. Thanks to customization and sorting, users can get ahead of their shopping, especially when they might otherwise be at a loss as to what to order for a party or wedding, for example. It helps to create sorting by categories, such as best-selling products, price, brand, country of origin, etc.

Product comparison.

We always want to search for the best- best price, best pizza, best drink, best everything! Make this easy for your customers. Providing product comparison capability allows your customers to choose the best option among multiple products. Your task is to provide a list of comparable features- similarities and differences, strengths and weaknesses. Naturally, you'll have to thoroughly learn about the products you sell in order to be able to discuss and recommend them properly.

Best-selling products.

As you may know, one of the most effective ways to boost sales is to display the best-selling products on your homepage. If they have ratings, that's even better! Such conspicuous placement immediately catches the customer's attention. It's best if customers can see the best sellers without having to scroll down. You can use titles such as: "Top Picks", "Trending Now", "Best Sellers", "Current Top Sellers" etc.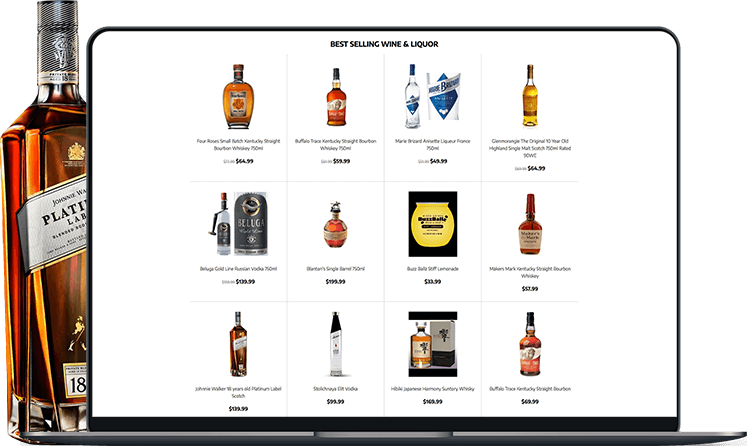 Testimonials & customer reviews.

Alcohol beverage choice can sometimes be complicated, especially when you are not an alcohol expert. Let's say you have a customer whose task for today is to surprise friends with impressive wine or to present a decent bottle of whiskey to a business partner. Help them along with this must-have feature: testimonials from experts & customer reviews. By providing this simple aspect on your website, your customers will feel confident in their choices, and grow to trust your business brand more.

Accept online payments.

Alcohol e-commerce business can be categorized as a high-risk merchant, since it requires age verification, deals with a lot of fraud and chargebacks, and is so highly regulated by law. Fear not though. We've got a solution: a high-risk payment provider implementation. There are several options available like PayKings, SecurionPay, and Twispay, just to name a few. These companies work with high-risk businesses and can find the payment options that are most suitable for you. Additionally, don't forget the traditional payments gateways like PayPal, Visa, MasterCard, Discover, etc.
We're Whidegroup
We develop optimized
e-commerce stores.
Main Features in Online Liquor Store Design
Good design is like a refrigerator—when it works, no one notices, but when it doesn't, it sure stinks.
No one argues with the fact that great website design not only gives pleasure but also makes customers feel comfortable. A well-structured site that boasts the right color scheme, has only necessary elements and sensible navigation, and lacks any kind of redundance, is most engaging for potential customers, which naturally contributes to increasing sales. Let's look further into the main features of an online alcohol store design.
Clear layout design
Development of easy website navigation not only provides comfort and a clear understanding of your store among customers, it also unwittingly makes them pay attention to your site. You can achieve this through a compelling website layout with a simple sticky header, same-length paragraphs, left-sided visual strategy, related links, and including primary content above-the-fold.
Responsive navigation menus
When selling a lot of products, you should categorize them in ways customers can easily find. The best solution is either using a dropdown or a mega menu with placement at the top of the site or to the left. Clear categorization of your products makes your buyer's journey simpler, and shoppers love convenience.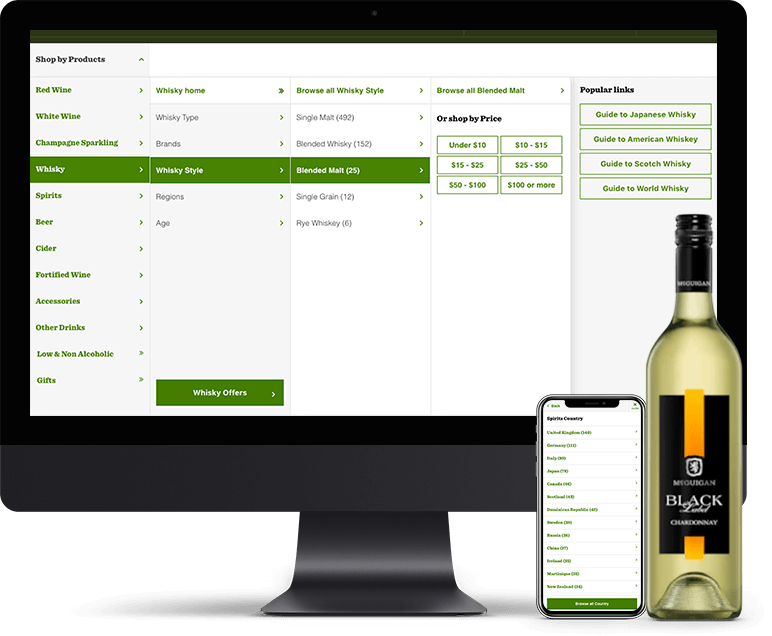 Short homepages
Typically, alcohol store homepages have simple structure and use little space. For example, you want to keep scrolling to a max of 6 times, so your potential customer doesn't get bored. However, you have to be careful as making a homepage too short will limit your ability to add important information about sales, and other marketing tools that will help attract customers.
Dynamic content
To lure the customer you need to hook their attention by engaging them to read or watch. This catch can be achieved through the slider extension or by video implementation. You can also insert dynamic content (text, gif) into your banner image. It enhances the page with flare.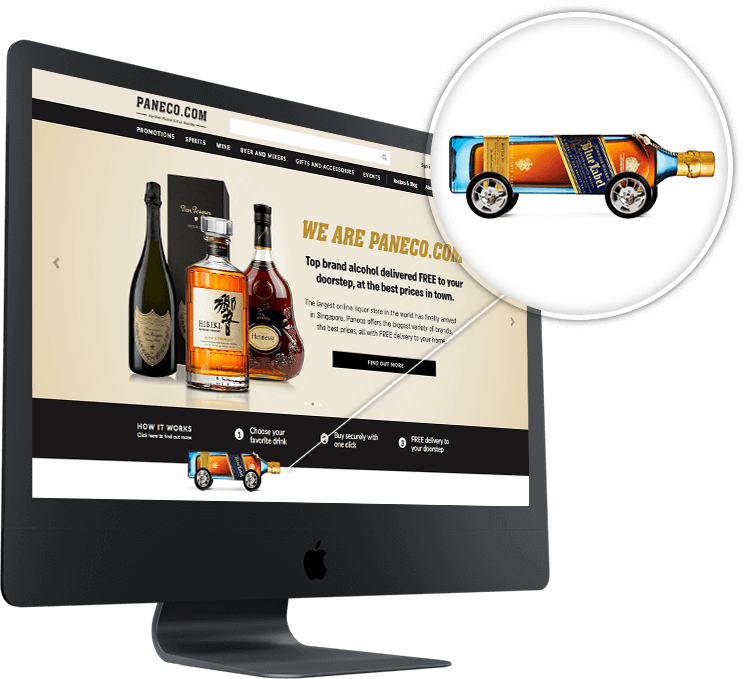 Bright CTAs
It's fairly well known that the presence of CTAs raise conversion rates. Indeed, a well-designed CTA button makes you money! Amongst online liquor stores, we typically see large, standout rectangle CTAs in bright colors like red, orange, or green, that read "Shop Now", "Add to Cart", "View Local Pricing", or "Join".
Related products
What goes through your head as you purchase, for example, a bottle of red wine online? Does seeing the "you may also like…" prompt, followed by the display of a discounted bottle of delicious white wine from the same producer, interest you in that product? If you're like most consumers, it will! So, temp your customers in the same way by offering them a deal they can't refuse.
Blog
Don't underestimate the power of blogging in online liquor stores. They not only help create a strong web presence, with room for SEO, but they also entertain users and serve as instructors on the abundant alcoholic beverage world. What kinds of topics can you write about though? There are limitless possibilities. You can highlight new product releases, share company news, promote important alcohol-related events, offer guides & recipes, build an alcohol library, and more. With attractive images, useful content, catchy titles, and inviting CTAs, you snag complete customer interest.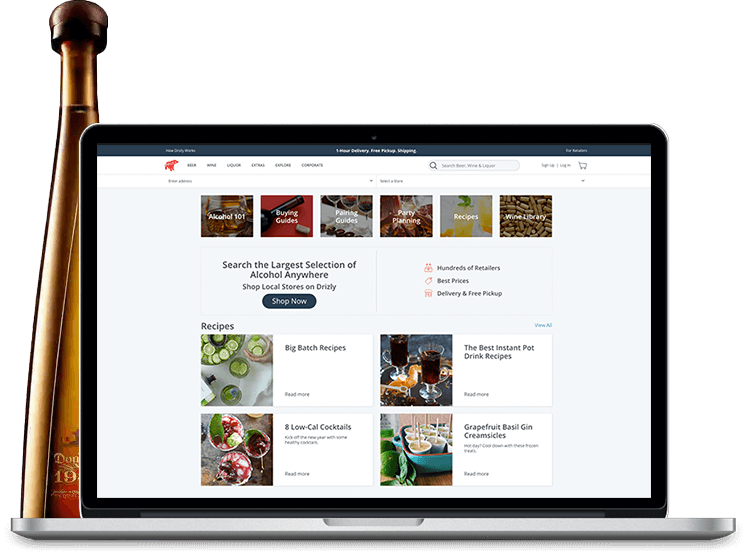 Final Thoughts
Regardless of what you want to sell, if you want to be successful, Drizzly's example illustrates the importance of adapting to the environment and circumstances, and how to take control of a situation and become a leader. If you are ready to make money and want to build an alcohol website that will always be on the tip of your customers' tongues, ask an experienced development team, like Whidegroup, for help. Let's make life more interesting!
https://whidegroup.com/wp-content/uploads/alc-bg-s.png
292
746
alina
https://whidegroup.com/wp-content/uploads/whidegroup_logo.png
alina
2019-02-18 16:31:21
2020-01-30 16:40:01
How to Build an "Amazon for Alcohol" Following Drizly's Success
How to Build an "Amazon for Alcohol" Following Drizly's Success