Statista says that in 2017 the official retails sales amount from women`s bridge and fashion jewelry exceeded $14 billion in the United States. If you want to be on the crest of the wave, start a jewelry shop online. Here we explore the brightest examples of e-stores that are selling jewelry, identify the benefits of doing e-commerce in the jewelry business, and most importantly – consider the challenges you may deal with, followed by the best solutions to those challenges to provide you with knowledge on how to make a successful jewelry business online.
Giants in the E-commerce Jewelry Business
It's not a secret that selling jewelry can put millions of dollars into your pocket. Whether you are a retail jeweler, a handcrafted jewelry designer, a bench jeweler, or a large jewelry manufacturer providing wholesale jewelry, starting a jewelry business you have an excellent opportunity to profit in this sphere. So, let's explore the business giant that succeeded in the jewelry industry and got worldwide recognition.
Bvlgari
That's an Italian jeweler and luxury goods retailer, often associated with Hollywood, glamor, and wealth. Founded in 1884 by Sotirios Boulgaris, the company was known only in Italy. A century later, Bvlgari advanced its frontiers, opening shops in New York, Geneva, Monte Carlo, and Paris. Yet, only after the release of its own perfume line did the brand became known throughout the world. According to recent data, its revenue amounts to $1.2 trillion annually.
The company focuses on top-quality jewelry, leather goods, accessories, and watches. Such stars as Dame Helen Mirren, Sir Elton John, Julia Roberts, Elizabeth Taylor, Monica Vitti, and Naomi Watts have taken a liking to Bvlgari, wearing luxurious necklaces and earrings to the Oscars, Cannes, the Golden Globes and the Academy Awards.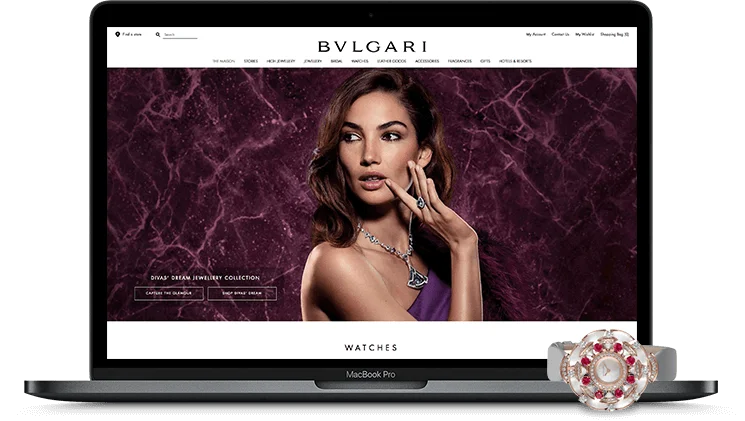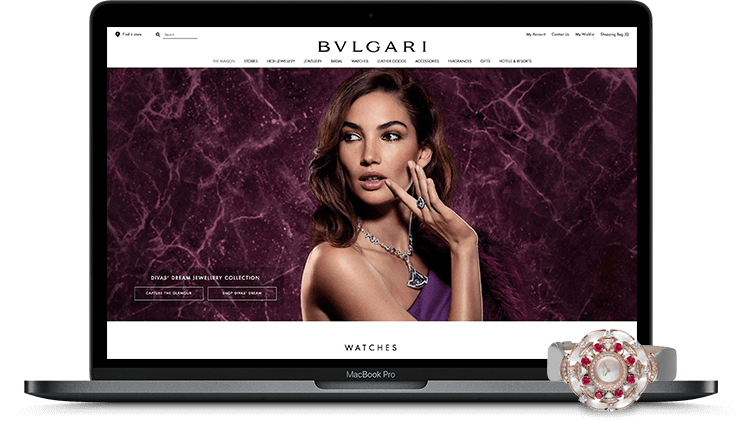 Let's take a look at some other examples of successful jewelry brands.
Mikimoto & Co.Ltd
Founded in 1893, Mikimoto & Co.Ltd is a world-renowned Japanese jewelry brand known for its exquisite jewelry. Being the first company that began to culture pearls, Mikimoto is a leader in producing the finest quality artificial pearls and designing truly unique and delicate jewelry.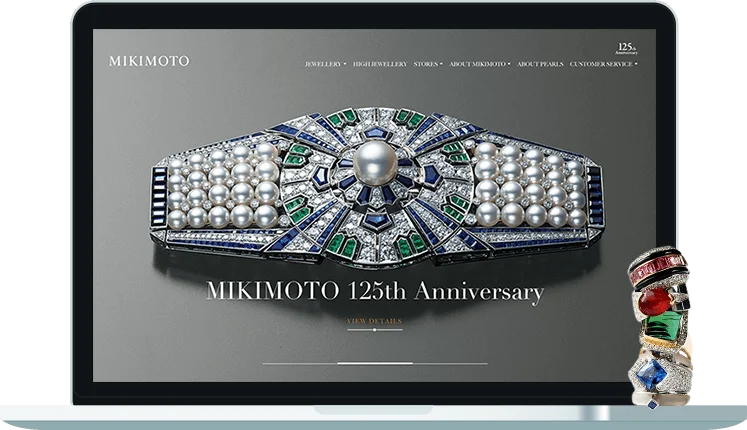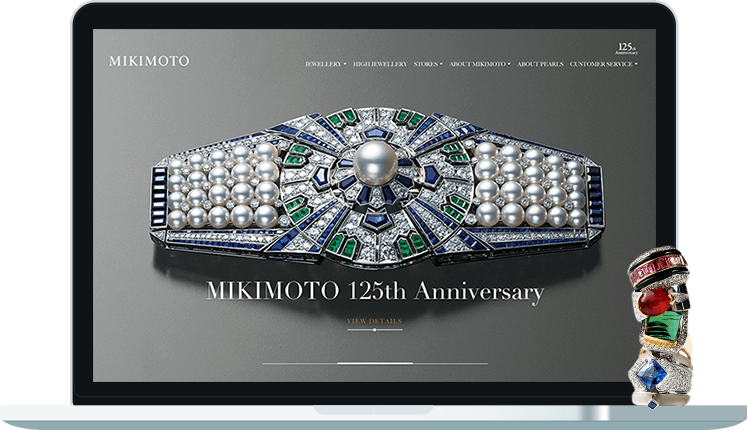 Chopard
Being a Swiss luxury jewelry, watch, and accessories manufacturer, Chopard is well known for designing pieces that showcase precious gems and metals. Jane Fonda, Kirsten Dunst, and Emily Blunt have all worn this premium quality jewelry on the Red Carpet. The company's annual revenue is about $845 million.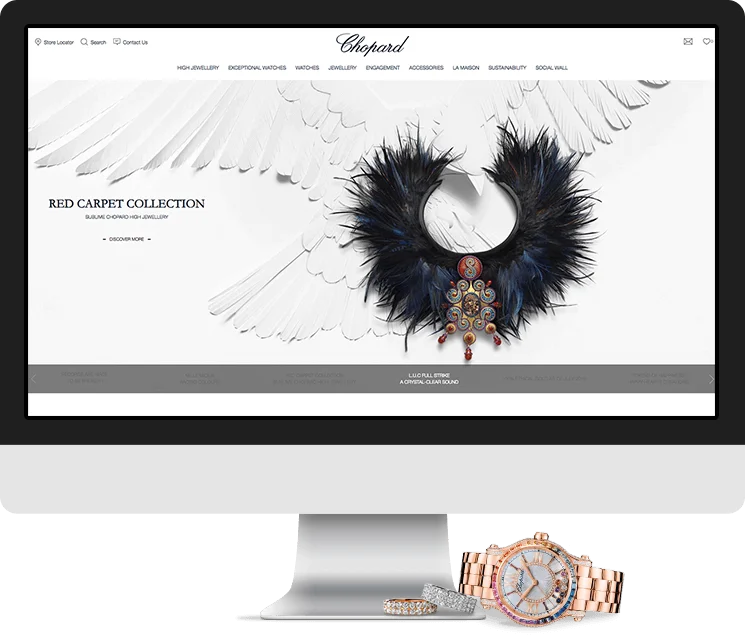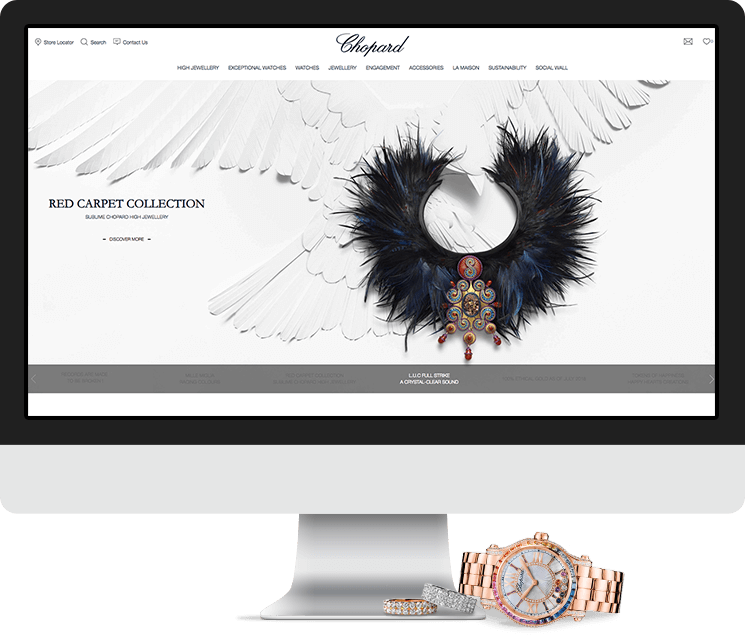 Custom Fashion Jewels
The brand is considered to be one of the largest American jewelry suppliers on the global market. In addition to manufacturing fashion jewelry in general, the company is known for its production of silver, gold, and diamond jewelry. Custom Fashion Jewels provides a number of specific services (polish, plating, work with stones, etc). What is more, customers can even create their own jewelry, using a 3D design process.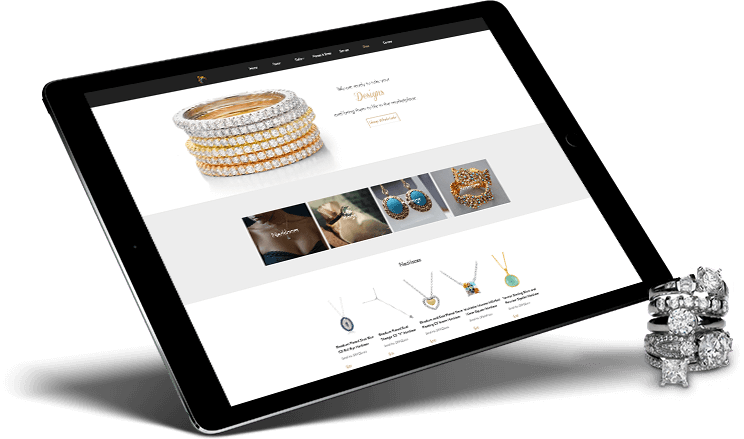 The Benefits of an Online Jewelry Store
We know these giants in the jewelry industry have brick-and-mortar locations in addition to their online shops. So, what drives them to emphasize their e-commerce market? The answer is that having an online presence allows these companies to significantly increase their profits. Let's explore just what makes online jewelry stores so profitable.
Costs
Running an e-store means you won't have the overhead costs of rent or a mortgage for the premises. Further, you won't have expensive salary expenditures because you will likely only require a few people to manage your online store.
Customer profit
With an online store, you can provide cashback, gift cards, and coupons. They will help you increase sales at a low cost.
Availability
Most online stores are available 24/7, which allows customers to make purchases any time they want, and may even help chronically late customers be on-time.
Customer service
You can integrate digital assistants such as chatbots and live chat to make your customers' lives easier. Plus, it's cheaper than paying employees.
Inventory
With inventory extensions (e.g. ATUM or CSV Inventory Management), you can easily organize your shipments, and sales, as well as track sales orders. These tools also allow your customers to see the availability of an item in real time.
Marketing
Resorting to digital marketing allows you to attract more people, thus your potential customer base can quickly grow.
Variety of goods
Online stores are able to offer a wide range of goods at once, which optimizes the chances that a customer will find the jewelry they want and make the purchase at your e-store.
As you can see, launching an online jewelry store has several benefits. However, despite this fact, building brick-and-mortar jewelry shops is a common occurrence in the jewelry industry. Typically, it's in response to some of the challenges that come from doing business as an online retailer. Let's clarify these challenges and consider some solutions.
Challenges of Developing an Online Jewelry Store
According to research, in 2017 the revenue in the global jewelry market was $257 billion. The U.S. remains the "boss" in the jewelry industry, followed by the Asia Pacific and European markets. So, if the jewelry market appears to be so robust, why is the percentage of online jewelry customers so small? Let's find out what the challenges are when it comes to selling jewelry online.
High return rates
Returns are a common occurrence in the world of online shopping. The reasons can range from the items being the wrong size, the gemstones lacking the clarity as compared to the photo, or simply, that the color doesn't complement the new dress it was intended to. To recoup some of the costs, store owners often include high return fees, so return of the goods comes at the customer's expense. Thus, the owner not only loses money from the original sale, but potentially loses credibility and therefore, the customer, when it comes to future purchases. How do you avoid this headache?
Solution: Set clear return conditions so customers understand your policy up front. To reduce the risks of the return, be sure to just make use of trustworthy shipping companies (e.g. United Parcel Service, FedEx, and DHL) that are well known for fraud prevention in goods delivery. If you've got a customer return case, you can take positive steps such as offering favorable terms to exchange the goods, and perhaps a discount for the second purchase or a one-off gift.
Must see before purchase
A frequent customer need is to explore all facets of the jewelry before making their choice. For example, when speaking of rings, buyers have great difficulties in things like guessing the correct size, or picturing the ring's appearance on their finger. It may happen that a customer buys the "wrong" jewelry, returns it, and then goes to another shop. So, how do we reduce the risks for both sides without creating a local business?
Solution: Add high-quality images, integrate a video of your items, or include a 360° view. You can even implement virtual try-on experience platforms, or "view size" options, where customers can see how the rings fit on different fingers.
Security
If you deal with costly high-end jewelry, it can be difficult to promote it to your potential customers. Not all of them may be willing to pay a lot of money for such a purchase. Plus, some customers may not trust stores without a "cash on delivery" service. However, what really concerns buyers is usually the security of their personal and payment information.
Solutions: Integration of a reliable payment gateway (PayPal, Authorize.net, Stripe) will provide secure transactions. These gateways possess a high degree of safe user experience. You can also use hosted gateways, where the SSL protocol has already been installed. To solve the challenges of a "cash on delivery" service, you can integrate a cash on delivery payment checker (e.g. Delivery Availability Checker), which allows customers to check the availability of such a service in their region. Providing this option can help to build confidence among your customers.
Fraud
Cases of fraud are most commonly seen in jewelry industry, as it constantly attracts swindlers and thieves. The main reason is the high price of the jewelry and its quality. Experts say that goods costing over $400 are 35% likely to be fake. How can you avoid such trouble, or at the very least, minimize yours risks and assure your credibility to your customers?
Solution: First, have gemologists estimate the authenticity of the jewelry. They will inform you about any fraud, and help to produce proof that a returned product is indeed the original item. Additionally, it would be advisable for you to hire a qualified appraiser to evaluate your products. You must also include documented evidence, and certificates for all jewelry items, preferably in PDF.
Trusting relationships
Customers count on a tailor-made approach, so give them what they want! What do we mean? Personal propositions, sales marked "only for you", tracking user activity to learn their preferences and wishes, and provide propositions for special days. So, how to best build trust and achieve smooth relationships between you and your customers?
Solution: Integration of CRM helps to improve user management so you'll never forget about your customers. With the Gift Card extension, you are able to manage gift card service with a no-hassle customer experience. Plus, the "track your order" service enhances your credibility to your customers and makes the shipping process less stressful for them.
Customer wants
When people go to physical stores, they aren't always sure about exactly what they're looking for. Maybe it is a silver facet ring with a sapphire, or a lace ring filled with gems. Perhaps they want thread gold earrings with rubies inlaid or just simple elegant comet studs. These are the moments when shop assistants come to the rescue. By asking the right questions, they are able to help customers make the best choices. So, how do you recreate the same thing in your e-store?
Solution: We can integrate third party extensions (chatbot or live chat extension) to help you support and serve to your customers in the best way.
Fragile jewelry
Whoever pays the piper, calls the tune. People expect positive customer experience, Delivering this means offering a wide variety of jewelry, smooth payment process, and reliable shipping service. No matter how much it costs, customers want their purchases to be delivered without any damages. Yet, sometimes they receive broken or damaged jewelry Maybe the watch they've ordered doesn't function. Perhaps they've been delivered a necklace without one gem, or a scratched ring. Maybe a week after they've received it, the gem falls out of their ring. What is your strategy in such cases?
Solution: Provide a jewelry warranty that guarantees the workmanship and material of the purchase. By offering repairs or replacement due to manufacturer damage, your e-store will look more reliable, especially when combined with the use of reliable shipping companies.
Absence at the warehouse
The customer verifies the availability, selects the item, and makes payment. Then, in two hours they get the call of apology that their item is actually unavailable. Such a poor customer experience kills the customer's desire to buy in your online jewelry store again, and leaves them with a bad taste in their mouth. They go away and make a purchase in another store.
Solution: Integration of an inventory management systems that allows you to automate your inventory process, deal with different warehouses, and update your stock in one click.
Too long to wait
Sometimes delivery takes 7-15 days, depending on the delivery service. A customer becomes nervous and dissatisfied. Time is money, and they are not going to wait. How to create a positive delivery experience?
Solution: It is best to indicate the delivery date of each jewelry item type on your site (- e.g. in-stock items can be delivered within 2-5 days, items require sizing – 3-6 days, customized jewelry – within 8-15 days). In addition, with the implementation of the Order Delivery Date Extension, you can organize your delivery process, and your clients can select the delivery date, which will undoubtedly satisfy them.
Not unique
When it comes to choosing, customers generally prefer to get unique jewelry. If they have trouble finding that in your product list, they'll leave your website without making a purchase. And they won't come back. How to solve this problem?
Solution: Give your customers the possibility to create their own jewelry designs (rings, earrings, necklaces or bracelets). Offer several styles, metals, gemstones, finishes, and sizes. By providing various types of jewelry, you will definitely attract more customers.
We're Whidegroup
We develop optimized
e-commerce stores.
Our Experience in Developing an Online Jewelry Store
We have developed a project in the jewelry industry called Gilded Lab. It's a British jewelry store based on the Magento platform. Our team of web developers created great website functionality where users can select items from collections categorized by types and design.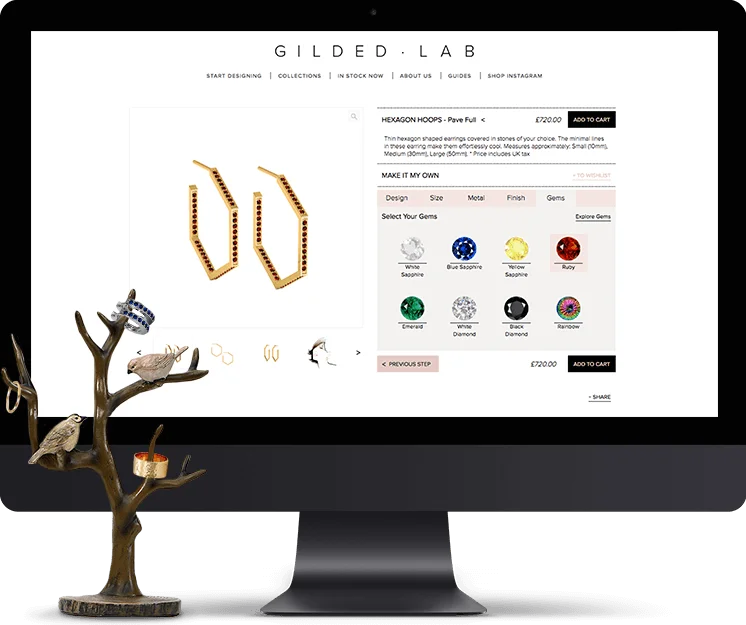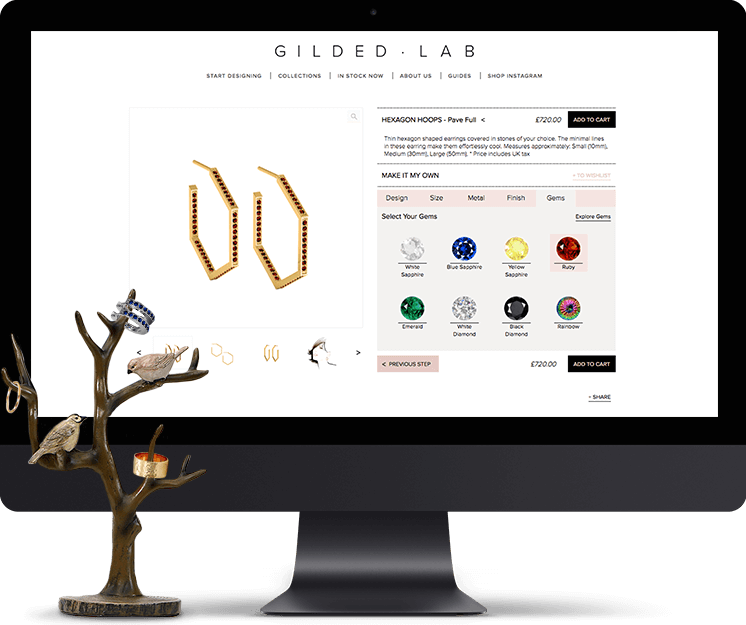 We integrated the Synoptive extension that allows the management of the product according to customer wishes. With easily created customization (style, design, metal, gemstone, and size) customers can make their own jewelry designs. After designing their own item and adding it into the cart, the product automatically appears in the Magento admin panel, and then in customer gallery.
We've also got another project in the online jewelry arena (the client's name is not disclosed due to the privacy policy). We started working on it when it was rife with technical challenges. Now, the website is fully personalized and responsive. Our team customized the logic for the "brand" category, competently rewrote the code, and optimized speed.
We also resolved a problem the site had with blurred images. The large-size jewelry images appeared out of focus. However, we managed to address the problem and now users can enjoy wonderful, high-quality images. This was especially crucial since jewelry exists primarily to please the eye!
Another important feature we created was adding the M2E Pro product extension. With this extension, the owner has the possibility to sync the website product catalog with an eBay & Amazon list.
Ready to Start a Jewelry Shop Online?
Online jewelry purchases are growing every year, and it yields high income. Given that the jewelry industry hasn't been saturated yet, it's time to start a jewelry e-store! Build the website on Magento or WordPress e-commerce platform to make it work without a hitch. Without the knowledge of how to start a jewelry business online, this may be challenging, but with us, your online jewelry shop will be in good hands and your new business will prosper.
https://whidegroup.com/wp-content/uploads/bg-2.png
292
746
alina
https://whidegroup.com/wp-content/uploads/whidegroup_logo.png
alina
2018-10-08 12:33:55
2020-01-24 17:48:00
How to Make a Successful Jewelry Business Online?
How to Make a Successful Jewelry Business Online?