Regardless of whether you present your business online or at a meeting with investors, it's always crucial to create a striking first impression. That's half the battle, but what speaks out in an online store? The first thing that comes to mind is the homepage. This virtual "front entrance" is the personal touch for any e-commerce business. Below we identify key practices to help you build the best e-commerce homepage, and make your site stand out.
A custom e-commerce homepage should attract buyers and let them enjoy a positive user experience. Although the main page is just the initial step in the customer journey, it should not only address the requirements and needs of different types of customers, it should also educate them and convert their visits into sales. With this in mind, it is clear that you can't play down the importance of the homepage without risking injury to your business.
Best Practices to Design an E-commerce Homepage
E-commerce Look
Upon landing on your site, customers should understand the purpose of your business at glance. Looking at your homepage, they should immediately realize one thing: it's an e-commerce website and you have products or services to sell. You can achieve this through keywords, a banner with clickable links, and large images related to e-commerce stationed above the fold.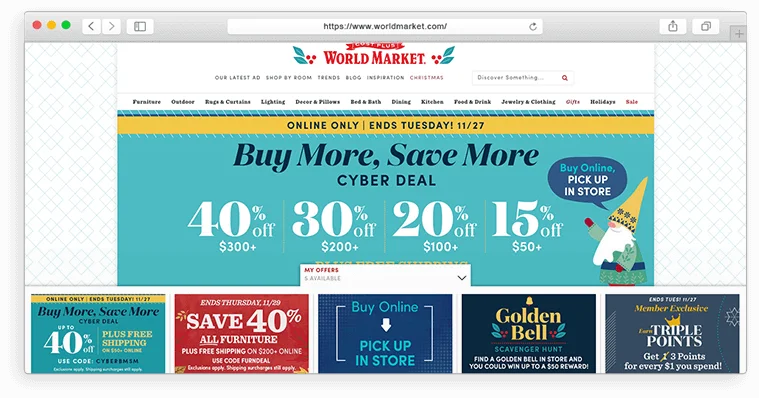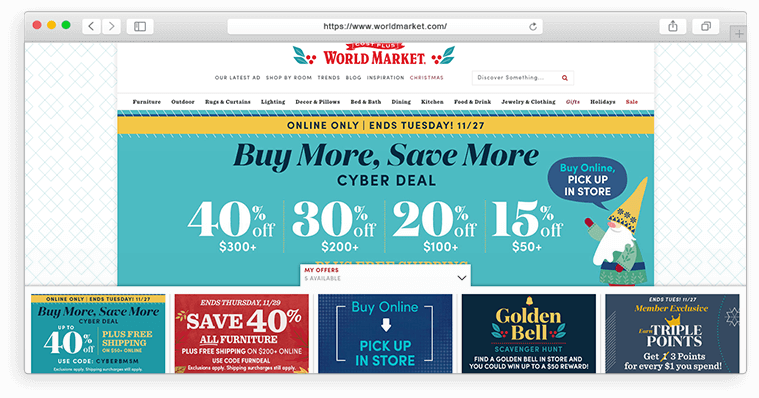 Additionally, it's crucial that your website looks professional. With mobile-friendly design, easy navigation, striking aesthetics, clear CTAs, high performance, and other key factors, you can easily create a professional e-commerce website.
Brand and Logo
Another way to catch the customer's attention is through your logo. A good logo is the best representation of your business face and its philosophy. It can communicate a sense of security and trust, delivering the message you want to convey to your customers. The size of your logo should be relatively proportionate to other objects on the homepage. If you have a tagline, it's a good idea to include it right underneath the logo.


Well-designed Layout
A well-organized presentation on your website makes it more attractive to potential customers, which makes it more valuable to you. To deploy such a design, your designer should make an e-commerce homepage layout that is completely suitable for your business, and reflects your products well.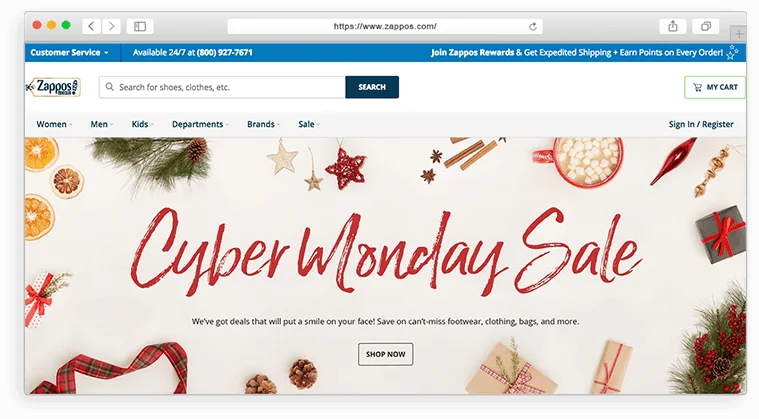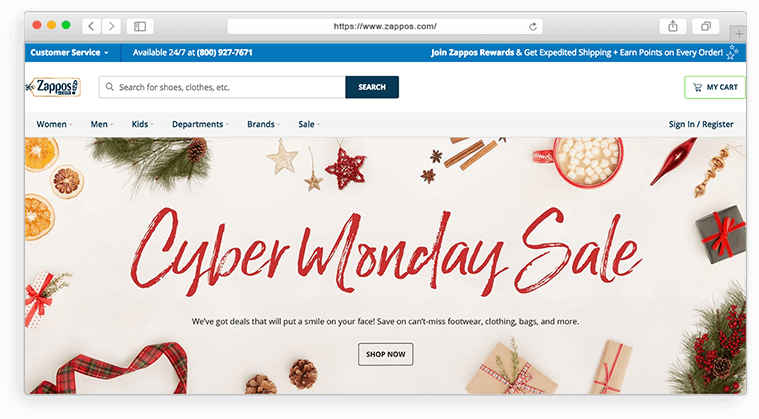 A good layout has to be easy-to-navigate, clear, and focused on the things you want your customers pay attention to. Include primary content, images, videos, CTAs, and a navigation bar above the fold. Secondary and additional content such as benefits, social proof, secondary CTAs, company updates, etc. can be displayed below-the-fold.
Navigation Menu
An overload of information piled on your homepage creates a mess and a poor user experience. The consequence? It reduces the authority of your e-commerce store. The simpler navigation your website has, the lower bounce rate you get. Incorporating a mega dropdown or multimedia-based menu is a great solution. The latter allows room to implement several images without the loss of functionality and productivity.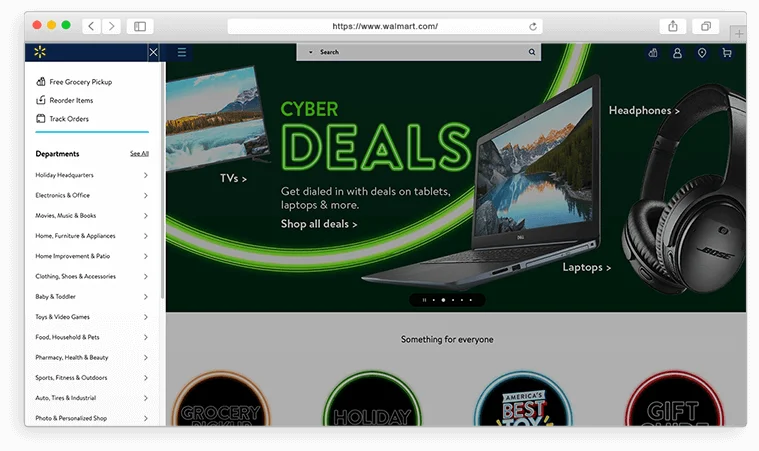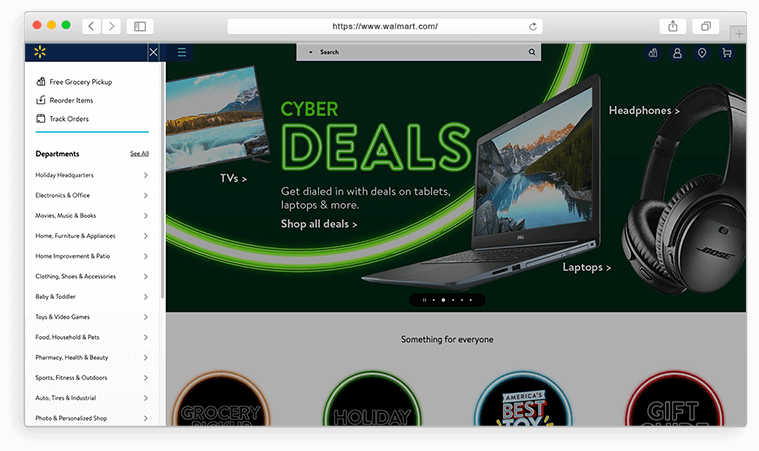 The structure of your website should be intuitively understandable. It's also important to consider that the left side of the site tends to be viewed more by users, and is more prominent, so it is a great idea to place your menu on the left, or at the top of the homepage.
Website Search
For a complex, heavy site it is advisable to implement a search extension or search technology, e.g WooCommerce Product Search or Algolia. Customers should be able to easily recognize the search box on the main page. However, it should also be found all over your site. Don't forget to include a search button!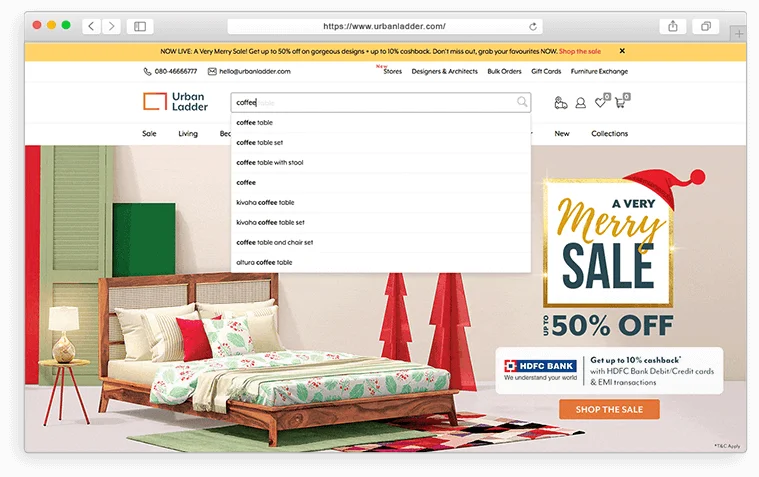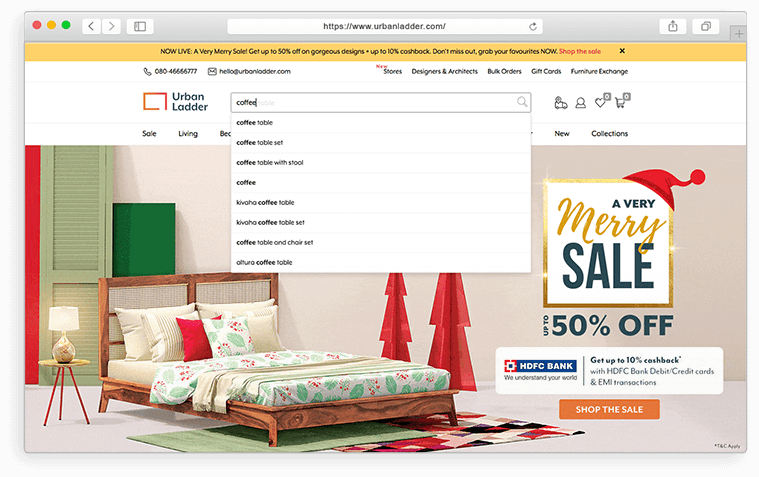 In order to save screen space, you can use an expanding search bar with autocomplete suggestion service. It provides a painless way to conduct a search process and gives your users a smooth experience.
Products
If your initial page has sales, special offers, and best-selling products, that's great! Put them below the banner. If customers see these goods at a glance, they will most likely make a purchase. Further, proper location of some of your products on the homepage has a very positive impact on ranking them in Google Search. Additionally, offering goods with discounts or gifts for special events is a business-savvy strategy that helps you optimize the customer journey. Less clicks. Less work. Better sales.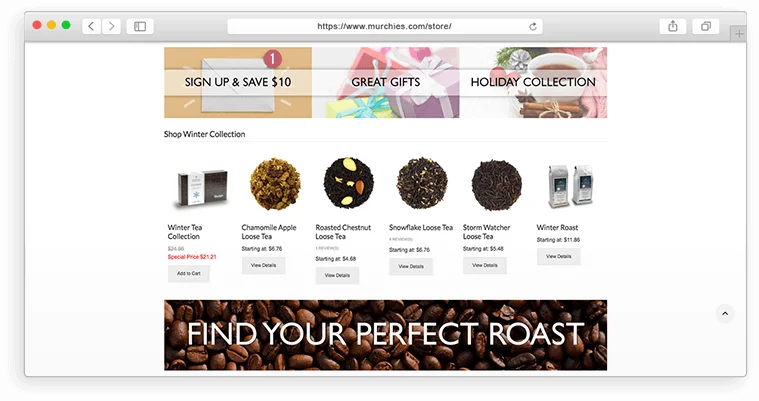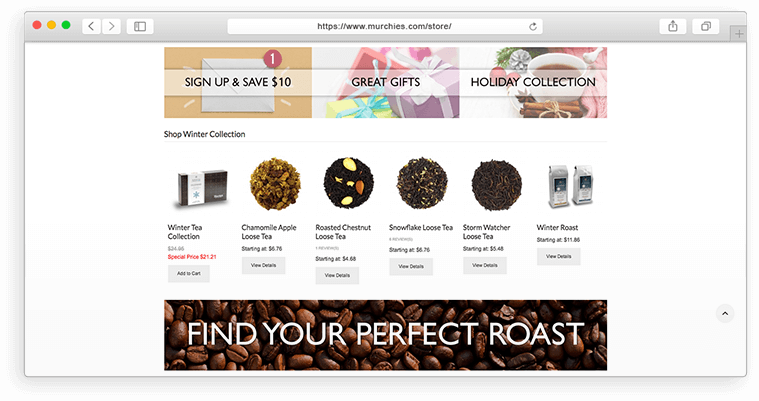 CTA
As we've already mentioned, one of the main focuses of the main page is to entice your visitors deeper into your online store and convert them into customers. Often this can be achieved through call-to-action buttons. With the usage of CTA's you not only encourage customers to make a purchase, but you can also get their e-mail and send them communications about special offers, sales, new products, etc.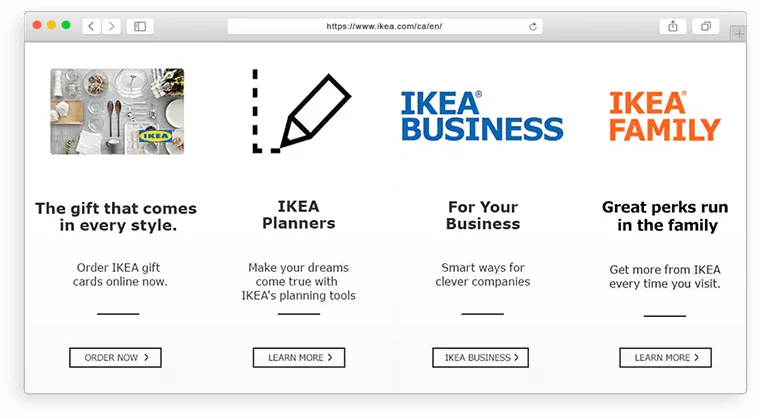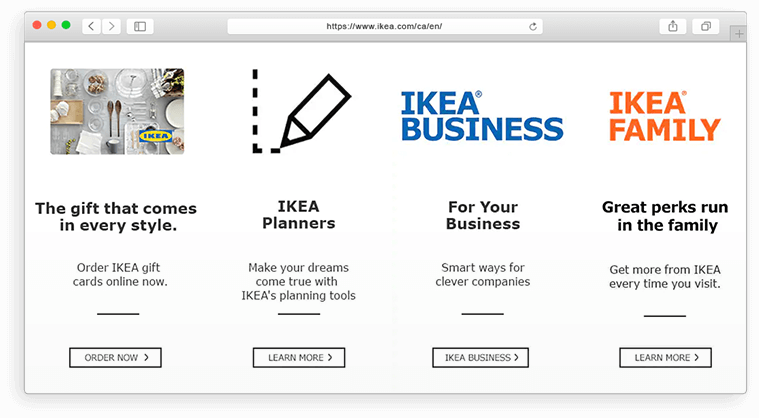 Primary CTAs are located above the fold, e.g. "Shop flavor", "Order today", "Refer a friend and earn $10", "Join free for a month", etc. Secondary CTAs help to promote your additional business ideas. Here are some working examples: "Join the coffee bean club", "Subscribe and get special offers", etc.
Login & Registration
User registration is necessary for the purchase process as well as getting the user's personal information. Login/Signup buttons should be located in your website's header so that it is immediately eye-catching for the customer. It instantly enhances the website's credibility. It's great if you integrate logins like Google, Facebook or Twitter because that will save time for customers and still give you valid user personal information.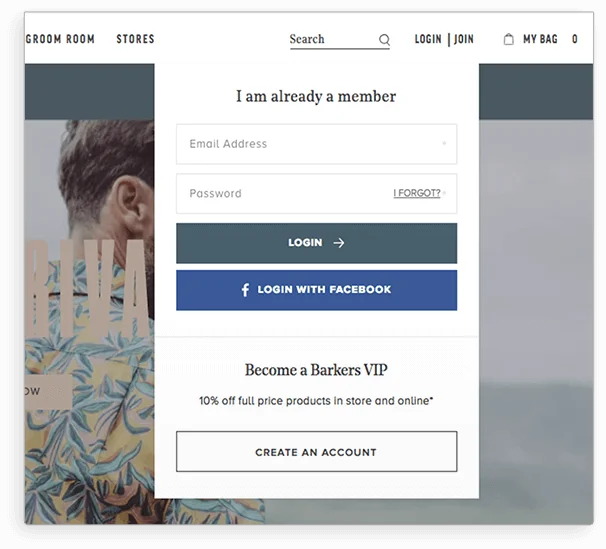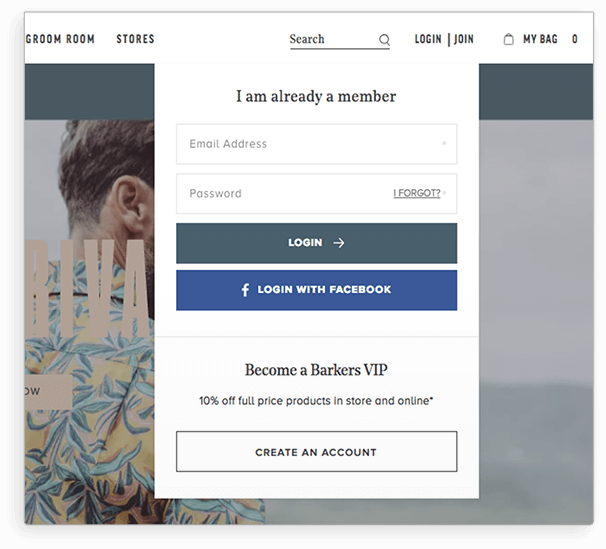 Contact Information
It's unlikely to convince users about your credibility without providing them explicit contact information on your homepage. This is especially true if you sell high-end goods. Including your contact information, and, specifically, a physical address creates more credibility for your site and confidence among your users.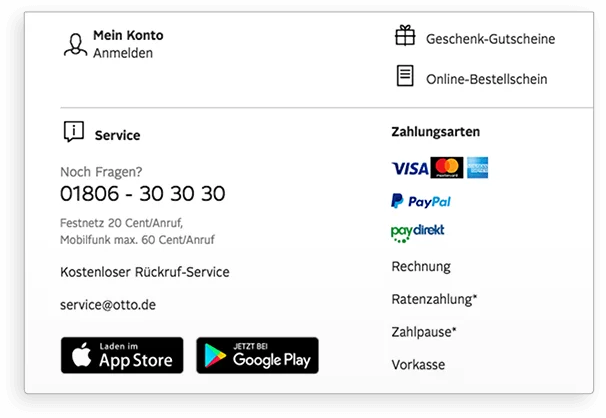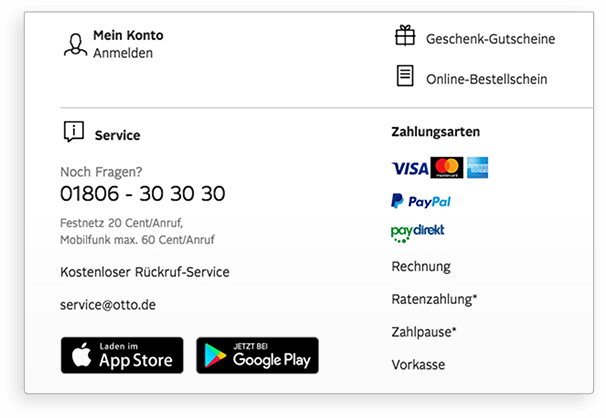 It's important to make your contact information highly visible on your site. Include a "Contact us" button in the header, and the phone number, e-mail, and location in the footer. Make it easy for buyers to get in touch with your company.
Social Media Links
Given the importance of social media in our lives, it's impossible to avoid its integration into e-commerce. Millions use social networks everyday not only for communication, but also to make purchases & sales. Because of this, people always want to know your success via social media.

Implementation of platforms such as Facebook, Instagram, Twitter, and LinkedIn in your footer will raise the credibility and popularity of your products. Keep in mind, it's one of the best ways to promote your business online.
Increase Your Conversions with Right Trust Seal
Lack of trust seals makes customers have doubts in your credibility, potentially causing them to bypass your e-store. Trust badges increase conversion rates, as well as enhance your e-commerce store authority.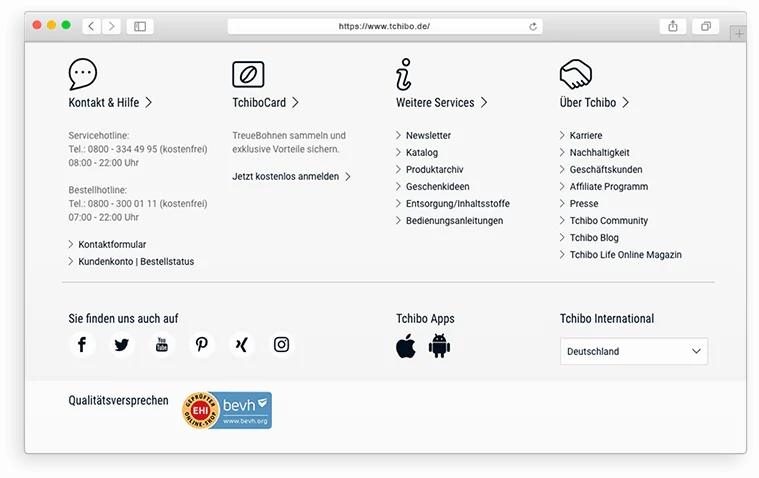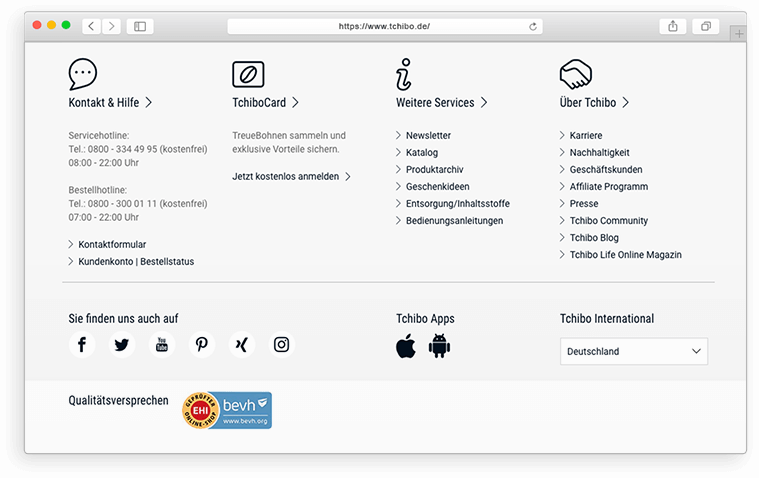 Trust badges can be added to the header or footer and there should only be a few site seals that are widely recognized. Don't go overboard on adding trust badges though because that ends up breeding more mistrust amongst users.
Examples of the Best E-commerce Homepages
We've explored best practices of how to design an e-commerce homepage. Now, let's look at some examples of the best e-commerce homepage designs that maintain high credibility and deliver a friendly user experience.
O'Neills
The first impression of this sports apparel site is incredible. Three distinct features of the store, "Track my order", "International delivery", and "Earn reward points" are emblazoned right on top of the homepage, pulling buyers into the site. Upon inserting text into the search box, you can immediately see the product images and their price. If the user has problems or questions, they can use a sticky live chat button.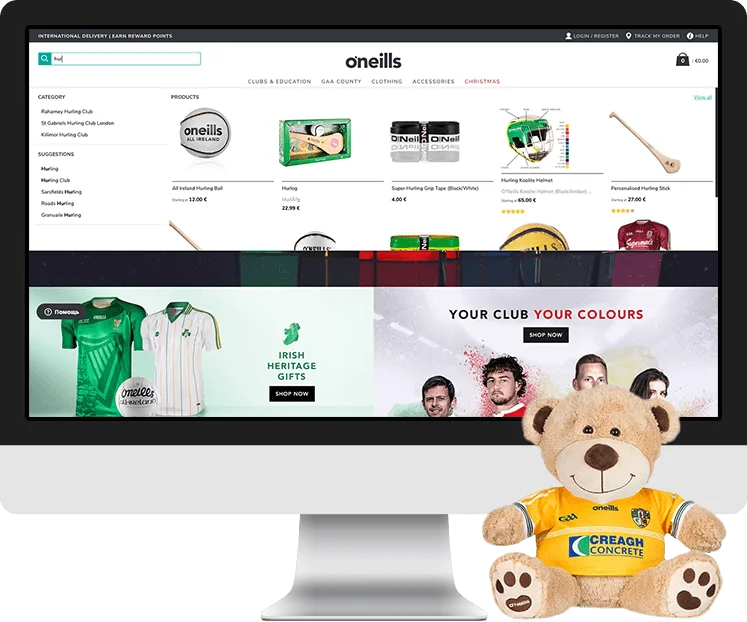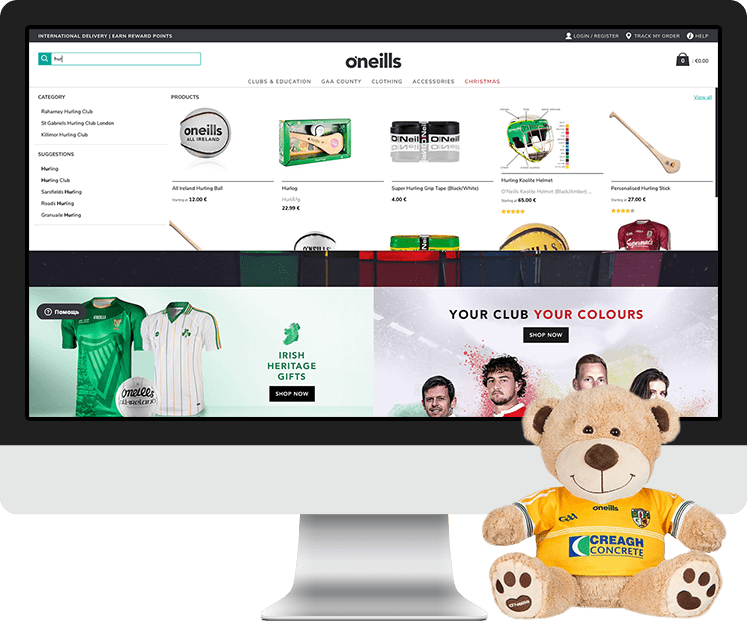 Bright product photos capture the user's attention at once. Visitors can see the best selling goods arranged according to sport clubs, as well as the sportswear recommended to them. Simple CTAs over the images lead visitors to the product pages. Glancing at the footer, you can find trust badges and payment method icons integrated in the site.
Paul Smith
This initial page has earned its spot among the best since it smartly guides users to products based on their demands. This company decided to make a short homepage and won! It significantly saves the user's time but doesn't kill their interest.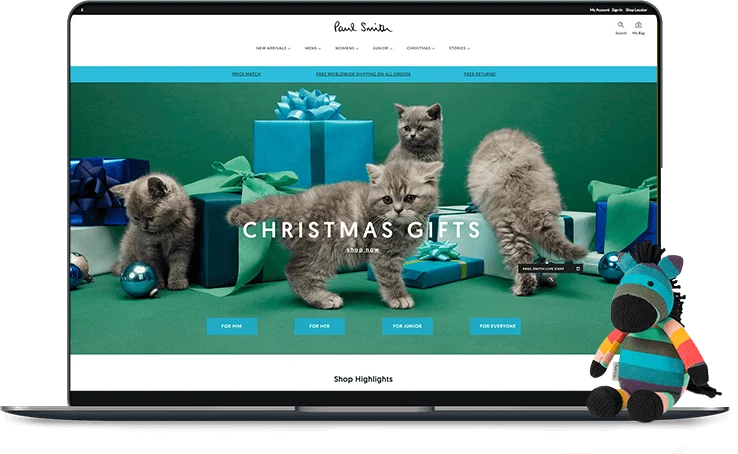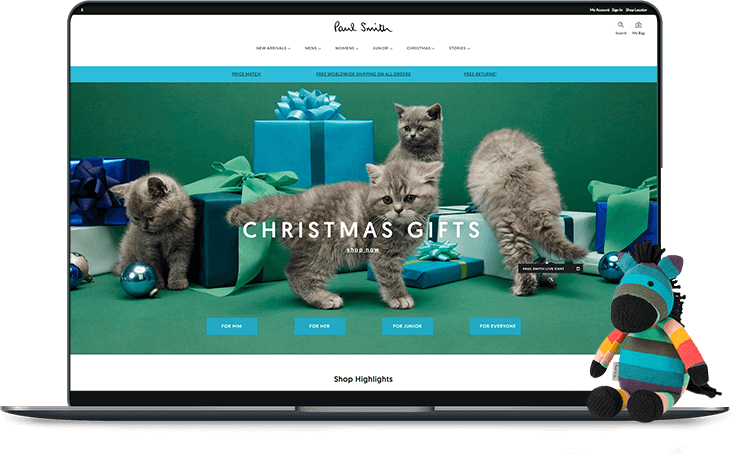 In the upper left corner there comfortably sits a widget for country/currency choice. Another important feature is that they have highlighted free shipping, free click & collect, and free returns. Product images are built in pyramid form and above the fold, you see only two basic categories: men's and women's. Scrolling down you can find three additional product categories.
BirchBox
This homepage is a great example of a balance between simple e-commerce website homepage design and functionality. Pastel colors contrast with the white background, creating a positive visual effect. A sticky header with the CTA "Join" pushes the user to click on the necessary category with products.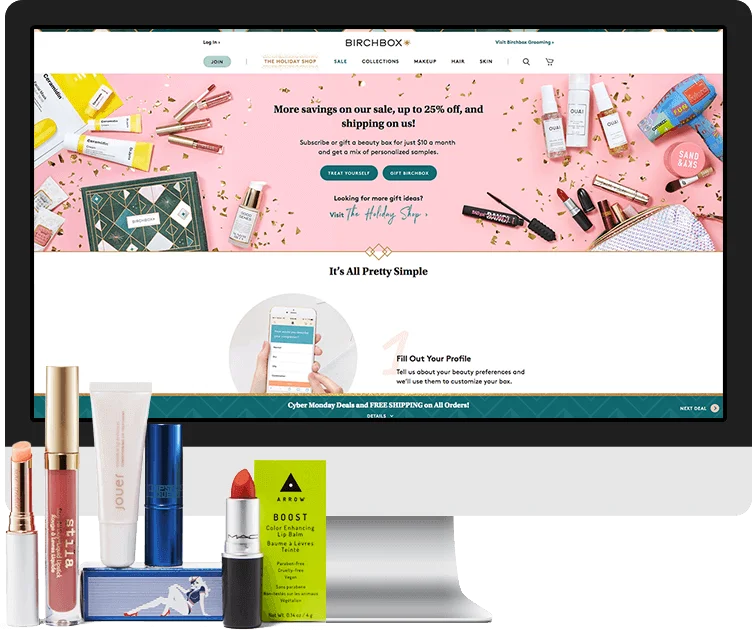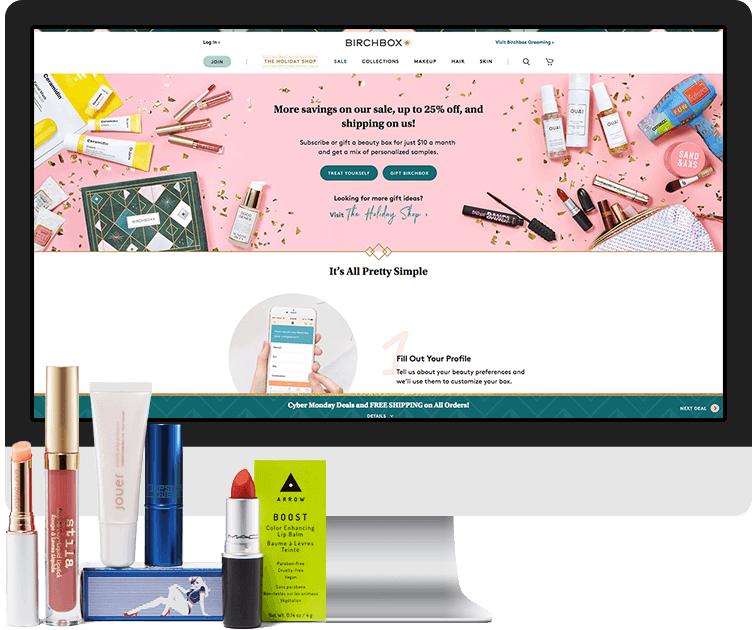 Clicking on the search icon in the header, the customer can immediately see popular requests. The brand uses a long format homepage style where the customer can find a detailed guide of how to pick up their own beauty box, new favorites, and the BirchBox Instagram page. In the footer, buyers can see a gift proposition with secondary CTAs. Plus, the can't-miss "Let's Keep in Touch" encourages the user to leave their e-mail.
Opulent Jewelers
One of our proud creations, the homepage of this e-commerce jewelry store is an excellent example of careful developer and designer work. A strong mix of expertise and creativity helped to build the awesome mainpage. The user is attracted by the bright, clickable banner presented in light, neutral colors at first sight. The customer can see all necessary information at once, without scrolling down- brand, shopping cart icon, navigation bar, search box, and a best-selling product slider carousel. To highlight unique services of the jewelry store, such as free shipping, easy returns, and fast international shipping, we placed them on a black background at the very top.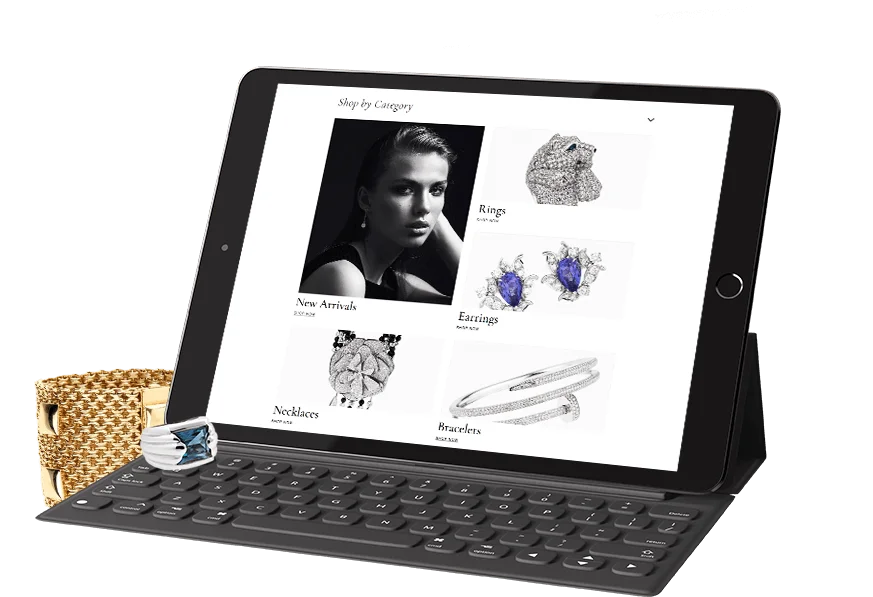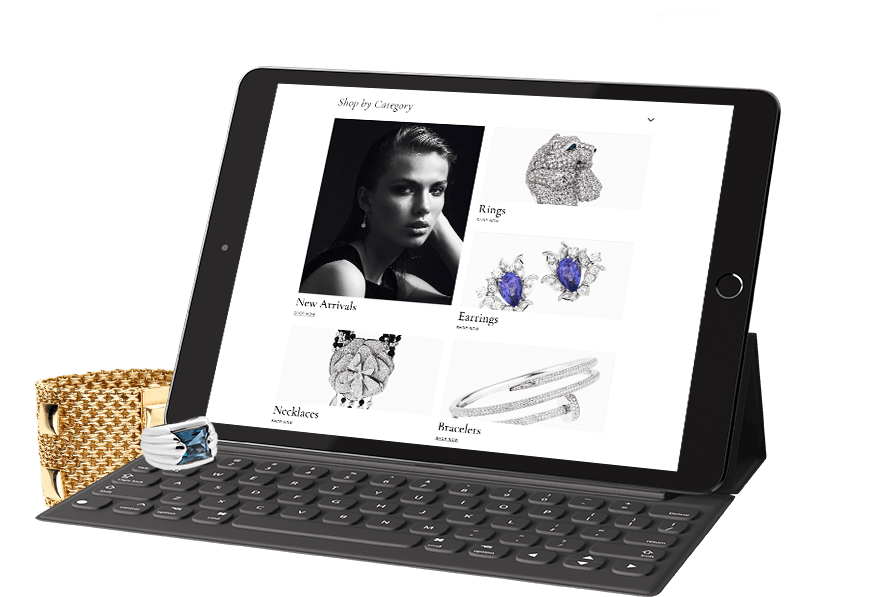 Below the fold, you can see a huge CTA "Browse our jewelry collections" which unobtrusively pushes the customer to the product page. With the detailed multimedia menu, users fluidly explore the website. Including logos below the fold, such as Forbes, GemGossip, Fortune, etc., gives customers more confidence in the jewelry store because mentions of Opulent Jewelers in mass media fosters credibility of the company.
Kjellmann
Another project of ours where you can find a great custom e-commerce homepage is Kjellman. The company sells ergonomic office furniture and supplies, from working tables and chairs to finishing lobby shelves. In the large slider with clickable links and fitting images of modern, comfortable furniture, the user can find information about sales and new products. Another smart marketing decision is the display of popular products and trends precisely in the middle of the homepage.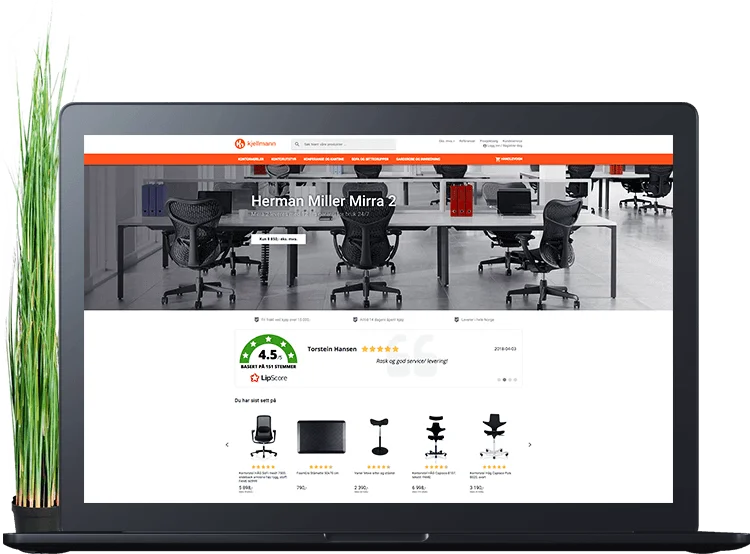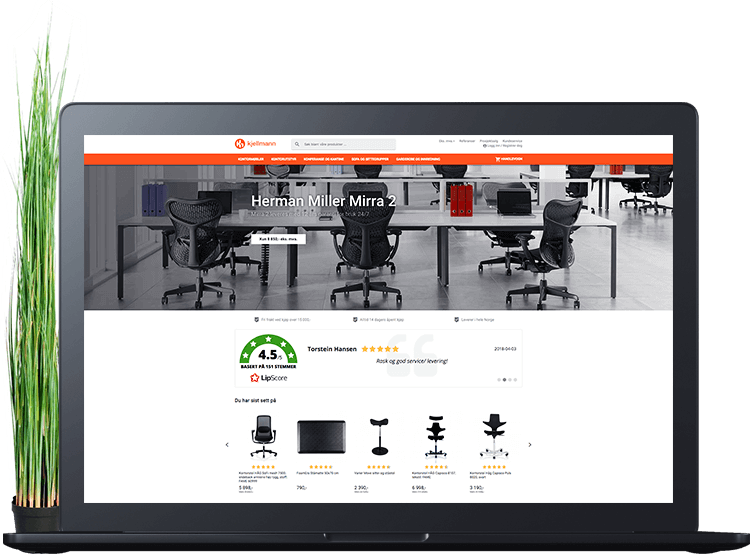 In order to make the customer journey smooth and clear, we implemented an expanding search bar. When users input the item they are looking for, the search box automatically suggests appropriate products with images and prices. Below the fold, the company offers its users the opportunity to know more about the brand and its special features. Customer reviews are shown right below the slider and are able to be seen by customers without scrolling down. Being responsive and mobile friendly means the homepage provides the positive user experience.
Get more insights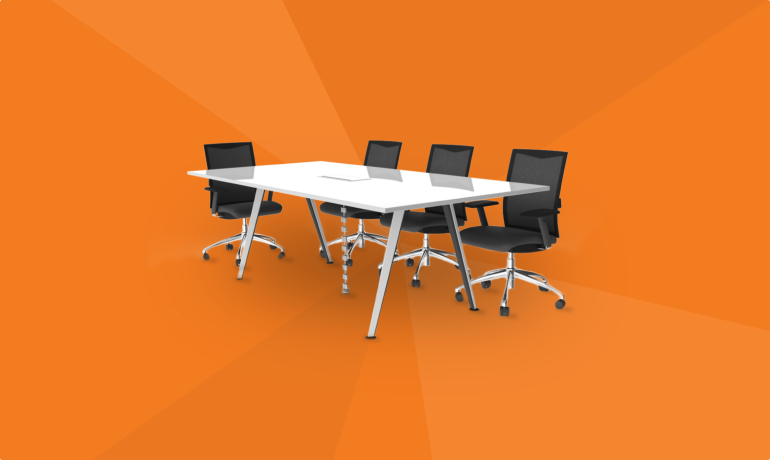 In looking at the above-mentioned examples, notice there is no need to include all these elements into the homepage to have a winning website. Moreover, the structure of each main page is customized for the particular type of e-commerce business: small businesses sell a smaller quantity of goods. This means they don't need a mega menu or a long homepage.
Final thoughts
Some main pages are designed in bright striking colors, and some homepages display soft, neutral tones. However, none of that changes the fact that they are cool, attractive, and friendly sites. If you want to build an excellent homepage from the ground up or refresh an existing one, Whidegroup is ready to help you. We can create a customized homepage based on your demands and desires. Let's get you to success!
https://whidegroup.com/wp-content/uploads/ecommerce-homepage-small.webp
300
772
Olha Fedchenko
https://whidegroup.com/wp-content/uploads/whidegroup_logo.png
Olha Fedchenko
2018-12-11 12:54:10
2021-09-17 15:20:36
How to Create a Successful E-commerce Homepage: 11 Best Practices
How to Create a Successful E-commerce Homepage: 11 Best Practices