Shopify, known for its flexibility and short time to market, has become a go-to e-commerce platform for small to medium-sized e-commerce businesses. Shopify makes it simple to launch an online business, providing a wide range of out-of-the box functions. With the same simplicity and flexibility, it enables merchants to extend the functionality of their Shopify e-commerce stores by just installing ready apps from the Shopify apps store.
We understand that our sharp eye, tempered by the years of experience in the industry, allows us to select the most useful Shopify apps quickly and efficiently. Read our guide to learn about pro tips on how to select top Shopify apps exactly for your e-commerce business that will duly save you time and effort.
What Are the Best Shopify Apps?
The definition of the best Shopify app is multi-faceted. It also depends on many aspects used in making the evaluation. Below we list the main points that we think apps should possess to be considered the best Shopify apps:
1. The best apps are those that completely meet the exclusive needs of your business. No matter how many awards an app has, or in how many listings of the best Shopify apps it was included, the app won't bring any value to your business unless it satisfies the needs of your store.
2. These apps are usually developed by well-known and reputable companies. It doesn't mean that you shouldn't pay attention to apps developed by young companies though. Just be sure you can find a corporate website for the app developer. Also check that you won't hit any obstacles in trying to contact them.
3. The best Shopify apps have ratings of 4.5 stars and higher. If customers don't face any issues during app installation, the app doesn't cause any conflicts with other website functionality, and benefits the e-commerce business, then it will definitely receive a high mark from users.
4. Top Shopify apps usually have several hundred reviews, minimum. If an app works smoothly, it gets a positive response from Shopify store owners and its popularity spreads fast.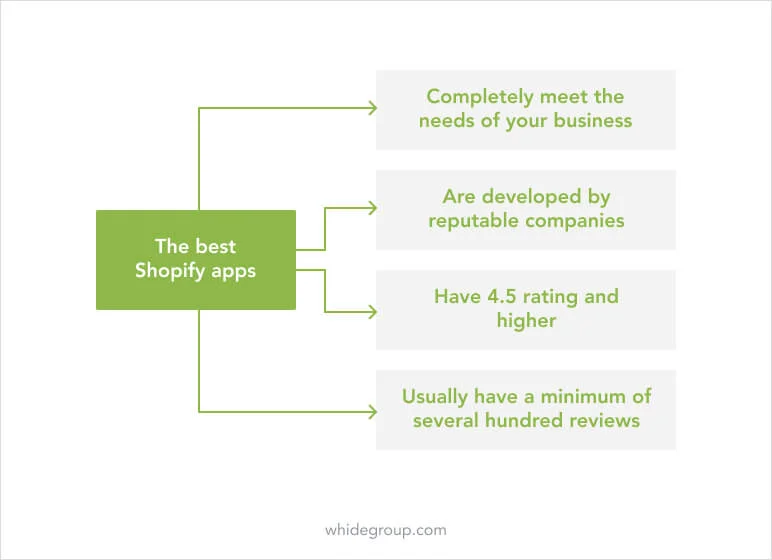 How to Choose the Best Apps for a Shopify E-commerce Store?
The search for an app for your store can be overwhelming. Especially when you don't have much experience in the e-commerce sphere. There is a huge variety of third-party apps Shopify users can find in the app store. Though sometimes it can be a bit tricky to figure out which category you should be looking in for the app you have in mind. Because the search can be cumbersome, we offer the following steps to better help you choose the exact Shopify apps you need for your business.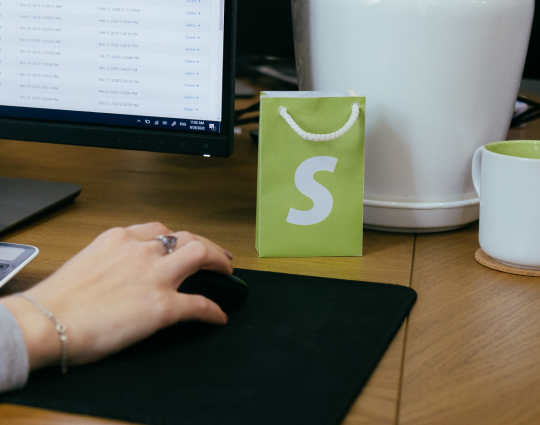 Need help with Shopify Apps?
Explore Our Shopify Development Services
Step 1: Define the functionality you need for the app
Every e-commerce business is aimed at increasing sales and maximizing revenue. This can be achieved by utilizing different instruments and methods. You can generate traffic for your store and have more website visitors and possibly gain more orders. You can work on existing customers, focus on turning them into repeat customers, increase your average order value, and more. As we know, each business goal needs to be divided into smaller tasks for more actionable results. Brainstorm on your next goal and break it down into smaller objectives. Consider which of them can be covered by the available apps and which will require custom solutions development.
Write down the exact functionality you want to be able to add to the standard behavior of your Shopify store. Now start your research. For example, if you are focused on maximizing your sales volumes during the upcoming sales season, one way of achieving this is adding a sales countdown timer on your product pages. These work to influence your customers' buying behavior by creating a feeling of urgency.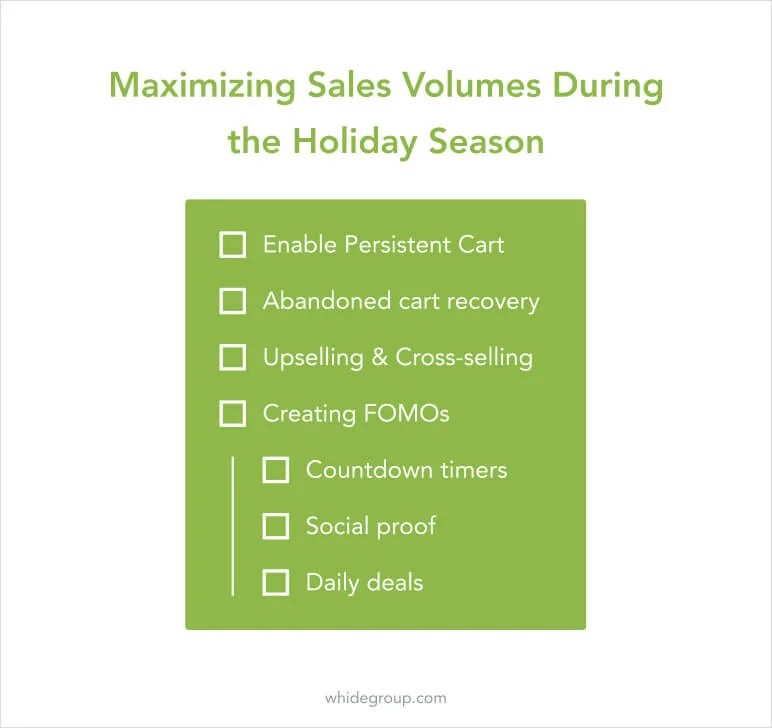 Step 2: Go deeper into the Shopify app store
The next step is to identify whether the Shopify apps store has the app that can meet the required functionality. Upon entering the Shopify app store main page you will see the list of 'staff picks', trending apps, a collection of apps by Shopify company and a compilation of relevant seasonal apps.
1. Use the search bar and type the keyword that reflects the functionality you need best. In the example below, we've searched for a 'countdown timer'.Taking this approach helps you find an app with the exact niche functionality you're looking for.
2. Review the categories and choose the one you believe the required app can be located in. In our example, we went to the 'Sales and conversion' category, navigating further to the 'Creating urgency' subcategory.This method allows you to find an app that covers your current business needs and gives a little bit more.
However, no matter which approach you take, you will see hundreds of available apps. With that in mind, the next thing we advise is that you sort listed apps. Sort by "Most relevant" or "Most installed" and then choose the pricing model, if cost is important to you.
Step 3: Pick a few apps and research them
You will see dozens of Shopify apps sorted and filtered by the parameters you have chosen. Now it is time to pick a few and research them. We suggest you go through the following steps:
1. Read the description thoroughly to understand whether the app really offers the functionality you need.
2. Study the pricing models and features included. Some apps will provide your required features within the free plan while others may only offer them in a paid plan.
3. View the demo store and check if the design and layout of the features provided by the app suits your store style.
4. Explore reviews to learn more about the support provided by app developers and any issues that other users may have faced.
Among all the apps listed in the 'Creating urgency' subcategory and 'countdown timer' search results, our professional eye fell on Countdown Timer Bar by Hextom straight away. It has a great rating, many reviews, and a free plan that includes all the useful functions. This is everything we were looking for.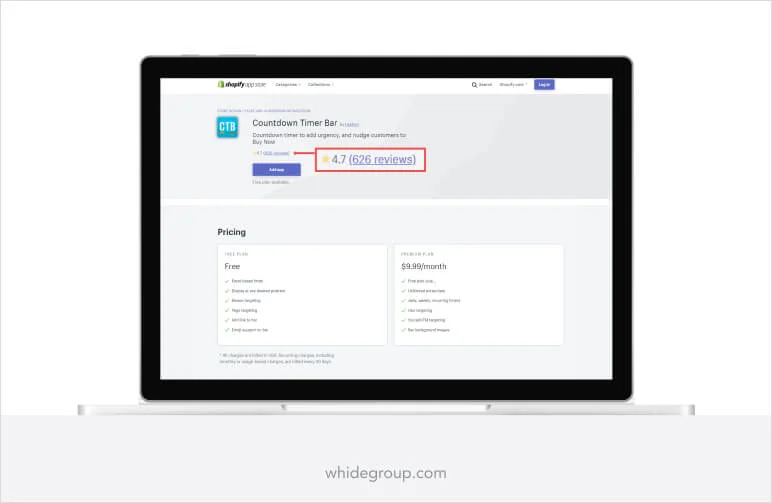 Another few apps we chose were Ultimate Sales Boost by Hextom and Sale Kit ‑ Boost sales bundle by Qikify. These are not simply sales countdown timer apps. Instead, they are more complex apps that offer a wide range of functions for Shopify store owners.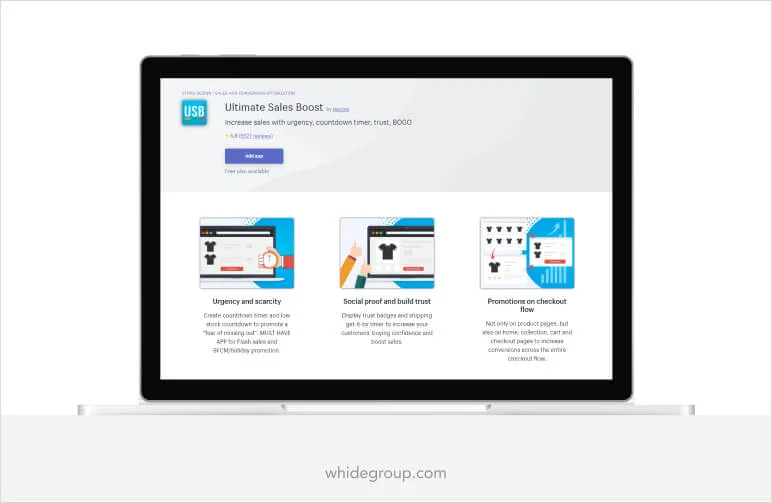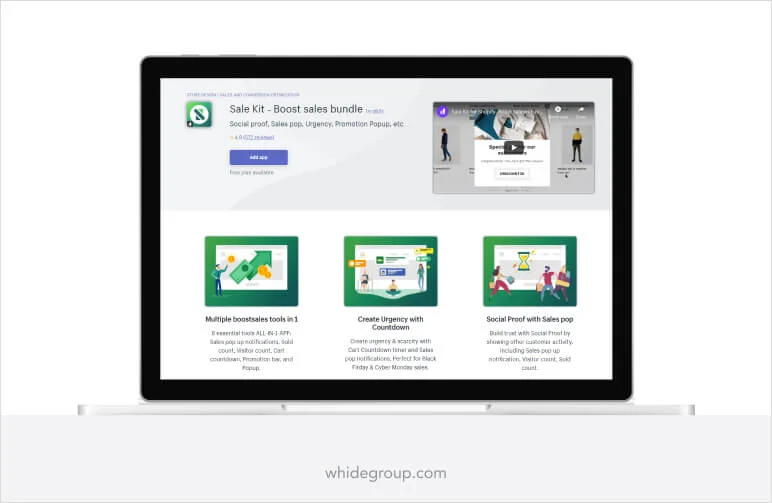 Step 4: Analyze results and choose the most useful Shopify app for you
If you are looking for an app with narrow functionality and see one that offers a free plan, appears among the most popular and relevant apps and has great ratings and many reviews, just go for it and don't worry about searching for anything else.
But if you'd like to get a multi-functional app that can more comprehensively fit your current business needs and offers additional related features, go through the results and choose the best option.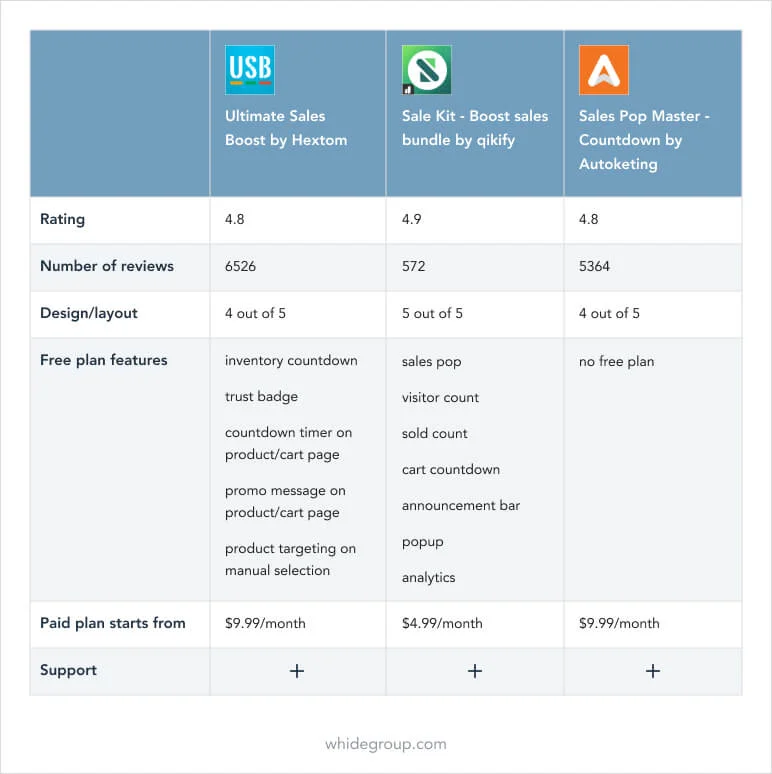 Final steps
When the decision is made, you are ready to install the app on your Shopify store. In case you have any questions or issues with installation, you can contact the app developers for support.
After the app is successfully integrated into your e-commerce website, take your time to review all the functions and settings. Test it properly to ensure that:
The app provides the functionality you were looking for
It doesn't cause any issues with your existing store functionality
Please, note that all external apps installed on your store will likely affect store performance. This is especially the case if you use several apps from a variety of different app developers. They may conflict with each other, slow down your store and impact conversions.
For you to quickly jump into action without wasting your time on looking for the necessary apps, we have prepared a huge two-part compilation of the most useful Shopify apps that are currently published in the Shopify App Store. Switch to the article, choose the needed category and take your app.
We've chosen some best Shopify apps for you

Here, you will find even more of them

Final Thoughts
Do you want to extend the functionality of your Shopify website in the most efficient way? Can't find a decent solution among the top Shopify apps available on the market that will fit your business needs? There is no need to despair – you can always opt for Shopify custom apps development. What's better than a little exclusive treatment for your store, anyway? We hope that our article will better your experience with the Shopify apps store. At Whidegroup, our team is always ready to resolve any questions you may have, so feel free to contact us anytime.
https://whidegroup.com/wp-content/uploads/how-to-choose-shopify-app-small.webp
300
772
Anastasia Zhuk
https://whidegroup.com/wp-content/uploads/whidegroup_logo.png
Anastasia Zhuk
2020-12-17 15:03:19
2023-10-19 09:19:41
Pro Guide on How to Choose Shopify Apps for Your Store
Pro Guide on How to Choose Shopify Apps for Your Store