When is the right time to move online? The time is now! While you're standing around considering the possibility of launching an online store, hundreds of merchants are jumpstarting their business in e-commerce. Why? Because they know that it attracts more and more customers every year.
Given that about 80% of Whidegroup clients use Magento as a base for their e-commerce businesses, it only makes sense that we:
Stress the critical advantages of this CMS
Reveal the basic steps of the Magento e-commerce development process
Answer the most frequently asked questions related to the Magento website development process
Before we get into the steps on how to create a Magento e-commerce website though, we can't help but first mention the winning features of the CMS.
Why Choose Magento for Your E-commerce Store? Key Benefits and Critical Features
We cannot repeat too often that Magento is the most powerful CMS that perfectly suits any business type and size. To support this statement, let's reveal the major pros of using Magento as a base for your e-commerce store and look through the list of Magento's out-of-the-box features.
Benefits and Reasons to Create an E-commerce Website Using the Magento 2 Platform
More than 200k websites use Magento for e-commerce business. The CMS gives you, the business owner, all the tools to launch the project of your dreams. Let's dive into Magento's benefits to answer the question: why choose Magento for e-commerce?.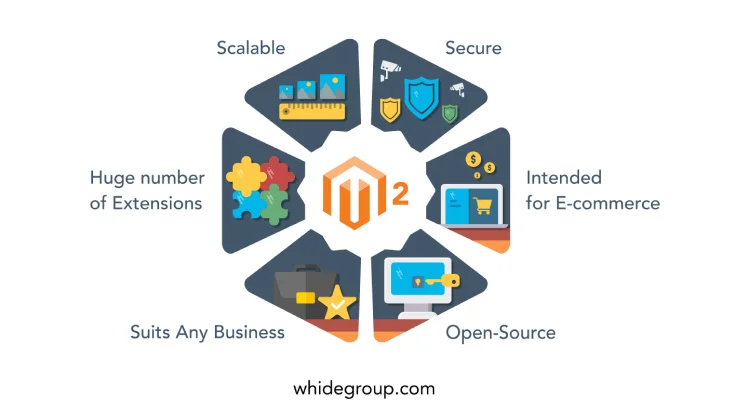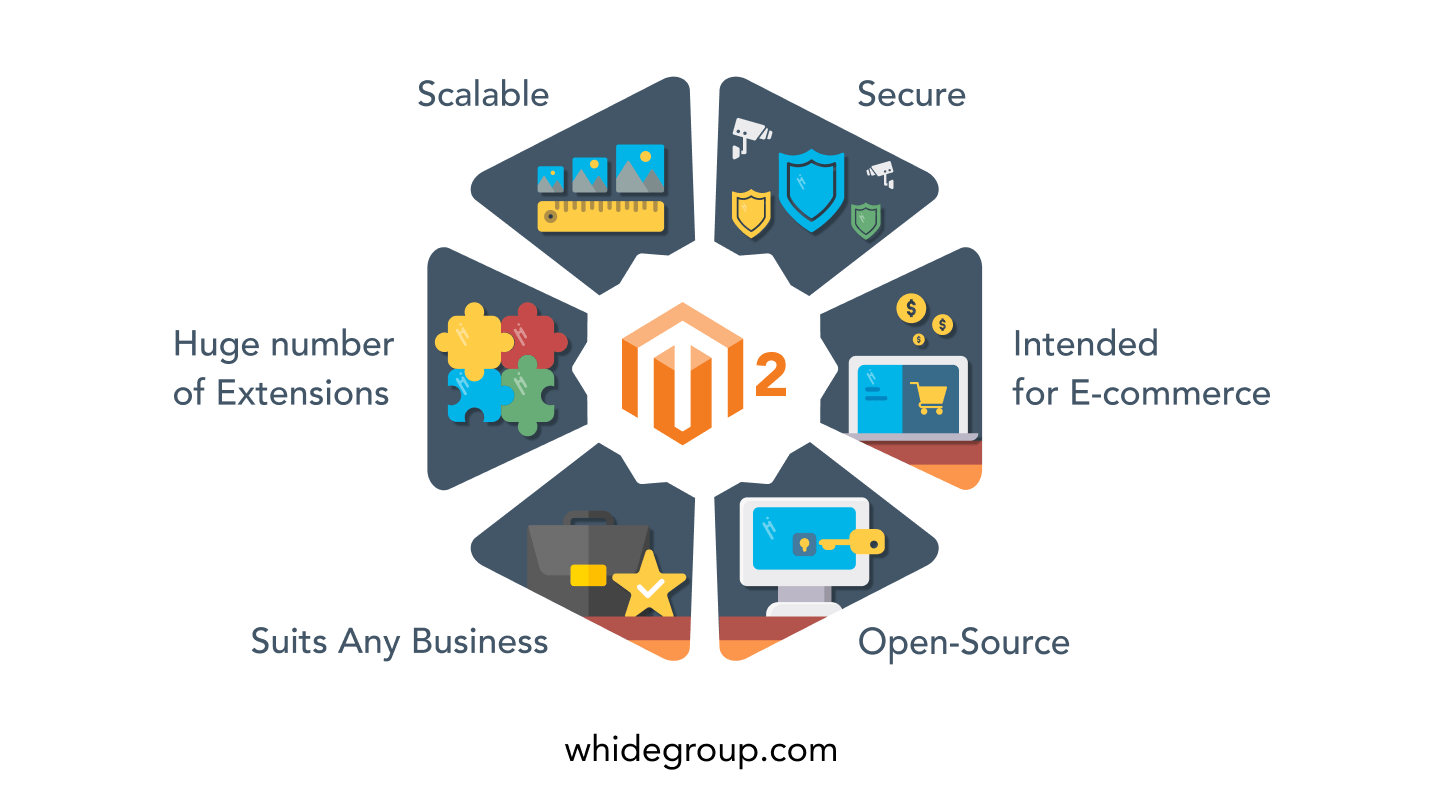 Intended specifically for e-commerce
Built exactly with e-commerce needs in mind, the platform serves unique business requirements. This CMS has important tools and extensions that help your website perform at its highest level. Whether you sell goods (cars, furniture, or flowers) or services (medical treatment or cleaning services), Magento is a smart solution for all types of businesses.
Magento takes care of your website security
Some businesses spend weeks, sometimes months, making a website look great, and ensuring that the customer's journey is smooth and pleasant. However, despite all that preparation, they fail at the checkout stage when the user's data seems at risk. In such scenarios, customers leave and it's nearly impossible for you to win their loyalty back. What's the moral of the story? High website security is necessary.
The Magento e-commerce platform allows business owners to keep customer payment and ID data secure, as well as your financial information, product catalog, and price lists. Additionally, thanks to its security protocols, constant updates, encrypted connections, and robust hosting provider, Magento successfully fends off security attacks and detects even the smallest vulnerabilities.
Open-source
Although launching a new business can be costly, the Magento CMS is free! Magento Open Source (previously Magento Community) provides all the solutions you need to build a perfectly working e-commerce website.
Suitable for all business sizes
No matter what size your business is, Magento is great for both small & medium-sized companies (with Magento Open Source & Magento Go) as well as large companies (using Magento Enterprise).
Huge number of extensions
Magento Marketplace alone provides more than 3k third-party extensions that can make your store unique and adaptable for all situations. Apart from the marketplace, there are hundreds of third-party extension providers offering custom solutions for every taste and need.
Scalable
Flexible Magento allows developers to conveniently manipulate, delete, or rewrite code, and manage extensions. In addition, by managing Magento's accessible code, your store can be customized in line with your business needs.
Critical features of the Magento e-commerce platform
There is a great number of reasons why users may have a bad experience with e-commerce stores. Regardless of the reason, bad experiences lead to high bounce rates, low conversion rates, and a decrease in sales. And that's not the only challenge for online stores. Magento has the necessary components to solve almost all of your e-commerce woes. Below, we have highlighted the main winning features of a Magento website.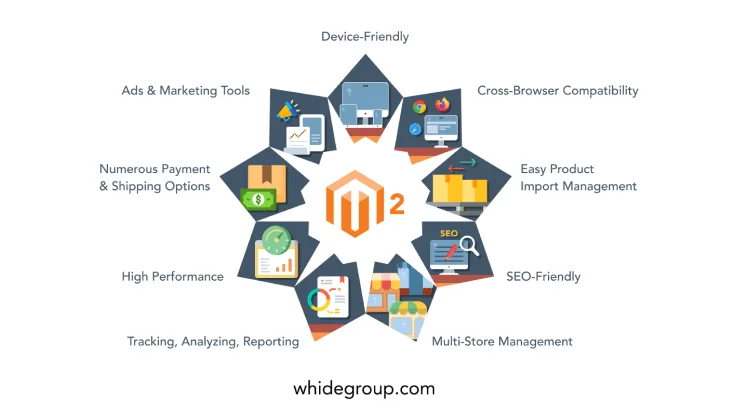 Device friendly
Mobile versions of Magento websites are fully optimized and regularly updated. You don't have to worry about creating mobile responsiveness, page layout, or images & videos adaptivity because it's already done for you.
Cross-browser compatibility
We all know that Google Chrome is the most popular search engine platform in the world. But it would still behoove you to cater to different customers who utilize different browsers for their various reasons. Powered by cross-border support, Magento helps your website work well on any browser, in any version.
SEO friendly
In addition to its basic out-of-the-box SEO options, Magento can also be integrated with a more complex, custom SEO strategy to make a bigger impact. By creating unique meta content and friendly URLs, and making good use of canonical tags and redirects, Magento leads your e-сommerce website to great results.
Multi-store management
The platform allows you to add several stores under one admin panel and manage them all effortlessly.
High performance
Magento's website performance can be the kingpin in the success of your store. This CMS makes the site fast and robust, which is what users want.
Plus, by being a self-hosted platform, Magento gives you a choice in server selection that enables you to adjust all the required tools for your website speed boost. Make it work in your favor and get more appreciation from your customers!
Easy product import management
Magento offers a great solution: automatic import of your products with the snap of your fingers. It's noteworthy that the import process takes little time and is completed in 4-5 steps. The result? Management of your import/export won't drive you up the wall.
Ads & marketing tools
Magento has the necessary tools to simplify your marketing & promotion strategy. They facilitate the management of a landing page, promotional pricing, cross-sell products, coupons, and more.
Numerous payment and shipping options
With a Magento-based website, merchants can provide customers with numerous payment and shipping options, allowing them to make a purchase without concern over security. Magento, by the way, supports guest and authorized checkout.
Tracking, analyzing & reporting
The platform consists of universal tools to manage your progress. CMS tracks and analyzes your sales, percentage of abandoned shopping carts, best-selling products, and more. What is notable about this platform is that it reports the required data to help you easily manage your website.
Step-by-Step Guide for Magento 2 E-commerce Website Development
Now, knowing the main benefits and most helpful features of the Magento platform, it's time to switch to the intricacies of a Magento store set-up, which still seems to be a painstaking process. In this detailed guide, we will show you how to make a website with Magento 2, since it is the most popular free solution suitable for e-commerce startups and midsized businesses.
So, let's start from here.
#1 Choose a Magento 2 hosting provider
The choice of the best Magento hosting is the first thing you should do before proceeding with the platform installation and configuration. The reason is that further steps will depend on the hosting plan and the provider you choose. Today, some providers specialize in Magento hosting that come with a one-click install of the platform. Sometimes such packages also include SSL certificate and/or free domain name.
Magento 2 is a powerful platform, and therefore it has certain requirements of the server resources. In addition, the more your online store grows, the more server resources will be needed to maintain its smooth operation.
The best choice is Magento dedicated hosting as it gives you the ability to manage the whole server. What is more important, you will not have to share the hardware capacities with other websites hosted on the same server, which is the case with a shared hosting environment.
Here are some of the top-rated hosting providers that can support Magento stores:
1. SiteGround
2. BlueHost
3. Cloudways
4. InMotion Hosting
5. HostGator
Now, let's assume that you've subscribed to a plan offered by one of the previously mentioned Magento 2 hosting providers, and installed the database on the server, but were not offered the option to install the Magento 2 platform with one-click. What steps should you proceed with, in such a situation?
#2 Get the latest Magento release
First, visit the Magento website and create an account (you can also do this at the download stage). The next thing you have to do is to choose the way you will install Magento 2. Generally, there are two options: via the Web Setup Wizard or via Composer. The difference is that you will not have the possibility to upgrade the platform in the future with the help of Wizard. It is only possible with Composer or command line.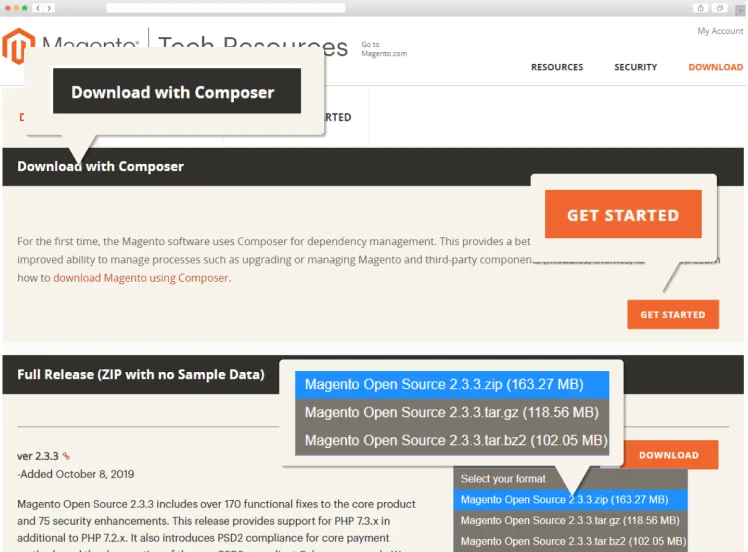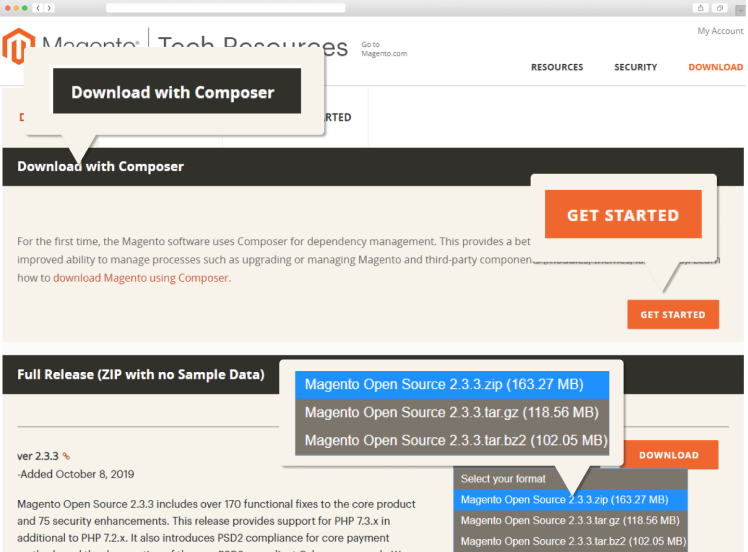 Download the Magento software archive. Go to Resources > Tech-resources > Download. Then, choose the version you wish to use (we recommend the latest one for security purposes), select the archive format (".tar.gz.", ".tar.bz2", or ".zip") and click "download". After the download, extract the files to the directory on your server and proceed with the six-step installation process that includes the Readiness Check, Addition of a Database, Web Configuration, Store Customization, Admin Account Creation, and, finally, Setup.
By the way, do not forget to pick up the brand domain name. Important note – your domain name should be unique, simple, and catchy.
Now your store is ready for further customization and the next step is the configuration of a Magento store theme
#3 Set-up a store theme
If you want your online store to attract more potential customers, the easiest way to do this is to set up an eye-catching, responsive, device-friendly theme that will attract user attention and thus, extend their sessions on your site. Since positive user experience is the number one priority for any online store, you, as the merchant, will definitely want to know how to change the default theme in Magento and what customization options you have.
1.

Use the default theme.

When you set up your store, it comes with a theme already in place called LUMA. This theme features everything you need to start selling. You only need to change the logo and slightly customize the block images to make your store pages correlate with your brand and its values.
2.

Shop for theme templates

. There are hundreds of free and paid custom Magento theme templates, premade by several different theme providers. You can easily find the latest editions of the templates made for narrow niches, as well as for massive industries, starting from cute themes for an online pet store to sleek, minimalistic templates for tech stores. You can access some of the greatest Magento themes on Magento Marketplace, TemplateMonster, and ThemeForest. After purchasing and downloading your chosen theme, you can manage it in the "Content" section in the admin panel.
3.

Customize a theme to your needs.

If the downloaded layout does not suit all your requirements to the front-end side of your online store and the template you've chosen leaves you feeling like something is missing, you can customize it anytime to make it fill the gaps.
4.

Develop a theme from scratch.

If none of the theme templates satisfy your needs, even after slight layout customizations, then this is the only option you have left. Custom layouts built from scratch can correlate with the needs of your business at any given time, will serve to boost your e-commerce sales, and reduce bounce rates. One more thing – before you start working on the design of your store, make sure to do research on smart positioning of blocks, sections, and CTAs throughout your store.
Note that implementing major changes to the theme or development of a theme from scratch requires decent knowledge and expertise in programming. So, if you want to get a worthwhile result, you will likely have to look for qualified Magento development services.
No matter which of the four options you've chosen, sooner or later you will have to apply and activate a new theme. To do this, go to the Admin Panel > Content > Configuration > Edit > Select your theme in the drop-down menu > Save. There you go!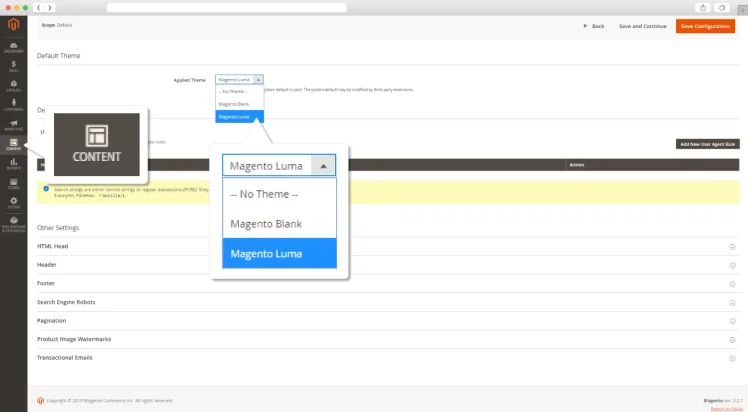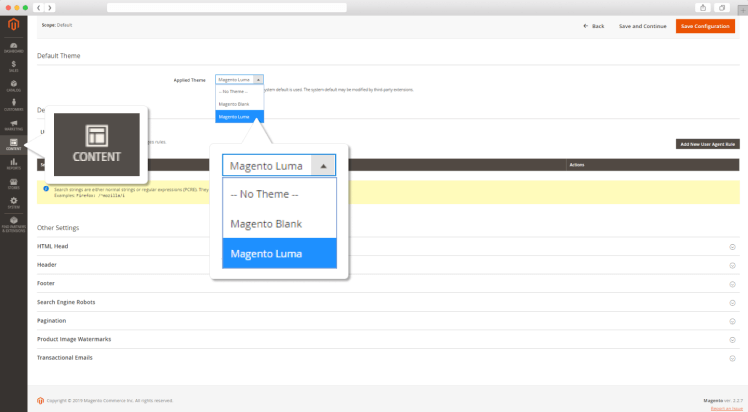 #4 Catalog configuration
Categories, subcategories, product pages, and easy navigation throughout your website is essential, as these are the most important components of any e-commerce website. They define the customer journey and entice customers to the desired products. You can look forward to experiencing no difficulties in managing product categories and subcategories in Magento. What is more, there are no limits on the number of products in your catalog.
The first step is to add new products to the store. Go to the admin panel. Select Catalog > Products. On this page in the future you will see all products that are already added to the catalog.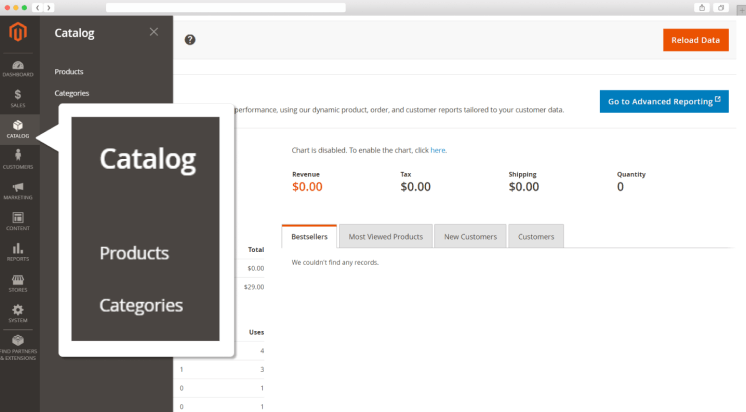 Thanks to the intuitive interface of the Magento 2 admin panel, it is easy to add a product or create the first one, by way of clicking that big bright button on the right.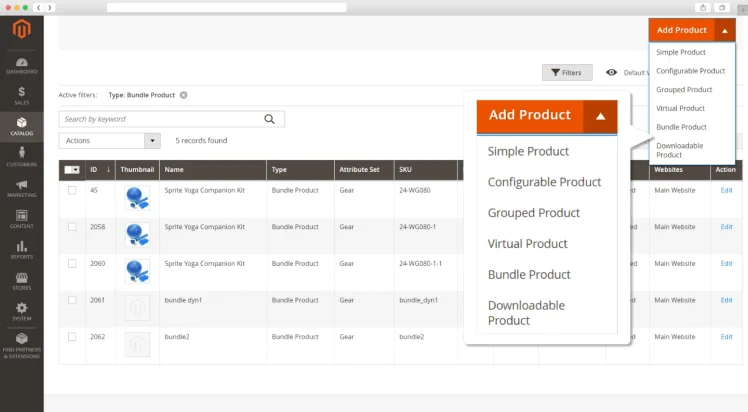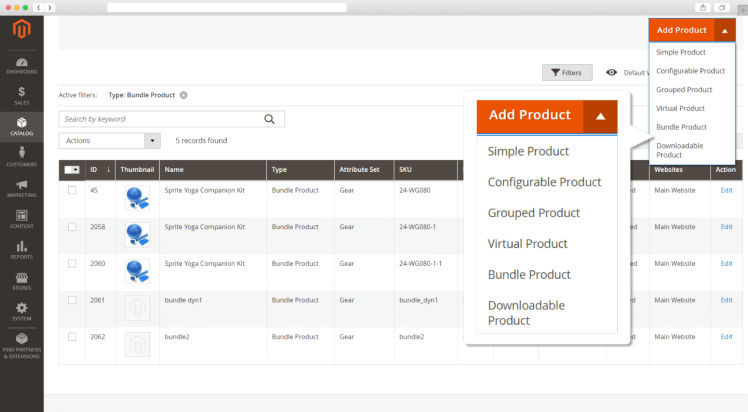 This button has a drop-down menu that lets you choose the type (simple, bundle, configurable, virtual, etc.) of product to be created.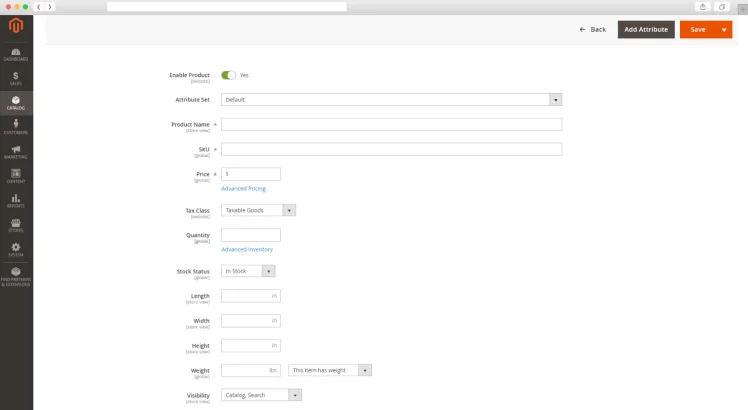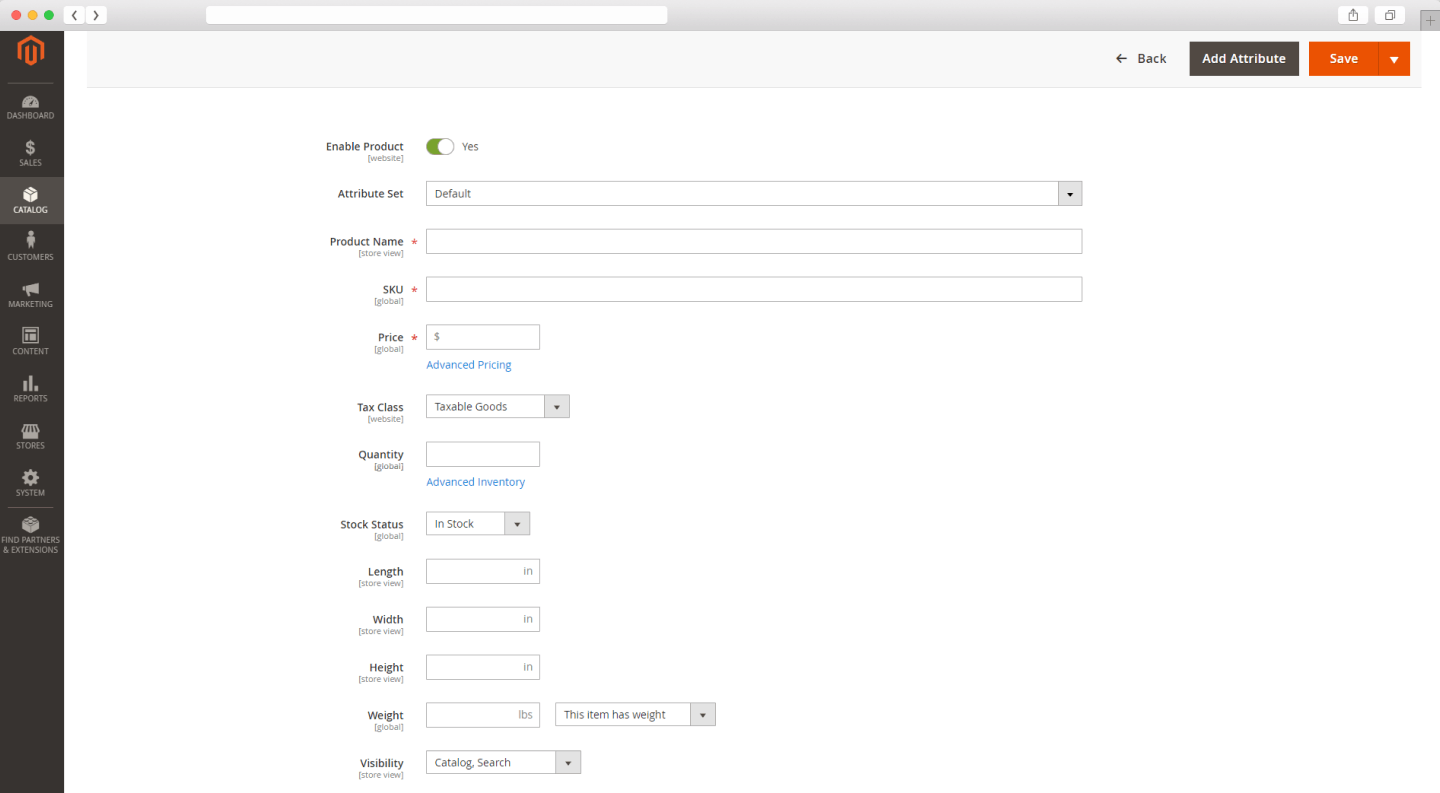 Here, you're able to add custom options, import product images and videos, type in product details, add its SKU, price, add product attributes, and so on.
After that, it's time to develop a skeleton of your online store – create categories and subcategories. In the admin panel select Catalog > Categories and add as many product categories and subcategories as you need to. One piece of advice: remember that customers should have the opportunity to get to any product page in no more than 3-4 clicks, considering the homepage was their point of entry to the website.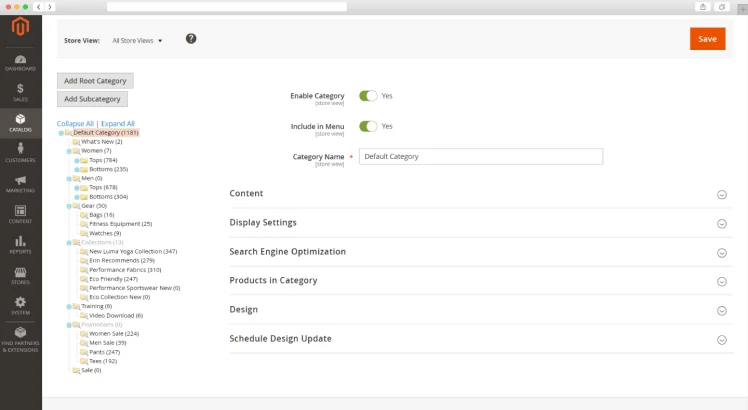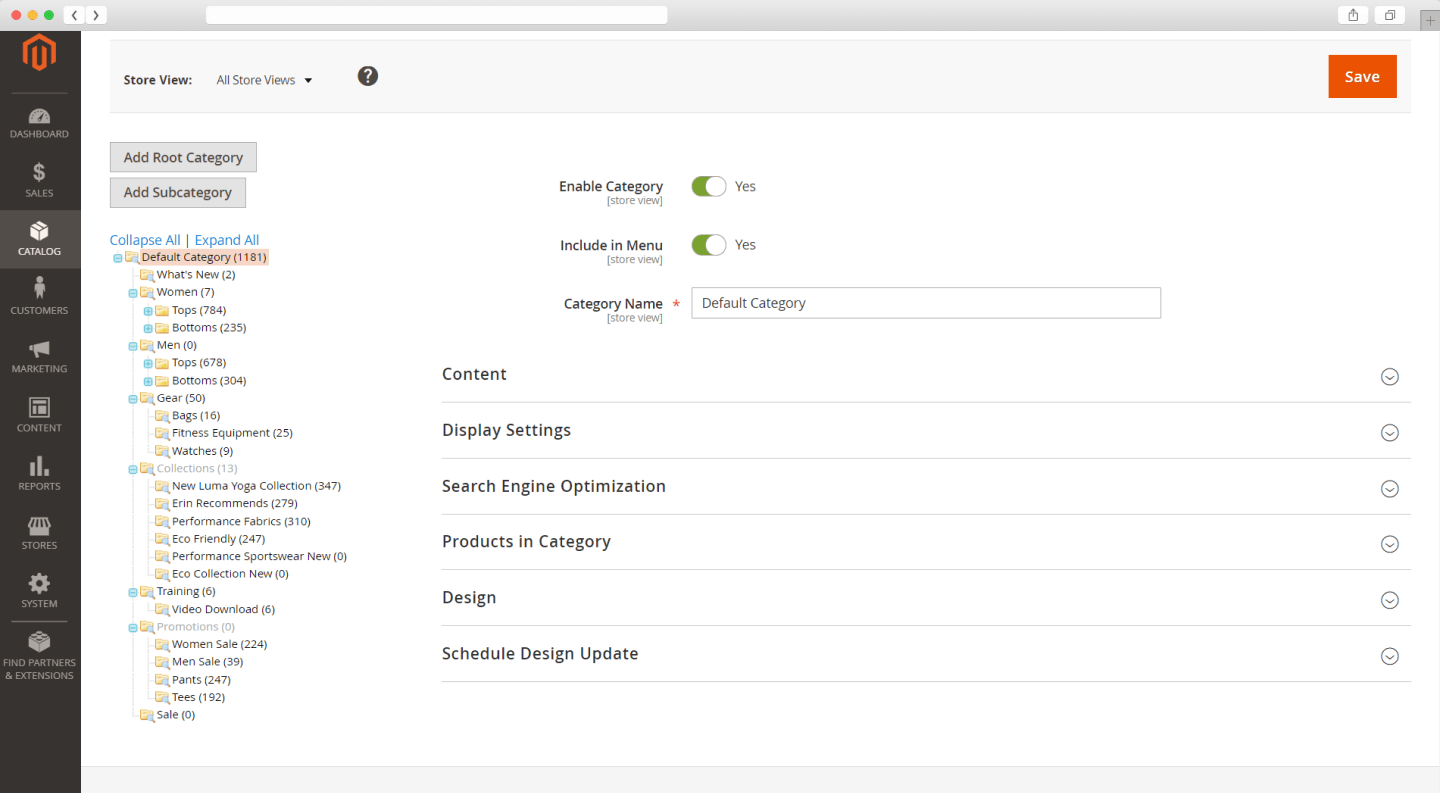 #5 Customize the store functionality with Magento 2 extensions
After you've tested the out-of-the-box features of the Magento store,you will most likely start looking for extra analytics, SEO, or accounting tools to integrate your store with. This is exactly what 80% of Magento merchants do, and this is where custom Magento extensions come to the rescue.
First, you should compile the list of features you want to enhance your store with. After that, you should look for the best Magento 2 extensions available at Magento Marketplace. There, you will find Magento 2 extensions to every taste and need, free and paid, and for almost any need that may arise in your imagination. If you want to improve your order management, customize the checkout, add more payment gateways, launch a blog, connect your store to the social networks, automatically optimize images, or more of that, look for the corresponding custom features there.
If the Magento Marketplace was not enough for your sophisticated e-commerce needs, we advise you to develop the needed extensions from scratch. In this case, as well as in the case of the theme development, you will need the assistance of experienced Magento 2 developers who specialize in extension development.
At this stage, it is also important to decide on the shipping and payment methods.
Determine shipping methods

. Out-of-the-box, Magento 2 allows you to set up different shipping options (go to

Stores > Configuration > Sales

). You can choose between simple and multi-shipping options, fix the conditions of free shipping (countries, minimum order amount, etc.), and flat rates. If you have clients with business accounts at shipping companies like USPS, UPS, FedEx, and DHL, you can connect them with Magento, maximizing their business benefits.

Decide on the payment methods

. An e-commerce store is like a sandwich or cake consisting of several layers. These layers should be perfectly combined, comfortable and secure in order for customers to fall in love with your store. A robust payment gateway is certainly one of the crucial layers. Magento provides popular payment gateways like PayPal, Braintree, Klarna, and Amazon Pay, all out-of-the-box. If that's not enough for you, today, most reliable payment gateways provide their own ways to integrate their API with e-commerce stores worldwide.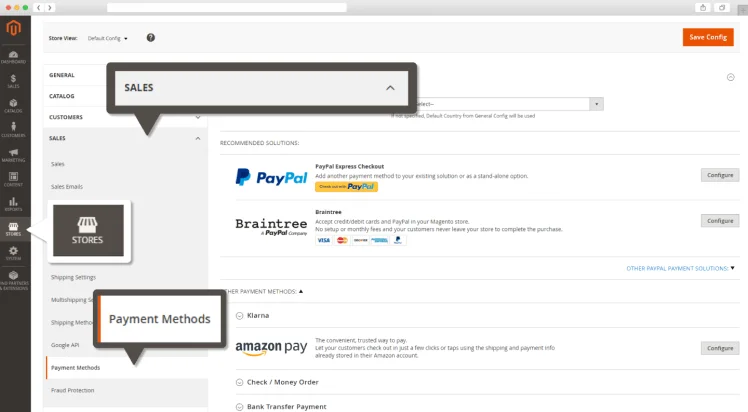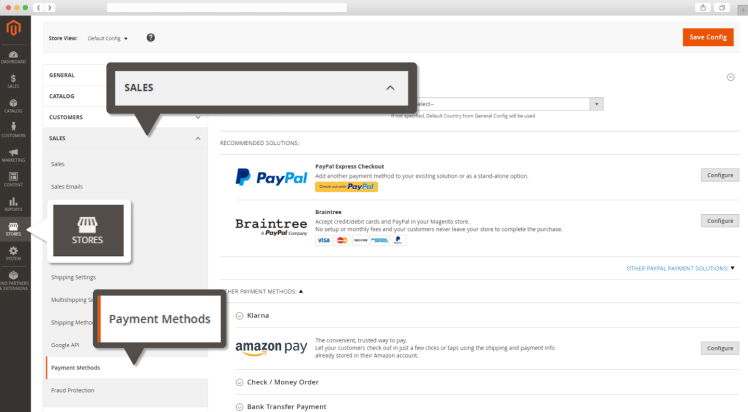 You can configure all of these features in Stores> Configuration> Sales. Besides, this section allows you to configure the checkout process and manage all shopping cart aspects.
#6 Final preparation before the launch
When you're done with the store functionality customization, it's time to check if your new e-commerce store is ready to be launched.
After managing all the important development aspects, it's time to test every inch of your future online store. This is where you need to perform quality assurance. This process should include:
Ensuring that there are no conflicts between the installed extensions
Internal website optimization checkup
Platform performance testing
Checking for any other errors in the system
Theme responsiveness checkup
Measuring the website speed
#7 Launch your Magento store
Now, that you've done all the preparations, made sure that everything is in its place, and filled the catalogs with your products, it's time to go live!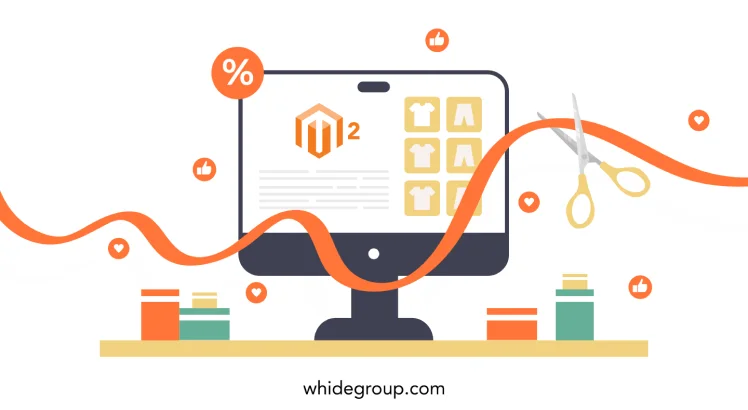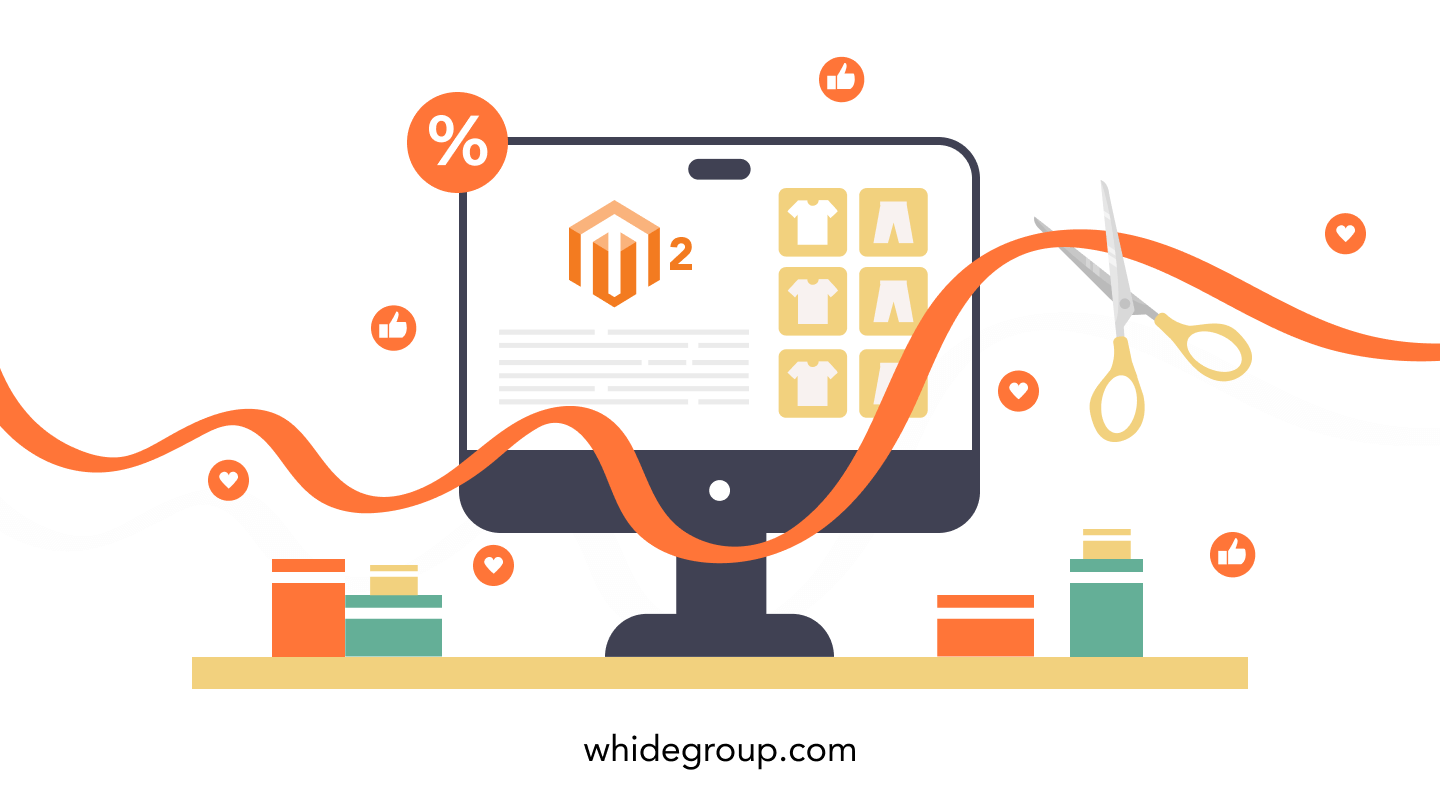 Depending on the size of the project, implementation/deployment of the website may take up to several days. This step-by-step procedure requires time and necessary experience. Deployment also requires certain interactions on the server-side. If you lack technical expertise, this stage will appear quite complicated. So, if you have any doubts that you can manage the final step – better leave this task to the pros.
How Long Does a Magento 2 Store Development Take?
Of course, Magento 2 does not require decent technical knowledge to be installed and initially managed. For a non tech-savvy person, this process can take from one to several days. However, there is a "but". Likely, you don't want your website to be lost among competitors due to a lack of functionality or any performance issues you didn't notice.
Without a deep knowledge of the platform structure and logic, you can't make your website really stand out. Just confirm with yourself that you are comfortable with the necessary technology.
Here are several current requirements for Magento 2.3 development:
Web server – Apache 2.4, Nginx 1.x
Database – MySQL 5.6 – 5.7
Enabled PHP OPcache
SSL certificate (TLS 1.2 or later)
Knowledge of programming languages – HTML, PHP, CSS, JavaScript.
If you have the knowledge of at least a few of those technologies, great! If not, it will take you much longer to set up a base, customize, then launch a Magento 2 store from scratch. In such a situation, the smartest decision is to hire a Magento developer or a team of developers who know how to create a fully functioning Magento store that will suit your personal and business needs.
Below, you'll see a table showcasing all stages of custom Magento store development and the average hours required for its implementation by the Whidegroup team.
Development stage
Process description
Estimated hours
Project planning
Analysis of competitors in your industry; compile a list of requirements, including goals, 3rd party resources, and software
Creating the project scope
Making a Product Requirements Document (including objectives, key audience, budget, terms, technical specifications, and more)
Installation and Customization
Magento installation
CMS installation and basic configuration
Installation of extensions & softwares
Acquire required extensions (e.g. carousel & slider, SEO extensions, CRM, Facebook widget, Live Chat etc.)
Custom extension development
Building customized extensions to meet business needs
Ready-to-go theme
Searching, downloading, and configuring an off-the-rack theme
Custom theme development
Creation of a custom theme (creating a theme prototype, theme structure, developing the theme)
Magento e‑commerce website design
UI/UX prototyping, graphic design
Magento back‑end development
Setting up product details and attribute sets, cross-sell/up-sell products
1-4
Setting up payment and shipping method
8-56
Management of your project's back-end and quality assurance
9 – 30
Live server setup & launching
Server architecture preparation
Defining optional architecture approach for the project, considering next factors: an estimated number of visitors, number of different available products in store, integrations, geography of visitors.
Testing & fixing
Final testing done manually, with bug capturing tools; debugging.
3-11 (+ 2-8h. For any necessary bug fixes)
Live deployment
Implementation of the website on a live server
As you can see, the professional development of a Magento 2 e-commerce store can take between 47 and 686 hours. Note that it is impossible to precisely estimate the time frames before looking at the detailed project description. These estimates highly depend on several factors, from the number of products you are going to sell to the amount and complexity of custom functionality you want to integrate into a website.
Magento Cost Breakdown
The good news is that the Community Edition of Magento 2 is totally free to download and use, so merchants receive neither monthly nor yearly bills for utilizing a Magento platform.
On the other hand, the list of associated costs during the development of the site will grow along with your requirements for the store's design and custom functionality. In addition, there are several mandatory costs that will be included in the final check.
To find out what the Magento website development cost consists of, take a look through the pricing breakdown below.
Service
Cost
Type of the payment
Type of the payment
Per year
Type of the payment
Monthly/Annually
Type of the payment
Per extension
Type of the payment
One template
Type of the payment
Per hour
These are Magento essentials. Consequently, the longer the Magento 2 development lasts, the higher the overall price you will have to pay.
Final Thoughts
Starting an e-commerce business with Magento in 2020 is not an easy task. However, to beat the tough competition, easily adopt new technologies and trends, and make up for a lack of knowledge in e-commerce – you only need to opt for the right e-commerce tools and find the right people to help you.
All in all, Whidegroup's development team can not only create a top-notch online store, but also advise you on the best solutions and manage your site so you get more sales and boost conversions. With that said – we look forward to hearing your thoughts in the comment section or by sending us direct messages through our contact form!
https://whidegroup.com/wp-content/uploads/bg_S.png
300
772
Olha Fedchenko
https://whidegroup.com/wp-content/uploads/whidegroup_logo.png
Olha Fedchenko
2019-12-10 17:54:00
2020-11-30 12:03:00
Magento E-commerce Development: the Process of Starting an E-commerce Store on Magento
Magento E-commerce Development: the Process of Starting an E-commerce Store on Magento