Gadgets are some of the best-selling products. According to Counterpointresearch, smartwatch sales rates have grown dramatically in 2019. And sales of smartphones reached 4.43 million units last year. Our team has reviewed the top e-commerce gadget stores, and we want to share best practices with you on how to start an electronics store online.
Gadgets to Sell: Where to Get Your Inventory
The main question a business owner in the electronics world should answer is where to find the gadgets they aim to sell. While it's not difficult to find goods, it's much harder to find goods on favorable terms. The source you choose largely determines the level of your income and efficacy of doing business.
We'd like to draw your attention to the following sources:
Distributor. Purchasing items from a distributor allows you not only to buy famous brand items at a significant discount, but also to receive training materials and be among the first to know about new products and get the latest updates.
Dropshipping. The essence of this method is cooperation with a supplier which enables you to avoid the hassle of procurement. In fact, the only thing you have to do is download a catalog of items available and pass purchase information and the related customer data to the manufacturer once a purchase is made. Then, just wait for your commission!
Chinese trading platforms. Such trading platforms can be a real find, since they allow you to access offers from thousands of sellers at a great price. Although, by opting for this option, you have to think about the best way of transferring a significant volume of goods across borders.
It's not always easy to find a reliable supplier with favorable terms. However, after you put in some work and research, you'll be able to find your perfect supplier and move forward with your gadget store development!
Features to Develop a Website for Selling Electronics
A website without a punchline is like a cake without icing. Yes, it will work. However, customers may not even remember the website after they've left it. How do you create this punchline? The most infallible strategy is to always take care of the customer. Provide flawless customer service and make all your interactions smooth and engaging. In order to do this, we recommend that you consider the following features and implement them to your website:
Product video. People don't buy items like an iPhone 11 Pro Max everyday, so it's to be expected that they want to review the product in the most thorough way possible. Video reviews are one of the most effective ways to give an impression of the product in a quick and convenient manner.
Guest Checkout. The decision for purchasing items can be impulsive sometimes. This is why it's important to let the user make a purchase without the long and dull procedure of registering an account. The best way to do this is by implementing a Guest Checkout option. Also you may implement logging in via social networks – another highly appreciated option by online shoppers around the world.
Wishlist. On the other hand, some purchases may be planned ahead of time. In that case, the user would likely want to save a particular item with the intention of learning more about it. A Wishlist enables users to do so in the most convenient way possible, which is why it's worth adding this feature to your electronics store.
Sorting and filtering. Nobody wants to waste time while looking for a dream device. Thus it's a good idea to let the user define the criteria and get a complete list of the gadgets that meet all their requirements.
The Best Stores That Sell Gadgets Online
We make it our mission to follow new trends and because of this, we are naturally familiar with many gadget stores. In this section, we list the best online gadget and electronics stores along with describing their features and peculiarities. Hopefully, you'll find your inspiration and gain some valuable electronic shop business ideas by visiting these stores!
GearBest.com
Being particularly well-known for selling gadgets and electronics, GearBest offers their customers choice in an incredibly wide range of goods. Seamless customer experience is one of their top priorities. Because of this, GearBest has multiple versions of the website that are localized for specific regions. This approach enables users from any country to shop with confidence and comfort.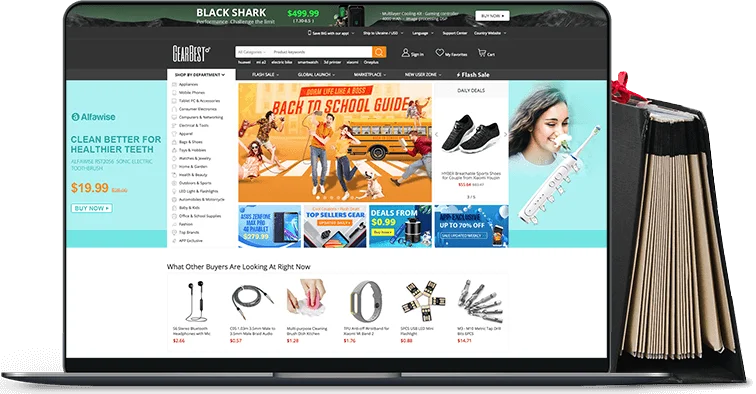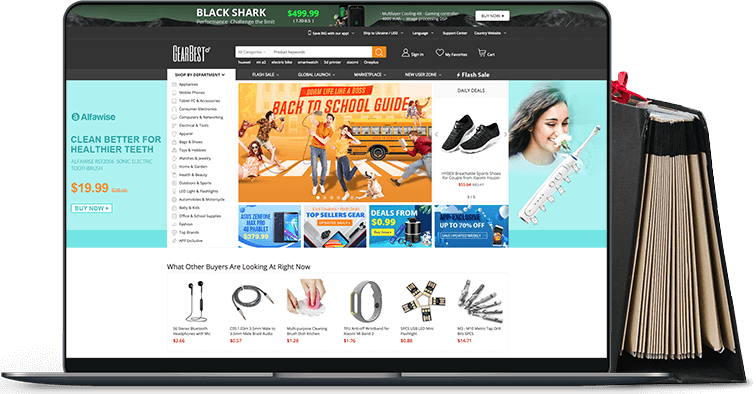 Highlights:
The Dollar Deals Zone allows customers to review products with price tags less than $0.99, $1.99, $2.99, $3.99 and $4.99. Their Daily Deals category showcases products that are sold with a significant discount, however in limited quantities.
Payments are handled via PayPal, Visa, or MasterCard. Several lesser-known methods are also included, so customers won't have trouble finding their preferred way to pay. Goods can be shipped to most countries, except South Sudan and Palestine.
MenKind.co.uk
Striving for a striking, attractive appeal, the homepage of MenKind features a rich variety of products in a tile formation. The Top-50 category collects items that demonstrate current trends and reflect the interests of the audience. The Gift Ideas category allows you to choose a gift with a variety of filters, such as Occasion, Gender, Age, and Personality (For example, you can choose from geek, gentleman, joker, etc). The store also provides users with helpful guides and instructions related to its products (e.g. "how to fly a drone for the first time").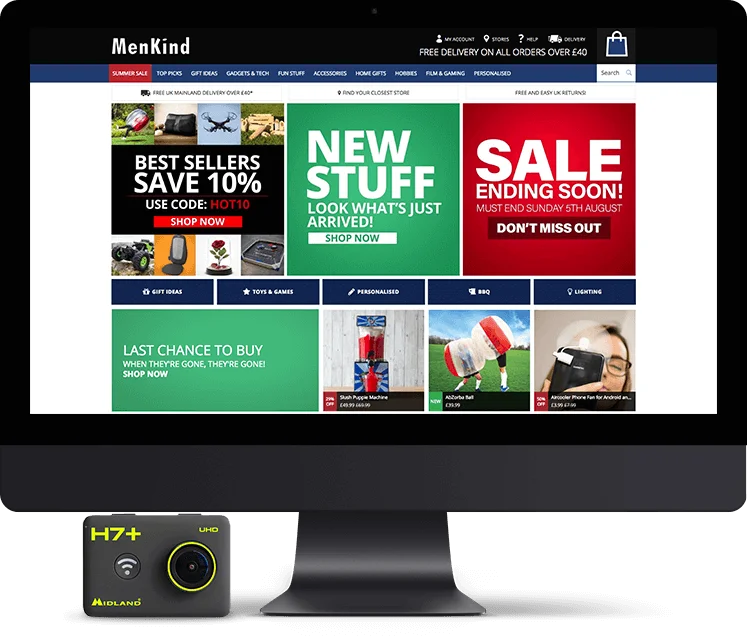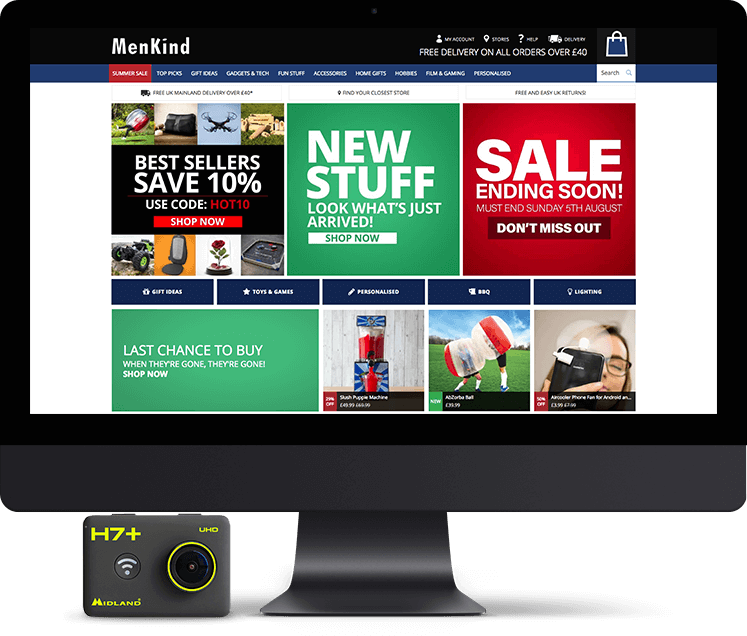 Highlights:
MenKind does not only sell online It also exists as a brick-and-mortar business, and those located in the UK can visit stores to check out their products in person. Currently there are 48 shops across England, Scotland and Wales, with more stores opening all the time. Customers can conveniently locate the nearest store by checking the map.
Delivery is available to a limited list of countries, and MenKind accepts most major debit and credit cards, such as Visa, MasterCard, and Visa Debit. They also work through PayPal and Amazon Pay.
When we speak of selling gadgets online, we would be remiss to not also mention such stores as I Want One of Those (or IWOOT), Firebox, and Maker Shed. Well-known worldwide, they set the bar really high and also set trends for other stores.
As you might have noticed, some of the stores mentioned above sell not only gadgets and electronics, but also apparel and shoes, outdoor and sports items, toys and hobbies, and much more. For you, this means no need to limit your supplies to electronics, especially if you have an interest in other kinds of products.
How Much Does it Cost to Build an Online Gadget Store?
Because it is an extremely complex and multi-factor project, gadget store development requires thorough analysis to answer the question of price for its development. So, let's review what's included in the cost to build an online gadget store.
E-commerce platform selection
A response to the question of how much money required to start an electronic shop starts from here. You're free to choose from a wide variety of e-commerce platforms. As for us, we'd recommend that you pay particular attention to Magento and Shopify. The reason for this focus is that these two platforms are the most popular, serving over 31% of all online shops worldwide. This means that opting for one of them will lend you lots of available solutions, qualified developers, and regular updates. Magento Open Source costs $190 per month, and Basic Shopify costs $29/month.
give your customers the best online shopping experience ever

Hosting service provider
Three major players on the hosting providers market are A2Hosting, HostGator, and SiteGround, each of which is good in its own way. Their cost starts from $11.95 and goes up to $118.99 per month.
E-commerce page development
Some pages are considered to be the most critical for any e-commerce website. These pages are the Product Card (average 50 hours needed for development), the Homepage (commonly estimated to run 10 hours), the Category page (development takes 36 hours on average), and the Checkout page (on average, takes up to 40 hours while optimizing an existing one takes around 20 hours). As for a developer's hourly rate – it varies from $50 per hour to $200.
Website design cost
As for e-commerce site design cost – everything depends on whether you use a theme or implement a custom design, because the price gap for these two options can be dramatic. The prices for the themes start at $37 and go up to $179. As for the custom design development process – it takes from 10 to 500 hours to be completed, while the web designer's hourly rate starts at $50.
Payment processing integration
PayPal, Authorize.net, and Stripe are considered to be the most popular payment options – together they own over 75.6% of the overall market share. None of them have setup fees, but charge 2.9% + $0.30 for successful transactions.
SEO promotion
As a rule, SEO promotion costs from $500 per month.
Common website maintenance
Depending on a vast amount of factors, e-commerce maintenance cost will run you anywhere from $5,000 annually.
Hidden pitfalls
Prepare yourself for unpredictable expenses. Irrespective of how qualified your development team is, at any moment, your website for selling electronics may require purchasing necessary third-party integrations, urgent troubleshooting services, or anything else.
Electronics Store Website Design
So, what are the main principles while building a design to create a website to sell electronics online? From our experience, we emphasize the following aspects which matter the most for the electronics business website:
Clear navigation. Make sure to design the navigation to be a clean and clear as possible. Users greatly appreciate when they can find needed items fast, without issue. One popular solution for gadget shop development is to implement a mega menu. It works well for website navigation and can present a large number of options in a convenient display.
Featured products bar. Lay out some of your featured products right on the homepage. You can do this by including something like a "Best-selling" or "Popular" items bar. This kind of solution won't leave the customer in the dark about the products you sell, especially if it's the user's initial visit to your website.
Right color scheme. A current and common trend is using various shades of blue, black, gray and white. The reason is that the target audience of gadget stores are predominantly young people. Colors like these are intended to give them a strong feeling of engagement and attractiveness.
What Matters for a Gadget Store in Terms of Design and UX?
Aesthetic appeal of the website dramatically influences conversion rates, and customers can be particularly strict when it comes to an electronics website design. Consequently, if your purpose is to create an attractive, successful electronics website design that brings customers back again and again, make your e-store flawless in terms of user-experience. To do so, your store should simply be the following:
Usable. Your website must be easy to use.
Useful. Your content should be original and serve its purpose.
Desirable. The content on the website should evoke emotion and appreciation.
Findable. Content needs to be easy to navigate.
Accessible. Content needs to be accessible to people with disabilities.
Credible. Users must trust and believe what you present to them.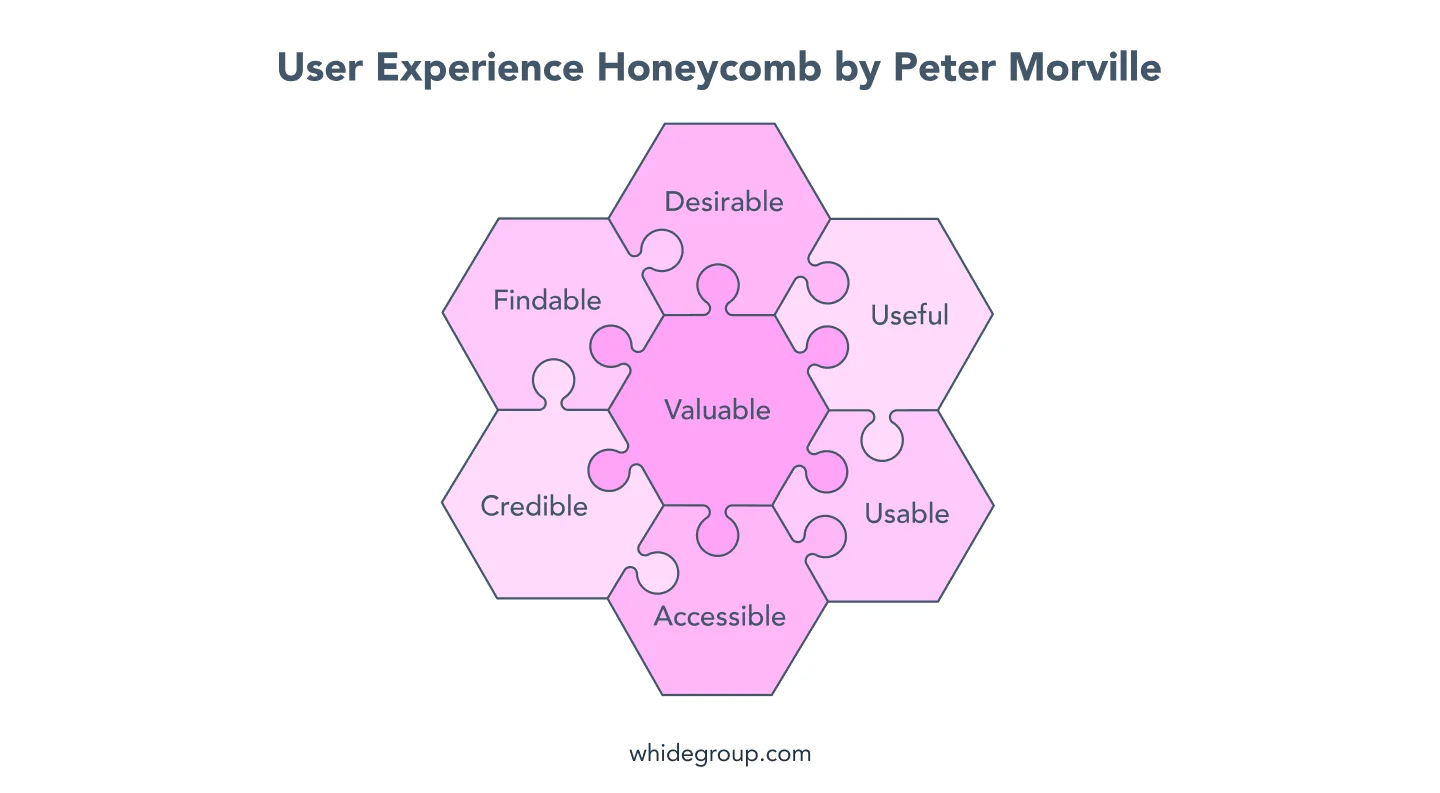 Themes to Develop an Online Gadget Store
If you prefer to use a ready-made solution for your online gadget store development, you might like the idea to develop your website with one of the available online gadget store themes. In order to help you with this decision, we'd like to showcase some of the best ones.
StartElectro – Electronics Store Magento Theme
Lightweight and elegant, the StartElectro Theme makes it easy to launch your own electronic shop business and highlight your products with the help of product badges – a small, yet extremely effective tool in e-commerce promotion. You have the option to use a newsletter pop-up extension to increase your user base. You can also choose how to represent your products: a smooth slider and catchy-banners will help you present your best deals and promotions in the most attractive way.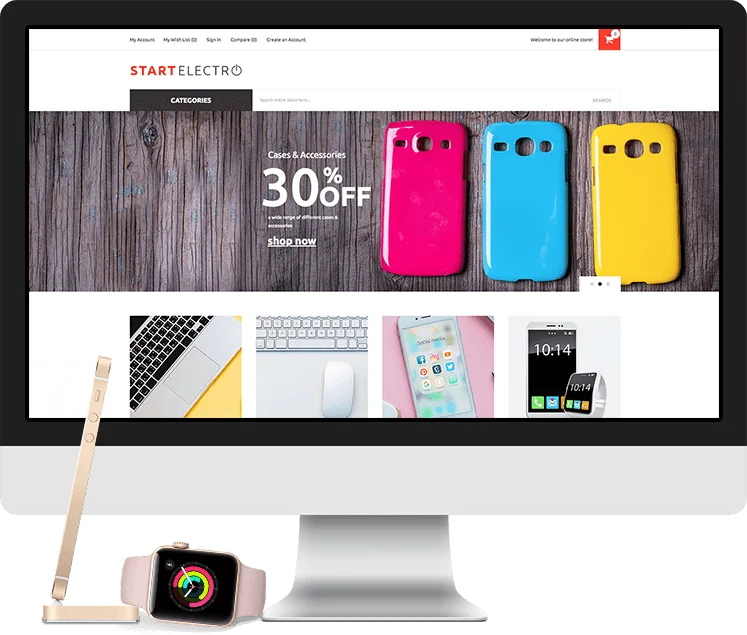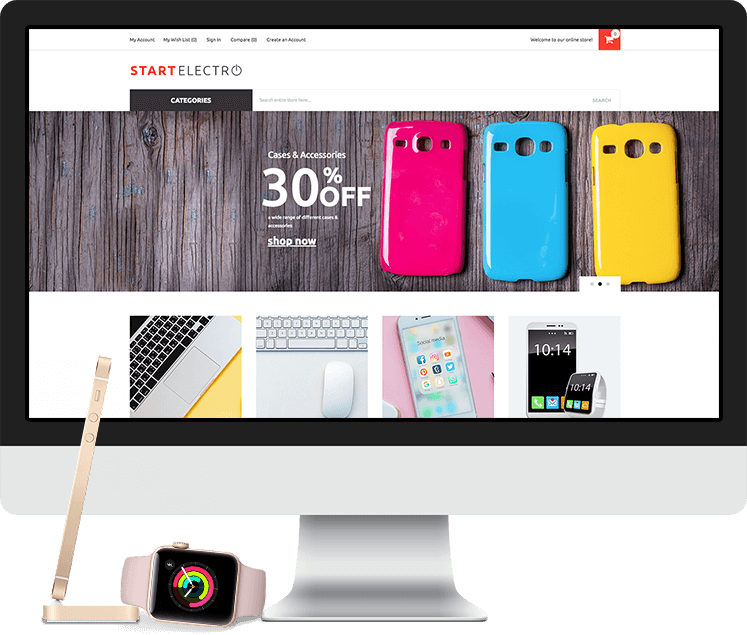 Features:
Accelerated mobile pages (AMP). Google-backed technology that allows web-pages to be loaded quickly on mobile devices.
Sorting options. This feature provides shoppers with multiple product display options such as grid, list-based view, alphabetical order, etc.
Mega menu. This must-have feature gives you the ability to show categories, subcategories, and items at the same time in an extremely convenient manner, which works to gain more customer attention.
Image slider. A powerful rotation system that can help you rotate slider elements in any sequence using one of the predefined animation effects.
Electroshop – Electronics Store WooCommerce Theme
Modern, clean, and elegant, the Electronics theme is a perfect choice for selling tools, equipment, various components, and different electrical parts. It's also convenient for selling phones, laptops, and mobile accessories. This theme is good-looking, fully responsive, and enjoys the possibility for deep customization. Using the latest WooCommerce plugins, you can extend standard functionality and thus gain cross-browser compatibility, and many other handy functions.
Note that images are not included in this theme.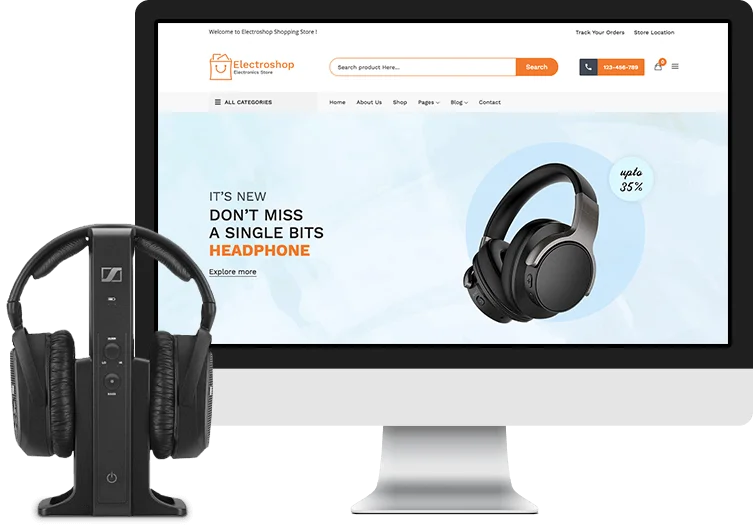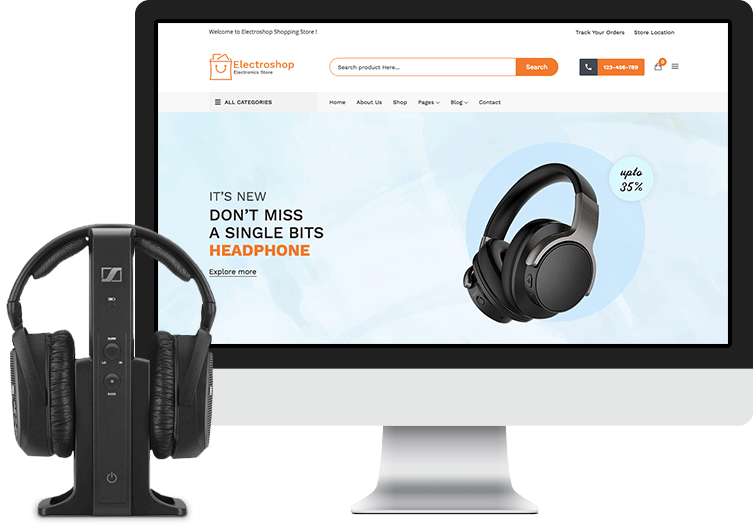 Features:
Optimized source code. Code enables maximum performance.
Landing page builder. Build your fully-responsive landing page swiftly and easily with a drag and drop editor.
Theme color switcher. Choose any color to give your store its desired style.
Themes to develop online gadget store are numerous. In addition to the themes listed above, you may also like such themes as: Electro Magento Theme, GoDown – Multi Purpose Store WooCommerce Theme, and Systemix – Computer Repair WooCommerce Theme.
Whidegroup's Experience in Creating a Store to Sell Gadgets & Electronics
As an e-commerce development company, Whidegroup has significant expertise in building stores of different types, including gadget stores. The examples of the latter include Fonejoy, an Australian e-commerce store that specializes in offering official parts for smartphones and an extensive assortment of parts for VR-glasses, smart-watches, etc.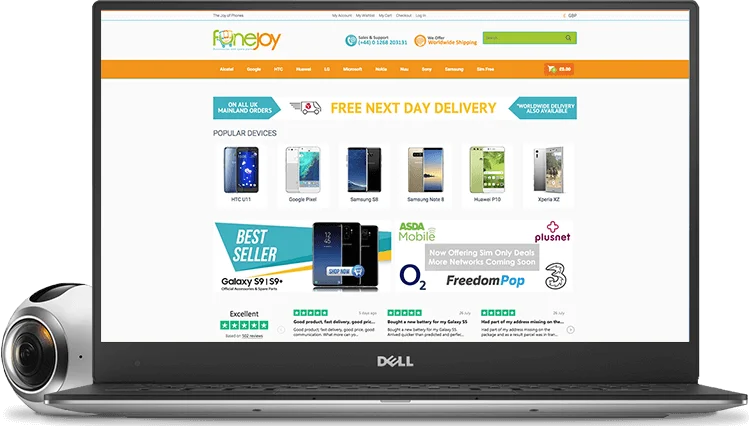 The client needed to develop an e-store that would allow him to group customers by purchasing volume. This meant he needed to build one retail store that would allow regular customers to buy single items like their smartphones, and another store that would allow retailers to buy wholesale. To meet the requirements, we:
Implemented a single database that allows Fonejoy to perform resource planning in one place.
Integrated the websites with eBay and Amazon, which gives the company the ability to store, manage, and display sales data in one common database, and use one website admin panel.
We'd also like to emphasize that it's very easy for the admin to manage product stock availability for the different stores and warehouses. The reason for this is that all sales data is regularly imported to the single database, which helps to keep sales and stock availability information up-to-date on all their websites.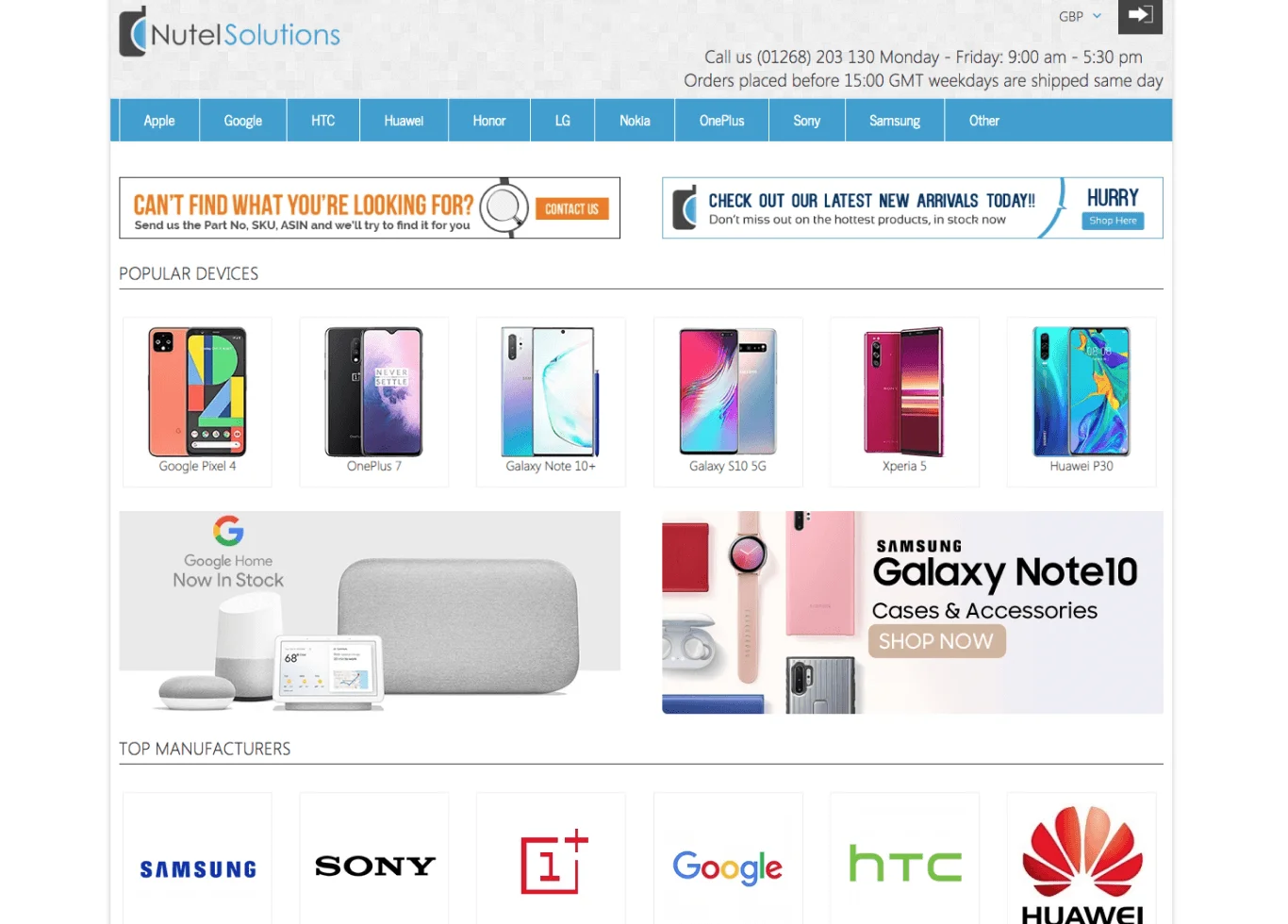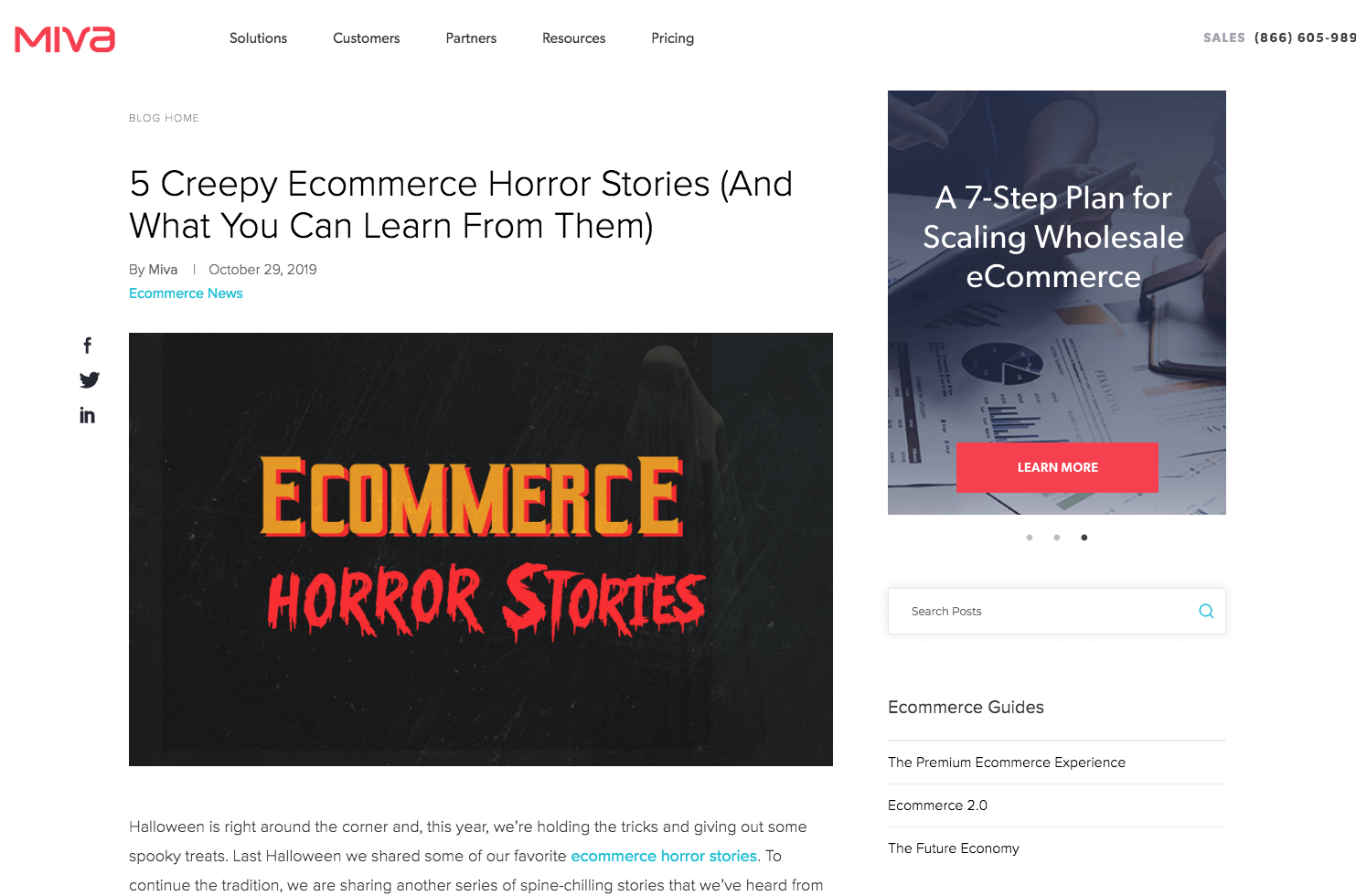 Additionally, we made NutelSolutions, a website for retailers, visible only to merchants that have been approved by the admin. The e-commerce features we implemented there include:
Category pages that are well-organized and structured so users can easily search for products and sort through items.
Product search results that can be displayed in different modes, which increases the level of interest.
Engaging, user-friendly mobile versions, as enjoyed by both Fonejoy and NutelSolutions.
Users are welcome to pay via Visa, MasterCard, PayPal and Maestro. It is also convenient to track orders using UK Royal Mail and DHL Worldwide services.
Final Thoughts
It all starts with having a goal. From there, you have many routes you can take towards building the electronics e-commerce store of your dreams. The most important thing is simply that you just get started!
If you're looking for an experienced team of e-commerce website developers, please send us some information about your project. We would love to see how we can help. As a company with rich experience, we know how to make an online shopping website for electronics successful. We're happy to share our knowledge and expertise with you to help you get your dream of running your own online business going.
https://whidegroup.com/wp-content/uploads/electronics-store-small.webp
300
772
Olha Fedchenko
https://whidegroup.com/wp-content/uploads/whidegroup_logo.png
Olha Fedchenko
2020-01-28 10:19:07
2022-09-13 13:20:50
How to Start an Electronics Store Online
How to Start an Electronics Store Online