It may seem that choosing among the almost three thousand available Magento extensions is an easy way to extend the functionality of an online store. However, the more extensions that appear on the marketplace, the more cumbersome it becomes to understand which of them will suit the needs of a particular e-commerce business.
Just think, in the summer of 2016, one year after the Magento 2 platform was released, the Magento Marketplace included about 25 Magento 2 SEO extensions. Since then, the number of extensions in this category has almost tripled and, as a result, finding a suitable option has become more complicated.
Magento 2 provides almost unlimited possibilities. At Whidegroup, we know this first hand because we are engaged in scaling and supporting successful companies like Kjellmann, FoneJoy, TeachingMe, Hawaii Hangover and other online stores every day.
Along with other services, we help our clients select and implement third-party modules. We've gained in-depth knowledge of the Magento 2 extensions market and the ways extensions should be chosen. Today, we want to share those tips and tell you about the best Magento extensions made to boost the performance of your online store.
The Best Out-of-the-Box Magento Extensions We've Worked With
To begin with, we would like to share a list of the most helpful extensions we use most often in our projects.
If you are looking for extensions which provide the functionality we've mentioned in the list above, then there is no need for you to continue the search. We've done the research for you, so all you have to do now is simply choose one and integrate it with your Magento based online store.
A Step-by-Step Guide on How We Choose Magento 2 Extensions
If none of the listed modules satisfies our client's needs for additional functionality, we simply go back to explore alternative solutions offered by the numerous Magento 2 extension providers.
When we have to choose one option, between the dozens of extensions with similar functionality, we always follow the guide below and recommend that you do the same.
So, how can you make the right choice?
Define the needed functionality
To narrow your search, first, you need to clearly understand and list the features you want to integrate into your online store. Let's assume that you want to integrate your store with the Amazon and eBay marketplaces, and thereby, promote your online store, reach more customers, and increase sales. We will take this functionality as an example and every next step will take us closer to the desired result.
Study the Magento Extensions Market
At this stage, you will see that there are dozens, if not hundreds of extensions offering similar functionality. Magento Marketplace has the largest database of extensions from all the best Magento 2 extension providers.
Go to the categories and choose "Sales" > "Marketplace feeds". You will see that this category includes more than 190 extensions, each of which fully or partially provides the requested functionality. To figure out which of them may be useful, take the next steps:
1. Sort extensions by relevance. This will help you see which of the listed modules are the most popular among Magento Marketplace customers.
2. If the price and associated costs are more important to you, sort the results by price and start exploring extensions from the ones with the lowest price tag. However, keep in mind that even if the extension is free, it does not mean that its further usage is also free.
Pick Several Extensions and Research Them
Select three to five extensions which provide the necessary features. In the case of extensions suitable for integrating your online store with eBay and Amazon, there are only three extensions, out of almost two hundred, which offer the required functionality:
M2E Pro Amazon & eBay Integration by M2E Limited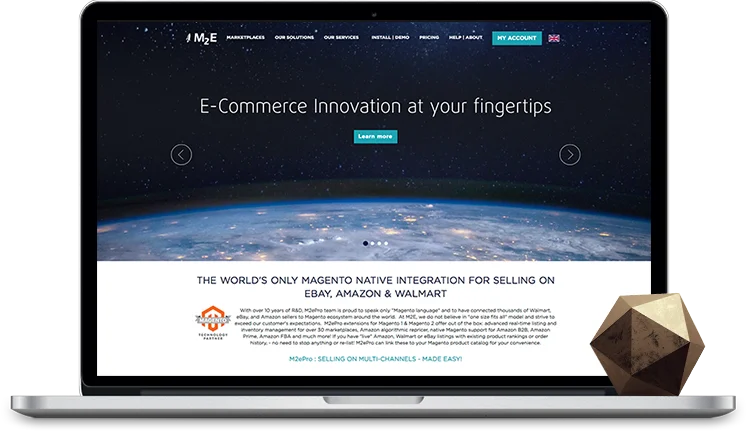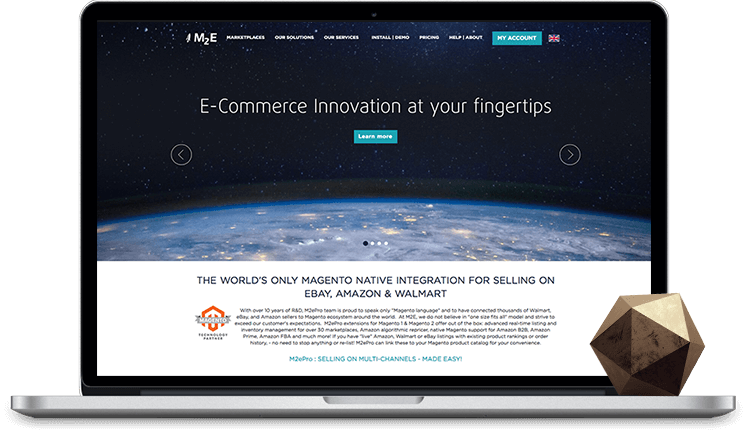 Codisto LINQ by Codisto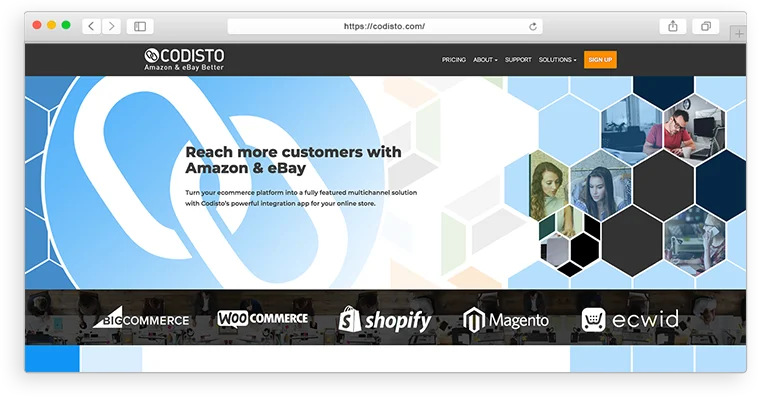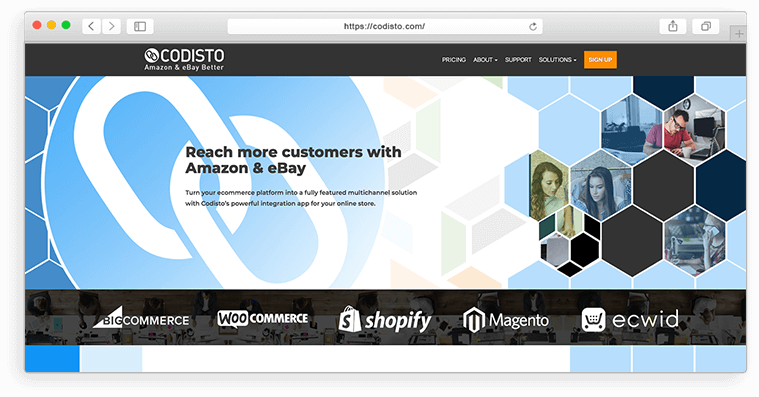 and ChannelSale by ChannelSale Software Services Inc.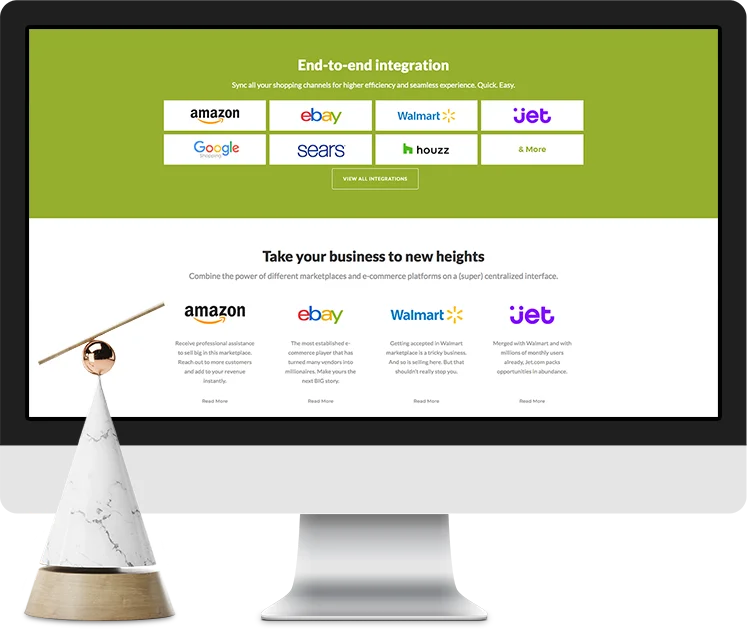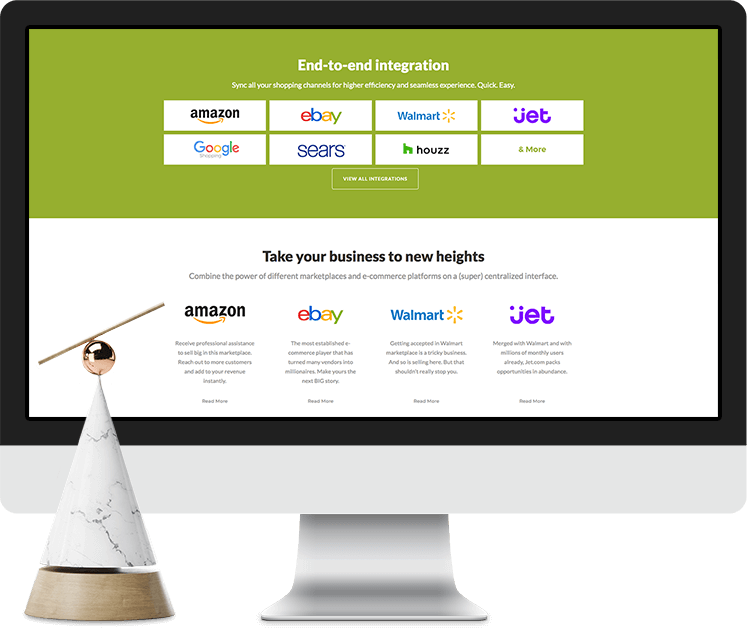 Study reviews
Pay attention to the extension providers. Look at the users' reviews, but do not look for reliable reviews on the provider's website. Unfortunately, on the Magento Marketplace most extensions have either very few reviews or have none at all. However, you can visit related forums and Magento communities for information, or ask questions in one of the discussion threads.
M2E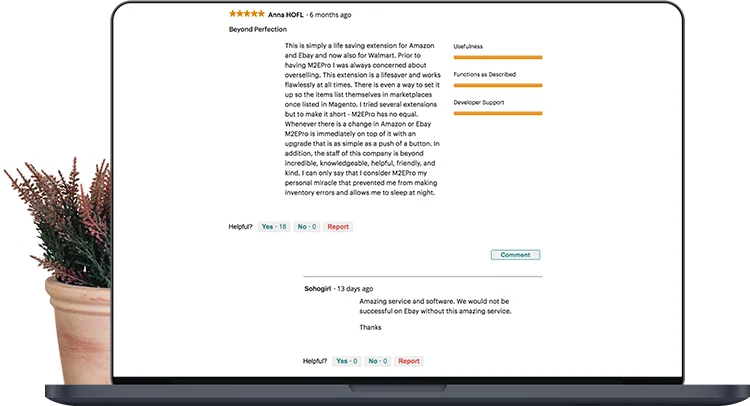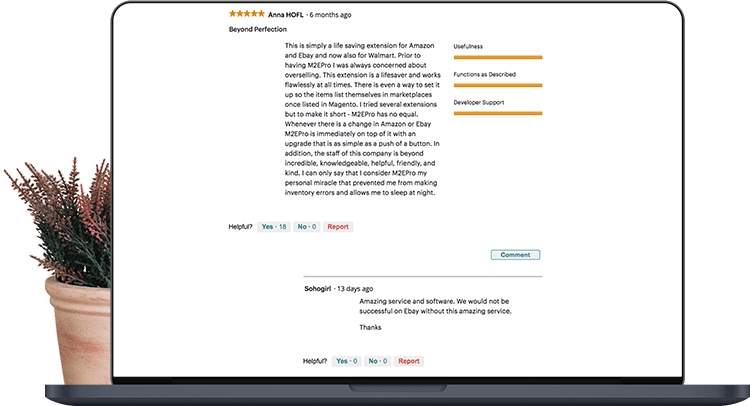 Codisto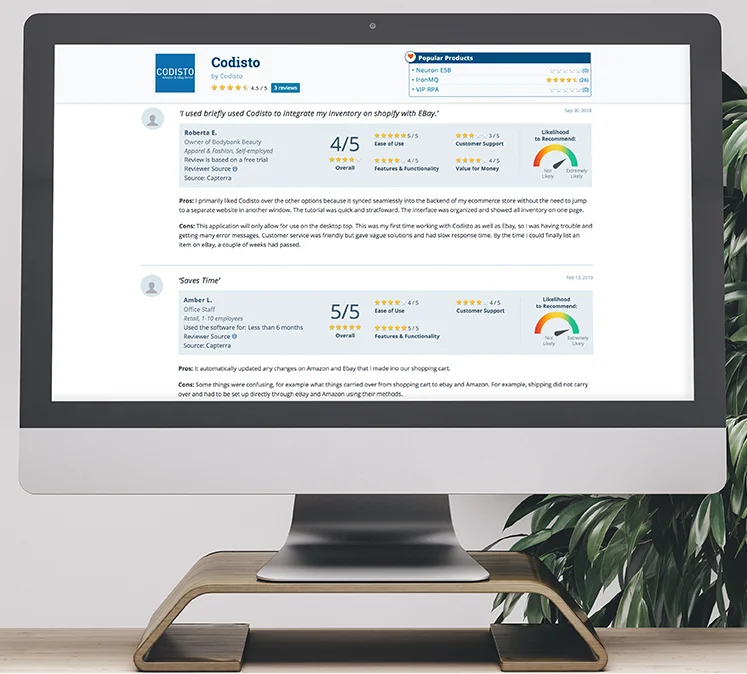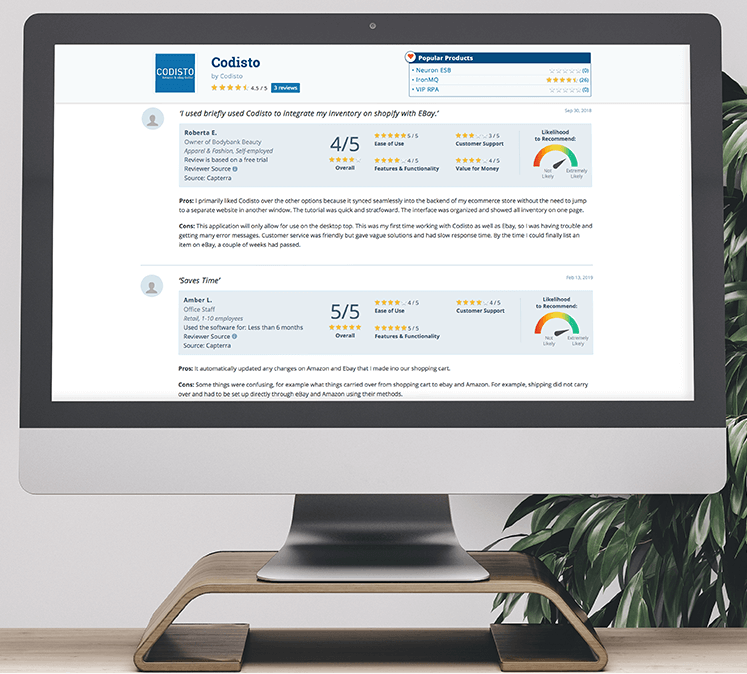 ChannelSale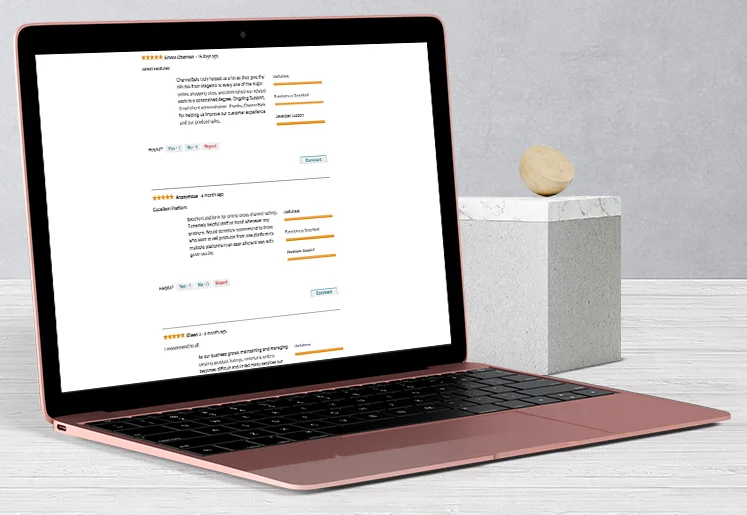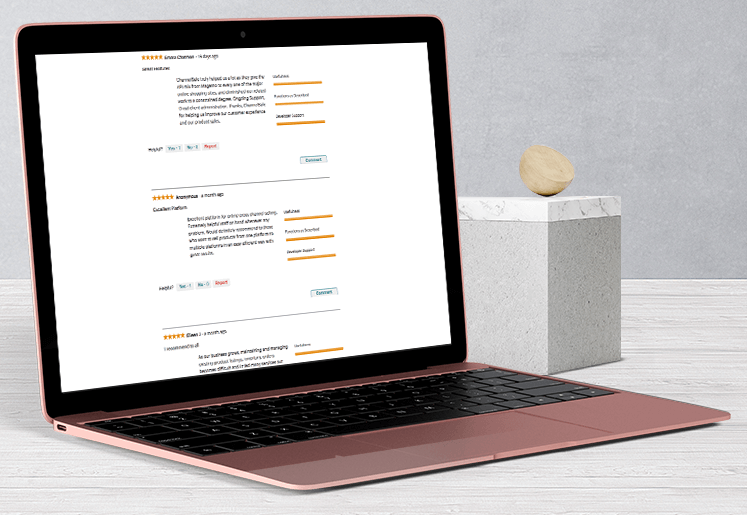 Check the extension update frequency
It is essential to pay attention to the frequency of the extension updates. Given that new updates to the Magento 2 platform are released often, every third-party integration should always meet the latest Magento 2 requirements, and cause no conflicts with the platform. Some providers release a new module to the market, then immediately cease support. Thus, after one or several Magento 2 platform updates, the module stops performing its functions. For you, this results in a loss of investment, a need to search for a new extension, and additional costs to pay for a Magento 2 developer's work.
M2E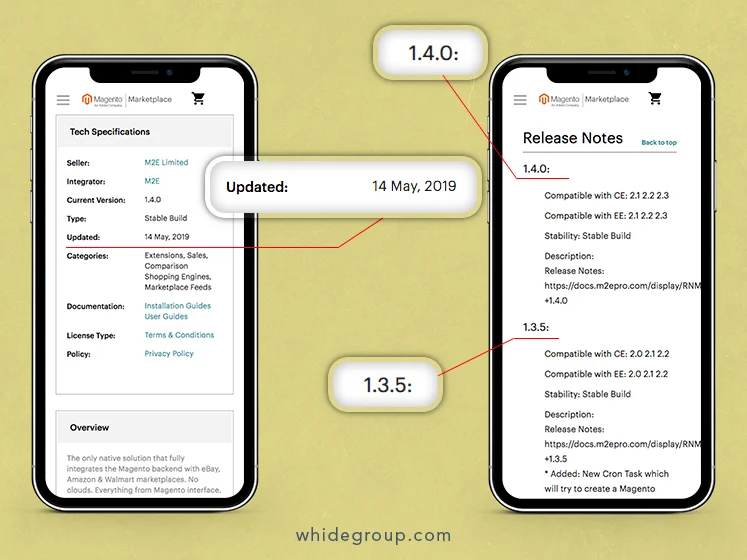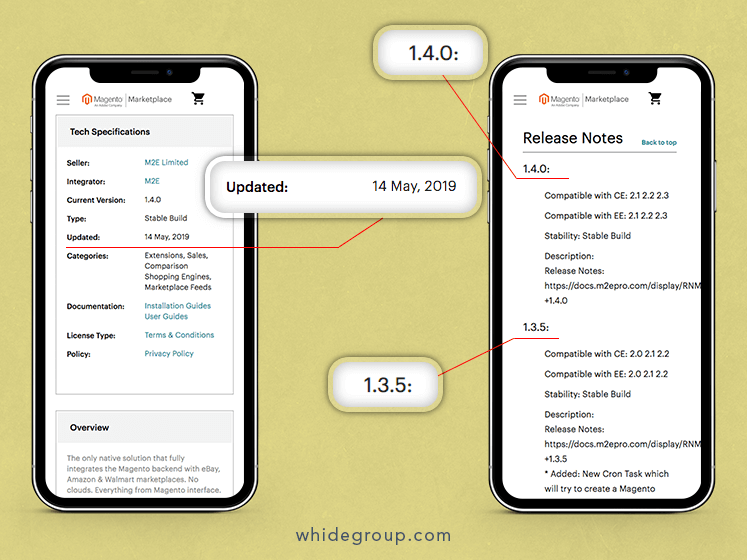 Codisto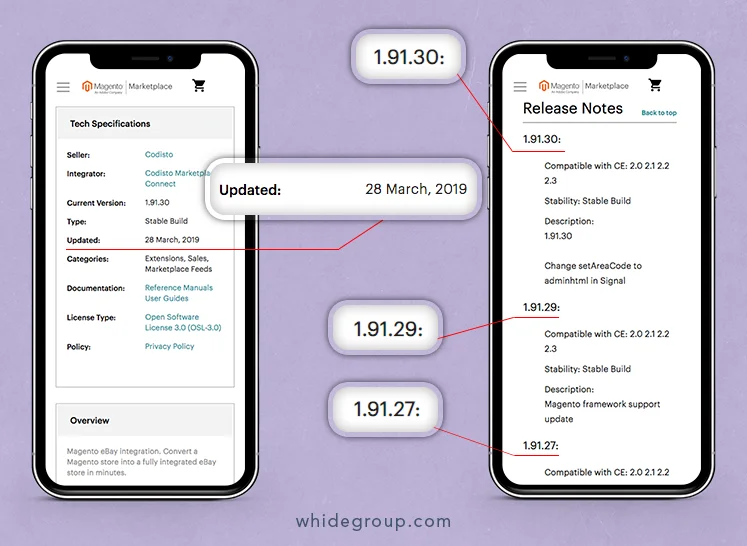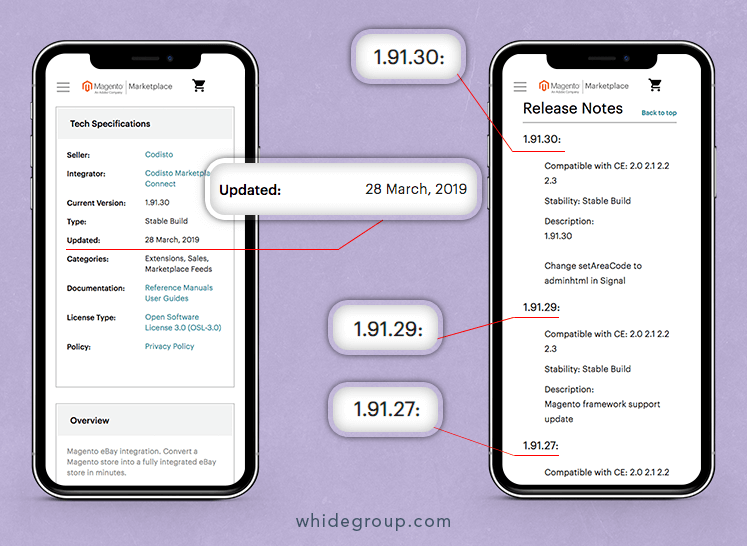 ChannelSale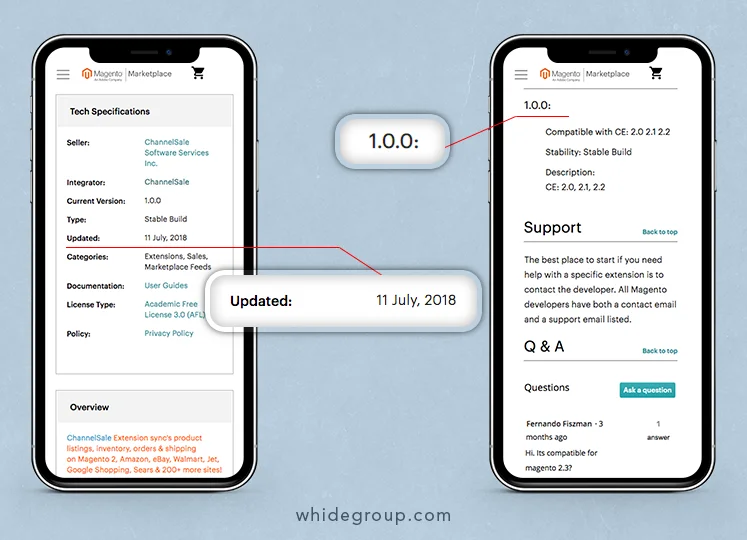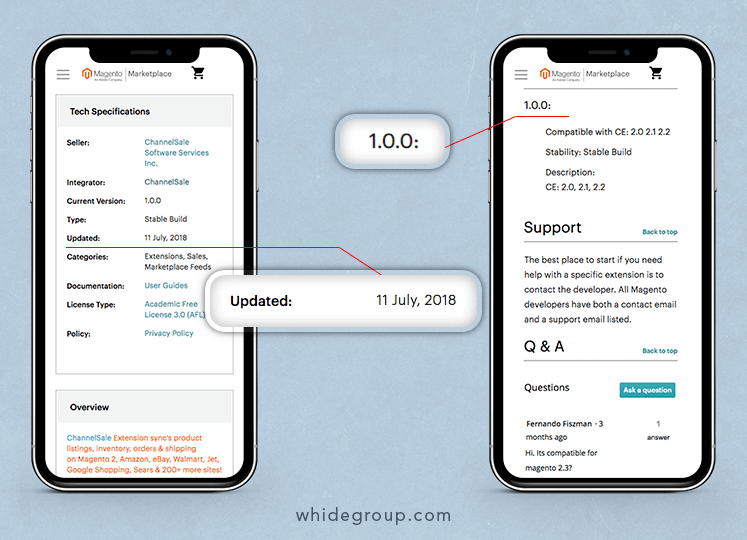 Look for available support
Reliable free support from the extension provider is critical during the first months after the integration of the module. It is especially vital if you do not have an experienced developer who can define and replace any potential issues independently.
Some providers guarantee three months of free support. Others are ready to help within six months after you buy a Magento extension. Still, others may not offer a free support period at all, and you'll have to pay for these services.
M2E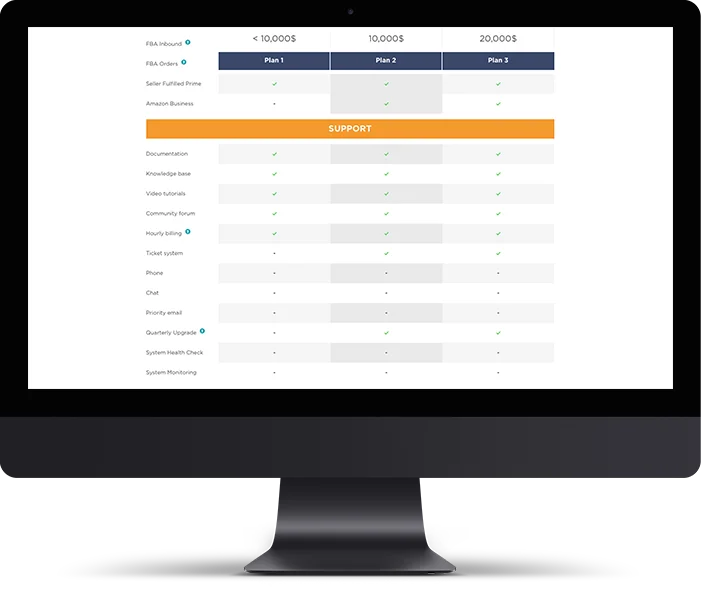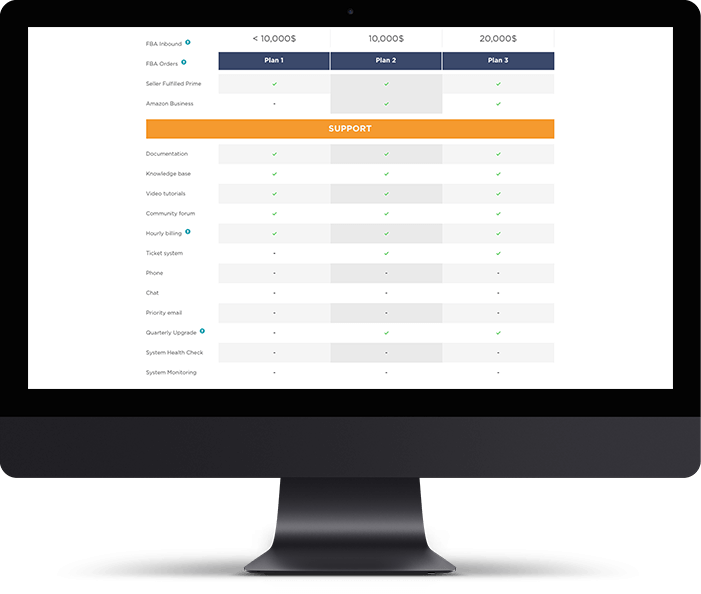 Codisto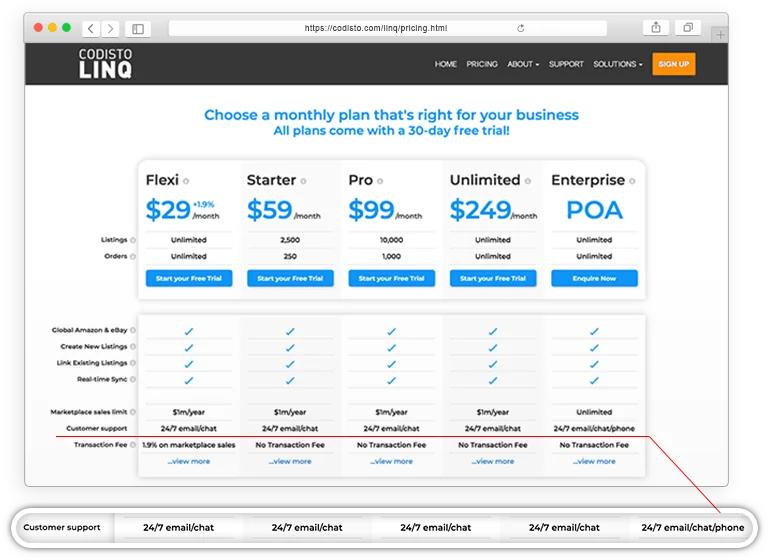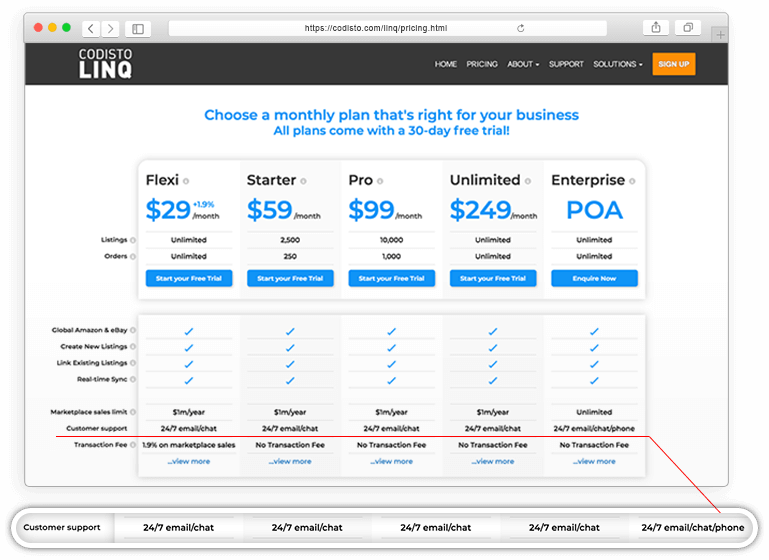 ChannelSale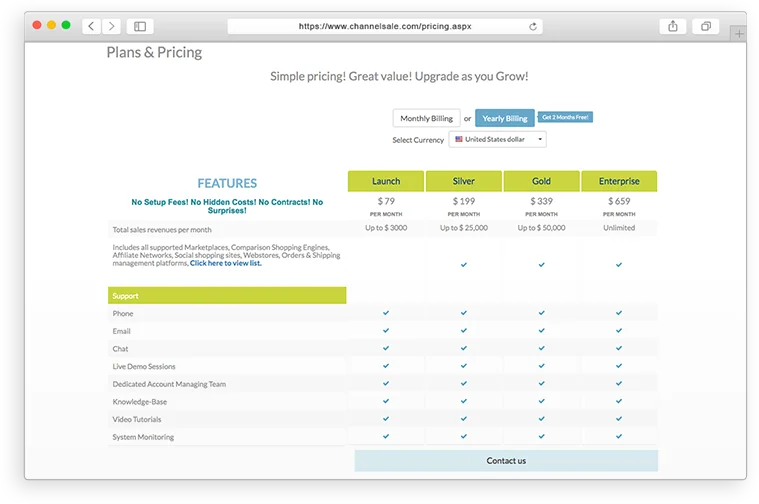 Request a money-back guarantee
Finally, check the provider's money-back guarantee policy and the period it is granted for. If after integrating with your online store, a module doesn't perform well, you can always request your money back.
If the seller won't guarantee a refund during at least two weeks after purchase, it is better to bypass the extension. After all, why should you be expected to buy into a product if its own creator won't stand by it? Read the provider's Terms and Conditions to confirm this info.
M2E
During an initial 60 calendar days, a subscription is not required.
Analyze Results and Choose the Best Option
Based on the analysis of the selected extensions, we can more or less conclude which one you would like to try first. Considering the three chosen extensions for a Magento 2-based store's integration with Amazon and eBay, we see that this kind of market research does not require much time, and helps the eager entrepreneur to easily navigate in a highly competitive environment and confidently proceed to the extension's purchase.
The following table clearly shows the result of the analysis and makes the choice between the three extensions very straightforward:
M2E Pro
Codisto
ChannelSale
As you probably noticed, at the beginning of the article we noted M2E as one of the best modules for marketplace feeds integration. Now that we have illustrated some of the more specific aspects of each module, you can see what makes us so emphatic about M2E as the clear choice. We are confident that if you run a similar analysis of the extensions we mentioned at the beginning of the article, they will also appear in your top lists.
Final Steps
When the time has finally come and we have chosen the extension, it's time to integrate it and make sure it really meets all our requirements. This is the time for quality assurance. We always start working with a new module on the test server to check whether it:
successfully performs the promised functionality;
causes any conflict with other third-party integrations.
If testing has shown that the extension is bug-free and that there are no threats to the correct operation of the store, we can safely implement it on a live store and start using the needed functionality.
Problems that May Arise
Unfortunately, sometimes the creation and integration of custom modules do not only entail advantages. Rather, they may present issues as well.
The worst thing that may happen is the total outage of the website (Front/Back-end). Among the less dangerous problems are conflicts with existing functionality. In this case, it can be a partial or total failure with either an existing extension or your new custom extension.
Depending on the functionality the module is responsible for and the information it processes, it can cause damage to various data. For example, if the new feature is related to cookies processing (or other personal information from your customers), then a glitchy module can violate the user's rights, thereby violating the GDPR.
We're Whidegroup
We develop optimized
e-commerce stores.
How to Solve Problems with Extensions
If the quality assurance detected any errors, the first thing to do is to contact the provider's support team. This is when that free support period will be useful!
First of all, we always inform the provider about the problems detected. If the provider can't eliminate the issues, we try to fix them by ourselves. However, sometimes all attempts to rectify the situation are in vain. If this ends up being the case, we have to look for another extension to replace the problematic one or develop a custom module ourselves.
Magento custom extension development can be justified if:
1. The project requires non-standard functionality.
2. Out-of-the-box functionality offered by the platform does not satisfy your needs.
3. Available extensions have too many unneeded extra features.
Examples of Custom Extensions Built by Whidegroup
As our clients have grown their companies, they have faced the need to modify the standard functionality of the platform with the help of our Magento extension development services.
For example, Hawaii Hangover, a retail company that specializes in designing and manufacturing Hawaiian-style clothes, wanted to modify the catalog filtering in exchange for more convenient sorting of their products by patterns and colors. The catalog contains sets of matching garments for the whole family and separately for mother and daughter, father and son, mother and son, and so on. We implemented the required functionality, which helped Hawaii Hangover's customers enjoy a more pleasant and convenient journey through the store.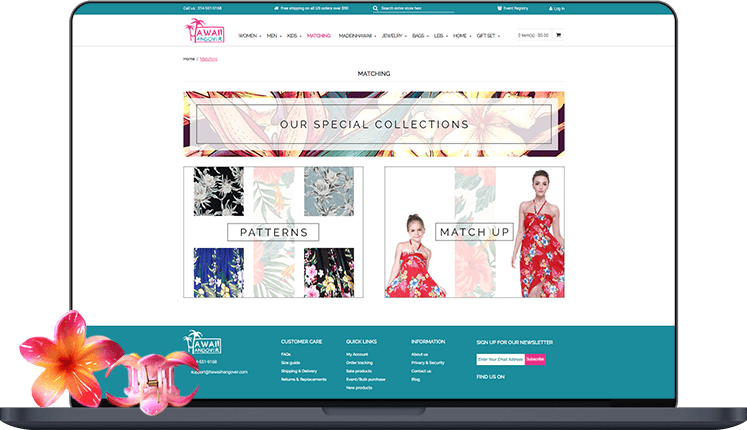 We created one more Magento custom extension for ZOR, a photo lab, which prints non-standard sized photos on non-standard materials. We implemented a complex JS-frontend, and the main feature of the extension is its ability to determine the quality of uploaded images and, as a result, to identify and display the maximum size of the image which needs to be printed.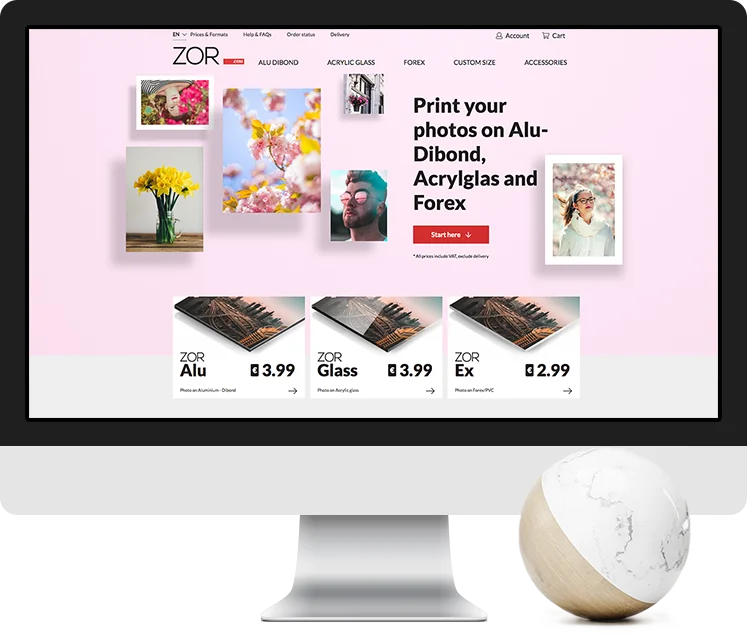 Our custom Magento 2 extensions always:
fully meet the client's expectations;
interact with other modules, without causing conflicts
available for any updates or modifications.
Choosing a needed module, as well as Magento extension development, are both complicated and responsibility-heavy tasks. We hope that our guide will help every e-commerce business owner who needs to make specific improvements to their online store but didn't realize what kind of pitfalls that this process implies.
Otherwise, if you find yourself in need of more support or you would like any customization for your online store, feel free to contact us. We're here to help your e-commerce venture a success!
https://whidegroup.com/wp-content/uploads/qa-bg-sm.png
292
746
Olha F
https://whidegroup.com/wp-content/uploads/whidegroup_logo.png
Olha F
2019-05-31 14:03:44
2020-06-01 11:40:37
How to Choose Quality Magento Extensions For Your Online Store
How to Choose Quality Magento Extensions For Your Online Store