One of the top questions on e-commerce and development forums tends to be regarding the best platform for running an online business. Particularly passionate discussions are about Magento and Shopify – the leaders of the e-commerce market. Some business owners love Shopify for its ease of use but dislike its poor flexibility. Others opt for Magento due to the business opportunities it provides but complain about its high pricing. Shopify vs Magento 2 is a topic that needs a detailed explanation! So, let's see how the confrontation of Shopify vs Magento 2023 looks like.
Based on official documentation and our own five-year experience building stores on both platforms, we've gathered some of the more pressing advantages and disadvantages of Magento and Shopify. Continue reading to disclose detailed Shopify vs Magento 2 comparison to find out which of these two e-commerce platform aces works best for your situation.
Shopify vs Magento 2: a Comparison
To show you the difference between Magento and Shopify clearly, we reviewed the aspects we consider the most critical ones for the development and running a fully-fledged e-commerce business. So, reading this article you can rest assured of getting the most relevant insights of both e-commerce solutions being considered.
Selecting the right e-commerce platform to run your online store is vital for any type of business. It's not choosing an e-commerce solution only. It's more about selecting the way of how your business will develop in the near future. To make a thought-out decision, we recommend you to learn our Magento vs Shopify below. You'll find the solution that would fit exclusively your needs.
To help you a little bit more, we offer you to take an action and download our extra comparison guide. It's all about the high-level features that play an important role in the decision-making process, but for some reason no one talked about before.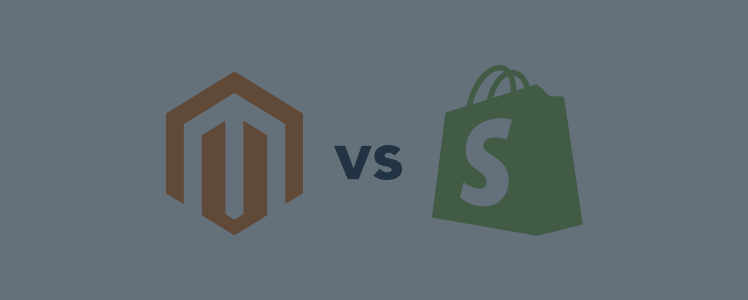 Free Guide
Magento vs Shopify High-Level Features Comparison
Download Now!
#1 Magento 2 vs Shopify: a Bird's Eye View
Before delving deep into Magento 2 vs Shopify comparison, let's take a short overview of both platforms. This is quite a convenient way to estimate the credibility of each solution and gain some general impression about each of them.
Let's start from Magento 2. It is an open-source e-commerce platform written with means of PHP. Powerful and flexible, it gives a business owner virtually full control over all the aspects of e-commerce stores. To date, there are over 250,000 Magento based stores around the world. Among the most prominent Magento clients are Ford, Coca-Cola, Christian Louboutin, Nike, Jaguar, and Olympus. In 2019 alone, Magento earned around $1.9 billion.
As for Shopify, it is a self-hosted solution, represented in a form of software-as-a-service (SaaS) business model. It means that you get a licensed software on a subscription basis without any necessity to be concerned about hosting. It is already centrally hosted. Shopify counts over 500,000 stores amongst its stockpile and this e-commerce solution is the choice of such brands as Nescafe, Budweiser, The Economist, and KKW Beauty. Shopify's total revenue during 2019 was $1.21 billion.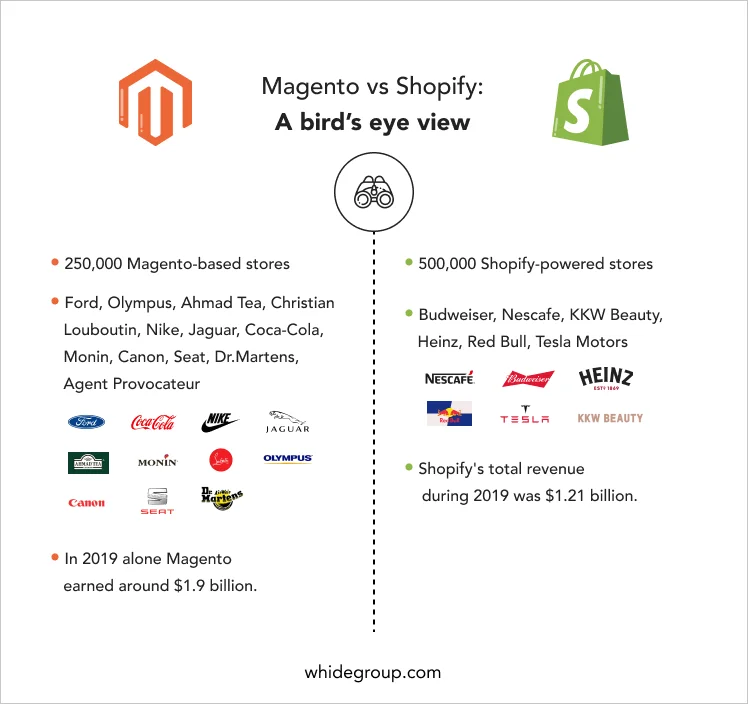 #2 Shopify Versus Magento 2: Cost Issue
Price often becomes a stumbling block when it comes to making a decision about the right e-commerce platform. That's why it's vital to learn all the details affecting the final price. So, let's look at how the pricing of Magento vs Shopify 2023 differs.
Magento costs
The main criterion that determines the cost of the Magento 2 website is the price for Magento edition you opt for to run your e-commerce business. So far the Magento 2 Open Source continues to be open-source and free, while the Magento 2 Commerce charges in the range of $22,000.00 to $125,000.00 per year depending on expected annual gross sales revenue.
You can also consider AWS-based cloud-hosted Magento 2 option. Adobe Commerce Cloud costs from $40,000.00 to $190,000.00 per year, based on expected annual gross sales revenue.
Dive into the Magento pricing guide

Shopify pricing
As for Shopify comparison, it has a bit of a different pricing model offering three plans:
Basic Shopify costs $29 monthly (and 2.9% + 30¢ per transaction). It includes unlimited products, 2 staff accounts, 24/7 support, abandoned cart recovery, and SSL certificate.
The middle Shopify plan is $79 monthly (and 2.6% + 30¢ per transaction). In addition to the points listed above it also covers 5 staff accounts, gift cards, and professional reports.
Advanced Shopify charges $299 monthly (and 2.4% + 30¢ per transaction). It includes 15 staff accounts, advanced report builder, and third-party calculated shipping rates.
Shopify also offers a Shopify Plus plan which becomes available to you right after your profits exceed $800k per month. Shopify Plus costs $2,000 per month giving you such benefits as:
Fully-fledged B2B functionality
Unlimited staff accounts
Custom checkout
Additional promotional tools and many more
In general, it's safe to say that Shopify is a cheaper option to run your business. The reason is that even if you opt for Magento 2 Community, you're still in charge of hosting. The hosting should be really robust to run the Magento store, because the cheapest hosting won't work right.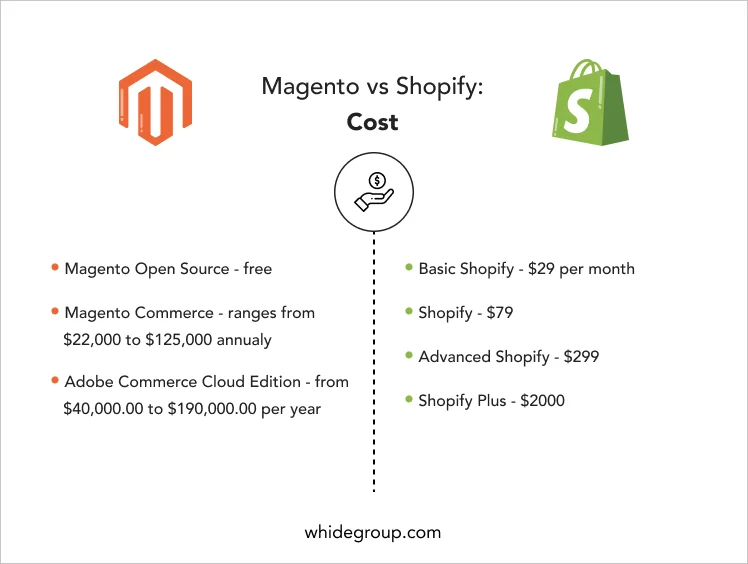 However, don't jump to conclusions based solely on the price factor. Keep reading because we have many more insights to share with you about the platforms.
#3 Shopify vs Magento 2: Hosting Options
Thorough consideration of a hosting aspect is crucial in many respects when it comes to e-commerce.
Why is hosting so important?
First of all, hosting has a direct impact on website load speed. In our previous articles we've already written a lot about this aspect, so won't stop on it here.
Second aspect being affected by hosting is security. The role of security in e-commerce, where customers trust you with their payment data, can't be overestimated. Thus it makes sense to take care of dedicating some time and effort to choose the right hosting service provider.
And the third aspect is a robust customer support. Let's face it. "Anything that can go wrong will go wrong" according to Murphy's law. You can get prepared for anything wrong with your website. To do this, take care of robust customer support in advance. The more reputable your hosting provider, the higher probability you'll get timely and qualified support. This, in turn, means less downtime for your e-commerce business.
Hosting options for the platforms
Magento, as a complex solution for e-commerce development, can be pretty moody when it comes to a hosting provider selection. The perfect hosting for Magento 2 store should be a LAMP-stack, with a fast server, SSL certificate, content delivery network, and dedicated IP-address. However, your efforts on hosting selection will be rewarded handsomely since serious hosting providers offer server configuration services intended to maximize Magento performance.
When opting for Shopіfy, you're absolutely free from bringing any effort to hosting provider selection. The reason is that every Shopify plan includes hosting services by default. So all you need to do here is set up your existing domain name or buy one. You can also rest assured of proper treatment of your store, i.e. experiencing no downtimes during massive sales activities (such as during the Holiday season). At the same time, Shopify provides you automatic scaling in case of an unexpected flood of the customers.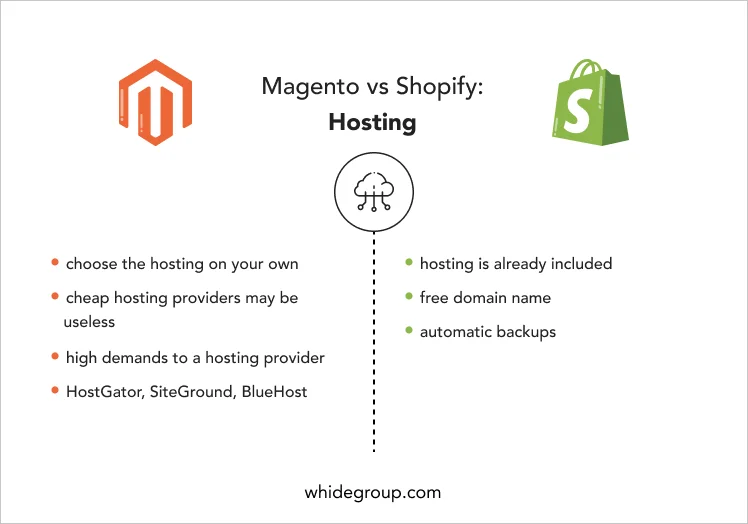 When our client from Denmark, who lacked experience in running an e-commerce store, came to us, we recommended that he build a store on Shopify. Such a decision was beneficial since the owner didn't have to worry about solving any technical issues, including hosting, and it fit his small store perfectly.
#4 Shopify vs Magento 2: Ease of Use
One more aspect that plays a crucial role when making a decision about platform selection is its usability. If you don't have a massive technical background under the belt, but still quite determined about managing your store on your own, pay particular attention to this section. Below you'll find some insights about the difference of Magento e-commerce vs Shopify stores in terms of ease of use.
How user-friendly is Magento?
Magento requires developers with profound technical competences. The reason is that this platform uses the Prototype framework as a foundation, which is pretty intricate. It doesn't use a traditional Model-View-Controller (MVC) class diagram. Instead, it employs a set of Controller, Model, Block and View elements, which is a game-changer even for seasoned Magento developers. However, Magento rewards you with unlimited flexibility, which makes learning the platform's secrets more than judicious. Unique features, deeply-customized design, and an attractive buyer's journey – are all just a little piece of the cake you can get if you know Magento well.
What about Shopify?
Shopify offers developers a much friendlier interface in comparison with Magento. The interface is easy to understand and operate to everyone. With its drag-and-drop nature, Shopify allows even non-tech savvy people to take part in the store development process. Nevertheless, Shopify's developer-friendliness is offset by comparatively poor opportunities for flexibility and the lack of customization features. It can be not a big deal when making the very first steps in e-commerce. However, this can become a serious disadvantage along with business development.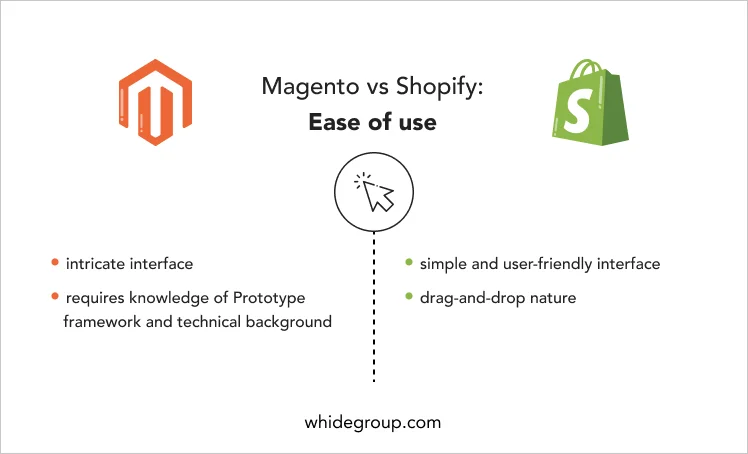 When you compare Magento and Shopify dashboards, most likely that at first glance you won't see any dramatic difference between Shopify and Magento. The reason is that in the second version Magento has seriously improved the platform usability via reworking the dashboard and making it more user-friendly. Below you can see how the dashboards of both platforms being considered look like and make your own opinion.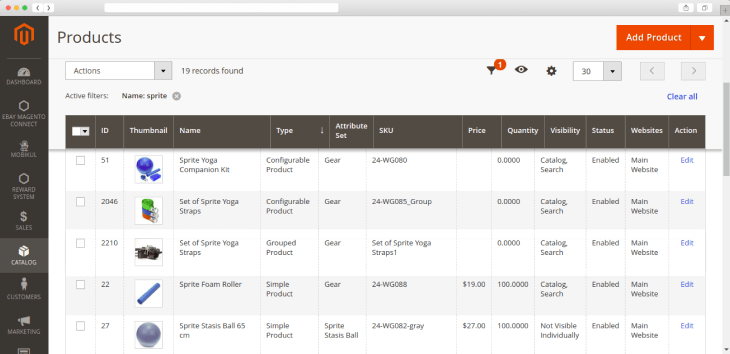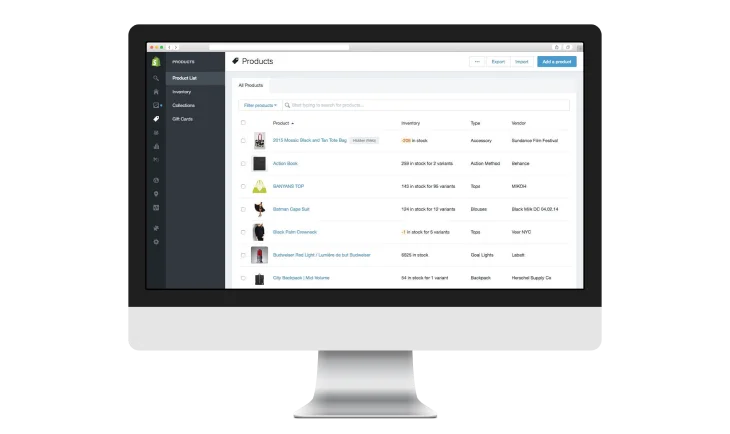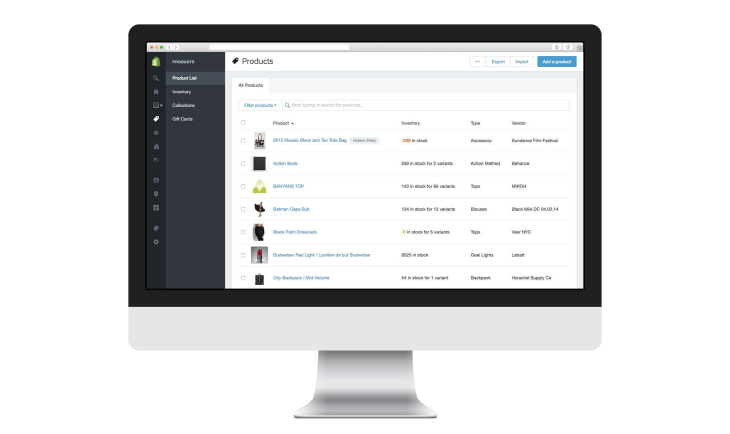 From our experience we can say the following: many of our customers are business owners who prefer to make all the changes in the dashboard on their own. They admit that the Magento admin panel is a hard nut to crack at first glance, but after a while, they appreciate its all-in-one interface with abundant features. As for the adjustment period, they say it is fast and hassle-free.
Regarding Shopify, everybody finds it's interface simple and undemanding in terms of the technical background of the administrator. On the other hand, Shopify is really quite limited from the perspective of features for e-commerce store development.
#5 Compare Magento and Shopify Apps and Third-Party Modules
We recommend you to pay particular attention to the integrations aspect. The reason this aspect merits special attention is that various integrations enable you to extend already existing functionality dramatically. Thus for you, that would be beneficial to learn how things are going with integrations to be fully prepared for what to expect from the e-commerce solutions you chose.
Magento has an impressive collection of free and premium extensions, plugins and modules. However, the installation process is rough and a bit stressful because it requires a strong knowledge of the Magento structure. Thus, it may seem a bit complex and intricate to an inexperienced user.
Shopify, in its turn, has a comparatively poor assortment of applications and plugins. However, the installation process is very smooth and can be successfully completed by a non-tech-savvy person.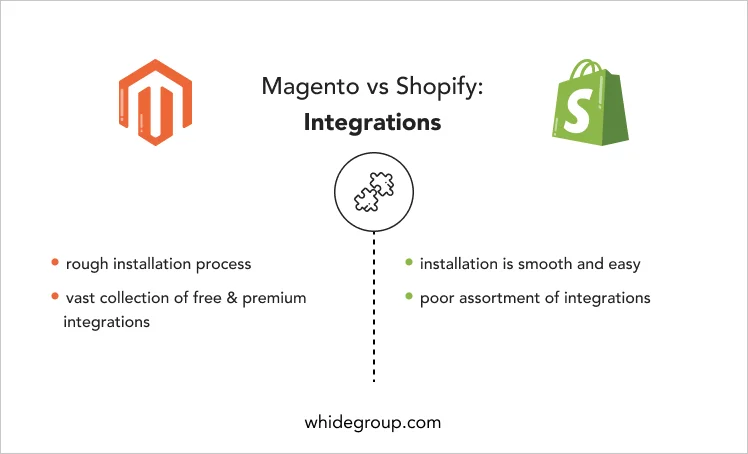 Some business owners consider integration as an undeniable part of website development, since certain functionality is not provided natively by the platforms.
Once our client from Norway addressed us with the requirement to integrate his online furniture store with ERP and extend the integration functionality with custom logistics solutions. We did it without any concerns on our part. The power of Magento enables us to do things like this easily. Meanwhile, if we had to do a task like this for the Shopify-based project, that would require us much more time and effort. That's why it's so crucial to consider selecting the platform for e-commerce store development keeping in mind the necessity of future scalings.
#6 Magento E-commerce vs Shopify: Design Aspect
The next aspect to compare Magento 2 vs Shopify is reviewing them in terms of providing solutions for design. Both platforms offer a plethora of themes and templates to create a unique look and feel. Free and paid, these solutions can fulfill the needs of the most demanding e-commerce owners. However, you won't be able to tweak Shopify themes a lot. You can't do much other than alter the basic colors and fonts in the already-established Shopify themes. On the flip side, Magento is a fully flexible and extensible platform, which allows you to customize your store in any way and shape. Magento has plenty of free themes to choose from, while Shopify offers very few. On the upside, Shopify's themes are more contemporary-looking in comparison to Magento's.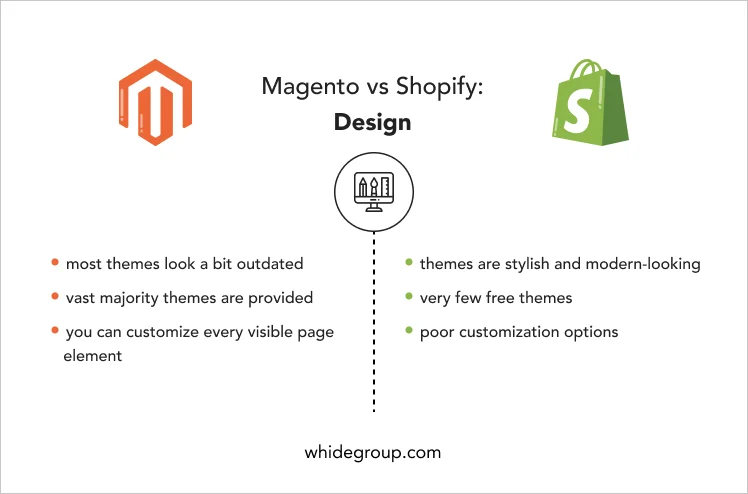 Design has always been a turning point for business owners. Once, we had a client with a desire to develop a Shopify-based store. However, he also had very specific design requirements far beyond casual Shopify layouts. Since Shopify is not flexible in terms of design, we advised our client to consider Magento. After thinking about it for a bit, he agreed. To date, he successfully runs his Magento-based store with fully custom design for almost a year.
#7 Difference Between Shopify and Magento in SEO
When talking about Magento Community vs Shopify from the perspective of search engine optimization capabilities you should know that both e-commerce platforms have plenty of powerful SEO features, both out of the box and available via various integrations installation. It enables you to work with the goal of bringing your store a vast amount of organic traffic. So, when it comes to the SEO aspect – there is no difference between the two platforms. They're truly neck-and-neck.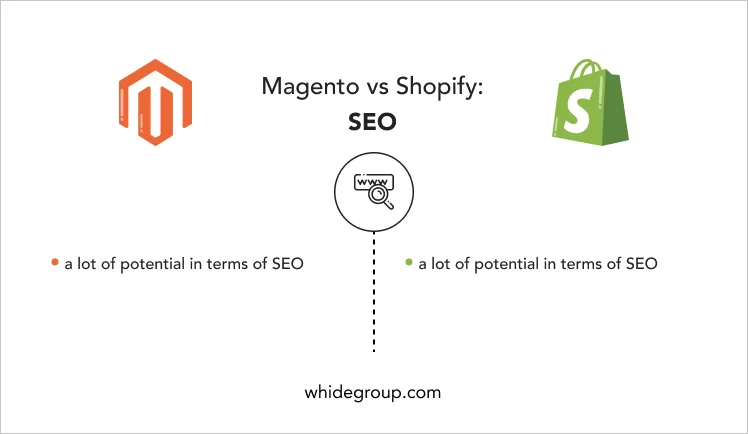 #8 Magento 2 Versus Shopify: Performance and Scalability
First, it should be said that both platforms can impress with their performance when they are in the right hands. Nevertheless, every website may require some additional efforts for performance optimization at some stage of running. And then there is the difference between the platforms in page load speed.
For Magento 2-based websites the aspect which affects performance the most is the hosting service selection. Therefore, if you choose a reliable hosting provider, and combine it with an optimized website, you can be sure that your store's performance will be decent. In addition, you can make necessary server tweaks, code optimization, optimize images and implement other adjustments in order to bring your store's performance to a new level.
Because it's a hosted solution, Shopify is in charge of providing clients with a decent performance out of the box. However, if at some point in your store's existence you'd like to work on profound performance optimization, that would be impossible. Shopify provides no access to the server and hosting, which means no opportunities for really deep activity over performance optimization.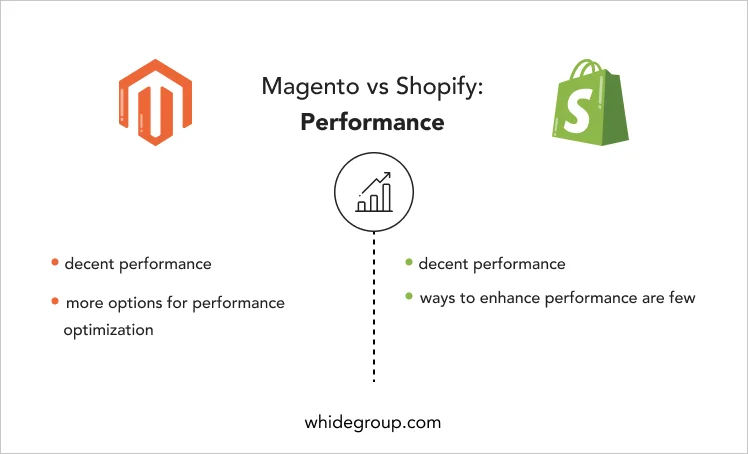 E-commerce performance optimization is one of our main bargaining chips for many years. From a developer's perspective, we can say that Magento's options for performance optimization bring incomparably more benefits than Shopify's. In addition to common image optimization, code minification, and reducing the number of requests, Magento gives you direct access to the server and hosting, which are complementary ways to gain decent performance.
#9 Shopify Versus Magento 2: Features Comparison
Features should be a point of a particular emphasis since they determine what features would be accessible to you to run your e-commerce business. In general, both platforms did a good job about it. However, it's not that simple, and in this section, you can find the answer to the question of why Magento is better than Shopify in terms of features.
Some features are default and provided out of the box. Others one can be added via 3rd party integrations such as modules, plugins, and extensions (for Magento) and applications (for Shopify). Some features can't be obtained at all.
Below you can find the table with a detailed review of the features we consider the most crucial ones for running an e-commerce business, and how both e-commerce solutions deal with them. That's not so easy to compare so different solutions for e-commerce development like Shopify Plus vs Magento 2 Commerce. That's the reason we haven't included them to the comparison table. However, you're welcome to find the comparison of Magento 2 Open Source with other Shopify editions.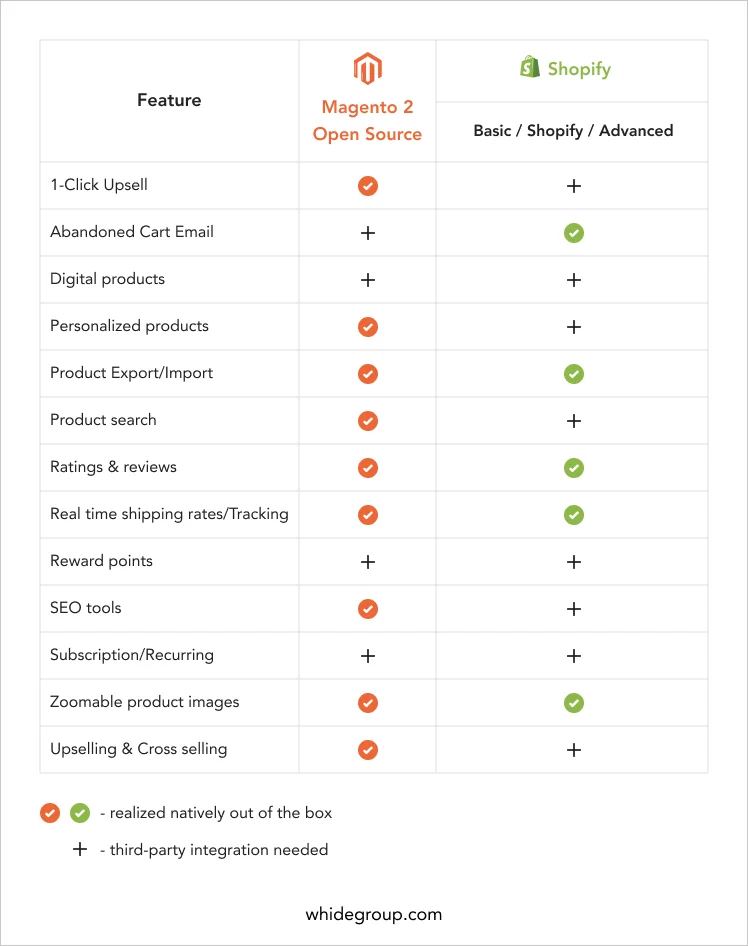 Both platforms fail when it comes to selling subscriptions natively. To cover this aspect you need to address paid 3rd party solutions: ReCharge , Bold Membership, and Charge Rabbit for Shopify-based stores and Subscription & Recurring Payments by Aheadworks for Magento.
Let's review some features that are most vital to an e-commerce store:
Marketplaces
When you compare Shopify and Magento in terms of a basic marketplace creation, there's literally no difference between these two e-commerce solutions. Both of them have add-ons that enable the creation of a primitive multi-vendor marketplace along with opportunities for hassle-free management.
However if your purpose is user experience enhancement and customer retention, you'll need to consider additional features implementation such as promotional pricing, flexible coupons, customizable reports, and so on. And here Magento easily beats Shopify, providing much more features out of the box and via various third-party integrations.
Multi-language support
Is Magento the best e-commerce platform when it comes to language support? We say yes. You can add as many languages as you want to your Magento store. To do this, you should visit Magento Marketplace, search for the needed language pack, install it, and you're ready to go!
The talk about the pros and cons of Shopify won't be complete without mentioning the language support aspect. The point is Shopify doesn't support a multi-language option natively. However, the problem can be partially solved by implementing various language apps such as langify, Weglot, LangShop, Multi Lingo, and so on. Why partially? Because for every new language you need to create a separate Shopify store installation, which leads to the management of separate dashboards and separate databases. To merge all data into one single database you'll need to address additional third-party solutions, which is not really convenient. So, this is a detailed explanation of what is better than Shopify in means of multi-language support.
Multi-stores
Multi-store realisation in Magento is not a challenge at all. You even don't need to address third-party integrations for doing that. The only thing you need to do is just go to the dashboard, perform a sequence of actions which can be easily found in Magento official guides, and enjoy your multi-store. That's it.
But things are not so easy when it comes to Shopify. First of all, multi-store functionality implementation is not available to you unless you run Shopify Plus, an enterprise-tier Shopify edition. Secondly, even after finding and installing some app for running a multi-store, you are not able to centralize the inventory and data management from each store natively. In that case, every new store you create comes with a new inventory, products, and orders that you'll need to manage.
#10 Magento or Shopify: Max Store Capacity
To provide you with the most relevant impression possible, it should be noted here that we talk about Magento Enterprise vs Shopify in this section. So, let's start.
Actually, if you open the official documentation of both platforms, you won't find any accurate data about the store's stock-keeping units (SKUs) limitations, as we didn't. However, after years of dealing with both Magento and Shopify stores, we can confidently say the following: out of the box, Magento Commerce can safely handle around 500,000 products. With some additional efforts, such as competent optimization, server tuning, and wise scaling, Magento can manage even more than 500,000 products.
As for Shopify – we've noticed that it works fine with no more than 100,000 SKUs. Here we are referring to the maximum number of products which guarantees safe and stable website operations, not the maximum e-commerce platform capacity.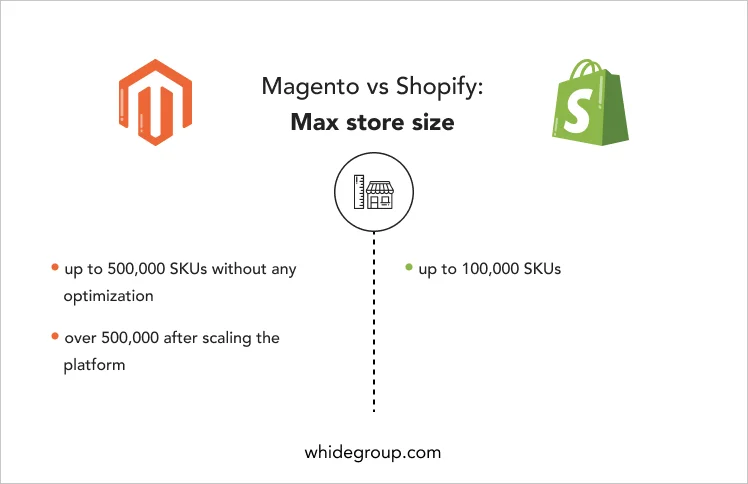 When our long-term client scaled his business, he faced the problem of e-commerce platform capacity. He extended the product catalog of his store from around 90,000 SKUs to over 120,000, and his Shopify store wasn't able to carry the new load. We advised him to migrate the store to the Magento platform, which he did. To date, he added even more SKUs to the store, but the store's performance stays optimal, as you can see from the Google PageSpeed Insights screenshot below.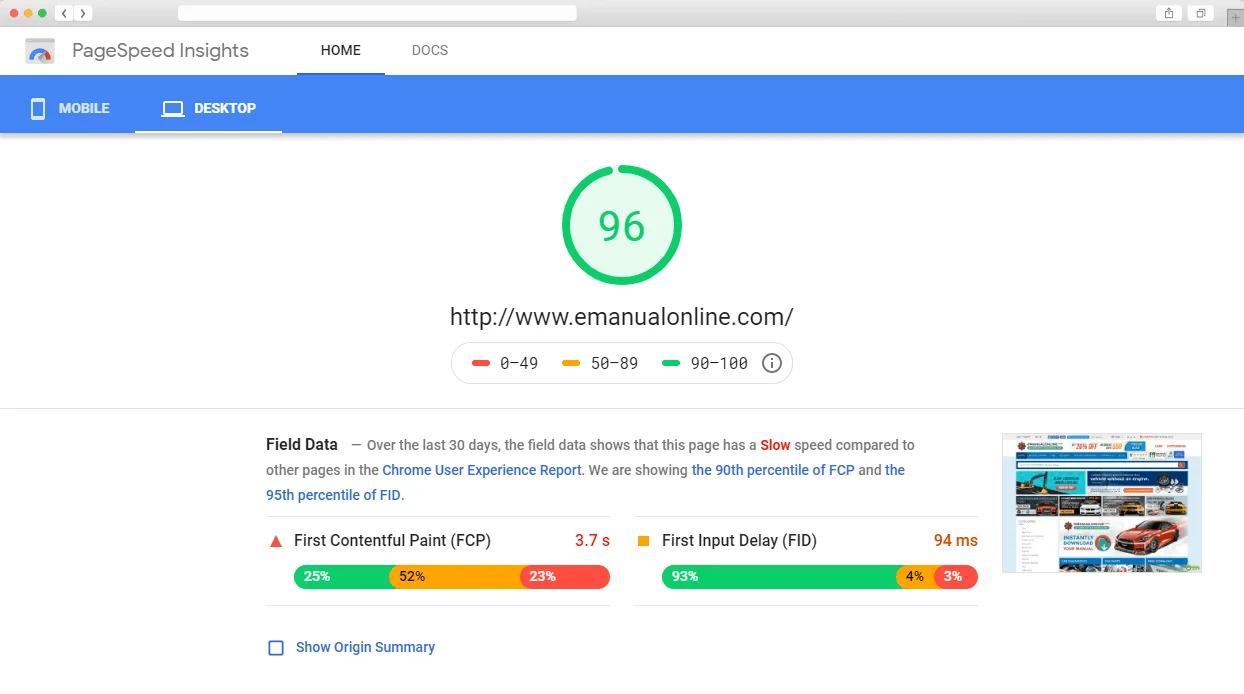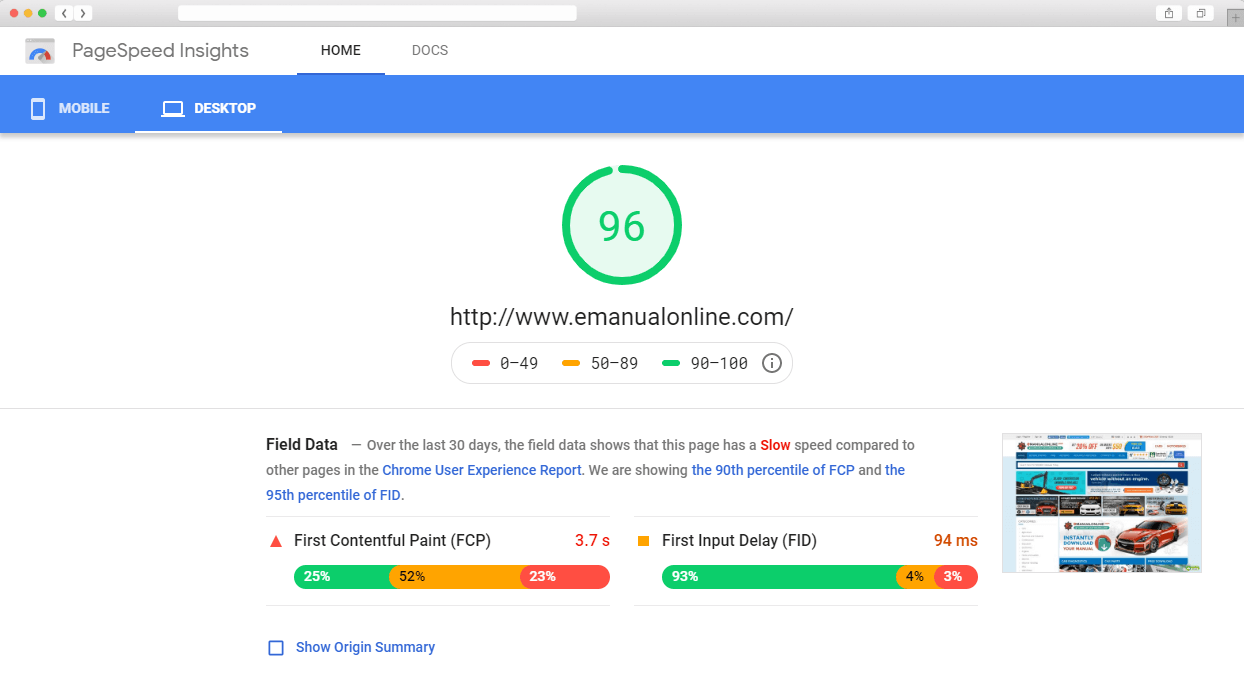 So, Who's the Winner?
As you probably realize, learning Magento 2 vs Shopify comparison analysis, there is no clear winner in this competition. Some aspects are perfectly covered by Magento, while others are better handled by Shopify. If you want to create an online presence, you should make a balanced decision when selecting an e-commerce platform.
After considering our Magento vs Shopify comparison, it's easy to see that Shopify mostly attracts small and medium businesses, while Magento focuses on enterprises that are interested in customization and flexibility.
Final Thoughts
In this article we've thoroughly explored all critical pros and cons Magento vs Shopify have, highlighting features and peculiarity of every option being considered. Even though each solution is represented in various editions, it doesn't matter what editions of e-commerce solutions you compare: Magento Go vs Shopify, or Shopify Plus vs Magento 2 – on average, the main differences can be observed when comparing different e-commerce solutions with each other. So, we recommend you to concentrate on comparing the high-level differences between Magento and Shopify.
Even comparing Magento 2 vs Shopify Plus, which is specifically designed for large enterprise businesses, it is clearly seen that Magento is more about custom and complex projects with a multiplicity of customizations, while even Shopify Plus is more about quick and flexible solutions with more common functionality.
After a meticulous review of both Shopify pros and cons along with pros and cons of Magento e-commerce platform, you're ready to make your own considered decision about what e-commerce solution is better for your store and answer the question "Shopify or Magento". However, if you're still hesitant and need to learn more details – you're welcome to drop us a line! Your success is our priority, so you can count on a profound approach on our part.
https://whidegroup.com/wp-content/uploads/shopify-vs-magento2-small.webp
300
772
Anastasia Zhuk
https://whidegroup.com/wp-content/uploads/whidegroup_logo.png
Anastasia Zhuk
2020-07-19 17:06:49
2022-12-23 11:18:22
Shopify vs Magento 2: Which One Suits You Better and Why
Shopify vs Magento 2: Which One Suits You Better and Why