Exquisite Design for Your Food Store
Whether your online food store is a wholesale market distributor
selling products to restaurant chains, or you're the proud owner of a mom and pop food specialty shop, our design services will help your online food store be a success. We'll work with you to garner an assessment of your business needs, and build a plan and scope the project from there. We'll start with a solid landing page while focusing on a responsive web design, to go hand-in-hand with a great UI/UX design. We will provide intuitive navigation, with solid CTAs placed in prominent locations. Our crisp, clean graphics and page layouts will keep your customers hungry as they scroll through your website. While we build your site, we will emphasize its usability so that it is an attractive shopping experience for your customers, and we'll never
lose sight of your business' branding, keeping everything consistent within the site.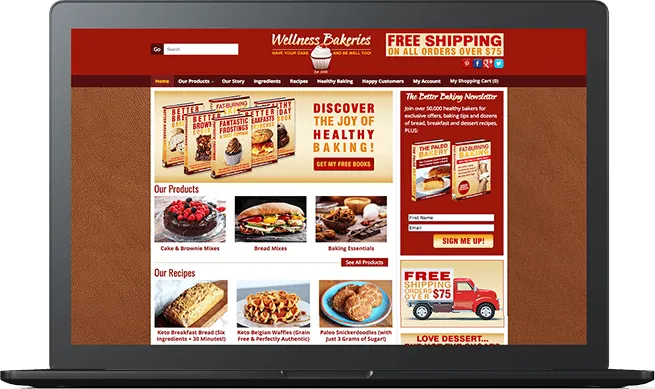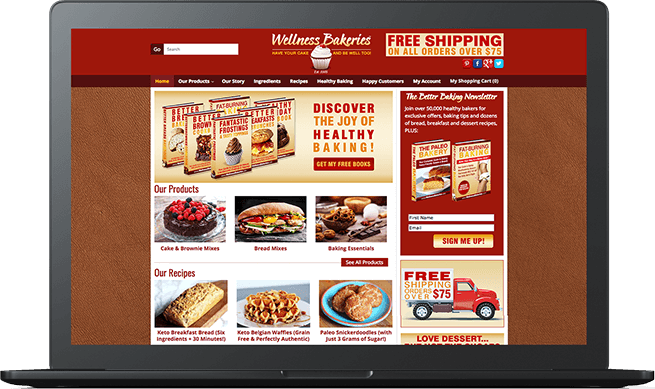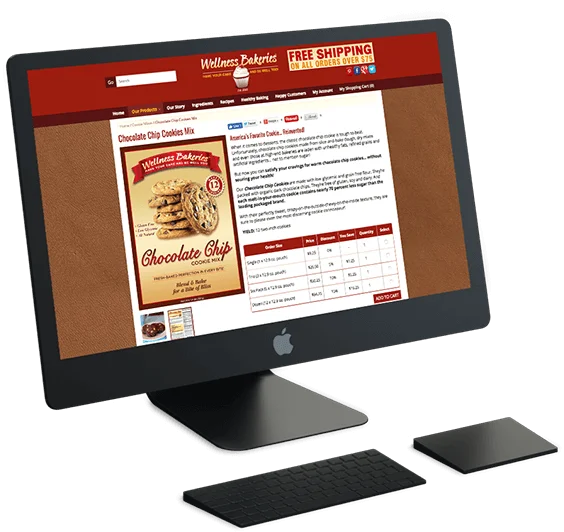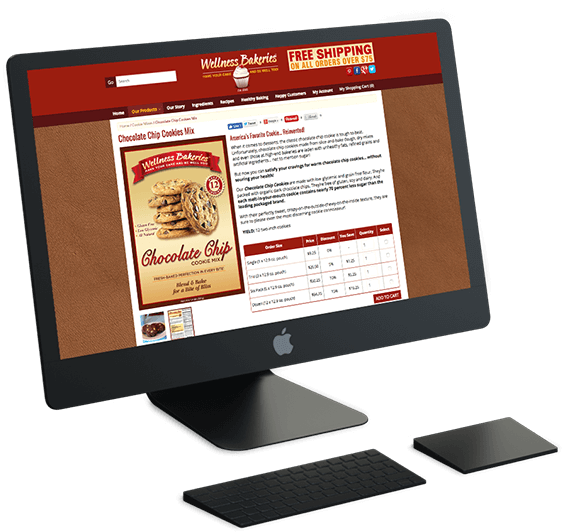 Development Features for Your
Online Food Store
When it comes to selling food online, you need to create a very specific connection with your customers. Your site isn't selling just any product. Your business is food. Your website should almost let your customers smell and taste what you have to offer. From the regular foodies to the chefs that indulge them, your site needs to give them hunger pangs and inspire their love of food. We can help you do it. We will fill your food site with large, professional photos that show the details of each product, so your customers know what to look forward to. Clear, concise front and back-end development will provide smooth navigation, ensuring your shoppers stay on your site longer. A crisp, neat design with Magento or WooCommerce will convey a clean environment, which is perfect for inspiring would-be cooks everywhere and bringing further validity to your site - all of which will make your online food store a success.
Website Features for Your Online Food Store
Smart Checkout Flow
We implement a smooth checkout process to keep customers coming back. We'll make it easy to change quantity, select shipping options, and offer guest checkout. A happy shopper is one who doesn't have to wrestle with
an over complicated checkout process.
Analytics Implementation
Analytics validate your business. They'll help you determine marketing campaign effectiveness, understand your visitors' shopping behaviors, and optimize your store for e-commerce success, with various reports at hand to help you steer your business.
Chat and Chatbot
We use a chatbot to help customer satisfaction. A chatbot can help your customers make buying decisions and answer any questions they have about your products. Chatbots can also communicate in your shoppers' chosen language, at any time, day or night.
Order Management System (OMS) Integration
Useful for order entry and processing, the OMS optimizes e-commerce sales. It allows you to easily keep track of your customer orders, as well as more sophisticated information such as buying habits, past order history, payment history, and more.
Thought-out Shipping
Having decent shipping options means value for your customers. We can streamline your store's shipping process, offer various options, and give you the opportunity to provide real-time rate calculations based on estimated weight and customer location.
CDN Implementation
Also known as the Content Distribution Network, this global net of servers is distributed all over the world to provide better performance and availability, ensuring your customers are on the receiving end of content delivered quicker and smoother.
Scalability of the Platform
A good e-commerce platform allows room for your business to change and grow. Our sites give clients easy management, from inventory control, to accounting and more. We wrap these up in one package, so you can run your business at the click of a button.
Intuitive Navigation
We will create a website that both looks pleasing and is easily navigated. Presenting a clear and simple path for your soon-to-be customers to easily browse your products encourages them to stay on your site longer and will make them loyal customers.
How Much Does It Cost to Build an Online Food Store?
The process to develop your online food store begins with an assessment and a plan. After we solidify this stage, we move on to handle the
web-design, then the front and back-end development. From here, we commence with the live server setup and deployment. The hours required to complete a full project runs approximately between 162 – 549 hours depending on the complexity of the project and necessary extras, all of which affect the cost. In addition to the time spent on the design, cost is also dependent upon the region in which the designer is located. Developers in the US, Canada, or Western Europe, for example, tend to charge higher rates for their work. However, developers from eastern
parts of Europe, can offer their services at more achievable rates, saving clients up to 55% off market rates. At Whidegroup, we provide our expert website development services at a reasonable price, without any loss in quality. If you'd like a complimentary quote for our services, connect with us today!
TELL US ABOUT YOUR PROJECT - WE'LL RESPOND WITHOUT DELAY!