Health & Beauty E‑commerce
Exquisite Design for Your Health & Beauty Store
Do you want your customers to find suitable products and be satisfied with their purchase? Would you like to provide confidence that obtaining high-quality cosmetics at a reasonable price can be reality? Are you dreaming of getting professional web design reflecting your goals? If you've answered yes, we have solutions! We will exclusively create a user-friendly health & beauty website with intuitive navigation! We'll assess your needs and create a design focused on your target audience. Whidegroup will help you yield business results by applying responsive web and UI/UX design, perfectly-suited landing pages, etc. We will also keep branding consistent and choose the most fitting colors and typography. Design features such as content sliders, pricing tables and testimonials will be useful compliments to your e-store.
And this is just a small part of what we do to give our clients the best in web design!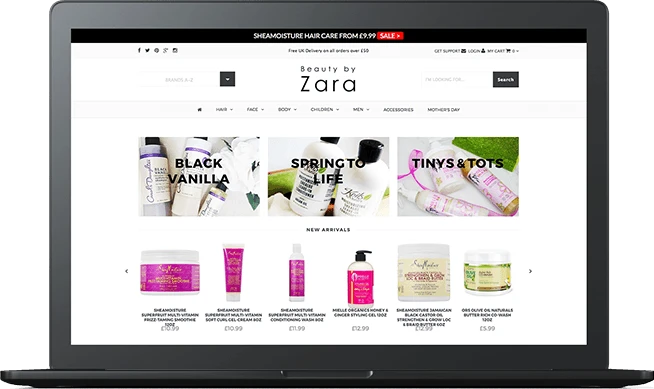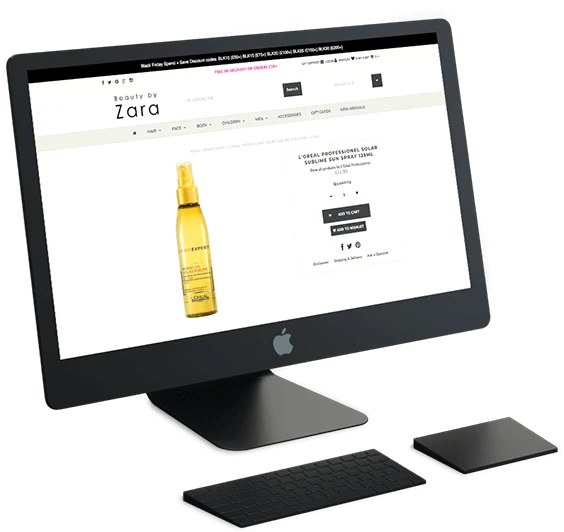 Development Services to Sell Health
& Beauty Online
With our development services, your customers will forget about the products they've simply just become used to buying! We will inspire them to make new purchases because we know how to catch and keep their attention. For this purpose, we have created a range of services that will show your products' benefits in the best light. Our front and back-end development will provide smooth navigation, and careful selection of thee-commerce platform will allow us to take into account all your wishes. You can also get qualified consultancy regarding the e-commerce platforms as well as expert support services. Your website will be PCI & GDPR compliant and built according to the latest standards (HTML5, CSS3, PHP7). You can be assured that our professional skills, combined with understanding of our clients' needs, yield excellent results. So, let's make the perfect health & beauty
e-store together!
Website Features for Your Health & Beauty Store
Order Management System (OMS) Integration
An OMS manages customers' orders and keeps track of their data. You can determine which hair dyes your buyers prefer or learn their favorite makeup remover. With this information, you can launch a loyalty program that provides discounts and bonuses!
Gift Finder
Your customers no longer need to deal with searching for gifts since Gift Finder will do it for them! If your shoppers want to buy a present, e.g. a soft powder or fragrant shower gel, they answer a few simple questions and get the perfect gift idea!
Wishlist
With this feature your shoppers can save goods they're interested in. You can send e-mails to notify customers of availability of these products, changes of prices, etc. Your customers may even want to share their wishlists with friends, boosting sales!
Customized Promotions
Customers that are motivated to get a special deal are also inclined to buy more. Our extension will analyze your customers' preferences, such as which vitamins they prefer, or the trademarks of the mascaras they use, and create relevant offers.
Extra-accurate Search
Your customers want search results to be accurate. For example, they're interested in certain creams or shampoos, so they can filter products on trademark, price etc. As a result, your buyers will find what they need without major inconvenience!
Abandoned Cart Recovery
Incomplete orders are frustrating and so is the fact that something or someone can draw your buyers away from a purchase.? Never mind! You can send an automatic reminder to customers who abandoned their carts and recover at least 30% of sales.
Fully Mobile Friendly
Many people make purchases on their smartphones. With this feature, your shoppers won't waste their time scaling your e-store. Rather, this user-friendly experience means your customers can easily buy preferred products, e.g. lipsticks or eyeliners.
Multilingual Website
If your website's multilingual, a linguistic barrier won't prevent your customers from shopping. Your e-store will have language options and buyers will switch between languages and regions. The result? Your products will be in demand all over the world!
How Much Does It Cost to Build a Health & Beauty Online Store?
Your Health & Beauty online store will be developed in several stages. We'll start with an assessment of your needs and goals as well as making a plan for design. Following this step, we'll proceed to the front and back-end development. The last phase of development will consist of the live server setup and deployment. As you can see, the creation of ane-store is a time-consuming process and it will take us between 162 - 549 hours depending on your website complexity, the availability of extra modules, etc. In addition, cost is also dependent upon the region of your e-store creation. Development of similar products in European countries, Canada or the USA will be 35 - 55% more expensive. Hiring a remote develop­ment team from a company based in Eastern Europe would be a smartsolution. Whidegroup is well-known for its high-quality services at the most competitive price. Consequently, we will grant you an opportunity to get a high-quality product at a lower price without any loss in excellence.
TELL US ABOUT YOUR PROJECT - WE'LL RESPOND WITHOUT DELAY!